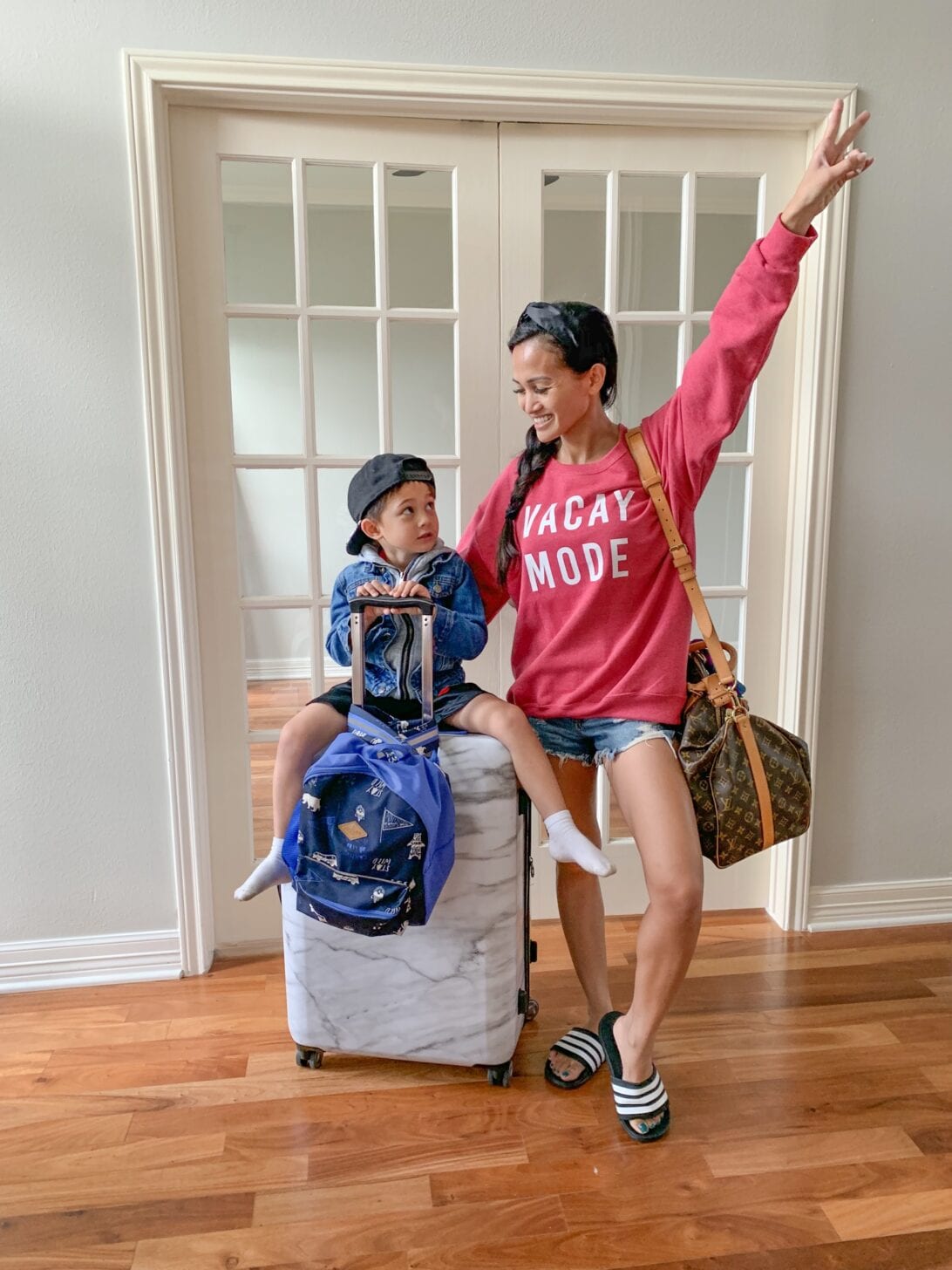 Hi friends!
Hope you are having a great week! Tomorrow we head to our family summer vacation, and Jayden's first international travel! Today I am doing a quick post and sharing some travel tips for ya'll when it comes to traveling with kids. I'm sharing technology free travel entertainment for kids for under $10! If you read this post, you know we have traveled on ten hour road trips with our little guy iPhone and iPad free. You can read more of why here. Some of ya'll have requested or wondered what we do for entertainment when it comes to traveling with kids, today I'm sharing what technology free travel entertainment I pack for Jayden on flights or long travel days. Read more below!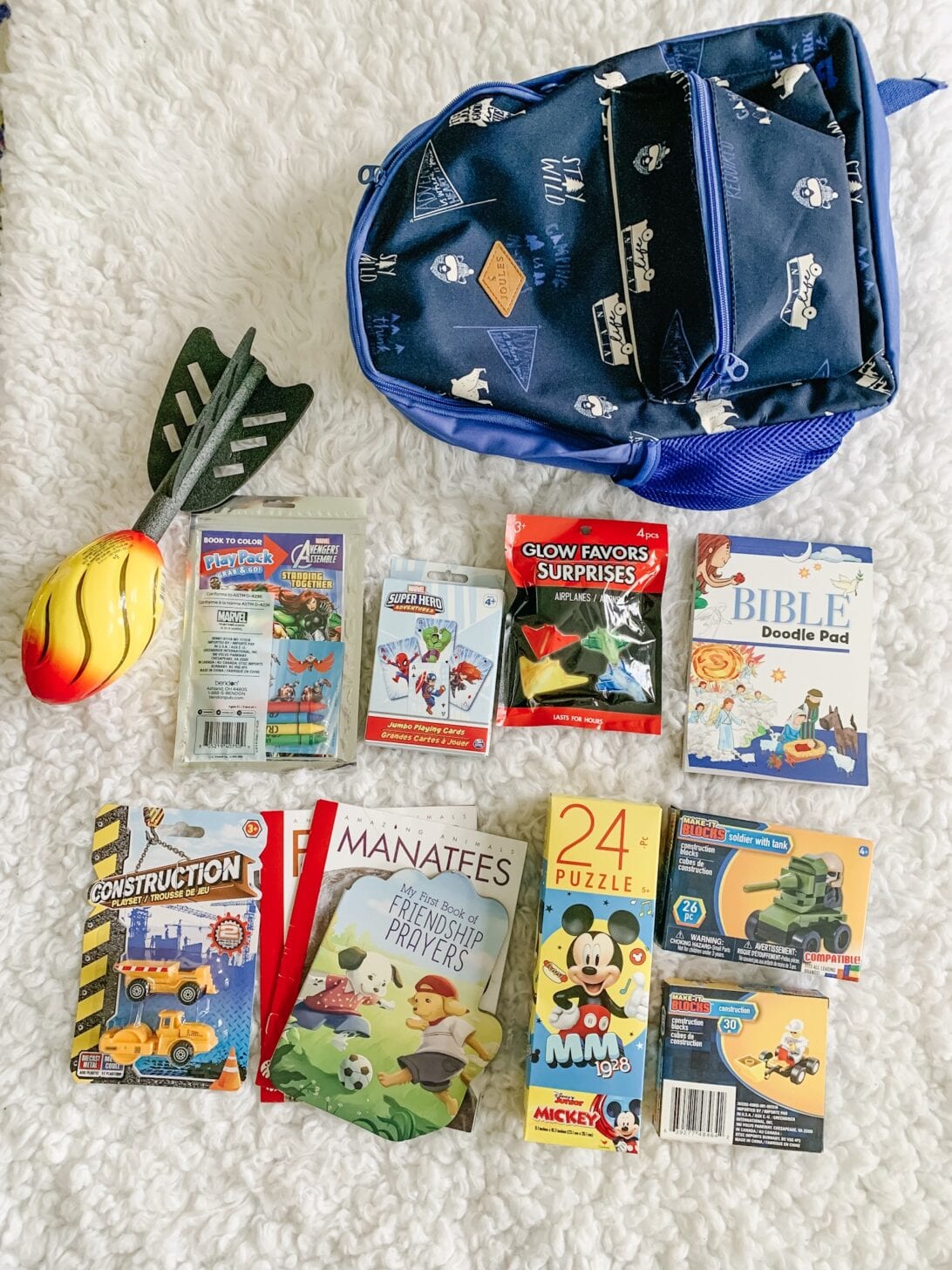 Before each trip I let Jayden know he can pick up some toys for our trip if he listens and follow the rules. It get's him excited for the trip and rewards his good behavior. I take him to the Dollar Store to pick out ten things for $10 he wants to bring in his backpack. The Dollar Store is great because you don't have to worry about him losing or breaking these toys while you are on the trip because they only cost a $1. Usually we pick out 10 – 15 items at the Dollar Store and then we narrow it down to our top ten. I like to get a variety items, like coloring books, cards, puzzles, little lego sets, picture books, and the occasional car and ball.
The cars and balls are great for playing while waiting in the airport and a great way to get his energy out. I love a good puzzle or building lego set because it is more challenging and takes time to do. It's a great way to get his mind working and preoccupied while he is on the plane. We also have a few books so we can read on the plane or for bedtime on our trip. Below is a list of my packing essentials for my son.
Toys
Books
Snacks – pick his favorite fruit gummies, chips, fruits, and other snack items your child might like.
Drink – bring a reusable kids cup that you can refill.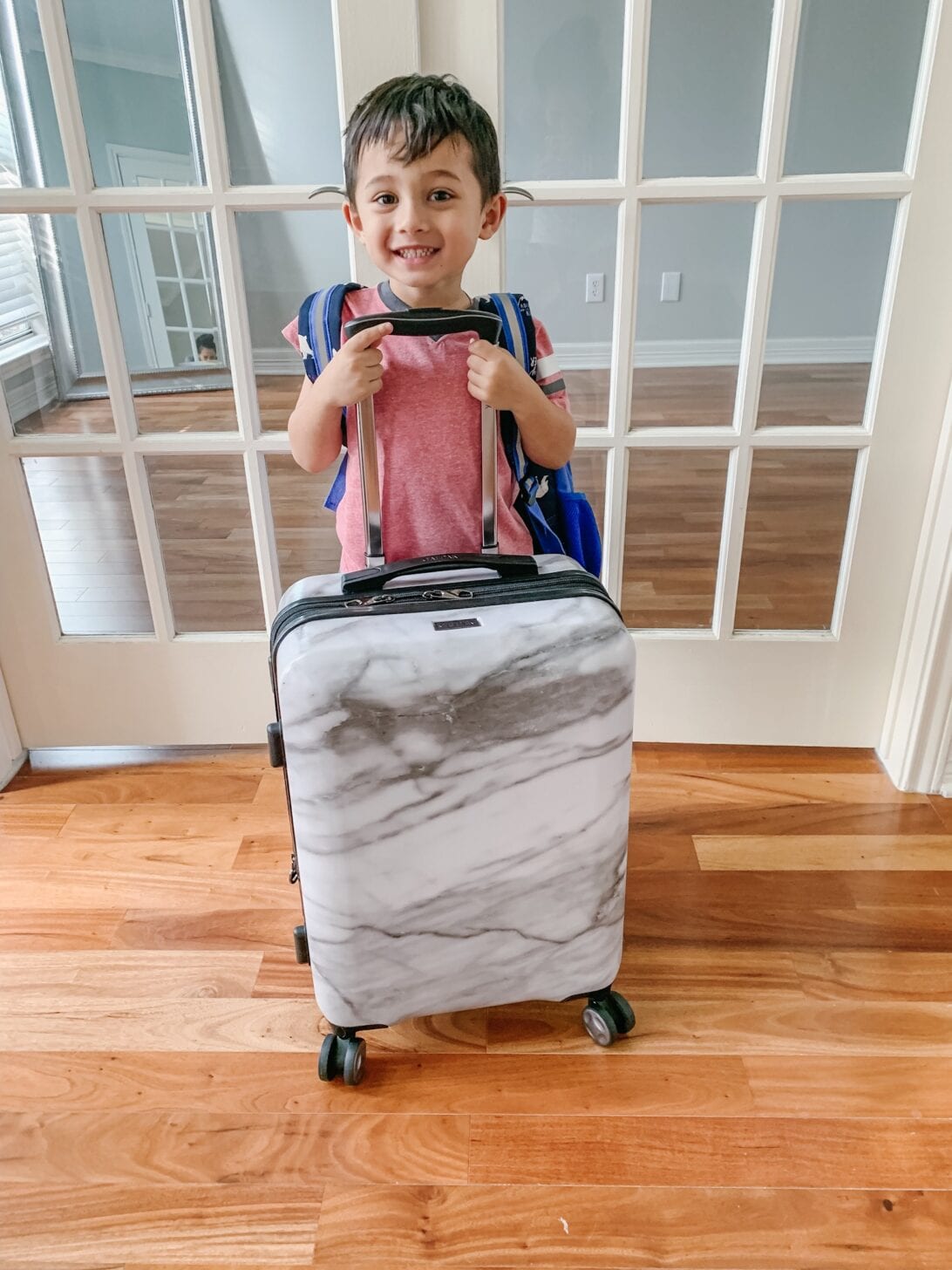 Let's face it, better kids break or lose something for a dollar than an iPad or iPhone. I've been on countless flights where mom's have their handful or are too much in a rush that they forget or leave behind their children's iPads. I honestly would be very upset if that were to happen to me. And let's face it mama's we have too much to carry and to keep track off than to worry about an iPad. Plus on longer flights, most planes have a built in entertainment system that allows you to watch kid movies or play games so you don't really need to bring any electronics. For more travel tips with kids check out this post here and here.
So where are we going you might be wondering? We decided to revisit one of our favorite places Tulum, Mexico for his first international trip. Last year we went for our wedding anniversary trip and we fell in love. We love the eco friendly, rich in history, bohemian vibe of Tulum. It is unlike its touristy neighboring cities like Cancun. We love Tulum because we are big nature people, and prefer visiting places like this versus cities. Plus with kids I feel like you can really relax and enjoy your peaceful surroundings when you are closer to nature. If you want to learn more, check out our travel vlog and guide here. Thanks for stopping by! To follow along on our trip check out my Instagram stories!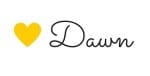 P.S. Subscribe for weekly newsletters so you never miss a single post!