This post is in partnership with Crusher Wine . All thoughts and opinions are all mine.
Hi friends!
Hope you are having a great week! Today on the blog I've partnered up with Crusher Wines to share with you this easy and guilt free cheese board recipe that will be a sure hit for any family party, get together, or wine night you are hosting. The Crusher Wines is a big advocate for leading a balanced and healthy lifestyle. From work to exercise to home and entertainment, it's all about balance. And this wine and party platter pairing is no exception. Check out how to pull off the perfect guilt-free cheese board, below.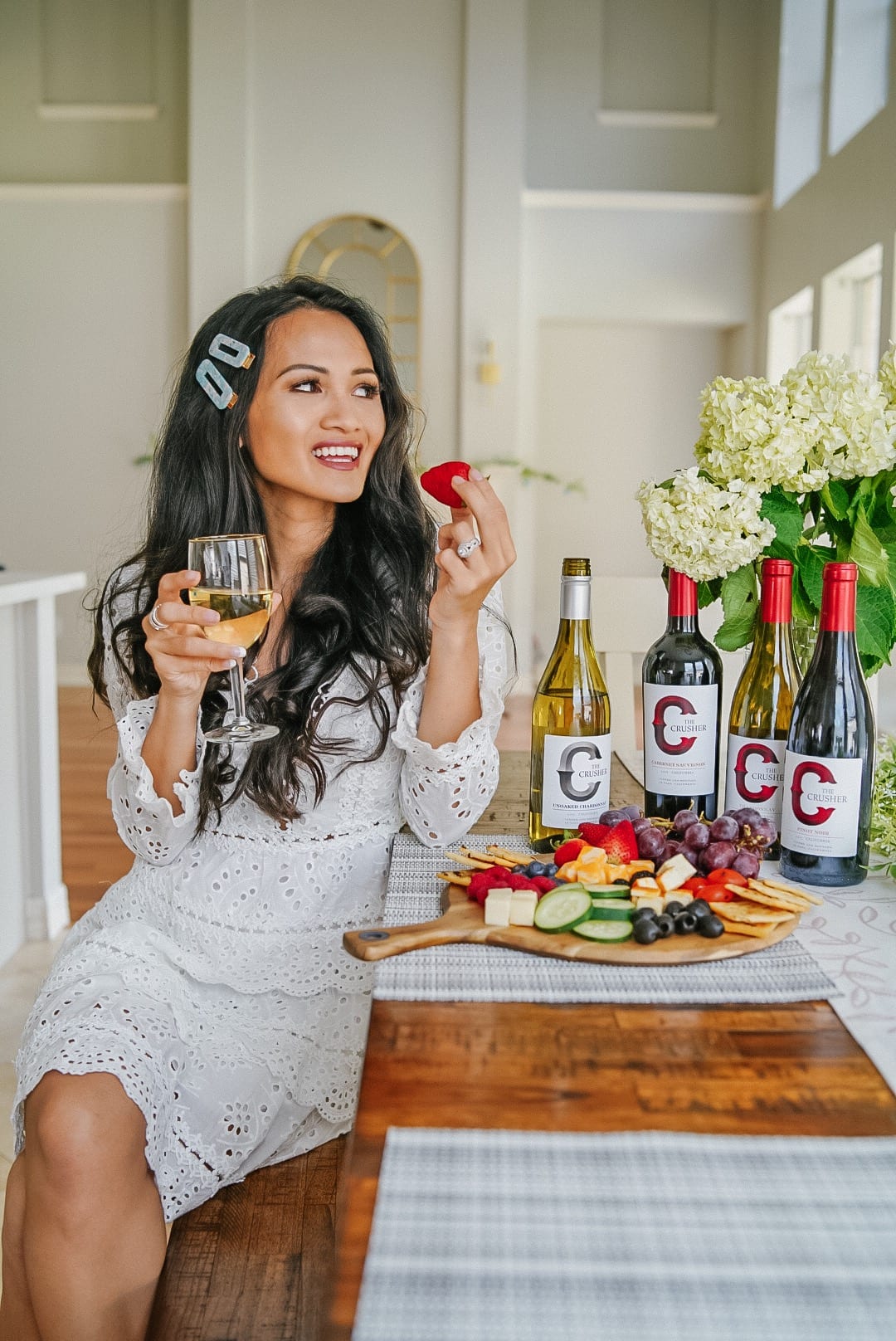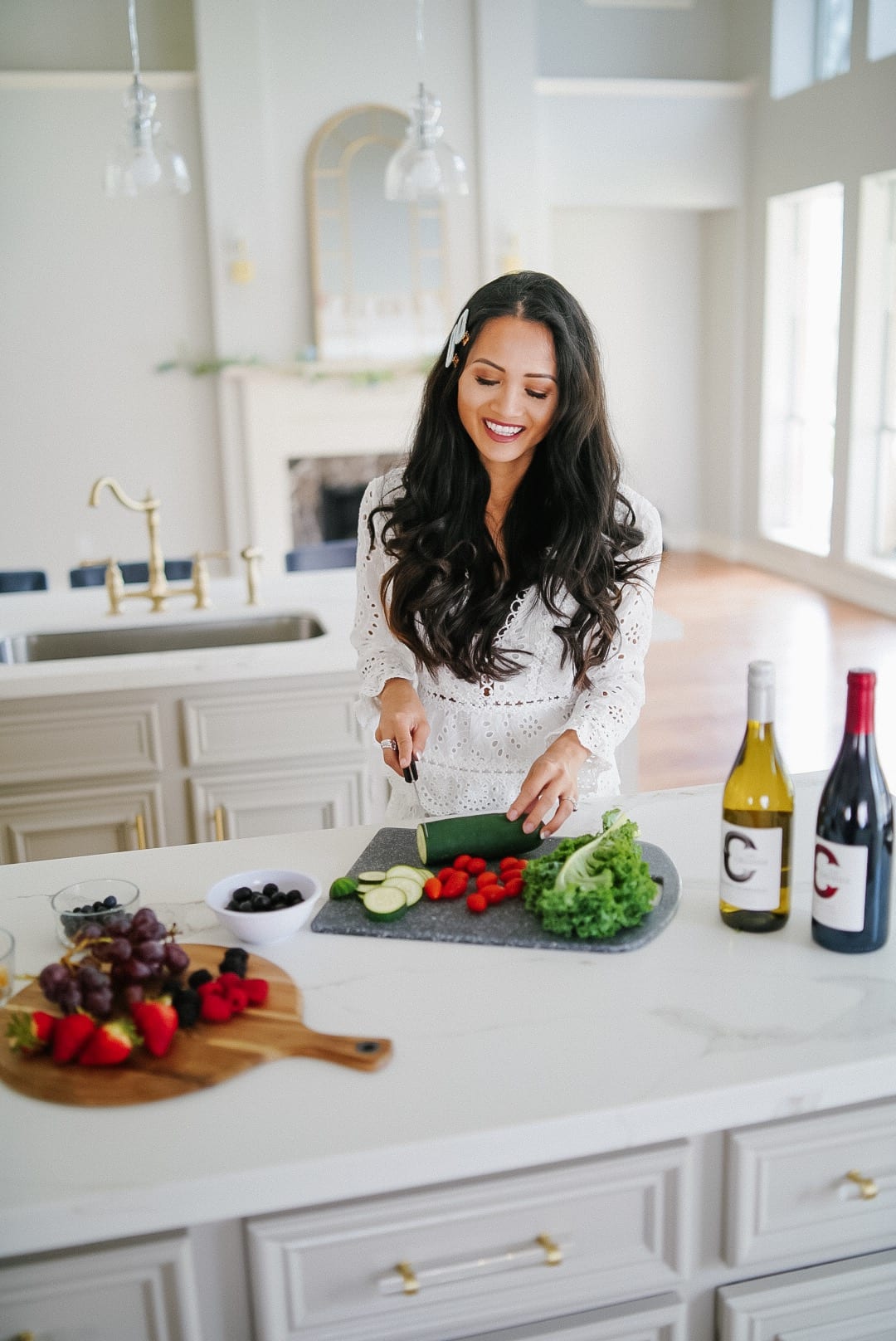 How to Create a Guilt-Free Cheese Board
A healthy charcuterie board is easy and simple to make. When gathering your ingredients think fresh, color, and bite sized. I always like to start with fresh fruit and veggies and then add the cheese, crackers, nuts, and meats. For this particular board though I chose not to add meat. Below are the list of ingredients for your healthy cheese board:
Fruit:
STRAWBERRIES
GRAPES
RASPBERRIES
BLACKBERRIES
BLUEBERRIES
OLIVES
Vegetables:
MINI DILL PICKLES
CUCUMBERS
CHERRY TOMATOS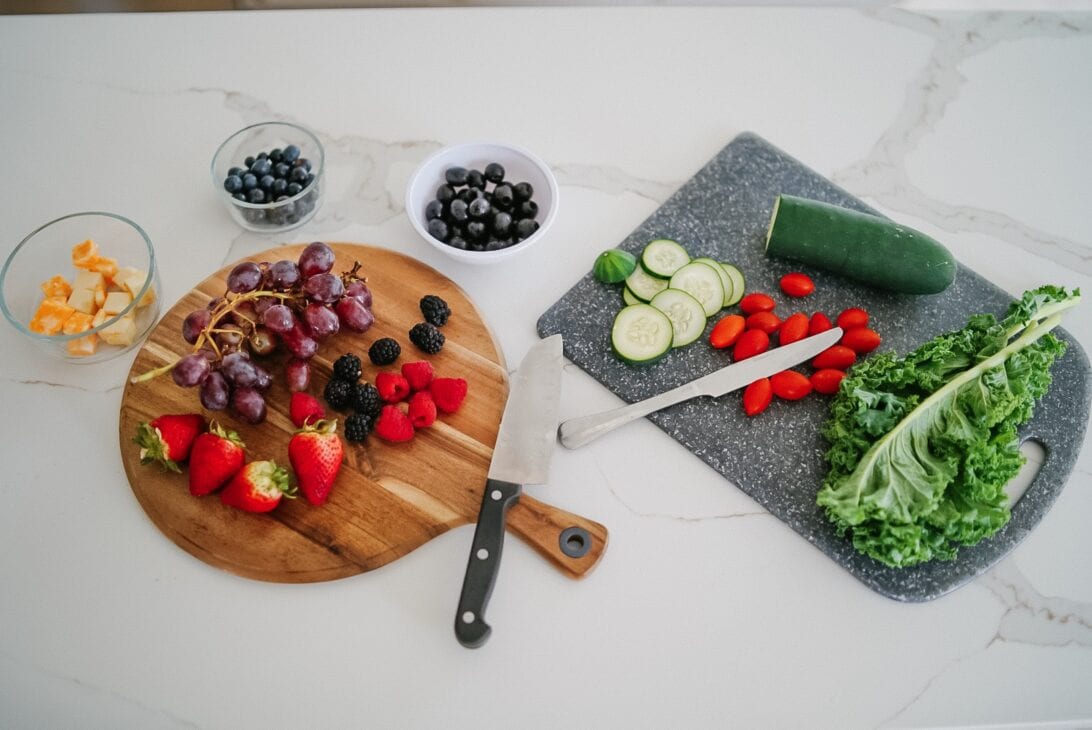 For the cheese I used a variety of white and yellow cubed cheese combinations. Cubed or cut cheese makes it easier for your guests to serve themselves. You can add them in between your fruit and vegetables for a nice pairing with your wines. I also love adding almonds or cashews in my charcuterie board as well which are great protein source and pair well with your Crusher Wine. Last but not least I add whole wheat crackers or low sodium crackers to add texture and crunch.
A cheese board is not complete without California made Crusher Wines to complement the pairing. I love having a variety of white and red wines for our guest. Below are four of my favorite wines to pair with this healthy charcuterie board.
White Wine:
Unoaked Chardonnay – The Crusher Unoaked Chardonnay offers aromas of pineapple and hints of butter and cream. This unoaked wine underwent malolactic fermentation and was stirred on its lees to obtain a super soft, mouth-coating feel and opulent body. The plush flavor of bread dough precedes a moderately long finish.
Chardonnay – The Crusher Chardonnay opens with aromas of toasty oak, pineapple and green pear. The creamy approach offers flavors of doughy characters with oak on the palate and a finish of roasted almond.
Red Wines
Cabernet Sauvignon – The Crusher Cabernet Sauvignon is sprinkled with aromatics of blackberry, tree-ripened fig, toasted cedar and hints of mocha. A truly expressive wine, also showing hints of violet, rosemary and coconut. Bold, dark cherry and blackberry compote laced with rich, dark chocolate covered coffee bean. Soft and mouth-coating tannins finishing with nuances of dark caramel and graham cracker from oak aging.
Pinot Noir – The Crusher Pinot Noir is a brilliant, ruby-red color with fresh aromas of strawberry, raspberry, rhubarb and subtle pepper spice. This expressive wine is smooth and graceful on the palate with juicy cranberry fruit, black tea and violet candy flavors. The wine is well-balanced with robust fruit, fine grained tannins and good acidity which leads to a flavorful and lengthy finish. The Crusher Pinot Noir was aged with 100% French oak for 10 months giving excellent integration.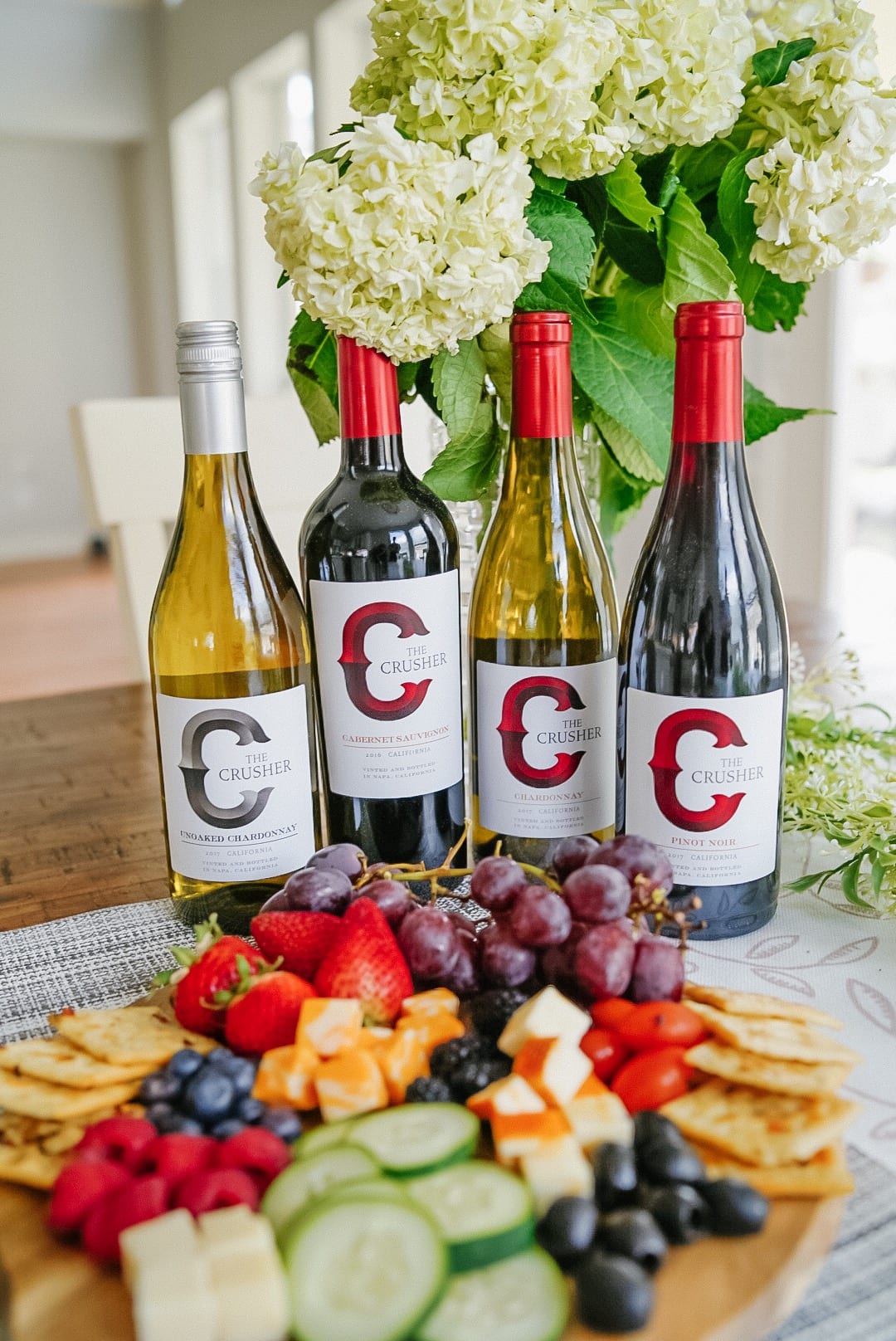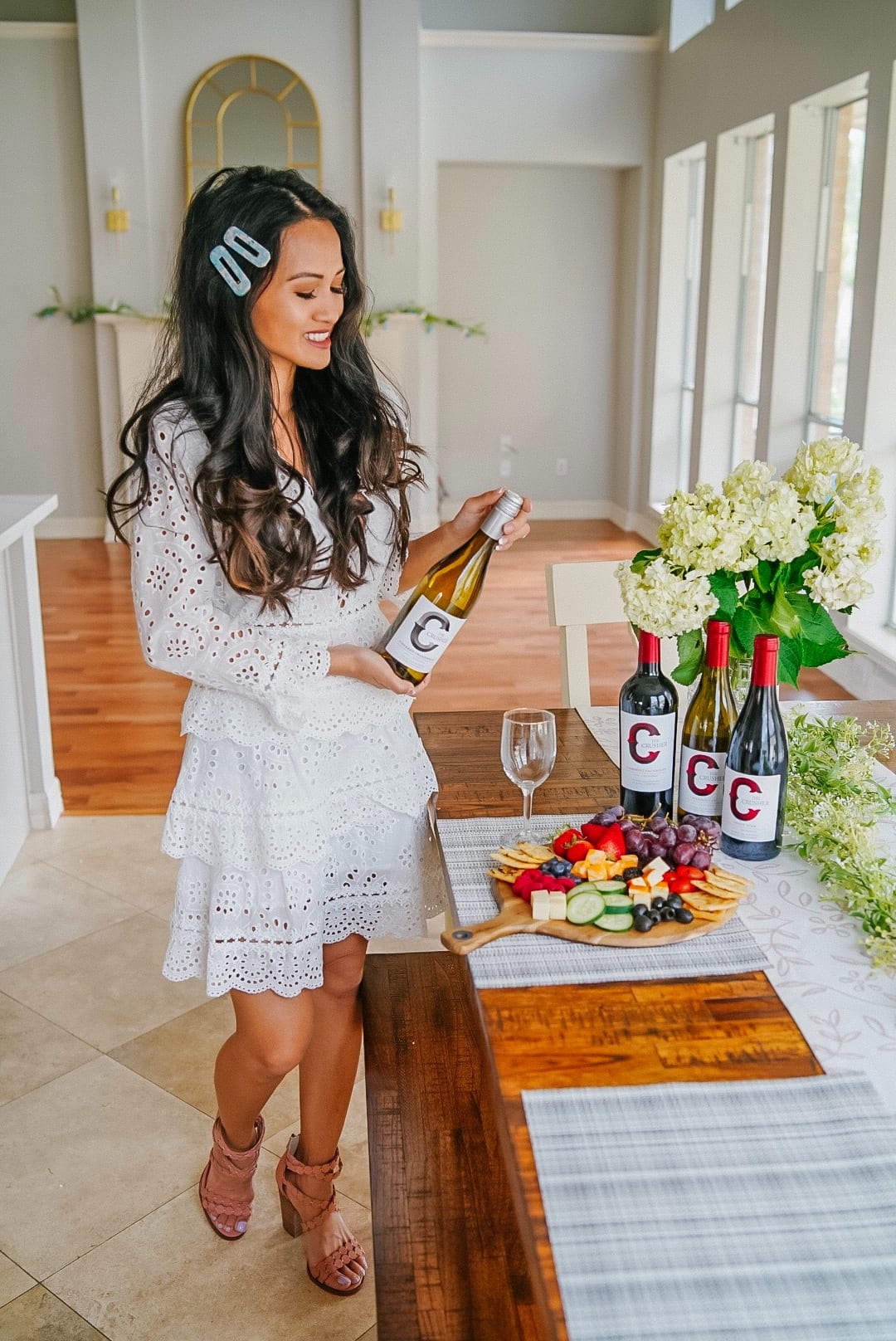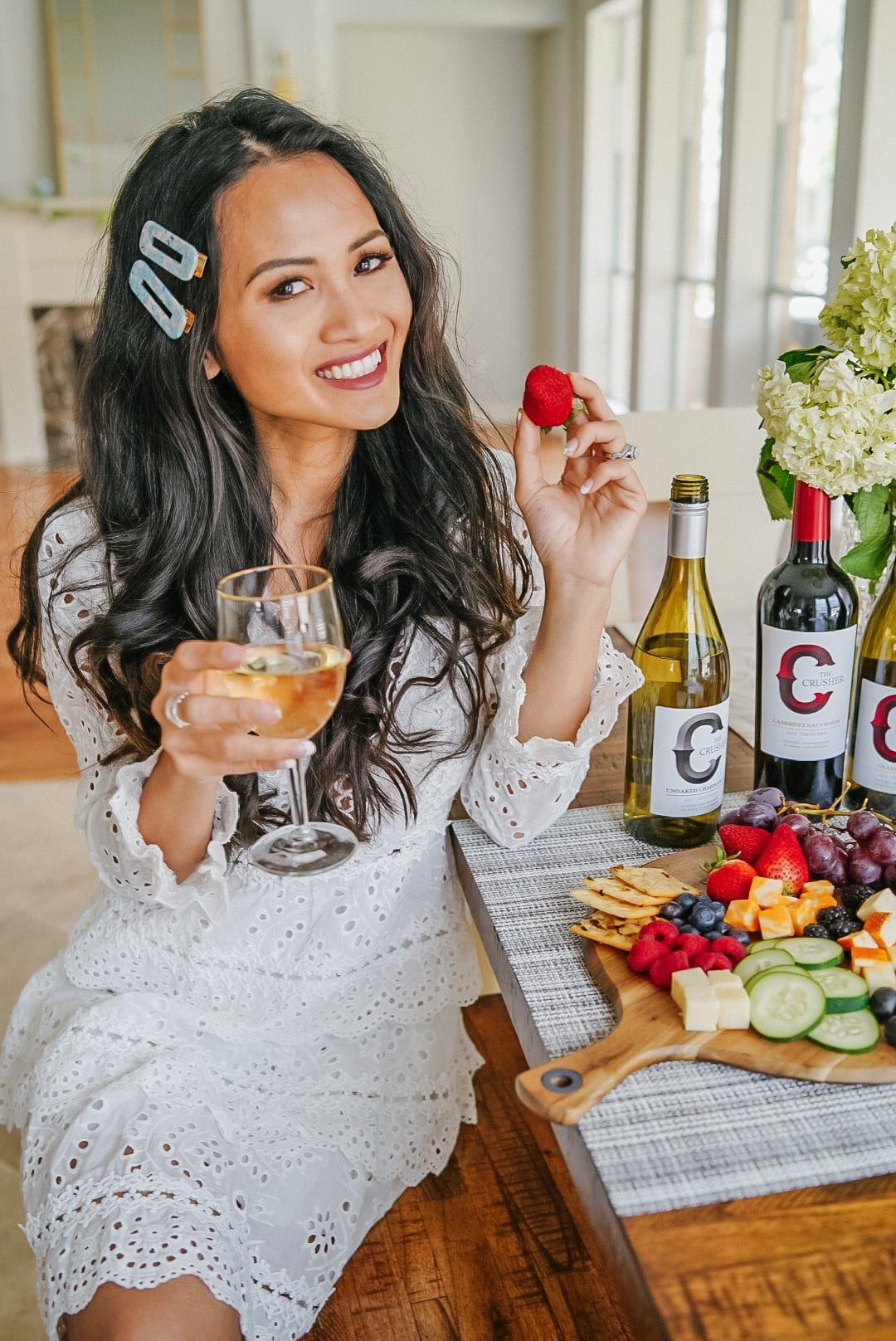 I hope you enjoyed this easy to make healthy cheese board. It makes the perfect pairing for your Crusher Wines. Crusher Wines can be found at your nearest Safeway or H-E-B. Head here to find out the closest store near you. Whatever you are celebrating in life #keepcrushing it with Crusher Wines. What will you be celebrating next?
P.S. Subscribe for weekly newsletters so you never miss out on a single post!