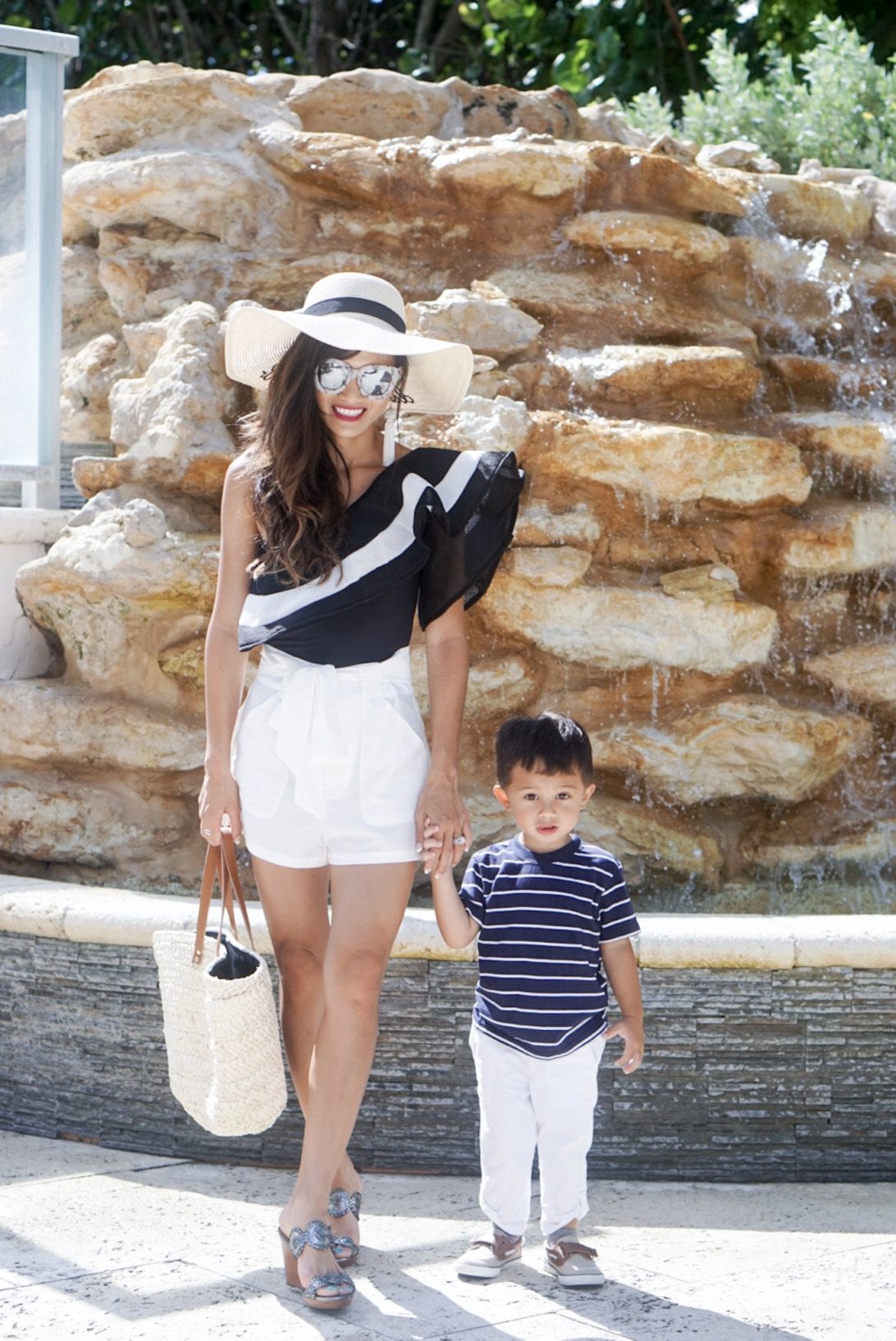 Happy Monday!
This month if I'll be sharing all about our road trip and tips and tricks with traveling with a toddler. It really was such an amazing vacation, and very relaxing to unplug, connect with my family, and enjoy our surroundings. Now to be fair we only have one kiddo and for the most part he was very entertained just being outside and playing in the pool or at the beach. So let's get back to the road trip, yep 36 hours on the road with our little guy and we survived. Haha I'm being dramatic when I say survived because we had a great time on the road. So what did Jayden do the whole time while we drove with no iPad or iPhone to entertain him? Well let me tell you. Here are some tips and tricks to an iPad/iPhone free road trip with a toddler.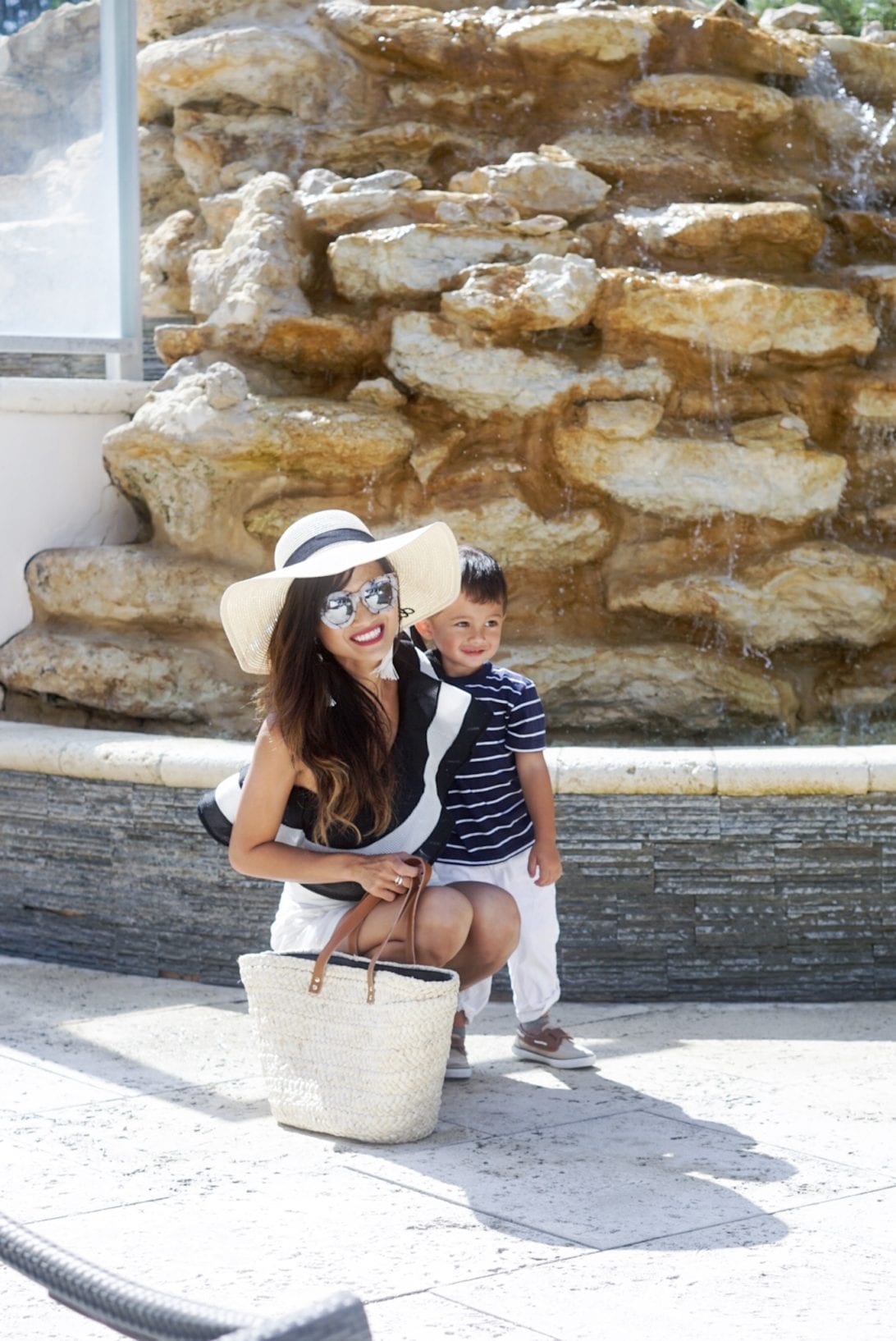 Tips for an iPad/iPhone Free Road Trip With a Toddler
1."What you don't know, won't hurt you."  
What I mean by that is before this road trip Jayden never was allowed on my phone, we don't allow him to have it when we go out to eat, or anywhere for that matter. My phone is my work, and not his play thing. So Jayden never had the opportunity to find out what it was like to be entertained by my phone. So fair warning it will be an extra step to wean your child off of the iPad and iPhone if they are used to it. Now to be honest when he goes to his grand parents house it's a different story. That kid gets a phone to watch YouTube videos whenever he wants. Do I like it no, but as long as it doesn't happen with me I am ok with it. Plus we all know grand parents love to spoil their grand kids.
2. Expectation v.s. Reality
Ok this is a big one for the parents, and I think why it is so hard sometimes to be without iPads. Theres an old saying "Children should be seen not heard," which I think is an expectation for some people. So if that's your expectation for your children then these tips are probably not for you. I will tell you know I am not afraid to be the loudest table at the restaurant, or having to chase my child around in public, or to discipline him when he is over stepping his boundaries. I also don't expect my child to sit still or be quite for more than 5 minuteS. I understand I have a very smart and active two-year old boy who requires not only physical but mental stimulation. By having minimal and realistic expectations for my child, it has allowed me to prepare myself mentally and physically as a parent. and by prepared, I mean a lot of patience for this mama lol.
3. Take a Test Drive
Ok now that all expectations are out the door, take a little mini road trip with your toddler. Josh and I would go on mini road trips to visit family in Austin and Dallas with Jayden. Taking these little trips helps your child to get use to sitting in a car seat for a longer period of time. It also helps you learn which gas stations are kid friendly, aka clean, to take your toddler to use.
4. Plan your rest stops
On that note, if we didn't stop at a Buckee's, then we would stop at a McDonald's, Starbucks, or Chic Fil A for bathroom breaks. Not only do they have clean restrooms but food and drinks for when you are hungry. Also if you have time you can let your kiddo play in the play ground for a while to get their energy out. We made sure to stop every 3 to 4 hours so Jayden could go to the restroom but also stretch out our legs. Plus they always think it's a little adventure.
5. Alternate your book/toy selection
Every two months, or every trip, I always change out Jayden's reading selection in the back seat so he doesn't get tired of reading the same books. For longer trips we take a special trip to the book store and we buy a new book for him. We also get the interactive books by V-tech that helps him with his numbers, letters, shapes and animals. Jayden will entertain himself in the back seat just reading his books.
6. Play games
Jayden is that age where he can spy a construction crane, airplane, or train from a mile away when we are on the road. I swear he has better than 20/20 vision. Jayden is obsessed with the Brown Bear book so play the "Brown Bear" version of  the game I spy and use our names instead when we see something. It's amazing how much your child will surprise you with how smart they are, when you play games with them.
7. Sing Songs
When your toddler is learning to talk, it is the cutes thing to hear them sing their ABC's in the back seat. Yes, we have become that family that sings songs together lol. Jayden loves Baby Shark, the Itsy Bitsy Spider, and Ba Ba Black Sheep. I'm sure if you watched my instastory you might have gotten to see a glimpse of it, and seriously it melts my heart. Plus it really is non stop entertainment and laughter listening to your little toddler sing. I swear I need to submit a video of Jayden in America's funniest home video.
9. Have tons of snacks
A fed child is a happy child. Make sure to have all of his favorite food and snacks handy so he can have something to snack on. We indulged a little with cookies, candy, and French fries. But hey when you are on a road trip, why not lol.
10. Wear them out
When we were on the road we never drove more than 10 hours without stopping somewhere to eat, sleep, or play.  We made sure to do something that was active and allowed Jayden to get his energy out, so by the time we were on the road again he was ready for a nap. Check out this post here for one of our favorite places to visit on our road trip.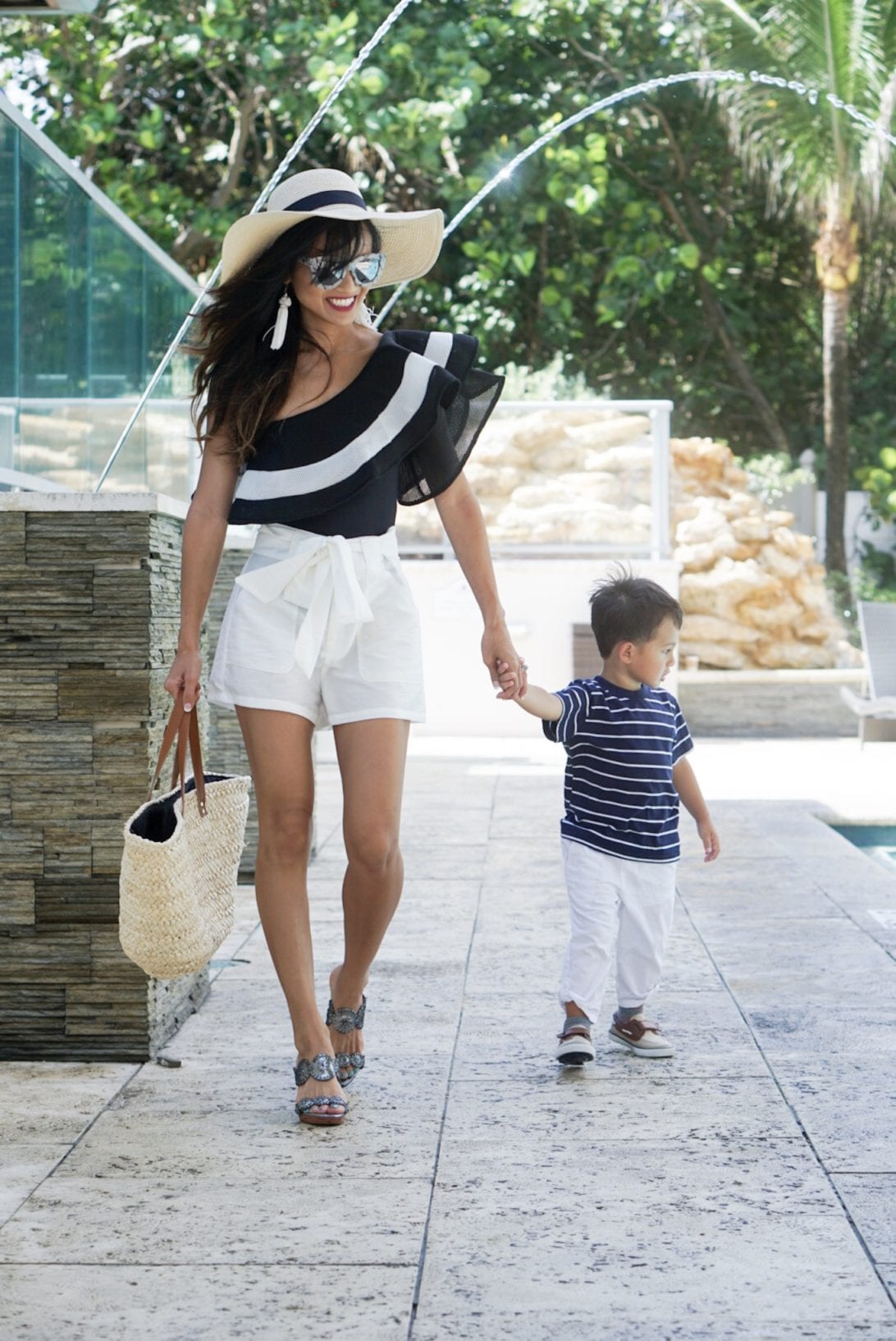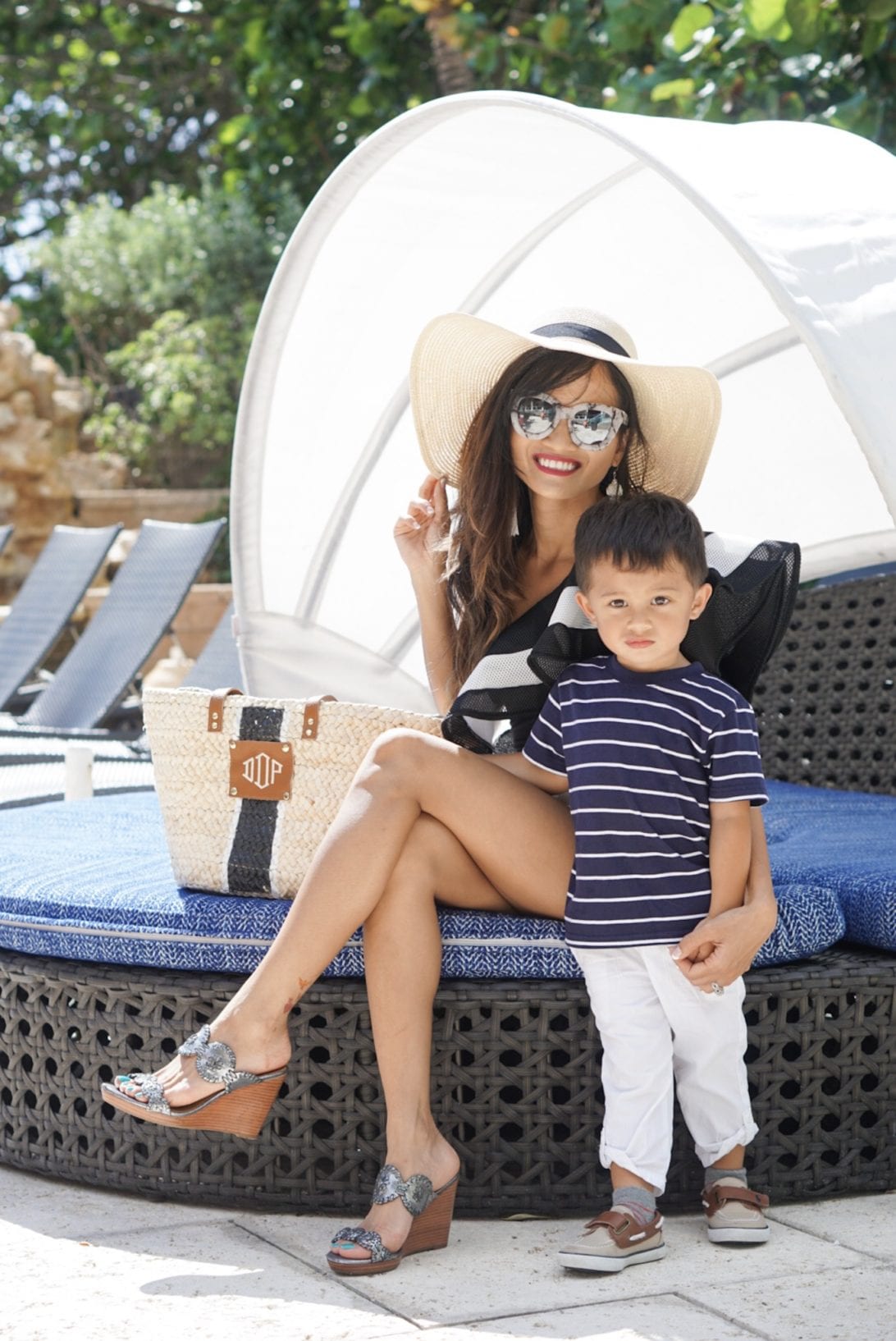 I love this off the shoulder black one piece swimsuit for under $20 I wore on our trip. It is so cute it really could double as a bodysuit. I love the quality of this bathing suit and it pairs perfectly with these tie front shorts and wedges. P.S. How cute is Jayden in his little outfit?
SHOP MY OUTFIT:

SHOP JAYDEN'S OUTFIT: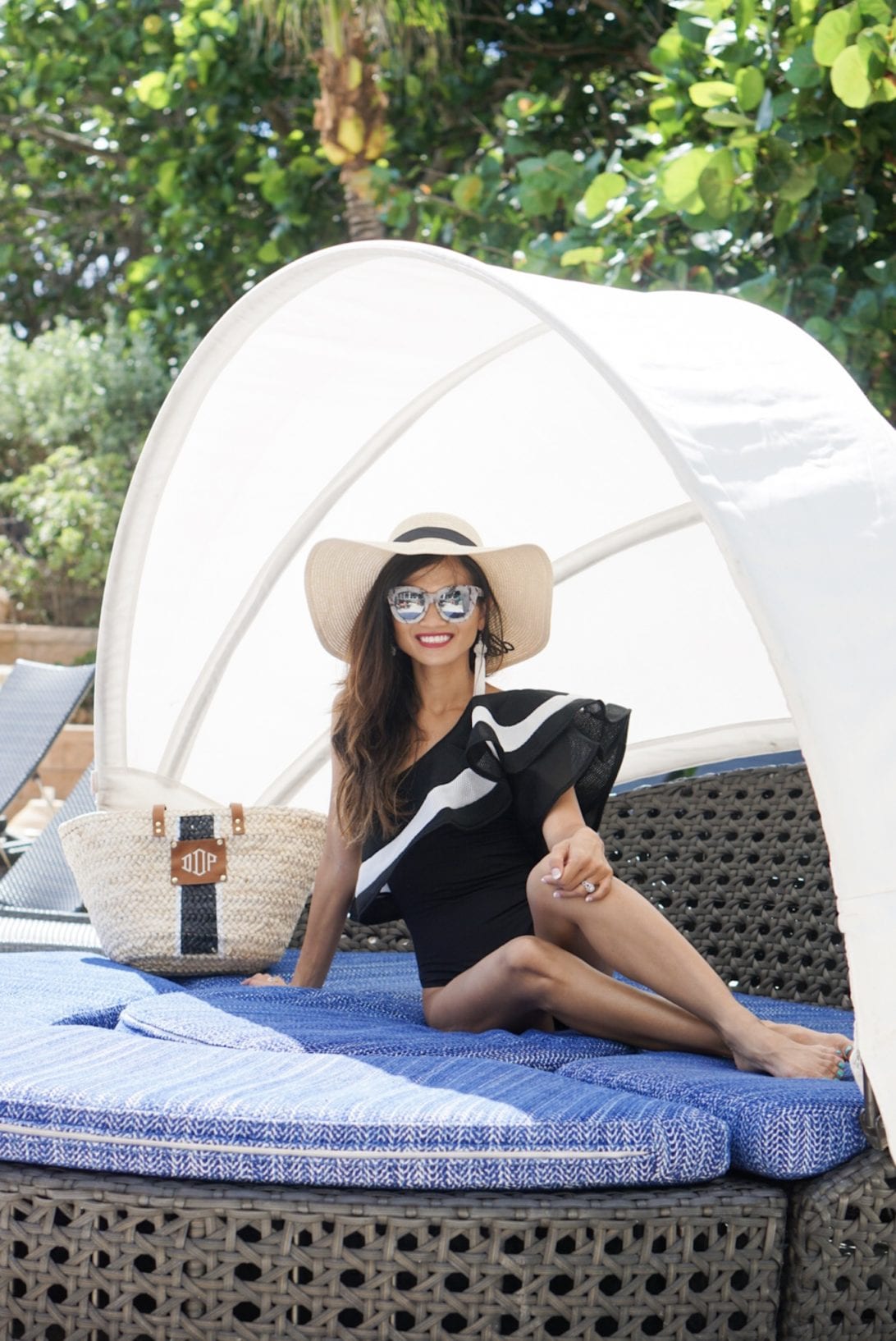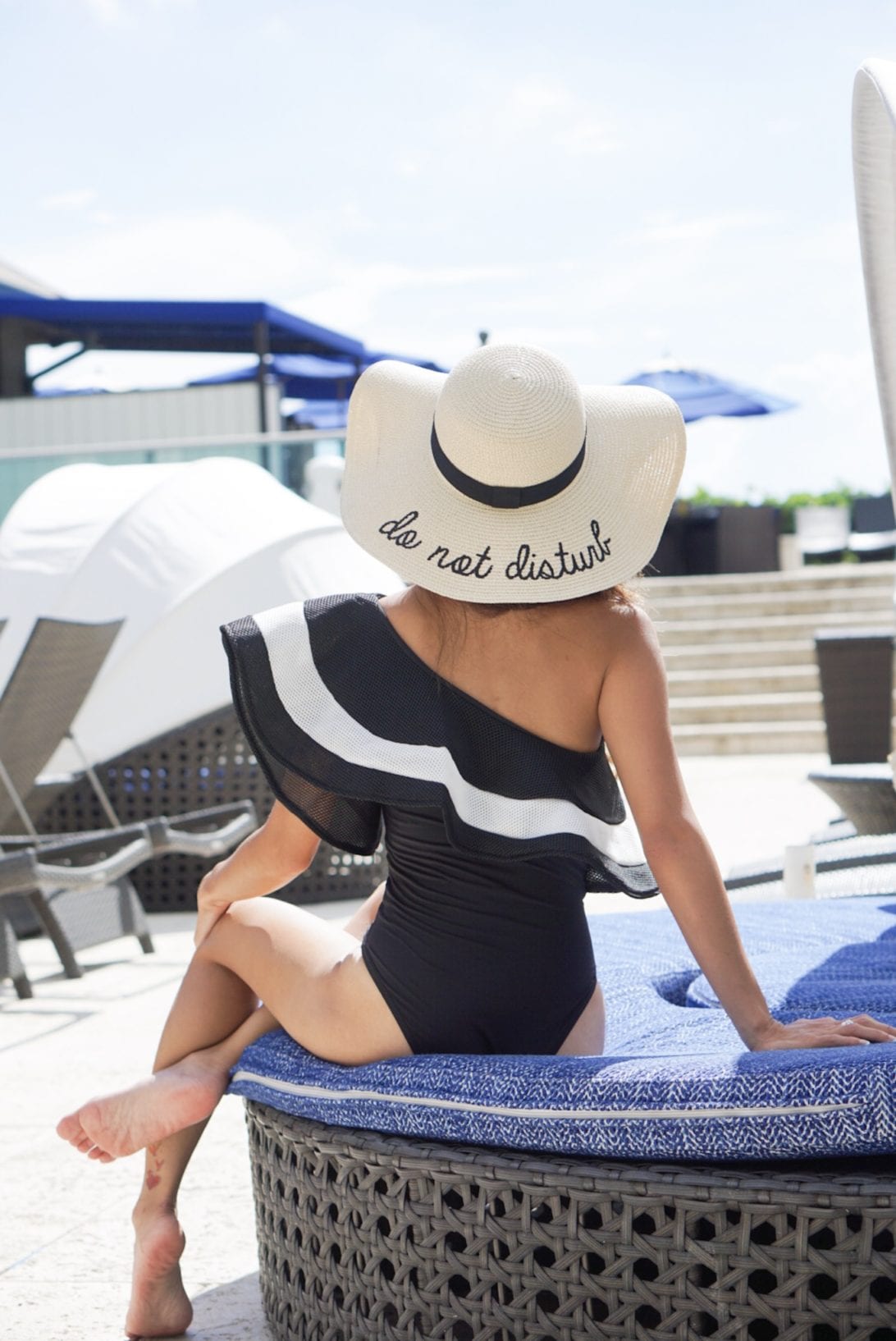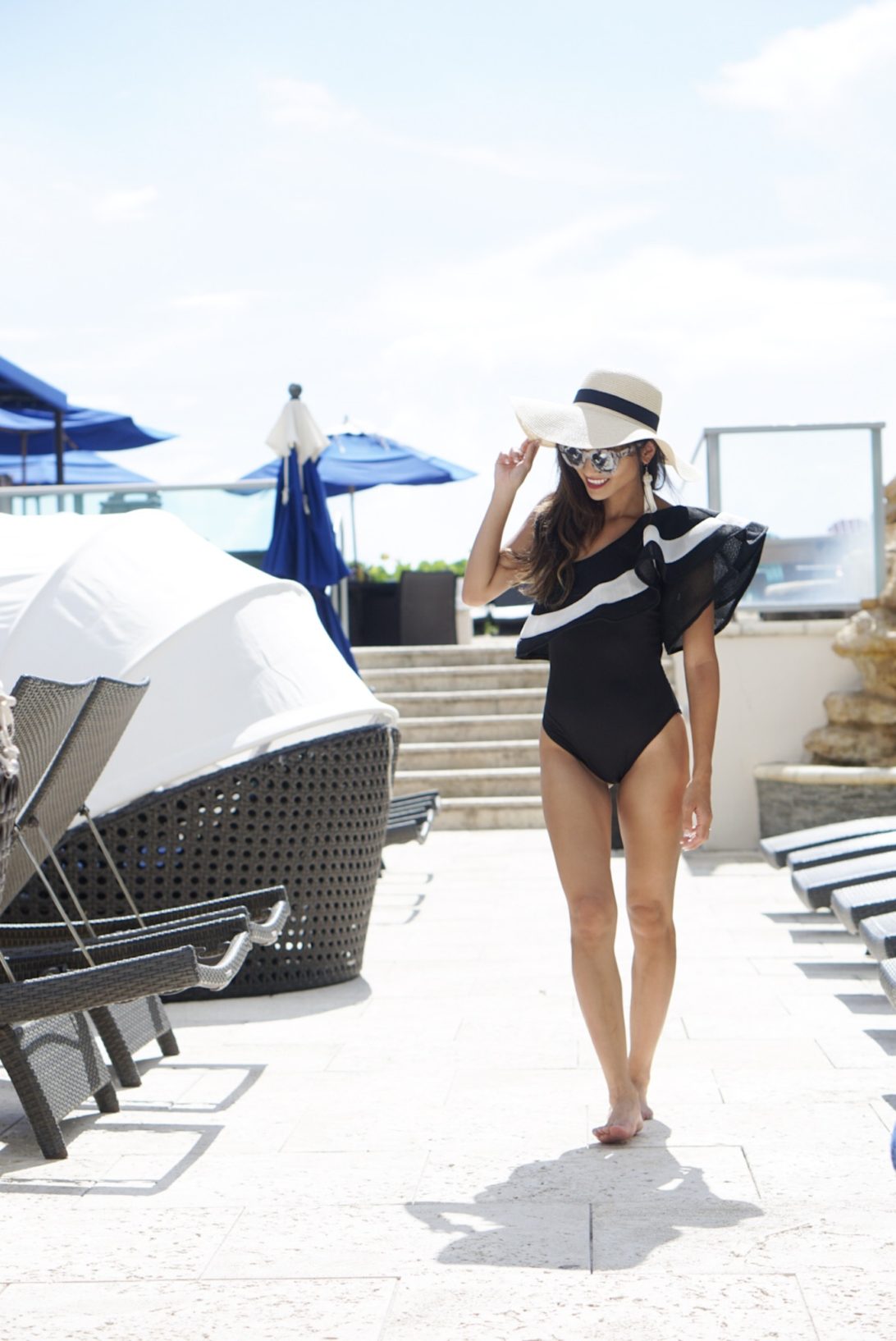 We really enjoyed our road trip with our little guy and being able to see him grow and learn along the way. For mom's looking for a vacation to unplug, connect with family, and enjoy your surroundings I hope these 10 Tips for an iPad/iPhone Free Road Trip With a Toddler help. Thanks for stopping by!
P.S. Subscribe for weekly newsletters so you never miss a single post!