This post is in partnership with Pantene. All thoughts and opinions are all mine.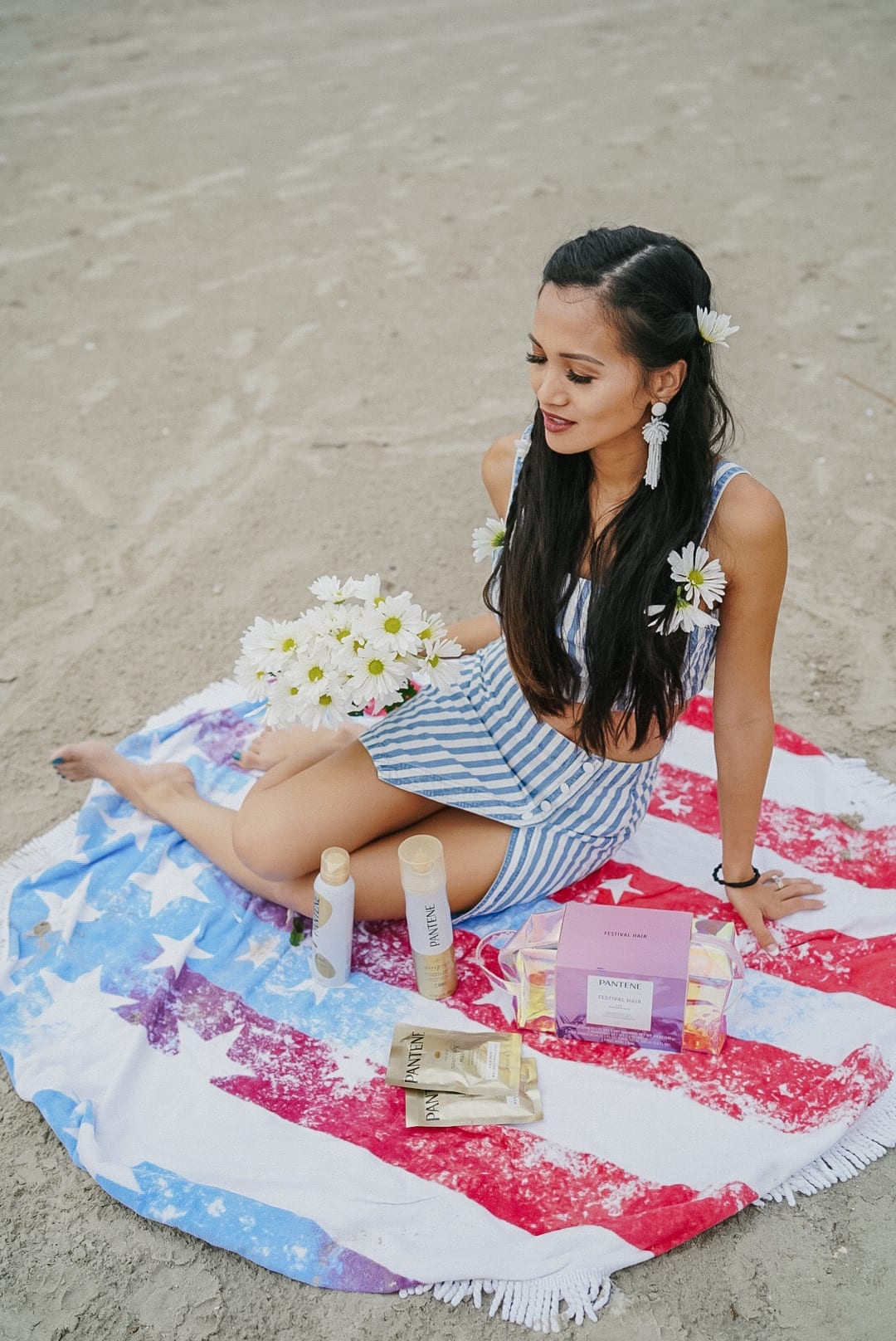 Hey friends,
Hope y'all are having a great week! Today on the blog I am sharing with you my must have festival hair accessories with Pantene. Last month I had the privilege to attend Coachella, and Pantene happens to be the official haircare sponsor of Coachella, Stagecoach and Firefly. I had the opportunity to try all different types of festival hair styles and trends with Pantene's Festival Hair Kit. So today I'm excited to share with you my top Festival hair accessories you need to achieve great festival hair days without worrying about damaging your hair. Check out more below!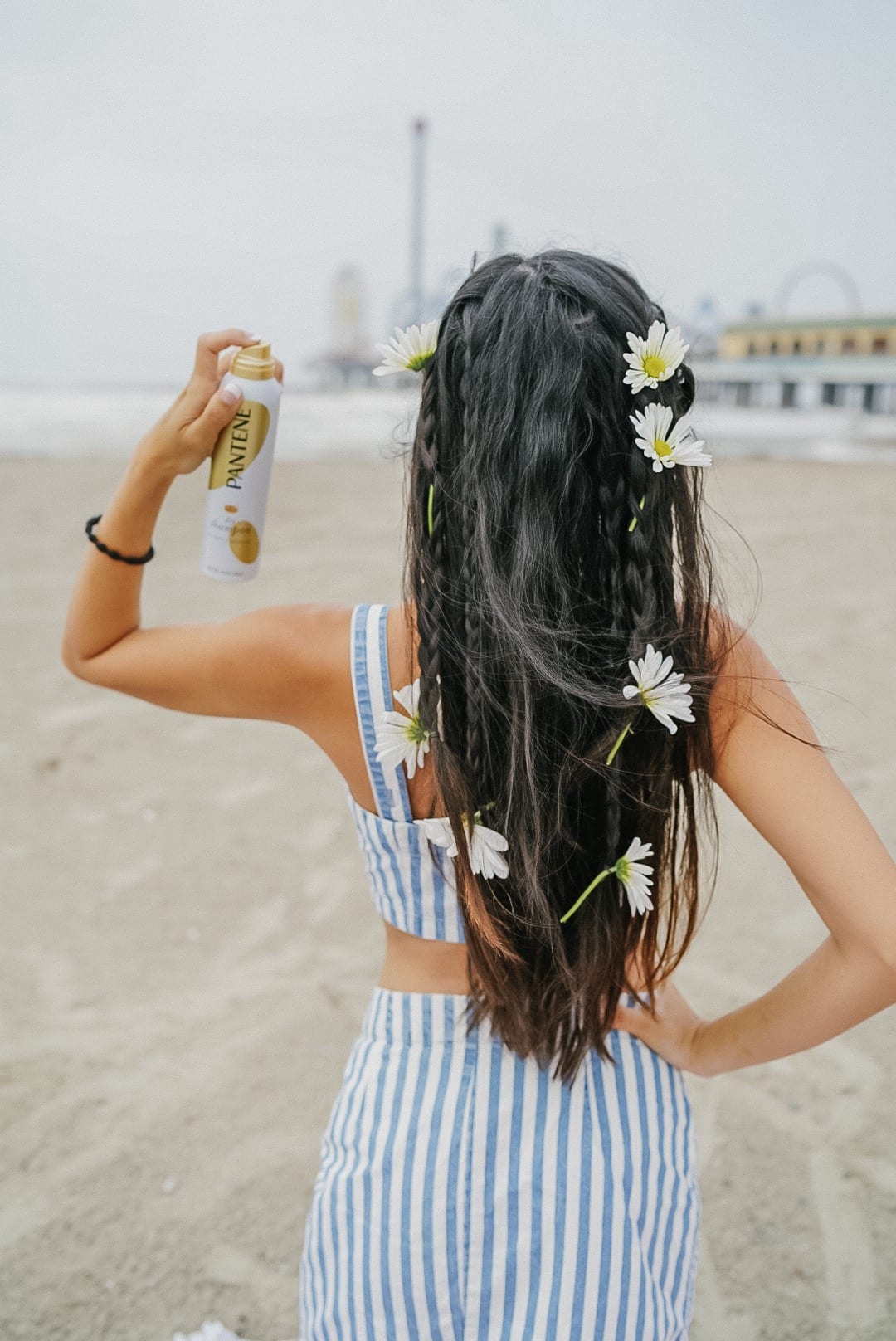 6 Must Have Festival Hair Accessories
Here are a few festival hair accessories to use for your festival hair style as you're using the Pantene Festival Hair Kit.
Hair jewelry/clips – From pearl berets to bedazzled statement clips, hair jewelry is a fun way to accessorize your hair for festival season. Using Pantene's Festival Hair Kit's On-the-Go Frizz Iron, I keep my hair in check and frizz-free for a straight sleek festival hair style that can be easily accessorized with hair jewelry and clips. Check out this look here for one of my favorite festival hair style.
Hats & Visors – Not only are hats and visors a great accessory for festival hair, they are also great for protecting your face from the sun. Check out how I created space buns with this yellow visor here. I use the Dry Shampoo included in Pantene's Festival Hair Kit for a fresh and clean look, even on the second or third day when I wear hats or visors.
Bandana & Headbands – There's so many way to style a bandana for a cute festival hair style. Check out some ways I style it here.
Braids – A French pigtail, braids or space buns are a popular way to style your hair for next festival. I like using Pantene's Airspray to lock out humidity and add shine for a strong hold and lasting frizz control with my braids.
Flowers – Fresh or faux flowers are another one of my favorite hair accessories. I love adding daisies to my braids for a boho festival look.
Pantene Festival hair kit -The most important hair accessory of all is Pantene's Festival Hair Kit. For an exclusive time, Pantene has created the limited-edition Festival Hair Kit. You can find all your hair necessities for a great hair day, in preparation, during and post-festival season in this portable and easy-to-pack Festival Hair Kit.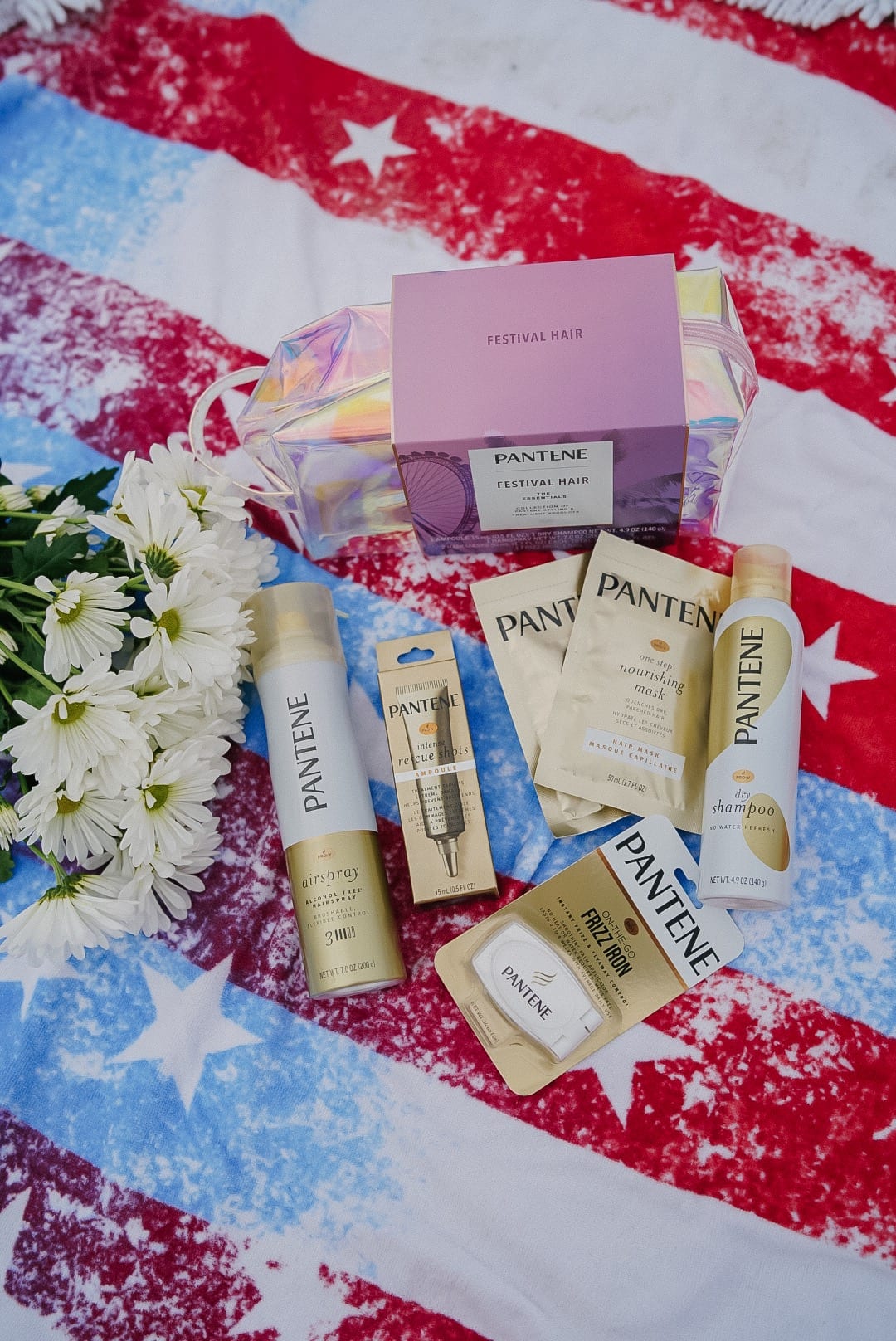 PANTENE FESTIVAL KIT
Each Pantene Festival Hair Kit contains a compact On-the-Go Frizz Iron, Dry Shampoo, Airspray, one ampoule of the Intense Rescue Shots, and two Nourishing Mask sachets all in one easy-to-carry beauty bag.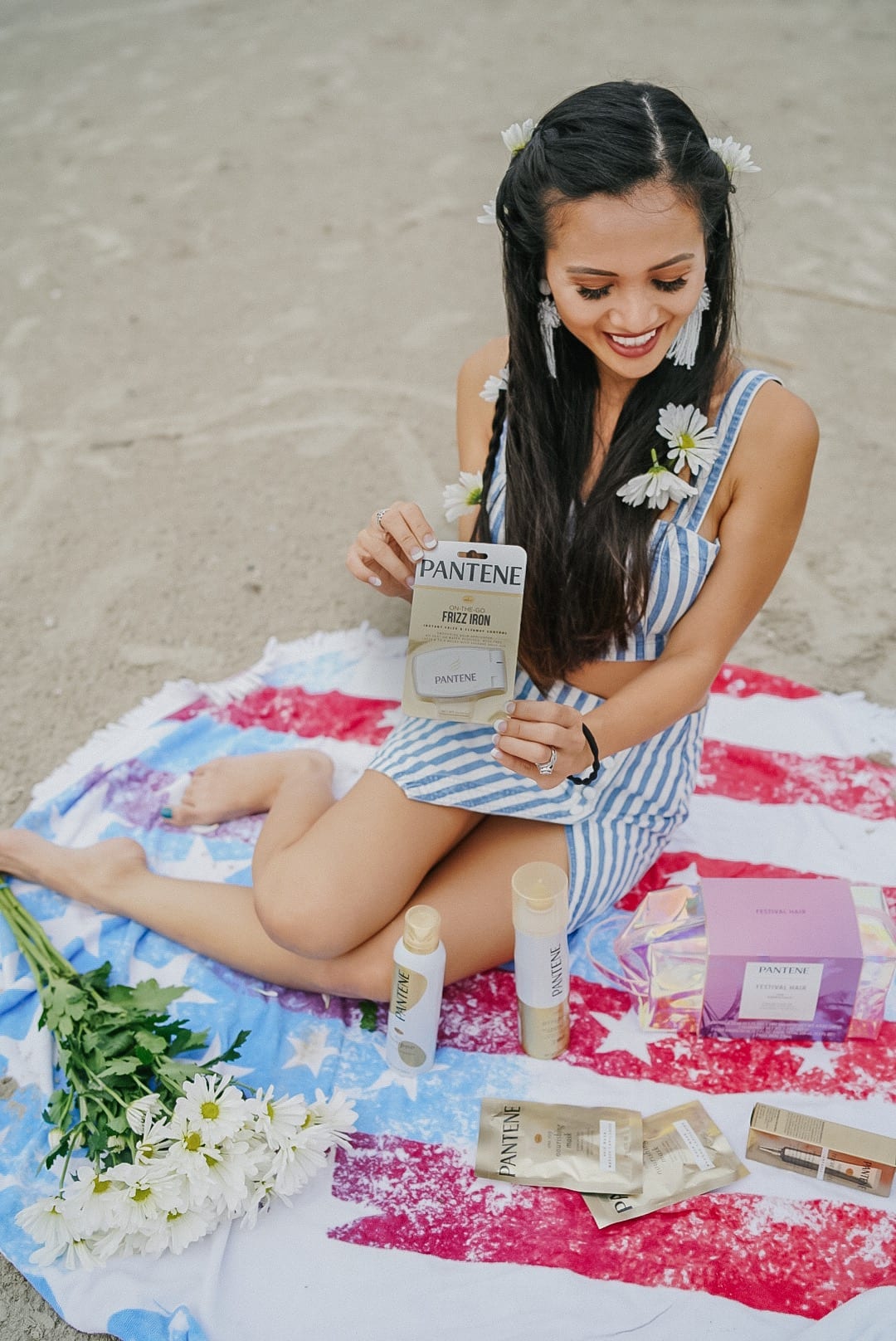 Frizz Iron – It straightens, smoothes, moisturizes, and shines to remove the frizz of any hair type with no heat or water. Remove the protective cover, close the On-the-Go Frizz Iron around your hair and glide it from top to bottom. Perfect to keep my hairstyle in place during the festival!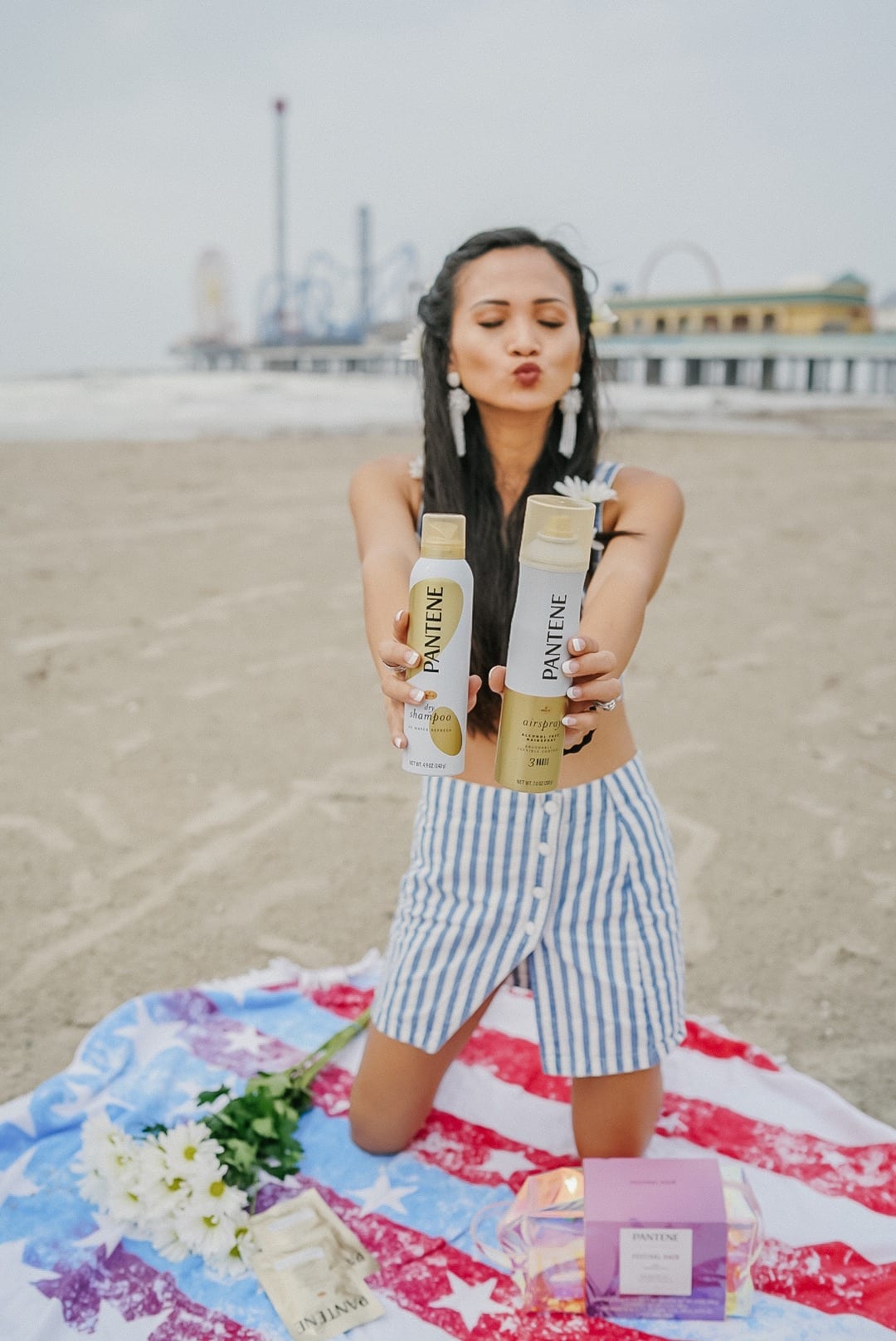 Dry Shampoo – Refresh your festival look with Pantene's Dry Shampoo, which absorbs oil and instantly refreshes hair without washing. Give your hair a fresh and clean look, even on the second or third day! Spray at roots, or wherever refreshment is needed most.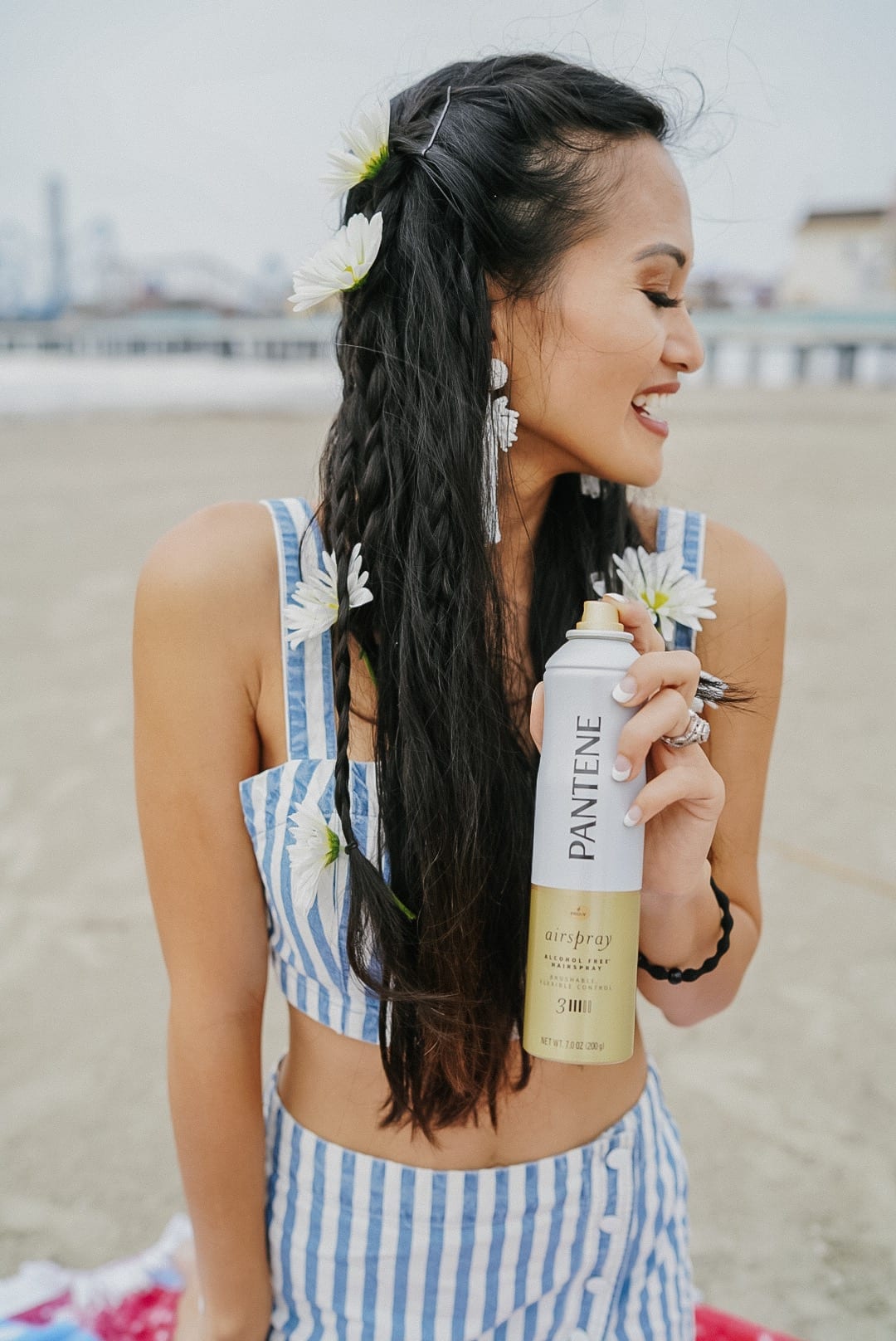 Airspray – Re-style without having to re-wash using Pantene's "brushable" (alcohol-free) Airspray for a silky, controlled and light-weight finish. Spray evenly on dry, styled hair to finish. This is a "brushable" spray and you may find that you need less than your usual hairspray.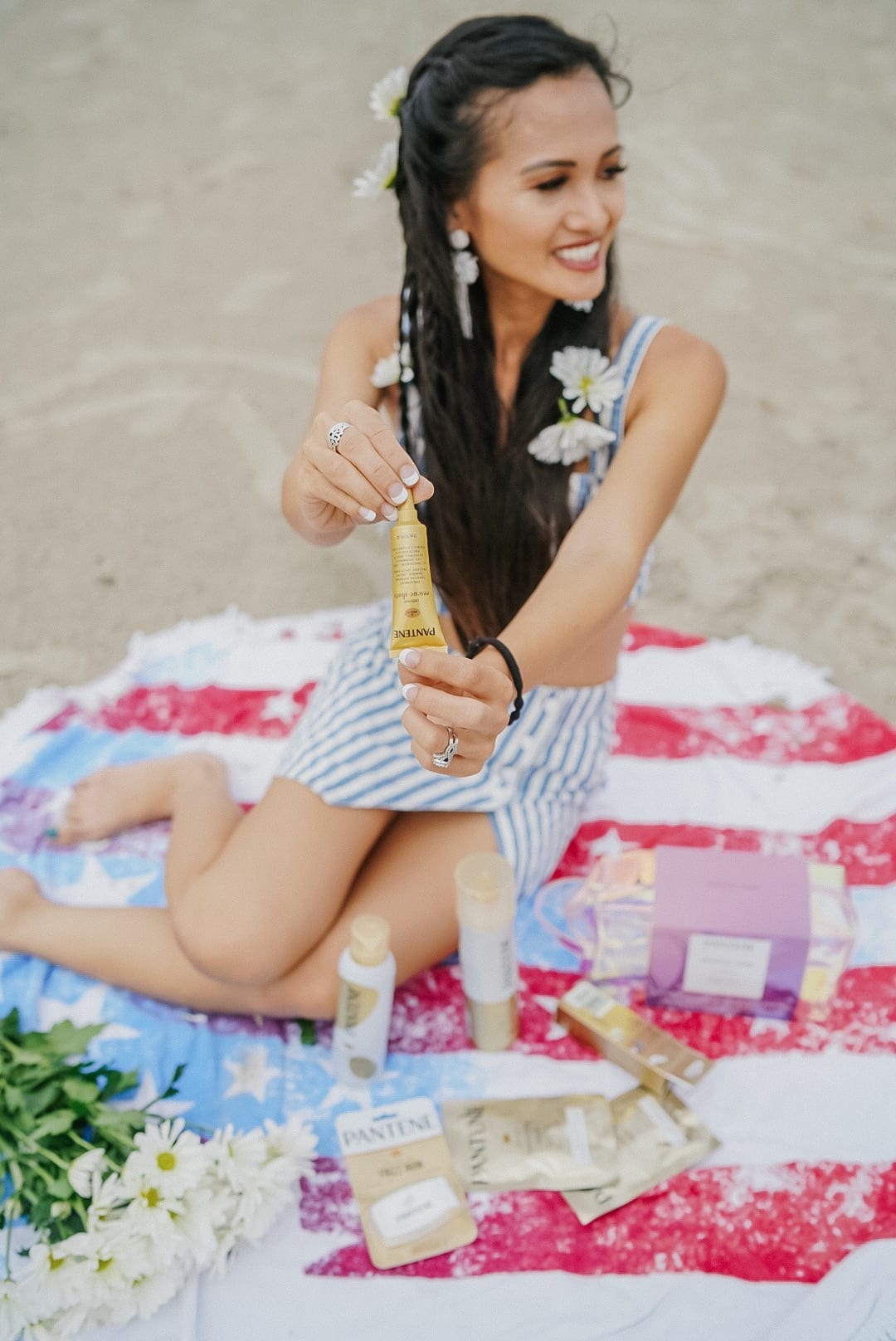 Pantene's Intense Rescue Shots – These shots are a nourishing treatment that rinses quickly to avoid weighed-down hair while repairing extreme damage from over styling. I use these rescue shot during and after Festival week to keep my hair looking hydrated and healthy. After washing hair with a Pantene shampoo that fits your specific hair type, dispense the treatment into your hand. Apply onto damp hair and massage from root to tip. Be sure to target areas that see the most damage. Leave in for 30 seconds. Rinse for 30 seconds – don't over-rinse!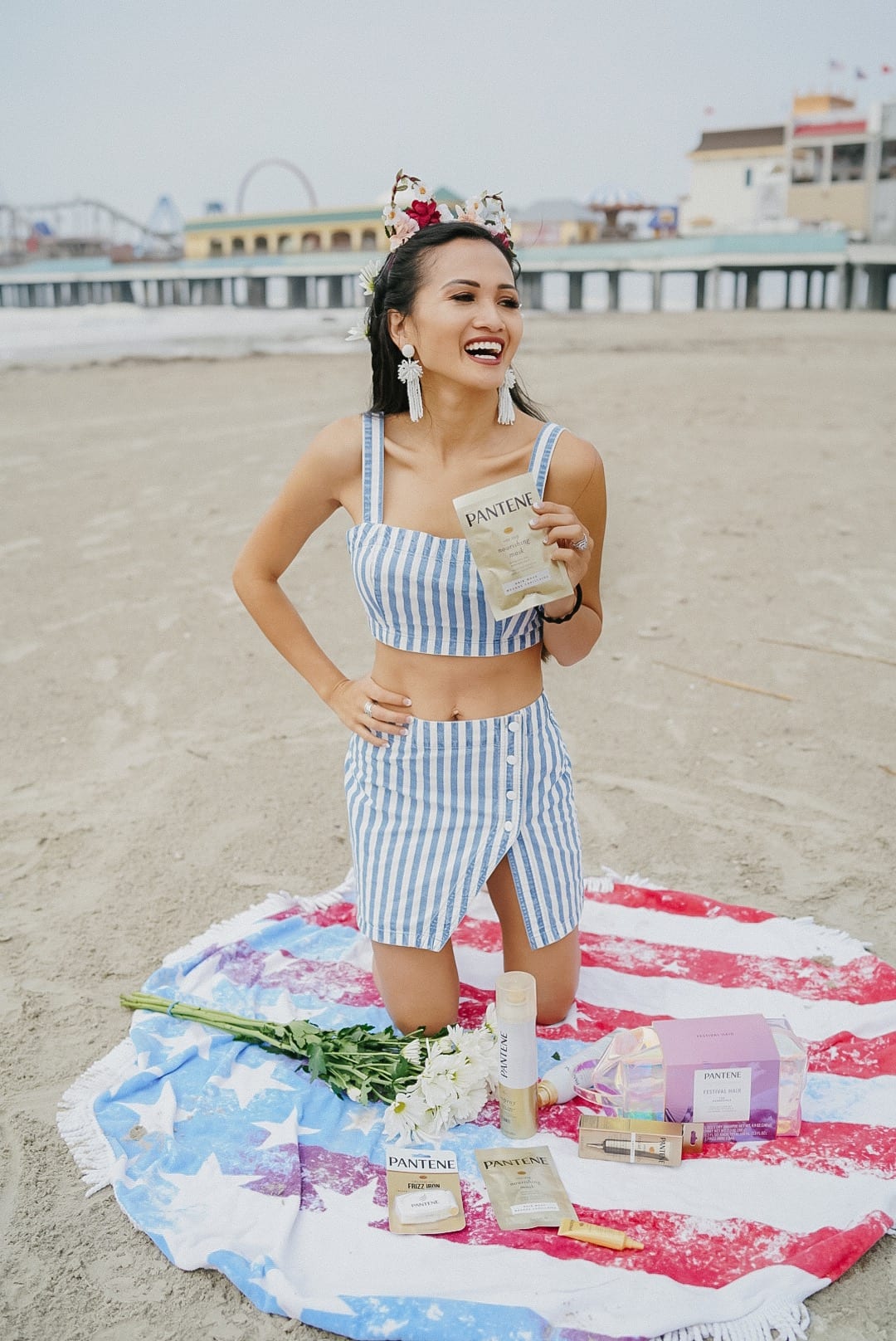 The Nourishing Mask sachets are great for an instant hydration boost and visibly healthier, shinier and stronger hair. I love using it before and after Festival week to prep and protect my hair from the harsh dry weather. It delivers a nourishing boost of hydration to dry or parched hair. While in the shower, after shampooing your hair, comb a half dollar amount from mid-shaft to the ends. Leave on for 5-7 minutes, or longer if desired. Rinse thoroughly after use.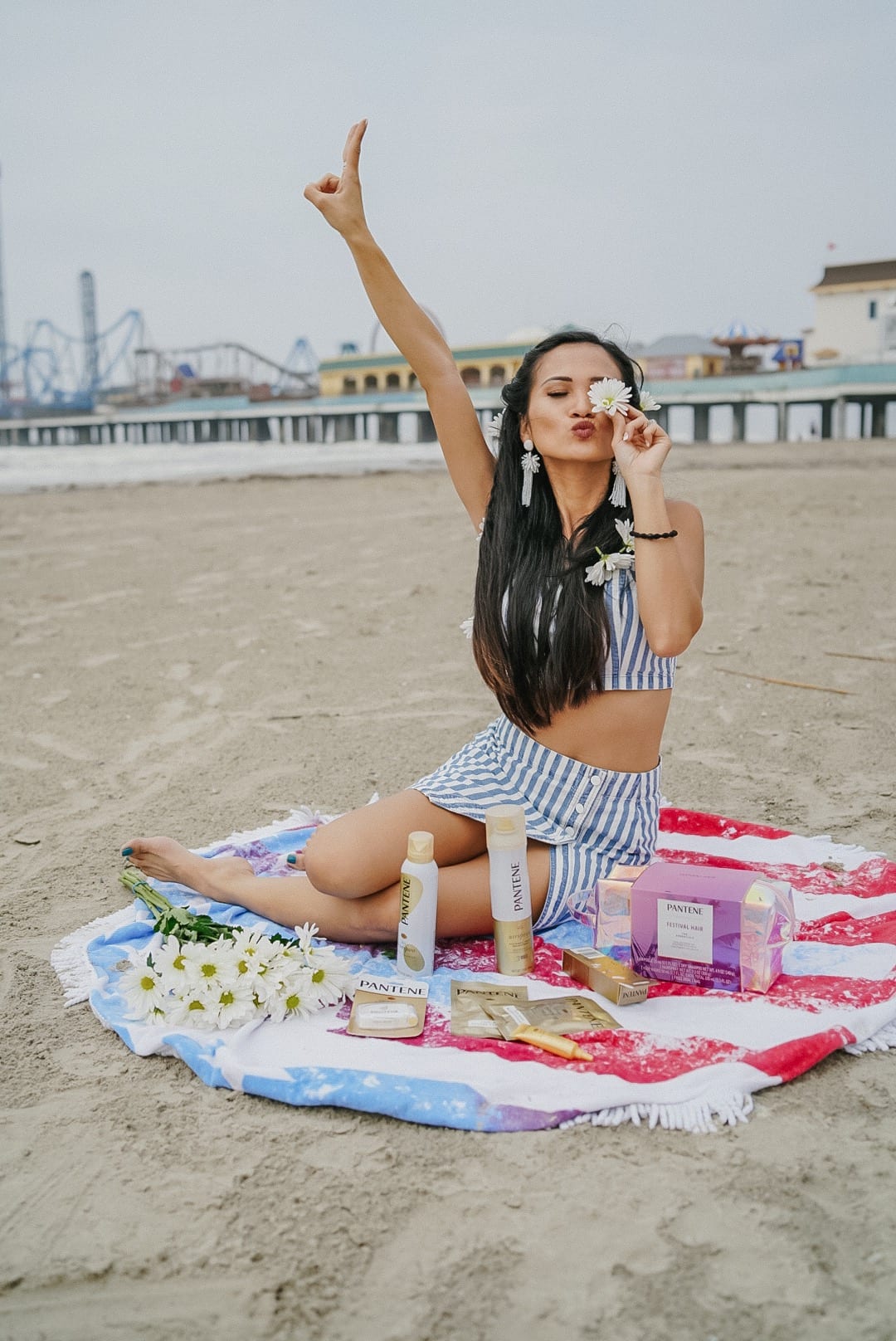 Pantene wants women to achieve their ideal look at any festival. And my favorite hair accessory for any festival is my Festival Hair Kit, because it has all the tools to keep my hair looking radiant during festivals and long summer days. So if you are headed to your next festival, make sure to get Pantene's Festival Hair Kit at Walmart, so you can be festival ready! I hope you enjoyed these beauty tips. Thanks for stopping by!
P.S. Subscribe for weekly newsletters so you never miss out on a single post!