FEATURED ON THIS POST:

Hey everyone!  It's been a month since I went to  NYFW and I am finally recapping it for y'all in this one post. Last year I broke it up by days. But this year due to limited time, I am going to share it in one big long post with one of my favorite outfit post taken in front of the Flatiron. I have tons of amazing brands I have to give to credit to that made my NYFW 2018 extra special this year. So without further udo read the full recap below!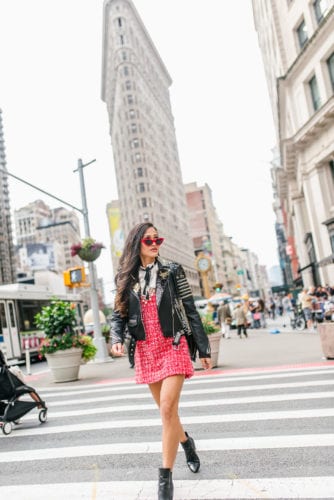 DAY 1:
I arrived at NYFW around 11am and headed to the Park South Hotel which we stayed in last year to get settled in. I love staying at this hotel because the rooms are nice and it's so convenient to everything. It's  literally a ten minute walk to the Flatiron and the subway station is right down the street. My first meeting of the day with Alison Brod was only a five-minute walk down the street! It was my first meeting at Alison Brod and their office is every girl's dream. There were so many brands and all the ladies work there are so sweet!
After Alison Brod I went back to my hotel met up with my roommate Roselyn, and changed into my yellow jumpsuit for our first show Tadashi Shoji.  We went last year and the collection didn't disappoint. It was absolutely beautiful this year too! After the show we met up with our photographer and took some outfit shots before I headed to my fitting with Lafayette 148. Check out my full outfit here. I concluded the day with going to see the broadway show Chicago with my cousin and ended the night with some good old fashion NYC pizza.
DAY 2:
Day 2 we started bright and early with a DSW photo shoot in Soho. You can see those photos here. Then we grabbed coffee  and headed to see our PR contacts for DSW. They were seriously the sweetest, and it was such a pleasure to finally meet them. After the meeting we headed to the Rewardstyle rooftop happy hour party where I met up with my representative to go over my plans and future with Rewardstyle. The girls are so kind and helpful and the party was such a nice break with good music and food to mix and mingle with the Rewardstyle crew.
From there we headed to meet up with Now and Zen PR where I met my contact for the first time. They were so nice to gift was with the cutest slippers since are feet were hurting from all the walking we had been doing in NYFW.
At the hotel I met up with the Glamsquad team who were so kind enough to do my hair and makeup for my rooftop event at the Roof at Park South. Last year I hosted my first rooftop event which was a hit for all the girls looking for a more intimate place to enjoy good music and great food. This year it was even bigger! After my rooftop event we all headed to the Lulu's event for some fun! You can see my outfit here. There were tons of free drinks that night, so we ended up ending the night to Lan's favorite pizza place Artichoke Pizza for some late night eats.
DAY 3:
Saturday I woke up got ready and headed out for a photo shoot at the Flatiron where I took these photos here. I had to stop by at my favorite cafe that has the best hot chocolate! Seriously wish I went more than once this past trip, because still can't help thinking about it. After our shoot we headed to our next show Taoray Wang. It was such a good show. We ended up getting out later than expected so we didn't make it to our last show. Since we had time in between or show and our event Lan and I took the subway to Time Square. We got some amazing shots in Time Square even with the photo bombers in the back ground.
After we headed back to the hotel where I had my hair appointment with Mane Addicts. I love how my stylist did my hair. It was perfect for my outfit for the Rewardstyle Party. We had so much fun at the Rewardstyle Party, and ended the night chowing down at an authentic Italian restaurant. Let just say there was no left overs from all of us ten girls who ate there. I wish I remembered the name, but we were a little tipsy from the party.
DAY 4:
Sunday was a slow day because of the rain. We headed to the Grand Central Terminal to take photos and then made our way to this cute boutique for some cute floral shots. We conveniently found the cutest hole in the wall taqueria that had the best tacos that made us feel like home. After filling our bellies we headed back to our hotel to get ready for the Kendra Scott Party. Glam Squad came in and made me look "snatched" with hair and make up! Kendra Scott was so much fun, we got to preview their newest charm collection before it even launched and I met Blaire from Atlantic-Pacific. After we got invited to a fun VIP after party at 1Oak NYC, which I had no idea was so famous. I guess you can say my clubbing days are far behind me, but it was fun to relive it for a night.
DAY 5:
On our last day of NYFW we headed to our first meeting with Tractenberg where we learned about so many emerging beauty brands which I can't wait to share more about. After our meeting we took the subway to Dumbo where we took some photos in the rain, but at least we got the famous DUMBO shot. Then we headed back, picked up some delicious salmon bagel to go and headed to the airport home.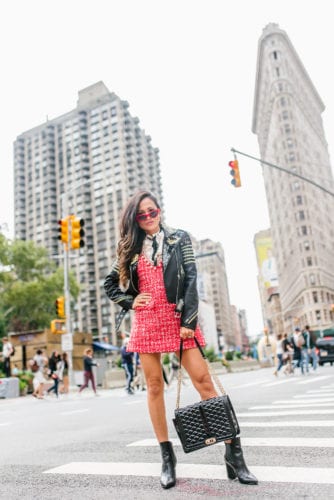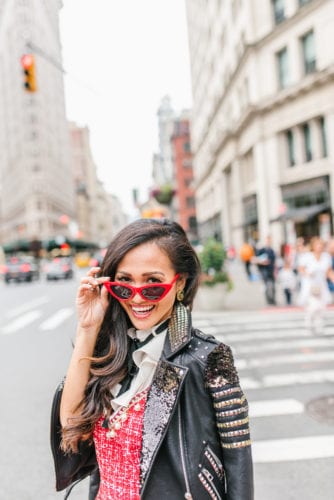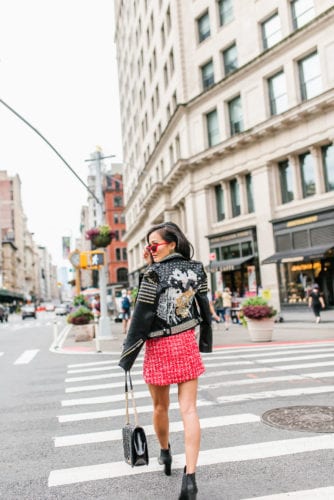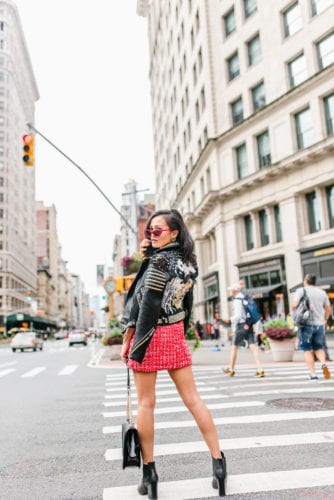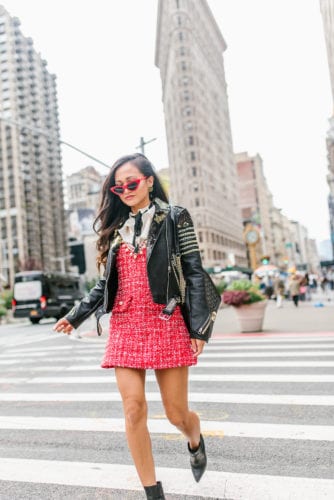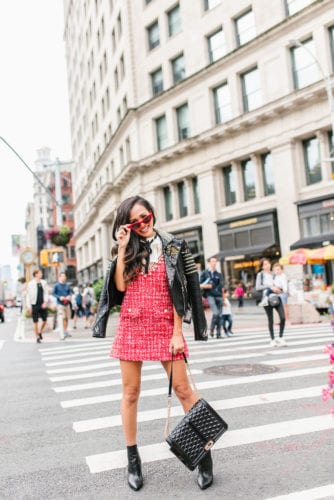 SHOP THIS LOOK:

For my fourth day of NYFW I channeled my inner Chanel with this pearl tweed dress. Check out all these tweed options for fall here. I loved the red accents with these statement red sunglasses. Check out more of these cute cat eye sunglasses here. And for my bag I wore my trusty Rebecca Minkoff Love crossbody which is a versatile bag that goes with everything. You can see how I styled this bag in these post here.
I hope you enjoyed my NYFW 2018 recap. If you have any questions comment below! Thanks again for all the wonderful brands I had the pleasure working with. And all my fellow blogger babes that made it so special. If you are interested in attending check out these post here.
P.S. Subscribe for weekly newsletters so you never miss a single post!
Photos by BanAvenue Photography