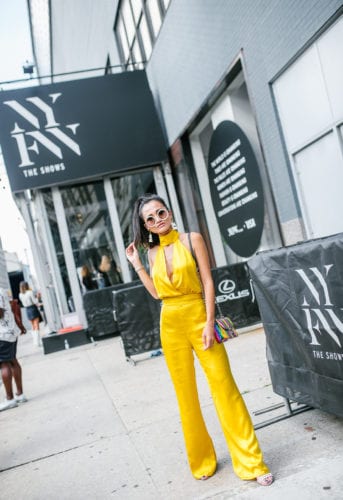 Hey everyone!
Hope ya'll had a great weekend! Today I am sharing my first New York Fashion Week post. I will be doing a full recap later of my time at NYFW. But today I am answering your top 5 questions about New York Fashion Week as well as my first look for my first day of NYFW!  I'm changing it up this year as I asked ya'll what you would like to know on Instagram. With this being my second year, I remember what it was like being a newbie to the scene. And it can be a little intimidating. But I've learned a lot over the year, and hopefully this post will inspire you to go after your dream of going to NYFW. Check out more below!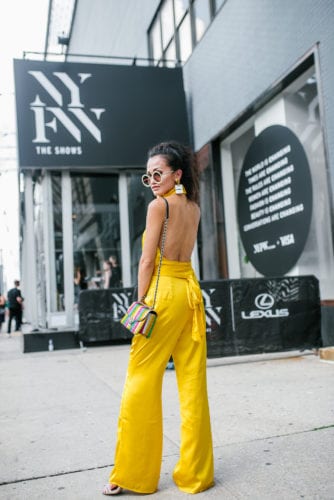 Top 5 Questions About New York Fashion Week
1. How do you get Invited to shows and showrooms?
There are two ways to get invited to shows and showrooms: One they invite you, and two you reach out to them. There is a big PR list of almost everyone in NYFW that you can find here. If you don't know anyone start there. I had beginners luck last year and got invited to some of the bigger shows using that list. However I highly suggest starting as early as a month out when it comes to reaching out. You don't want your email to be lost with everyone else trying to get in when it gets busier closer to the time of NYFW. Also reach out to the PR companies you have worked with that are located in NYC. They are great resources for showrooms and fun events in NYC. It's always great to have previous working relationships with PR agencies. Plus its a great way to build relationships and meet in person.
2. How to collaborate with other bloggers?
Community over competition. I think it's so important to reach out to other bloggers and connect. That's where you will find your next roommate or someone you can attend PR meetings or events with. As a Houston blogger we have such a strong community that no matter where we go we make a positive presence. Don't be afraid to make a new friend, reach out to another blogger on Instagram and connect. Having someone to share your NYFW experience is always so much better than doing it on your own.
3. How to dress for fashion week?
Alright guys so here's the deal, with fashion week you can literally where whatever you want, regardless of labels. You don't have to break the bank to go to NYFW when it comes to your outfits. My first year I wore a lot of fast fashion pieces from non name brand stores, and I got tons of compliments. This year I was able to get sponsored for NYFW with some big brands who gifted me more expensive outfits. And as far as heels go, we may look like we wear them everywhere but we don't. Here's the trick, pack foldable flats like this one here, and wear those for getting around town, while you carry your heels. Because trust me you won't last five blocks in high heels in NYC without getting major blisters on your feet. I always try to pack a comfortable bootie like this one and this one that I can wear with multiple outfits.
4. What else is there to do outside of shows?
There is so much to do outside shows. Between brand meetings, showrooms, photo shoots and brand hosted events you will be very busy for NYFW. The shows probably make up less than 20% of what most bloggers do for NYFW as they only last less than 20 minutes per show. And honestly even if you didn't have a lot planned for NYFW its NYC, and there's always somewhere to go and something to see.
5. What is your biggest takeaway from going to NYFW?
My biggest takeaway is the connections I've made at NYFW. You will be surprised how many people you meet, networking opportunities you build, and most of all the friendships you make. I honestly grew so much because of all the people I meet. I would not be where I am without these amazing friendships and connections. There's just something about NYFW, that brings out the best type of people, creatives, artist, entrepreneurs, and every year it gets better and better. NYC is truly magical!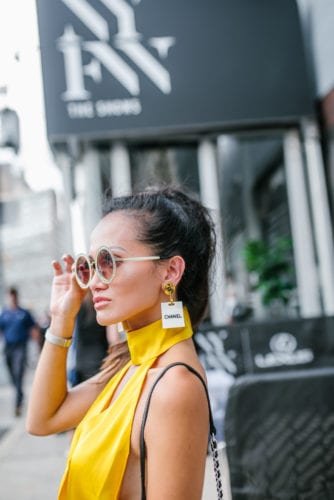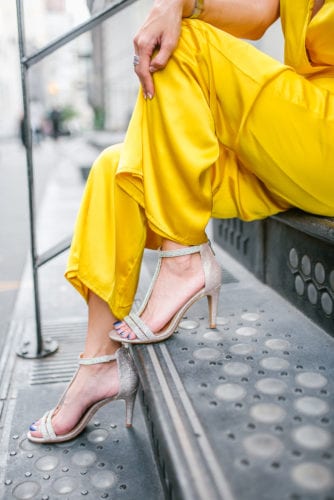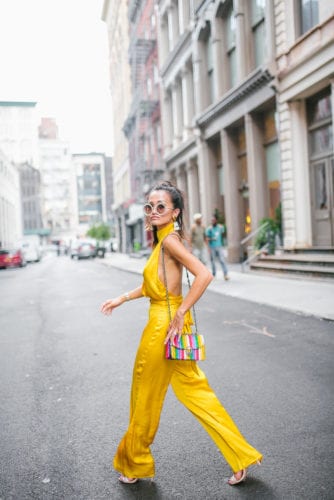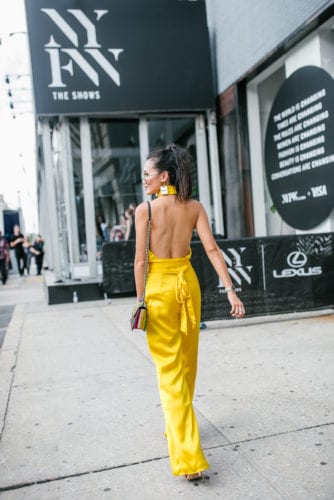 SHOP THIS LOOK:

For my first look to see the Tadashi Show I wore this show stopper jumpsuit from LPA. And when I mean show stopper, I mean show stopper. I loved the vibrant yellow and the satin material. Check out all the gorgeous jewel towns that are making a statement on the runway here. I'm loving all the gold yellow tones for fall! But I did have to get my jumpsuit altered to my length even though I was wearing the XXS. I paired this jumpsuit with these gorgeous Chanel earrings from the Vintage Contessa and these fun sunnies for under $15! I love all the big oversize round sunnies for fall! For my shoes I wore these sparkly heels for under $50 to match my blinged out accessories.
I hope this post answered your questions about New York Fashion Week, and inspires you to attend. NYFW is truly magical, and just an amazing place to meet some wonderful people as well as work with some amazing brands. I will be sharing a full recap soon! If you have any questions comment below. Thanks for stopping by!
P.S. Subscribe for weekly newsletters so you never miss a single post!
Photos by BanAvenue Photography