Thank you Springfree Trampoline and KaBOOM for sponsoring this post. As always all thoughts and opinions are mine alone.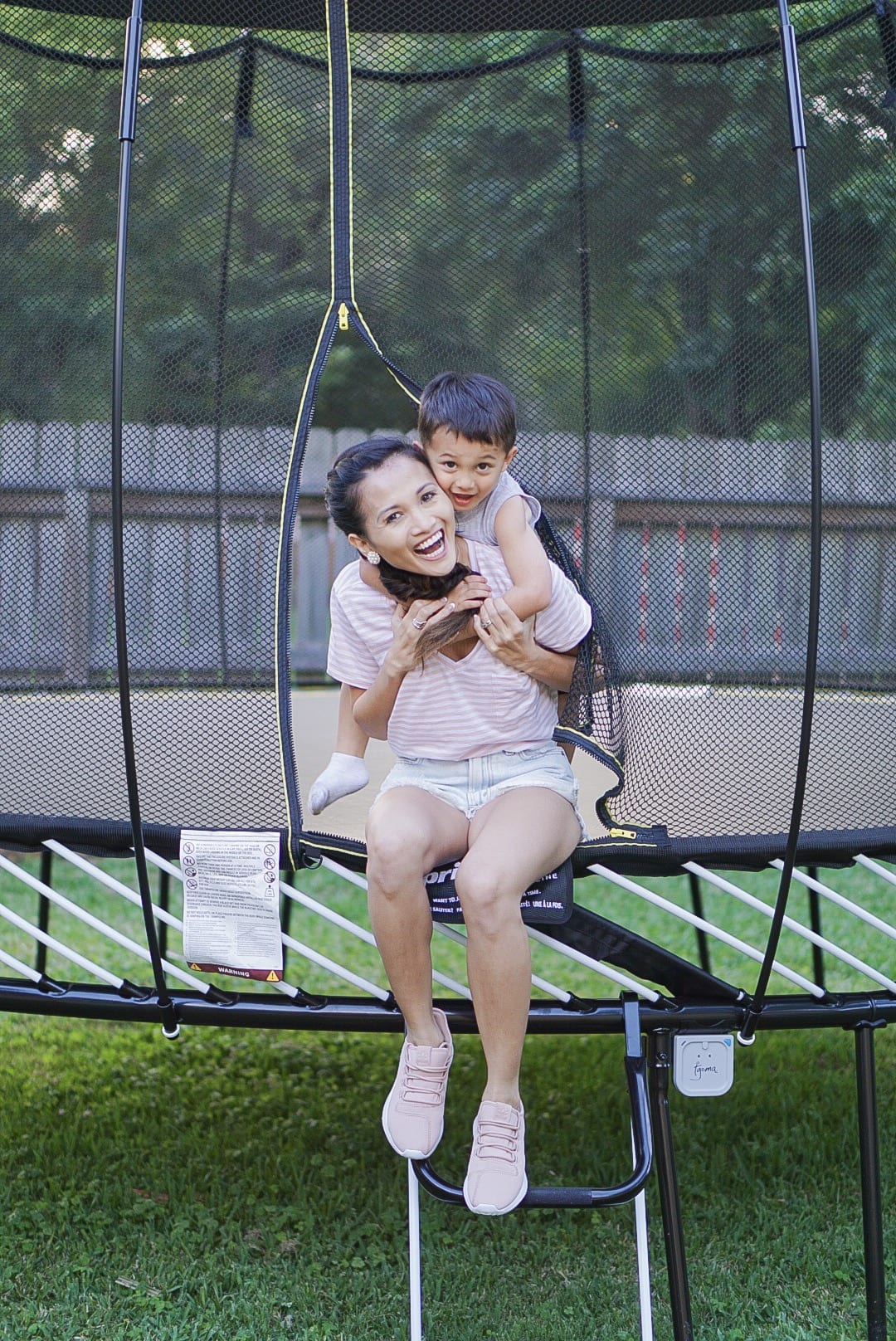 Hi everyone,
Who is excited for school to be out and our kids to be home? I know for some of us mamas the thought of having our kids home twenty-four seven can be a little stressful. I mean let's face it, we have to think of ways to entertain our kiddos to keep our sanity. So today I teamed up with Springfree Trampoline and KaBOOM! to share some fun backyard activities to do with your kiddos that will keep them entertained and having fun! Plus there's an amazing Backyard Summer Refresh Giveaway (valued up to $13,000!) that you or a deserving family you might know can win! Read more below!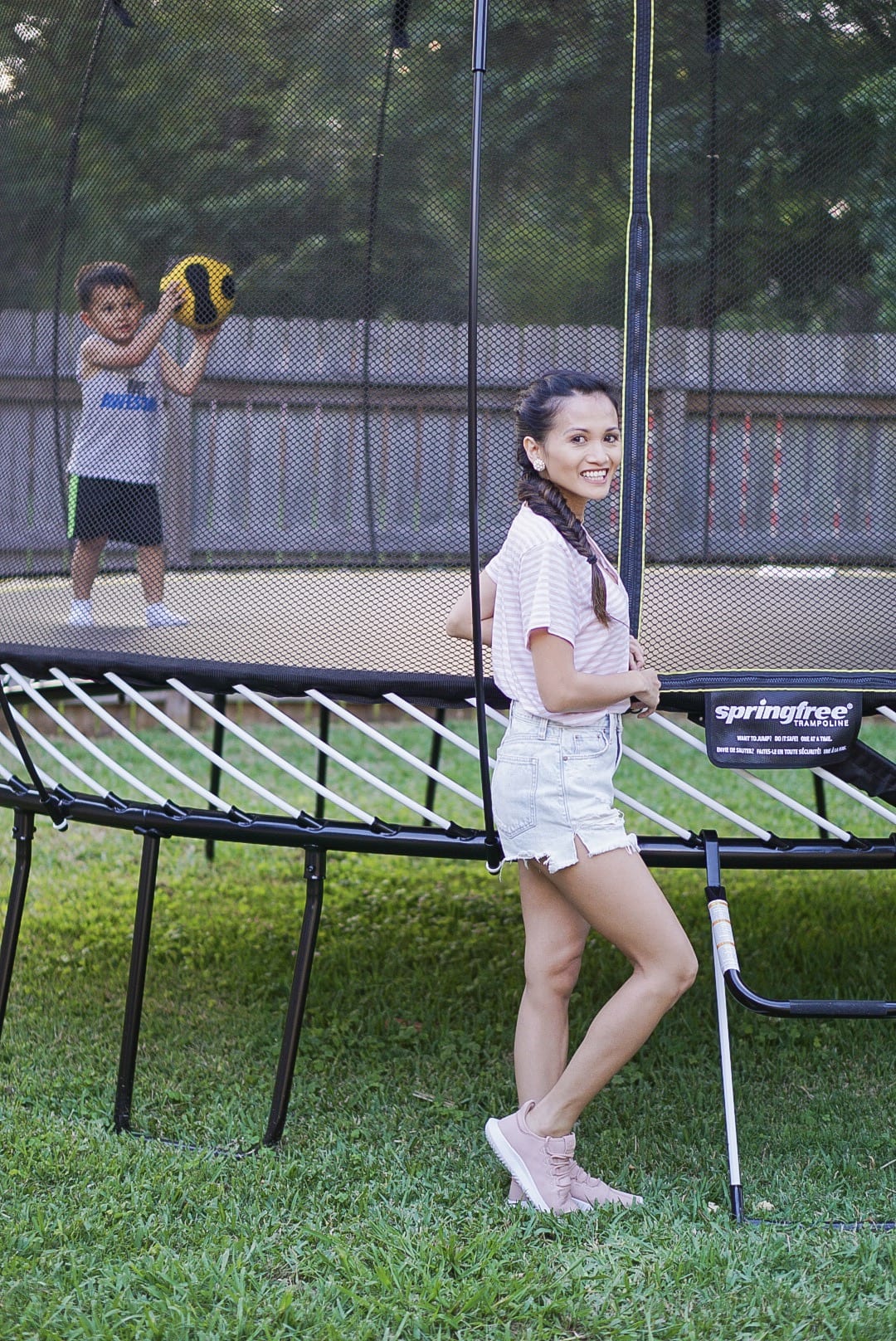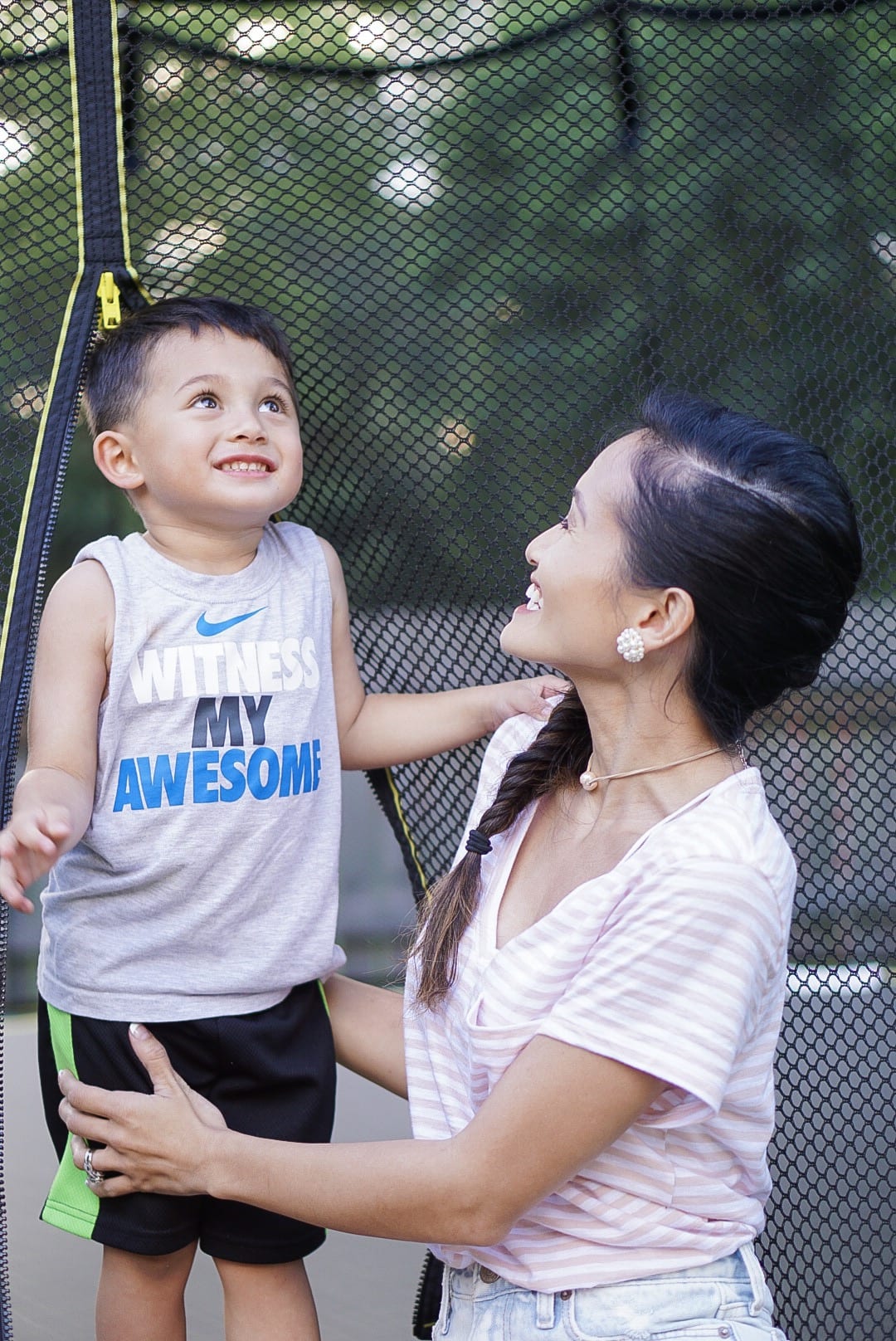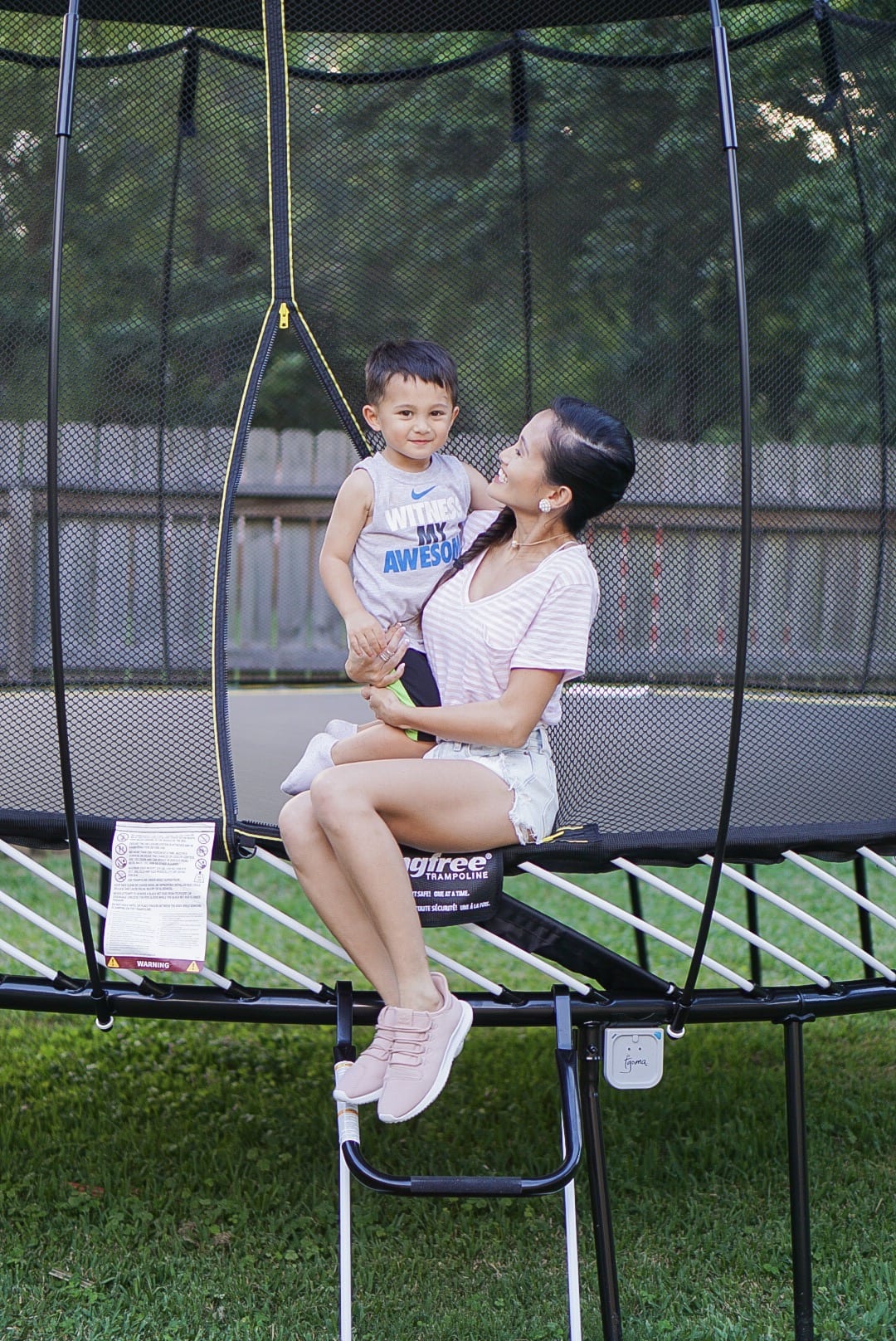 6 Fun Backyard Activities To Do With Kids
Create a backyard garden –

This is probably my personal favorite because there's nothing that makes a backyard more beautiful than some gorgeous blooms! The kids have fun because they learn responsibility like watering them daily, and have a sense of pride to see something grow from the fruits of their labor.

Have a pool party –

No need for an in-ground pool party, nowadays you can get an inflatable pool for $20! Easy to fill up for a fun pool party in your own back yard.

Enjoy a bubble jumping party

– My little guy loves bubbles, but why not make it more fun by making it a game? With our new Springfree Trampoline, catching bubbles will be so much more fun!

Play water balloon baseball –

My son loves baseball, and we can be outside for hours hitting baseballs. Why not make it fun and hit water balloons instead? It's a fun game for those hot summer days.

Go camping –

There's nothing better than having homemade s'mores and watching the stars in the comfort of your own backyard. We like camping in our Springfree Trampoline because it's more comfortable than the ground, and with its safety enclosure and sun shade it makes a perfect backyard tent too!

Create a tire swing –

Nothing says summer like an old fashion tire swing in your backyard. My husband took an old spare and tied it up with a rope on a tree as target practice for Jayden when he plays baseball and football, but it is also super fun as a swing!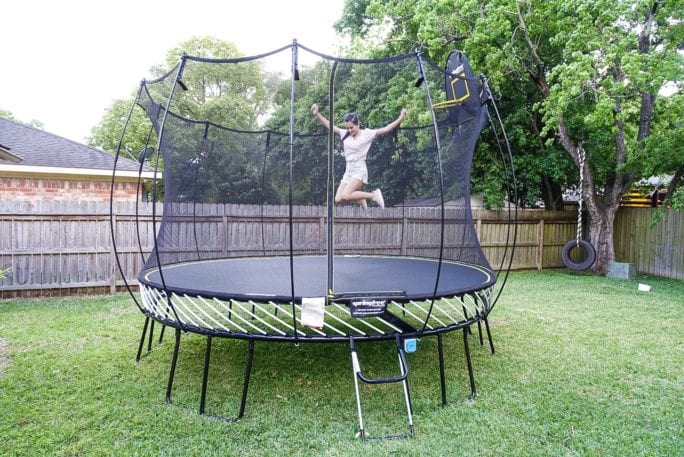 About Springfree Trampoline
Spending active family time outside provides a fun and safe, yet unstructured, environment for the entire family to embrace a healthy, happy and active lifestyle. Springfree Trampoline is working to bring families together through safe, outdoor play with their Springfree trampoline design that greatly reduces common trampoline injuries. Plus, it is supported by a full 10-year warranty! I know as a mom, safety was the first thing I thought about when deciding whether to get a trampoline. But check out these videos here and here, and you can see why I chose Springfree for my growing and very active family! Springfree Trampoline is the world's safest, highest quality and longest lasting trampoline, creating exceptional value for getting kids outside and active while giving parents peace of mind.
We love our Springfree Trampoline! We got the Jumbo Round  with the starter pack that included the FlexrStep, delivery and installation so I didn't have to worry about a thing! What is cool about the Jumbo Round is that we can play interactive games with the tgoma game system, and it's big enough for our growing family! We also added the flex hoop  so the boys can play a game of horse, or just shoot hoops. We also added the sun shade, so we can have a covered outdoor play area without having to worry about the hot sun.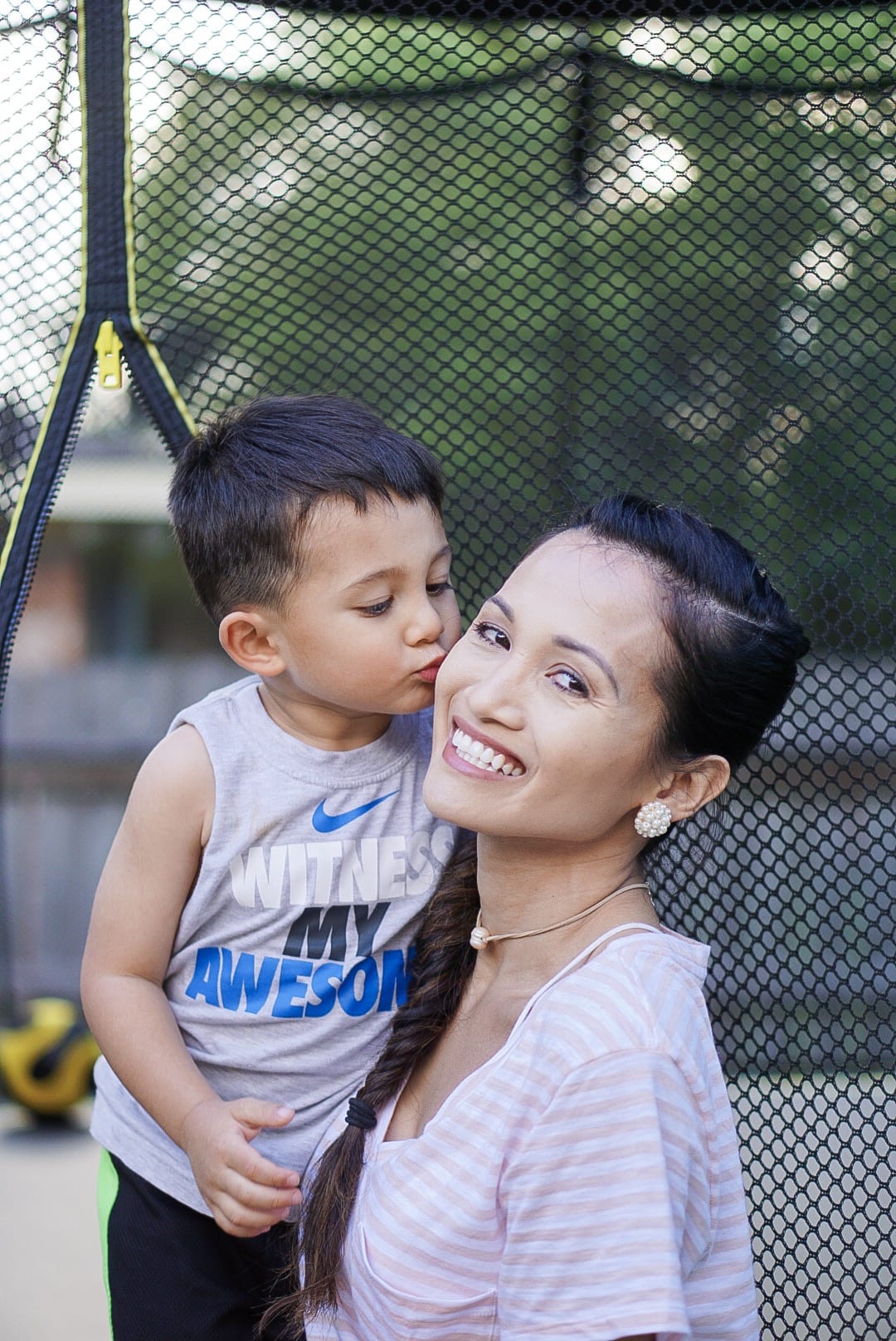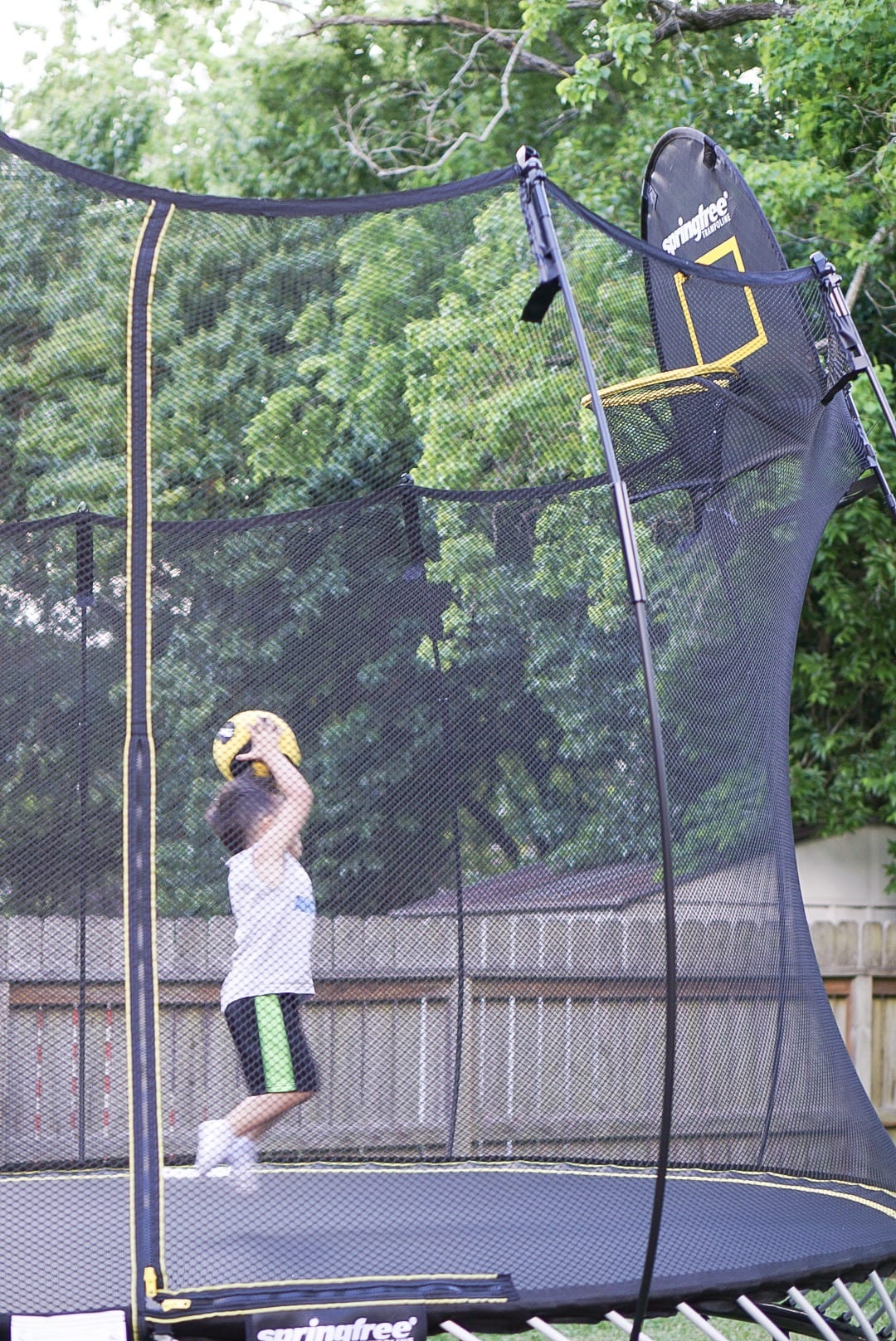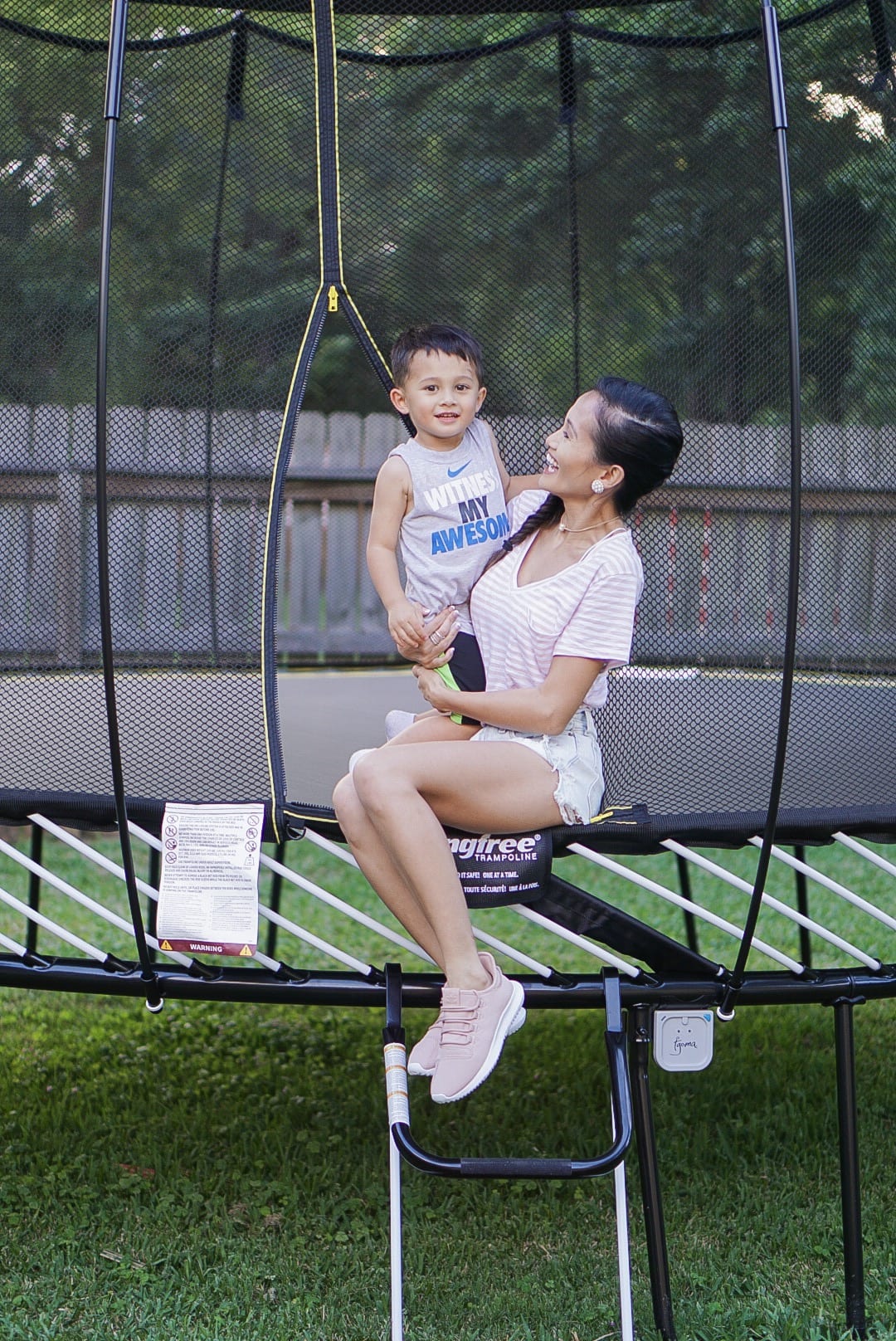 I hope you enjoyed these 6 fun backyard activities to do with your kids this summer. To save the best for last, Springfree Trampoline is teaming up with KaBOOM, and George Oliphant, television host and licensed contractor of "George to the Rescue" for this amazing Backyard Summer Refresh Giveaway! The grand prize is worth up to $13,000 and includes a custom landscape courtesy of George, a Springfree Trampoline, Strider Bikes and Strider Race Course, Vegetable Garden Makeover by Burpee, Plae Shoes for the entire family plus materials and labor for the refresh. Nine secondary Springfree Trampoline and Strider 12 Sport Bike prize packs are also available (approximately a $2,300 retail value). Enter a deserving family (or your own!)  here for the chance to win!
.
P.S. Subscribe for weekly newsletters so you never miss a single post!