Hi friends,
Hope you are having a great week! This past weekend we celebrated our little guy's fourth birthday with the family. I can't believe how much he has grown! Check out Jayden's birth story and first birthday. Last week we had such a blast on our family trip to Colorado. Jayden loves the snow, and there wasn't anything we didn't do with the little guy when it came to snow activities. We even took him snowboarding again. And if you thought he was good last year, then you have to check out the video above and watch him shred the slopes by himself. I still can't believe how talented he is. I had so many questions about him snowboarding and all the other activities Jayden was doing and so today I am sharing my top activities for kids for your next snow trip. Check them out below!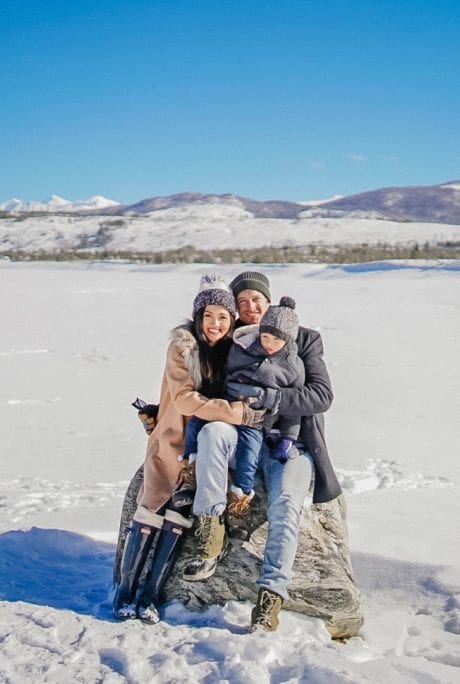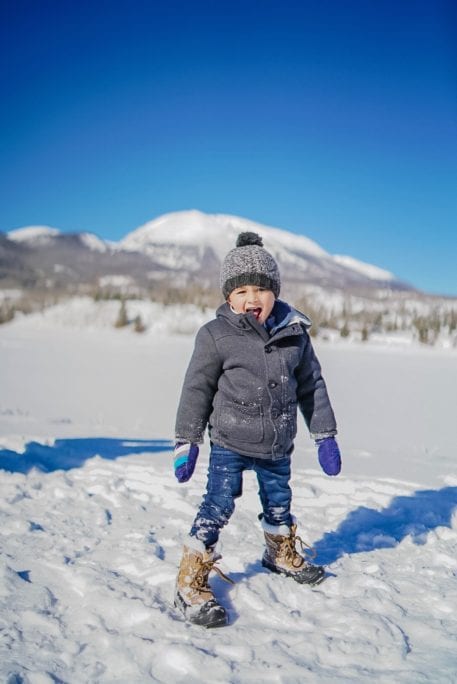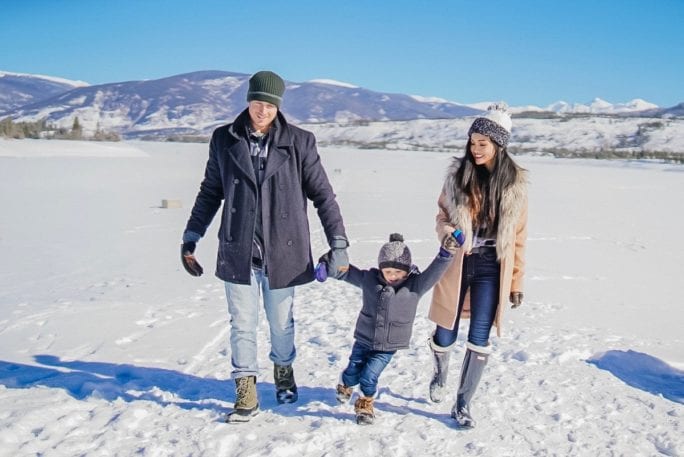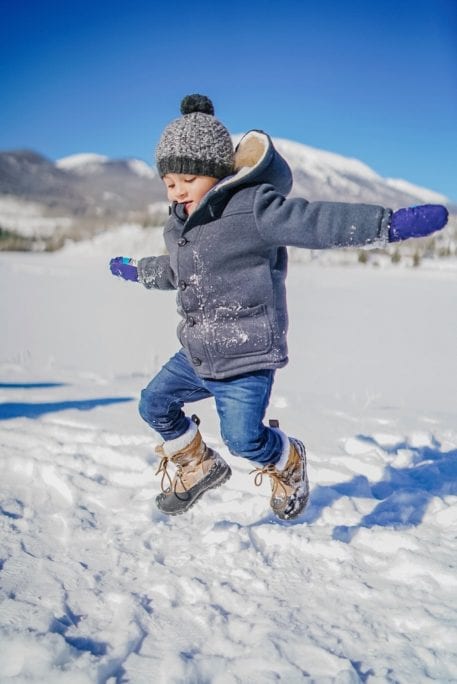 8 Snow Activities For Kids
Skiing/snowboarding – If you plan to hit the slopes and want to bring your kids along you can either pay extra for child care at the resorts, or you can invest in group or private classes to teach your kids how to ski and/or snowboard. Most ski resorts take as young as four years old for ski group lessons. It tends to be older for group snowboarding lessons, however you can hire a private instructor to teach your kid as young as three! It amazed me how small these children were that were learning to ski and snowboard.
Build A Snowman – OK how cute was our little snowman we built? Lol it's actually a lot harder than you think to roll a giant ball of snow hence the cone shape of our snowman, but never the less it is so much fun to do with kids. Plus who doesn't love frosty?
Have a snowball fight – Lol if you watched our video then you know how much Jayden loved to throw snowballs. I swear he was out to get everyone with a snowball on that trip, and Jayden has a pretty good arm.
Go on a hot cocoa sleigh ride – Sleigh rides are fun for the whole family. We loved it so much last year we went again this year. Plus they have dinner rides too!
Have fun tubing down the hill – We went to Frisco Adventure Park last year and Jayden had a blast. He was just the right height requirement of 36 inches to be able to go. Any shorter and they won't let you on.
Go for a scenic drive on a snowmobile – My mom called about this and they let as young as four years old to ride behind someone on a snowmobile. I however didn't feel comfortable with Jayden yet so we ended up not going. However, I heard it is absolutely exhilarating to ride a snowmobile around the mountains.
Take a hike – We loved going hiking in the snow with Jayden. The snow makes everything so beautiful, plus its a great way to burn all their extra energy.
Make snow angels – Literally the first thing Jayden did was find a pile of snow and made a snow angels. Snow angels are fun but make sure they have the right waterproof snow gear on or their clothes will get wet and they will get cold fast.
Go iceskating – We had so much fun iceskating in Vail with the family. You can also go to Keystone where they even have a bigger iceskating arena if you are looking for more space to practice your iceskating skills.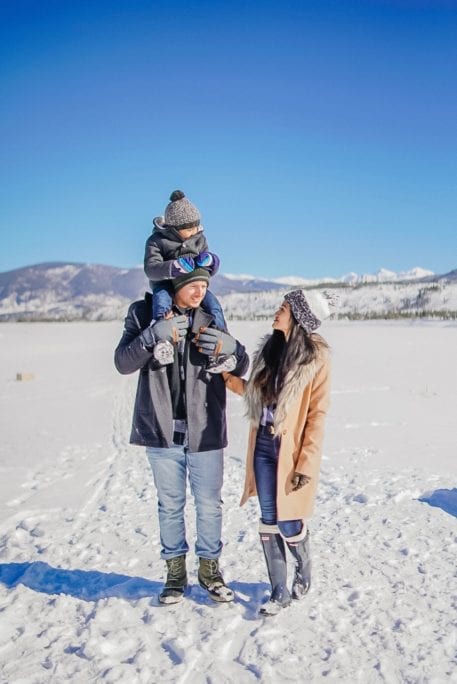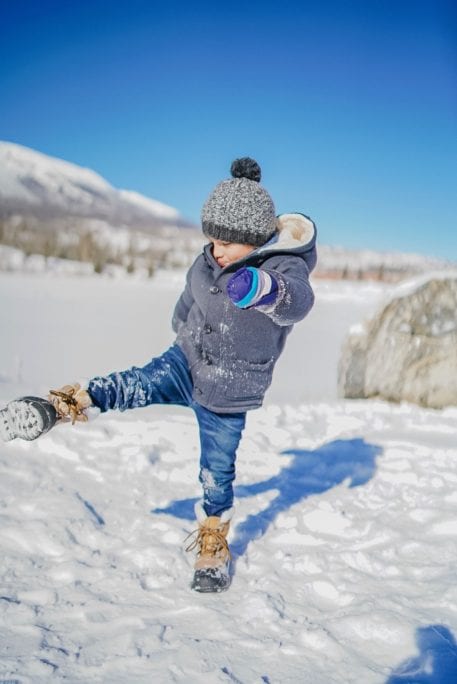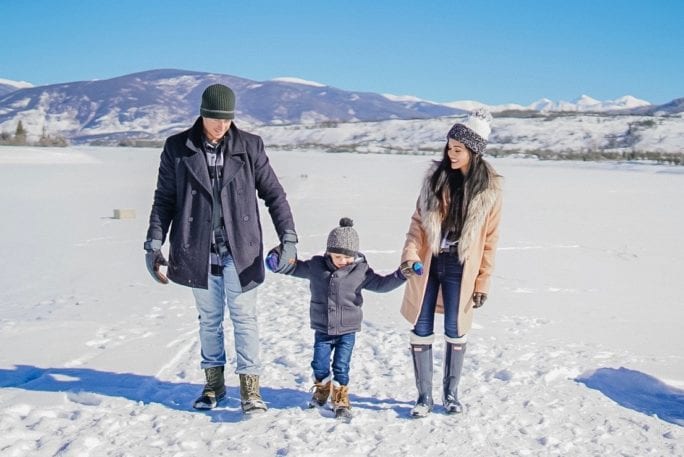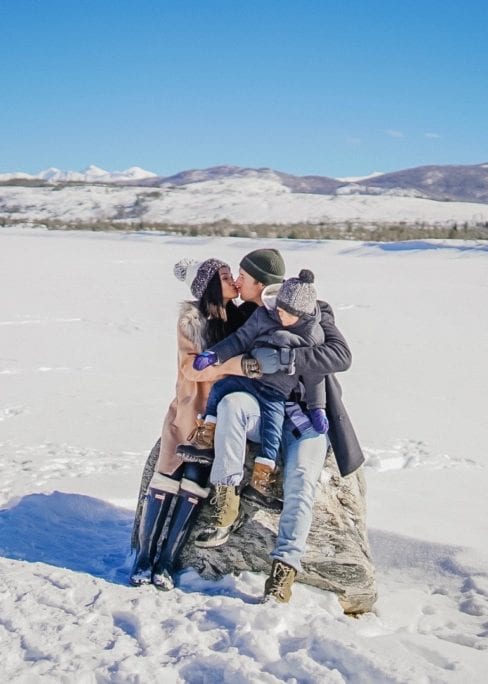 SHOP THIS POST:

I hope you enjoyed this fun list of snow activities for kids. If you ever plan to go for a family trip, I highly suggest Frisco, Colorado. It is minutes from everything and the cutest mountain town. Thanks for stopping by!
P.S. Subscribe for weekly newsletters so you never miss a single post!