Hi everyone! If you read my last post then you know I just got my breast augmentation surgery. I'm currently in recovery mode so this post might come to you later than normal. But it's been a month since we were on our family vacation to Colorado for New Years, and I wanted to share with you all the details of our trip and to answer some questions you might have about what to do when traveling with a toddler. First of all thank you Town of Frisco for all the wonderful activities and restaurants during our stay, and for Toyota for providing us a Toyota Sequoia for our trip. Check out our Summit Country Travel Guide and tips for visiting Colorado with a toddler below: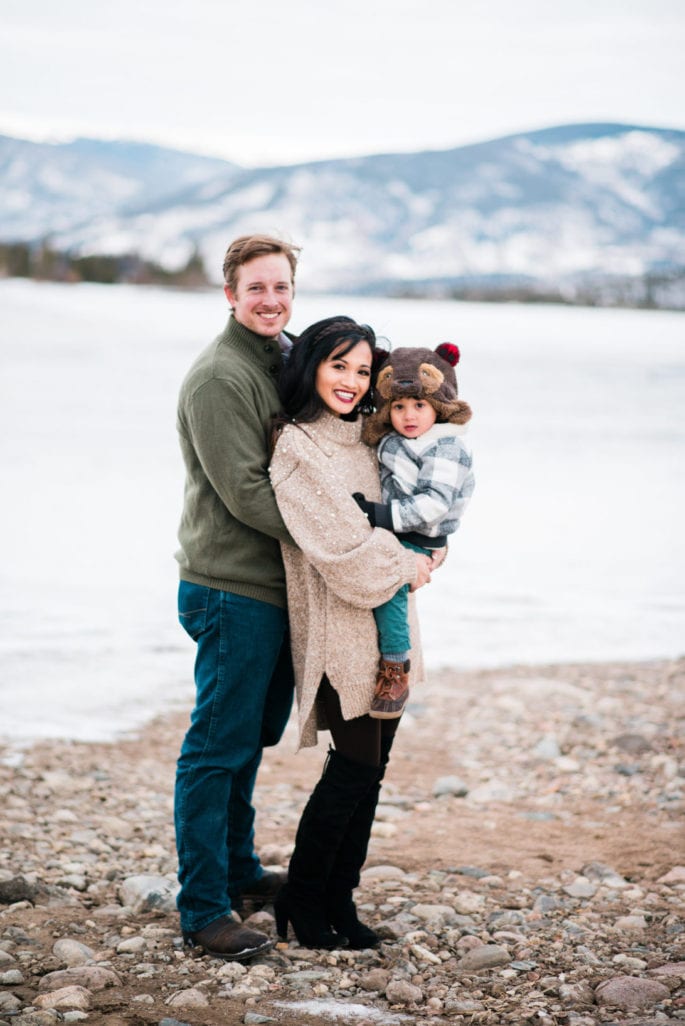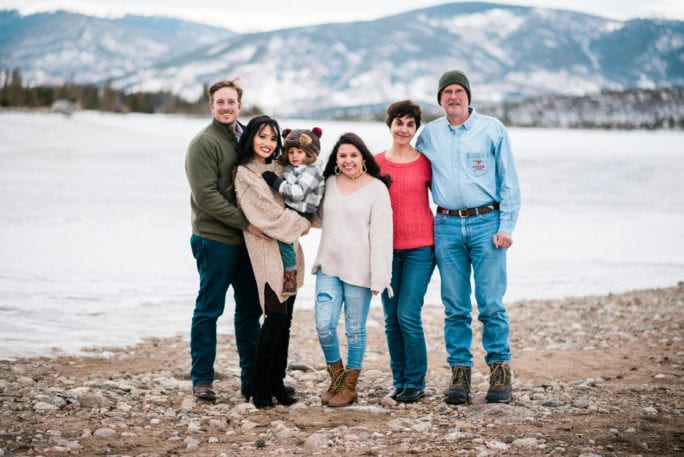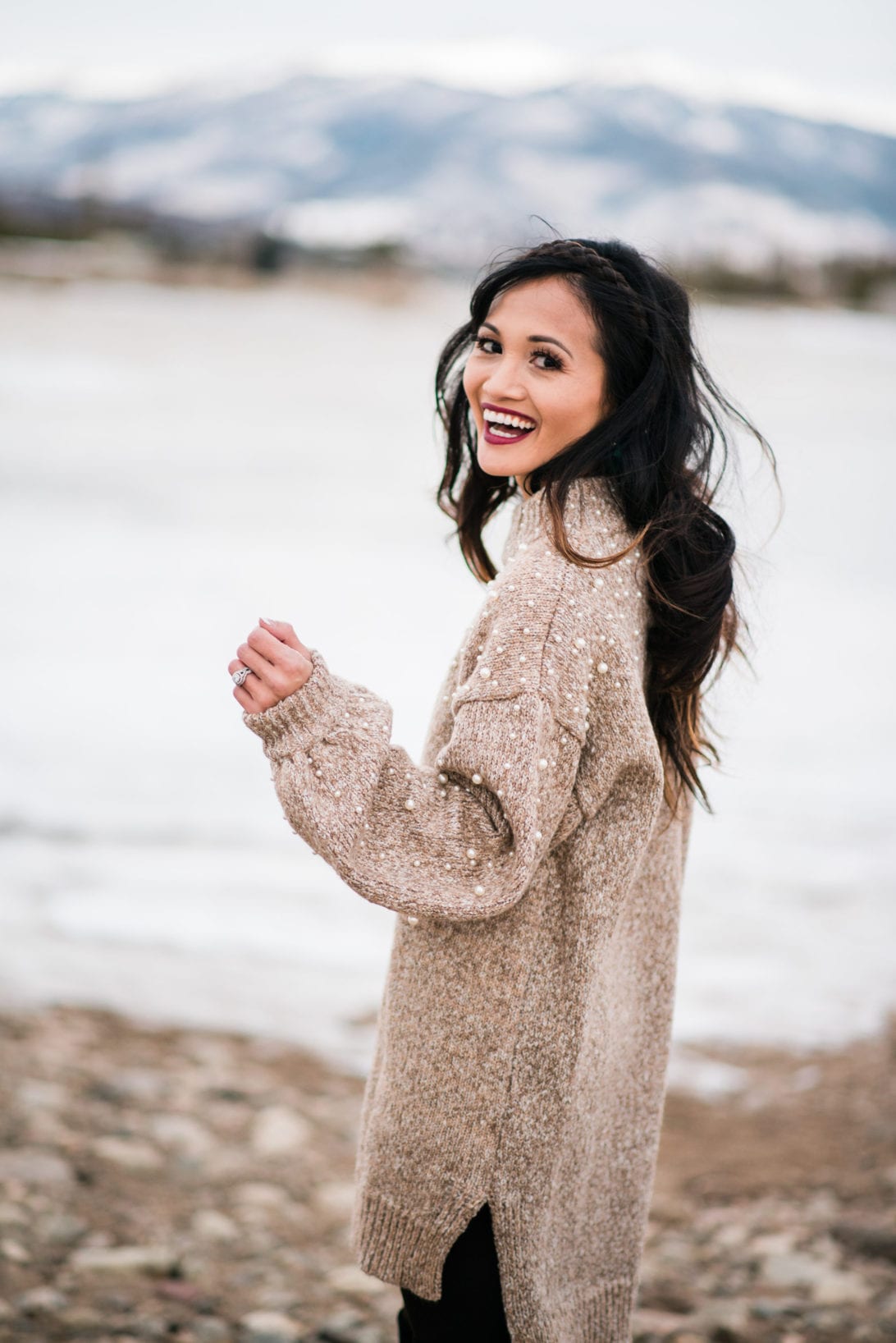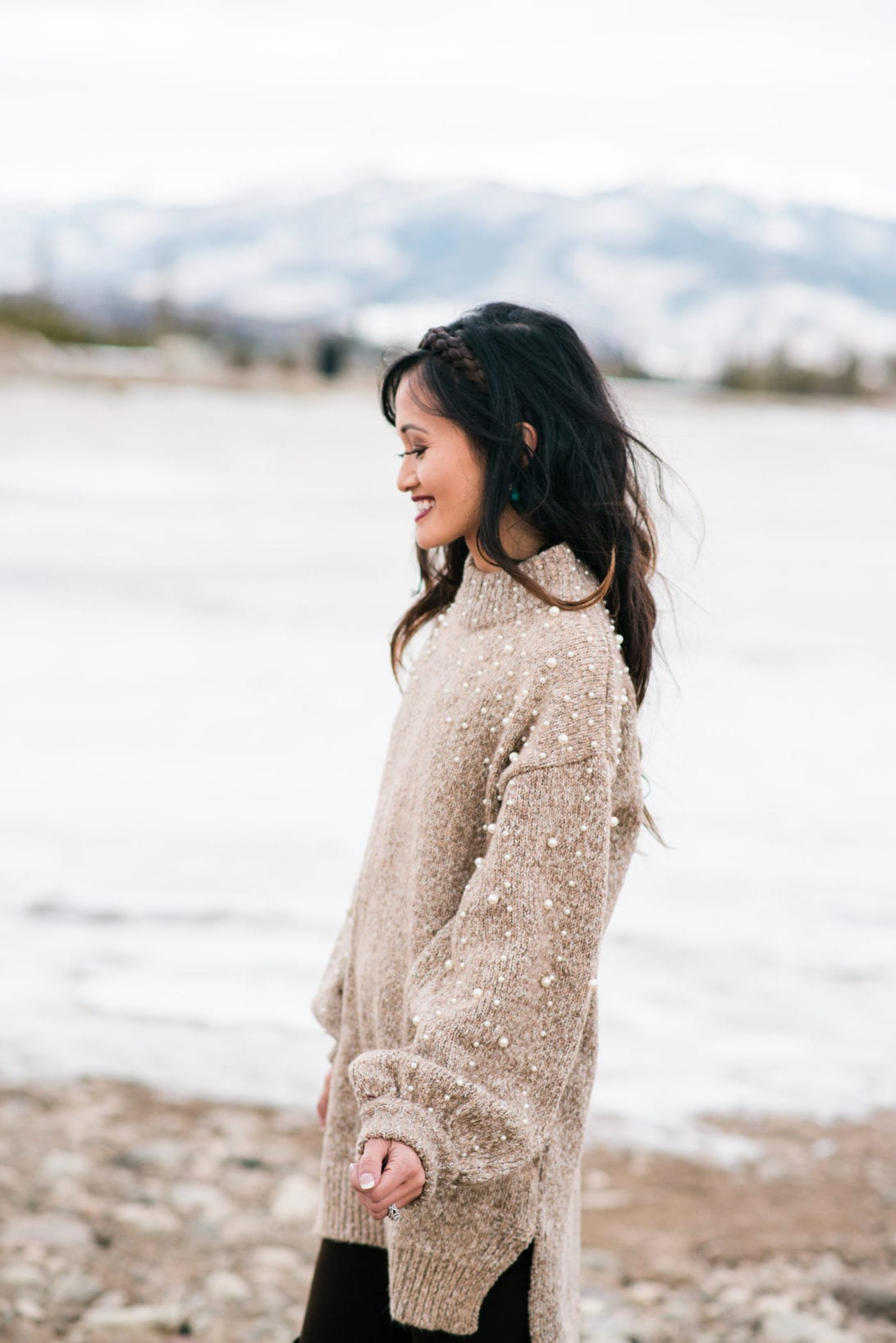 Summit County Travel Guide – Visiting Colorado with a Toddler
Where to Stay:
For our week in Colorado we wanted to be in the most central part of all our favorite ski towns and resorts, but we didn't want to stay at one specific resort either. We ended up renting a condo right on Lake Dillon next to the cute town of Frisco. We were 15 minutes from Breckenridge, 10 minutes from Keystone, and 30 minutes from Vail. We loved being able to wake up to the sunrise on the lake. Our condo had a great walking trail to the Dillon Marina, the Dillon Dam, and had a play ground for the kiddos. We also loved how we were walking distance from some of our favorite local restaurants. For New Years we didn't have to worry about driving anywhere because we were literally walking distance from everything. These pictures were actually taking on the frozen Lake Dillon at the Frisco Bay Marina.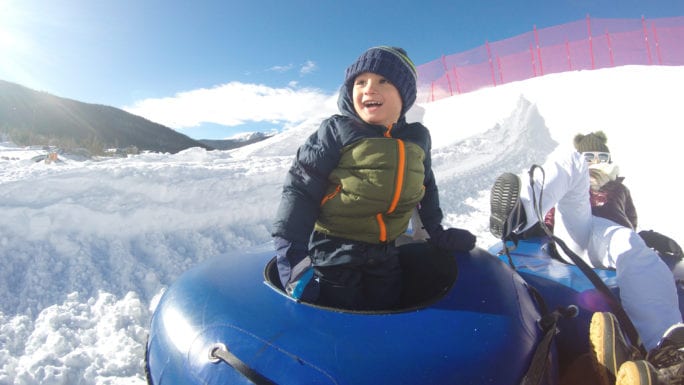 What to Do:
Tubing – This is a must if you are in the area. We went tubing at Frisco Adventure Park. If you watch our video then you can see how much fun we had tubing. Jayden just made the height requirement to go with us. You can attach up to four tubes so you can go down as a family. There are also different levels in each lane, depending how fast you want to go. We ended up doing all the fast ones because we loved the thrill of spinning down in our tube.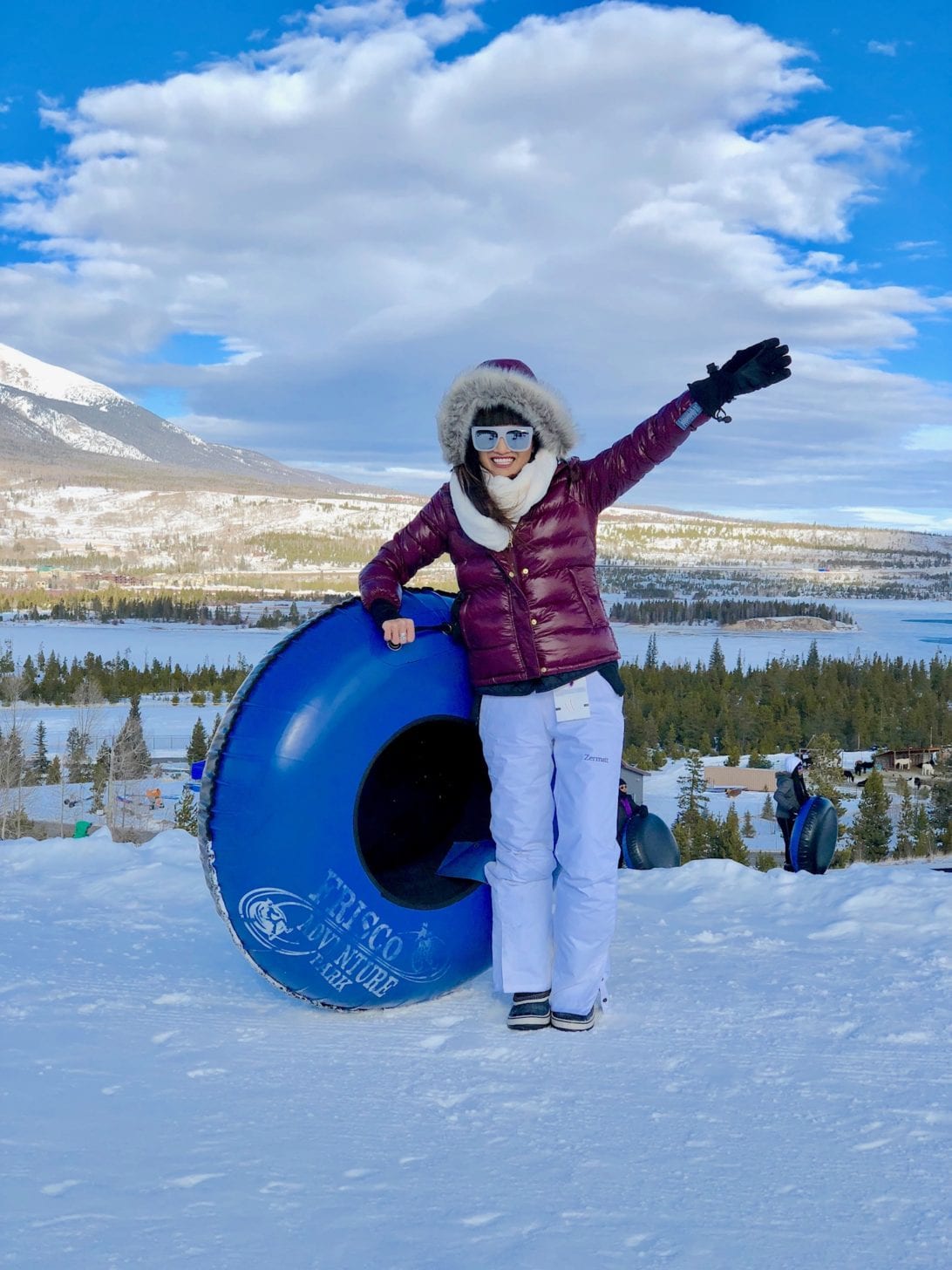 Sleigh Rides – Another fun thing to do while you are at Frisco Adventure Park is to enjoy a magical sleigh ride with hot cocoa and cookies, and great live music with your family. This was such an amazing experience and a beautiful scenic ride. Jayden enjoyed the live music and even got to join in the action. You can watch more of our little future country star on our YouTube video.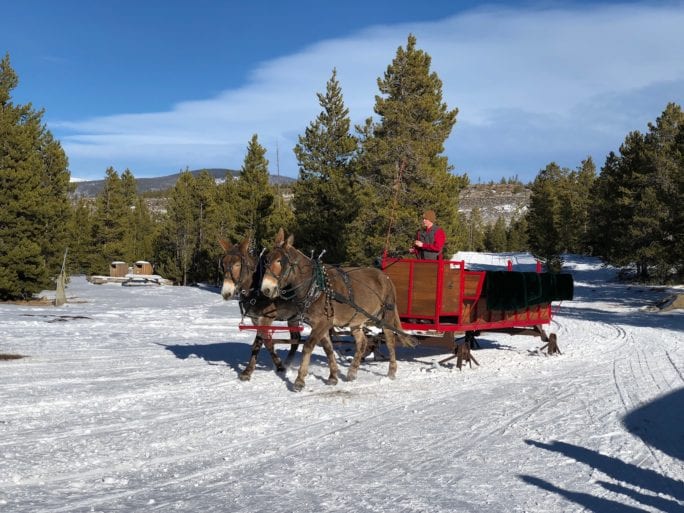 Skiing/Snowboarding – Alright guys this is is the tricky part about having a toddler and trying to go snowboarding or skiing. You have two options, one you can put your kid in the daycare they offer at resorts, or you can invest in some pricey private lessons for your kiddo. Since Jayden was under four, technically still two we couldn't put him in the children group classes. We said he was three so he could get private lessons, so we might have fibbed a bit. Also we had Josh's parents there to help supervise and watch Jayden while we went snowboarding. We ended up going to a local ski resort at Loveland Pass which was only 15 minute drive from where we were staying to avoid the crowds and the tourist. If you've been to Breckenridge and you are a beginner, it is a little intimidating with all these pro skiers and snowboarders, plus it is very touristy. We loved Loveland Pass because it offered us the lessons we need for our family and Jayden, and it was a little more laid back since it was where all the locals went.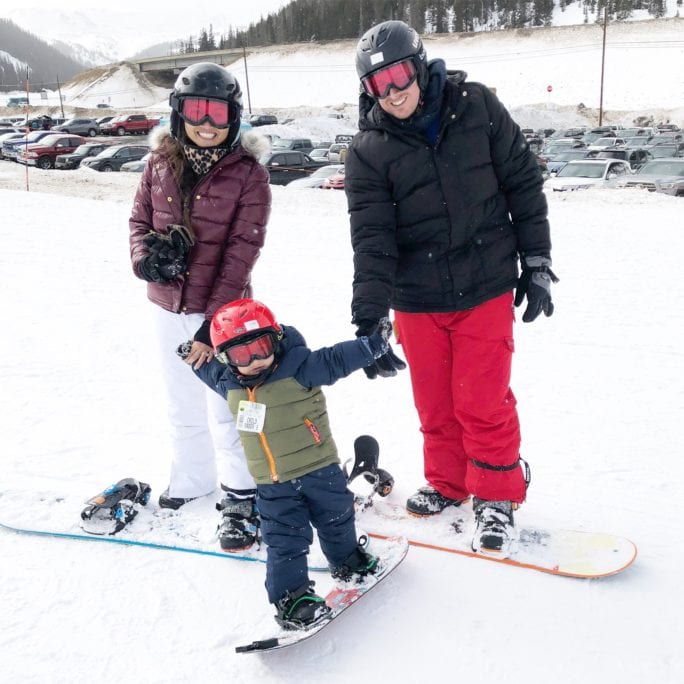 Where to Eat:
Columbine Cafe – for breakfast or brunch, this place was amazing! We went for New Years Day in Breckenridge, and though there was a little wait, it was worth it, because it was one of the best breakfast I've ever had. I had the corn beef hash which was delicious!
Vinny's – For a fancy night out, this is the place to go in Frisco. This restaurant is locally owned and is a farm to table restaurant. We loved their attention to detail when it came to every thing on the menu. It is truly a wonderful dining experience.
Tacos & Tequila – Want something more casual and fun. This place has the best authentic Mexican food for such a great price. We ate for a family of six for $50! And best thing is it's located right next to a bowling alley and arcade if you want to have some fun after. This place was walking distance from our condo and seriously the best for tacos and tequila. Their margarita was delicious!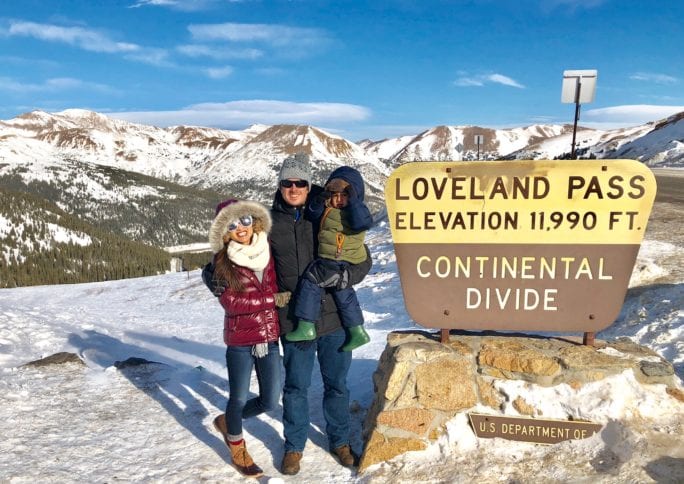 Places to See:
Loveland Pass – The drive might be a little scary, but the view is worth it. I highly advise wearing good snow shoes or you will slip and fall, and you don't want to fall and roll down that mountain. We didn't hike very far because we had Jayden, but if we didn't have him we would have definitely hiked to the top. It is absolutely breath taking.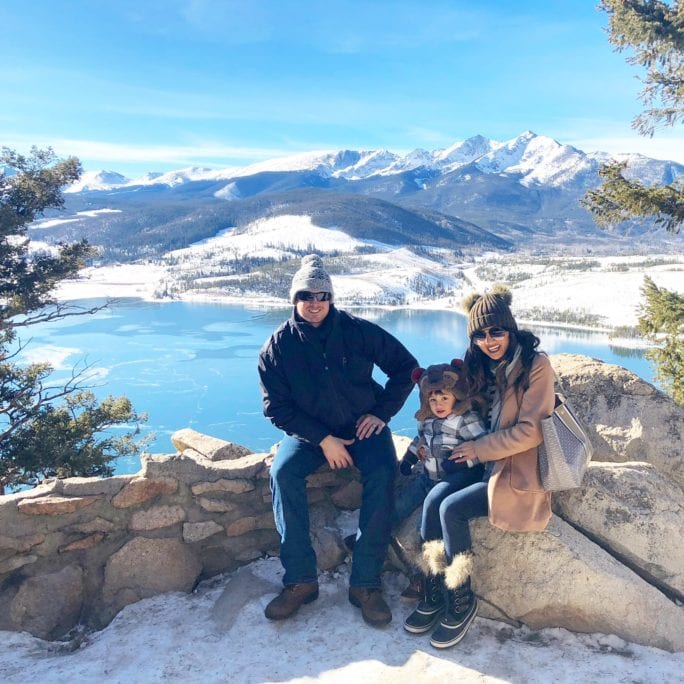 Sapphire Point – This is another gorgeous look out that overlooks Lake Dillon. It is a breath taking view. You do have to be very careful walking there as there is ice and it is easy to slip. That is why I highly recommend good snow boots when you are traveling. You can view all of my winter essentials here.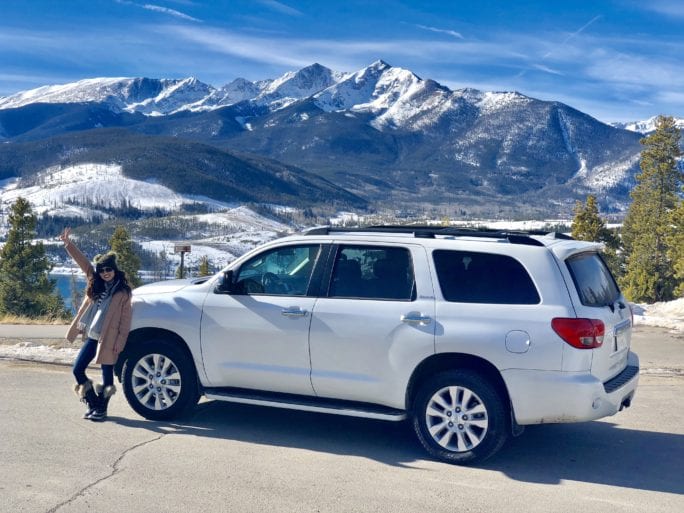 What to Drive:
We were lucky enough to be able to take the new Toyota Sequoia on our trip. It was comfortable for all six of us to travel from one destination to the next, and we felt safe with its four-wheel drive when it came to driving up and down the mountains. We loved the smart cruise control that automatically adjusts the speeds to the car in front. The heated seats were a plus, and we also loved all the extra room for storage. When you travel as a family you need all the storage you can get.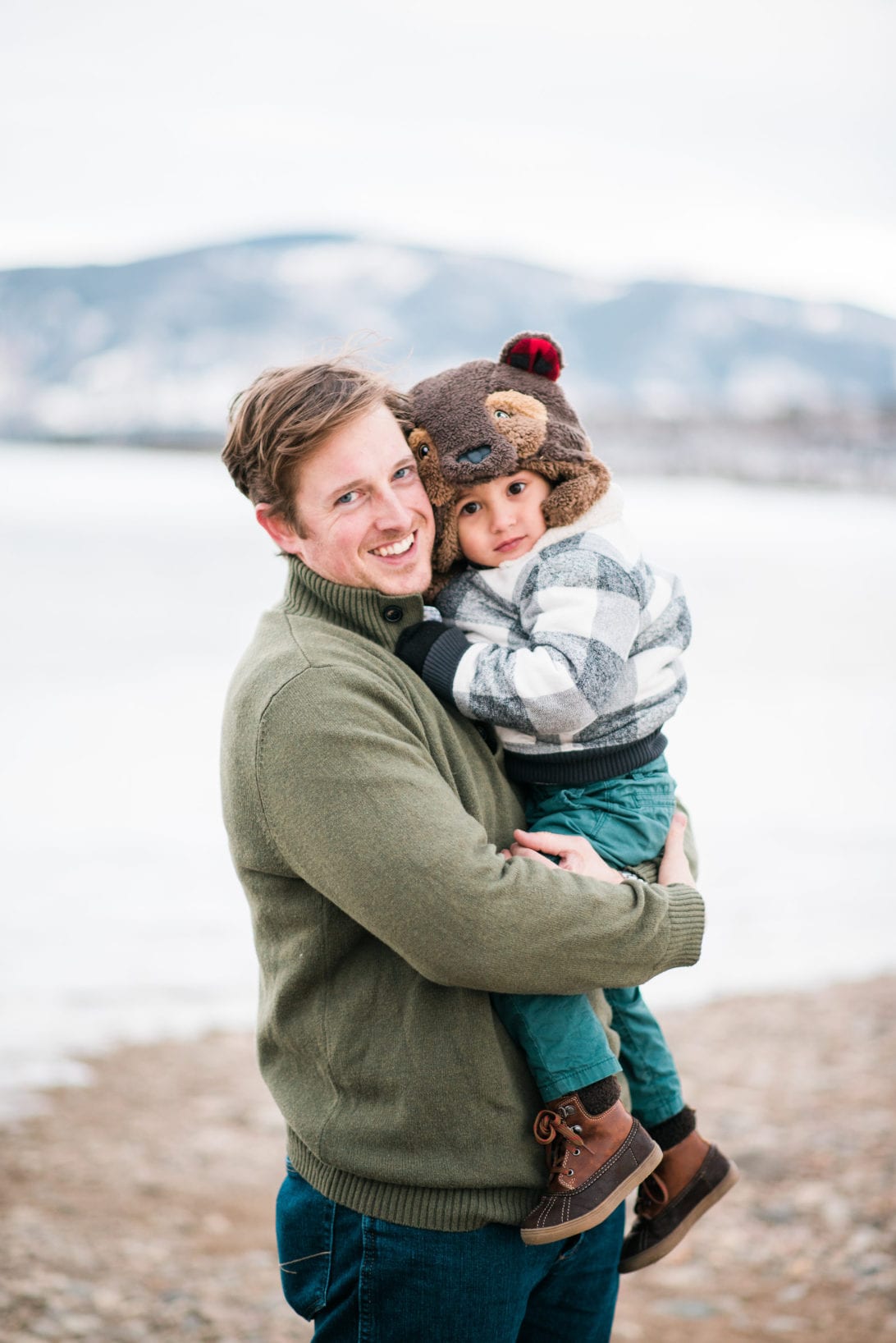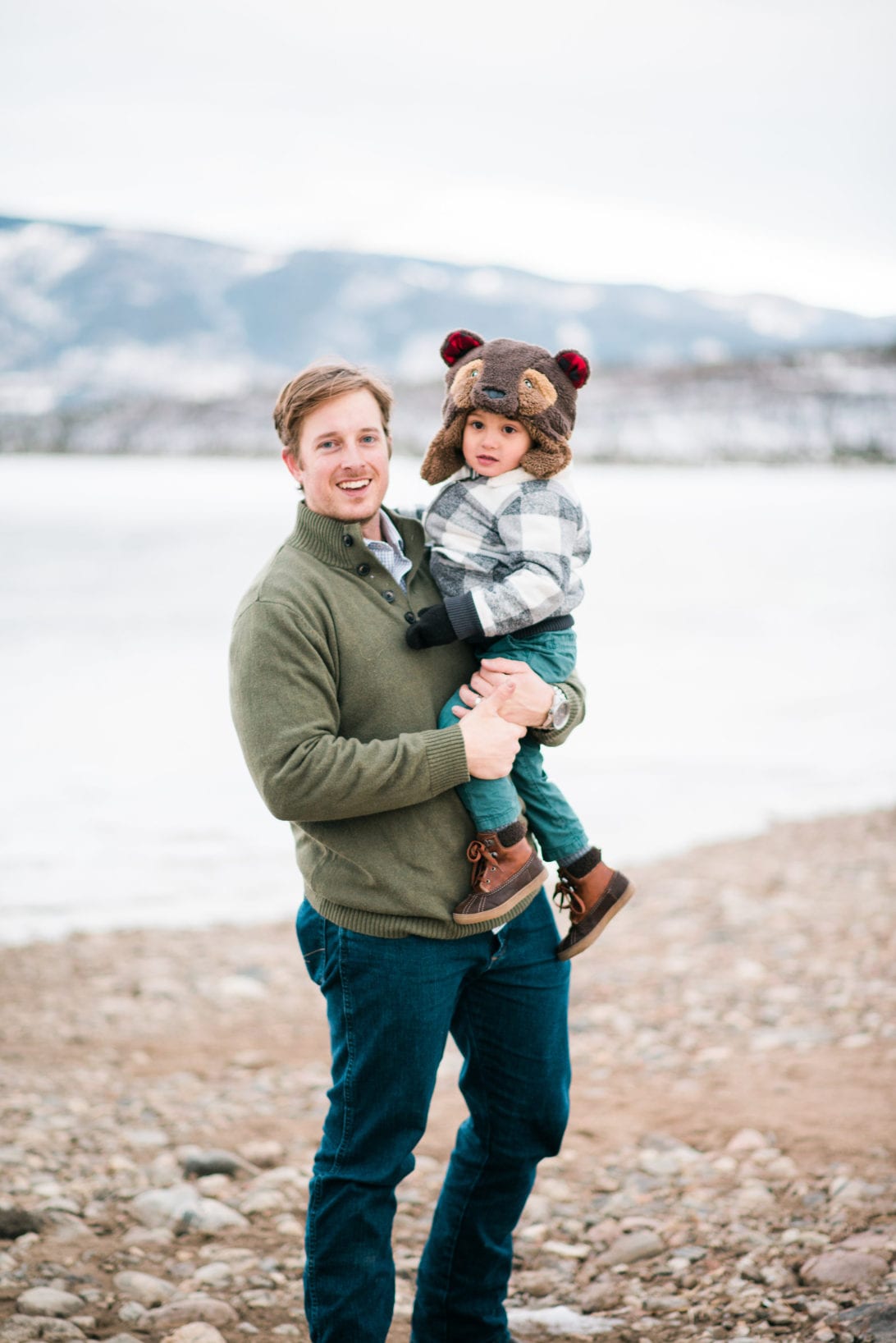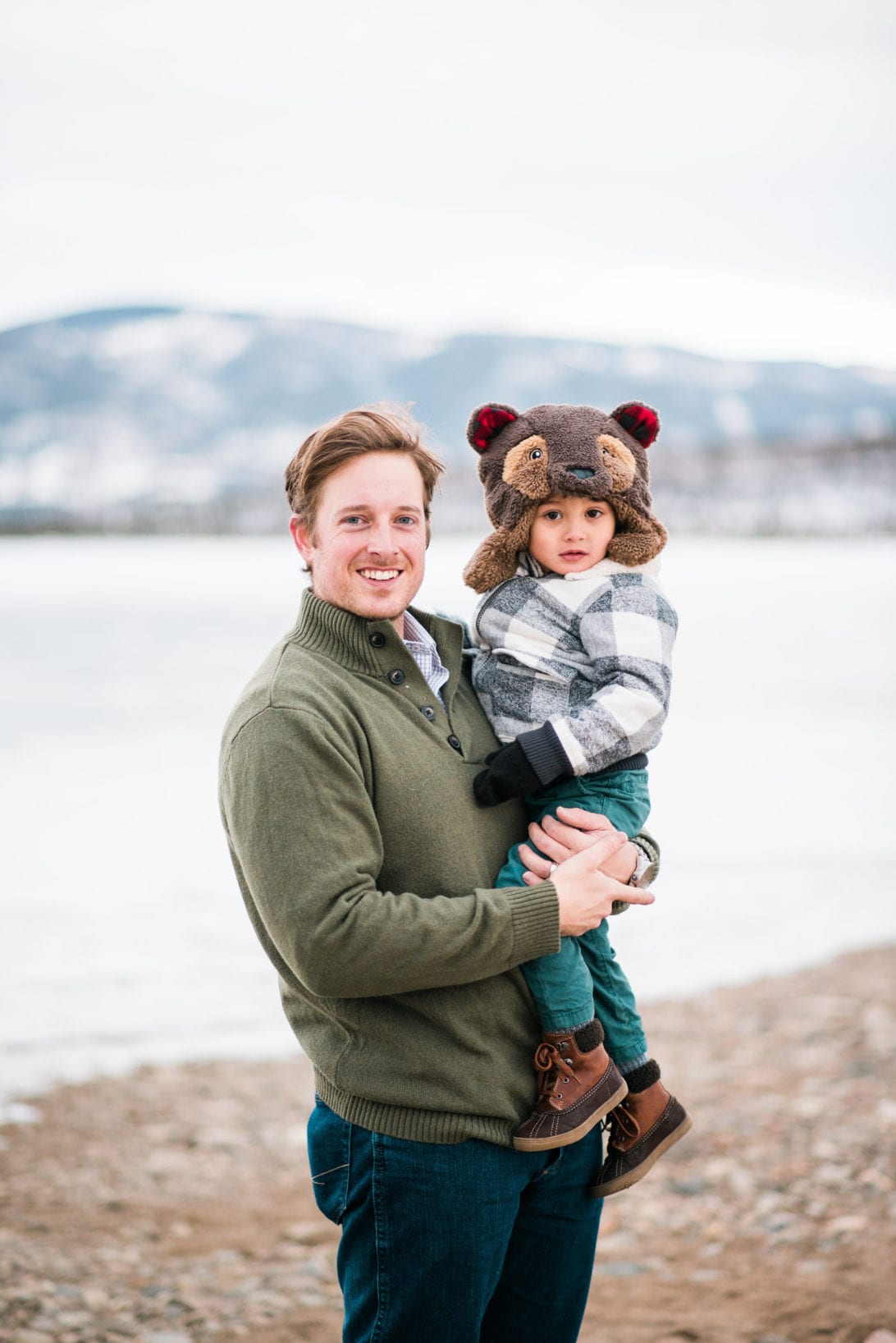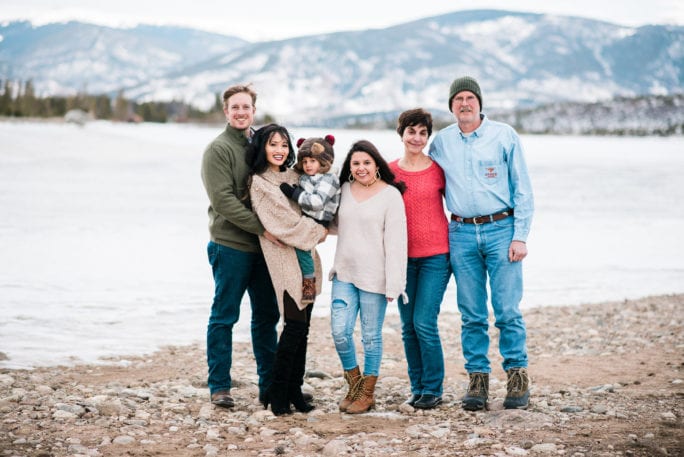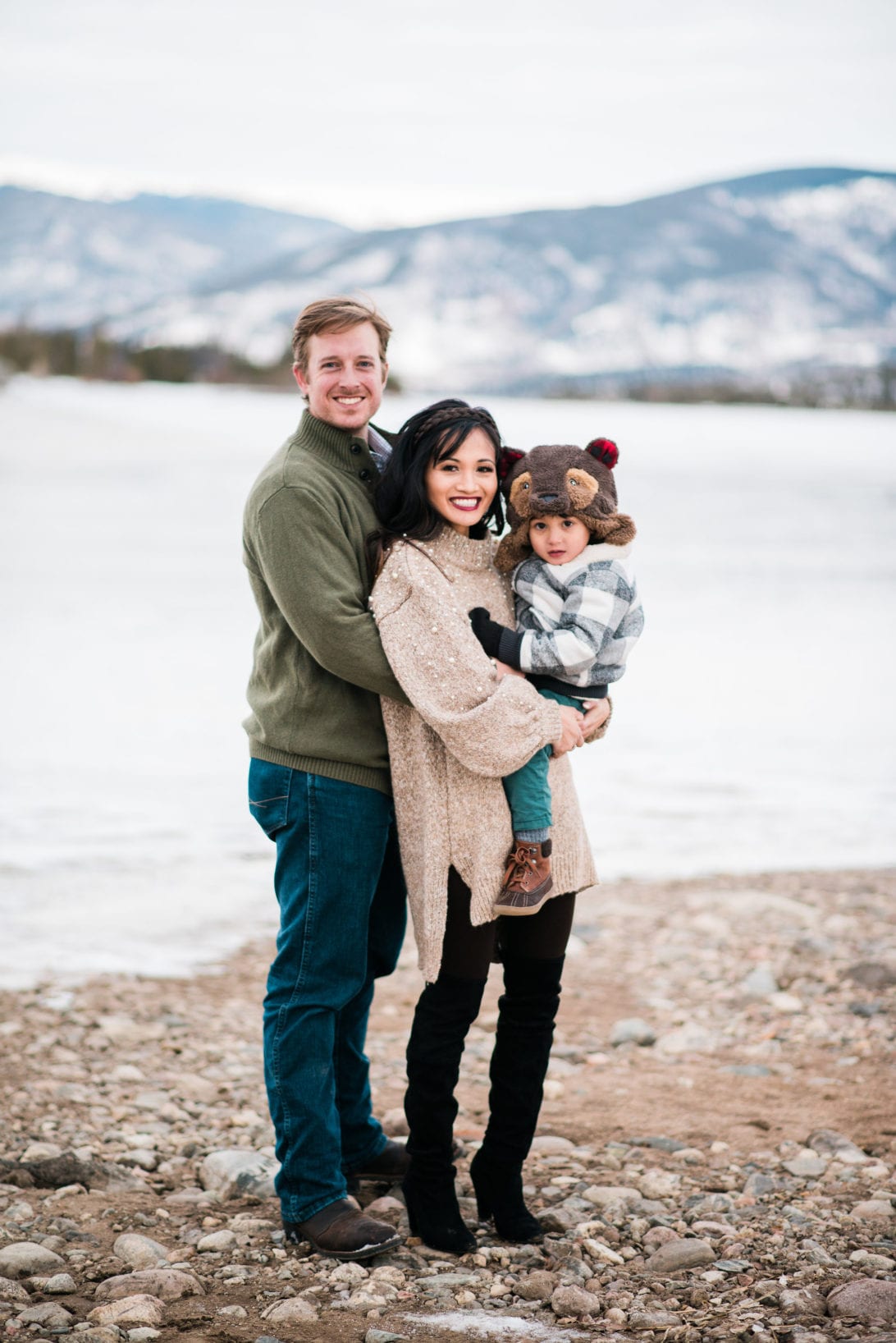 SHOP THIS LOOK:

We had so much fun in Colorado and can't wait to go back again. The mountains and snow were beautiful, and we loved sharing this experience with our family. We hope you enjoyed this Summit County Travel Guide, and tips and recommendations for Visiting Colorado with a Toddler. If you have any other questions don't hesitate to comment below.
P.S. Subscribe for weekly newsletters so you never miss a single post!