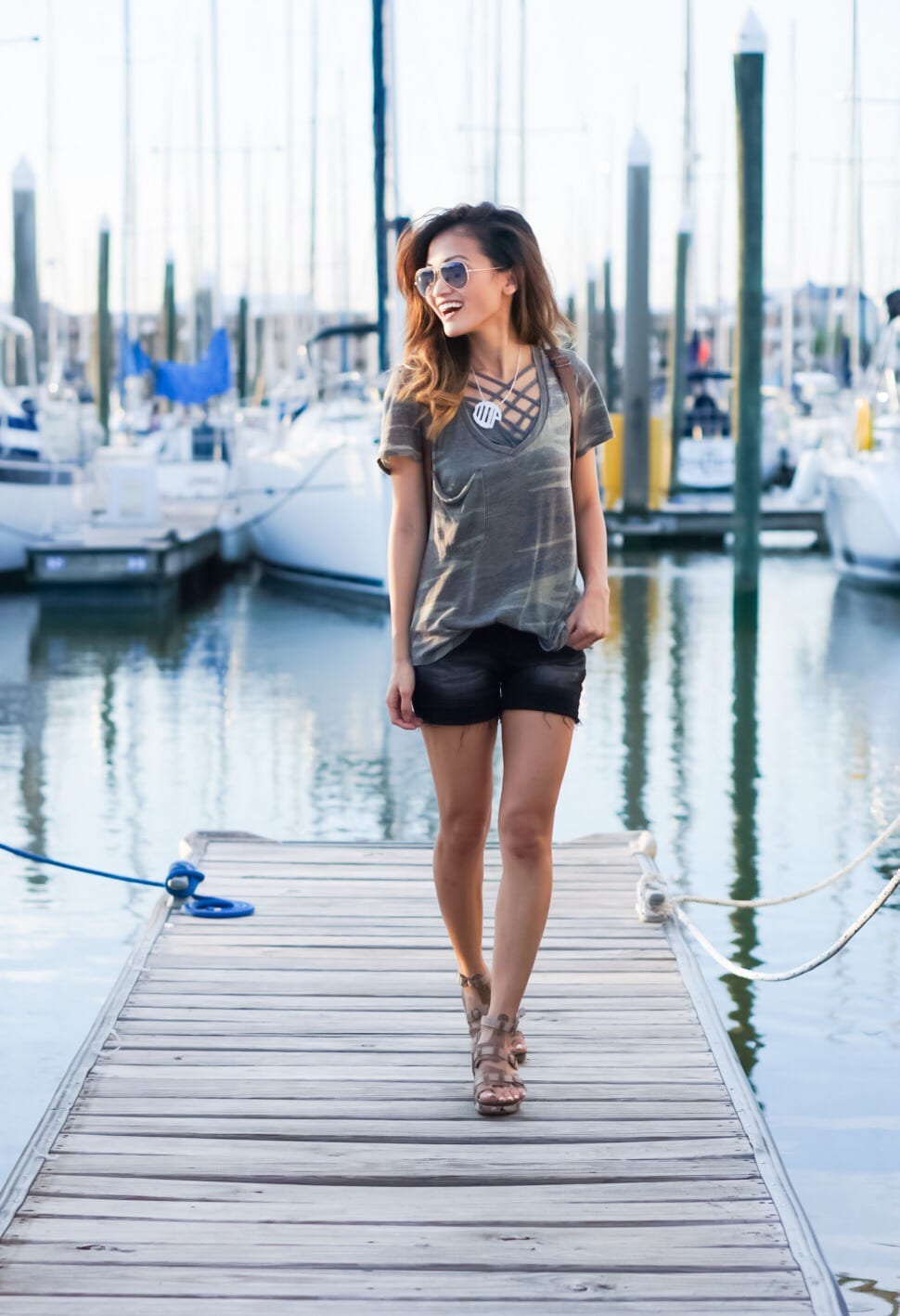 This summer we have had so much fun traveling with our little man. He's at the age where he loves to explore. But one thing about having an active toddler is making sure you can keep up with him. As much as I love running shoes and yoga pants, as a mom I still like being fashionable when I travel. Fortunately I've teammed up with 4Eursole to share my travel basics every travel mom needs this summer that are not only comfortable and functional, but fashionable too.  Plus there is a giveaway you don't want to miss!
So what travel basics should every mom have for the summer? Here are my travel basics that have gotten me through my trips with my active kiddo, and have also made me feel confident and fashionable enough to ditch the yoga pants and tennis shoes.
1. Comfy Tee
I love pocket T's and for the summer every mom needs their go to T they can throw on. I have them in every color including this camo one I'm wearing.
2. Good fitting bra/bralette 
Every mom needs a good supportive and comfortable bra they don't have to worry about adjusting. No one has time for that. I personally live on strapless bras and bralettes, as you can see in this previous post here. I don't have much to support but I still like to feel secure in knowing I'm not going to show of the goods anytime I bend over, or if I jump up and down. A good bralette makes you feel sexy and secure.
3. Shorts
I love a nice cut off of for the summer. I have them in every color, but the 3 basic must haves are white, black, and denim.
4. Backpack/tote
 Anytime I travel with Jayden, I always carry a tote or a backpack. It is the only thing big enough for diapers, wipes, and of course your camera for pictures!
5. Denim Jacket
A summer jacket is perfect for those cool summer nights, or when you find yourself in a room that's freezing. A denim jacket will never go out of style and will go with just about anything.
6.  Comfy and stylish Shoes 
Finding comfortable and fashionable shoes are almost impossible when it comes to traveling, and usually I am in tennis shoes, until I found these amazing wedges from 4Eursole. These wedges are the most comfortable walking wedges, and they have cute camo print that will make a fashion statement wherever you go. "The sandal is created with a EurSole Sandal Comfort System. A dual-density cork/EVA footbed has a layer of memory foam. This combo offers springy comfort, while the memory foam will form to the shape of your foot. For fabulous arch support there's a nylon shank and an arch stabilizing disk. And don't overlook the leather lining that's comfortable and blocks sweat." I also love the 3 inch wedge platform that helps me elongate my legs in dresses or shorts. If you watched my snapchat you will see I wear them every where I am with Jayden. They are the perfect travel wedges for the active momma on the go!
So for all my loyal readers, here's a chance for you to win your very own Rocky 4EurSole Set Free Women's Sandal. All you have to do is follow the instructions below. The more steps you complete the more chances you will have to win!
a Rafflecopter giveaway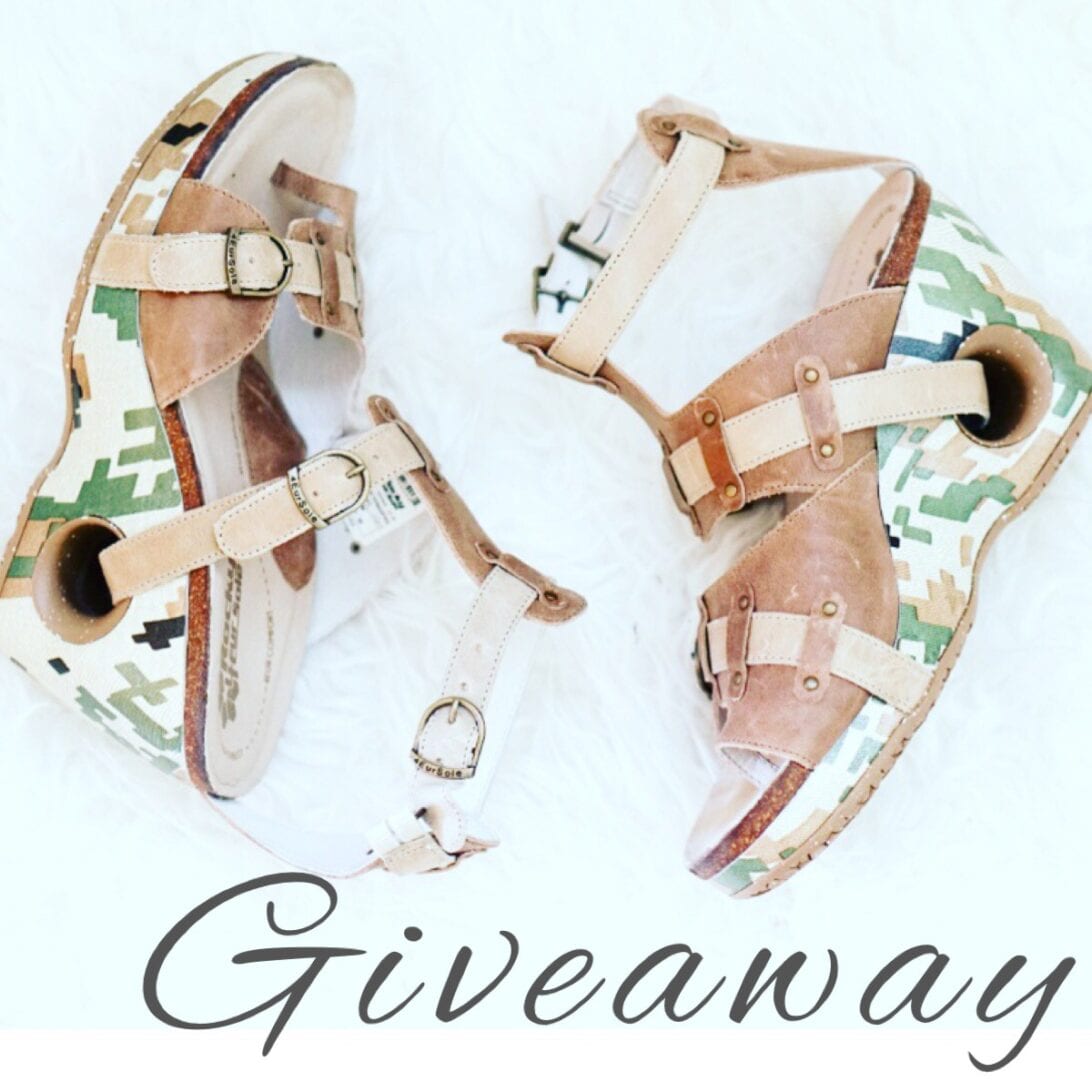 I hope you enjoy these tips, and good luck on the giveaway!  The winner  will be announced next Wednesday on this post. If you love it feel free to Pin it on your boards and follow me on Pinterest for more summer style inspiration. Thanks for following along!
Thank you 4Eursole  for sponsoring this post.  As always all thoughts and opinions are mine alone. Thank you for supporting those who support this blog.