Hi friends!
Hope you are doing well! Today I am finally sharing my full Tulum family travel guide. We decided to come back because we loved it our first time around and this time with our little guy. It was definitely such a fun trip and we are already planning our trip back. Today I am answering all your questions on where we stayed, what we did, and where we ate. Plus I'm giving travel tips on traveling with a child, sharing our packing essentials, and how we traveled to Tulum for under $1000. Read more below!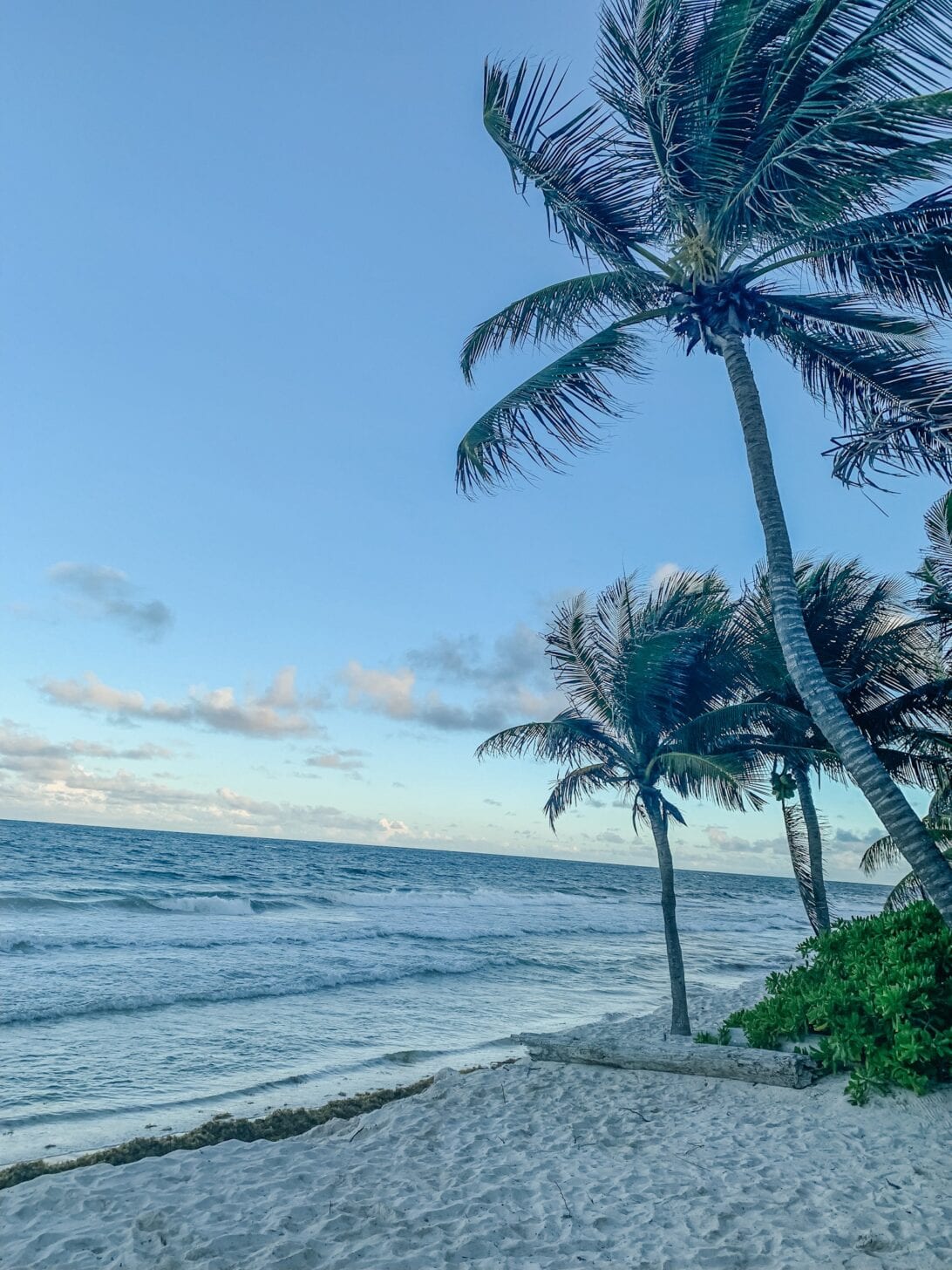 TULUM FAMILY TRAVEL GUIDE
BEST TIME TO VISIT:
I highly recommend visiting visiting anytime before June and after December, because that is when they have the best weather, it isn't as crowded, and it isn't as costly. We bought roundtrip tickets for under $250 from Houston to Cancun! The summer can be busier, and the weather unpredictable with hurricane season in full effect from June till November.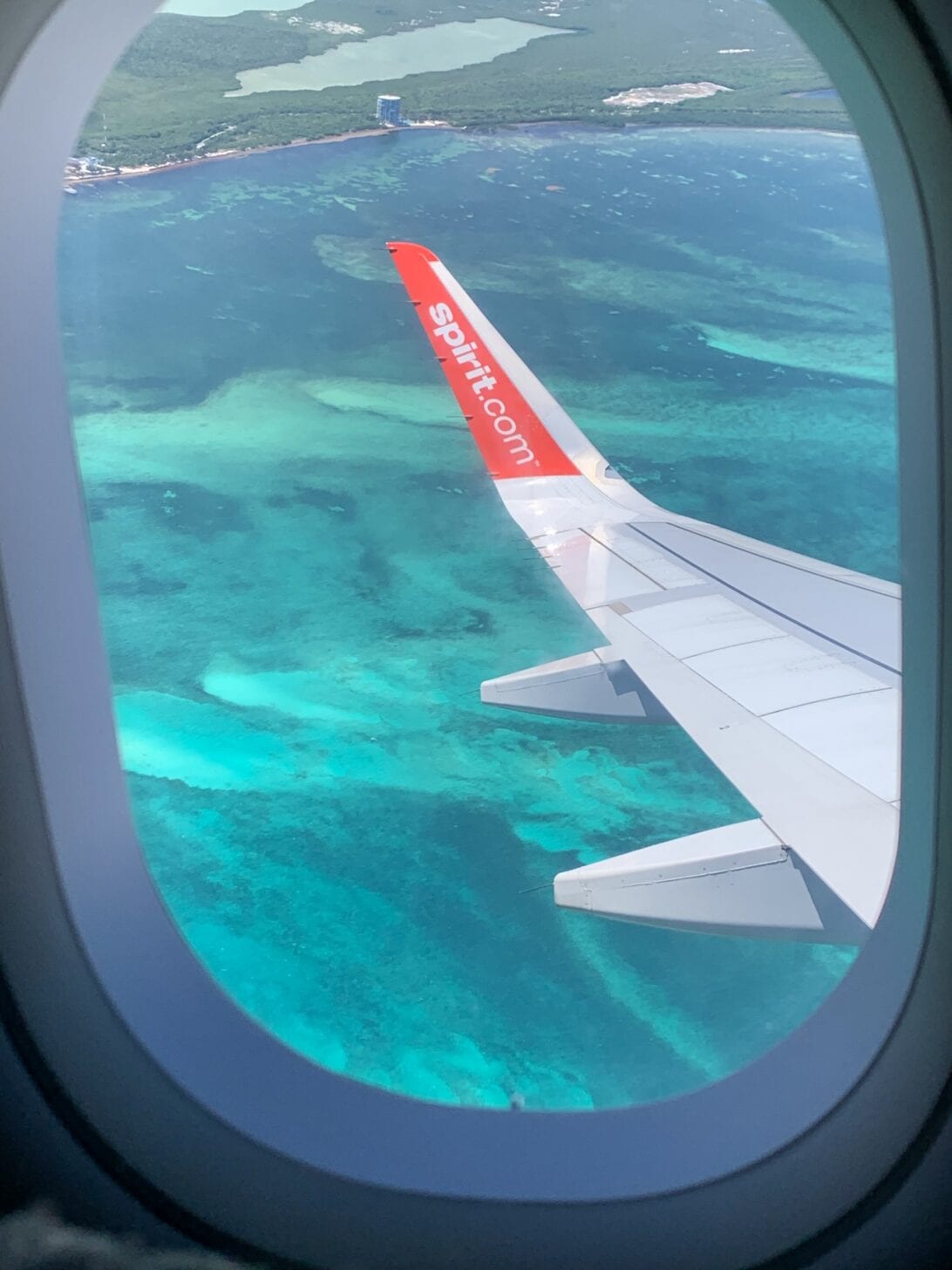 SAFETY:
I wanted to address this question, especially since this was the first international trip we took Jayden on. The first time we went we fell in love and felt no reason to worry about safety. It's a small tourist town so safety is a big priority in this town. Coming back again it is still one of our favorite places to go to even with our kid. As far as Zika is concerned my doctor wasn't too worried since there hasn't been a case in the past year in the area. You can actually get a free blood test after just in case if you feel the need to. When we were there we did not even see any mosquitos, or were bitten by any. We also did not stay on the beach and were in a nice safe area.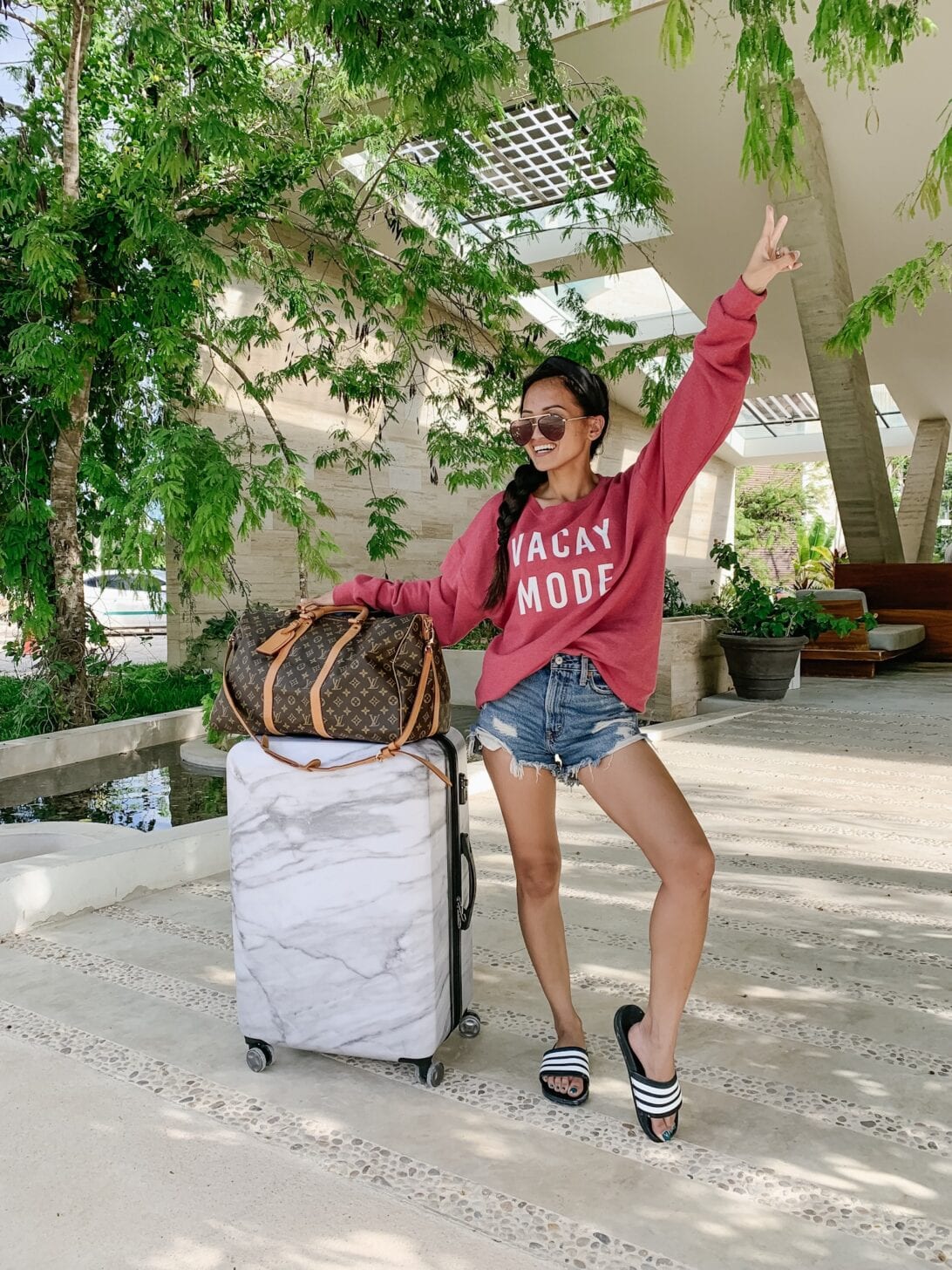 WHAT TO PACK:
Tulum is pretty warm and has beautiful weather, but at times like any tropical area will have rain. It rained once during our stay there but it lasted less than 30 minutes. For clothing I suggest sandals that you can walk in, no heels or wedges, breathable comfortable clothes. I would stay away from jeans. You could get away with being in your bathing suit all day if you wanted.
For kids bring a closed toe shoe and sandals with straps so you don't have to worry about losing their shoes. We also brought matching Adidas slides which were perfect for the beach or around the pool. We also opted out of bringing a stroller. Since it's a small beach town there isn't a lot of sidewalks or paved roads. Plus everything is pretty close its easier to Also sunscreen is a must if you will be outside. Here is a great eco friendly options if you plan to go. Tulum is big on preserving their environment so the less chemicals that go in their waters the better.
Packing Tip: We packed everything for our family in one checked in bag and saved a ton on baggage fees. Limit how many shoes you will bring because honestly you don't need anything but sandals when you get there. Also pack things that you can wear multiple times and not just once.
Also if you plan to go snorkeling, I highly recommend bringing your own snorkels instead of renting them. One because it's more cost effective, and two because it is more sanitary. We brought these and they were the best things ever. If you watch our travel video you can see how even Jayden loved it and did so good swimming in them. Below are some of our essentials that we packed in Tulum.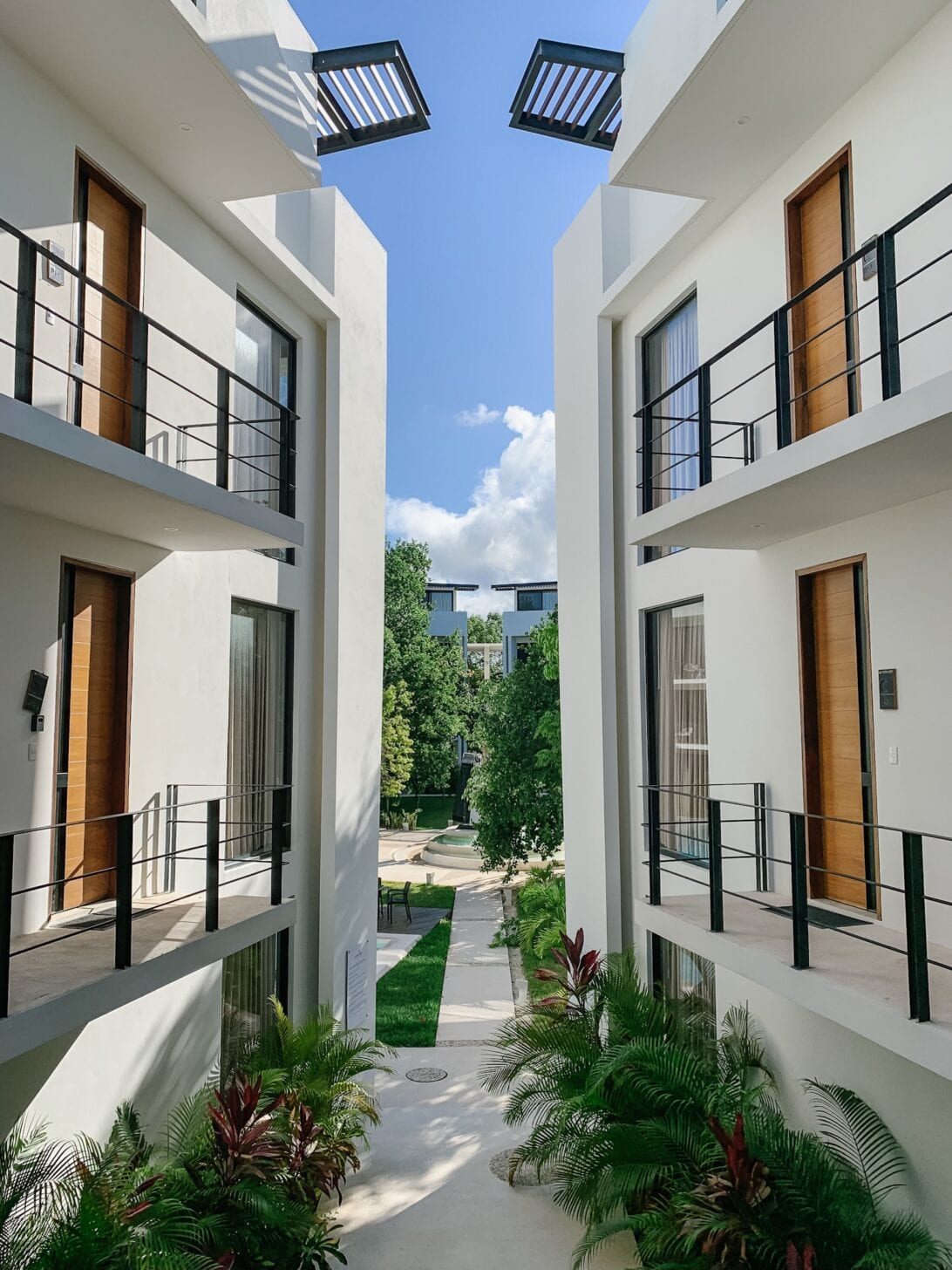 HOW TO GET THERE:
To get to Tulum we flew into Cancun International Airport. From their we rented a car and drove an hour and thirty minutes to Tulum. You can take a shuttle there or have a private car take you which we did last time my husband and I went. But we found with a child it was more convenient and cheaper to rent a car. In fact for our rental for four days with full coverage insurance we only paid $40 for all four days. Plus it will also save you money when getting around Tulum because Taxis can be expensive if you don't know how to haggle with the driver. There was a time we took a Taxi and the driver tried to charge us $20 for a ten minute drive. I refused and haggled it down to $10, which I still thought was overpriced.
If you plan to drive with a child, I highly recommend getting this backpack child seat carrier for the flight because it will free your hands. Also when filling up for gas, do not fill up at a gas station near the airport because they are way overpriced. We learned that the hard way.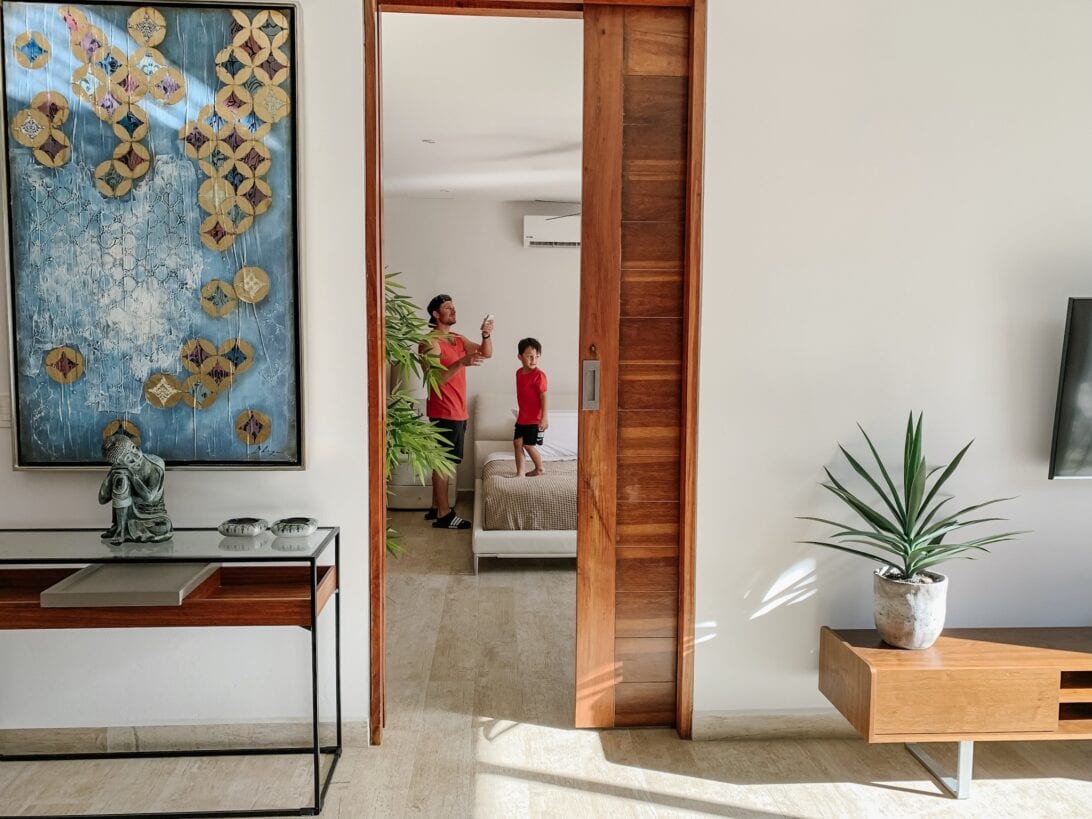 WHERE TO STAY:
Last year we stayed at this adult only resort twenty minutes north of Tulum, it was great for just me and Josh, but this time around we decided to get a place with a little more room. We rented this condo which I thought was a hotel, because it had all the amenities like housekeeping and room service.
The condo we stayed at had it's own kitchen a living area with a pull out bed, with two bathrooms, and a huge bedroom with two balconies overlooking the pool. It was only a bike ride from downtown Tulum and a bike ride to beachside Tulum. We loved how we were right in the middle of everything. Also our condo was super eco friendly. We could hear the birds in the morning and it was so peaceful. The condo also had two pools, and a restaurant where you could get a buffet breakfast and late night room service! We definitely took advantage of the room service with their delicious deserts they offered. Sign up here and get $40 off your rent! Check out this amazing penthouse for such a great deal!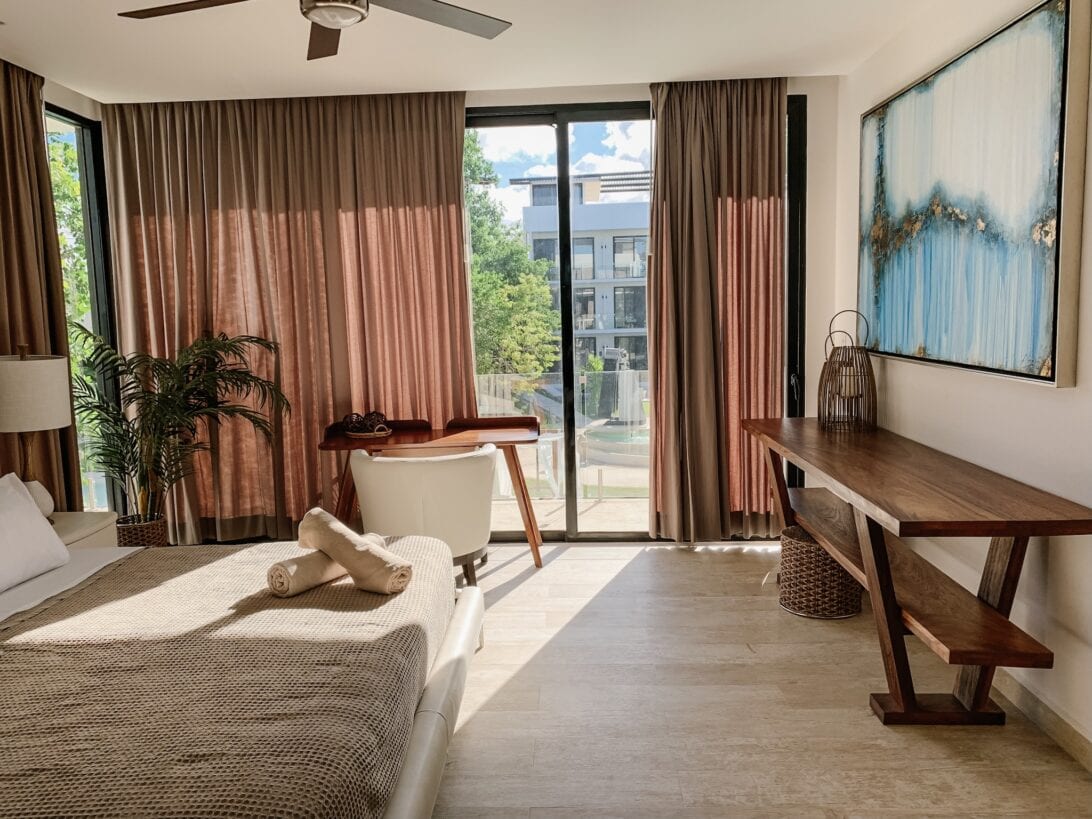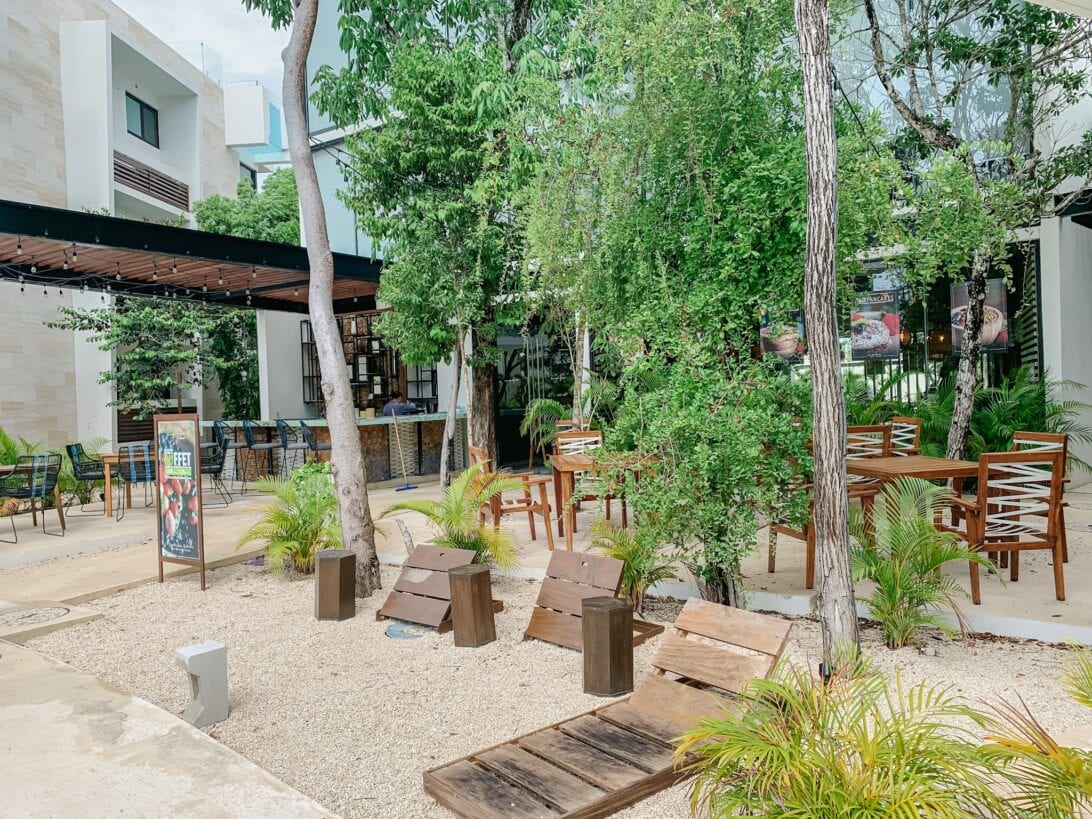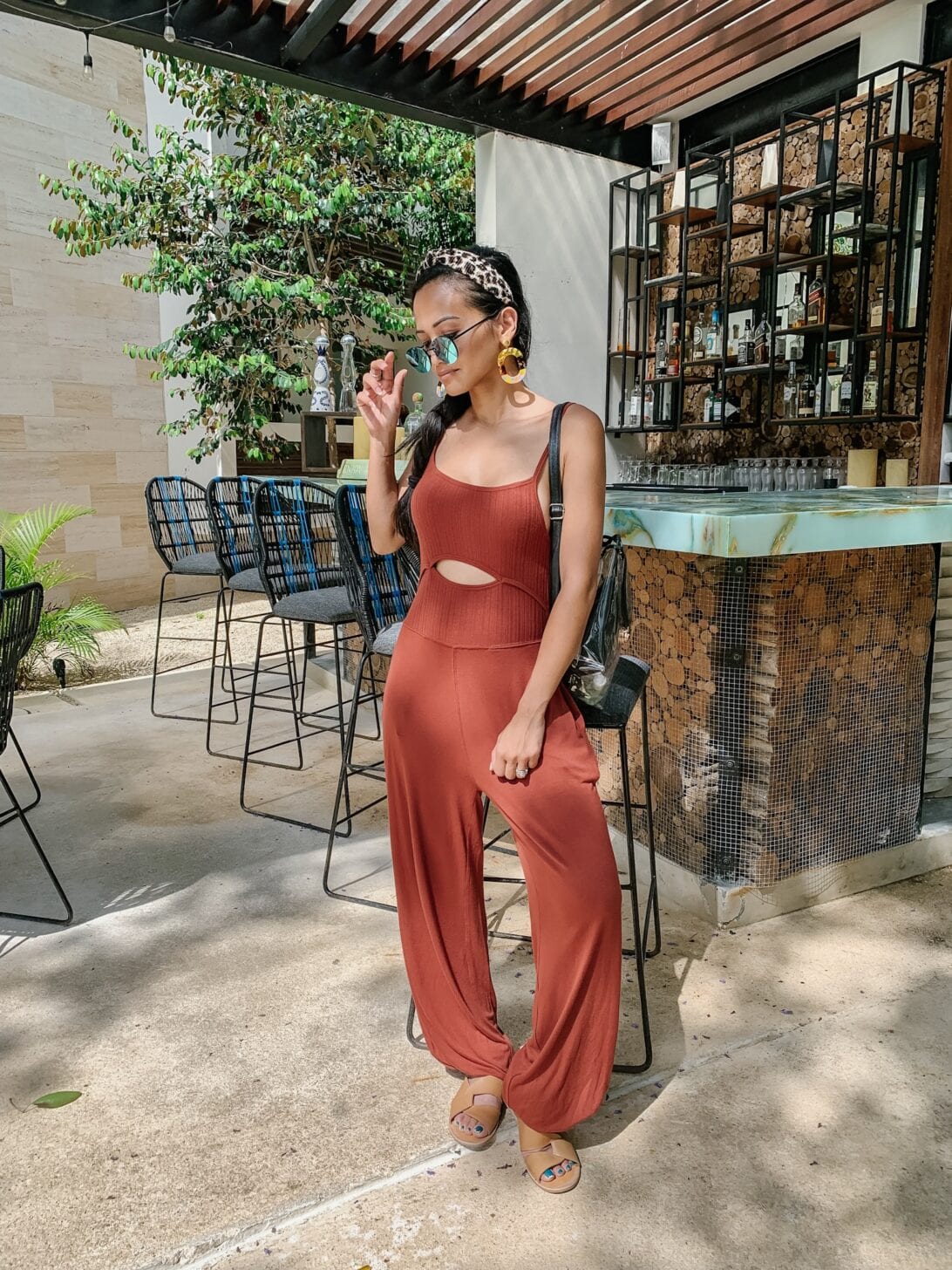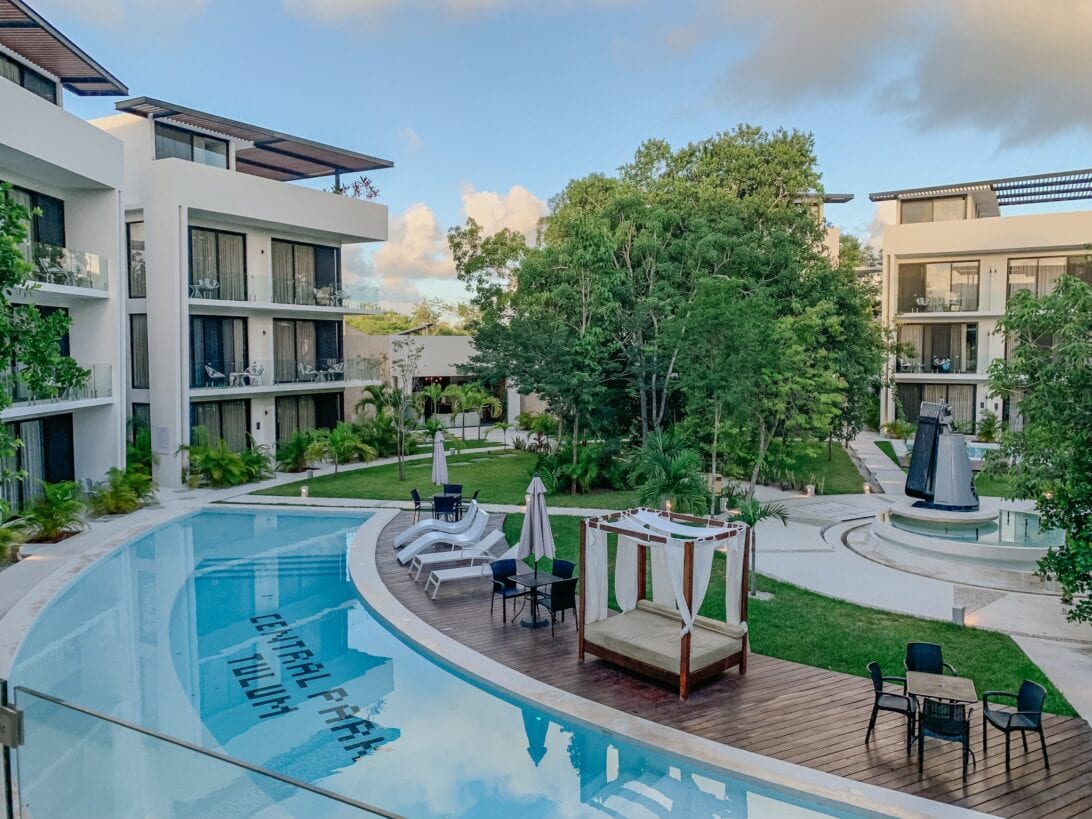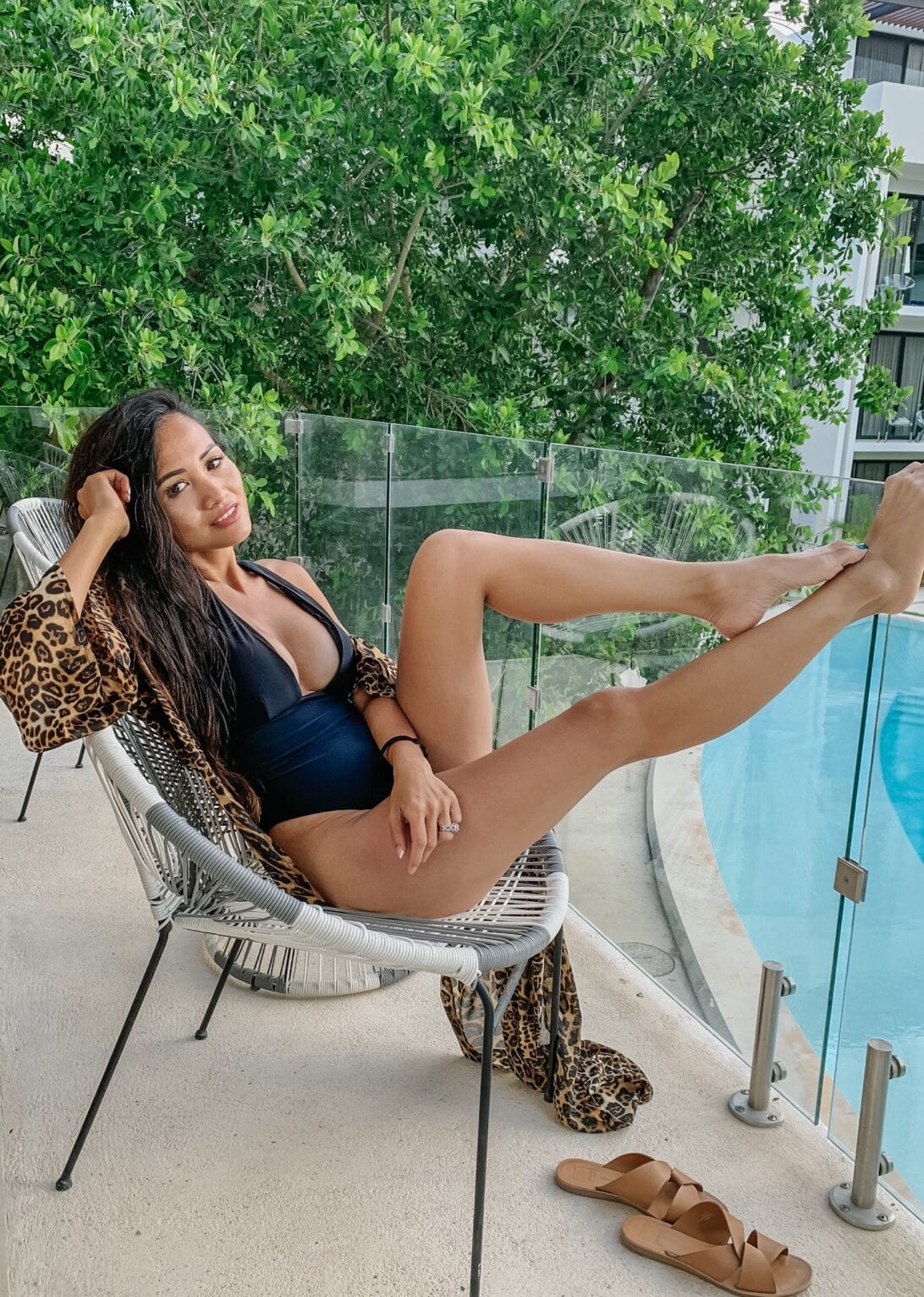 WHAT TO DO:
Tulum is a very relaxed and nature friendly place. What I love about it is that everything is very nature focused. You will find most of the beach clubs and hotels have places for kids to play, however there are some adult only areas as well. You won't find any amusement parks, but you will find a Monkey sanctuary park and endless of beaches for the the kids to play. It's a great place to vacation if you want a family escape where you can relax and be part of nature.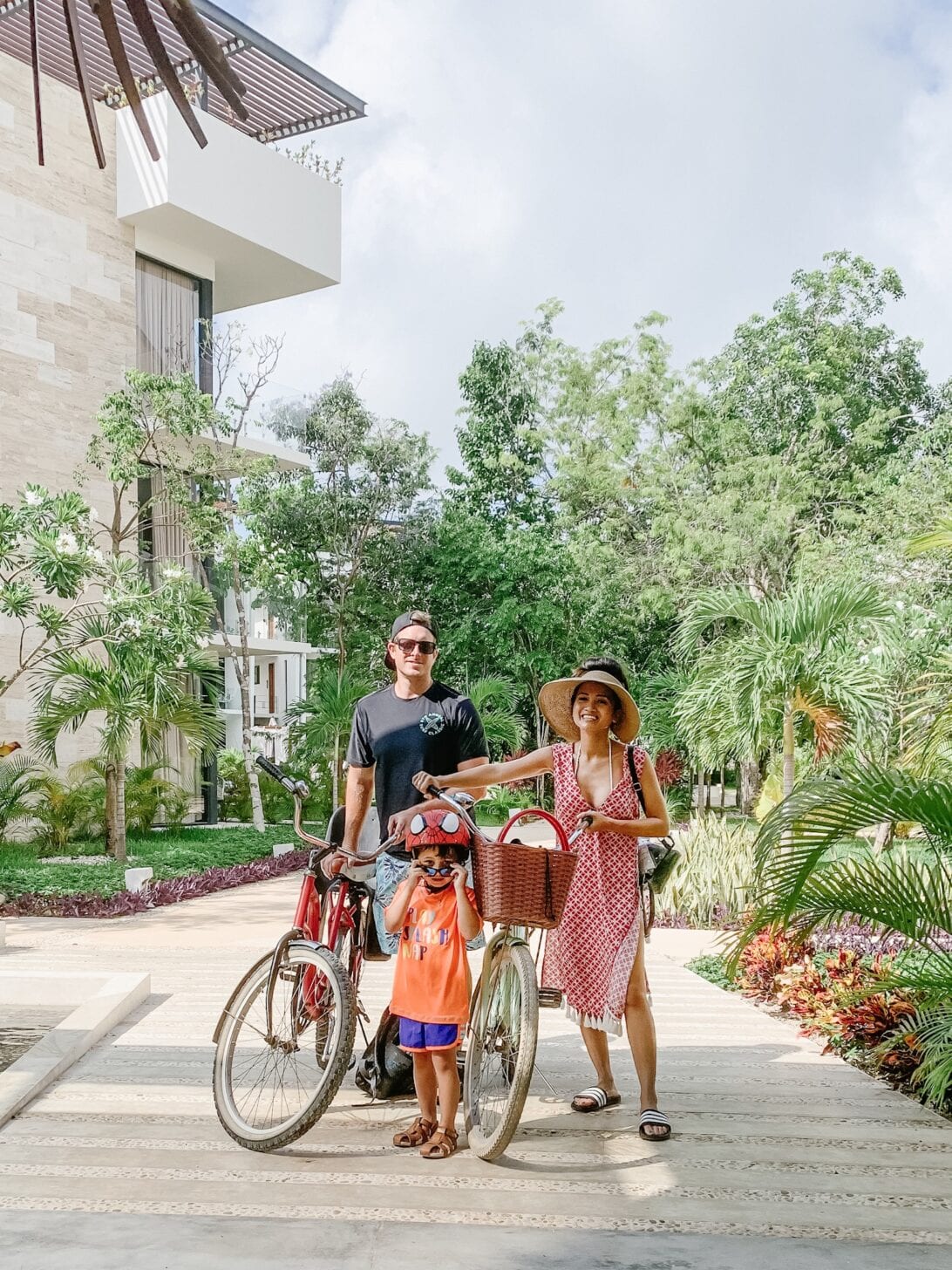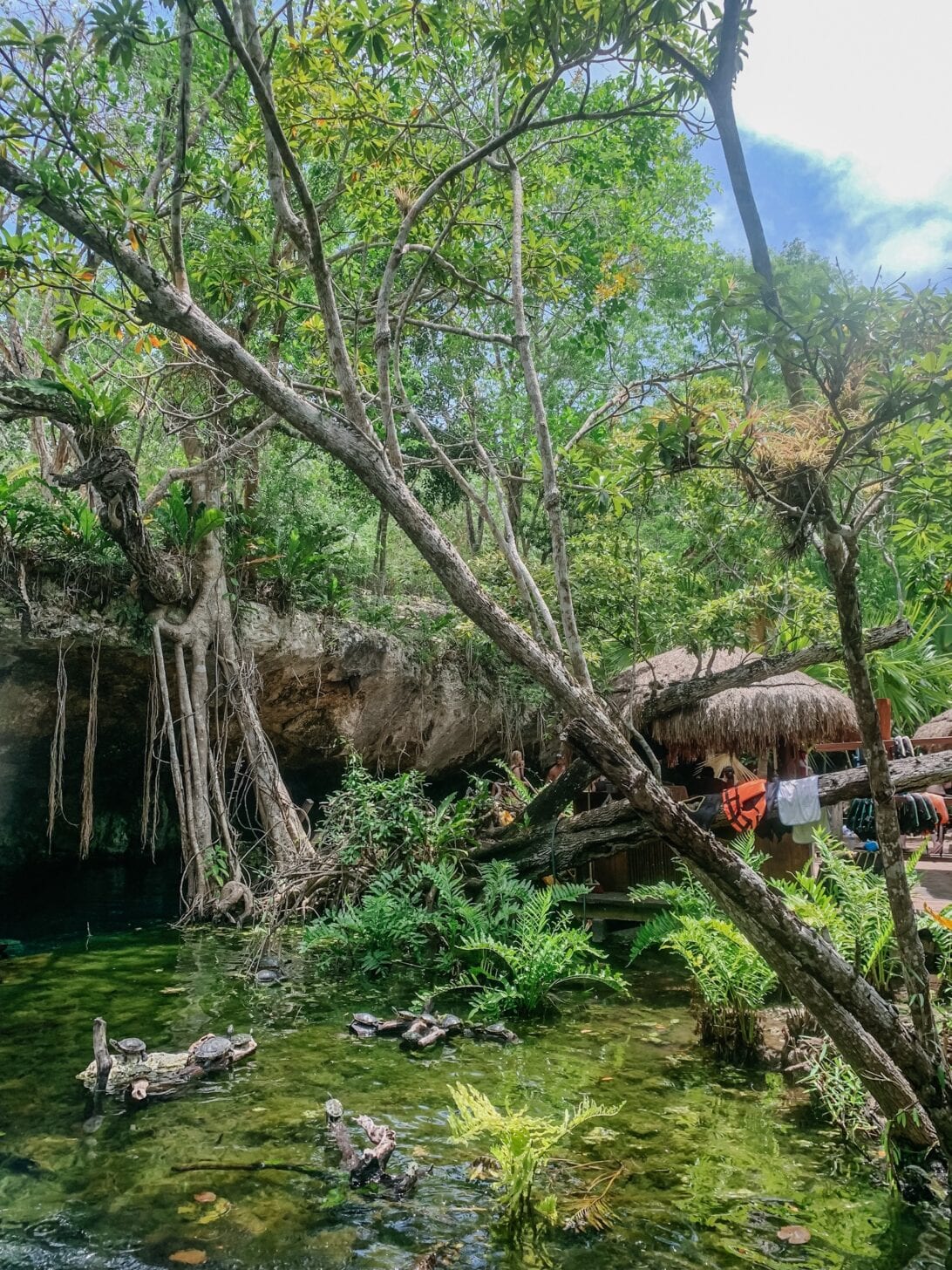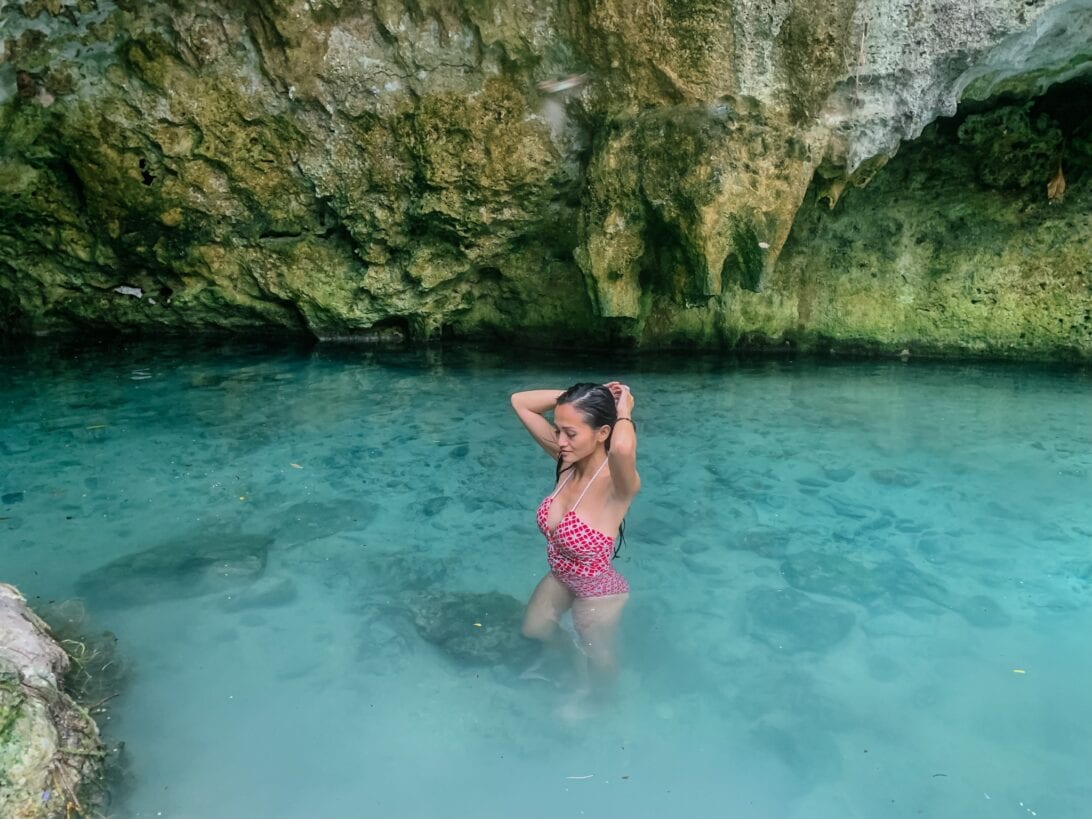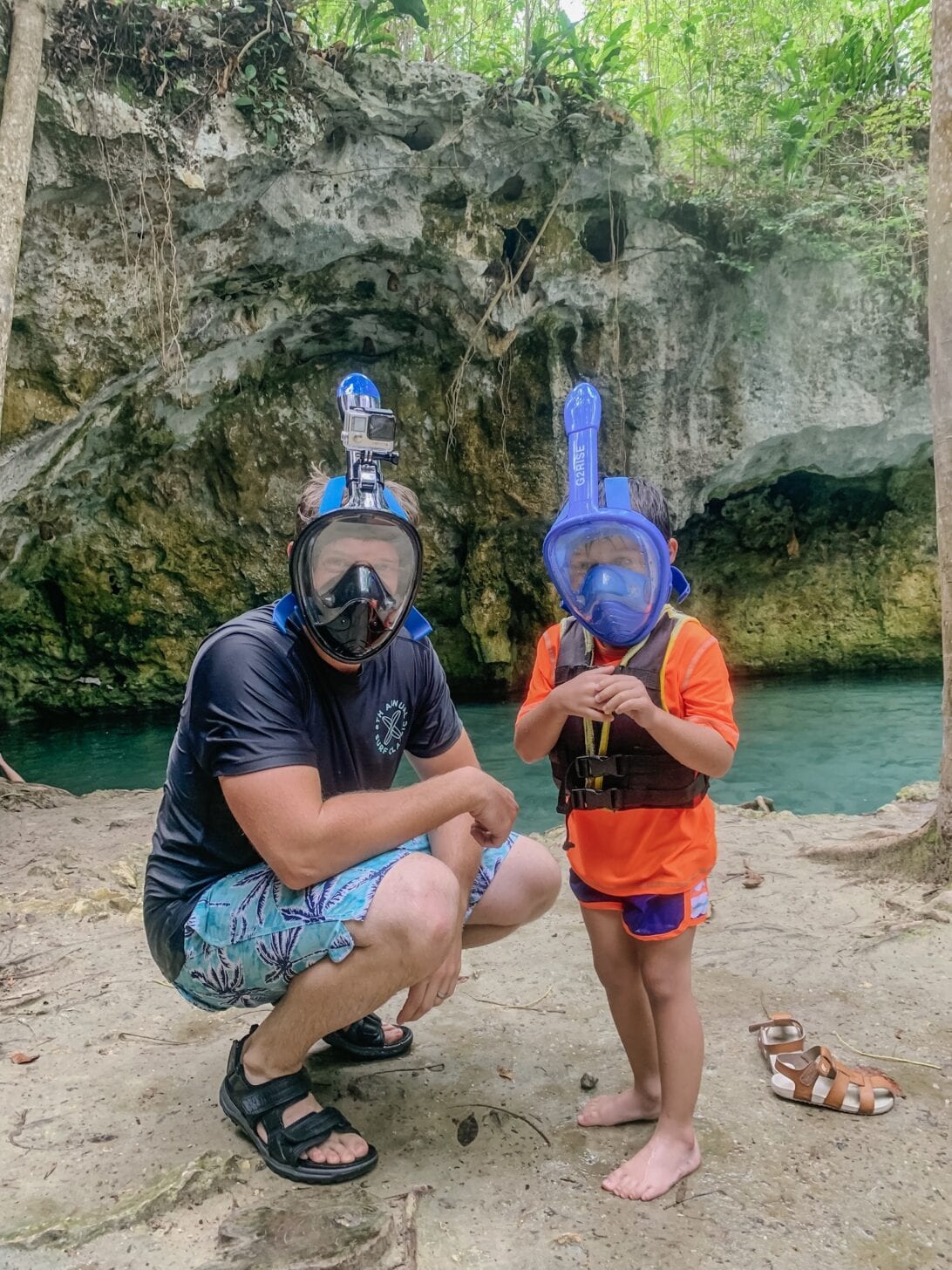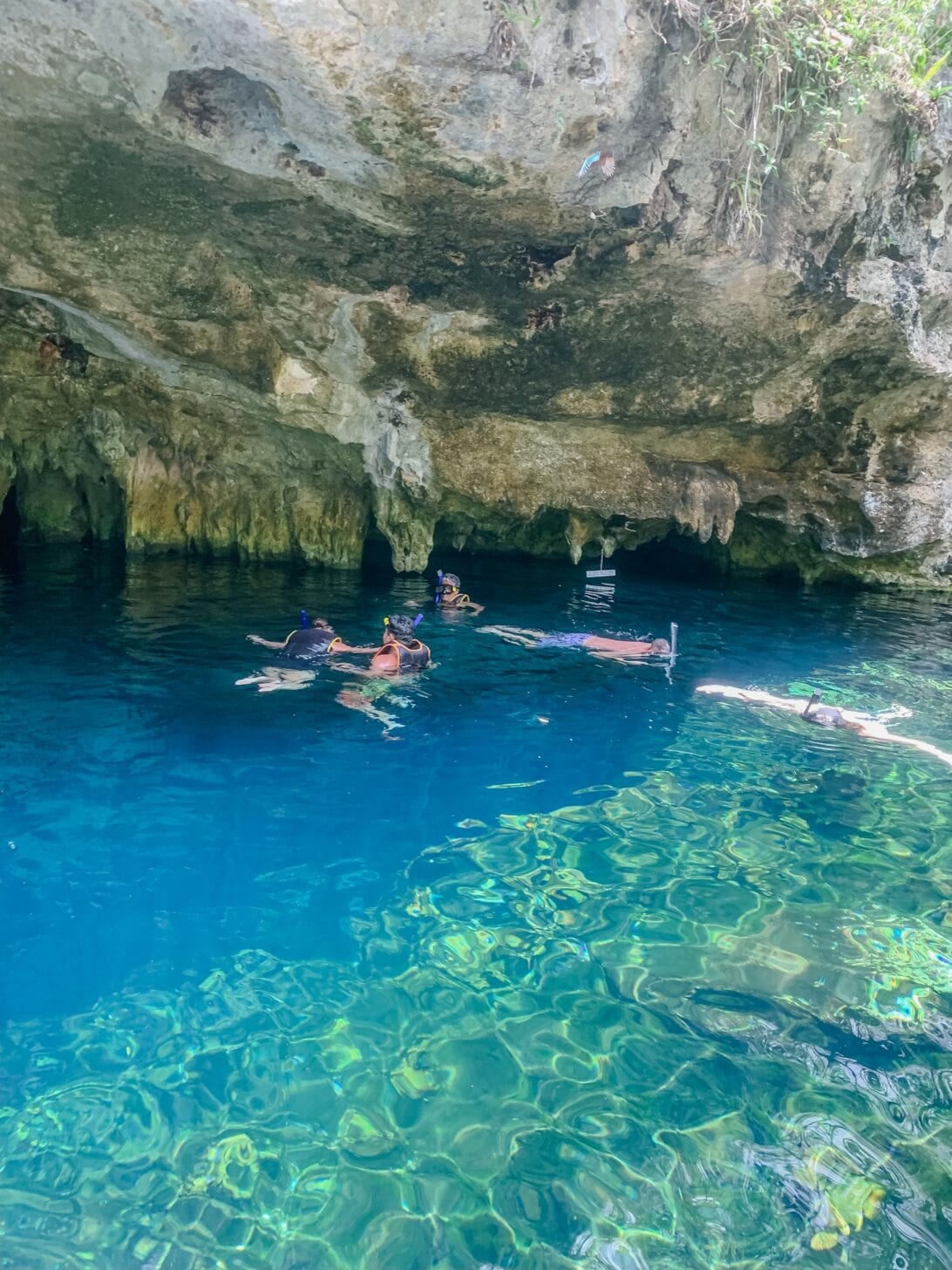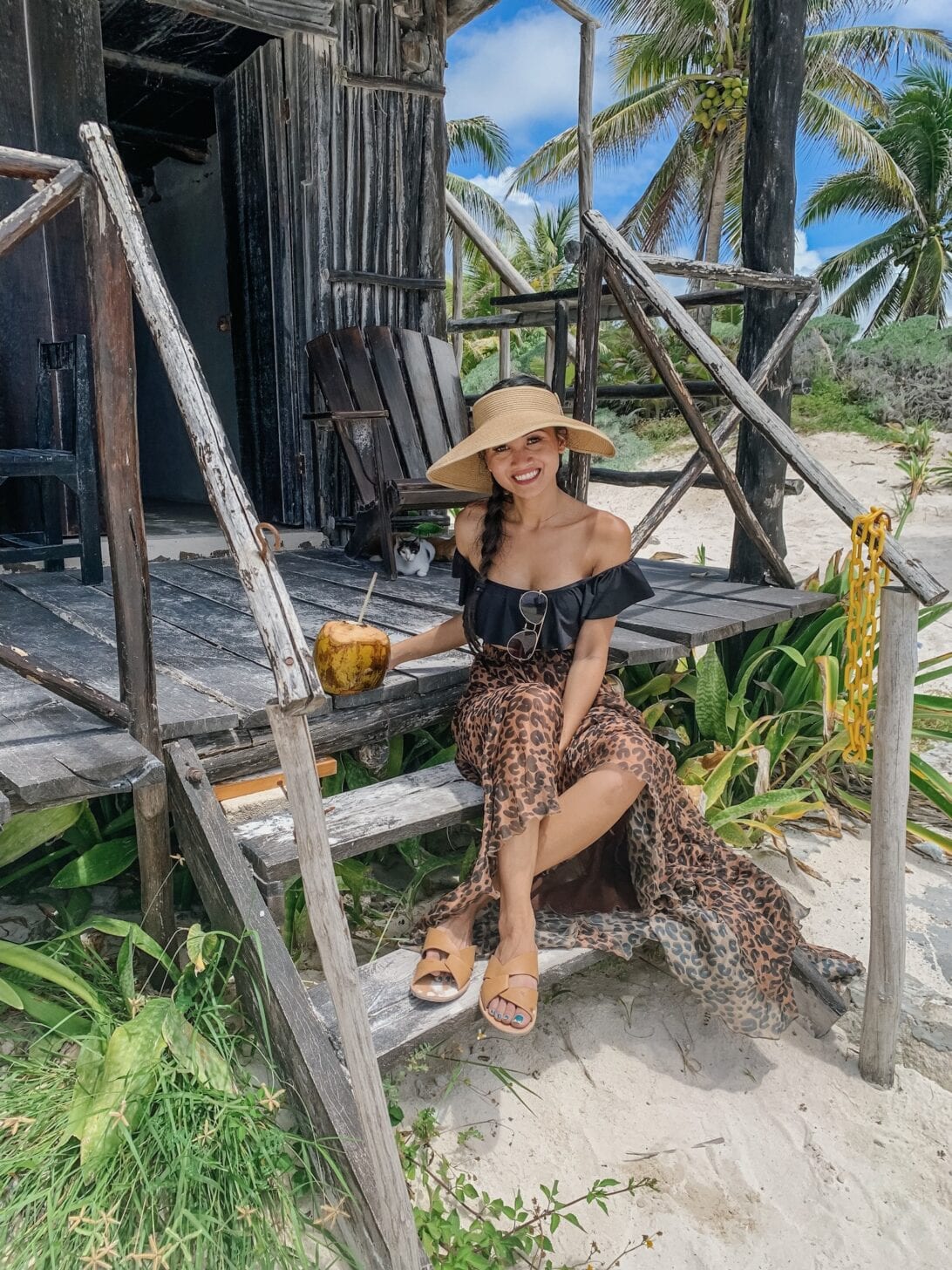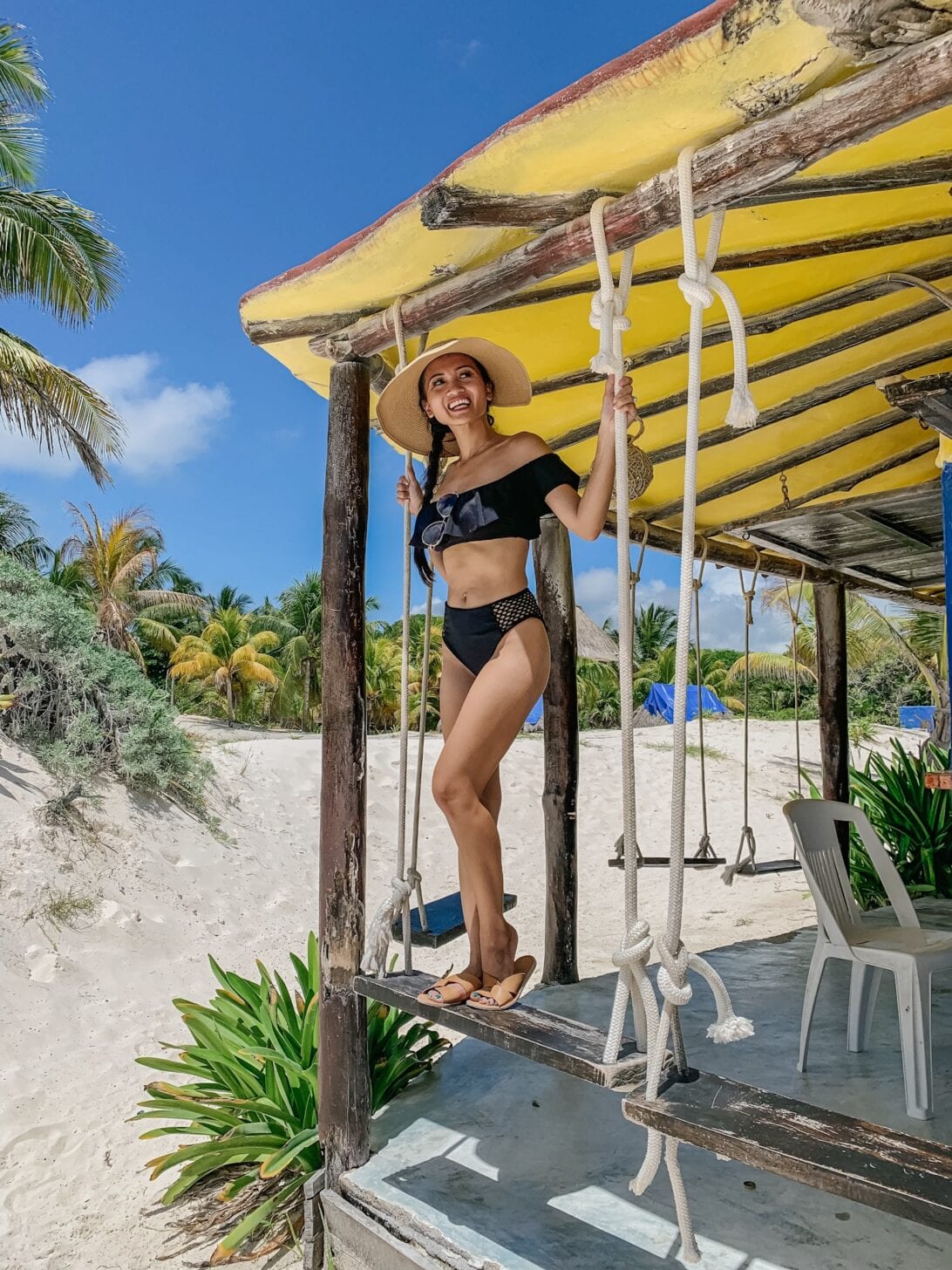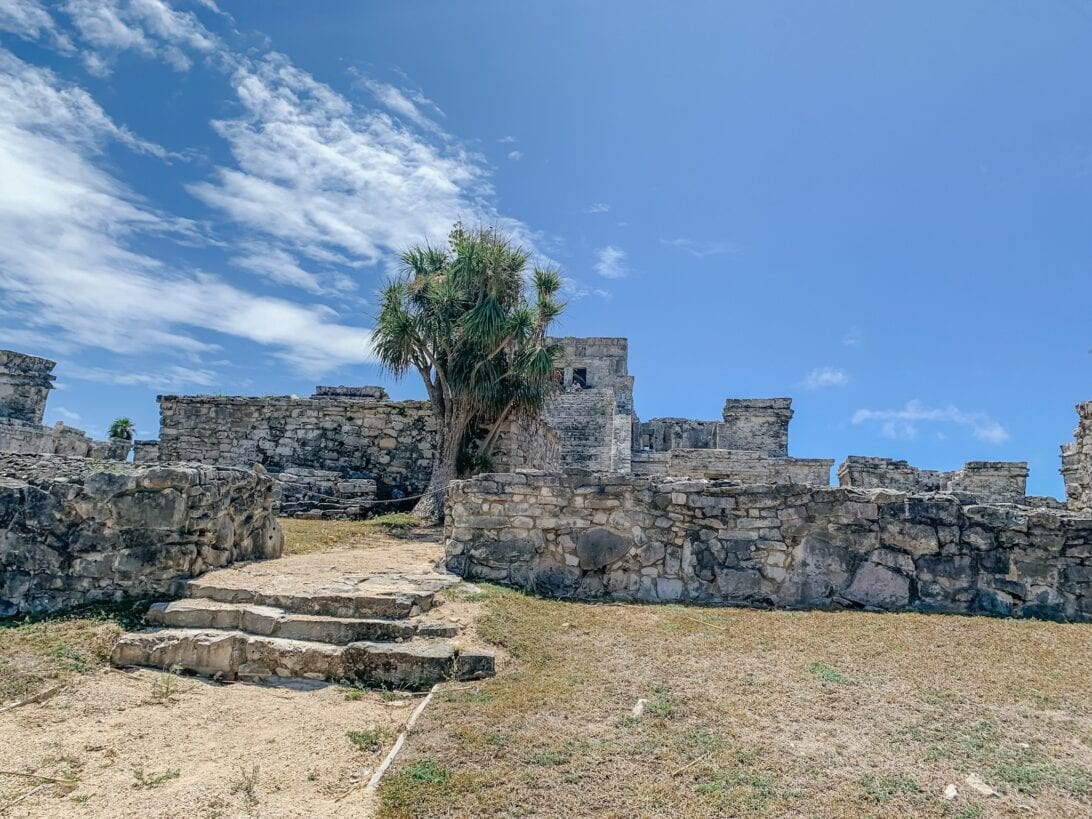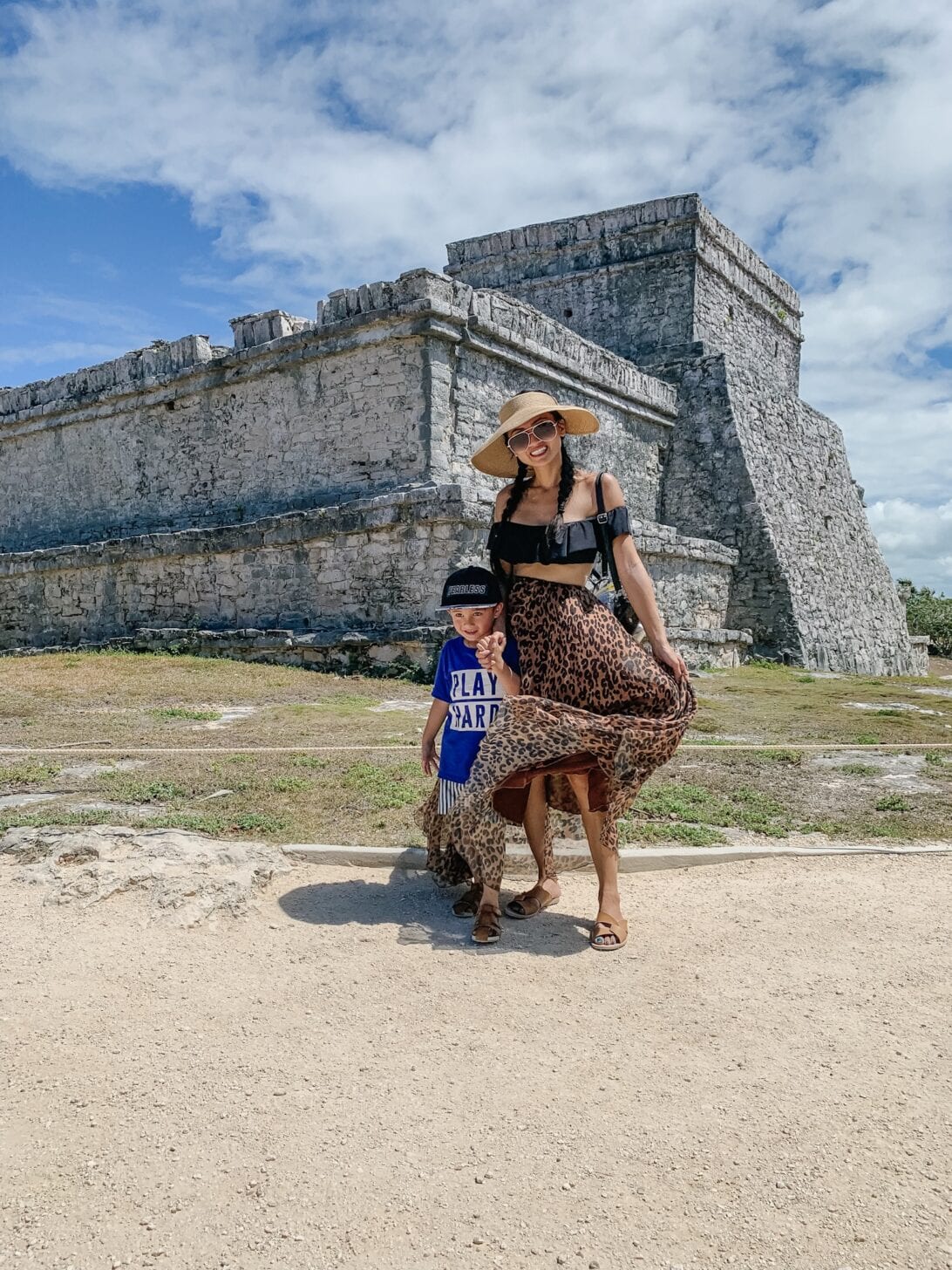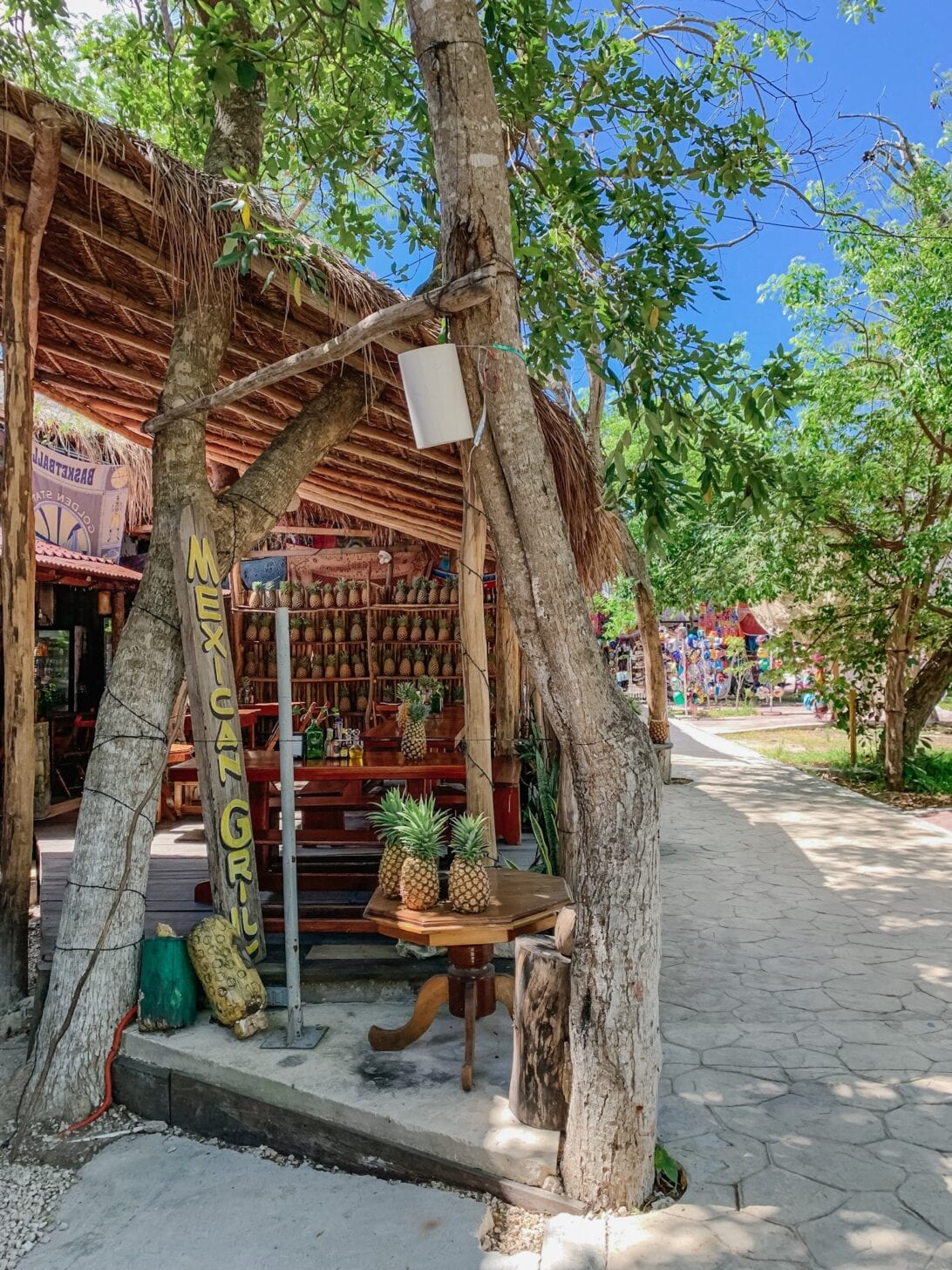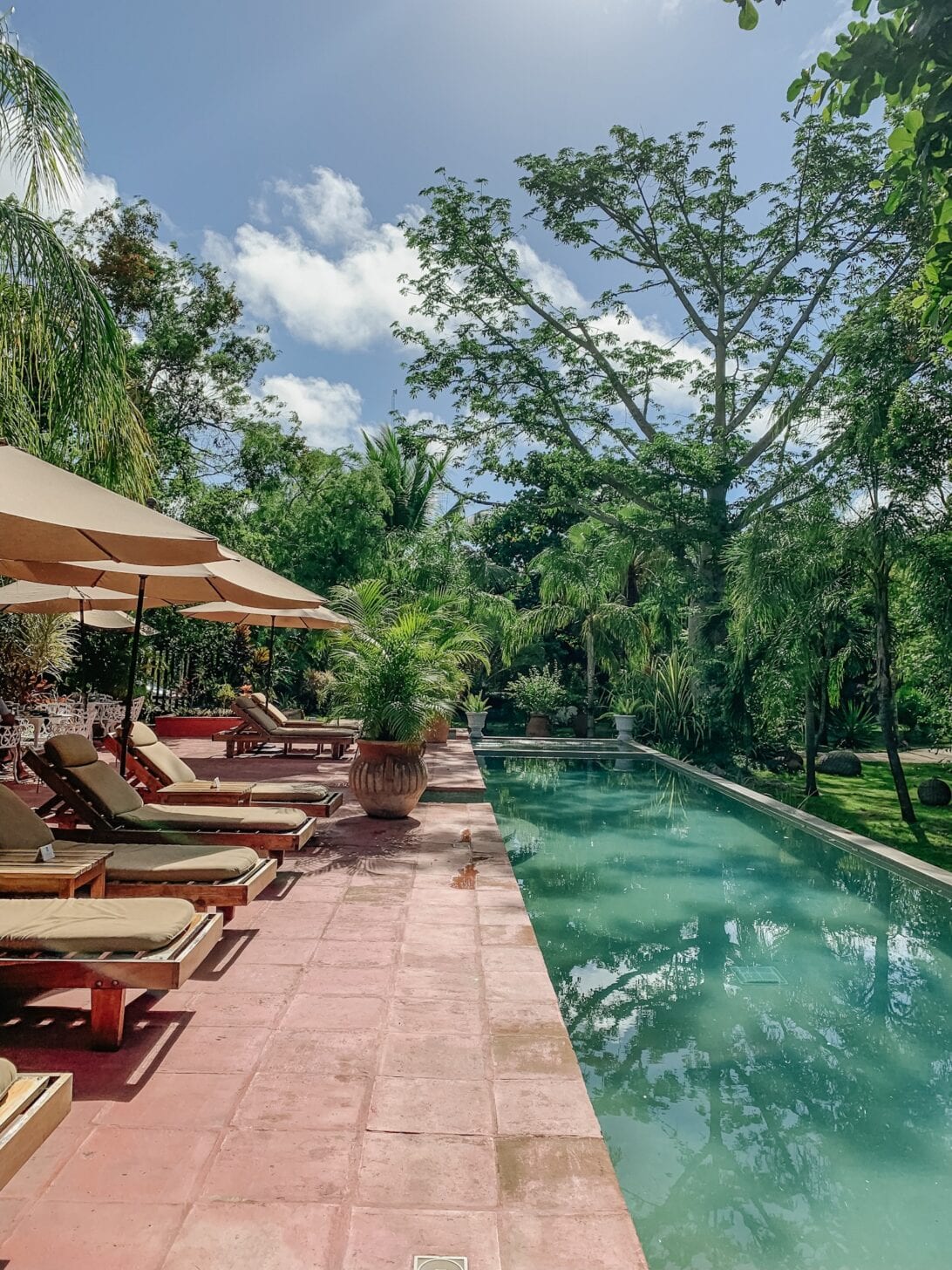 WHERE TO EAT:
There are so many places to eat in Tulum. There's the more local authentic side of downtown Tulum, to the more boutique style restaurants on the beach side of Tulum. Last year I found that I could find less expensive options in downtown Tulum, however this year I felt that both sides were pretty equal, and found some less expensive boutique style restaurants on the beach side of Tulum too.
Either way, Tulum has some of the best restaurants serving some of the freshest dishes and each of them with their own unique flavor. Also around the time I went it wasn't very busy so you could really enjoy your experience at each restaurant. There are so many places to go that we decided to try new restaurants this year. Here are the ones that made our recommendation list. You can see last year's list here, which are still great food options too!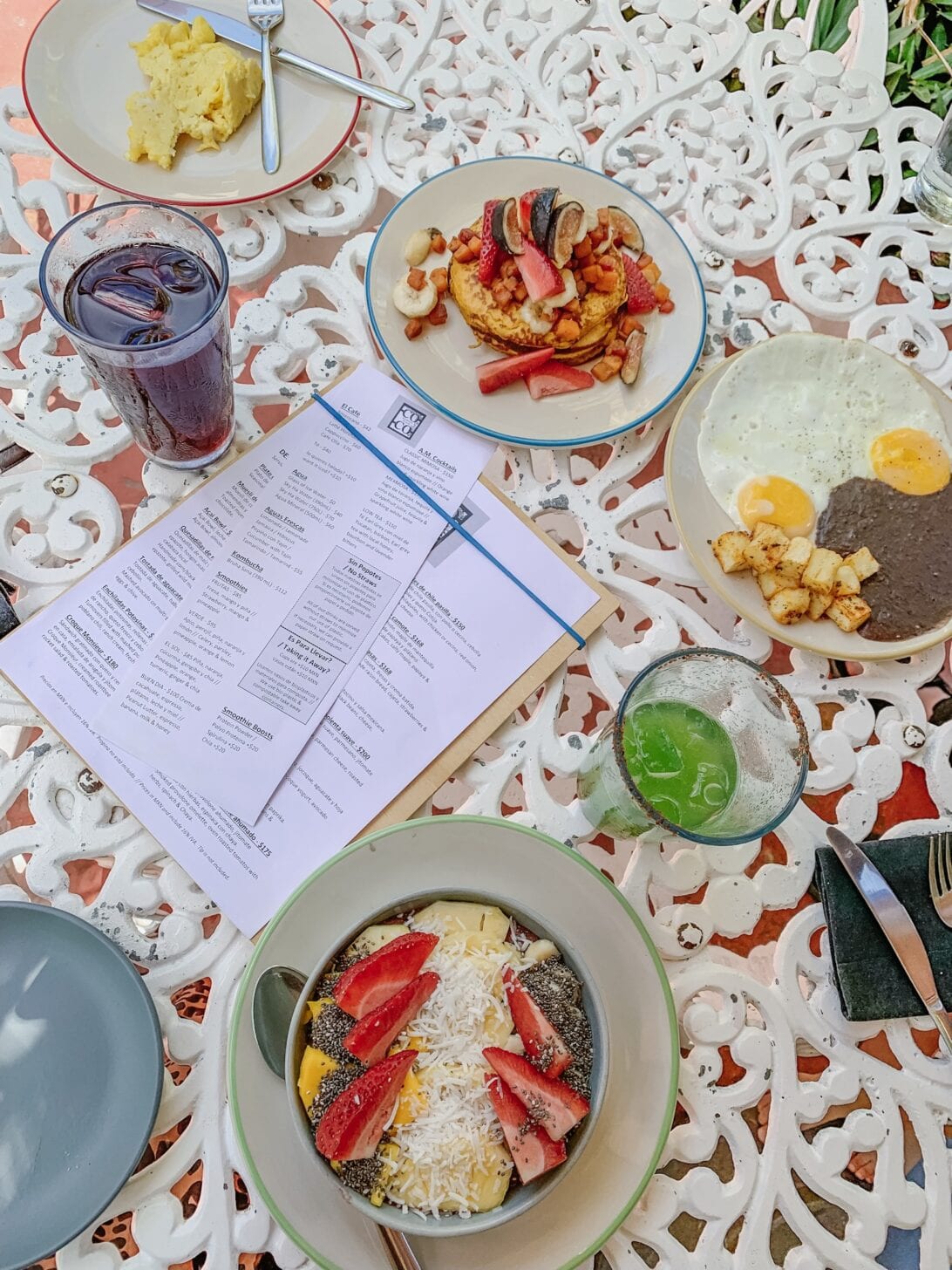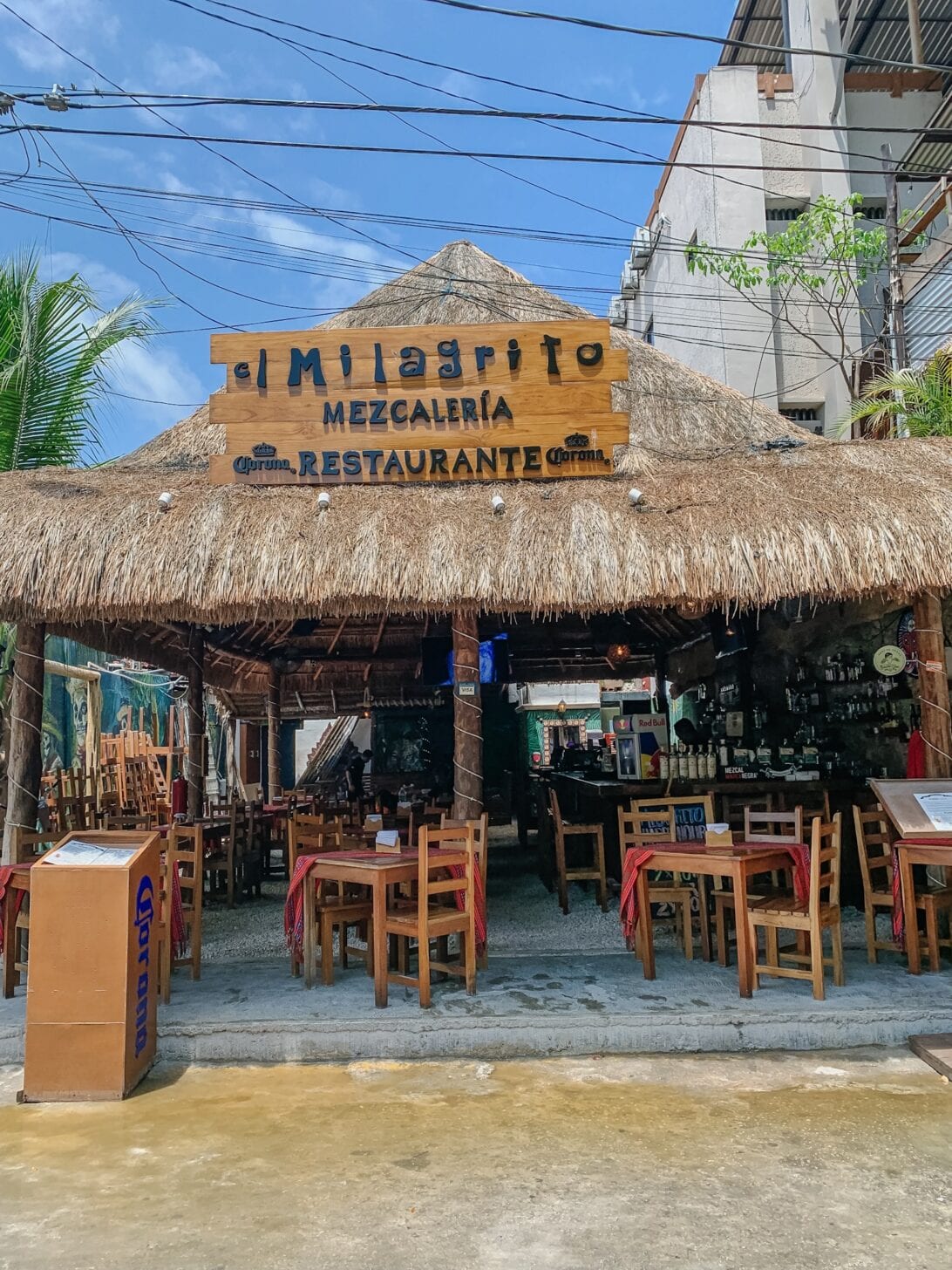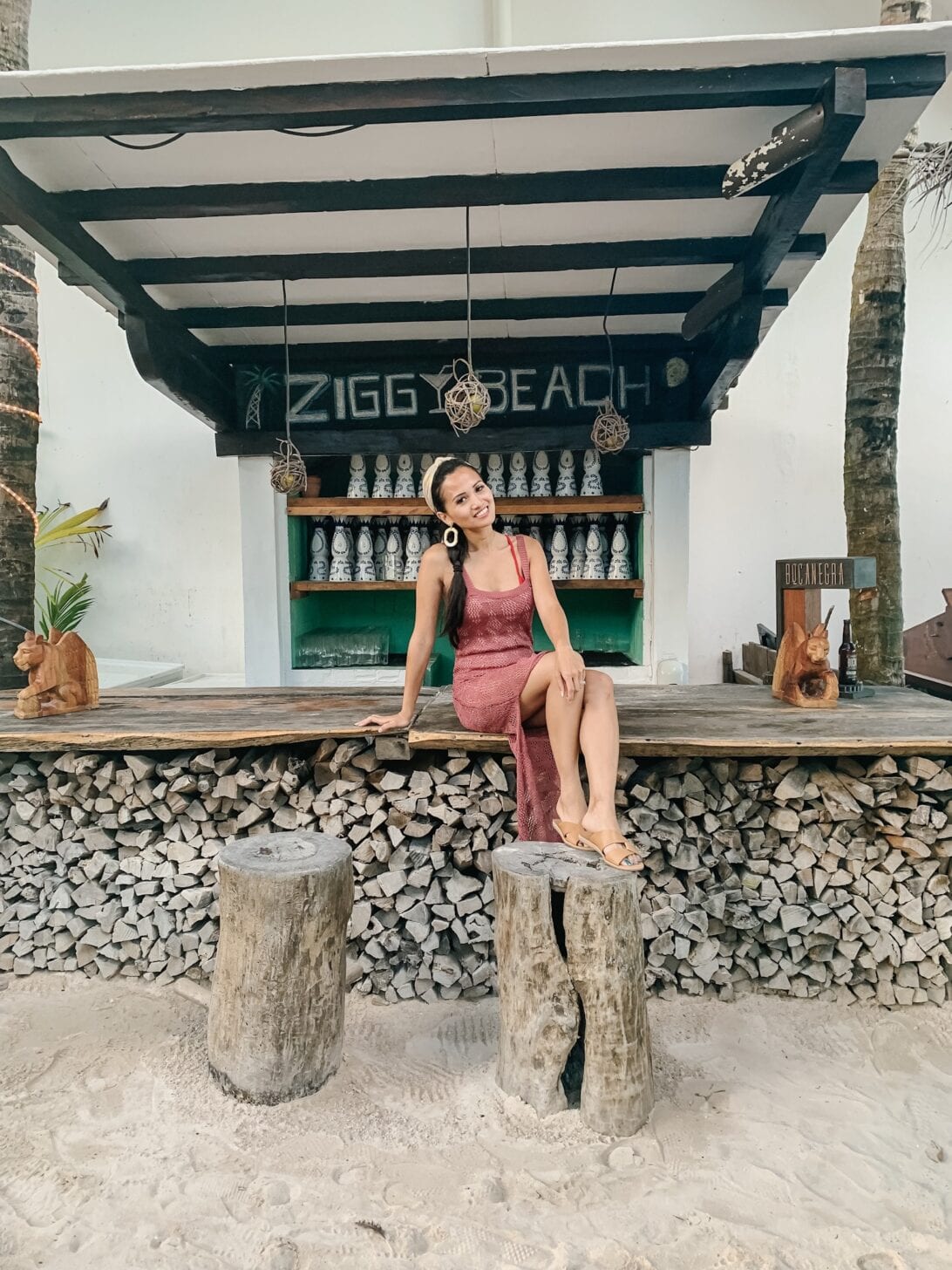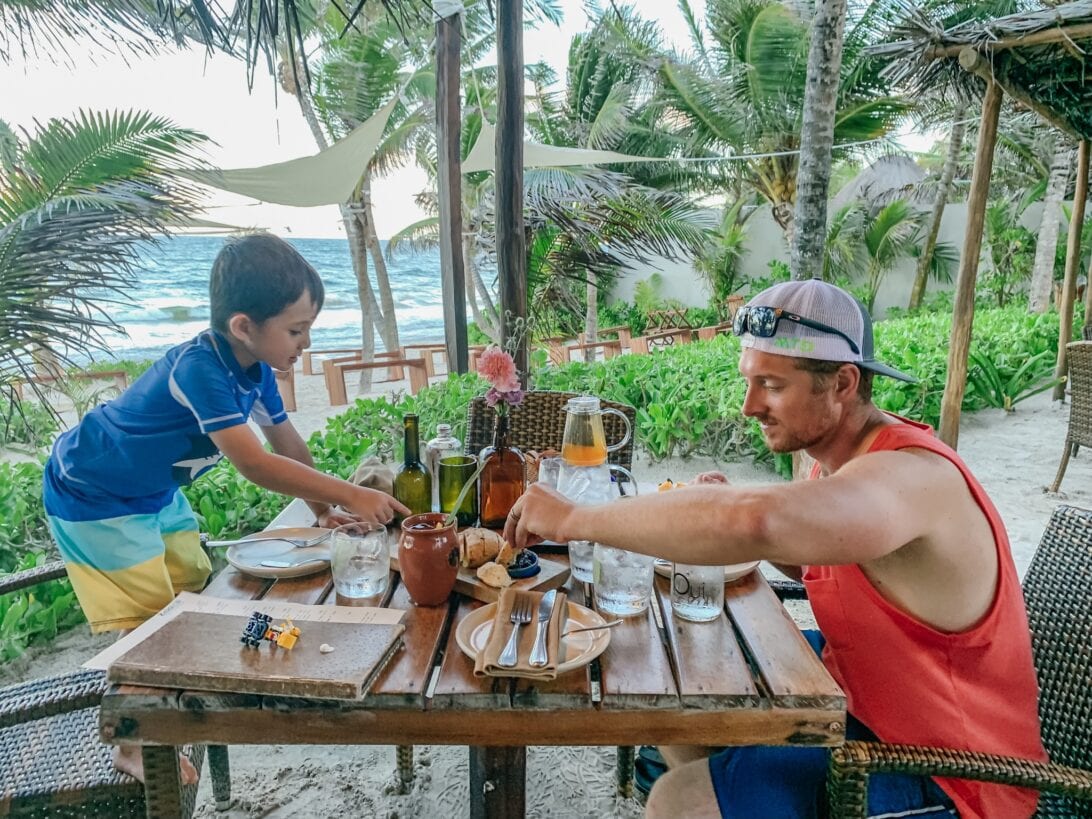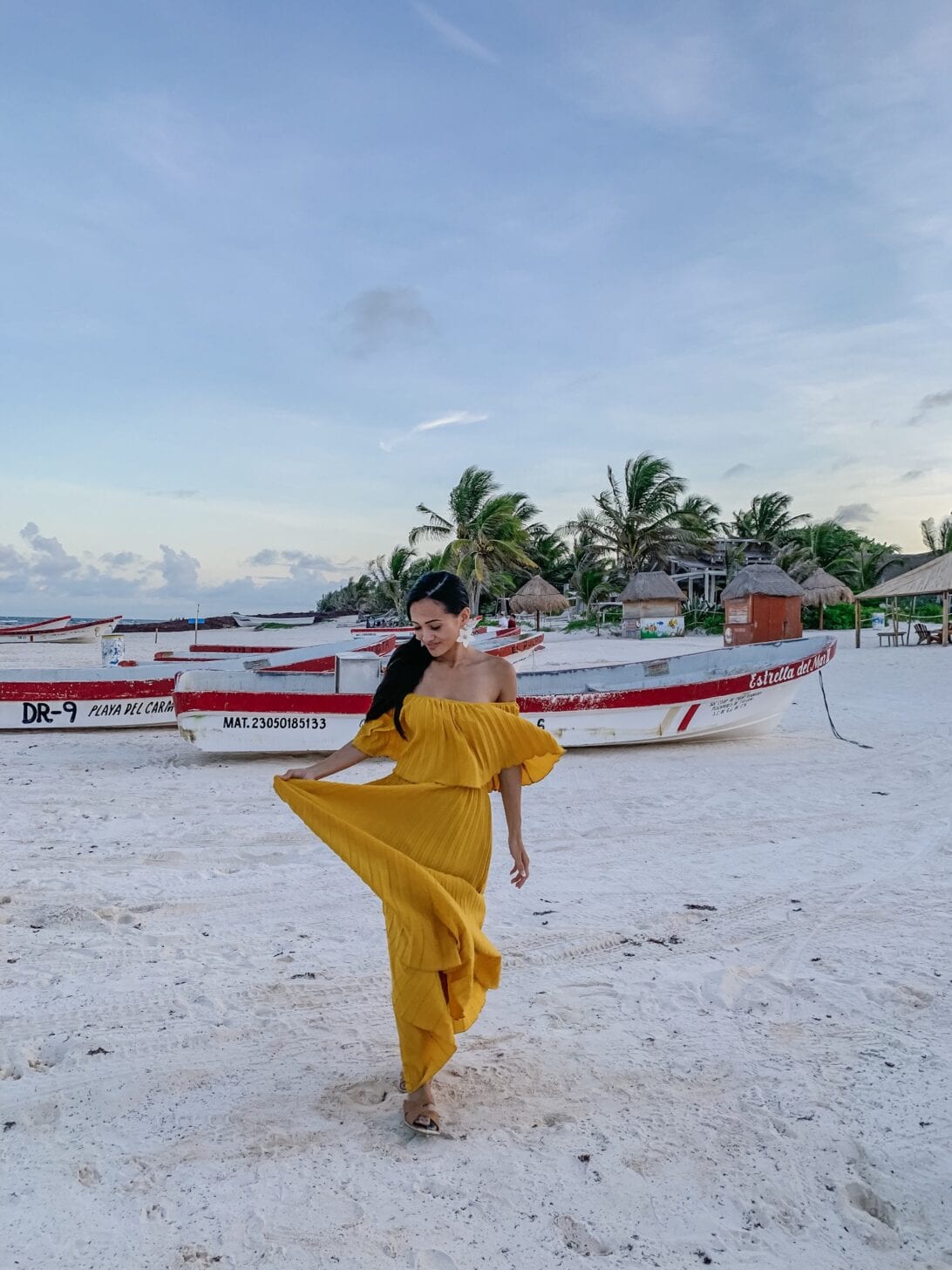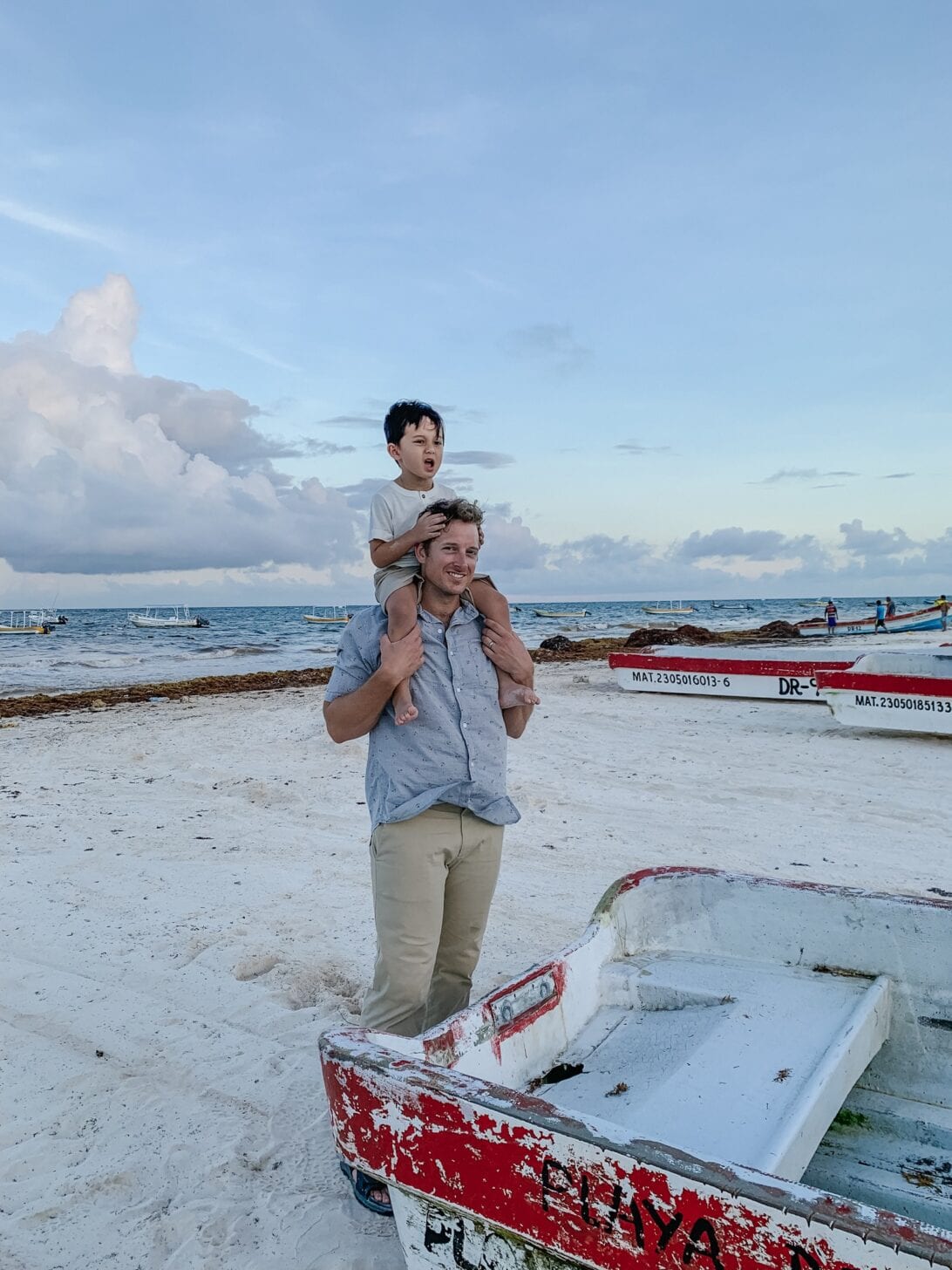 I hope you enjoyed my Tulum family travel guide. We really enjoyed our time there and we will definitely be back! Make sure to watch the video above so you can really see how beautiful Tulum is. I highly recommend it for families looking for a less "touristy" more history, eco friendly chic side of Mexico. Thanks for stopping by!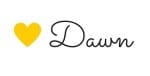 P.S. Subscribe for weekly newsletters so you never miss a single post!