Hi friends,
Hope you are doing well! It's been almost three months since our family went to Paris, and today I am sharing my Paris family travel guide with ya'll. Last time I went, it was just me and my husband, but this time we decided to take our kids. Paris is my favorite city and every time I go I feel like I never have enough time and already planning a time to go back. I even looked at real estate when we were there because my dream is to have a second home there. We had a wonderful time with our family, and Paris is truly a kid friendly city. It's easy to get around and everyone is very friendly or understanding with little ones. Check out my tips and recommendations below!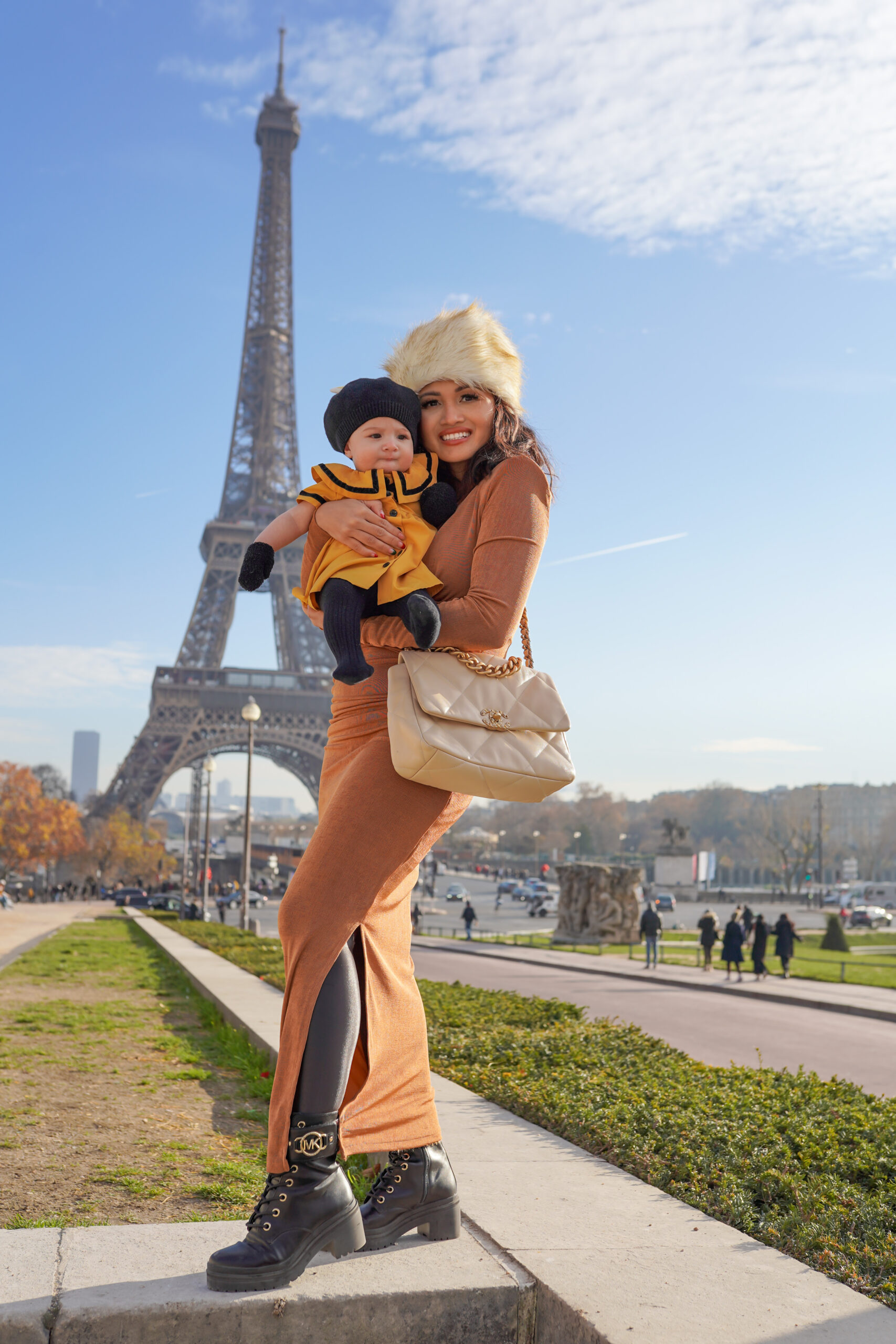 Paris Family Travel Guide:
HOW TO GET AROUND PARIS:
Paris is easy to get around, whether you are using the metro, walking, or taking an Uber or taxi. For our family we found the most convenient way to travel was taking an Uber. It allowed us to get where we needed to quickly. If you have a baby I would highly recommend bringing the DOONA stroller. It is our go to everyday car seat/stroller with Ella, and easy to load in and out of vehicles. I can't recommend this stroller enough. I promise you it is 100% worth it! Ubers are more expensive than taking the Metro, but when you have kids it's worth it.
WHERE TO STAY:
For our stay we stayed in a local Airbnb. The reason why we love Airbnbs over hotels when we travel is the space and amenities. You get more space, a kitchen, washer and dryer, and the experience of living like a local. A kitchen and a washer and dryer is a must when you have family and a baby. We love our Airbnb because it was in a great location in town. Right next to shopping, restaurants, bakeries, and the Arch Triumph. We were a 10 minute drive to all the local attractions like the Eiffel Tower, all the museums, and luxury shopping. It was perfect for our family.
WHAT TO DO:
There is so much to do in Paris with your family. We loved just walking around and doing some sight seeing. One thing I would highly recommend is getting family pictures at the Eiffel Tower like we did here. The photographer we worked with was great with our kiddos, and the pictures turned out beautiful.
Another place to go with children is the Jardin des Tuileres. They have a play ground, a huge ferris wheel, and tons of other fun things for kids. When we went they had a Christmas market filled with fun shops, delicious food, games, and ice skating. Plus it's walking distance to the Louvre, and some amazing luxury shopping like my favorite store here!
One of our kiddos favorite place to go was Disneyland Paris. You can take the train there, and it is only forty five minutes from the city center. It is a fun day trip and surprisingly very affordable at least compared to the states. You can definitely spend a whole day there if not two!
WHERE TO EAT:
One of my favorite things about visiting Paris is the food! I feel like everything is made fresh with local ingredients, and surprisingly for a very nice restaurant it isn't as expensive as eating at comparable restaurant in Houston. And as much as I love Houston for the food industry, it isn't anything like Paris. Paris is just on another level when it comes to the food experience. It's my personal favorite!
There are so many amazing restaurants to go to, it's really hard getting to visit them all. We didn't even get to do any Michelin star restaurants this time around, but I definitely will be back for that experience, because I can't even imagine how amazing that would be. Below are the restaurants we went to that I would one hundred percent recommend. Delicious food, amazing atmosphere and vibe, photogenic, and not to mention kid friendly!
Girafe – For the best views of the Eiffel tower head here. They do close the outside eating in the winter, but you still can walk out and see the Eiffel tower. The restaurant is beautiful and the food is so good! Great seafood!
Laduree – Champs Elysees – My favorite macaroon shop. Make sure you go to this location because it is the prettiest restaurant. Also it's close to all the high end shopping. Great area to walk around with your family.
Francette – If you want to see the Eiffel tower sparkle at night from your dinner view you have to come here. It is located on a boat on the river bank next to the Eiffel tower. I loved the steak and oysters. Make sure to make a reservation ahead of time. It is a smaller venue so they fill up fast.
Le Cafe Marley – Need a little hot chocolate with a croissant while waiting to visit the Louvre, stop at this cute cafe. It has the best view of the glass pyramid and very quick service.
Maison Julien – We were so lucky there was one was located right next to our AirBnb. We came here everyday for breakfast and for pastries. It is definitely the Parisian thing to pick up a baguette for the day from this local bakery.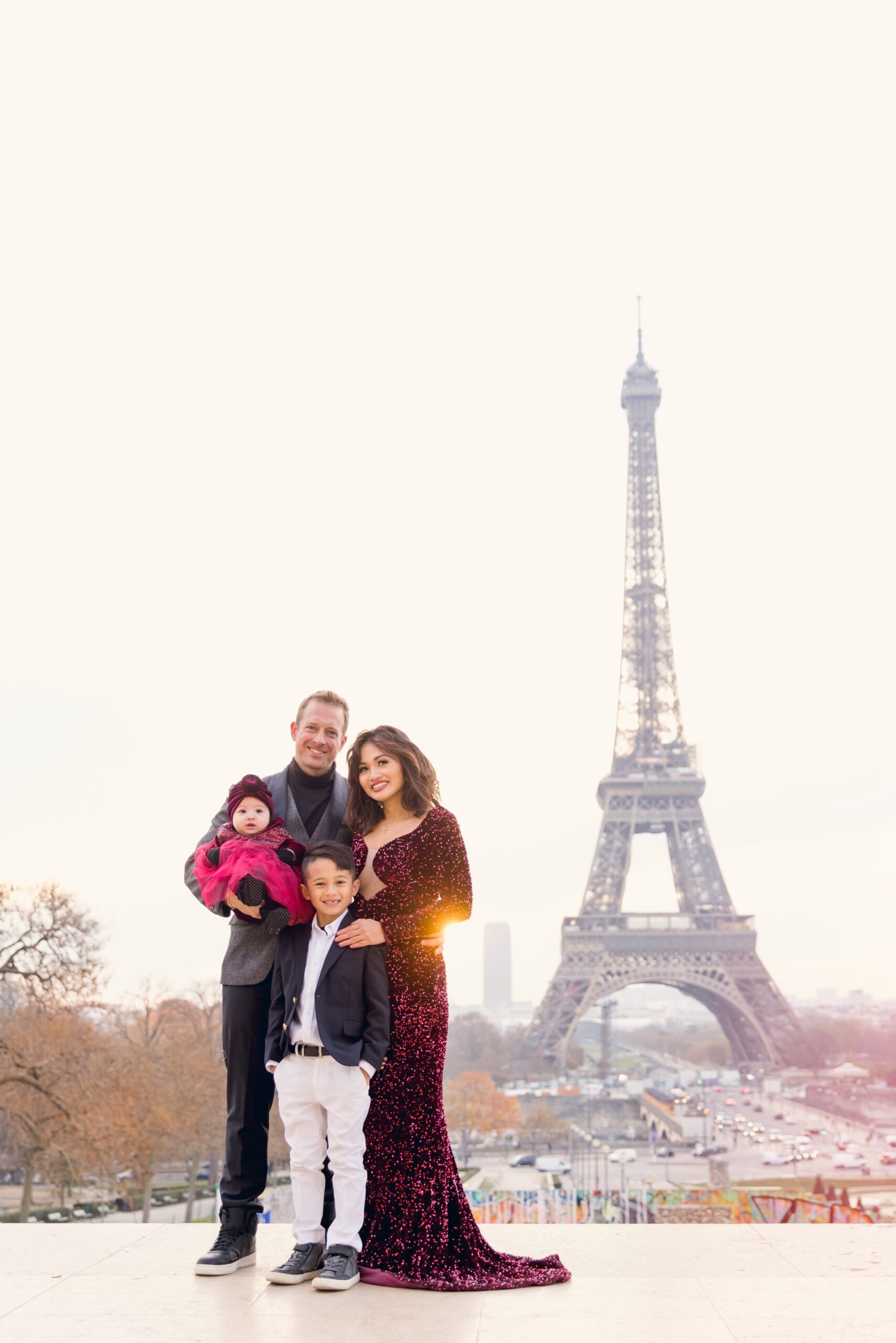 We loved our family time in Paris. We are already planning to come back. I honestly can't recommend it enough. And with family it was that much more special! I hope you found this guide helpful. Thanks for stopping by! Check out more family travel post here!
P.S. Subscribe for weekly newsletters so you never miss a single post!