Thank you Francesca's  for sponsoring this post.  As always all thoughts and opinions are mine alone. Thank you for supporting those who support this blog.
Every girl dreams of having their own personal workspace they can call their own, and as a mom I love having a place I can escape from the hustle and bustle of mom life, where I can focus on my blog with zero interruption. At my house it's my Girl Boss cave, meaning no boys allowed, unless of course there is hugs and kisses involved or room service to refill my coffee cup. So late at night it is usually just me and Sasha (my cat) getting work done while the boys are asleep.  If you follow me on  Snapchat my office has been a work in progress. But this month I'm so excited to team up with Francesca's and share some office inspiration to revamp my work space from drab to fab with these 6 simple tips to making your home office look CHIC!
1. Take a Note
Every busy girl boss needs a cute and functional planner to keep track of their VERY BUSY schedule, personal and professional. How adorable is this 17-month agenda complete with inspirational quotes and fun stickers. You are never to old for stickers! Here are more options here.
Got a very important phone call? Take a note with this fun phone note holder. It's also perfect to hold your business cards. These chic accessories are a perfect touch of office inspiration to creating your Girl Boss work space.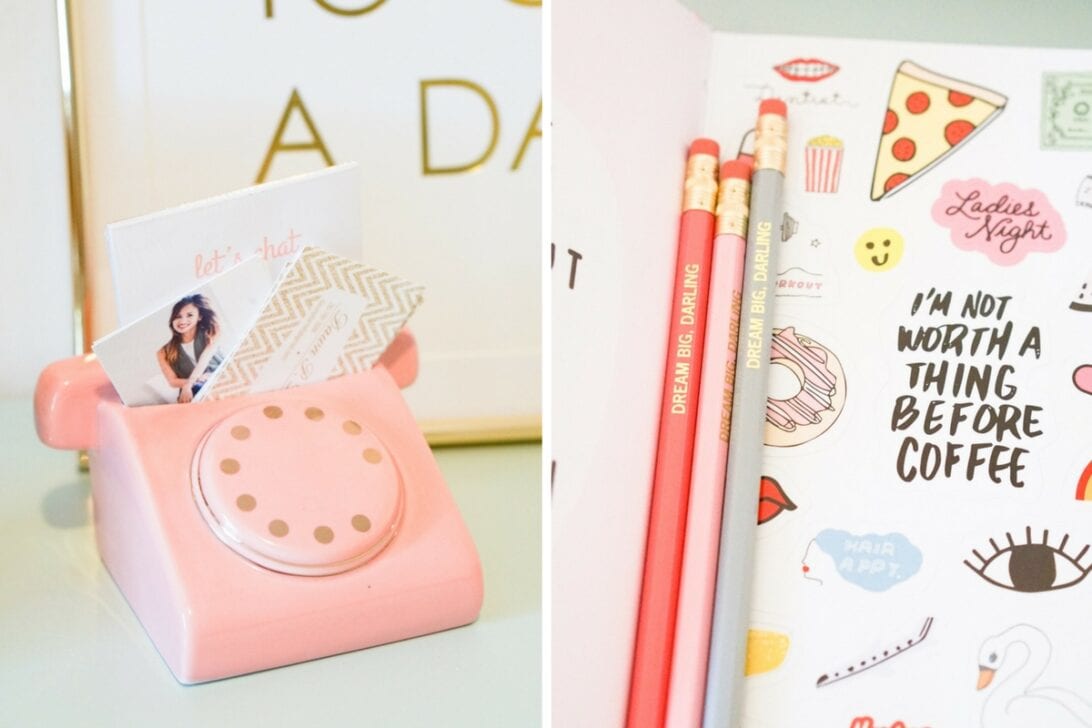 No note taking is complete without this inspirational pencil set, and coffee mug turned pencil holder for your desk. Check out all the fun stationery sets and coffee mugs from Francesca's.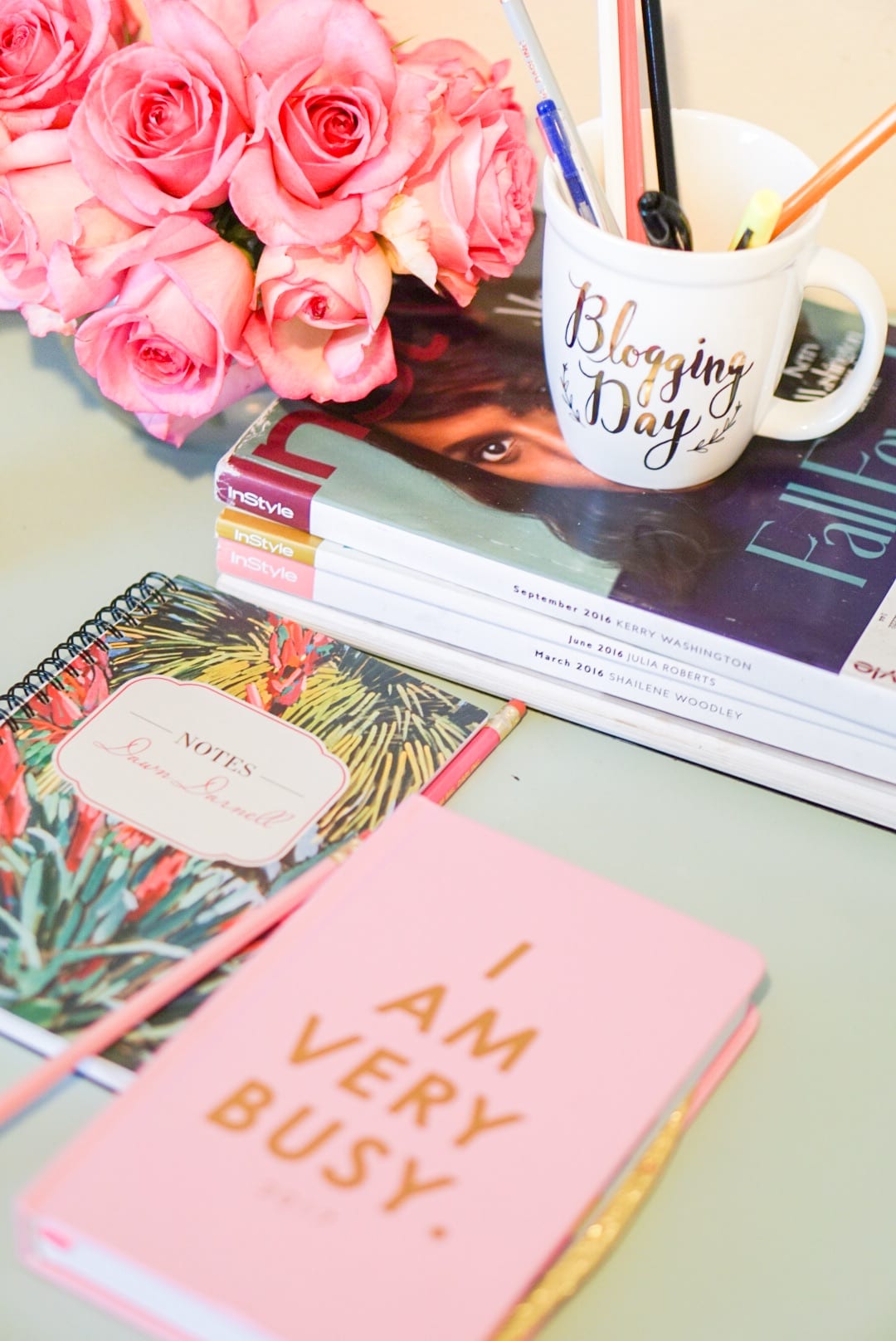 2. Think Pink
Don't be afraid to add a little color to your office inspiration. I love the mix of pinks, mint, yellow, and gold in my office. It brightens my workspace, so even at night when I am up working late, it adds a little sunshine to my day.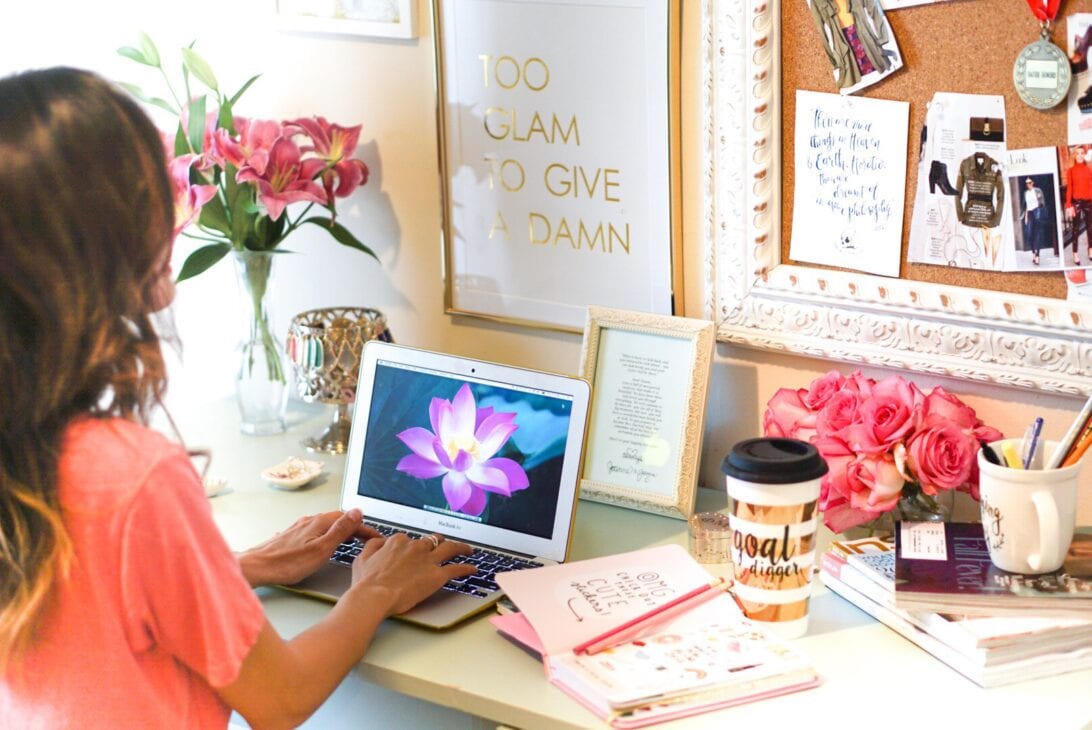 3.  Smell the Roses
Flowers are a perfect way to livening up your work space. I love the smell of roses and lilies in my office, and I always have fresh blooms to brighten up my workspace. And as a blogger you can never get enough flowers. They are the perfect prop for any photo shoot. It is always great to have flowers handy at your desk. Plus what girl doesn't love flowers?
4. Drink it Up
We all need a little something to get through the day, and if your like this momma, it's a rotation between coffee and wine. I love having this fun travel mug to keep your coffee warm or your wine cool, which ever you prefer to get you through your work day.;) It's the perfect office inspiration with every sip!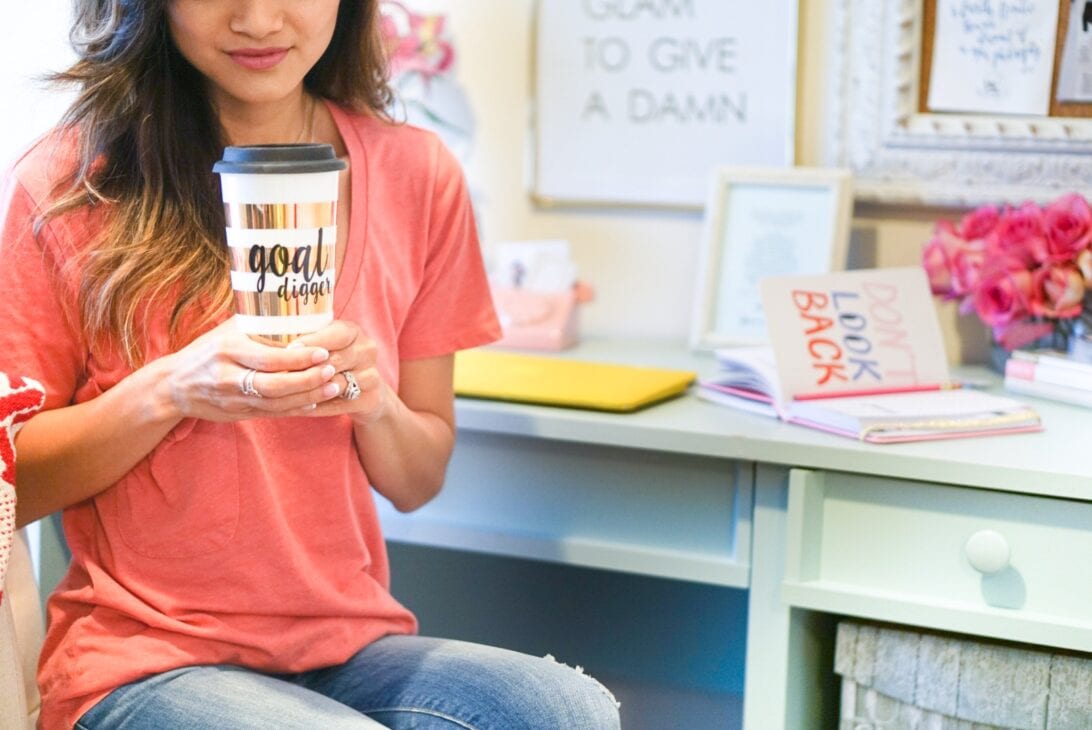 5. Throw in A Little Glitter!
There is no better way to glam up your chic workspace than with a little gold and glitter. How adorable are these inspirational wall art? I bought the "she designed a life she loved" wall art from Magnolia Market. I am obsessed with Fixer Upper. Check out our visit to Magnolia Market here. My other frames are from Francesca's. Check out all the different inspirational wall art here.
Texas frame| Follow your Dreams| Too Glam to Give A Damn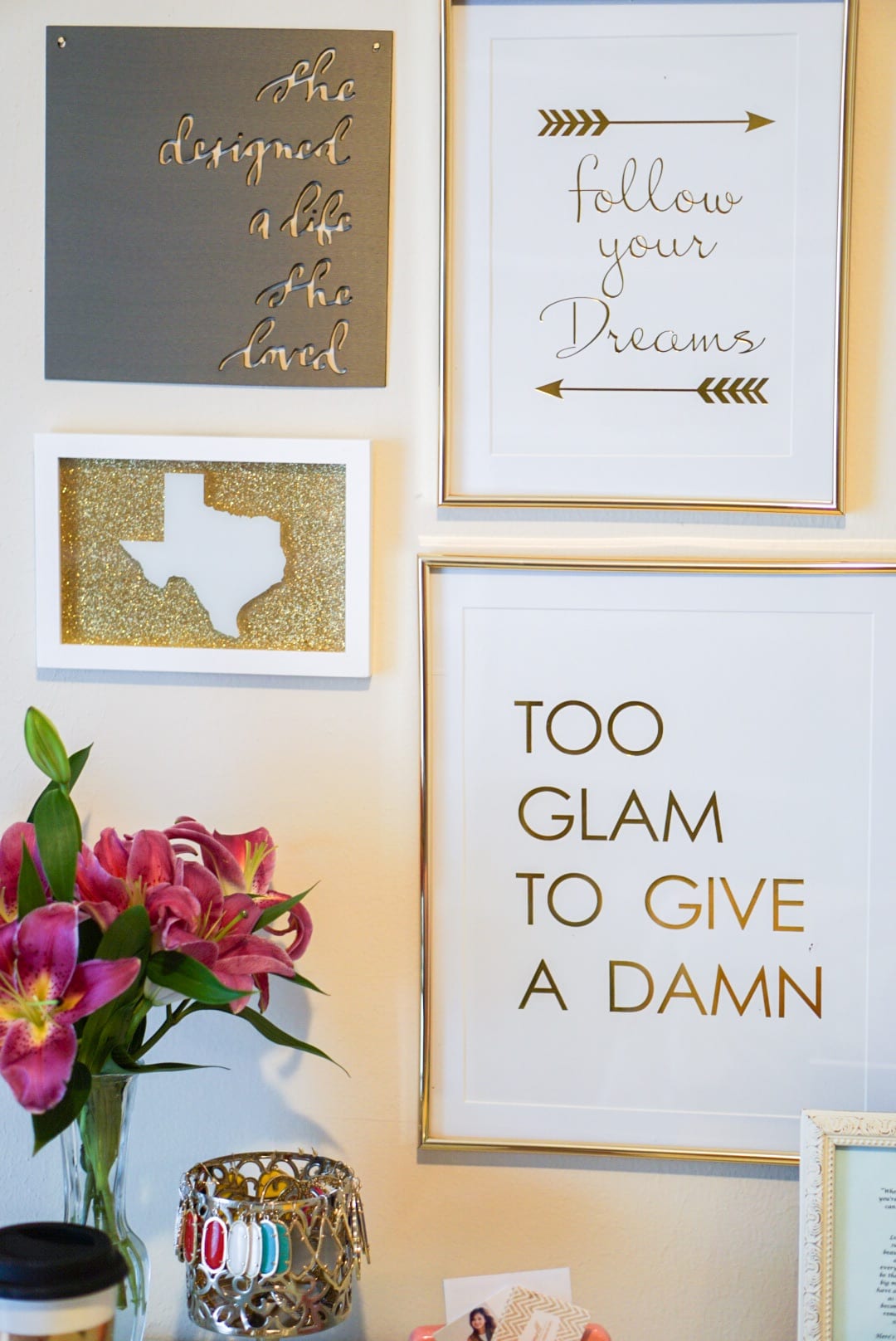 6. Frame it
What inspires or motivates you? Decorate your wall space with inspirational quotes or sayings to help motivate you through the day. Have a framed cork board with quotes, pictures, and things that inspire you. I love this framed note my sorority sisters gave me on my wedding day. It is a constant reminder of their support no matter what changes in life we go through. This medal l I received when I graduated with Honors from the University of Houston with my bachelors in business administration. One of my biggest accomplishment has always been being the first in my family not only to get a degree but to get a full ride academic scholarship to go to college.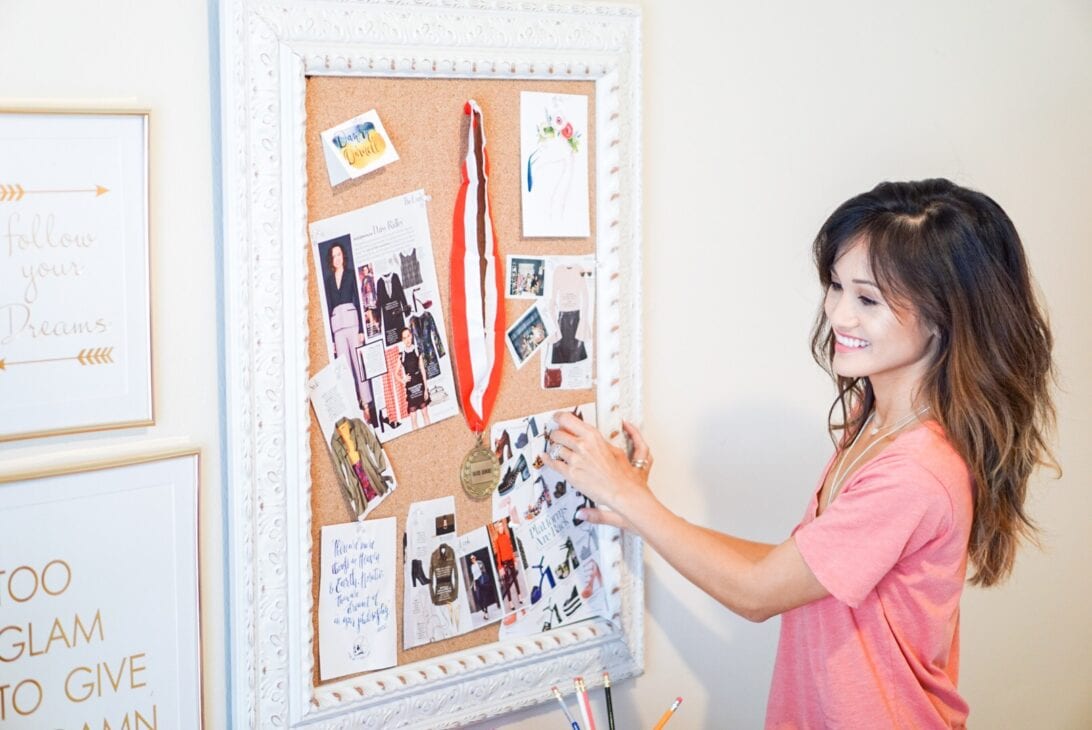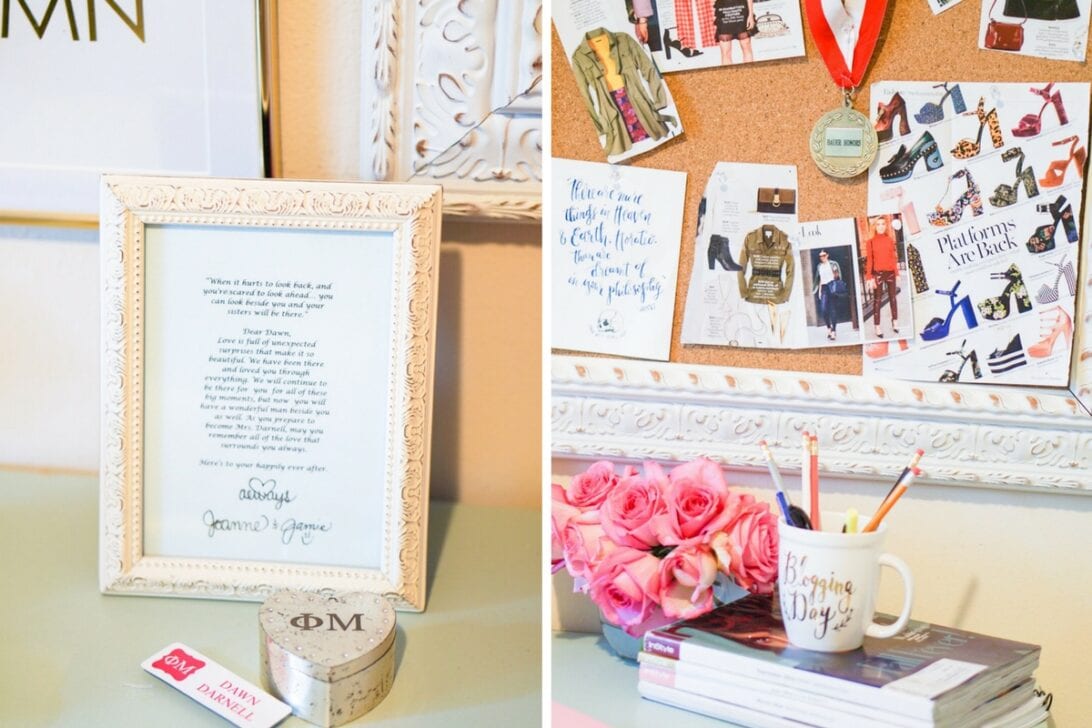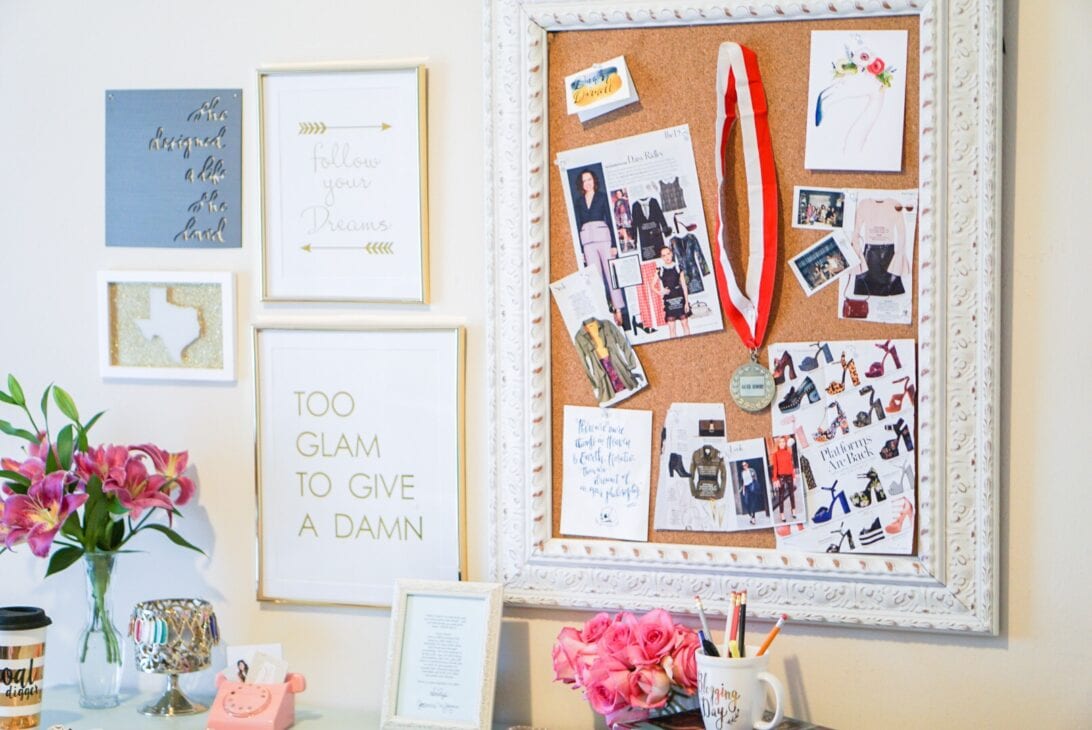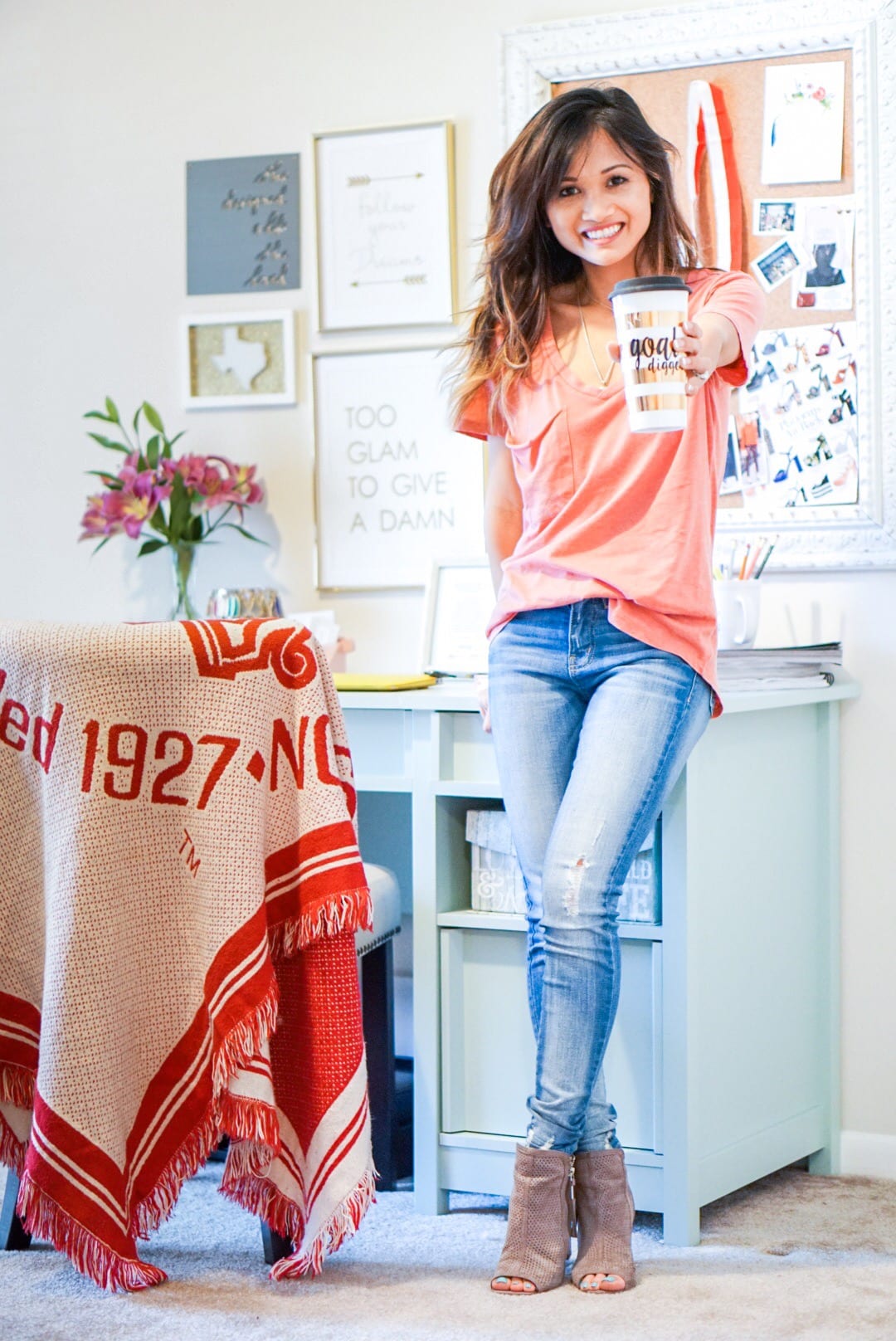 SIGN UP FOR LIKETOKNOW.IT TO SHOP THIS LOOK:

I hope you enjoyed my  6 tips to making a chic workspace. What are some of your office workspace must-haves? Comment below I would love to know! Make sure to check out my YouTube video of my office inspiration and space desk tour below and stay tuned for my exclusive blog post with Francesca's! Thanks for supporting those who make this blog possible and my dreams come true!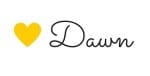 P.S. For the full office reveal check it out here!