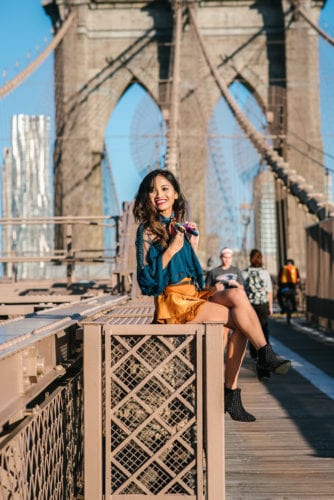 Hey everyone,
So in continuation of my Day One NYFW recap, today I will be recapping day two. I wore three outfits for day two but will only be breaking it down into two different post. So much happened that I want to make sure I cover it all without getting too long and overdrawn in the first post. Today's recap will also include this outfit and our Brooklyn Bridge photo shoot. It was a dream come true to shoot on this bridge. I lived out my Sex and the City dreams up here. Plus the views of the city was spectacular. I can't wait to show you on my Video Blog recap.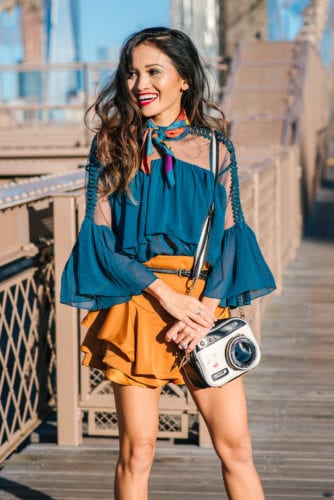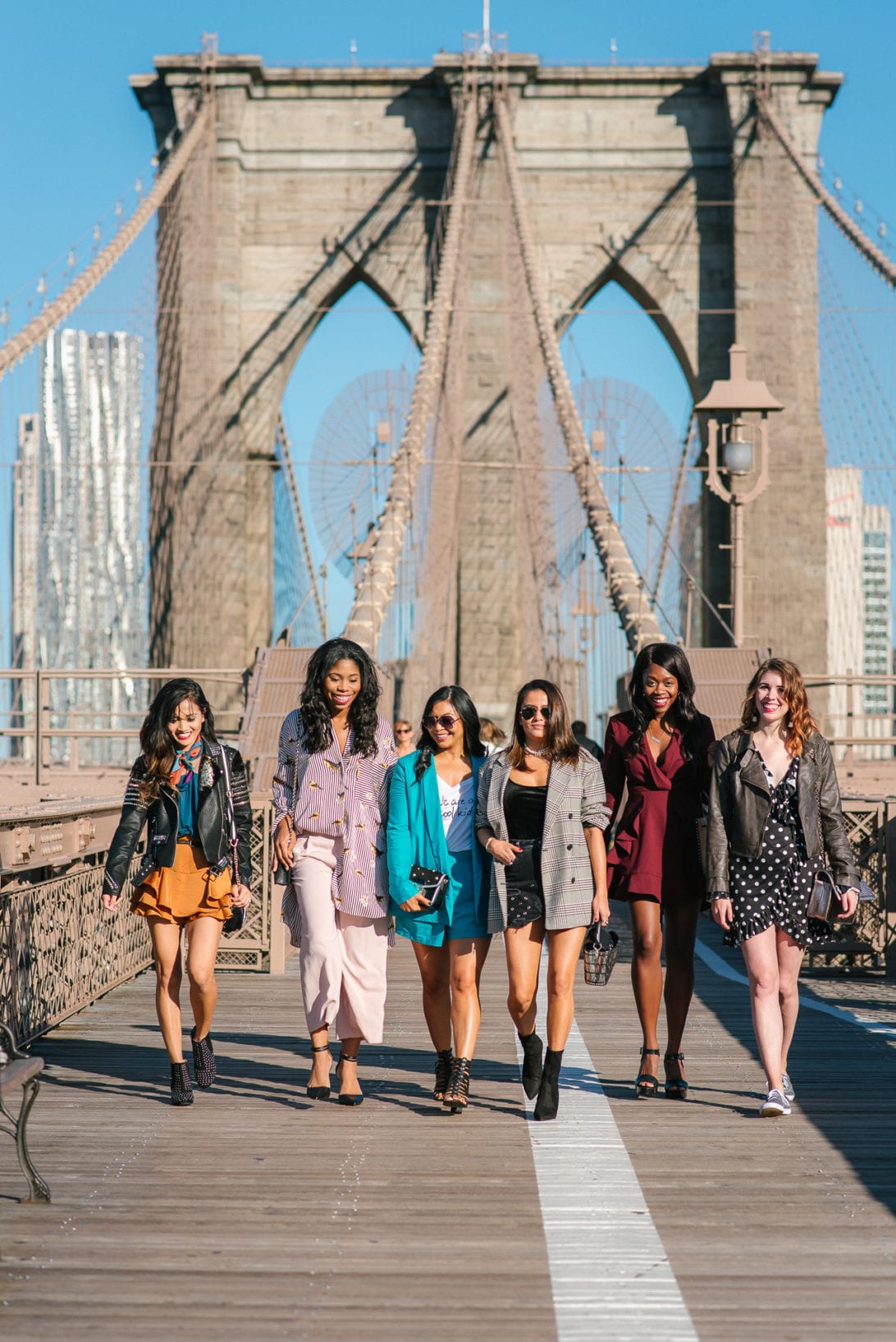 Friday our day started early. We were up at 6am to get to a 7am photo shoot with Yash and the girls at Brooklyn Bridge. High highly suggest getting their even earlier as it does start getting busy with bikers and runners, and we almost had some run ins with the bikers while we were trying to get our shoot done. After our shoot Roselynn and I met up with Dede from Dress Up Buttercup to meet up with Rachel our PR representative we work with. We had coffee at another cute cafe Blank Slate. One of my favorite things about NYFW was getting to meet all the reps we worked with in person. I love building relationships, and as a blogger it is probably one of the most important things you do.
After our coffee meeting, Dede and I walked to my hotel room which was only a couple of blocks from the coffee shop so I could changed into my next outfit before we head to the Rewardstyle HQ. I was so excited to be invited to the Rewardstyle events for fashion week. If you don't know what Rewardstyle is they are who created LIKETOKNOW.IT which is an affiliate company I am a part of and how I am able to share what I am wearing directly through the app or on my blog.  When we got Rewardstyle HQ which was located at the Hotel on Rivington, we met up with Ashlee and Tiffany. We enjoyed some mimosa, took pictures, and met up with different reps before we headed down to the LIKETOKNOW.IT heart wall. There we ran into some of our favorite bloggers like Jennifer from Haute of the Rack, Krystal from A Pinch of Lovely, and Kathleen from Carrie Bradshaw Lied.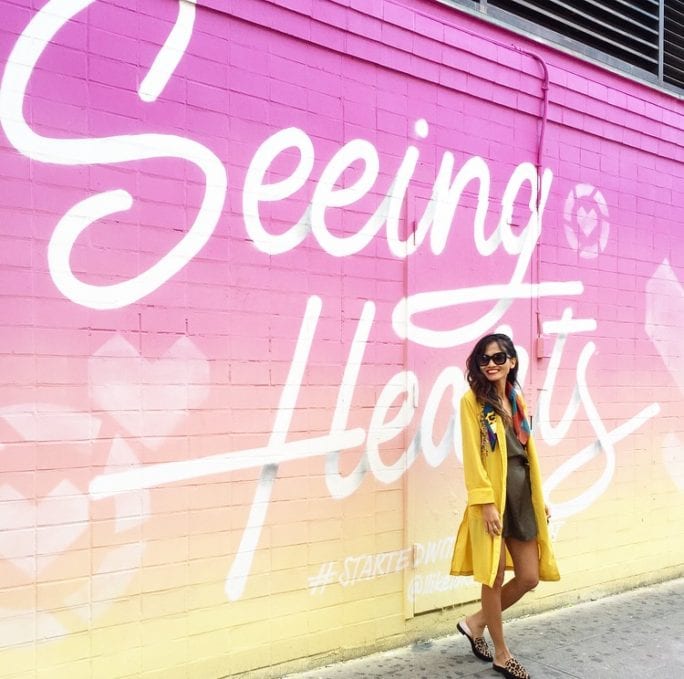 Tiffany and I headed our separate ways after taking pictures at the heart wall since we had different meeting appointments. That day, due to my meetings being on the other side of the city I had to miss three shows: Galtiscopio, Vaishali, Cindy Monteiro. I realized that day I had over scheduled myself and definitely needed to leave myself more room in my schedule and also prioritize what I wanted to do. I walked to my next PR retreat which was only fifteen minutes away. Obviously hosted a wonderful retreat with food, drinks, and even a make up refresh station which I took full advantage of. I had a couple of events to head to later and would not have time to stop at my hotel. It was honestly nice just to take a break from all the craziness and just chat with your fellow influencers over good food and drinks.
After the retreat I walked to my next meeting which was a showroom meeting with Bollare. This was my first showroom meeting so I honestly did not know what to expect. There I ran into Jennifer, Krystal, and Kathleen again who also had an appointment. I ended up doing a fun boomerang with them at our appointment. So back to Bollare, I was honestly in shock with all the amazing brands and products they were gifting to influencers. They even had customized denim jackets they were making for everyone. If you watched on Instastories you might have seen all the goodies I received. My favorite was this jacket here, and these overalls here. I will definitely be wearing these on repeat for fall. They gave me so much I had to check in two bags when I came home since it didn't all fit in one bag. Lesson learned instead of a 24", invest in the 28″ luggage. Also when I left the showroom I ended up walking and taking the subway back to my hotel since it was rush hour traffic and taxi's would take longer to get anywhere in the city. I remember carrying this big bag, and barely able to see over the bag, but managed to make it 6 blocks and a subway ride later to my hotel for my next event. Now for those who are subscribed to this blog, stay tuned below as I am giving away some of the things I got from NYFW to one very lucky follower!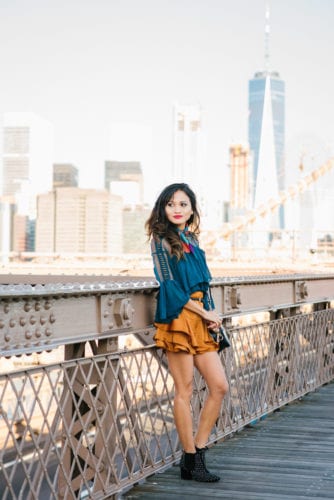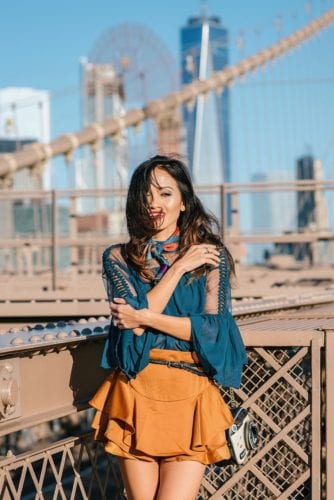 Alright so let's talk a little about this outfit. First of all ruffles, if you've noticed how much I love them in the shows I've seen, I had to incorporate them in my outfit. I love the ruffles on the sleeve and the skort I am wearing. I know can you believe these are shorts? I love the illusion of having a skirt but the convenience of having shorts. This silk burnt orange material will be perfect for fall. I already have other outfits I plan to pair this with. It was perfect for running around in, oh and these booties are so comfy. I have to say my feet did not hurt this whole time I was at NYFW.The best part about this whole outfit is nothing is over $50 including my studded booties and camera bag. I think it's important to be able to mix high and low pieces while you art at NYFW, not only for budget sake, but also to really embody the whole meaning of street style. Street style is not about wearing head to toe designer, its elevating an everyday look and incorporating new and up and coming trends into your outfit while still being true to your style.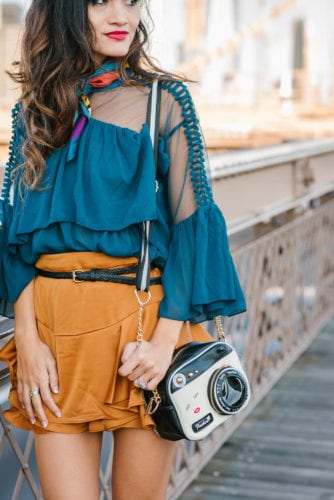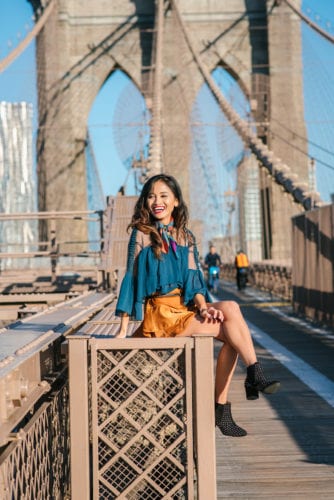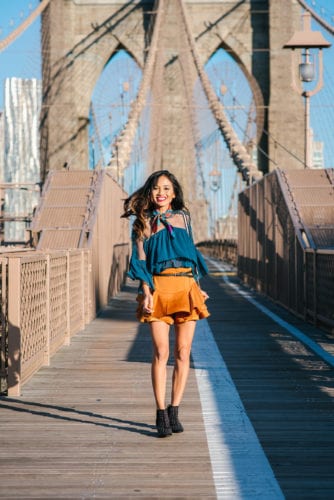 SHOP THIS LOOK:

I hope you enjoyed this fun shoot on the Brooklyn Bridge, and part one recap of Day 2. Stay tuned for day two – part two Friday. This is where I share my first event I hosted at NYFW and all the fun we had that night meeting one of my favorite designers and two of the biggest beauty bloggers at the show. If you watched my Instastories then you already know who, but if you haven't, stay tuned!
GIVEAWAY TIME!!!!
I've partnered up with these brands to give you this box of goodies!
Dermalogica – not pictured
I received this dress in a size 2-4, unfortunately was too big so I will be giving it away instead!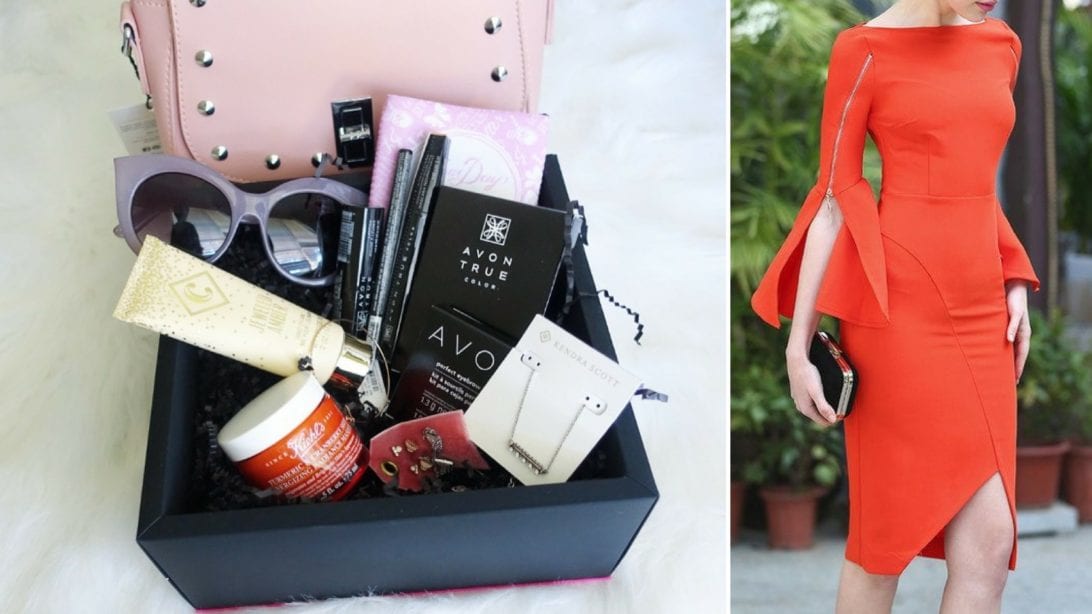 HOW TO ENTER:
1. Subscribe to the blog and comment "DONE" in the comment section below.
2. Watch my Instastories for the rest of the instructions
GOOD LUCK!
P.S. Subscribe for weekly newsletters so you never miss a single post!
Photos by: Ban Avenue