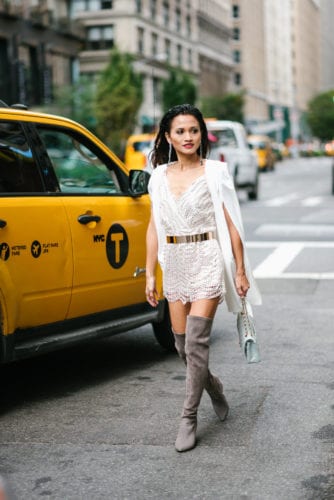 Happy Wednesday ya'll,
Today I am going to pick up from my last post with Saturday's recap at New York Fashion Week part two with this stunning sequin romper. This was probably one of my favorite night with my girls. We got a taste of NYC night life, got to be part of an amazing show, and rub elbows with New York City's celebrities. It was definitely an NYFW experience for the books for this mom blogger from Texas. Check out all the details and this girl's night out look below.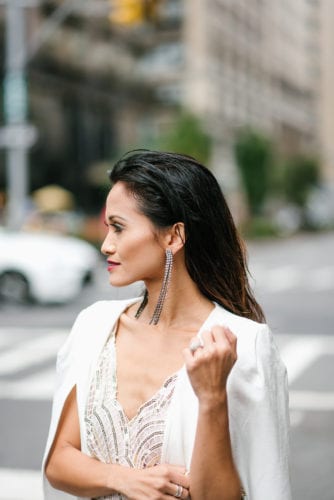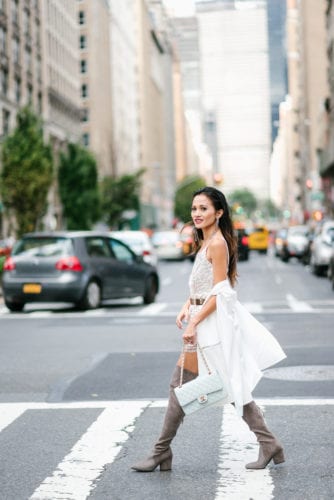 So after getting dropped of at our hotel, I quickly changed into this outfit for pictures with Yash. Lol funny thing about this photo shoot is it took me awhile to stop laughing and smiling to pull of this look. If you read this post here, then you know the "serious" model look is out of my comfort zone. But Yash was so patient with me and gave me some great direction that we were able to do this amazing shoot. After the shoot Greta and I decided to take the subway to the Rewardstyle party. I would highly advise to take another form of transportation as it was so busy around 7pm we were jammed packed in the subway. But we made it through, and met up with all of our girlfriends there. There was an open bar, hors d'oeuvre, and the cutest 3-D pictures. It was so great meeting all the influencers who we already follow and knew but never met in person. And I got to meet Amber, the founder of Rewardstyle. Her story is such an inspiration, and her and her husband are such amazing business partners and life partners with their little ones. Check out all my beautiful Houston blogger babes who came out!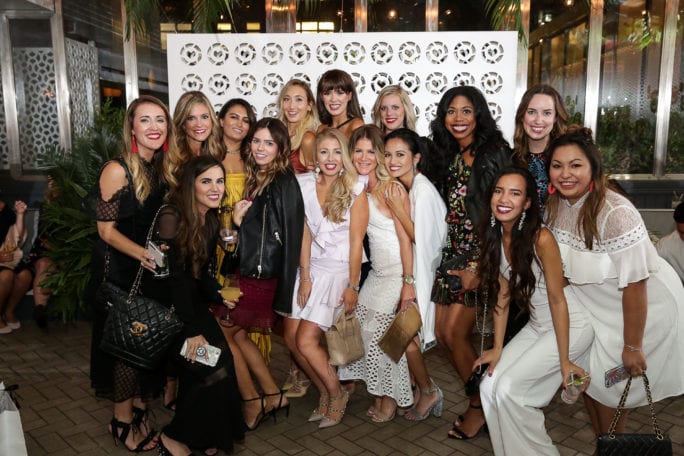 Around 9pm a couple of us girls who got invited to the Philipp Plein show decided to catch a Uber to head out there. It was so funny because as we were reaching our location, I noticed these huge lines down the street of people waiting to get in. I made a remark, saying, "Man that must be a popular club if everyone is waiting to get in there." Lol our Uber driver looked at me and said, "Well this is your stop." We were all so surprised. There were literally thousands of people waiting to get in, and the lines were out of control. I remember going up to these twins, recognizing them from all their famous Vogue Street style looks and asking them what was going on. I only assumed they would know considering they seem like a pretty big deal in NYC, apparently I didn't know how much of a big deal because Stephanie was starstruck. Well after getting redirected to the back of the line, we snuck our way to the front with people who seemed like they knew very important people. Sure enough we got in and were rushed to find our seats since the show was about to start. I felt horrible for everyone who got invited and did not get in the show. I remember when we left there were still thousands waiting to get into the after party. Apparently they had overbooked by a thousand!
When we found our seats in the upper level, I sat next to a very fabulous individual dressed head to toe in patent leather, which I wish I could totally pull off. Come to find out I was sitting next to Mr. EJ Johnson himself. Which by the way I didn't know! I don't watch reality TV or much TV for the matter. I of course had to ask him about his outfit, and sure enough it was from Tom Ford! Total goals to have that kind of connection!
Before the show started Nicki Minaj came out to rock the runway before heading to her table up front, and Mr. Plein came out to greet everyone, but also apologize for the madness that was happening outside. I admired his thoughtful words and for taking the time to address the issue to his audience. The show was amazing! It was more than a fashion runway show, it was a performance with  burlesque by Dita von Teese, live performances by Future and Nicki Minaj, and a overpacked crowd of thousands inside the famous NYC Hammerstein Ballroom. Adriana Lima was the guest model to walk the runway.
After the show we decided not to stay for the after party. We were all hungry for some real food, and by real food I mean $3 pizza slices at a corner store. Lol it was a sight to see six very dressed up girls all packed in a corner store enjoying their pizza. I guess you can say it was very New York of us. But it was just what we needed before we called it a night and Ubered our way back to our hotel.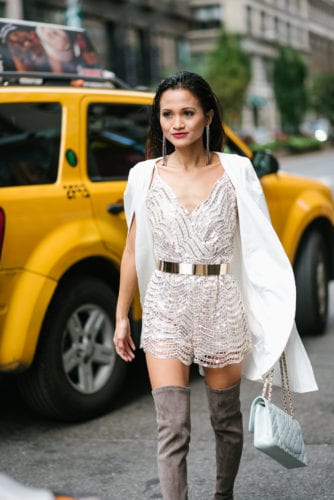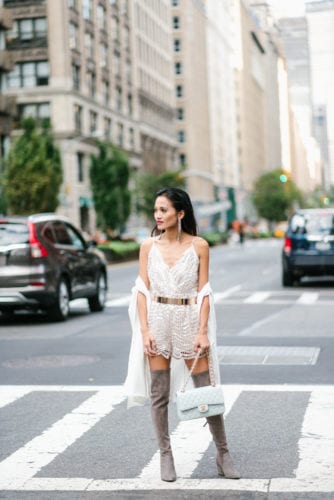 This look was one of my favorite looks from Goodnight Macaroon. It made me feel like a star with all the sparkle and bling. I did an Instagram takeover for Goodnight Macaroon that night so you might have seen this romper on their social media channel. However, the romper sold out so I linked some similar ones too. These earrings were the perfect statement earrings for $5 and worked perfectly with my amazing slick back hair do I had done at the Tresemme back stage. Check out more of my partnership with them and my 15 seconds of fame on E! news here. I paired this romper with my favorite gray boots for only $150 for the shoot. But I ended up changing into these glittery heels for the night. This white cape for under $20 was the perfect layer that night when it got a bit cooler.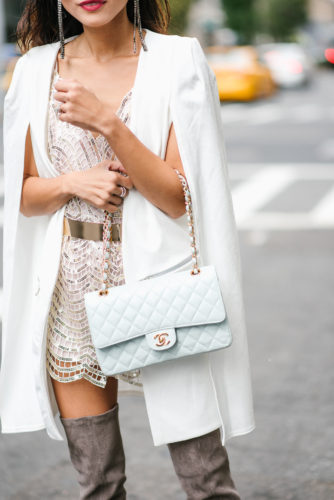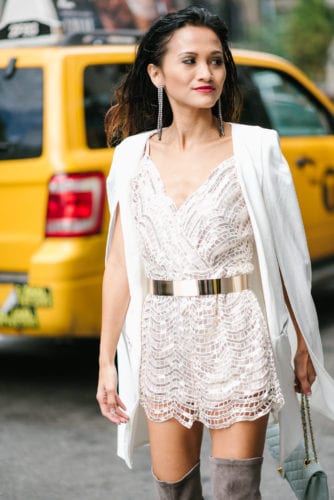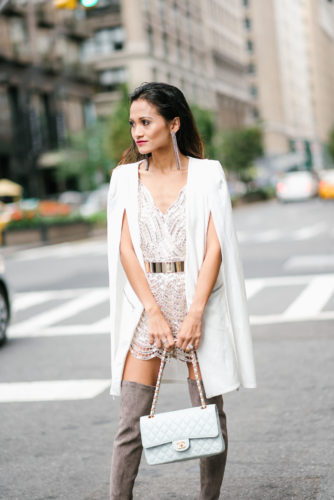 SHOP THE LOOK:

Photos by: Ban Avenue
P.S. Subscribe for weekly newsletters so you never miss a single post!