Happy first day of November ya'll!
These past couple days have been full of trick or treat fun, but I am glad it is over with because this mom is exhausted. I came down with a little cold yesterday and currently recovering now. I love November. It is probably my favorite month of them all. I love this time of year down here in Texas. The weather is the best, Thanksgiving falls on this month which happens to be my favorite holiday of the year. I love the idea of getting together as a family and just being thankful, and of course stuffing my face with all this good food is a big plus too! But November has to be my favorite because four years ago at this time something very special happened, and it was God's way of showing me that everything happens for a reason and that true love happens when you least expect it. So stay tuned because today I am sharing why November gives me all the feels and this beautiful lace bell sleeve top below!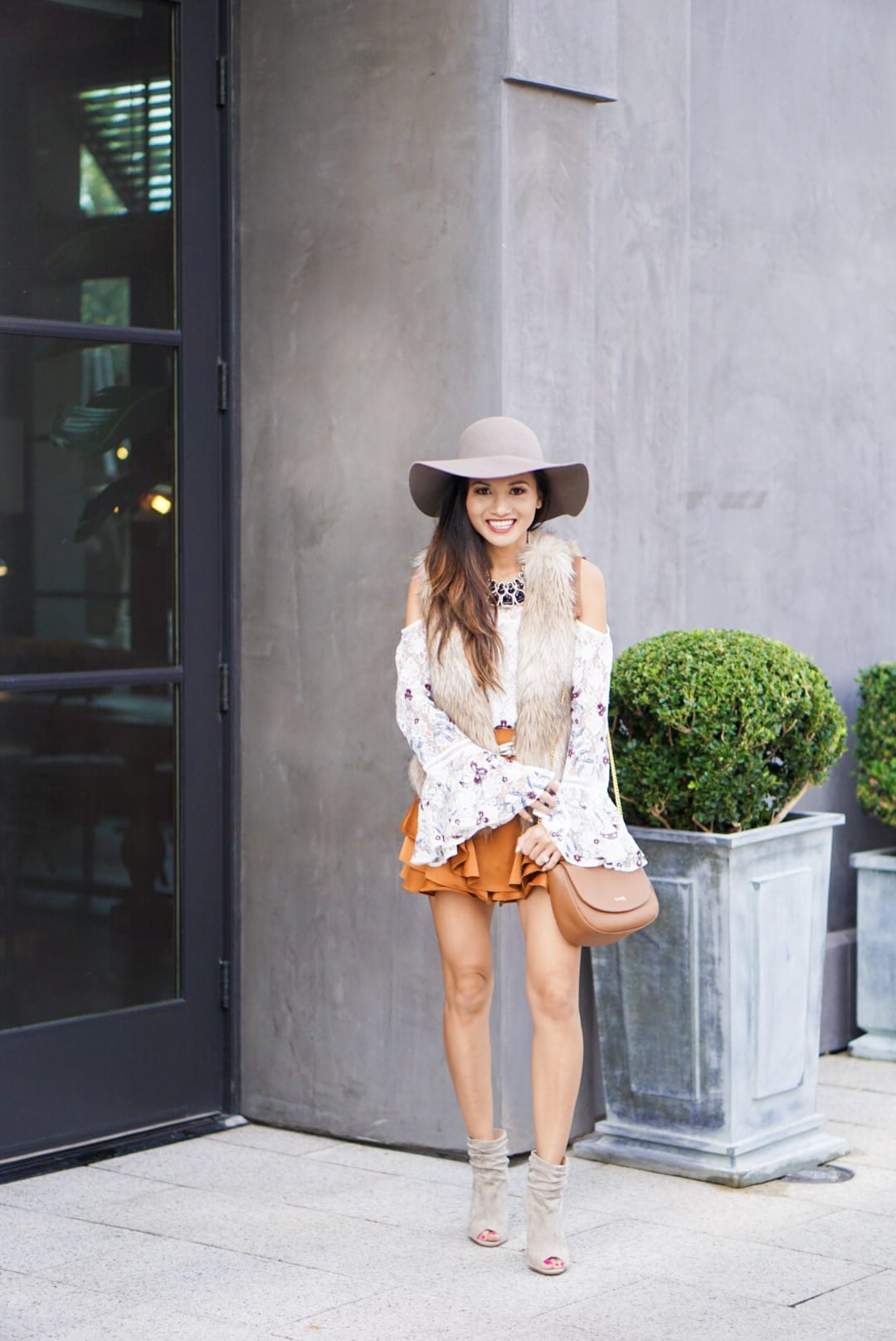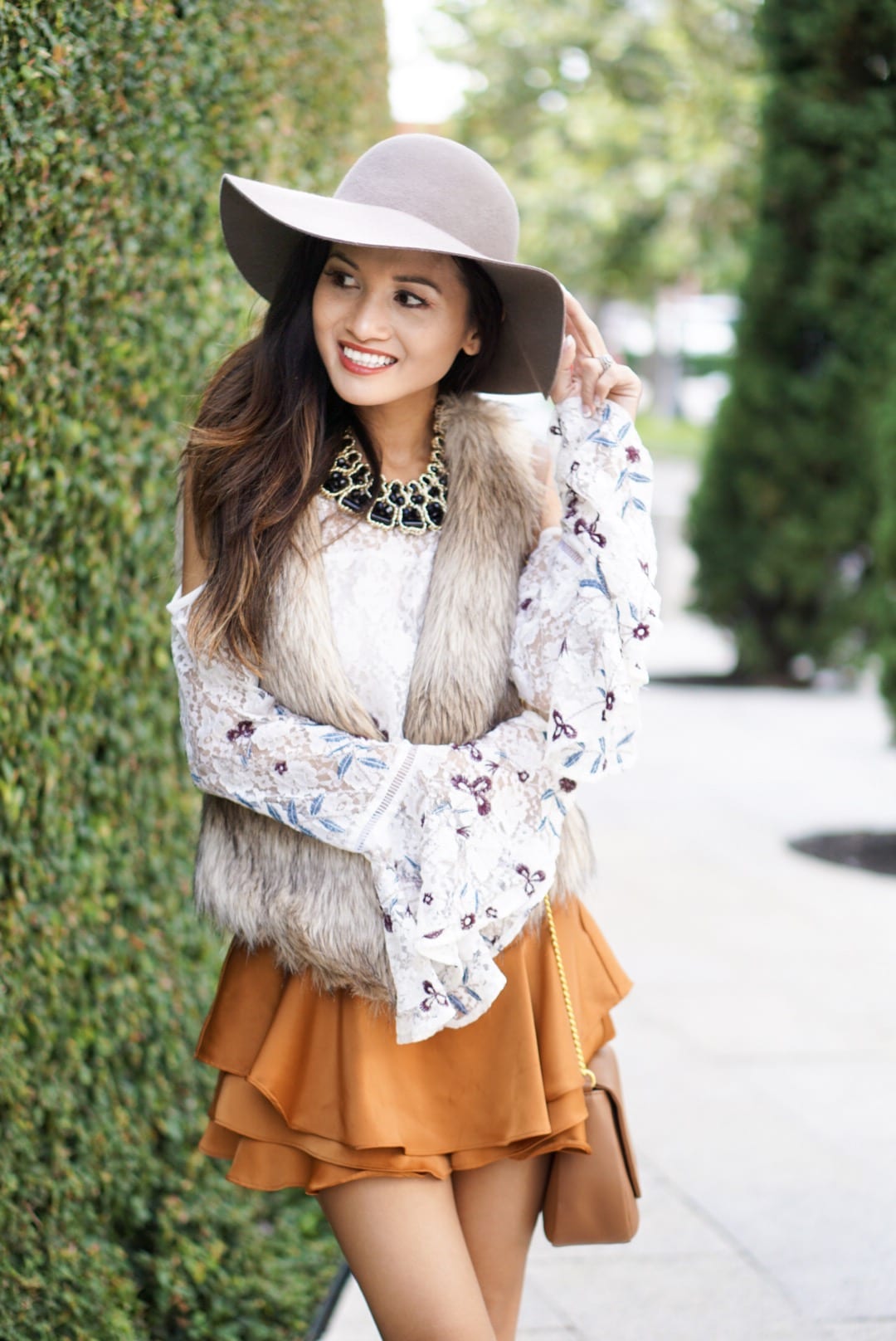 Four years ago I made one of the biggest decisions of my life, to move back home to Houston from Florida, where I had lived for two years on my own due to job relocation. I remember one of my last days in Florida walking down the beach and praying to God that I had made the right decision. And then that moment I saw a sand dollar washed up on shore as a sign from God. In my two years of living in Florida and countless walks on the beach, I had been searching for a sand dollar, but only finding pieces at a time. How coincidental is it that right before I leave that one washes up right in front of me. If you have never heard of the Legend of the Sand Dollar, it is a symbol of peace and love from Christ. When I was little my Grandma who passed away when I was a child gave me a pink dress with sand dollars on it. I will always remember that dress, it was one of my favorite dresses when I was a child. I honestly believe this was a sign from her and God.
When I moved back to Houston, in the beginning of November, the very first day I reconnected with an old friend and mentor who eventually became my husband. I still cannot believe looking back when I was so unsure that I would be coming home not only back to my family but to create a family of my own. This was the month I fell in love, and for the first time a love like no other. I can still remember driving down with the top down in my jeep with Josh listening to Fabolous and the song "Into You", and thinking is this really happening right now? You can read more about our love story here. But every time this month rolls around I can't help but get that fuzzy feeling all over again, and every time I look at my husband I can't help but thank God for guiding me back home.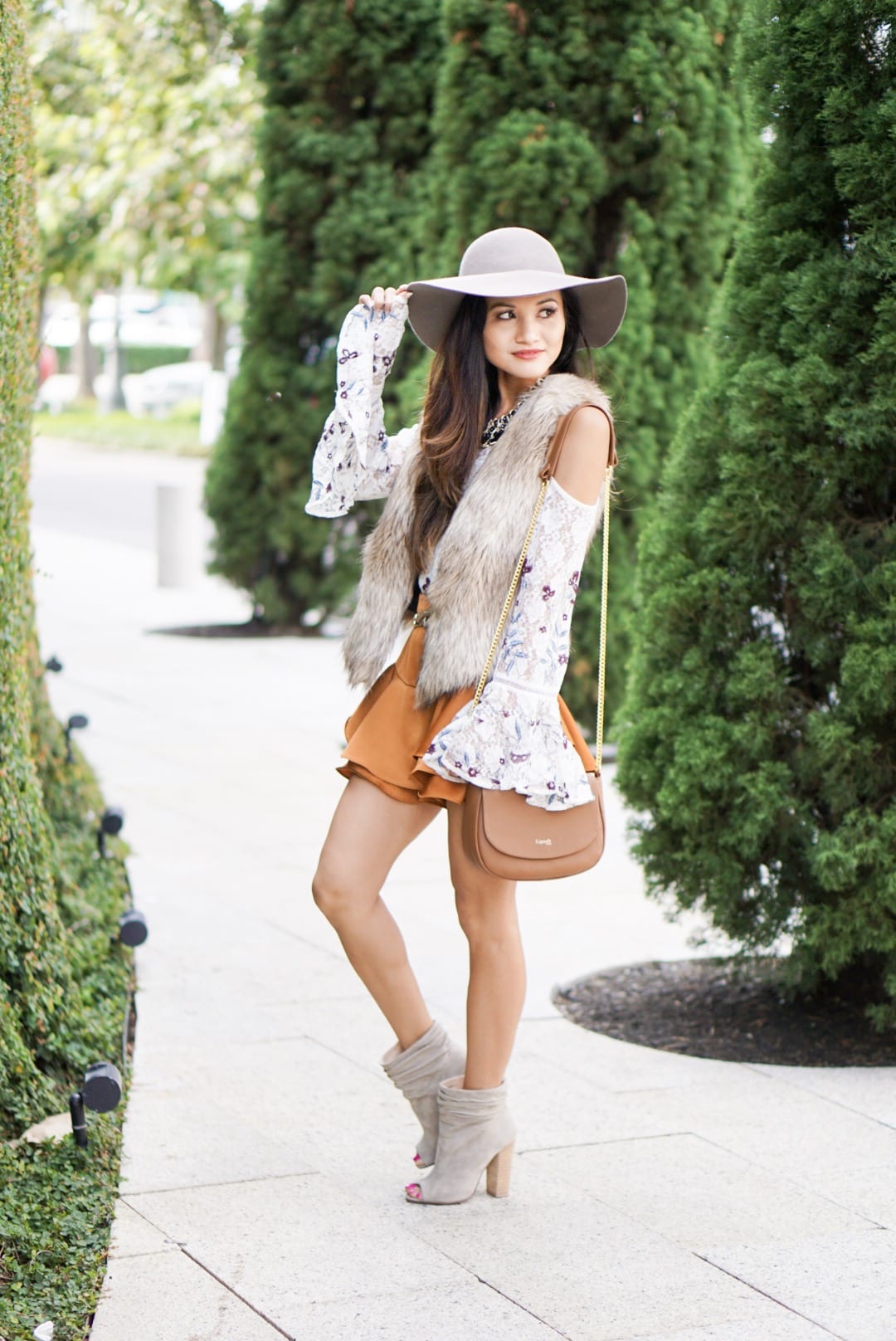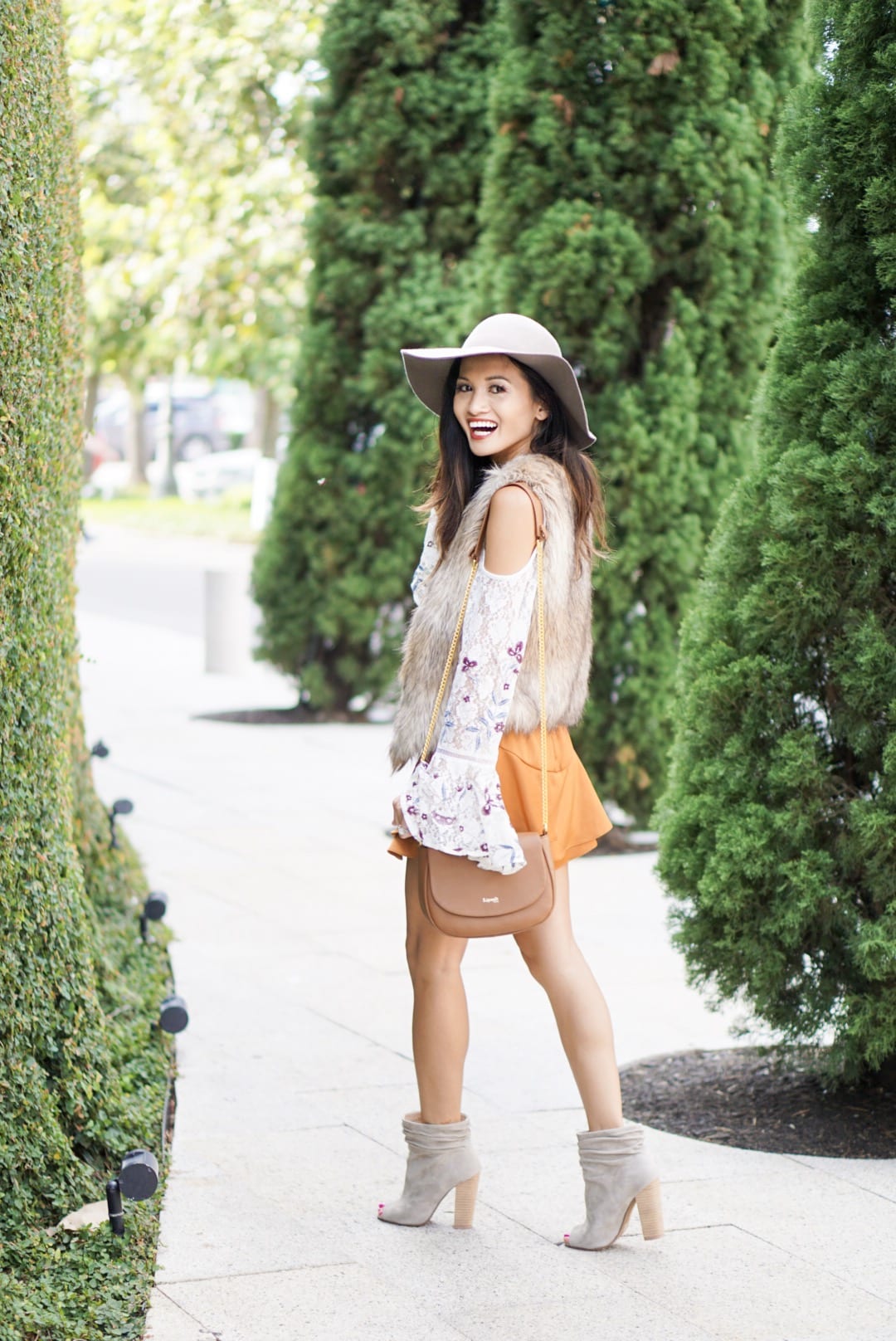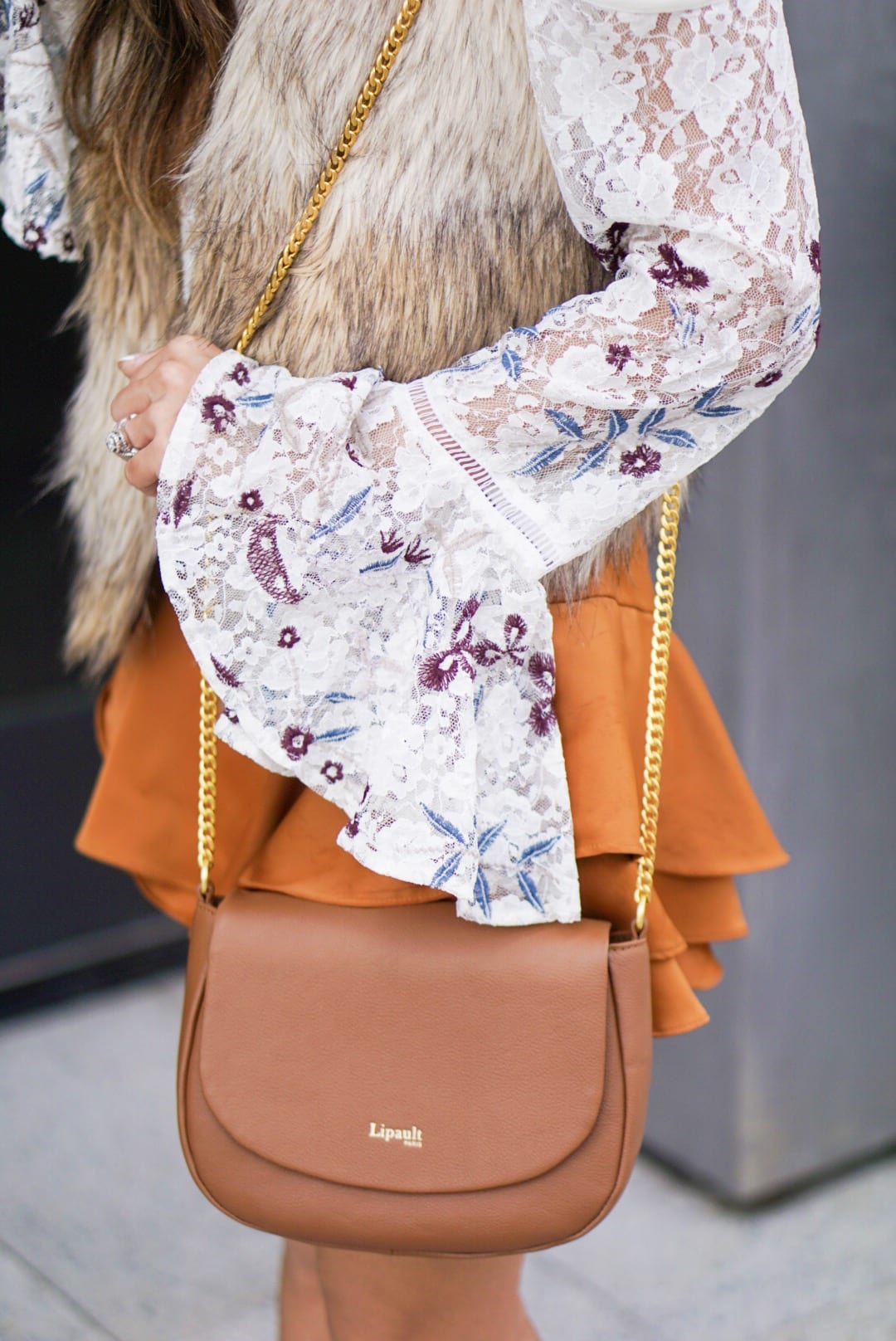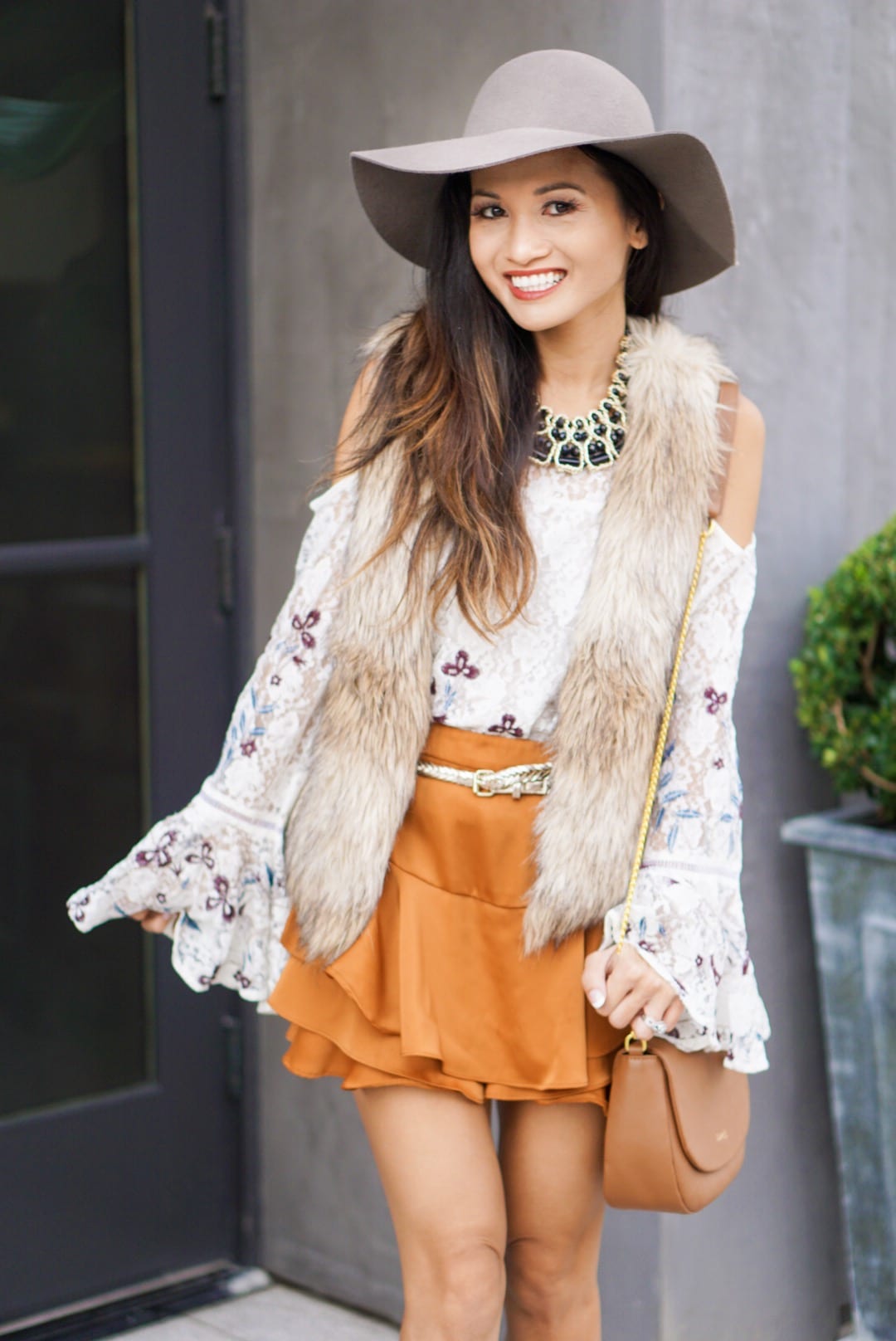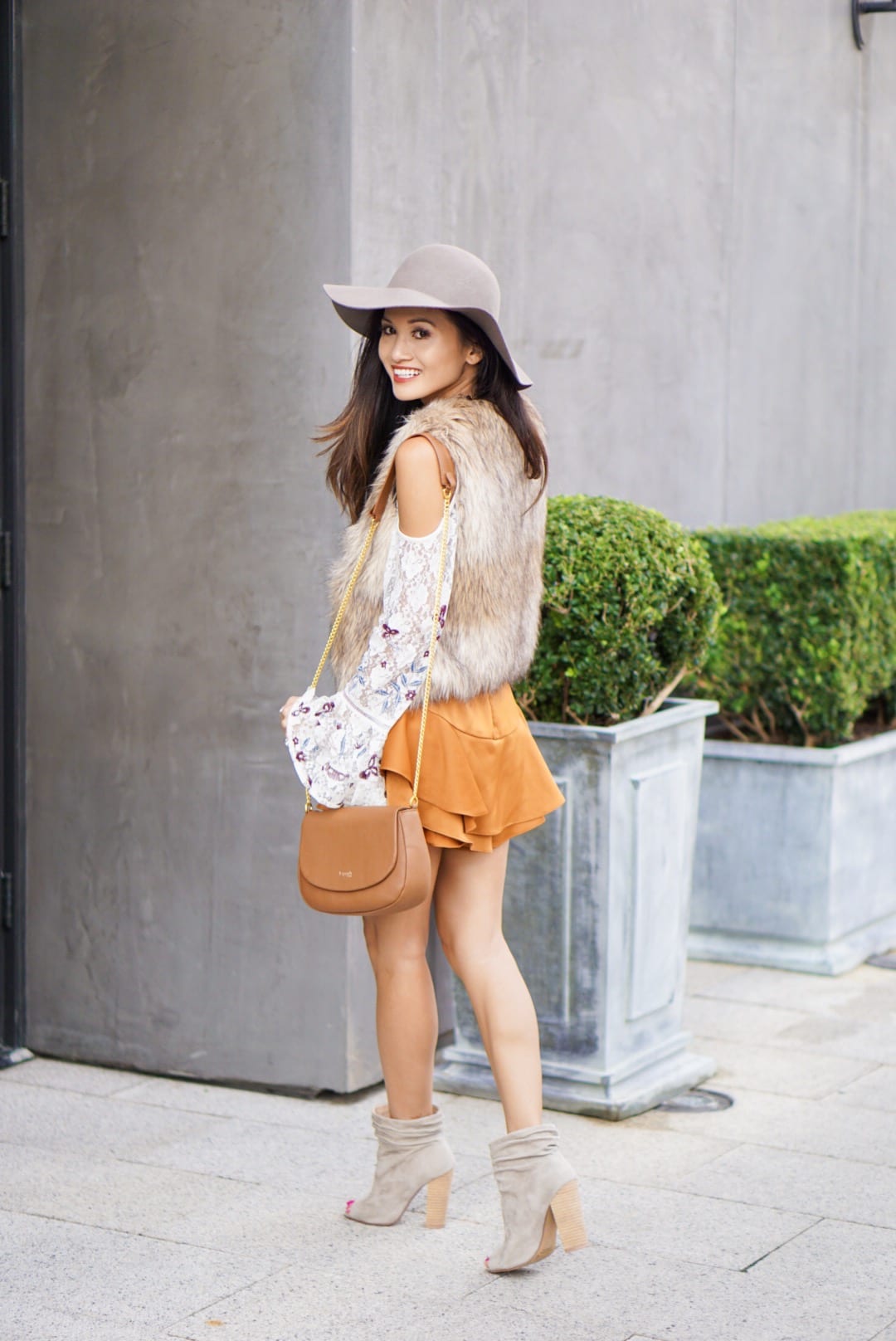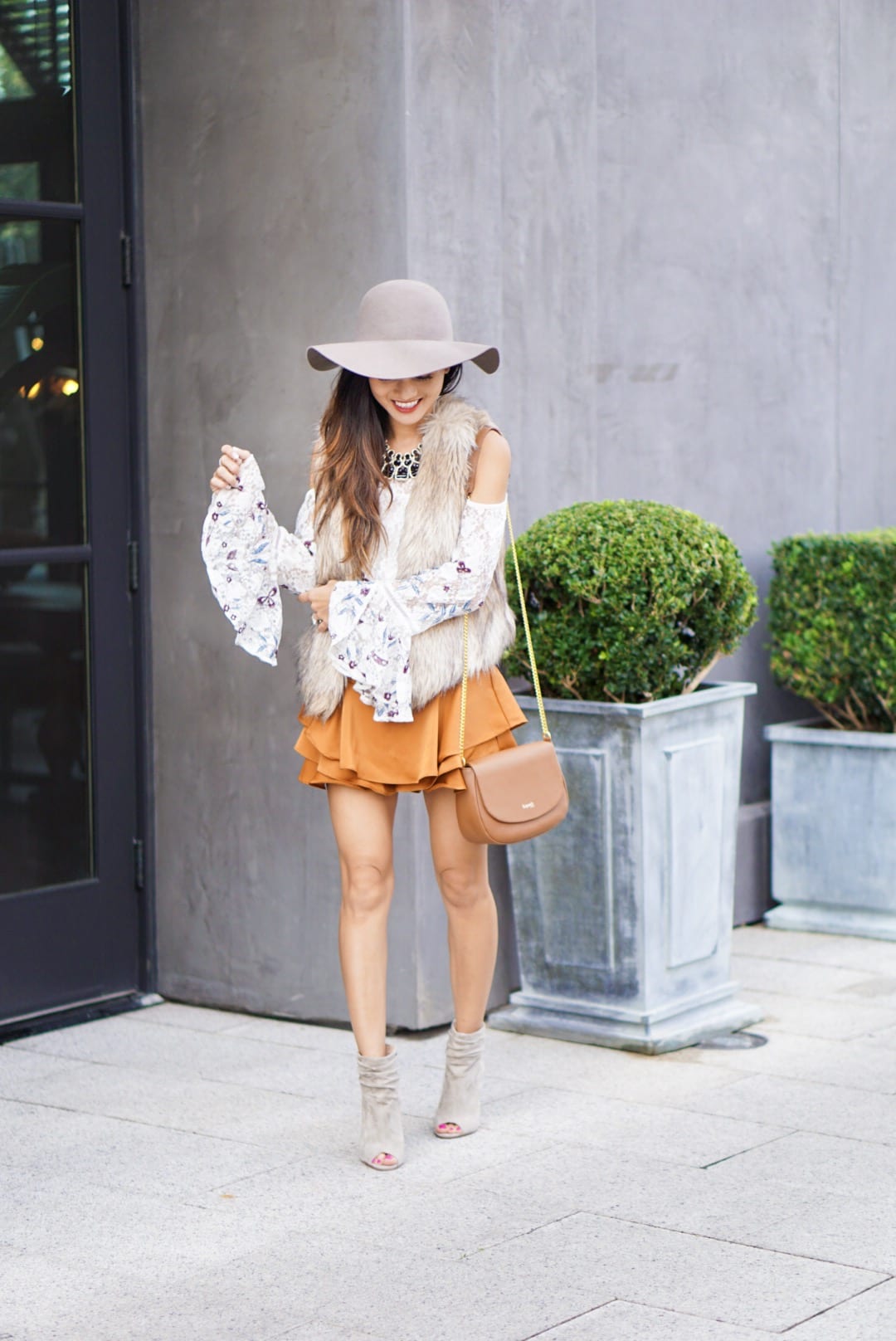 SHOP THIS LOOK:

I wore this outfit to one of my friend's event, and this is probably one of my favorite outfits to date. I love the details on this cold shoulder lace bell sleeve top. This top is so dreamy and the perfect fall top to layer with a fur vest. I paired this top with one of my favorite satin skorts I wore to NYFW in this post here. This cute saddle bag, statement necklace, floppy hat, and open toe booties are the perfect accessories for a fall outfit for going out with your friends or for date night. I hope you enjoyed this look and thanks for letting me share why November will always be a special month for me. What are somethings you look forward to this month?
P.S. Subscribe for weekly newsletters so you never miss a single post!