Happy Friday everyone!
Today I am finally sharing one of my favorite must have Stripe Wide Leg pants, and six new changes to my website. Guys I have been blogging for over three years and I finally revamped my site. It took me awhile because honestly I didn't know what the heck I was doing. For me one of the hardest things about blogging is all the back-end and technical stuff that goes to keeping up with it. Thankfully in these past three years I have made some amazing blogger friends who have been so helpful in helping me make these changes to my site. They have saved me so much time and money just by sharing their expertise. I honestly can't thank them enough! I really hope you enjoy these changes, and it makes it easier for you to navigate through my site. Here are six new changes to my site and my favorite striped wide leg pants.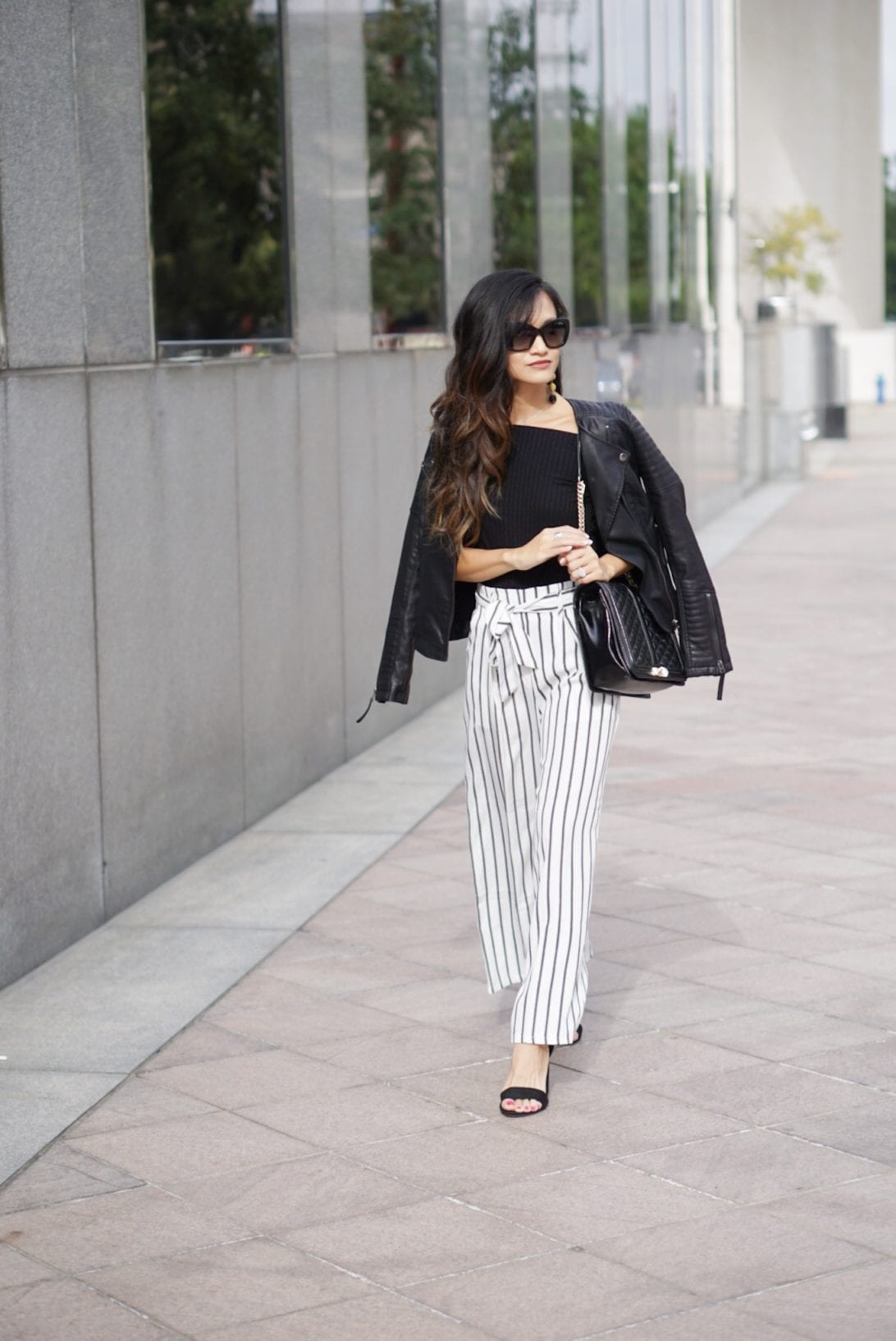 6 New Changes to My site
1. About Me 
I changed up my pictures to more updated pictures as well as edited my bio. I also have an about me side widget bar, and took out the disclaimer and created a separate page.
2. Q&A
 I rounded up some of the most frequently asked questions about me and answered them. I hope this helps in getting to know me more!
3. Shop Tab
There is now an Instagram and Current Favs tab. You can shop my Instagram pictures simply by clicking on the picture. There is also a Shop the Feed footer at the bottom of my site that shows my most current shoppable Instagram images. My current favs tab allows me to share some of my recent finds and buys with you that you might have seen on Instastories here on my blog. I also have a Current Favs side widget and a round up of all my favorite places to shop!
4. Categories
You can now view my three main categories by clicking on the three promo box, or you can view all of my categories on my side widget bar.
5. YouTube videos
Since I have now expanded my blog into Youtube, you can now view my most recent and my most popular Youtube video on my side bar!
6. Theme/Logo
I changed up my header and created a more streamlined and cleaner look to my blog. I think it's very straight forward and allows my content to speak for itself without all the distraction.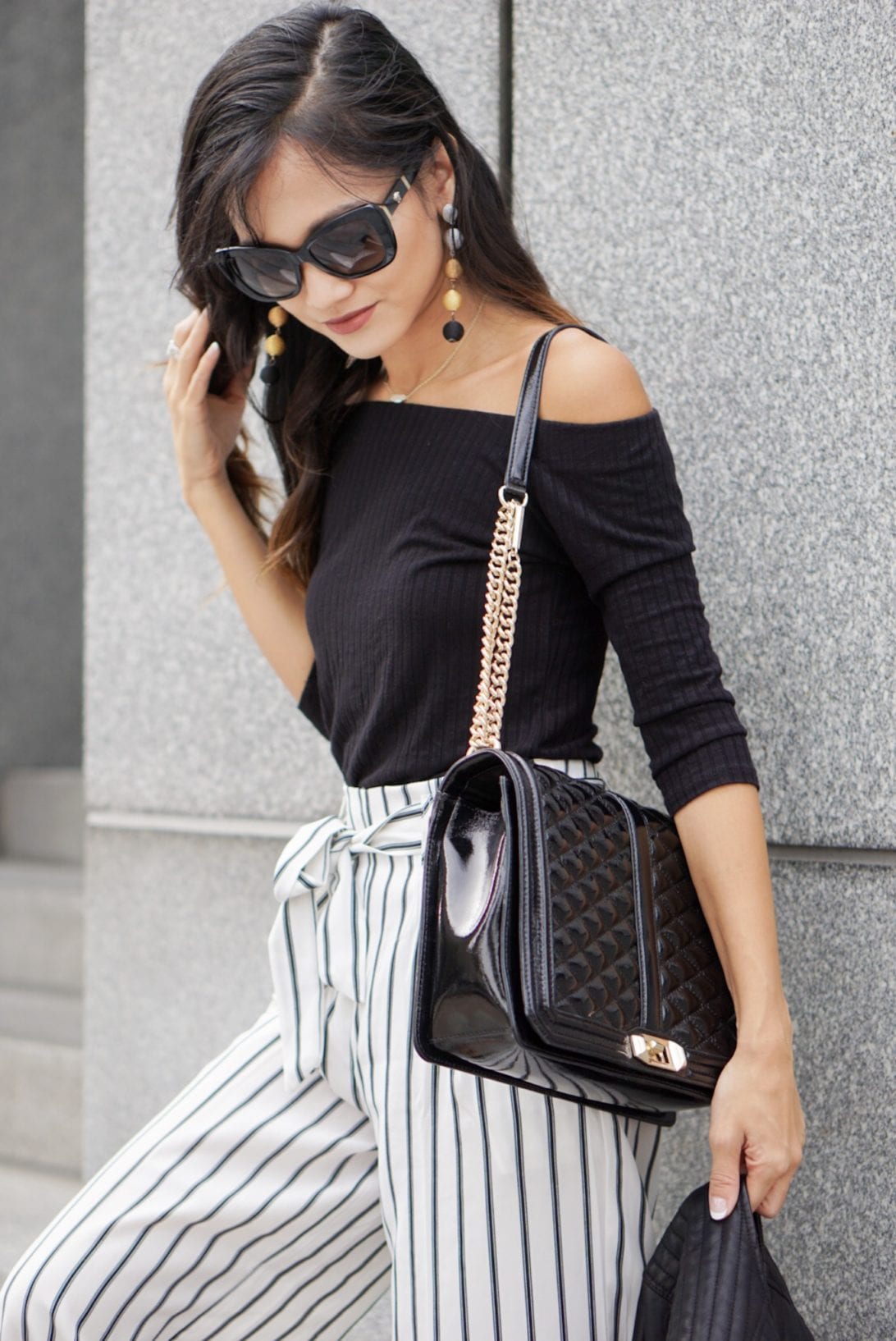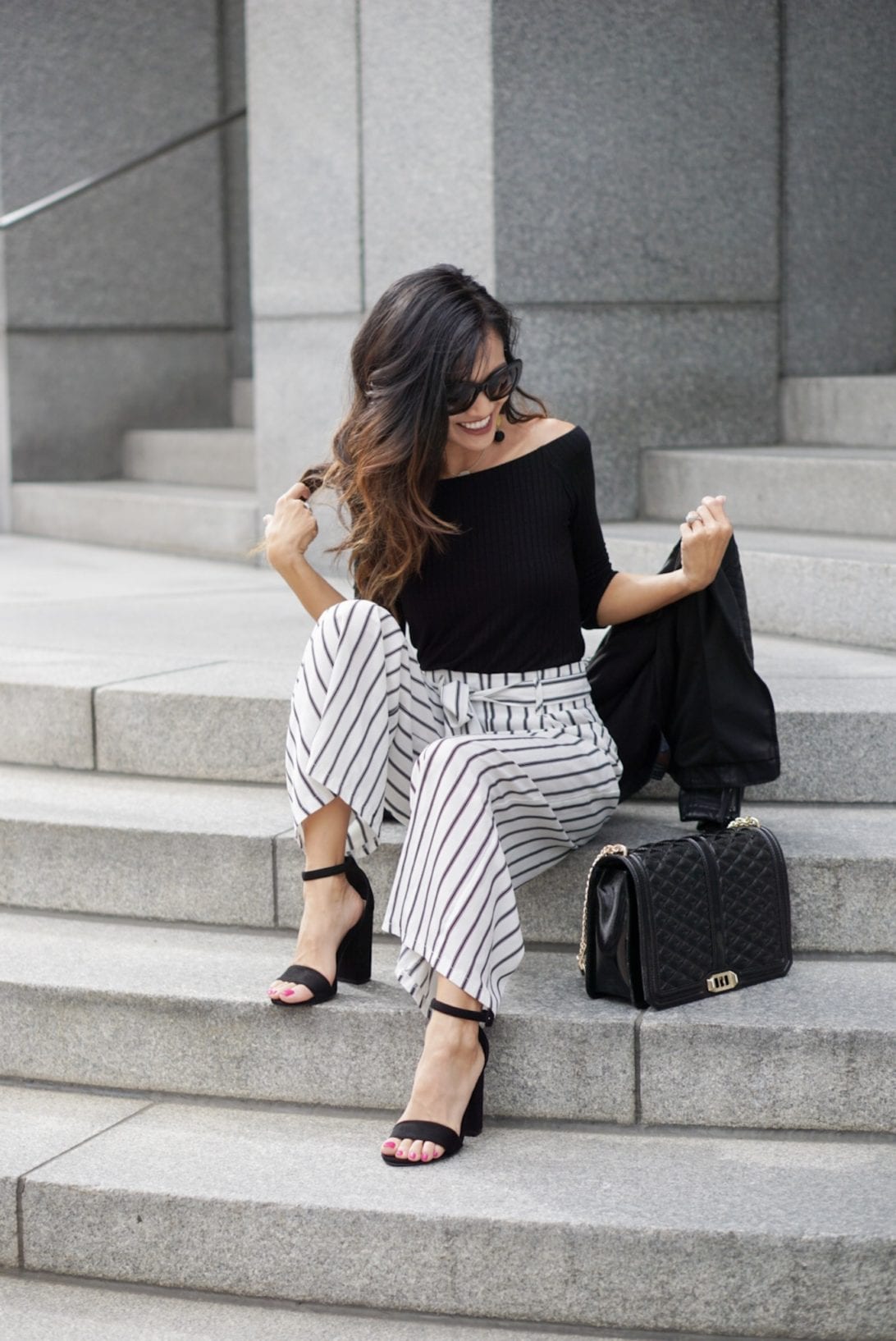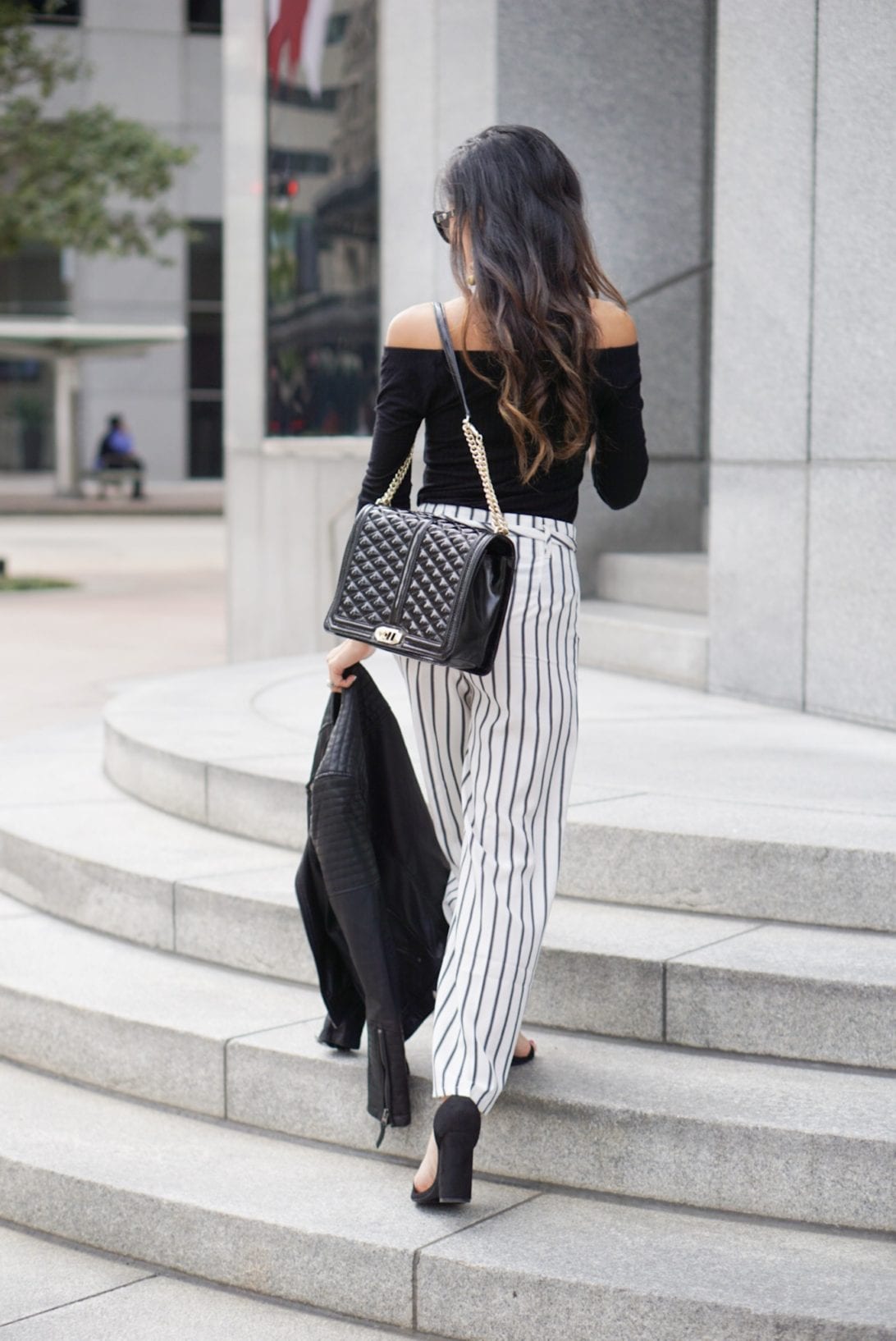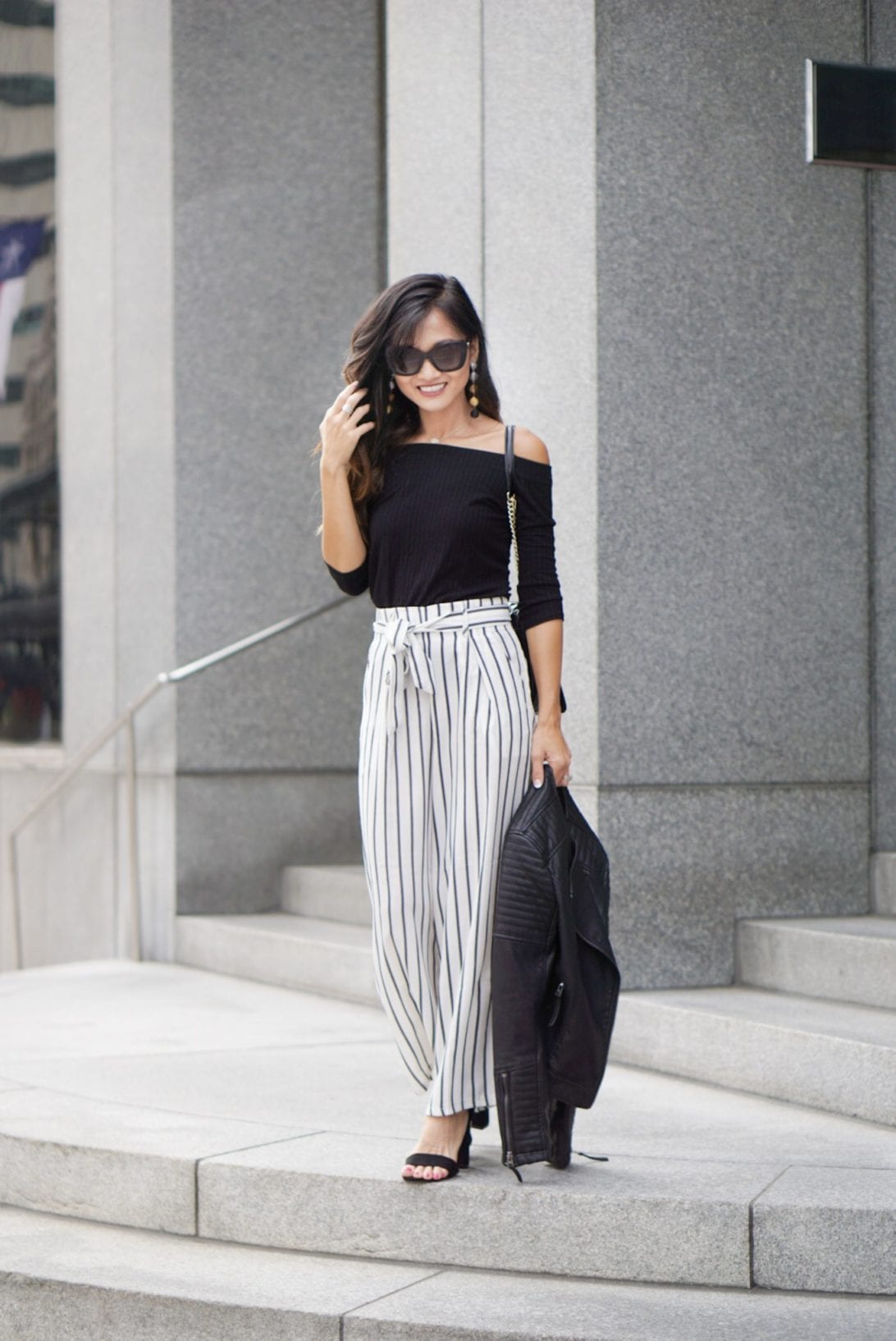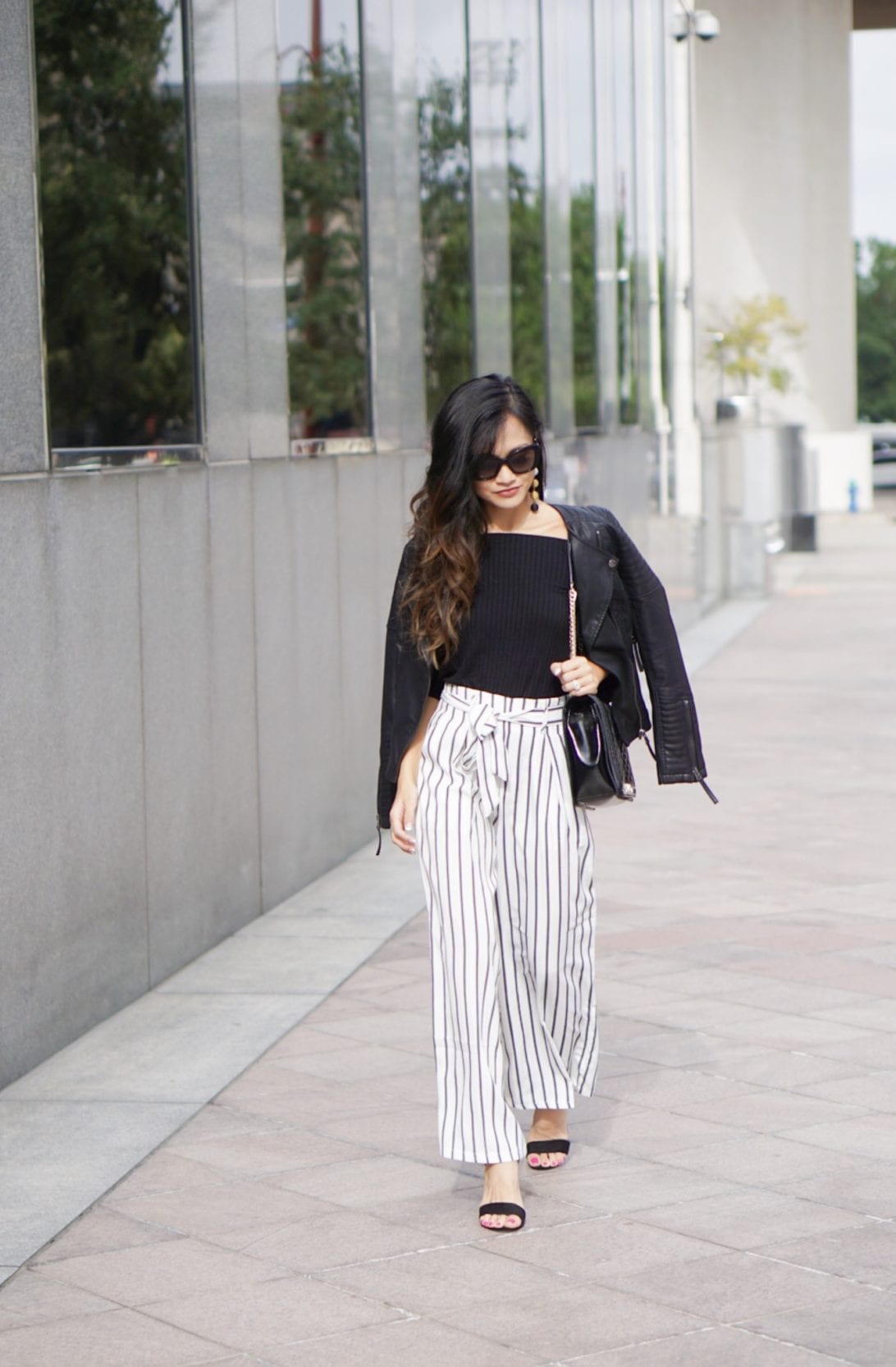 SHOP THIS LOOK:

Alright so lets talk about these amazing striped wide leg pants. First of all they are under $20! Second they are REALY comfortable, and third they are just so chic! I love a good pair of striped pants to elongate my short legs. You can wear these to work, in the spring, summer, and basically all year around. Today I paired it up with an off shoulder sweater and the everyday Moto jacket. Perfect for cooler weather.
I hope you enjoy this look, today as a busy day for the family! We are headed to Zoo Boo with friends, then tonight hubs and I have the night to ourselves! We are attending a couple of fundraiser event, including a fundraiser dinner put together by Lucky Rice to benefit Hurricane Harvey victims here in Houston. Make sure to stay tuned on Instastories for more! What are your plans this weekend?
P.S. Subscribe for weekly newsletters so you never miss a single post!