Thank you Brian Gavin Diamonds  for sponsoring this post.  As always all thoughts and opinions are mine alone. Thank you for supporting those who support this blog.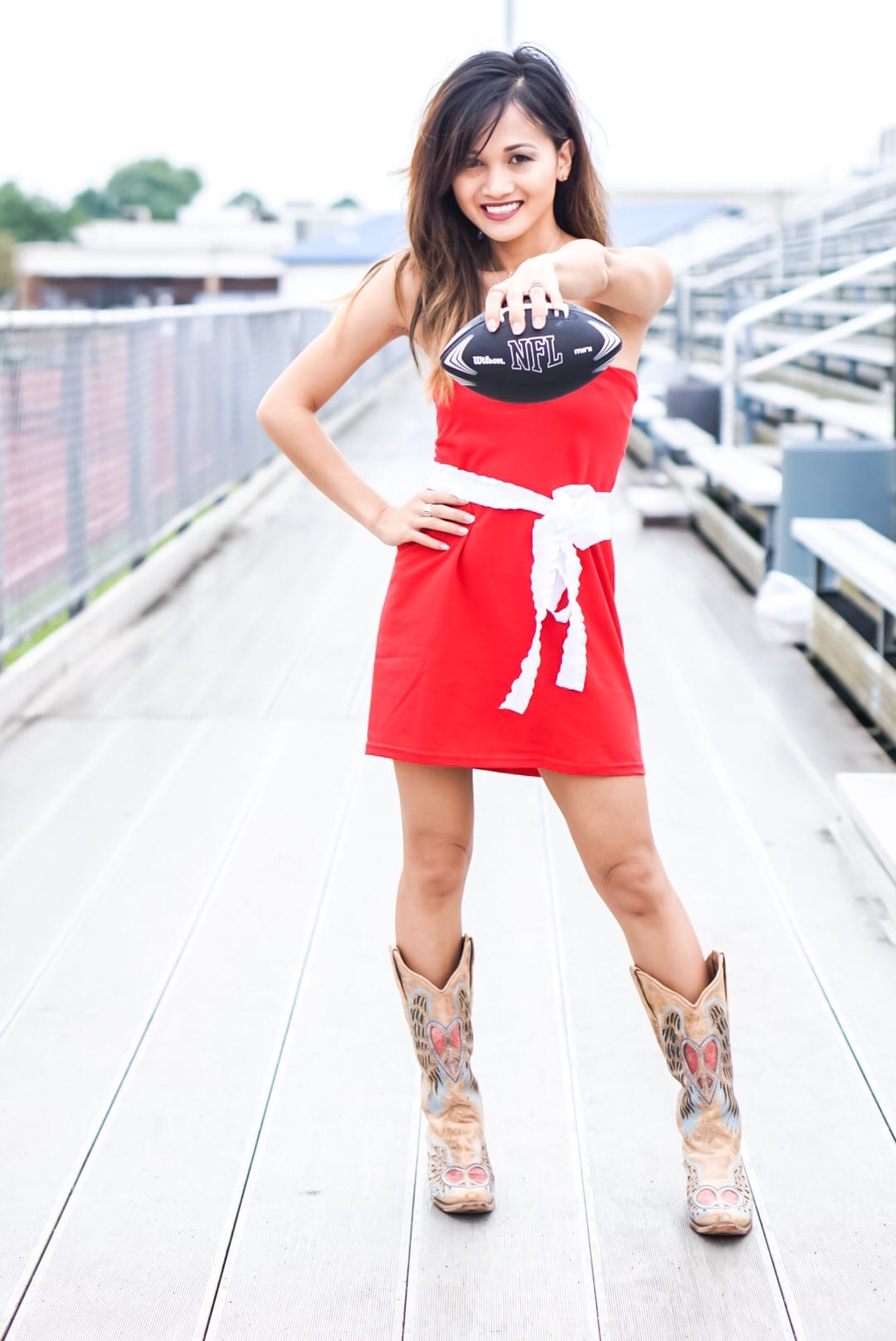 Football season is the biggest season in Texas, next to summer of course. And with the kick off of our very own University of Houston Cougars beating Oklahoma this past weekend, this season is off to a great start.  As a Houston Cougar alumni, and sorority girl at heart, game day fashion is a must. And I've learned a thing or two during my college sorority days about making inexpensive DIY Game Day dresses for a fun and affordable option to wear at football games. Check out my DIY dress below and how I accessorize it with these gorgeous rose gold pieces from Brian Gavin Diamonds. Stay tuned for the $500 giveaway below!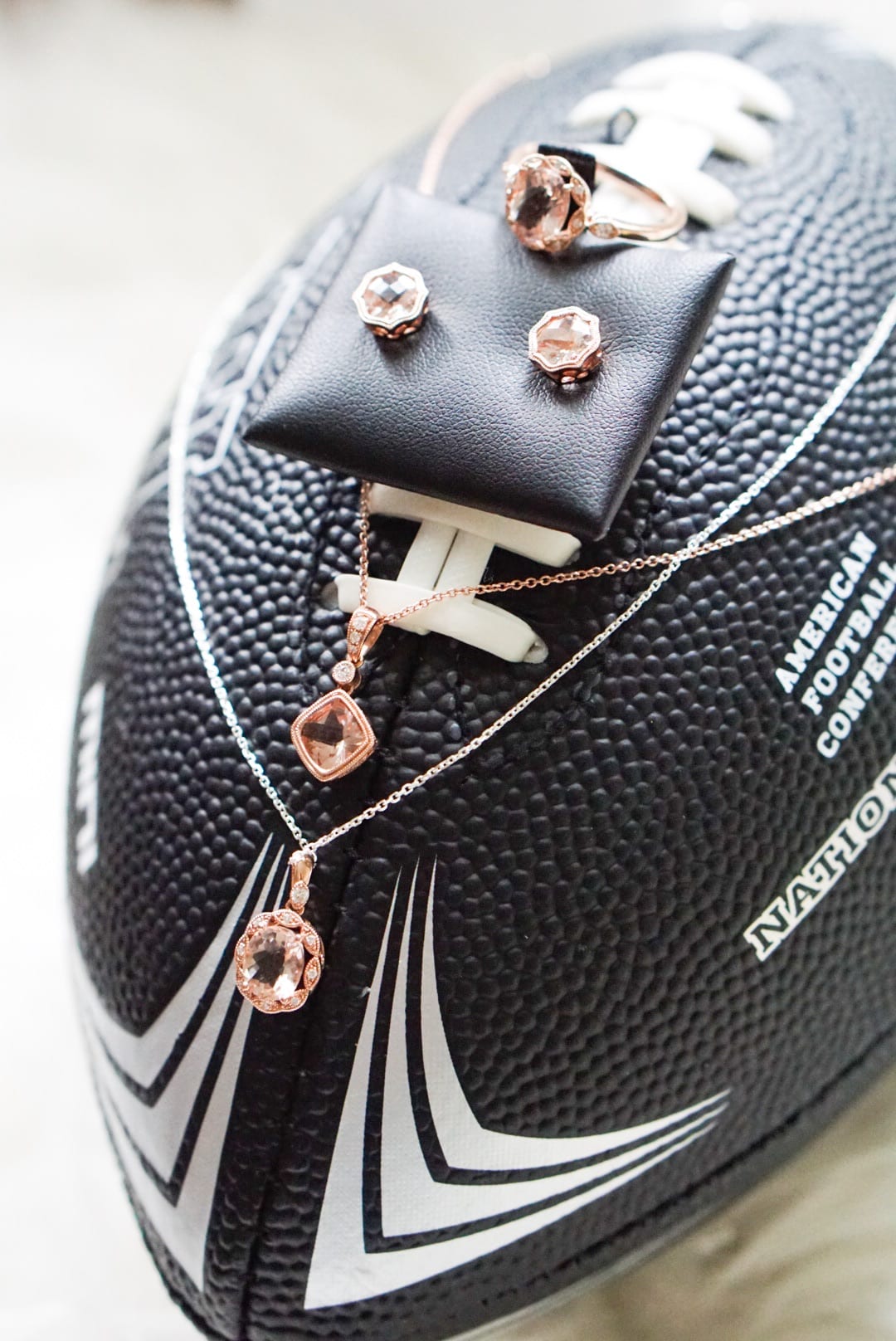 Earrings| Necklace| Morganite Collection
How beautiful are these pieces from Brian Gavin Diamonds. I love the Rose Gold setting and Antique Cushion Cabouchon Morganite. The rose color setting is perfect for representing my sorority colors on and off the field. I chose this set because the earrings resemble quatrefoil which is Phi Mu's symbol. This collection is perfect for everyday wear and can be worn with whatever game day attire you choose to wear.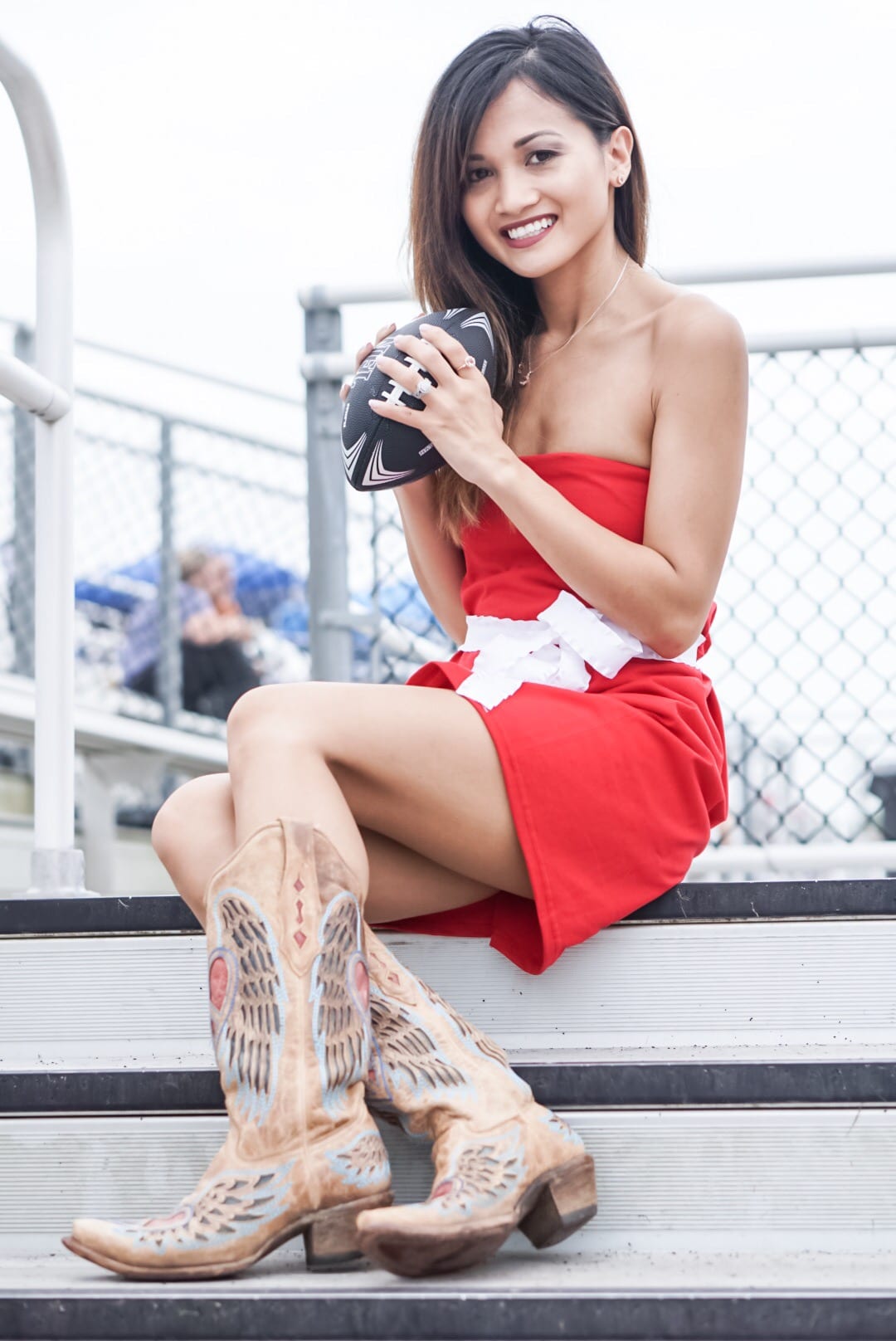 GO COOGS! Shine bright like a diamond!
Have you ever received an oversized spirit shirt from a pep rally and not ever wear it because it was too big? Have you ever wanted a customized game day dress from Etsy but didn't want to spend $50? Here is a super easy DIY that require no sewing, takes less than five minutes to make, and requires little or no cost to you.
Game Day Dress DIY
All you need is a t-shirt and scissors. Ribbon is optional. I bought a basic adult small red shirt from Academy for $3 and a yard of ribbon from Hobby Lobby for$1.50.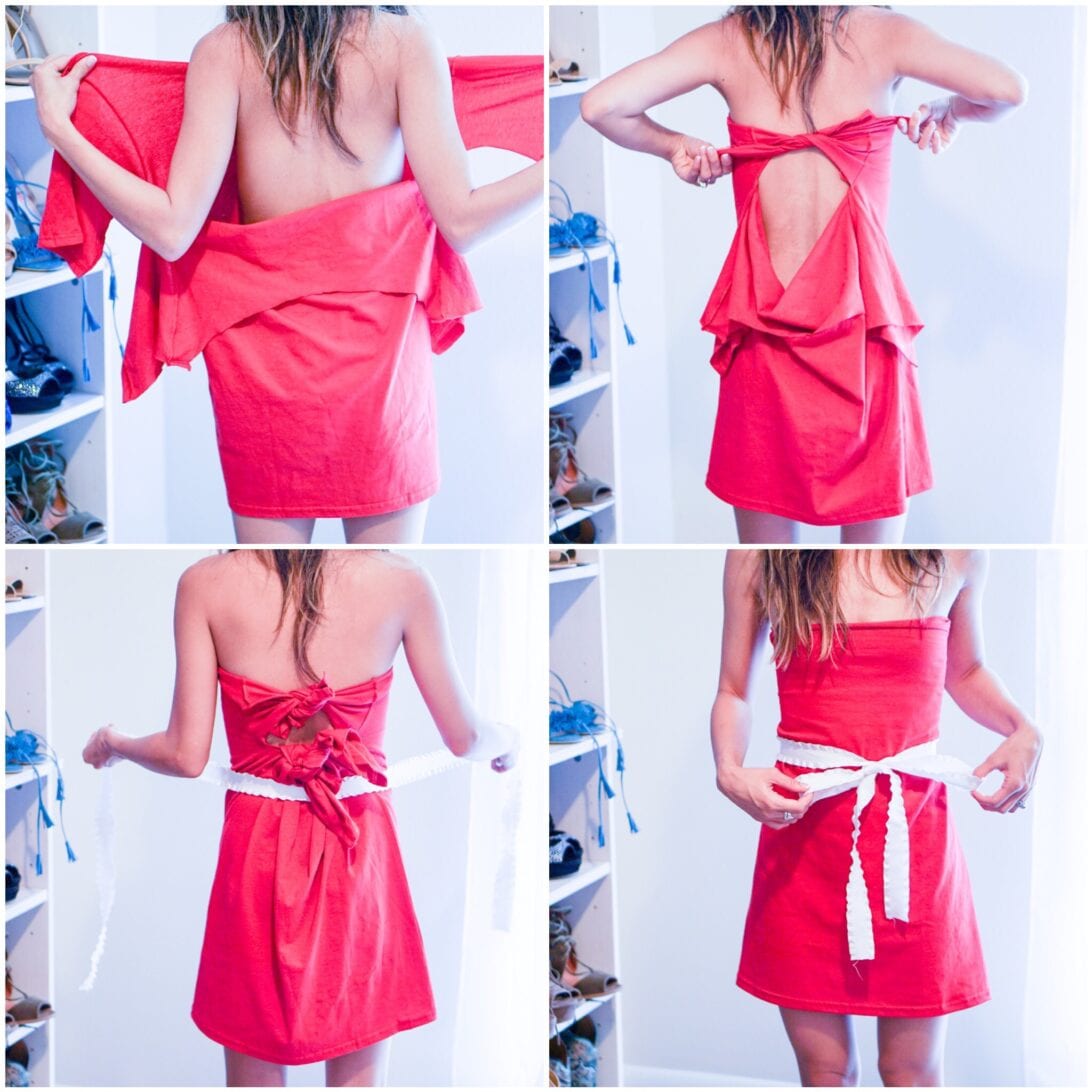 Instructions:
1. Cut the neckline from the shirt starting at one shoulder ending to the other shoulder.
2. Cut the sleeves on both sides
3. Put the shirt on and tie the sides together like pictured above.
4. For added detail use a ribbon to tie a bow.
Check out my old school picture below from my senior year at U of H wearing my DIY t-shirt dress. Can you believe I made a halter dress out of this spirit shirt?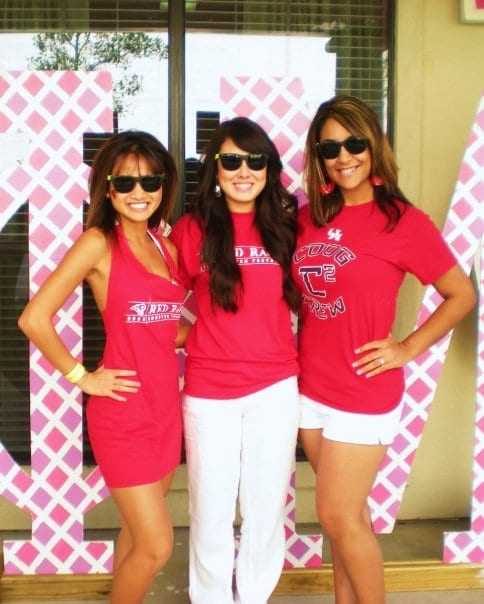 I hope you enjoyed this simple Game Day DIY. And thank you Brian Gavin Diamond's for partnering up with me on this post. Looking to score your very own game day jewelry set? It is super easy, all you have to do is:
Snap a photo rocking your team pride and game day jewelry
Post the photo on your Instagram, Twitter and/or Brian Gavin Diamond's Facebook using giveaway hashtag #DownSetSparkle between August 26-October 31. Accounts must be public to qualify.
Follow Brian Gavin Diamonds on the platform you post your photo to.
 Two lucky sports fans will win a $500 Brian Gavin Diamonds gift certificate and a jewelry roll. For more details and conditions of the giveaway make sure to visit here.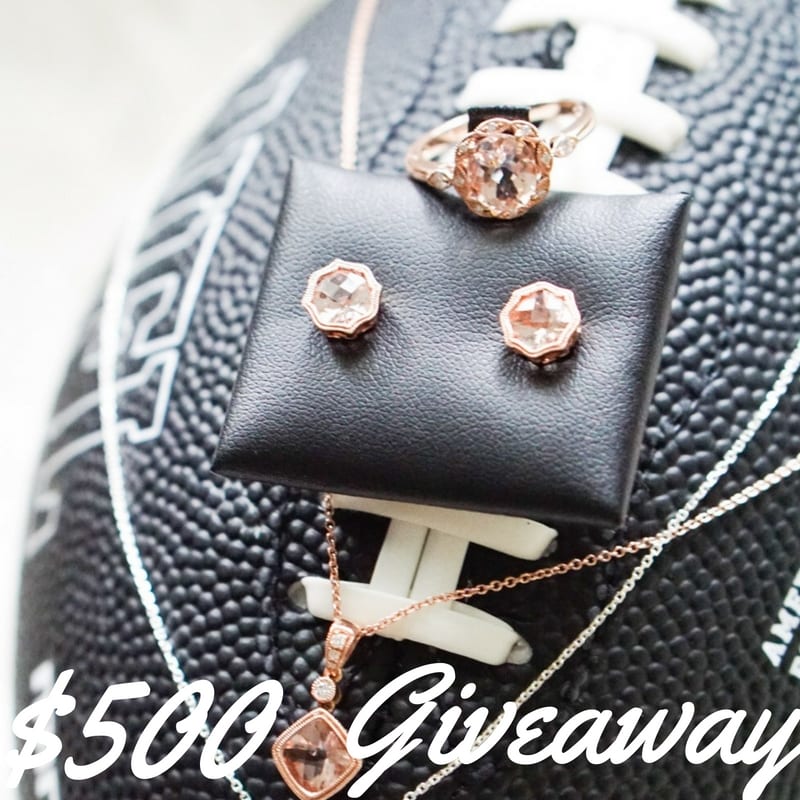 Thank you for stopping by! And thank you for supporting those who make this blog possible. Good luck on the Giveaway!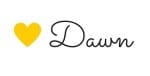 P.S. Love this post, click on the share buttons below and share with a friend!