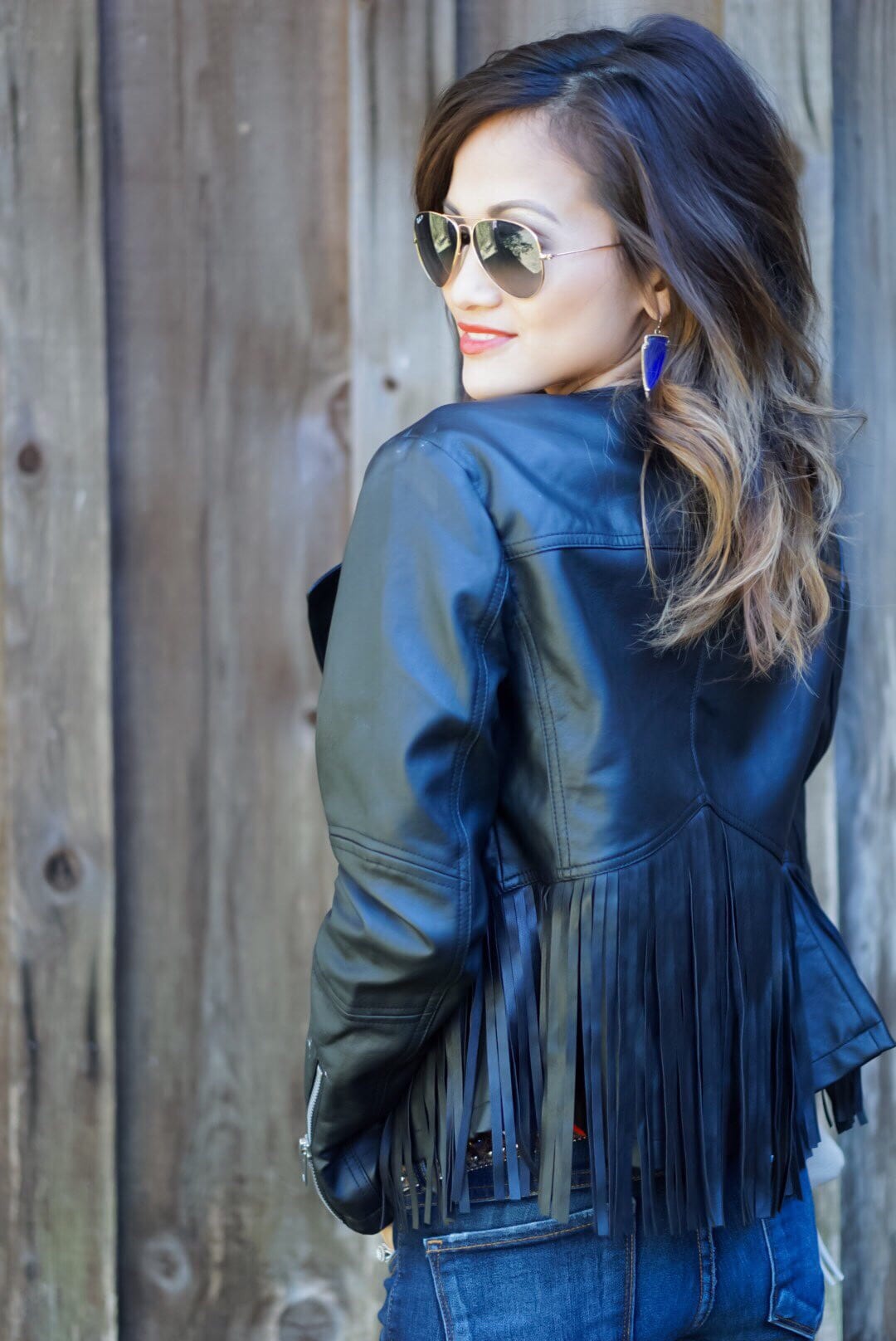 This past weekend was a great weekend spent with my family on the farm. We were all rooting for the Broncos for the Super Bowl and were so happy they won. Congrats to my favorite QB of all time Peyton Manning and his win. Not only is he a great player but a great role model. I grew up watching Peyton play for the Tennessee Volunteers, to the Colts, and now the Broncos. Now if only the Texans would draft him that would be icing on the cake!;) But now that football season is over, it's time look forward to Valentines Day and Rodeo Season!
I'm so excited to show you my country roots with some of my favorite outfits for the Rodeo. If you are from Houston, Texas then you know how big the Rodeo is. This is something we look forward to every year, and this year I'm looking forward to seeing Jason Aldean in concert. One thing I love about the Rodeo is the fashion. This is the time you can put on your shiniest belt, your tightest jeans, your biggest hair, and your cowboy boots and dance the night away. I love this fringe pleather jacket because it is perfect for going out, concerts, and adding an edgy flare to any outfit. Hahaha, of course I'm attracted to the jacket with fringe! I just can't seem to get enough of it on my closet! I paired up this jacket with my favorite dark destructed skinnies, and this ruffle shirt from H&M. Unfortunately it is sold out so I linked a similar style below. I bought this blouse for Christmas. I love the color because I can also wear it for Valentines Day, the Rodeo, U of H games, and when I'm rooting for the Texas Rangers! For my accessories I went with a glitzy belt, big statement earrings, and a necklace from Kendra Scott. My boots are Corrals. These boots are the same boots Hayden Panettierre wears in Nashville, and one of my favorite boots I own. When it comes to the Rodeo your boots should make a statement. Ditch the plain brown boots and have some fun! The possibilities are endless. Check out my look below and some of my favorite boots for the Rodeo.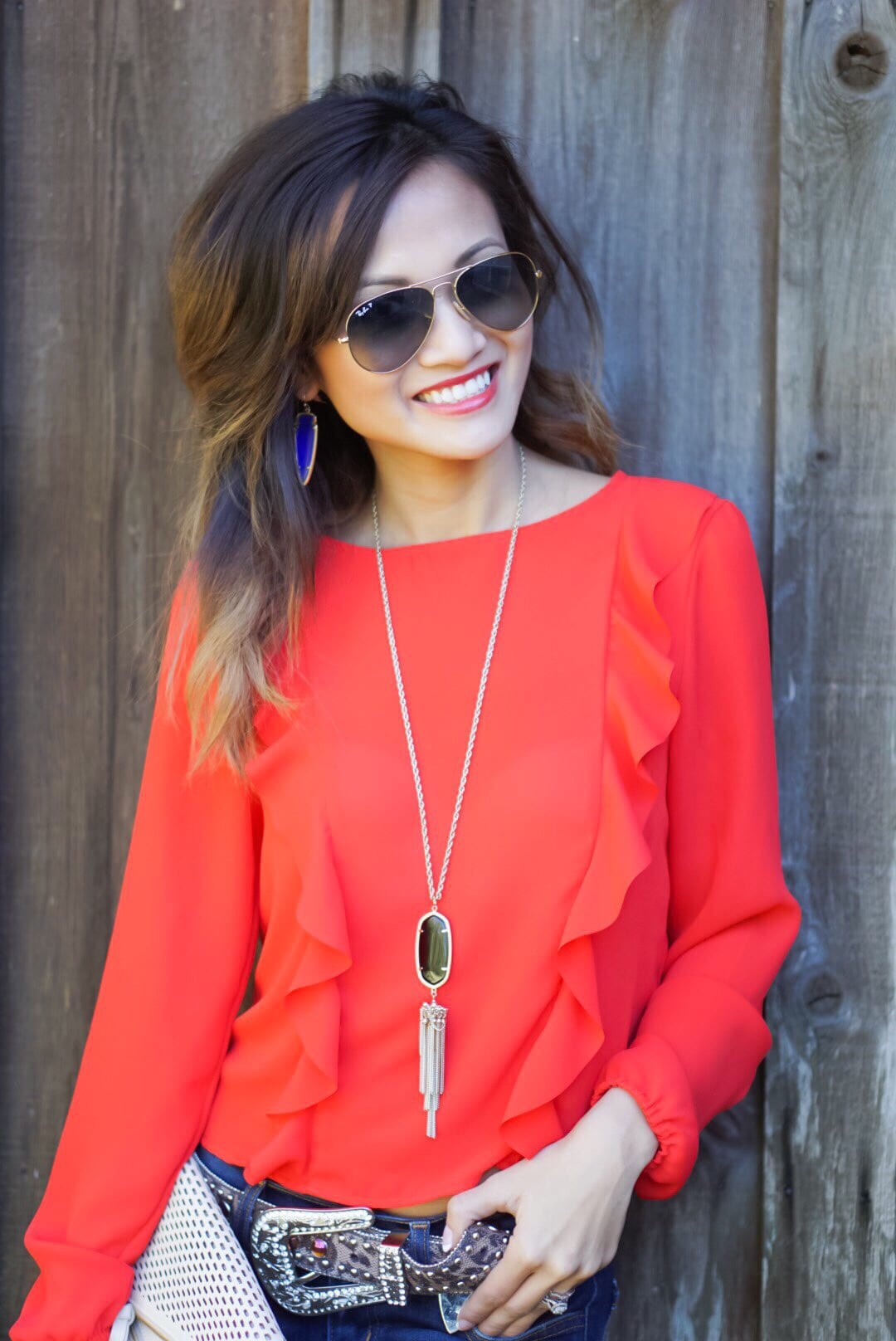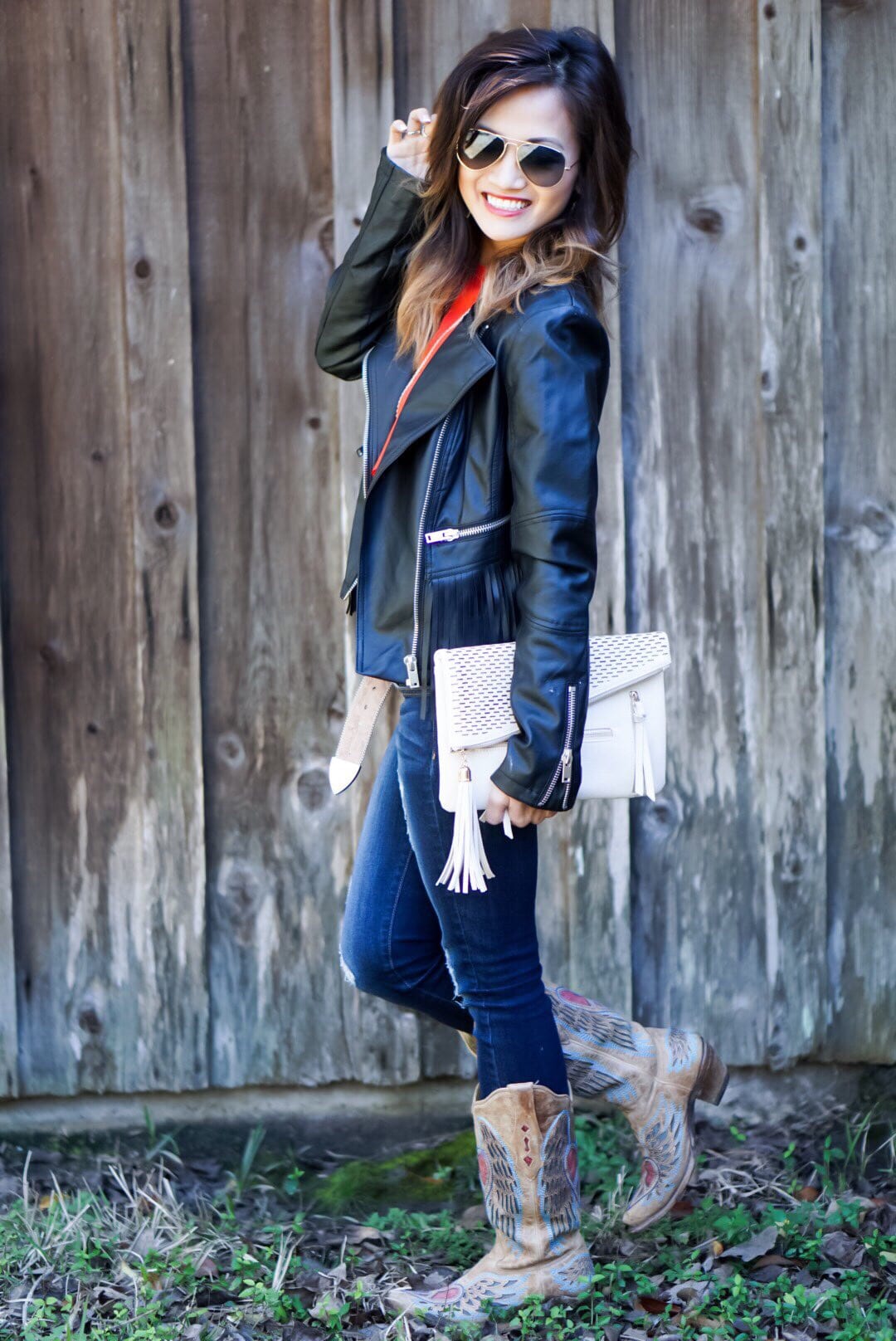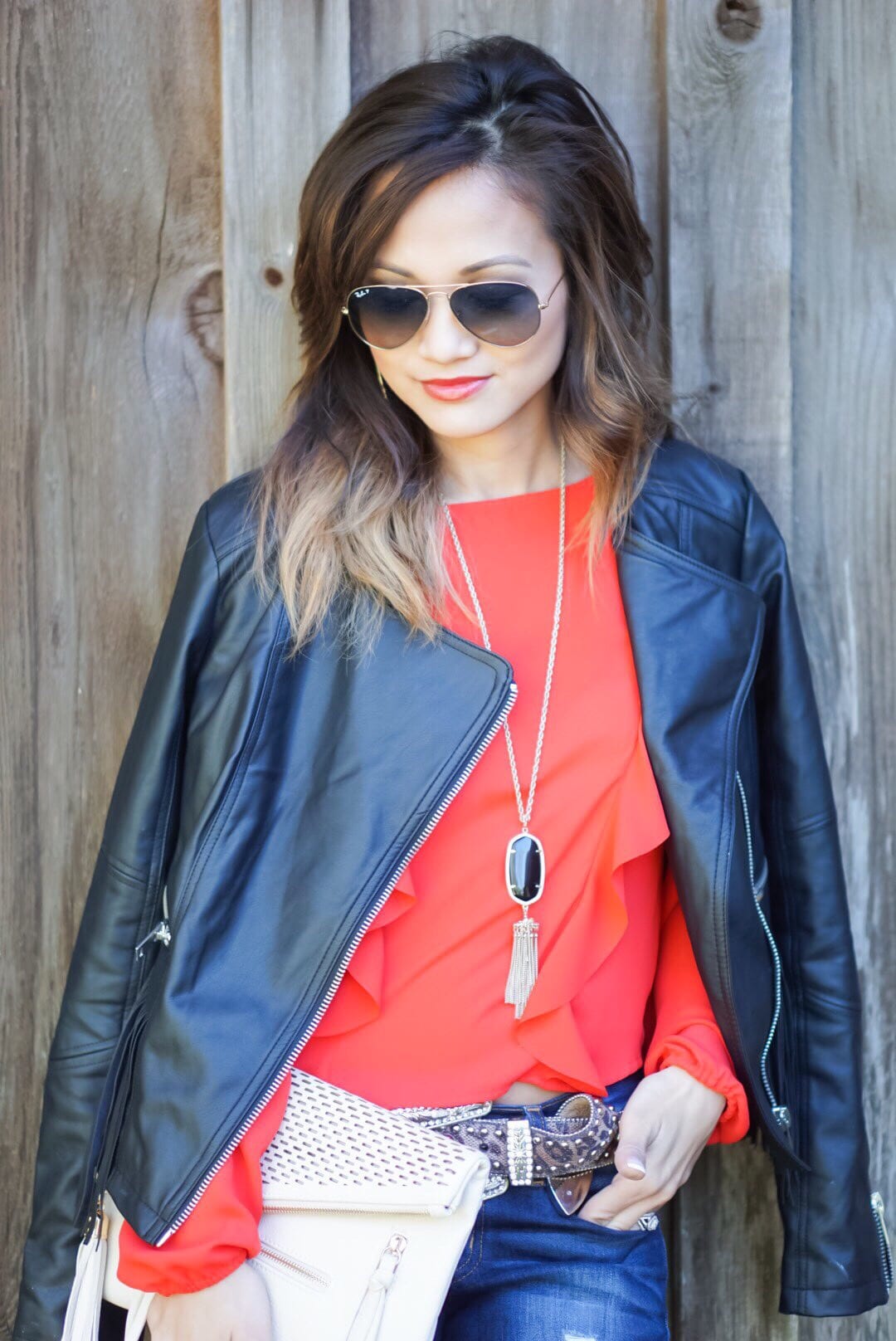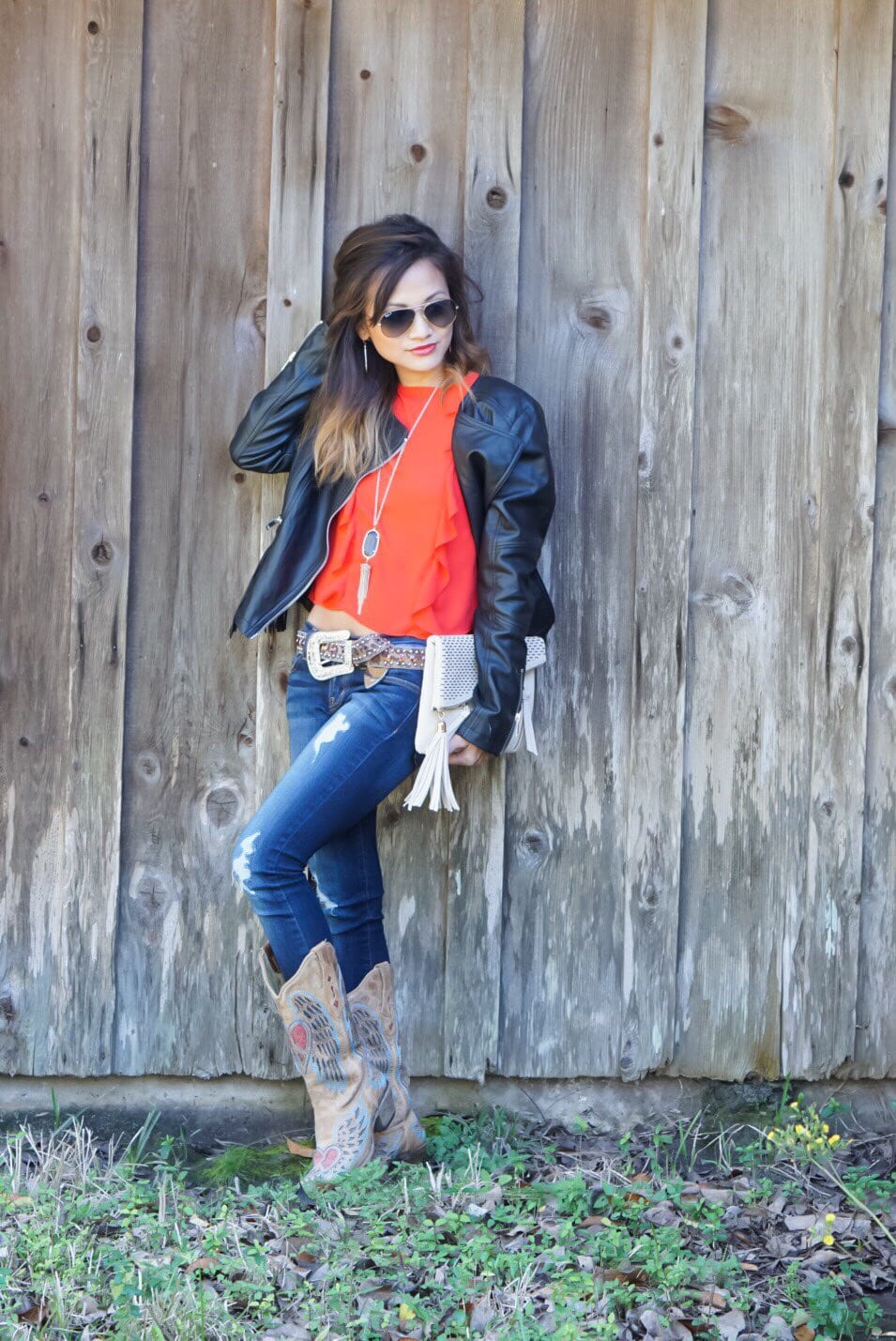 Shop the look below:
jeans/ top (similar style)/ clutch/ jacket/earrings/ sunglasses/ belt/ boots/ necklace

I hope you are just excited for the Rodeo as I am. What performers will you be going to see? Thanks for following along!