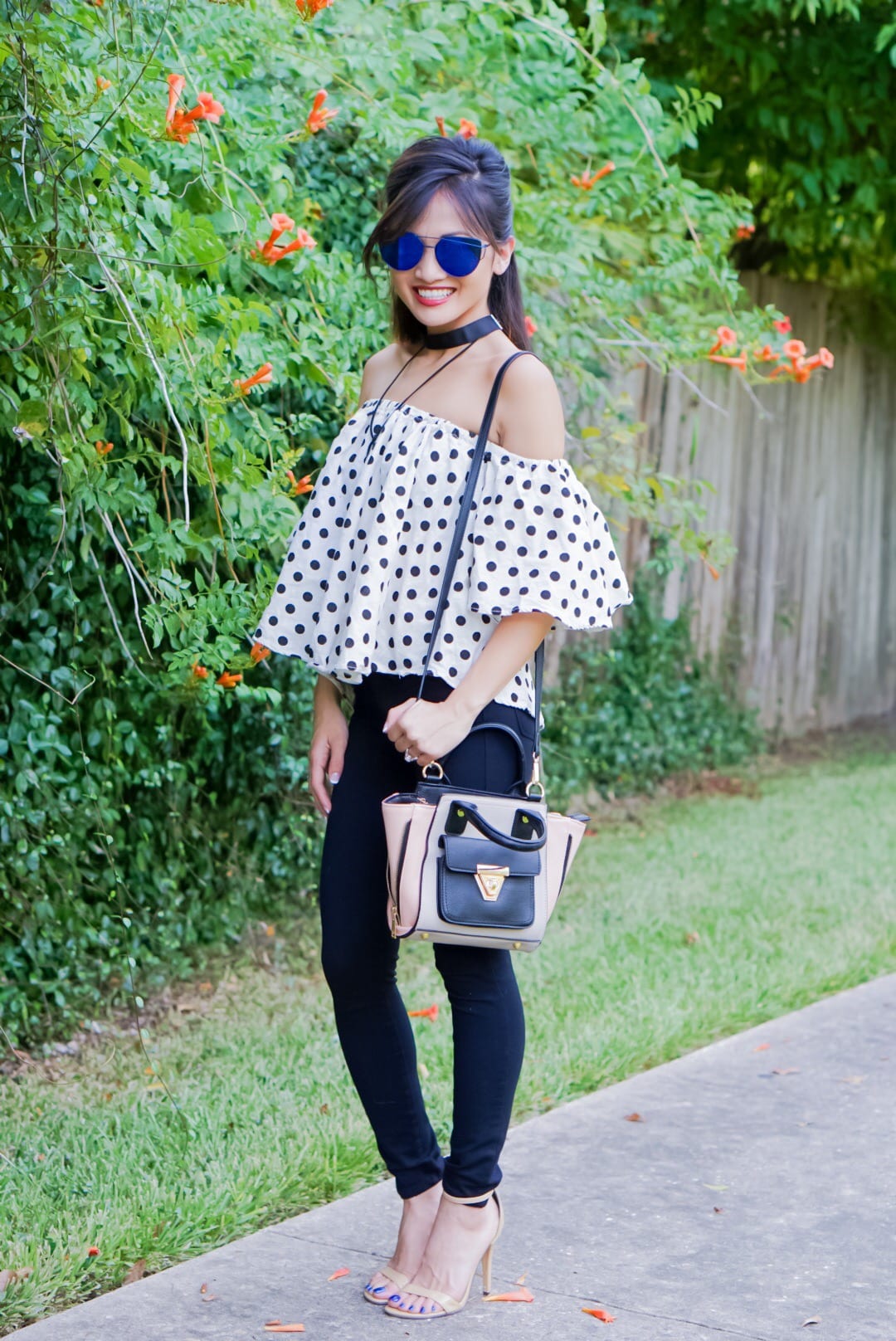 Last Friday my hubby and I enjoyed a date night out together. We had dinner and drinks at our favorite place before making our way to the movie theaters to watch Suicide Squad. My hubby and I are big fans of Marvel and DC comics movies. We love movies with tons of actions or a lot of laughs. Lucky for him I don't like watching romantic movies or dramatic movies, so he doesn't have to worry about me dragging him to see one. If you watched my snapchat this weekend you might have gotten an inside look into our little mini photo session before our date night. I get tons of questions about what goes on behind my blog pictures, so I decided to do a little quick Q&A about blogging photography. Here is an inside look in what goes into taking my blog photos, plus a fun date night look.
For date night, I stayed with black and white theme with this cute off the shoulder polka dot top I received from Shein. I love the layered chocker trend that is going to be trending into the fall. It really added to this outfit. These fun accessories including the sunglasses and bag are courtesy of Agaci.
SIGN UP FOR LIKETOKNOW.IT TO SHOP THE LOOK BELOW:

Blogger Q&A: Photography
Q: Who takes your pictures?
A: Most of my pictures are done by my husband. He is not a professional photographer, but with lots of practice and coaching by mwah he has become quite good, in fact I have had friends asking if he could take their pictures! Let's just say it took about a year for him to finally get on board as my main photographer. Plus I always feel I can be more natural in front of the camera when he is behind it. He knows me best. Aside from my hubby, my sister helps out, and I occasionally hire my friend Ajay Photography to help take my photos. Also if I am going to a blogger event I also will ask my fellow blogger babes to help me with my photos.
Q: Who edits your photos?
A: I edit all my photos taken from my camera. I love having quick access to be able to upload to my phone via wifi and edit it using the Lightroom App.
Q: What editing software do you use?
A: For my photos I always use Lightroom. I use to do Photoshop, but it takes way too long for me to do it in Photoshop. I normally edit my photos on my phone through the Lightroom App.
Q: Where do you take your pictures?
A: I normally take most of my pictures at my house or my parent's house. Sometimes if we travel or go downtown, we will take my pictures there. I also like going to the mall near my house to take outfit photos.
Q: What kind of camera do you use?
A: I am a big believer in the mirrorless camera by Sony. I have an A6000 and it is the best camera for blogging and traveling. It is small enough and light enough to carry around in your purse. It takes amazing pictures, and it immediately downloads to your phone with it's built in wifi. I use a fixed 50mm lens f/1.8 for all my blog photos. If you want the "blurry background" you need to get this lens.

I hope you learned a thing or two in this Q&A. Let me know if you have any questions in regards to blogging photography. And make sure to check out my 10 Tips to Success for Bloggers. Leave a comment below or shoot me a question on Snapchat @dawnpwinston. Thanks for stopping by!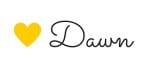 Follow along to get updates on new post and exclusive GIVEAWAYS!