FEATURED ON THIS POST:

Hey friends,
Hope you are having a great week! Can you believe Valentine's is tomorrow? I swear this month has flown by. Today I wanted to share with you a fun Galentine's Sprinkle Brunch we threw for our expecting friend Michelle. If you don't know what a sprinkle is, it is basically a smaller intimate baby shower for a mom who is expecting her second or third child. Basically an excuse to celebrate such a wonderful blessing in our friend's life. This Galentine's sprinkle wouldn't have been successful without the help from each one of these girls. Everyone contributed their own special touch which made it that much more special. So if you are looking to throw a Galentine's Sprinkle here are some tips for hosting a Galentine's Sprinkle Brunch!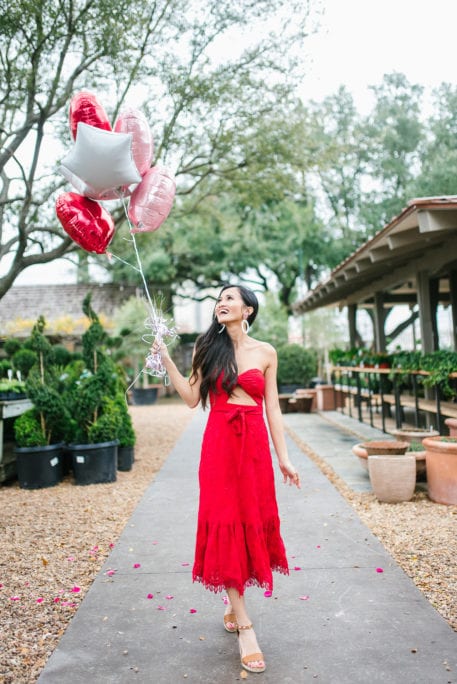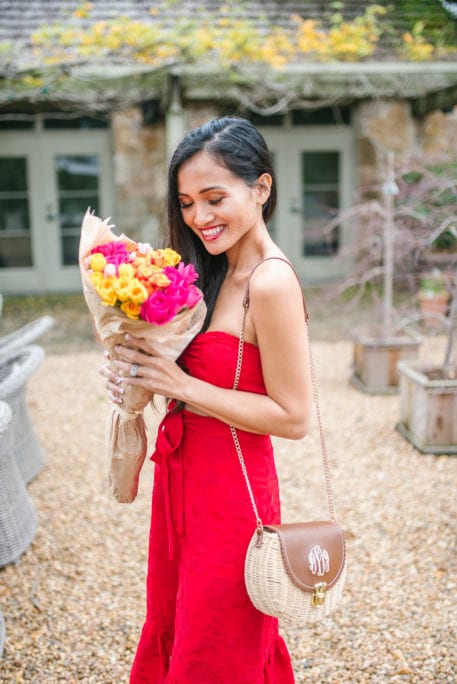 6 Tip For Hosting a Galentine Sprinkle Brunch
Find a great location that will allow you to bring props and other decor for your brunch. We chose Tiny Boxwoods because of the space and the atmosphere, plus the food is really good too! It was first come first serve so we got there early to reserve the outdoor covered table space. We had plenty of space to take photos and outdoor garden was a great area for the kiddos to run around in too.
Set the date at least two weeks in advance – Coordinating with seven girls was not easy especially with everyone's busy schedules. I gave the girls options for the dates and we chose the date that everyone could attend. We ended up missing one girl due to a personal event she had to attend, but know that life happens and sometimes not everyone can make it.
Create a list of items that you need and have everyone pick out one or two things they would like to bring from the list. It made it so much easier for everyone to just bring one thing instead of having one person try to do it all. Plus everyone will feel like they have a special part in the planning, and you would be surprise how creative your friends can be! I mean seriously how cute was all of our table decor, diaper cake, and desserts?
Hire a photographer – I think this is so big because it will save you the stress from having to capture these special moments and allow you instead to just enjoy them. We love Yash who took these photos. He did such a great job!
Coordinate your outfits – Because it was a themed brunch we all coordinated Valentine day inspired looks with red and pink as the main colors. Everyone looked so beautiful and of course the group photos turned out beautiful.
Go with the flow – You can only plan so much, but it won't be perfect. Someone might forget something or be late, but you know what it will be ok. As a host your job is to make sure everyone is having fun and enjoying themselves including yourself. So don't sweat the small stuff!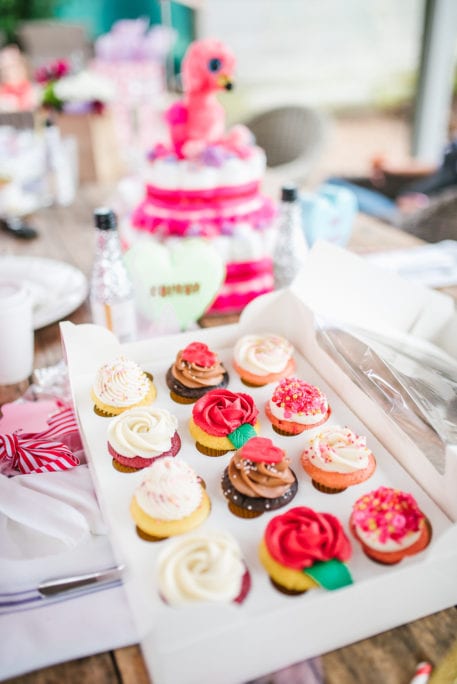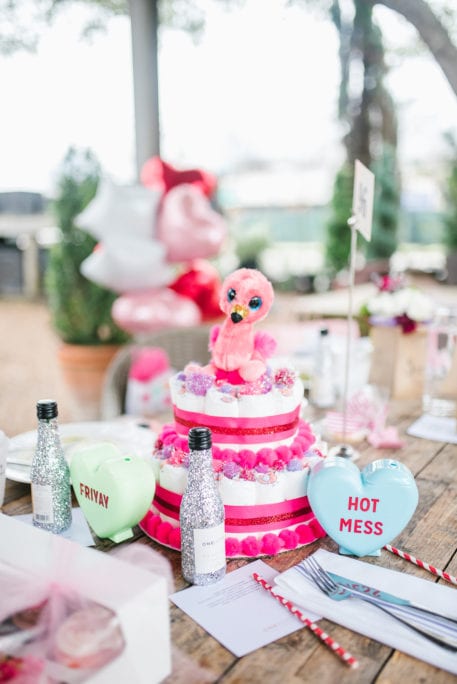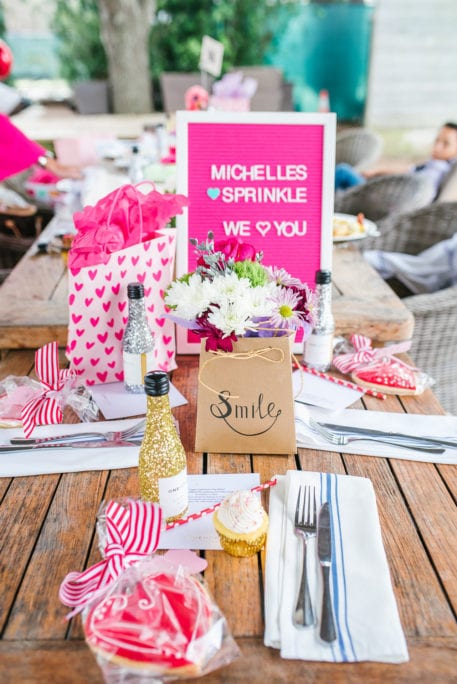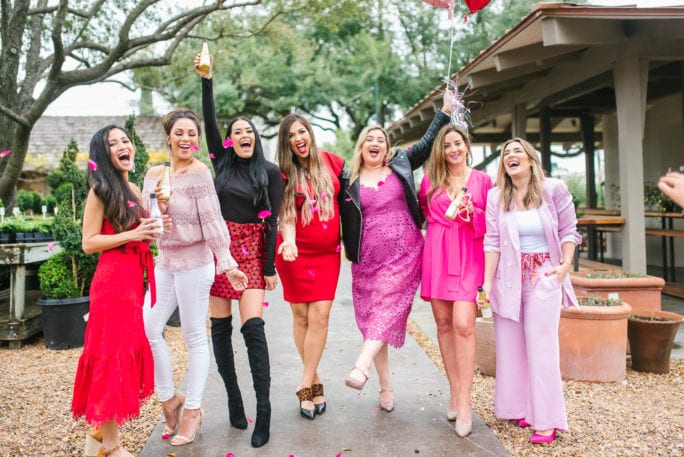 Make sure you are following these gorgeous babes. Check out our last group photoshoot here.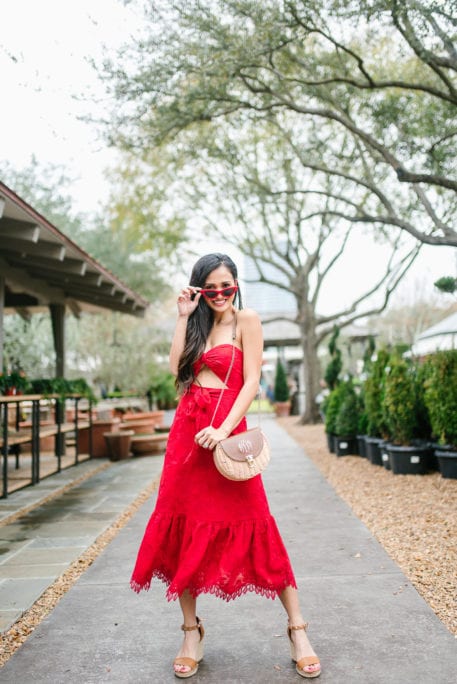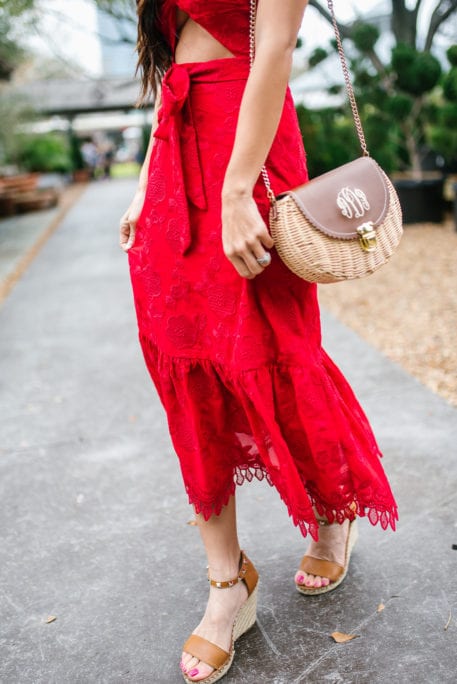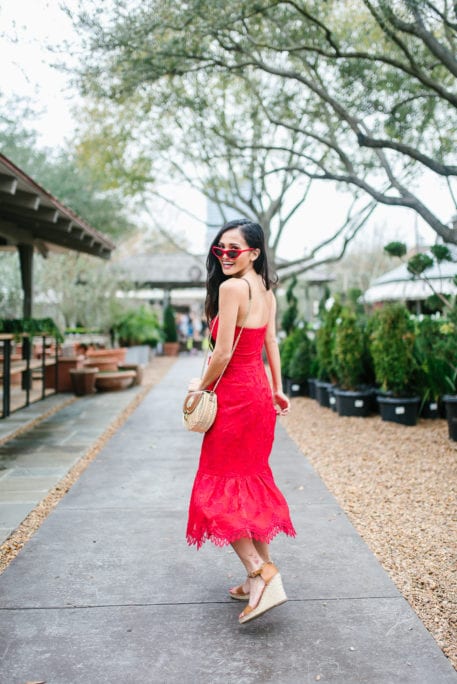 SHOP THIS LOOK:

I hope you enjoyed this recap of our Galentine's Sprinkle Brunch. What are your plans for Valentine's Day? I'll be hanging out with my little man and our friends since hubs has to work tomorrow. But Friday we will be taking the little guy to his first Globetrotter show in Houston. Thanks for stopping by!
Photos by Banavenue Photography.