This post is in partnership with Keranique. All thoughts and opinions are all mine.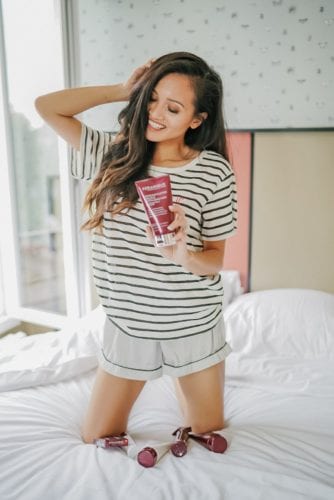 Hi everyone!
Hope you are having a great week! Today I am talking about an issue that one of three women face in their lifetime and what many moms like me face after having children: Hair loss. Hair loss is more common than you think in women and unfortunately so many products are catered to men, but today I've partnered up with Keranique to share products specially formulated for women to not only prevent hair loss but to also stimulate regrowth. These products have been approved by the FDA, so you can regrow your hair naturally without expensive surgery or painful procedures. Check out this post below! I'm dishing my secrets and tips to preventing hair loss after having kids with Keranique.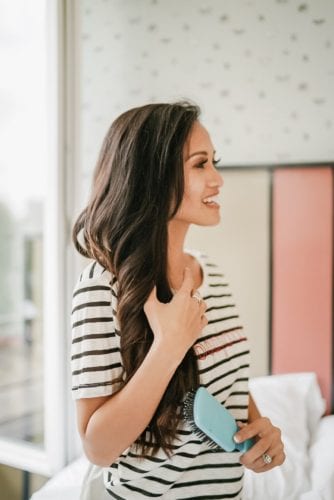 The number one thing I get asked about my hair is "Is it extensions?" So many people cannot believe this is 100% all of my hair. I have been blessed with good genes but good genes can only get you so far  as you start aging and your body changes after having kids. Hair maintenance is key to keeping the beautiful hair you were born with. I learned a couple of things about maintaining my volume and protecting and preventing hair loss. Check out my tips below!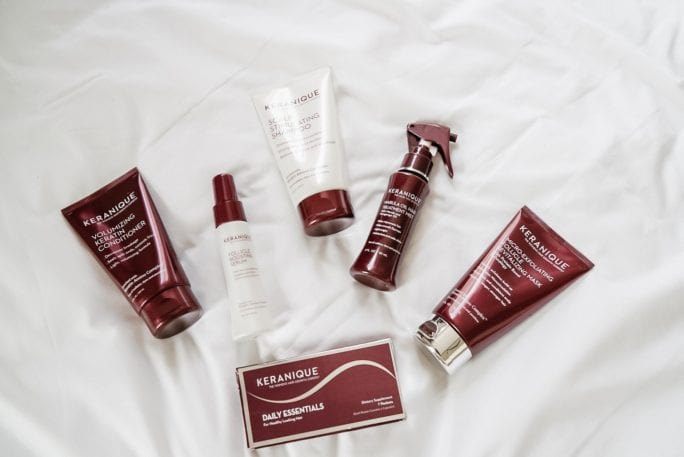 Tips to Preventing Hair Loss After Having Kids With Keranique
1. Take Vitamins
Number one was treating it from the inside out. Before I knew about Keranique Daily Essential Supplements, I took prenatal vitamins throughout my pregnancy and after the birth of my son. I realized even more so after having a baby how much extra vitamins and nutrition you need because your body is not only taking care of you but trying to take care of another human being too. And when it comes to nourishing strong, healthy hair, its best to start from the inside out. The Keranique Daily Essential Supplements delivers a scientific blend of vitamins A and B, amino acids, superfoods, biotin and more to promote sustained hair growth.
Safe for all to use as part of your daily diet, these supplements supply key nutrients that are needed by your hair follicle to expedite the growing phase of your hairs growth cycle.

2. Exfoliate Your Scalp
Did you know build up from shampoo and conditioners can cause your clogged follicles and weigh your hair down? Use Keranique®Micro-Exfoliating Follicle Revitalizing Mask before shampooing to gently exfoliate the scalp. This mask will help accelerate cell turnover,  unclog follicles and remove build up on the scalp that can weigh hair down. Micro-Exfoliating Follicle Boosting Mask is formulated with Protein Boost Technology to help restore vitality to dry or damaged hair. This deep conditioning hair mask will help restore and replenish damaged thin hair to a shiny, healthier state.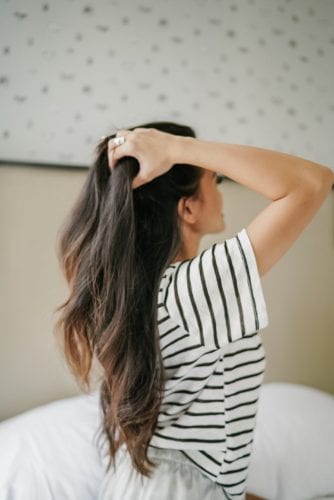 3. Don't Wash Your Hair Every day
After having my son, I did not have the privilege to washing my hair everyday. But little did I know how that would benefit me. Did you know certain shampoos and conditioners will strip your hair of its natural oils that keep it shiny and healthy? Instead of washing your hair everyday, try going several days without washing. When you do wash your hair make sure to use The Keranique® Scalp Stimulating Shampoo is designed especially for thinning hair. It promotes shine, helps strengthen & thicken hair, removes build-up, and promotes scalp microcirculation. Next, combine with the Keranique® Volumizing Conditioner which contains the proprietary Keratin Amino Complex that will help thicken, fortify and volumize your hair.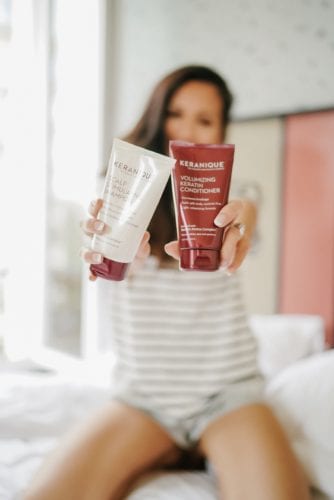 4. Incorporate Hair & Follicle Treatment
 Nourishing your scalp and your hair follicles will help thicken your hair fiber and repairs split ends to help decrease thinning due to fiber-breakage. Keranique Follicle Boosting Serum combines advanced skincare and hair care ingredients in one premium formula to target and help address hair health at the source of its growth, the follicle. Infused with a blend of peptides, stem cell culture extract, vitamins and botanicals it nourishes, stimulates and supports the scalp.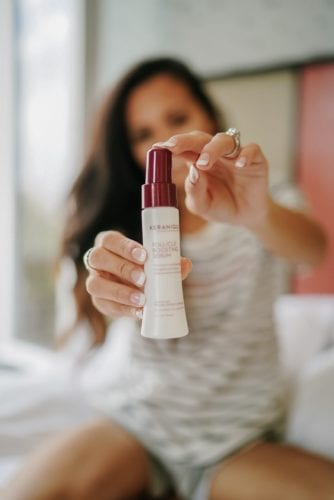 5. Moisturize!
Last but not least, make sure to moisturize your hair. No matter what your hair type, keeping your hair moisturized is the key to happy, healthy hair. When you don't properly moisturize your hair, your hair might feel dry or straw-like, the color may fade, your scalp might over produce oil, and you'll more split ends and breakage. You can prevent all that by treating your hair with Marula Oil and an exfoliating mask. Keranique Marula Oil Hair Treatment Mist is a nutrient-rich hair treatment formulated for women with thinning hair of all kinds. I apply the hair mist before heading out to add an extra layer of protection. Plus, make it more manageable to style.
Enriched with a luxurious blend of African oils that provide essential Omega oils and powerful anti-oxidants. It smooths flyaways, moisturizes and leaves hair healthier, smooth, more manageable and with a lustrous shine. You hair will be easier to manage, soft to the touch and have a lustrous shine.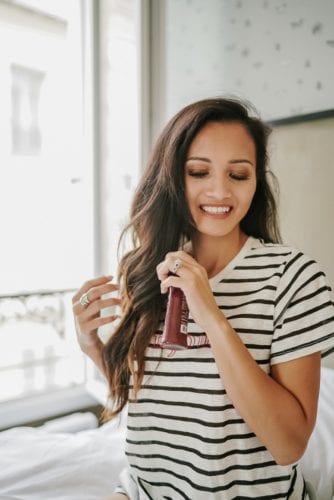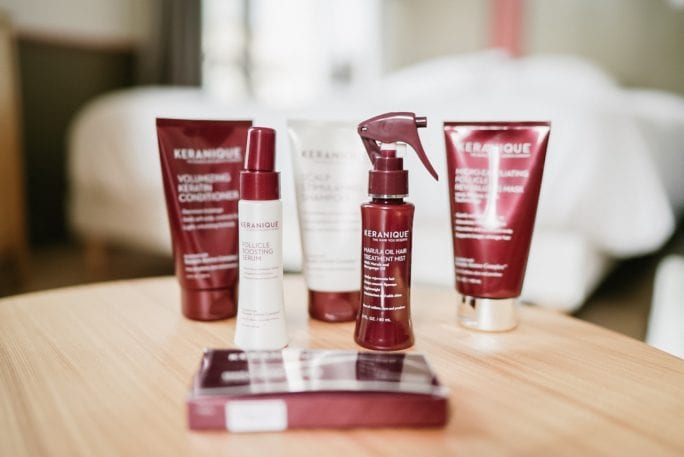 So if you have experienced hair loss after having kids I highly recommend following these tips. They have helped me keep my hair full and healthy as a mom. For more information check out Keranique.com and see how it can help you. Because one in three women will experience hair loss in their lifetime, but you don't have to feel alone or helpless. With Keranique we can keep our hair fuller, healthier, and stronger.  As always thanks for stopping by!
P.S. Subscribe for weekly newsletters so you never miss a single post!