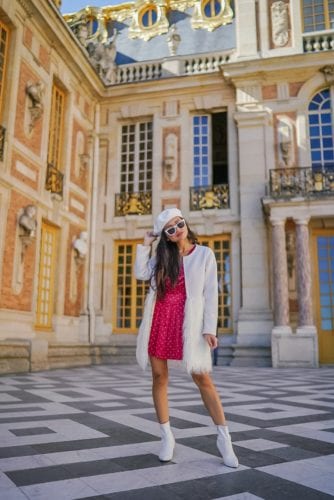 FEATURED ON THIS POST:

Hey everyone!
Hope you are having a great week! Today I'm sharing this adorable polka dot dress I wore to the Palace of Versailles and how I dressed it up for fall. Plus I'll give you and inside look into the Palace of Versailles and my honest opinion of the palace. Read more of my time at the Palace of Versailles and this outfit below!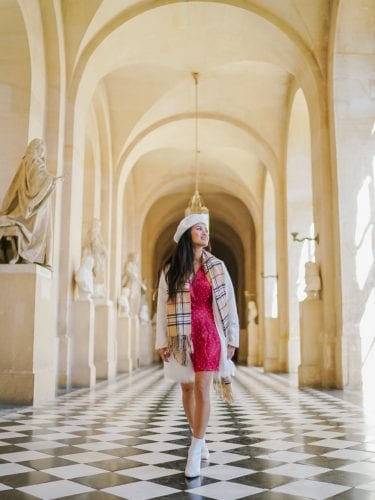 While we were in Paris for Paris Fashion Week we had the opportunity to spend the day at the Palace of Versailles. The Palace of Versailles is only a 30 minute train ride from Paris. We arrived around 10:30 though our plan was to get there as soon as they opened but we had a little too much fun at the Revolve Party that we ended up sleeping in. When we arrived to the town of Versailles we ended up stopping at the cutest restaurant Brasserie Le LYAUTEY across from the train station for lunch. The French onion soup and Ratatouille was so delicious, hands down the best French food we had.
By the time we made it to the palace after lunch it was around noon and the lines were long. I mean ridiculously long even with a museum pass. We were able to by-pass the line on accident and did not even bother to get the audio guide so we didn't have to stand in another long line. Honestly it was over crowded when we went and I felt so claustrophobic trying to get through the crowds of people. The palace was beautiful but a little obnoxious with the three study rooms and sitting rooms per bedroom. I honestly can understand why there was a French Revolution when they were spending a ridiculous amount of money on the such an extravagant palace. I'm pretty sure everything was gold-plated.
I was a little upset to find when we headed outside to the gardens that we needed to pay extra to get in, and it was not included in our museum pass. I honestly wish I had spent my day in the garden instead of the palace. But we didn't have time to tour the gardens by the time we got through the palace. It will definitely be on my to do list next time we go. We ended up exploring the quaint town of Versailles and enjoying some gelato. I honestly think the was the best part of the trip just being with the locals and not worrying about tourist crowds.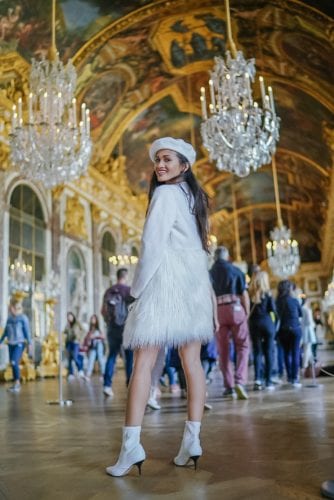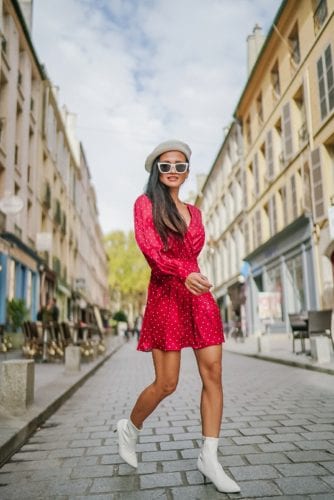 I wore this pretty polka dot mini dress while visiting the Palace. For size reference I am wearing the XXS. Check out all of these jewel toned dresses that is trending for fall. This dress paired up with white accessories made for the perfect transitional fall to winter outfit. I love white berets and cat eye sunglasses for a Parisian inspired look. My favorite white feathered jacket I wore for a holiday look two years ago was the perfect layering piece for this dress. Check out more white outerwear here. For more polka dot dresses check out some of my favorite brands below: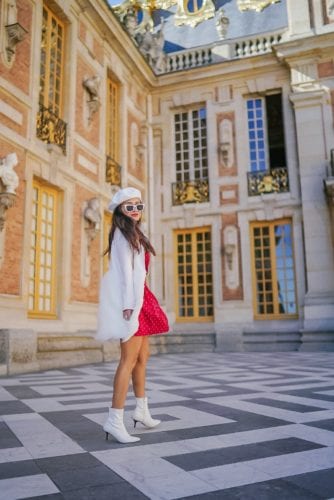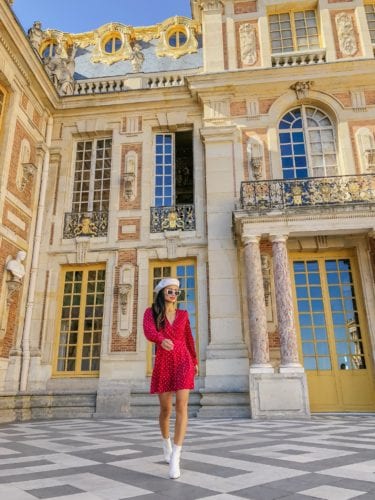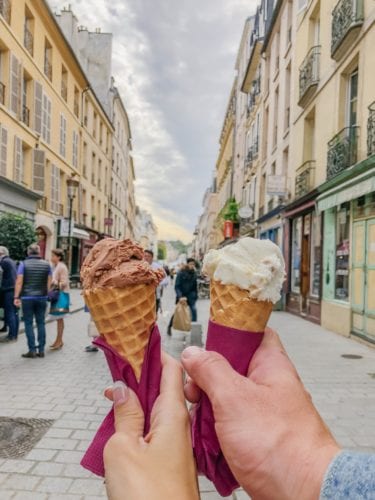 SHOP THIS LOOK:

I hope you enjoyed these tips on how to wear polka dots in the fall.Because the polka dot trend is here to stay.  And if your ever in Paris a trip to Versailles is a must! Whether you prefer the outdoors versus the palace there is so much to do! Thanks for stopping by!
P.S. Subscribe for weekly newsletters so you never miss a single post!