This past weekend we visited our house, and wrote bible verses throughout the framing in our new home. We wanted to make sure we found bible verses that were meaningful to us as a family. We found some for protection, for blessings, for our children, and for our marriage that resonated with us. So if you are building a home and plan to write bible verses in your home check out these thirty bible verses below.
Home Bible Verses
Proverbs 24:3-4 – "By wisdom a house is built, and by understanding it is established; by knowledge the rooms are filled with all precious and pleasant riches."
1 Samuel 25:6 – "And thus you shall greet him: 'Peace be to you, and peace be to your house, and peace be to all that you have."
Hebrews 3:4 – "For every house is built by someone, but God is the builder of everything."
Psalms 91:10 -"No evil will happen to you, no disease will come close to your tent."
Deuteronomy 28:6 –Blessed shall you be when you come in, and blessed shall you be when you go out.
Numbers 6:24-26 – "The Lord bless you and keep you; The Lord make His face shine upon you, And be gracious to you; The Lord lift up His countenance upon you, And give you peace."
Samuel 7:29 – Now therefore, let it please You to bless the house of Your servant, that it may continue before You forever; for You, O Lord God, have spoken it, and with Your blessing let the house of Your servant be blessed forever."
Matthew 6:11 – Give us this day our daily bread.
Joshua 24:15 – As for me and my household, we will serve the LORD.
Jeremiah 29:5 – Build houses and dwell in them; plant gardens and eat their fruit.
Isaiah 32:18 – My people will dwell in a peaceful habitation, In secure dwellings, and in quiet resting places,
Psalm 121:8 – Yahweh guards you as you come and go, now and forever.
For husband and wife:
Proverbs 14:1 – The wise woman builds her house, But the foolish pulls it down with her hands.
Ephesians 5:25 – "As for husbands, love your wives just like Christ loved the church and gave himself for her."
Colossians 3:13 – "Be tolerant with each other and, if someone has a complaint against anyone, forgive each other. As the Lord forgave you, so also forgive each other."
Corinthians 13:13 – "Now faith, hope, and love remain — these three things — and the greatest of these is love."
John 4:19 – "We love because God first loved us."
Corinthians 13:4-7 -"Love is patient, love is kind. It does not envy, it does not boast, it is not proud. It does not dishonor others, it is not self-seeking, it is not easily angered, it keeps no record of wrongs. Love does not delight in evil but rejoices with the truth. It always protects, always trusts, always hopes, always perseveres."
Children's Rooms:
Jeremiah 1:50 – "Before I formed you in the womb, I knew you. Before you were born I set you apart."
Samuel 1:27 – "For this child I prayed and the Lord has granted the desires of my heart."
Luke 2:40 – "And the child grew and became strong in spirit, filled with wisdom; and the grace of God was upon Him."
Jeremiah 29:11 – For I know the plans I have for you," declares the Lord, "plans to prosper you and not to harm you, plans to give you hope and a future.
Psalm 46:5—"God is within her, she will not fall."
Philippians 4:13—"I can do all things through Christ who strengthens me."
Proverbs 31:25 – "She is clothed with strength and dignity; she can laugh at the days to come."
Psalm 28:7 -"The Lord is my strength and my shield; my heart trusts in him, and he helps me. My heart leaps for joy, and with my song I praise him."
Psalm 127:3-5 – "No doubt about it: children are a gift from the Lord; the fruit of the womb is a divine reward. The children born when one is young are like arrows in the hand of a warrior. The person who fills a quiver full with them is truly happy!

 
Proverbs 3:5 – Trust in the Lord with all your heart, And lean not on your own understanding;
2 Timothy 1:7. – For God gave us a spirit not of fear but of power and love and self-control.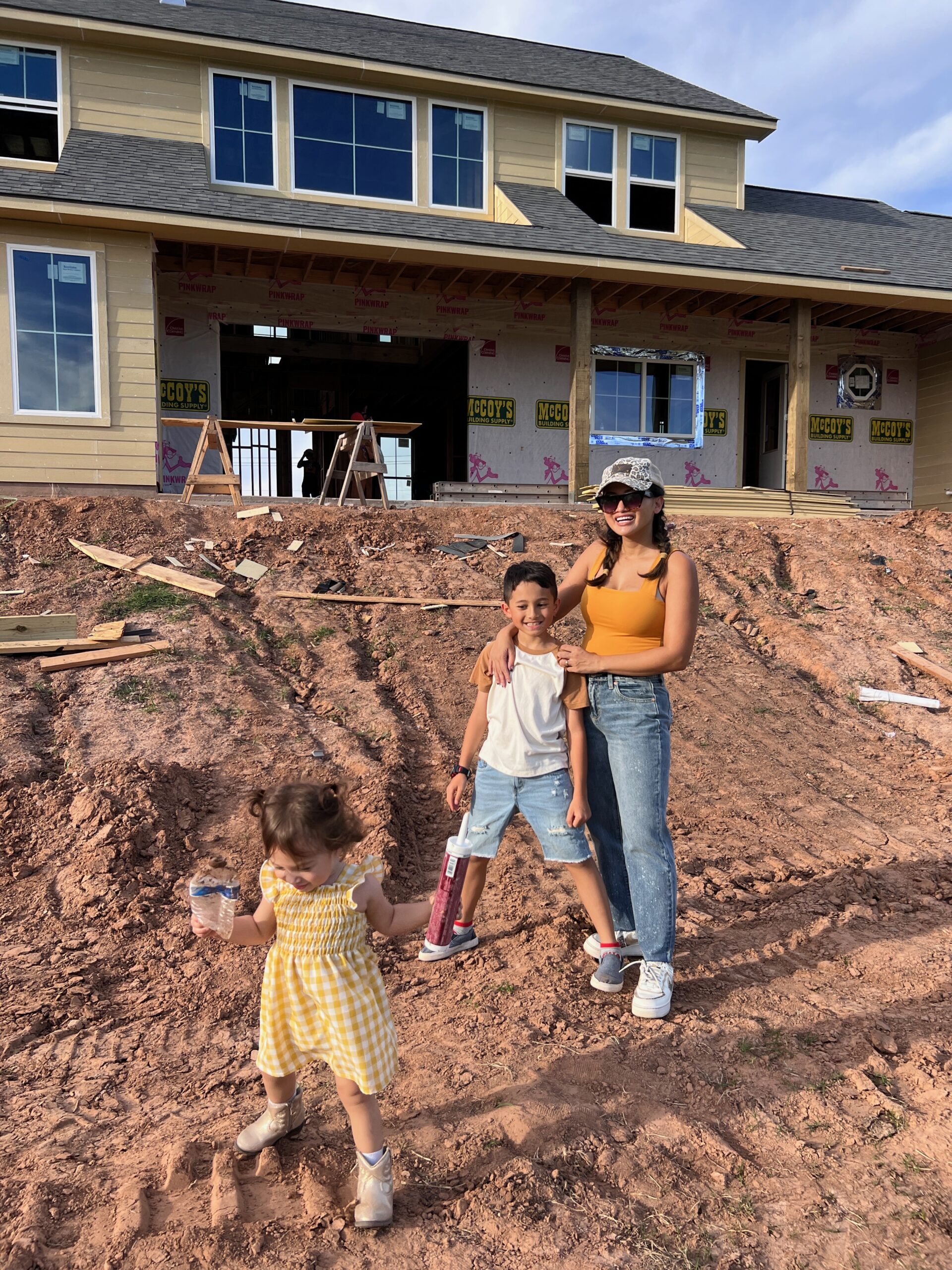 I can't believe how fast our house is getting built. We are almost done with framing and have already started the plumbing, hvac, and electrical. I also did a preliminary cabinet walk through as well. Check out more of our home build on Instagram or read these post here!
P.S. Subscribe for weekly newsletters so you never miss a single post!