Happy Friday everyone! This mama is excited for all the fun activities we have planned this weekend, but I think I am more excited for my alone time. Today I am getting a little personal with you, in my no judgement zone, about why this mama needs her weekends off. Sometimes I feel we have this perception that moms have to do it all, when the reality is not the case. We all struggle and we all need a little help and that's why I am sharing my mom confession. Plus I had to share these adorable photos of my little guy. He is seriously a little goof ball just like his daddy. I can never keep a straight face around this boy. Ya'll he is getting so big, and recently he keeps correcting me when I call him my baby. He says he's my big boy! Uggh it breaks my heart a little when says that. Check out these photos and more of my post below!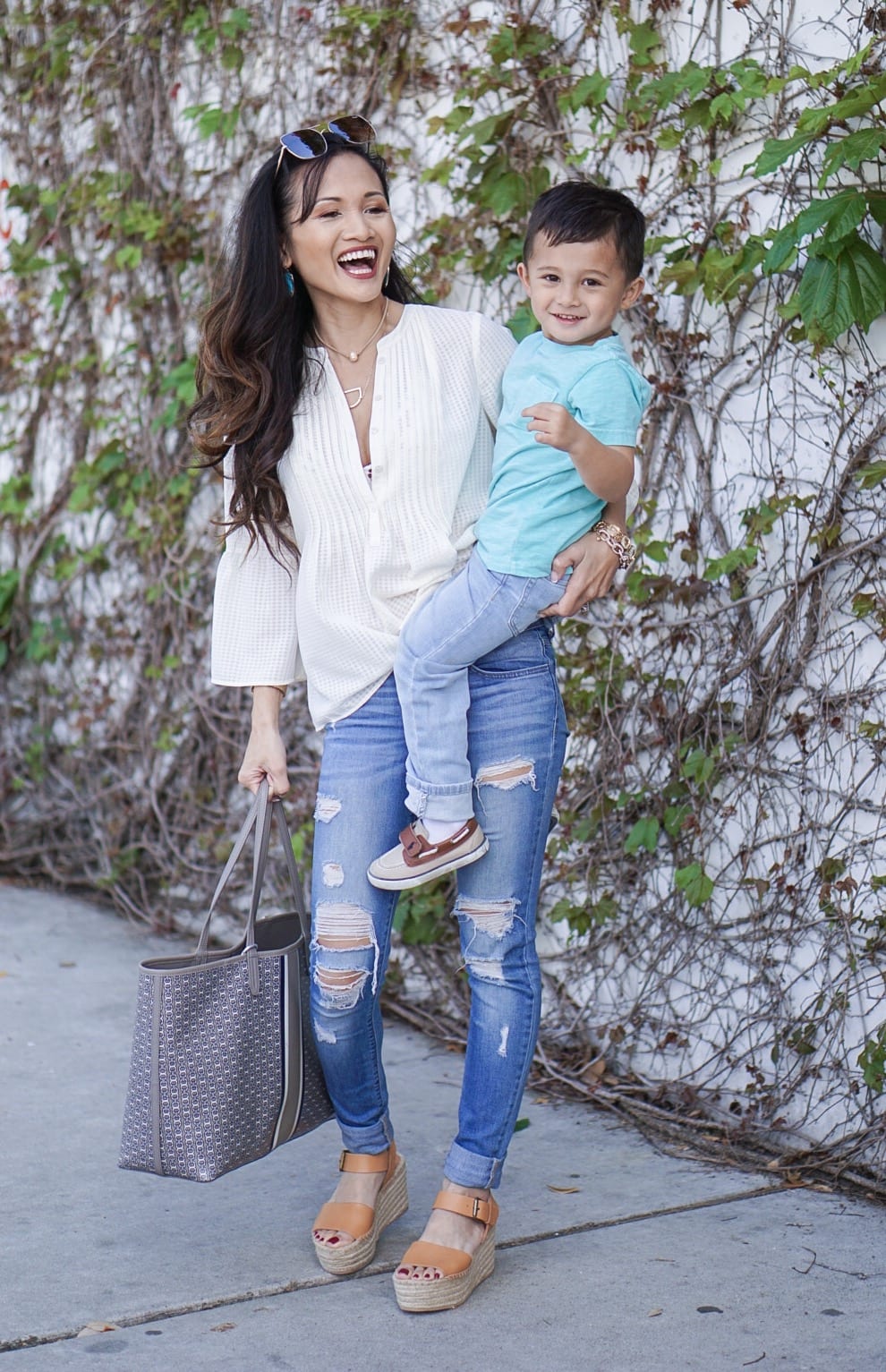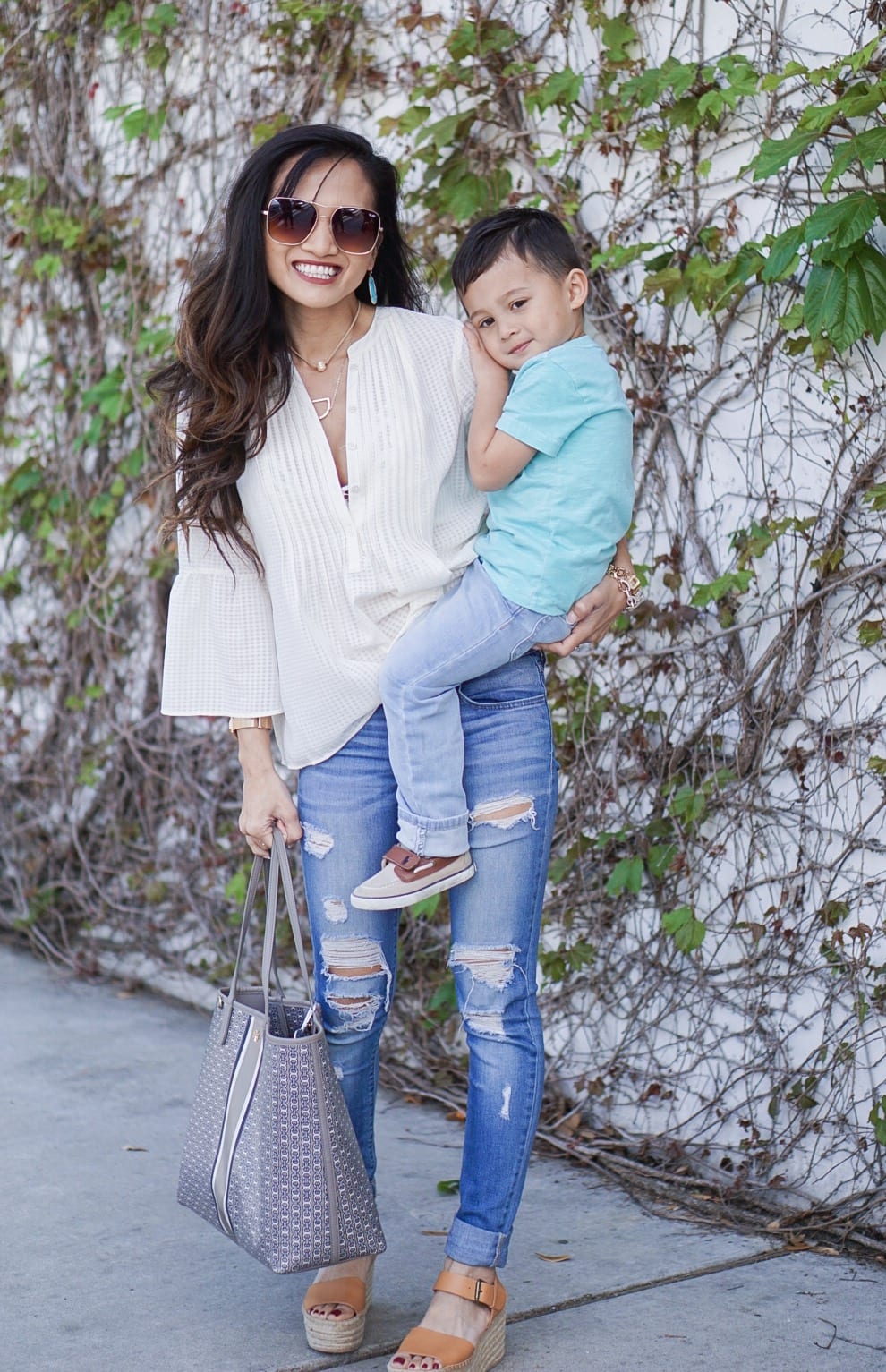 Let's first just say I love being a mom. It's the one title that makes me the most proud to be, especially the mom to my sweet, smart, handsome little man. He is my world, and I would do anything for him. But in the beginning when I first had Jayden it was hard for me adjusting to motherhood. My vision of being this fun cool mom did not mesh with the realities of no sleep, not showering for days, and having this little human depend on me for every little thing. Being a cat mom does not prepare you for being a human mom lol. I was tired, hungry, and unhappy with myself for not living up to this dream I had for being a fun cool mom.
I remember one day late at night I was up scrolling through Facebook trying to get back to sleep after breast-feeding Jayden, and I read a post about some famous mom getting "mom shamed" because she disclosed how she had her family watch her daughter on the weekends so she could get time to herself to travel or do whatever she needed to do. I remember reading these hateful comments and thinking to myself I wish I could be her, I wish I could have my weekends off. But then I felt guilty because I wanted to be her. I mean only celebrities gets those luxuries right? I mean we hear these stories from our moms about how they did it all, and how they never had any help, and all their sacrifices they made for us, and it just makes us feel like shitty moms in comparison right? Sorry excuse my language. But it does. I love my mom, and I love everything she did, but even when she sacrificed everything she had help. I had a nanny growing up and we were very close to our family because our Aunts would watch us too.
I think there's this horrible stigma as moms that we have to do it all. It's actually down right unhealthy. Because if we are doing it all then when do we have time to take care of ourselves? I remember one day three months into being a mom, I blew up at my husband, and I told him, I need more. I need more help, I need more time for myself, and I need more than just being a mom to be fulfilled in life. It was around this time I wrote a post about my postpartum depression on my blog that ended up getting published on the Huffington post, and that's when my blog became my outlet. My something "more". It was God's way of showing me that in my struggles there is always a light, because overcoming our struggles makes us stronger and makes us the person we are meant to be.
Three years later, I can say it does get better. I made time for myself, I asked for help, a lot of it, and I stopped feeling guilty for the things I couldn't do or didn't want to do. I knew what kind of mom I wanted to be, and I finally found my way to become it. I am a stay at home working mom. And I am a fun mom! From the moment Jayden is up to the time he is asleep I try to devote a 100% of my time as a mom to him. And between play dates, school, swimming, t-ball, and just everyday life I am exhausted at the end of the day. But my day doesn't stop there, once Jayden is asleep is when I get my work done for my blog, and usually I am not asleep until 3am and up at it again at 8am. Also my husband works nights and for two weeks on, and so he isn't there to help out with the bed time. I fly solo for the most part. When the weekend rolls around I am done. Literally exhausted and tired out of my mind. And that's around the time when cranky mom comes around, and I hate being that mom.
Thankfully we are blessed to be only 15 minutes away from all of our family. Because they help out so much with Jayden. Jayden loves his sleep overs with his Ya-ya and his Lola (nicknames for his grandmas). His fun time never ends! He gets the best time with his mama during the week and gets even more love and attention from his grandparents and aunts over the weekend. And as a momma that's all I could ever ask for. I get tons of compliments about Jayden being so smart, happy, and well-adjusted every time we go out. I wish I could take all the credit, but I can't. He is that way because he gets all the love and attention a child could ever need. He is confident, independent, a little spoiled lol, but that's ok, because he is spoiled with love.
And me, well what do I do on my weekends off? Laundry lol. But really I catch up on all the house work that has been put off during the week, I catch up on sleep, I catch up with friends, I catch up with some much-needed alone time with my husband, I catch up on my favorite TV shows, and I catch up on my work for my blog. So when the new week starts up, I am back, refreshed, and ready to be a fun mom again! This is why this momma needs her weekends off as a mom. And I don't feel an ounce guilty about it or ashamed of it.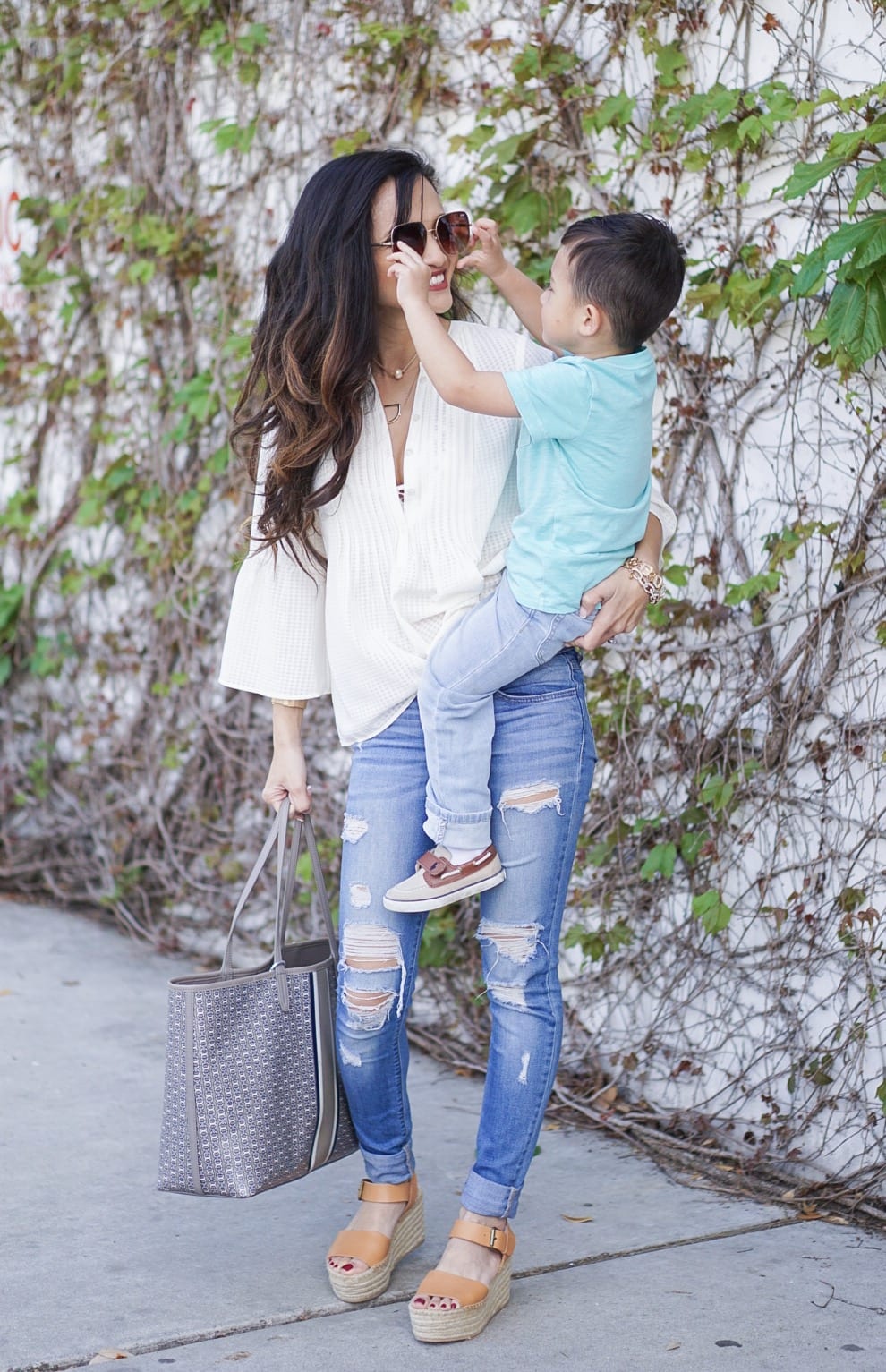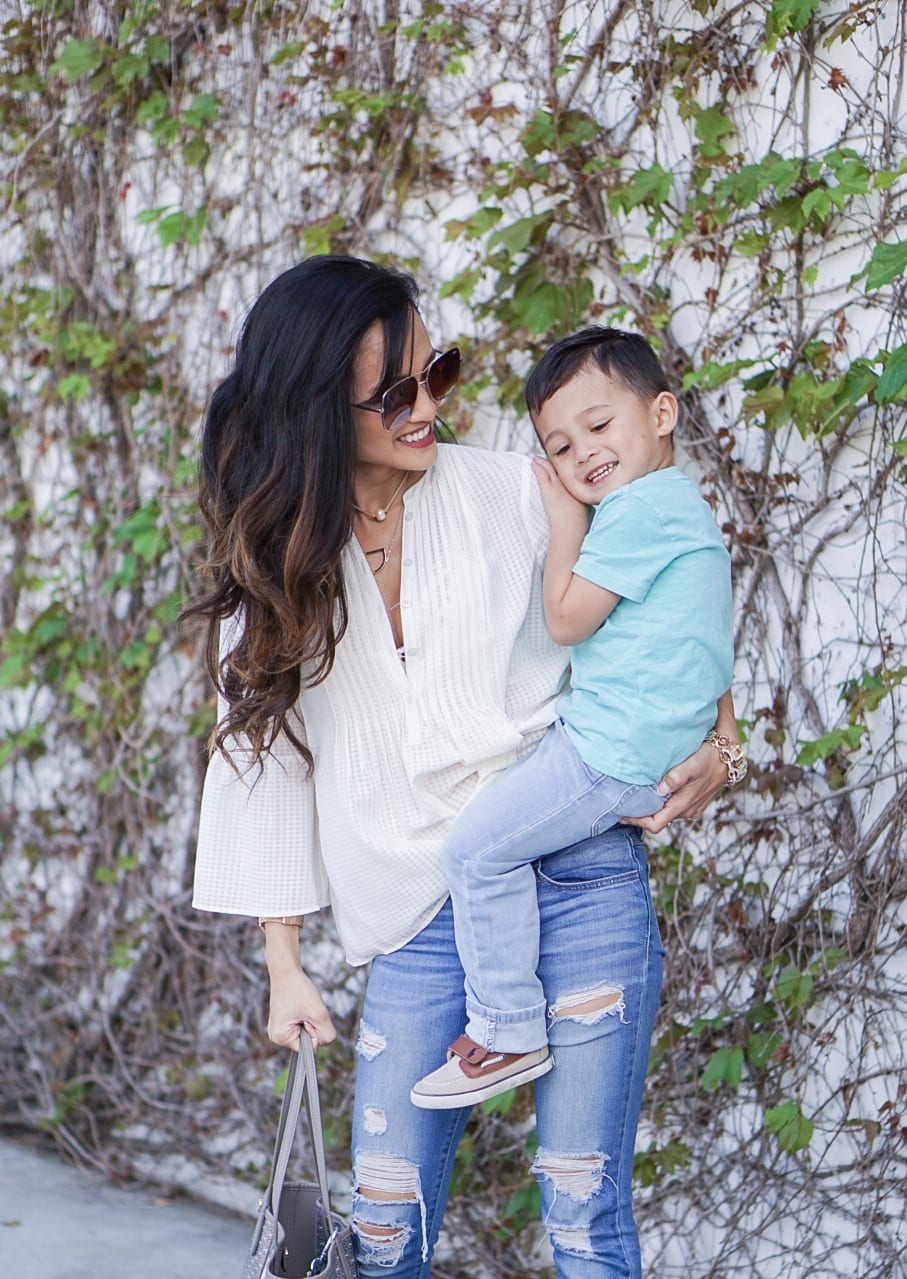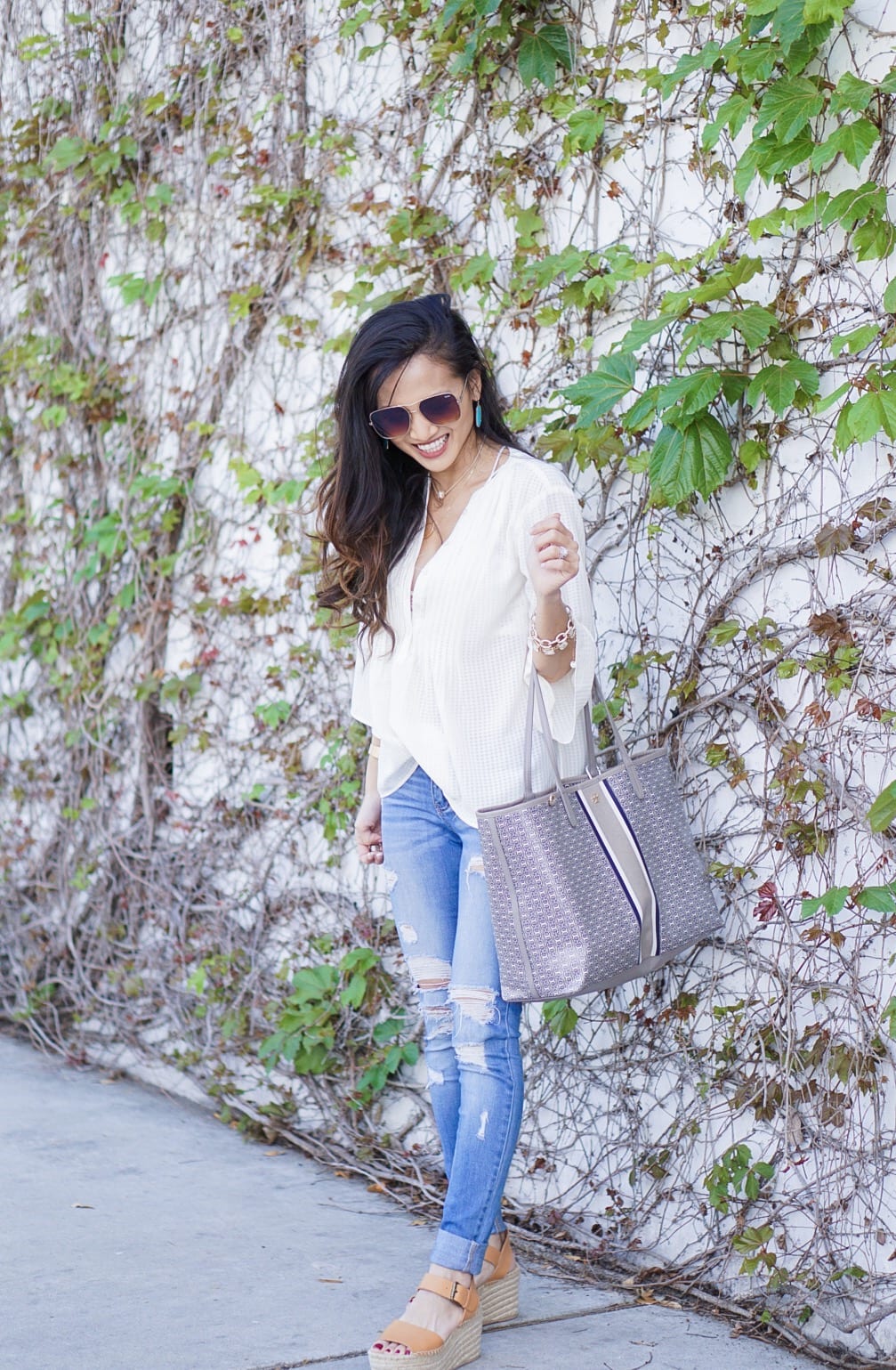 SHOP THIS LOOK:

I took these photos at Tiny's No 5 where we always go for our weekly brunch with our mommy friends. I love being cute and comfy on these days because I know I will be running around with the little guy. This bell sleeve pin tuck blouse is a great every day top that will go with everything, and will keep you cool as the weather warms up. My Tory Burch tote is my go to bag because it carries so much and these wedges y'all! Can they be any more perfect for Spring? They are cute, comfortable, and go with everything. I wore it with this cute Easter inspired outfit too!
I hope ya'll have a great weekend! Moms what are some ways you get help when it comes to taking care of your kiddos? Do you take weekends off? Comment below, I would love to know!
P.S. Subscribe for weekly newsletters so you never miss out on a single post!