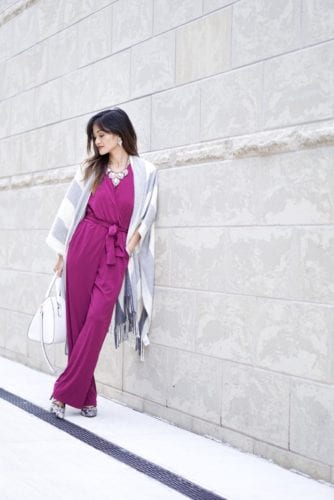 jumpsuit c/o| heels c/o| bag c/o| necklace (similar style)|poncho (similar style)
Last weekend my husband and I attended his ten-year high school reunion. I wore this fun and vibrant jumpsuit. It was so nice to meet all of his friends he grew up with and to see the type of friends he hung out with. Since we started dating my husband has only really went out a handful of times with his friends and for the most part it was with his cousins. He's definitely opposite of me when it comes to being social and hanging out with friends. I guess I take it as a compliment that he only wants to hang out with me, hahaha, jk! 😉  Also, it was such a pleasant surprise  when all of his friends already knew me through  my blog. Josh always shares how proud of me he is with all his friends, and it really made my night. I seriously have the best husband in the world. He is just an all around guy.
Now back to the perfect jumpsuit and my one size fits all gift guide for her for the holidays…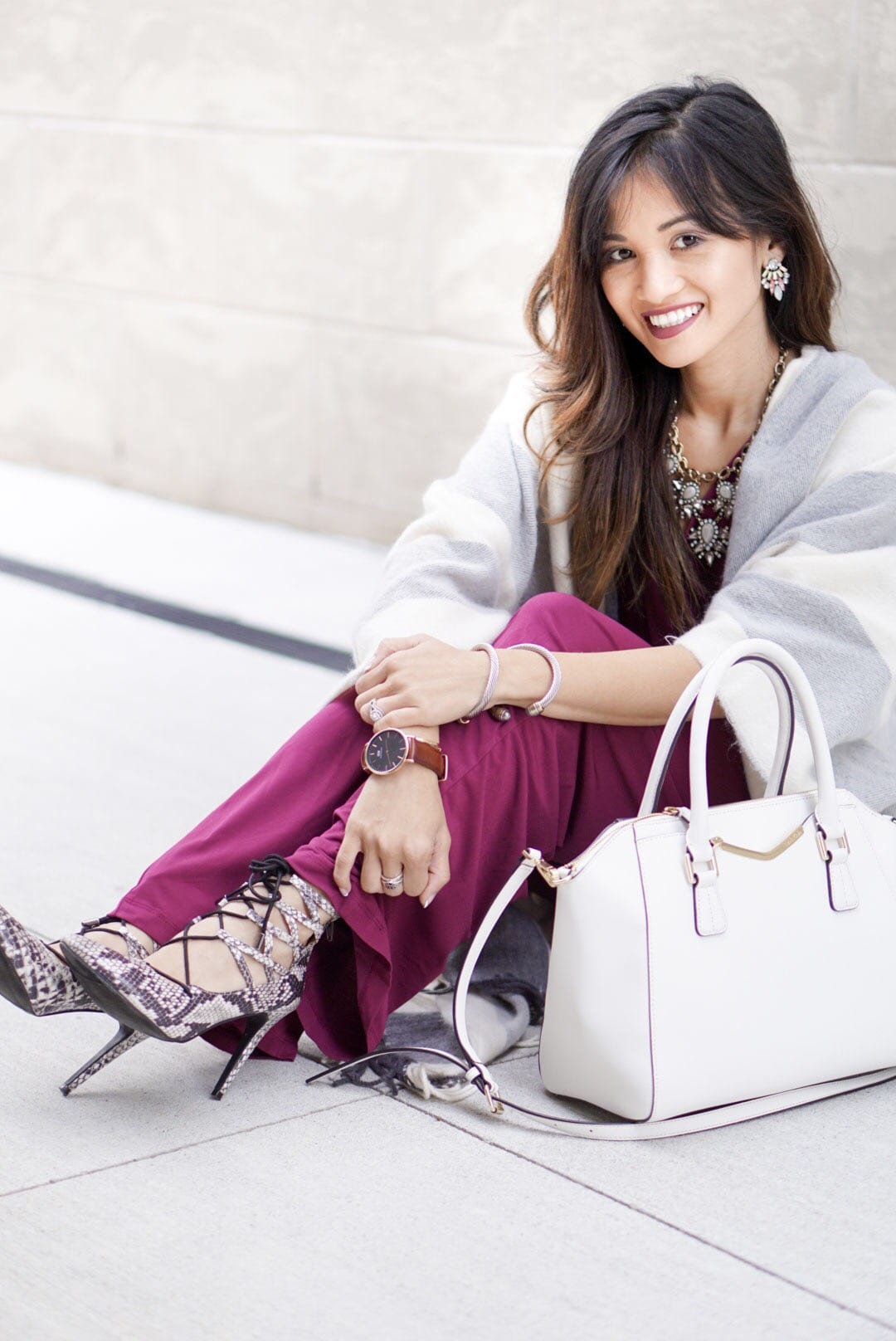 I have been wanting a jumpsuit for a while now, but I was so against the basic black that they normally come in. If you have noticed I never wear all black. I have never been a fan of all black one me, so when I found this jumpsuit I knew I had to have it. First of all it comes in petite size, so the length and the size for the XS was perfect, and it also comes in six different colors! Currently it is on sale for under $40 and Macy's is giving an extra 20% plus free shipping over $50 off this week to gear up for Thanksgiving. Use the code "GOBBLE" for the discount.
When it comes to accessorizing for fall I love this one size fits all striped poncho. I first wore this here to my trip to Magnolia Market. It is the perfect layering piece for colder weather to transition your jumpsuit from summer to fall. These heels are one of my favorites and I wore it first in this post. It is currently on sale for 40% off! My watch is one of my favorites and you can find it here. Use my code "DAWN" to take 15% off your purchase
So when it comes to shopping for that special lady on your wish list, it might be hard if you don't know their size, however, I've compiled some one size fits all gifts for the perfect gift this holiday.
1. Kate Spade Bag – Let's make a statement
2. Classic Scarf – Never go out of style
3. Kendra Scott Necklace – Everyone loves Kendra!
4. Kate Spade Wink Beanie – too cute!
5. Tassel Earrings Gift Set – 3 is better than 1
6. David Yurman Bangle – Splurge a little!
7. Striped Poncho – it goes with everything
8. Daniel Wellington Watch and Cuff Gift Set – Get 15% off with the code "DAWN"
(Click on product image to shop the image below.)
So whether you are shopping for your wife, mom, sisters, or best friend these gifts are perfect for any special lady on your list.  I hope you enjoyed this post! Stay tuned for more gift guides next week including a comprehensive Black Friday and Cyber Monday Shopping guide, and make sure you subscribe for the latest from the blog.