Thank you Lionesse  for sponsoring this post.  As always all thoughts and opinions are mine alone. Thank you for supporting those who support this blog.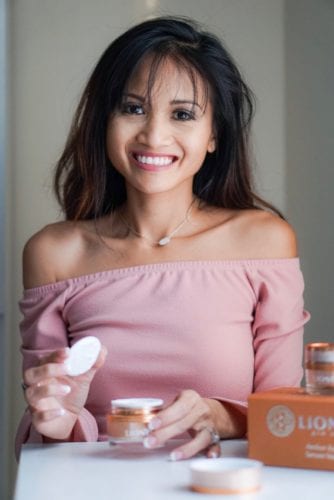 When the opportunity presented to me to review $1200 in eye creme products from the Lionesse Amber Collection, I was very skeptical at first. What skin care product would be worth $1200? Does it work miracles? And who alone could pay this much for skin care?  Definitely not a momma on a budget like me! But what I did know was I had serious dark circles under my eyes, caused by lack of sleep, and exhaustion that comes with the job of being a mama to a very active kiddo while trying to blog in the wee hours of the night.  And if this could get rid of my under eye circles then I why not give it a shot. So I ordered the Lionesse Amber collection, and this is what happened.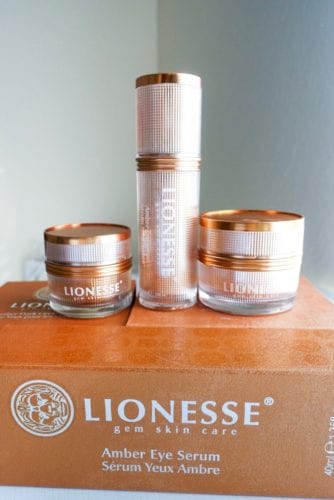 "Lionesse a leader in luxury skin care with an eye toward enhancing the complexion and giving skin a more youthful appearance.

Embrace your skin's bare and natural beauty and face your fierce, with Lionesse."
The Lionesse Amber Collection which retails at $1200 all together comes with three different products: The Amber Dark Circle Eye Cream, the Amber Eye Cream, and the Amber Eye Serum. Here are the details of each product from the site:
Amber Dark Circle Eye Cream – $400
Formulated with Vitamin A (Retinyl Palmitate), Vitamin E (Tocopheryl Acetate) and Caffeine, this light-weight eye cream instantly reduces the appearance of dark circles and puffiness under the eye area for brighter, well-rested look.

Amber Eye Cream – $400
Reduce the appearance of under-eye puffiness with this light-weight eye cream. Formulated with Caffeine, Vitamin E (Tocopheryl Acetate) and Palmitoyl Tetrapeptide-7 this hydrating eye cream will leave your eyes looking younger and rested.

Amber Eye Serum – $400
Reduce the appearance of fine lines and wrinkles with this soothing, light-weight serum. Formulated with Palmitoyl Oligopeptide, Vitamin C (Ascorbic Acid) and Aloe, this serum will leave the skin surrounding your eyes looking younger and tighter.
So for three weeks I used the Lionesse Amber Collection everyday, and within a week I could notice the difference. When week two rolled around I felt confident enough to go to the gym with no make up on and just the eye cream. I noticed within minutes of the application it illuminated my skin under my eye so the appearance of the dark circles and tiredness were almost invisible.
If you followed me on snapchat you might have seen me bare face from the gym looking refreshed with glowing skin, and not have anything but the Lionesse Amber Collection on. I don't know what it was but the puffiness went away, even when I had less than 4 hours of sleep. I would wake up and put this on and be good to go about my day without an ounce of concealer or makeup. And being a busy active momma, I spend most of my days in workout clothes and barely have time to put on makeup. It was nice to not have to spend the extra time to put on make up, when I can feel just as confident in my own skin.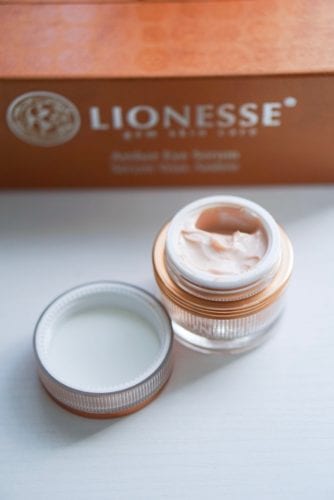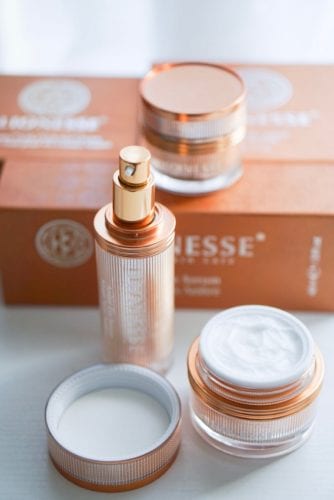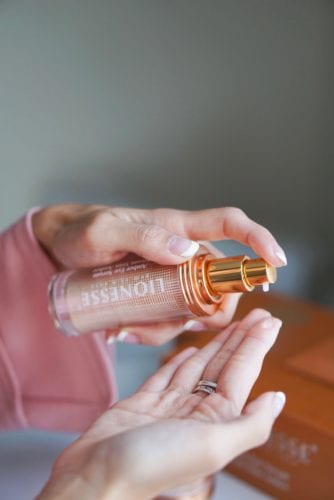 "The newest beauty campaign for Lionesse, 'Firece Femelle,' promotes originality and embraces natural beauty. A Lionesse woman is resilient to society's idea of beauty as she radiates splendor through her bare luminous skin.  Women are as magnificent as they are unique, and as strong as they are alluring. Face your Fierce. You are a Lionesse."
I love this new campaign for Lionesse. It honestly made me feel fierce and confident in my own natural beauty when using the Lionesse Amber Collection.  I felt like a movie star at one point in my athleisure outfit running errands with my little guy and looking refreshed like I had a full night rest. And now I know why people would invest in this luxury skin care, because it is worth it. I currently used Clinique before this, and I love their skin care line (check out my review here), but it is no comparison to the Lionesse Amber Collection when it comes to getting rid of dark circles under your eyes. This stuff is a mommy miracle worker lol. Well if you ever get a chance to try this out, I would definitely recommend it. I know I was skeptical at first, but now that I have used it I am definitely a believer in the luxury skin care line Lionesse Amber Collection. Thanks for reading! Have a great day!
P.S. Subscribe for weekly newsletters so you never miss out on a single post!