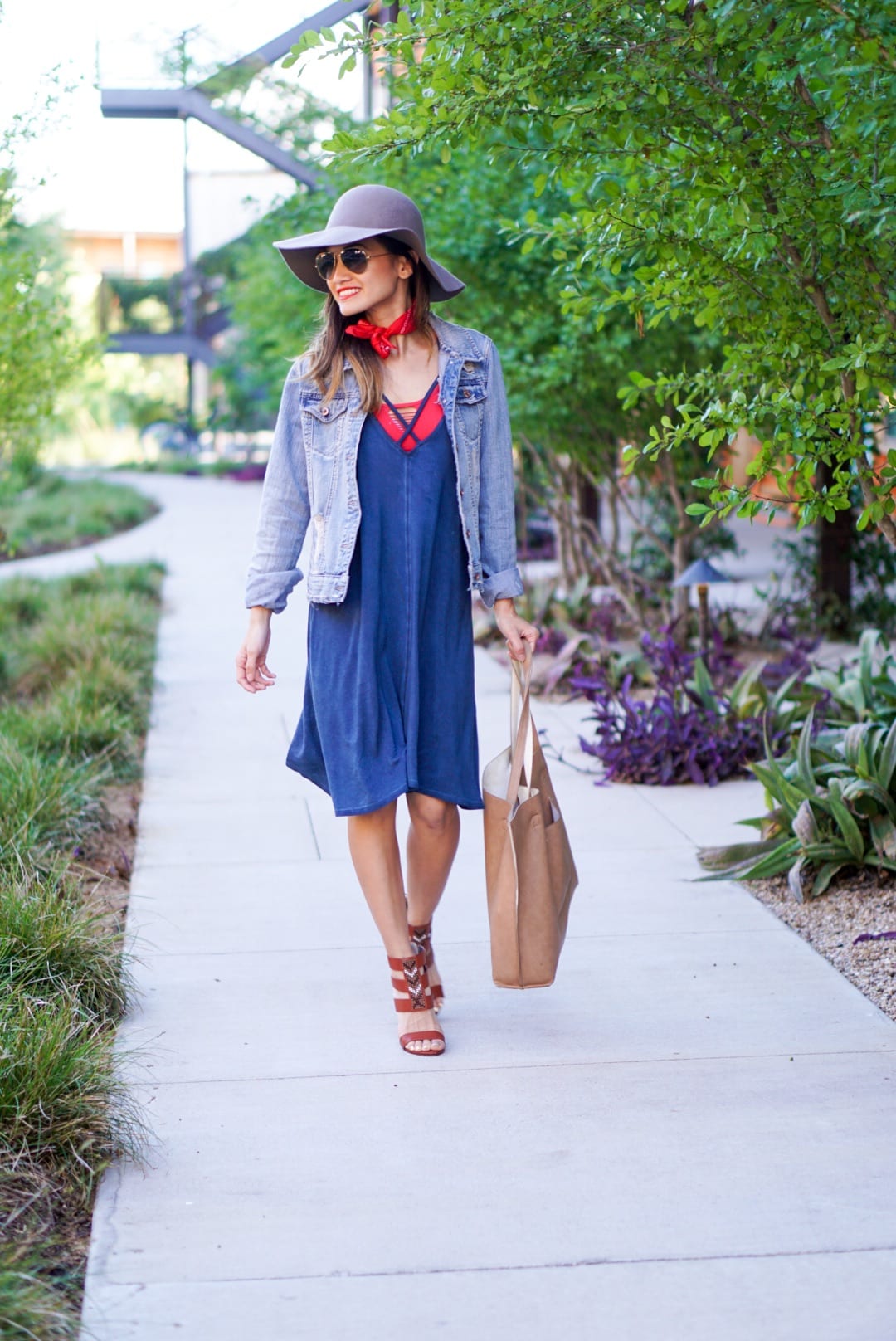 Hey guys, hope you are having a great week! Since I've gotten back from my trip last weekend, the little man and I have been under the weather these past couple of days. But I finally finished editing some of my outfits I wore this weekend, and I can't wait to share with you this casual and comfy trendy summer look. I live in tank dresses in the summer. As a mom, tank dresses are a comfortable and cool alternative to shorts in this Texas summer heat. I wore this outfit on our road trip to Austin this past weekend. Below is more of how I styled this outfit this past weekend. And read more on my tips on how to style a tank dress, and some of my favorite tank dresses for summer.
This tank dress is less than $30, and is one of the most comfortable dresses I've ever worn. I love how long it is, so I don't have to worry about being indecent when I bend over, or if I am actively chasing the little man around. Online there are only larges left but I linked some other of my favorite casual tank dresses below.

Here are four ways to rock a tank dress in the summer:
1. Accessorize with a bandana – I love bandana's for the summer, they are the most versatile accessory, next to a scarf for fall. I love tying it in a small bow around my neck.
2. Wear a bralette – Small chested like me? Bralettes will be your new best friend. I love the comfort, and freedom of a bralette. This summer is the perfect time to show off your bralette when you are wearing your tank dress.
3. Layer with a denim jacket – A denim jacket is the must have jacket for summer. It goes with everything and is the perfect layer to go over your tank dress for those cool summer nights.
4. Dress it up with summer heels and wedges, or dress down with your favorite sneakers and flats. I love these stylish blocked heels I paired up with this dress. Block heels are a comfy crossover between a heel and wedge and make the perfect shoe for summer.
SIGN UP FOR LIKETOKNOW.IT TO SHOP THIS LOOK:

Not receiving LIKEtoKNOW.it emails? Re-register now at www.liketoknow.it/settings to have my ready-to-shop outfit details sent direct to your inbox with a 'like.' 
I hope you enjoyed these tips on how to wear a tank dress for summer! If you love it feel free to Pin it on your boards and follow me on Pinterest for more summer style inspiration. Thanks for following along!