FEATURED ON THIS POST:

Hi friends!
Hope you are doing well! Fall is officially underway and I'm here for it! We have a couple trips planned in October so I've been doing a lot of shopping for our trips. I found this cute Southwestern jacket and I can't wait to wear it in cooler weather. It's definitely not cold enough down here in Houston for it. Check out how I styled this Southwestern jacket for a dressier look below!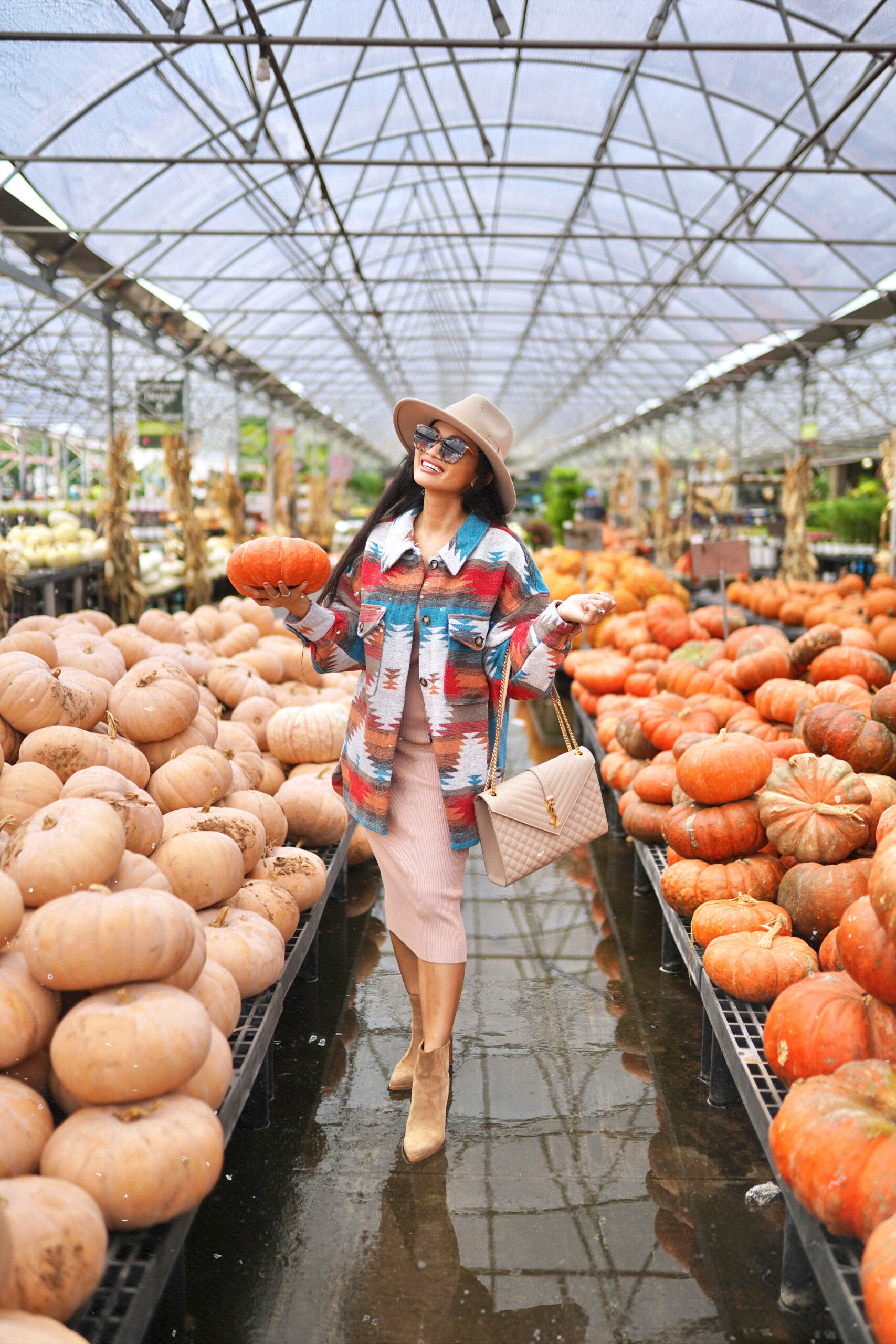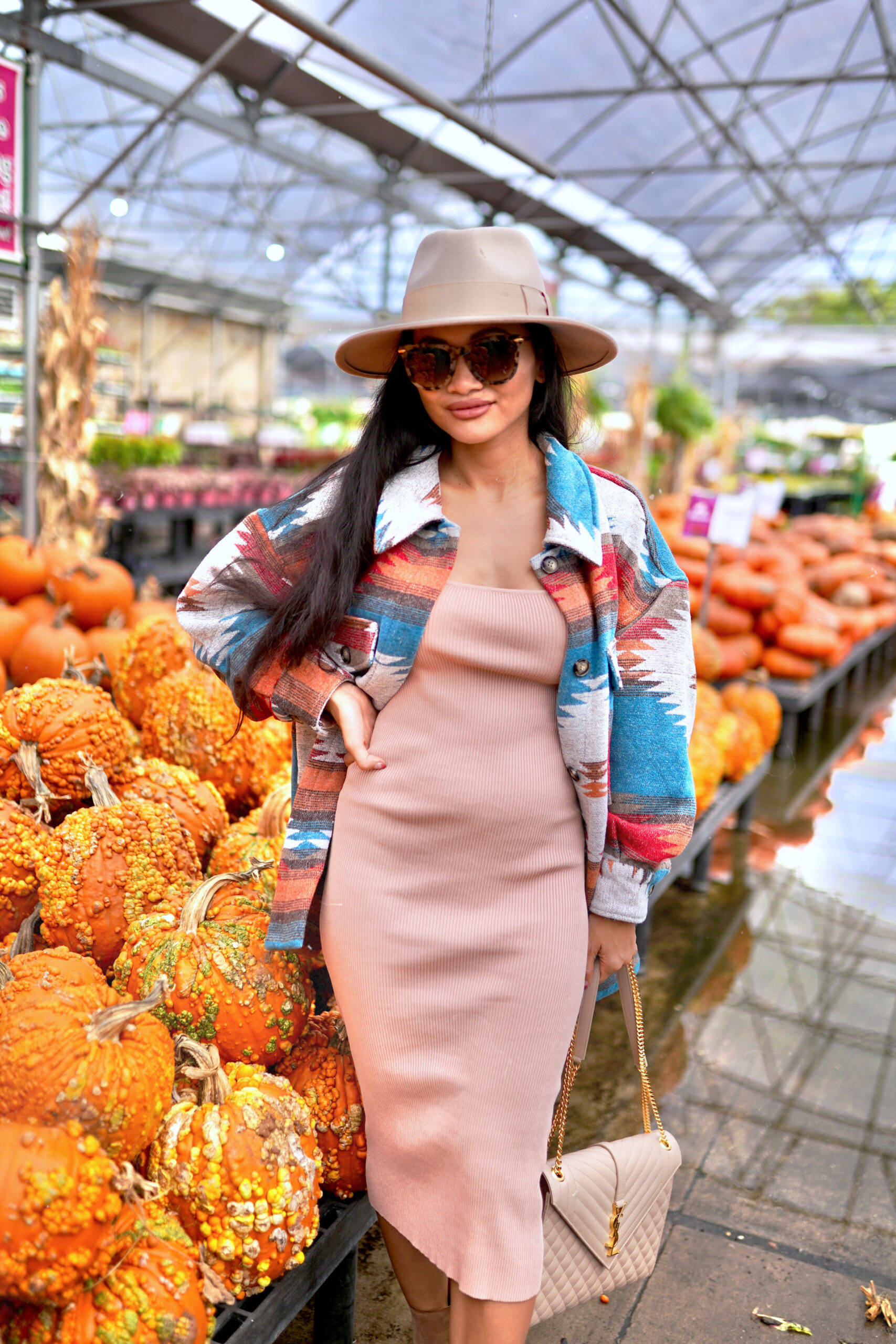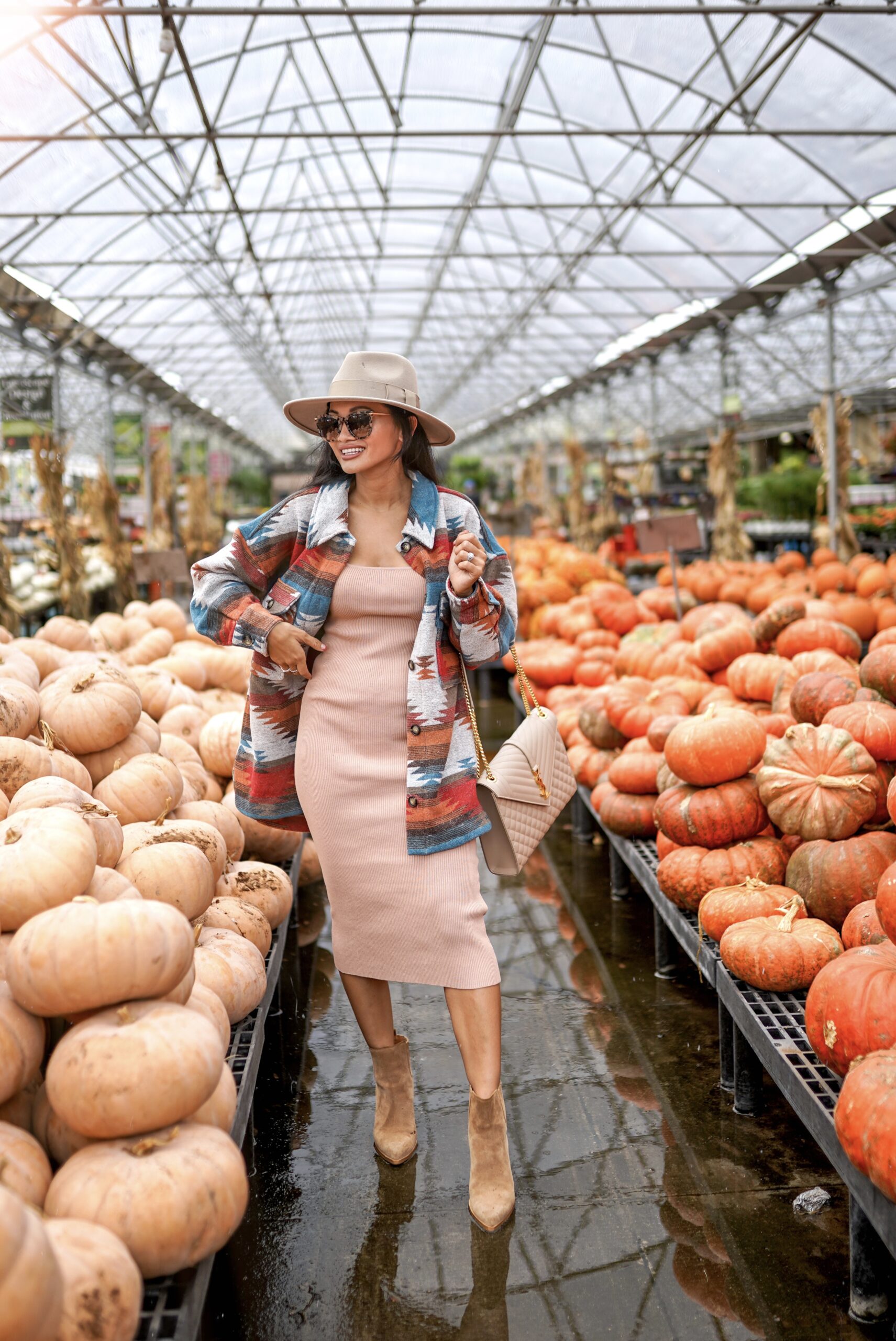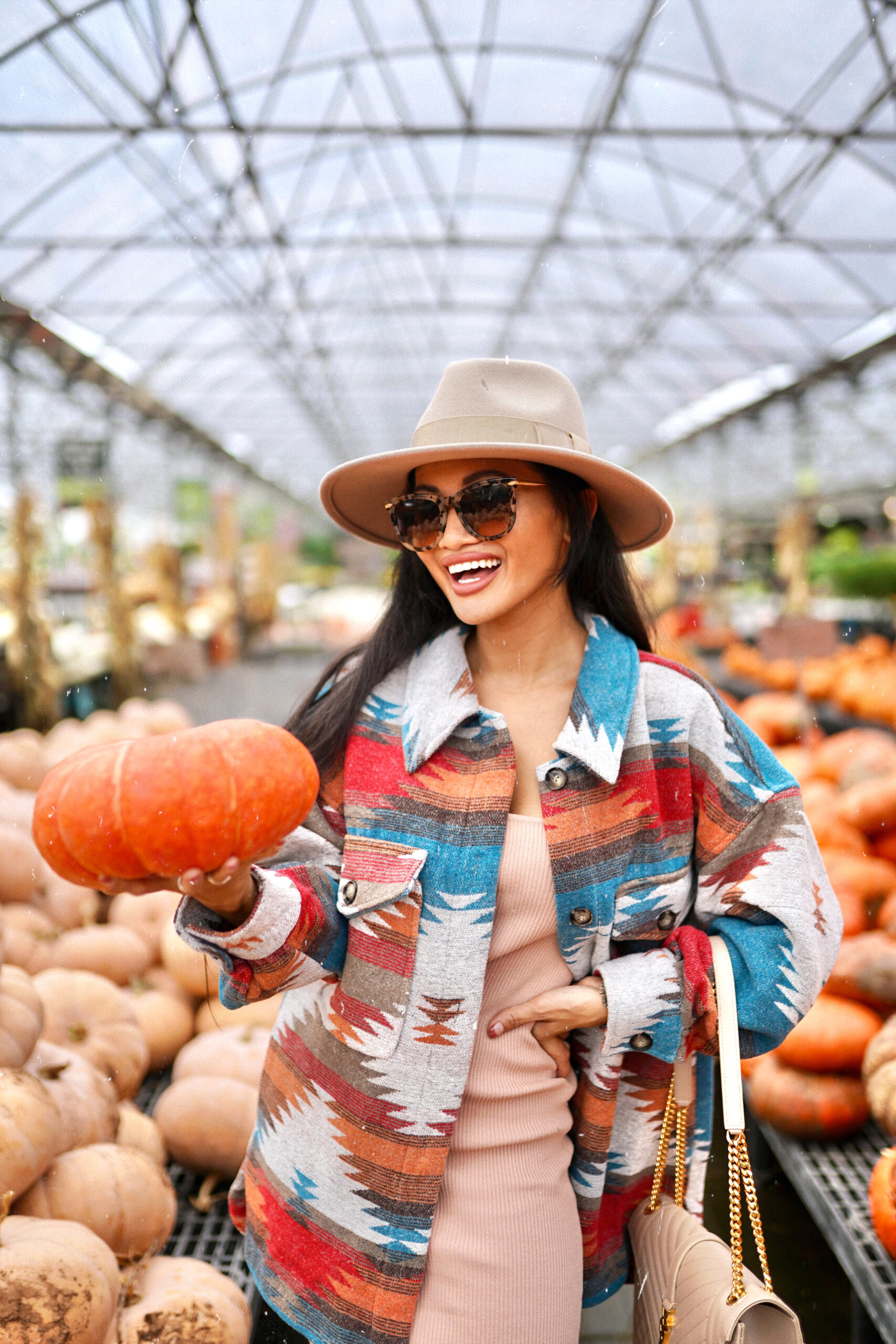 You are not going to believe it but it was raining cats and dogs in this photo hence why the concrete was wet. Luckily Cornelius Nursery was covered or we would have been wet too! Cornelius Nursery always has the cutest pumpkins to decorate for fall. Plus it's probably the only fall vibe in Houston where true fall doesn't really even begin until Winter.
I love pairing this jacket with this midi dress and booties. It's easy to throw and go and super comfy too. I feel like dresses allow for more breathing and stretching room than jeans. And though it would be cute with a tee and jeans, it's still too hot for jeans in Houston. For my accessories I am wearing my favorite polarized glasses (great for driving) and my Brixton hat I got at the Nordstrom Anniversary sale. Seriously these hats are the best quality and such a great price. They go with everything! Last but not least, probably my favorite accessory and my recent anniversary gift from my hubby my newest designer bag. I love this YSL envelope bag in large. This has been on my wishlist for awhile. I think it's such a classic YSL bag that will never go out of style.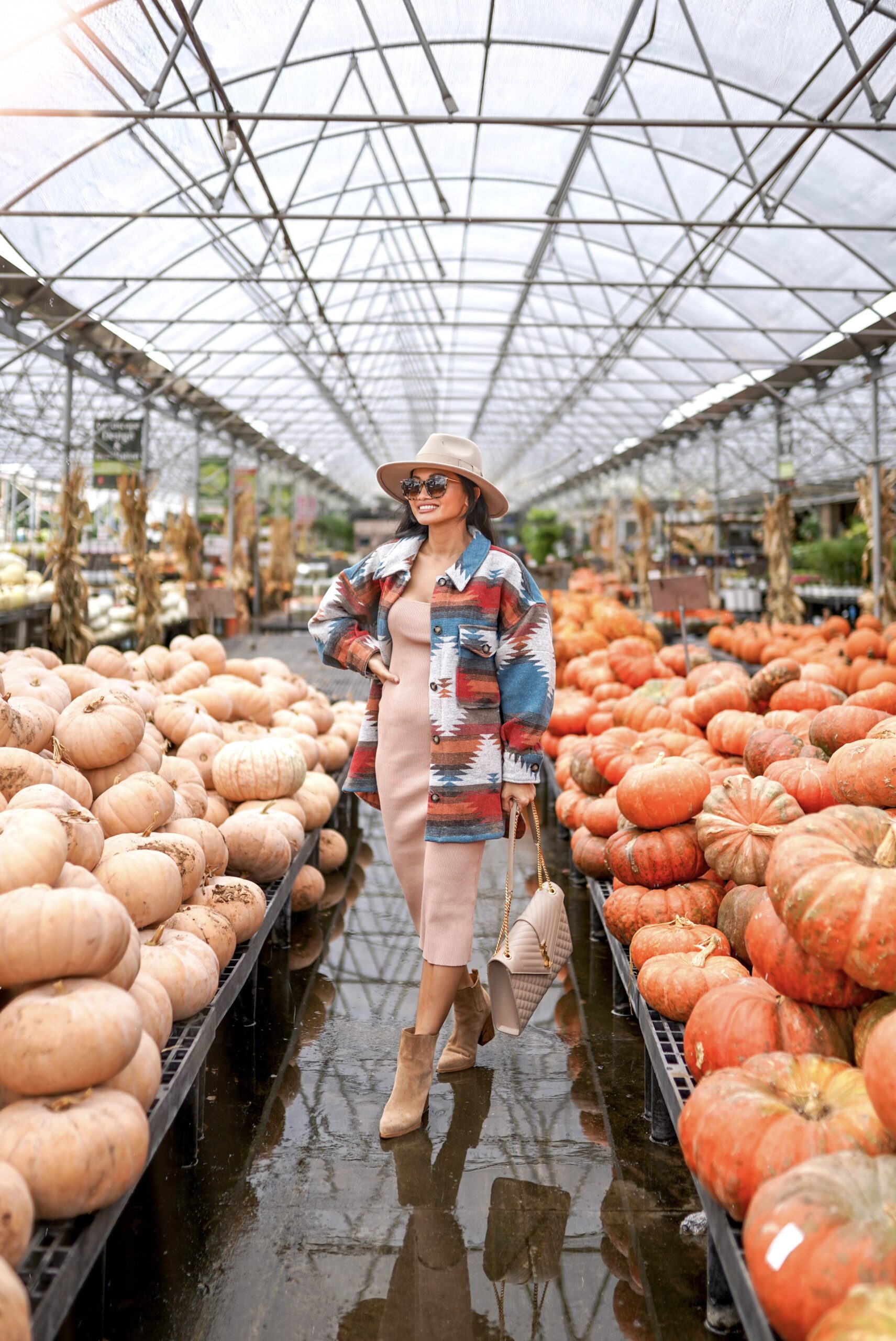 SHOP THIS POST:

I hope you enjoyed this southwester jacket fall look. In other news we officially start flag football season and you are looking at Jayden's new coach. I know what ya'll are thinking, does she know anything about it. Well lets just say I've been doing a lot of reading and watching videos. But they needed someone to volunteer as a coach since there were so many kids that signed up. And I didn't want those kids to miss out on a chance to play for the season, so I said why not. It'll be a fun experience and I am excited for it! Are your kiddos doing any fall sports this year? Thanks for stopping by!
P.S. Subscribe for weekly newsletters so you never miss a single post!