This past weekend my husband and I had the opportunity to attend a close friend's birthday at the new Oporto in Midtown. The restaurant was amazing, great venue, reasonable prices, good food, and amazing white sangria. If you haven't been there it, I would highly recommend it. Plus they have their own parking garage  and valet which makes it so much more convenient with all the traffic and construction down there.
It was a Thursday night, and we were fortunate to have my mom watch Jayden for the night while we went out. We don't go out often as a couple, and it's rare we get to go downtown. I love downtown, but since we moved out in the suburbs of Clear Lake, it is quite a drive to get there, and sometimes the traffic makes it unbearable. Now even though we had an eleven o'clock curfew, we were excited to get dressed up and hang out with our "cool" friends, and by cool I mean not tied down with kids. So that meant that night we got to be a cool couple once again. No talking about kids, it was all about my friend's birthday that night.
 I decided to dress a little more daring than my usual jeans and a t-shirt mommy uniform. I found my pleather pants I haven't worn since before I was pregnant with Jayden. It felt so good to get back in those pants and rock high heeled boots. I paired it with my new off the shoulder black floral embroidered blouse you can find here for under $20. My husband loved my outfit that night. Even though we didn't stay past midnight, it was a great couple hours to escape and feel like Cinderella for the night, before retiring back to my suburban mom life. But even after all the glitz and glamour, I wouldn't have it any other way because at the end of the day I get to snuggle up with the love of my life and our precious little guy.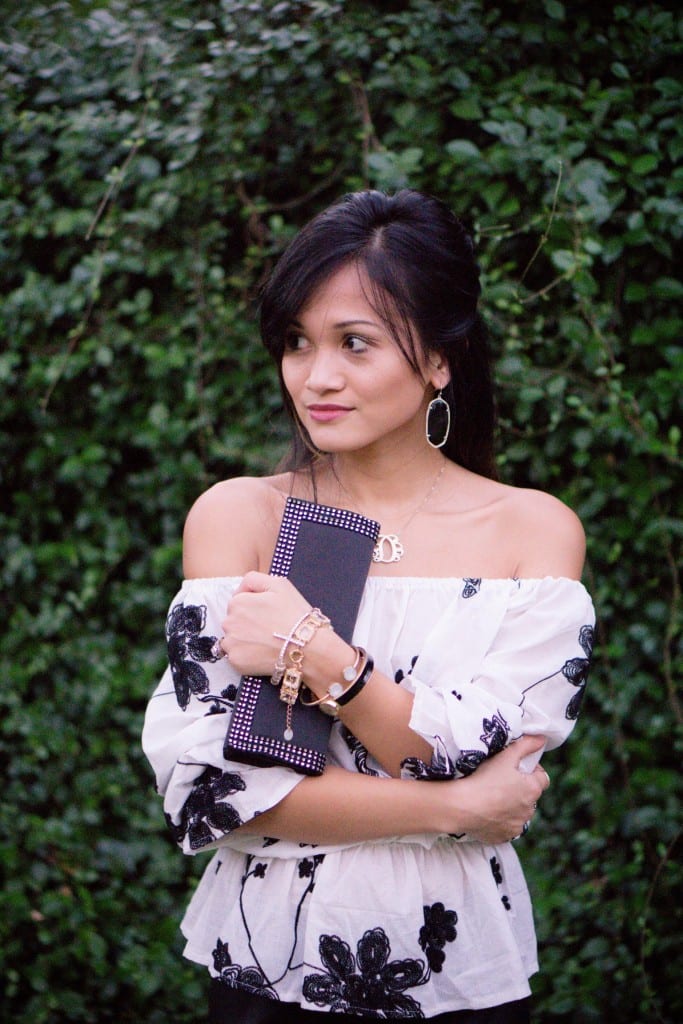 My favorite accessories:
Burd Life Aurora Goddess Bracelet
Monogram Initial Necklace Gold
Shop a similar look here:
 Thanks for stopping by!
🙂 Dawn