Hi friends,
Hope you are doing well! I recently posted on Instagram this video of our baby must haves in our bedroom baby set up. It has been so helpful for my followers on Instagram that I thought I would share it on a blog post here. When setting up our bedroom for Ella's first couple months with us I wanted to make sure I had items that I could easily use in other areas of our house, didn't take up too much space, and also easily store away once she grew out of our room. As a second time mom I realized you don't really need much when it comes to baby, so having items that are versatile and easy to move around was a must. Below are four of my must have items that we used daily in our bedroom baby set up.

SHOP POST:

Bedroom Baby Set Up:
Portable Waterproof Changing Mat – Instead of having a bulky changing station in our bedroom we opted for this portable waterproof changing mat instead. That way we could use it not only in our bed, but on our dresser, or on the floor if need be. And if she grows out of it in our bedroom, it's great to stick in the diaper bag for traveling too.
Diaper Caddy – I love this diaper caddy because it was easy to put all her diaper essentials in one carry all caddy that could be easily stored under her bassinet or put on our dresser.
Baby Lounger – I loved this lounger for when we co-sleep with her. It gives her her own little bed that we could put in between us. Plus give us peace of mind that she wouldn't roll around and get squished. We also used it in the bassinet as well because she loved sleeping in it.
Travel bedside bassinet – This is the best bedside bassinet ever. It can be used as a regular stand alone bassinet, but can also zip down and attach to our bed as a bedside bassinet. Plus it had wheels so we could roll it to any room in the house. And it also had storage underneath for burp rags and other essentials. It also came with a carrying case so you could bring it with you for traveling as well.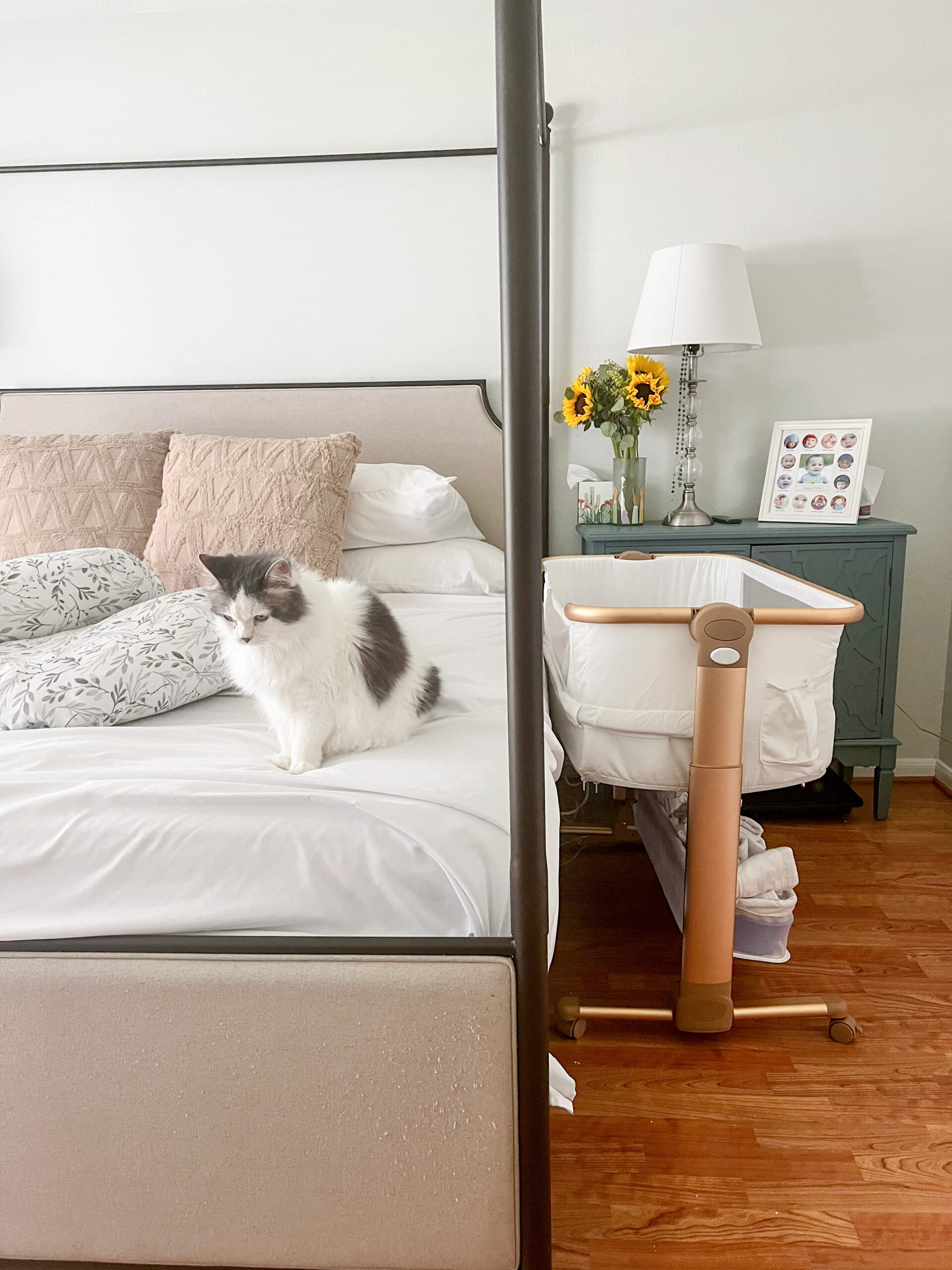 You don't really need much when it comes to your bedroom set up for your baby. I love these items because it's versatile and can be used for traveling too. I hope you found this post helpful in setting up your bedroom for baby. Thanks for stopping by!
P.S. Subscribe for weekly newsletters so you never miss a single post!