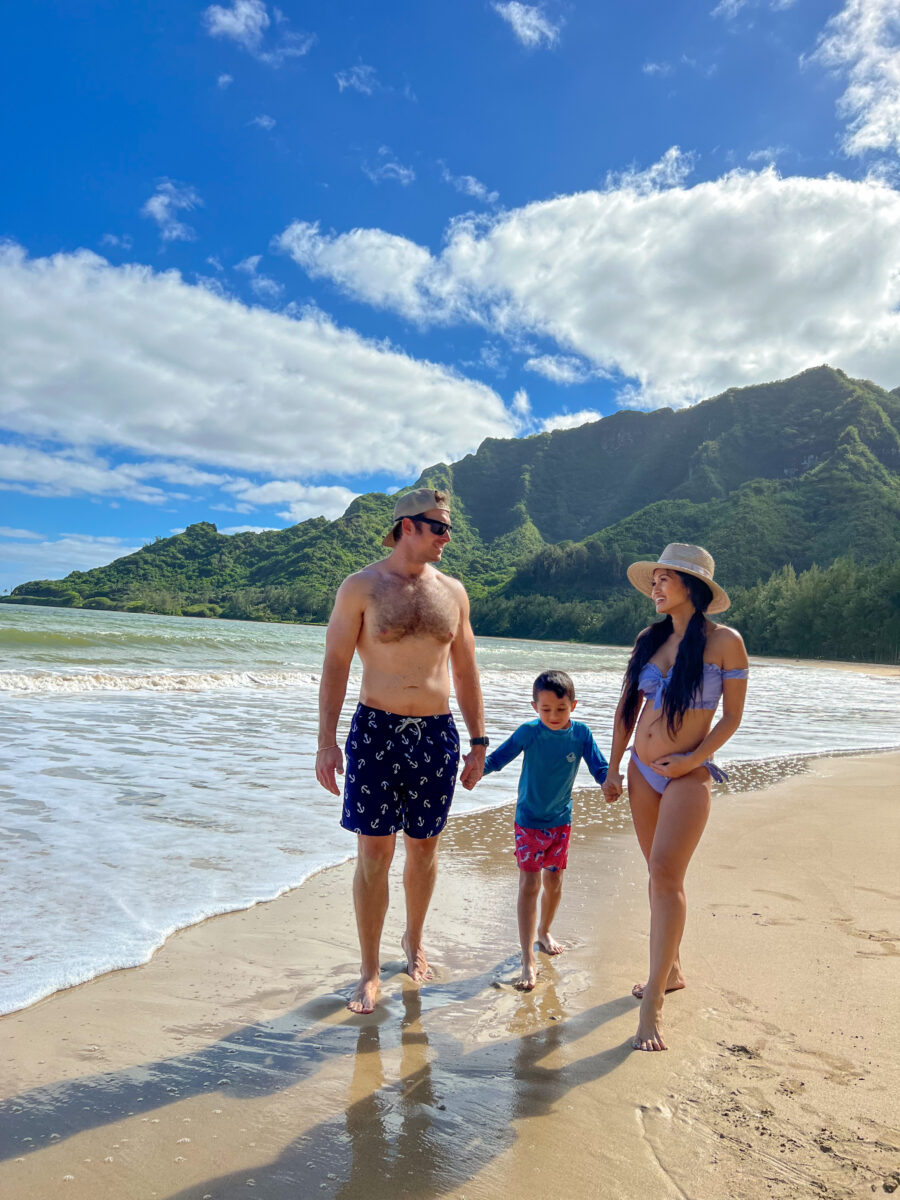 Hi friends,
Hope you are doing well! I recently just got back from a fun trip to Oahu, Hawaii with the family. I had a fun hotel collaboration so I decided to invite the boys to tag a long too and make it a family vacation. We had an amazing time! However, a lot has changed in the months that we had planned this including me getting pregnant, and Hawaii enacting some strict COVID mandates that we weren't big fans of. Today I am sharing the pros and cons of visiting Hawaii post Covid lockdowns and what to expect. Plus what fun things to do, where to stay, and eat with family in this travel guide. Check out more below!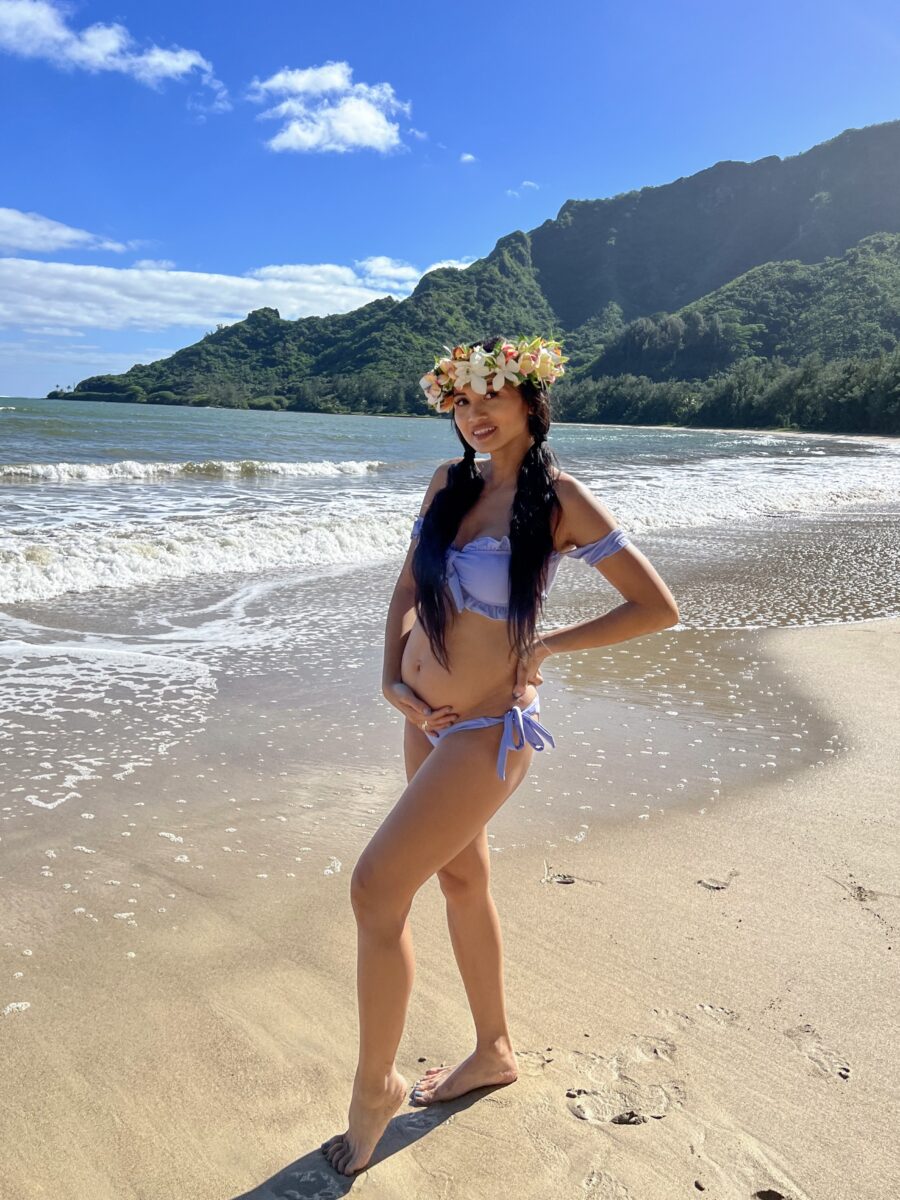 Oahu Hawaii Family Vacation Guide
TRAVELING TO HAWAII:
Alright guys so if I had to complain about one thing on this trip it would be this section right here. Hawaii is constantly changing their rules and mandates when it comes to Covid and traveling. There is more leg work and research that needs to be done before hand to even get into Hawaii. It probably has more restrictions than some international places we have visited. Check out Safe Travels Hawaii for the most recent updates. On top of that it's about an eleven hour travel time from Houston, with two flights and one of them six hours long. Being pregnant and sitting for six hours on a plane was not one bit comfortable. I wouldn't recommend if pregnant.
Another thing to consider when traveling to Hawaii is the strict mask/vaccine mandate laws. You literally have to have your vaccine card and a mask to get into restaurants, movie theaters, tourist spots like Pearl Harbor, ect. Coming from Texas where we have more liberties, it was not something I enjoyed especially being pregnant. I would recommend so many other beautiful states and destinations for vacation spots with less strict mandates like our recent trip to Mexico and Grand Tetons. Plus who wants to be on vacation wearing a mask every where and having to bring your vaccine card like it's an ID. NO THANK YOU.
Aside from that Hawaii is a beautiful place, with rich history, culture, and people. I would one hundred percent recommend it as a travel destination, but I wanted to be completely honest with you on the current COVID restrictions. I hope these restrictions go away so that you can truly enjoy all it has to offer. So if you are reading this and the mandates have changed or you are still interested in traveling to Oahu, Hawaii check out the rest of my recommendations below!

Getting Around in Hawaii:
The best and most efficient way to get around Hawaii is to rent a car especially with a family. Ubers are available but can take awhile and get expensive if you want to go to several different places. If you plan to just stay in one area like Waikiki you could technically walk everywhere from the hotel we stayed at. However you would be missing out on North Shore which was one of our favorite places to visit!
Weather in January in Hawaii:
We were worried at first that we would be going during the rainy season, but the weather was nothing but sunny days when we went. Supposedly we just missed their huge rain storm they had two weeks prior. The weather was perfect when we went. It was between 70 to 82 degrees the whole time! Not too hot and just warm enough to enjoy the ocean and beach!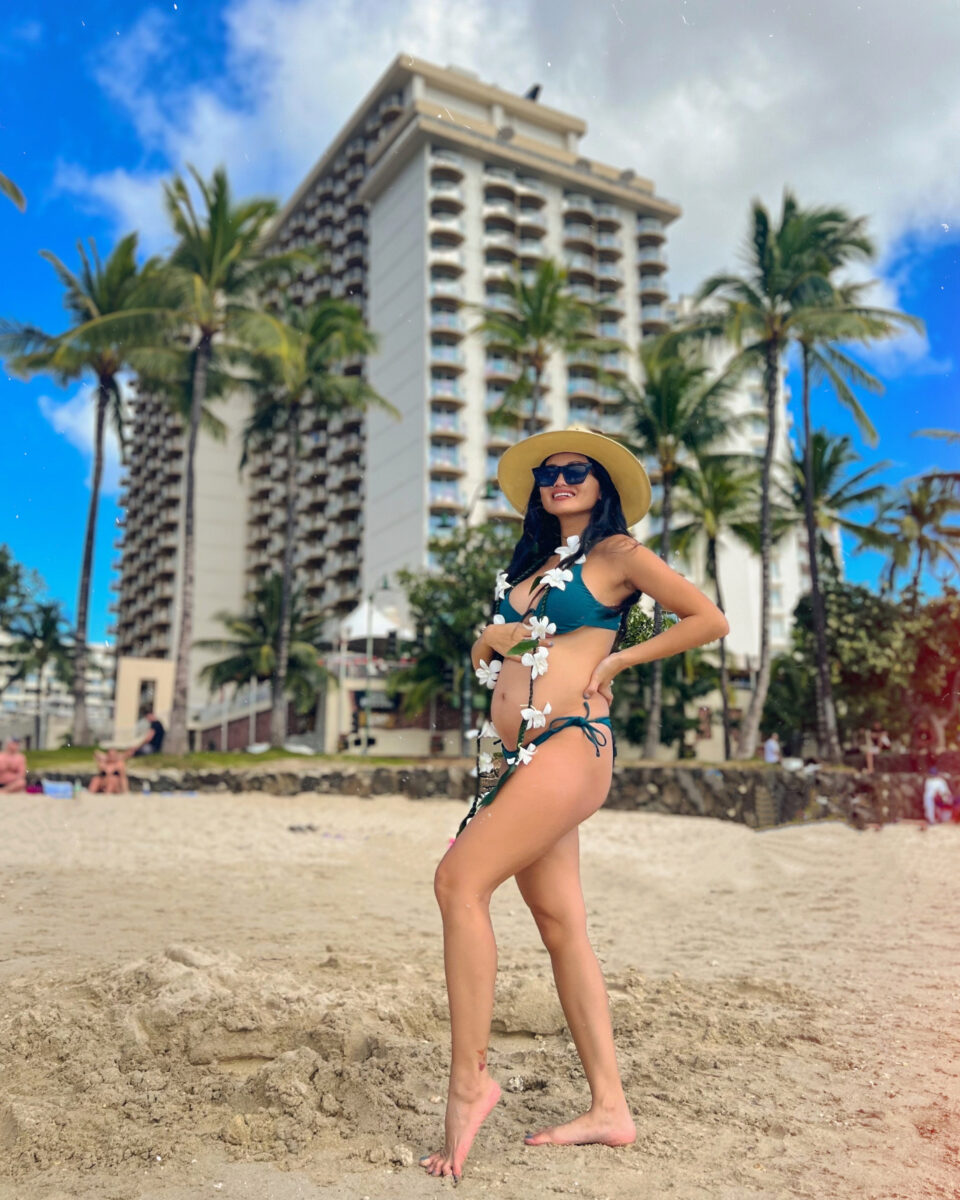 WHERE TO STAY:
We stayed in two areas on Oahu, Waikiki and North Shore, both great areas offering two different vibes of Oahu. For the first half of the trip we partnered up with Aston Waikiki Beach hotel located right on the main strip of Kalakaua Ave.
There were only two negative things I could think about when staying at the hotel one is they require a Vaccine card for all guest, but that could apply to all the hotels at that time we went because of Hawaii's mandate, and two the room we stayed at was on the smaller side. But honestly we weren't in our room that much so it didn't really bother us at all.
Alright so now with all the positives about staying at the hotel. Number one is the location. Location was unbeatable. The beach was located right outside the hotel. We were located next to the zoo (perfect for the kiddos), and tons of restaurants literally right there next to the hotel. For the most part you had everything you needed within walking distance, including all the luxury shops you heart could desire!
The service was great, the pool was nice, and we always had unlimited towels that we could take to the beach or whatever adventure we were on. The restaurants were great and conveniently located so we didn't have to travel far when we got hungry. There is an ice cream shop, and acai shop, and a Starbucks below which was exactly what this momma needed to fulfill her cravings. Overall if you are staying in Waikiki, I would one hundred percent recommend Aston Waikiki Beach Hotel!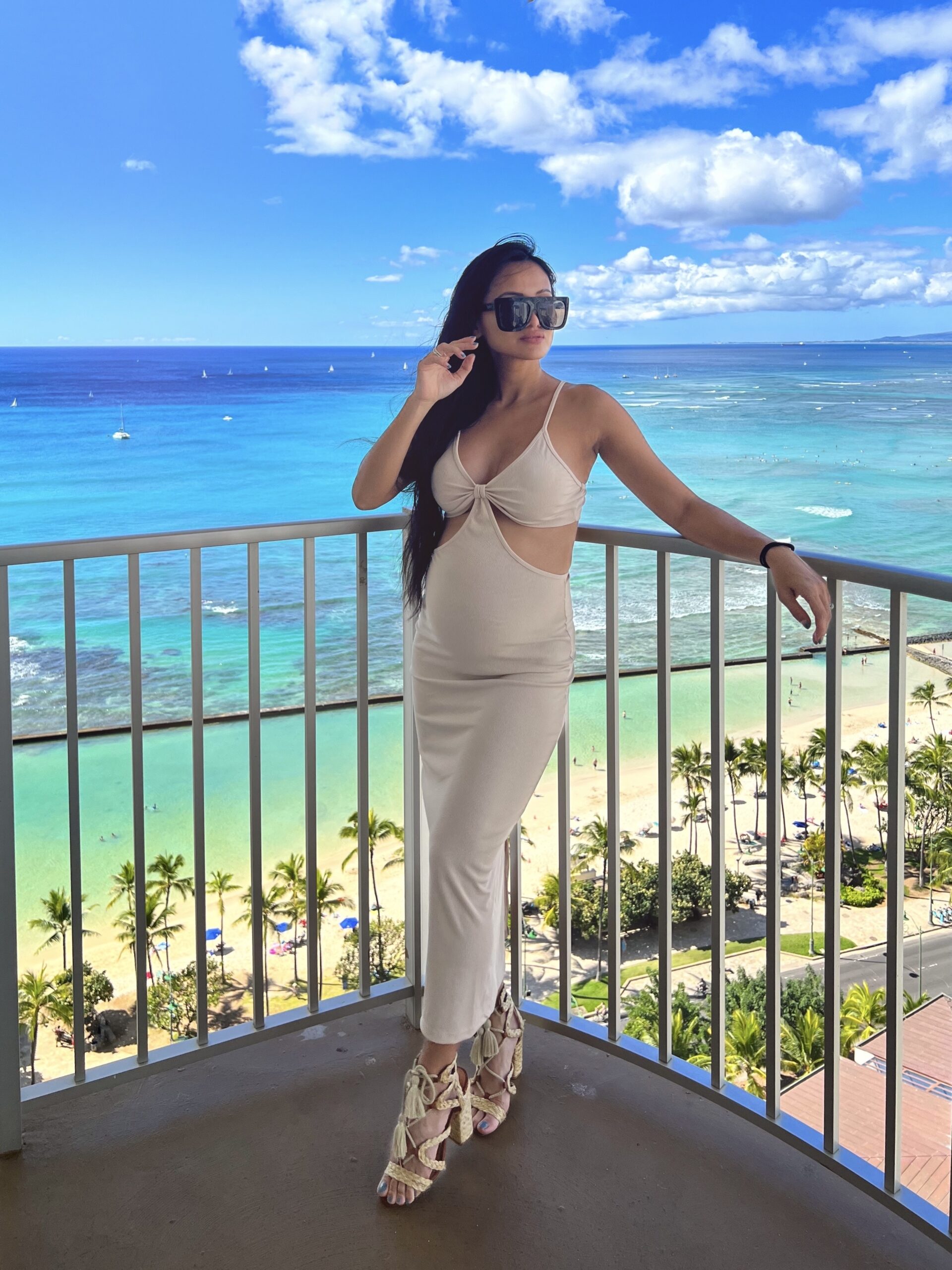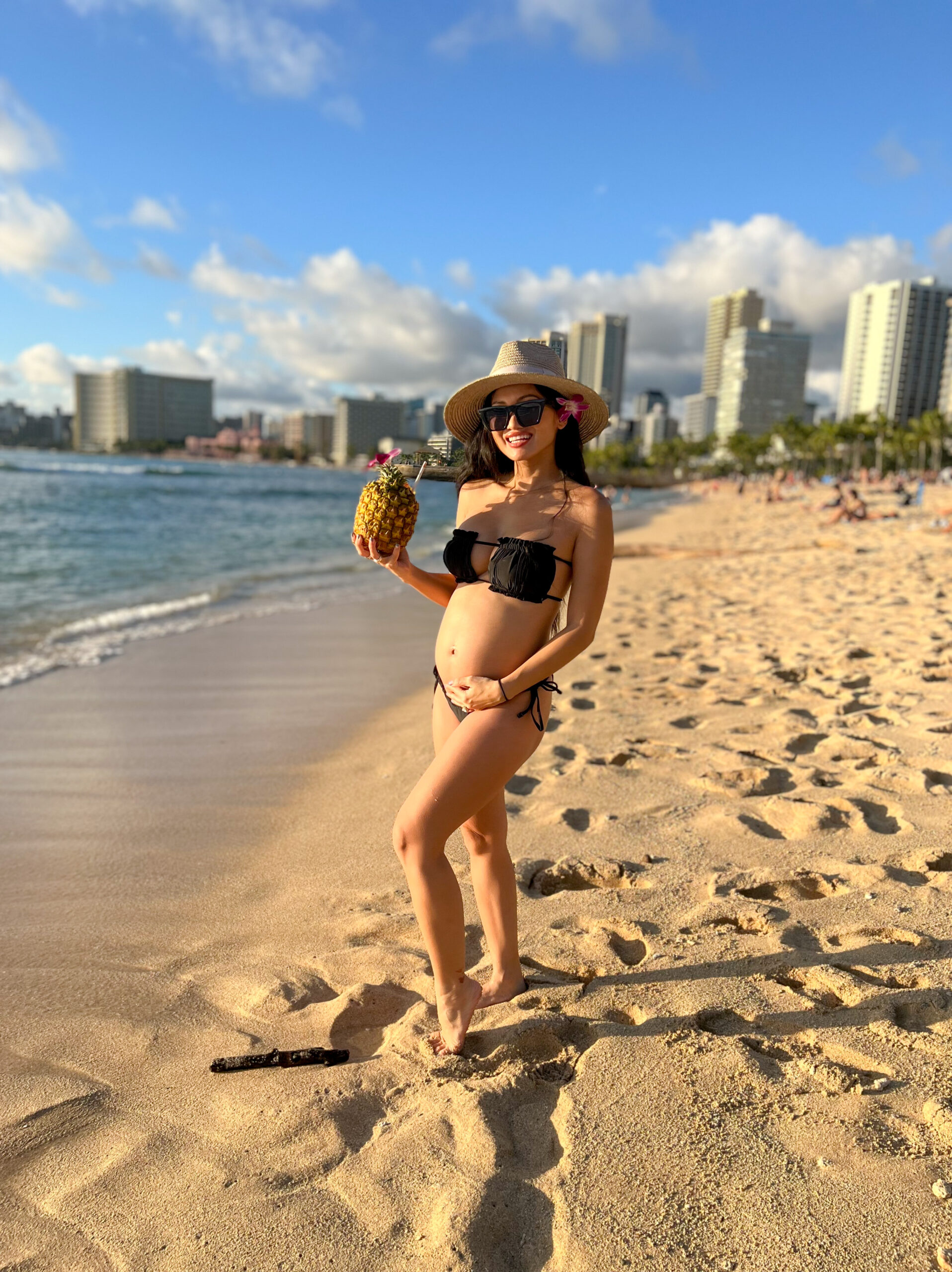 For the second half of the trip we ventured up to North Shore where half of our itinerary destinations were and rented an Airbnb. The only reason I would not recommend it was because it did not have a central AC. But it was in a nice secluded community  right next to the beach and tucked away from the bustle of the city. It was also ten minutes from the Polynesian Center, Kualoa Ranch, and one of our favorite hidden local beaches. Plus since it was private they didn't ask for your vaccination card. If you stay at a local Airbnb just make sure to ask about the AC if that is something you are use to because some homes or condos do not have it.
WHERE TO EAT:
There were three places we ate that we would highly recommend! We loved the food so much we ate their multiple times! Below are our top three recommendations below!
Less than a ten minute walk from our hotel we found this beach front cafe on Queen's beach. I loved walking there because the beach park is so vibrant with locals, tourist, artist, birds, and wild life. This was one of the first restaurants we ate at and we loved it! From the tacos, the acai bowls, poke bowls, and the gourmet plates there wasn't anything I would not recommend. It is that good! We ate here three times! The food is reasonably prices, they have a beautiful view of the beach and park, and they make the best pineapple smoothies! If you are in Waikiki you have to go here. The only downside is they do require a vaccine card to eat in, but I think that applies to all eat in restaurants with the recent mandates.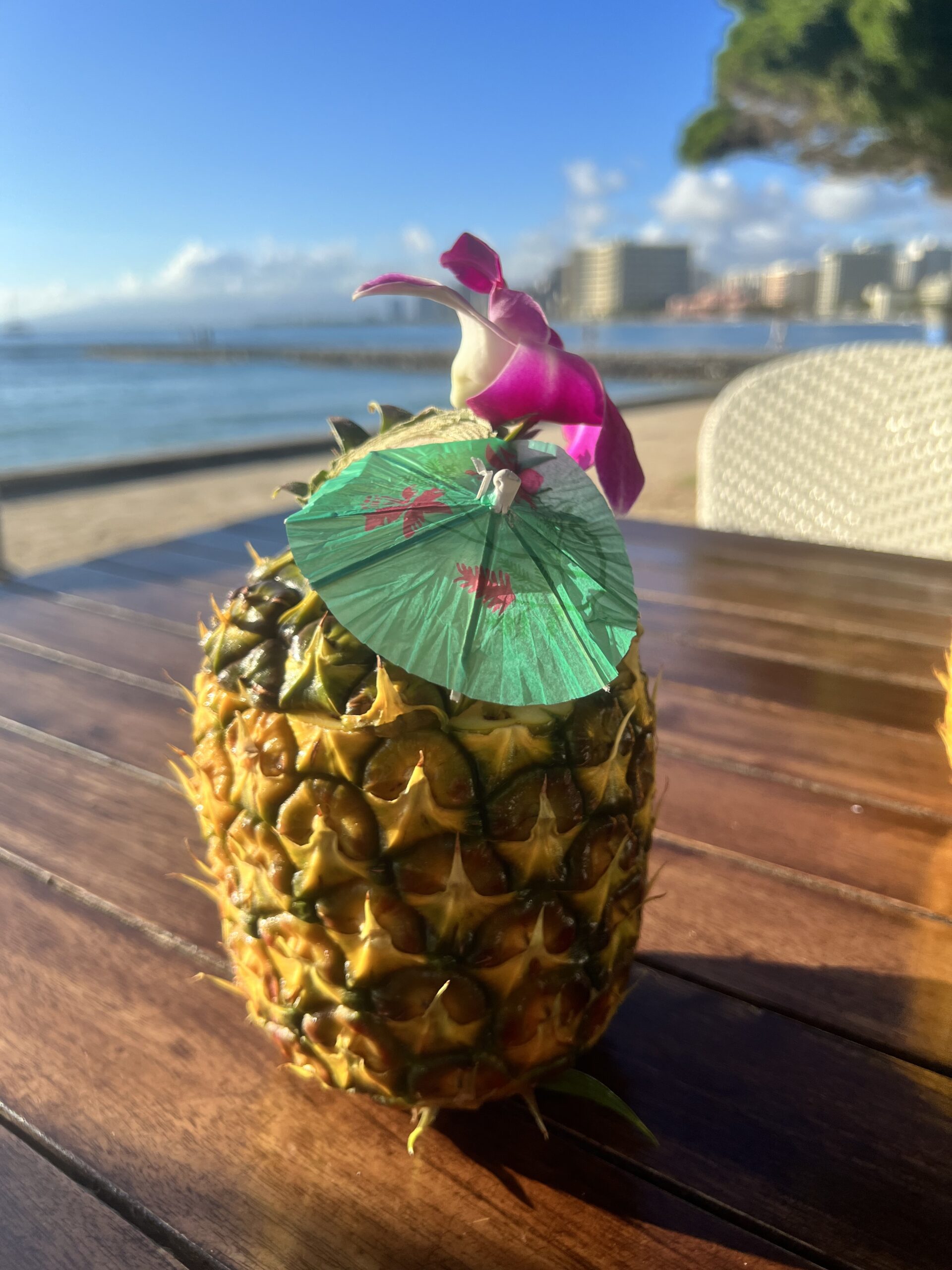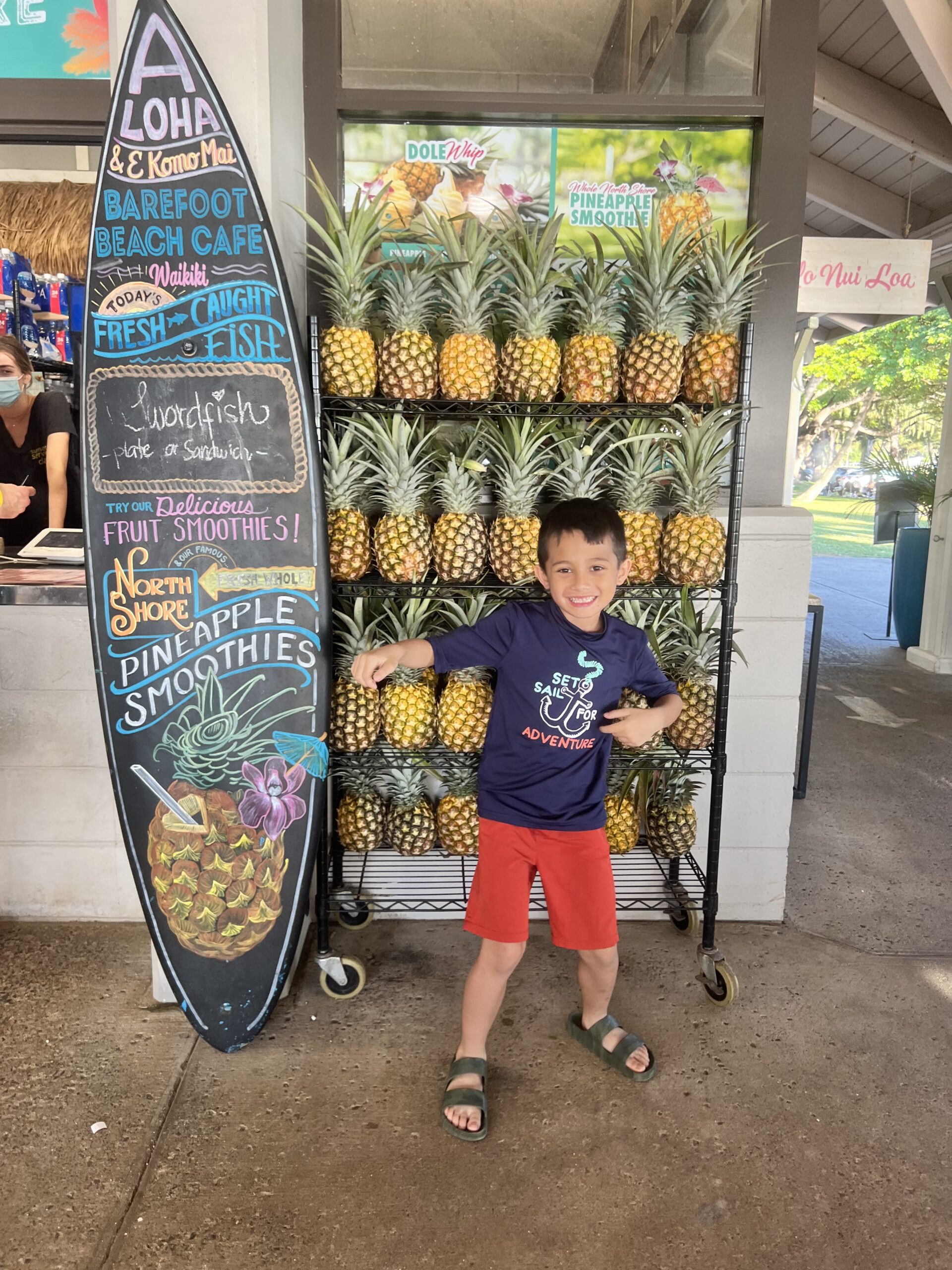 Situated on the 3rd floor rooftop pool deck of the Queen Kapiʻolani Hotel, DECK. features panoramic views of the iconic Diamond Head and world famous Waikiki beach! It was right next to our hotel and across from the zoo, so we were able to take a five minute walk there for brunch! The view is amazing and so is the food! We are a huge breakfast family and the brunch did not disappoint! We ordered the avocado toast, acai bowl, the kids breakfast, and their famous Tokyo pancakes which was amazing! Also for being a preggo they had tons of delicious mocktail options that I could partake in. If you wanted to stay longer or make a day of it, they have a pool right next to the restaurant that you can lounge at as well! The Deck is a cute place to brunch with great food you have to visit.
Last but certainly not least if you are venturing out to North Shore area, or visiting Kualoa ranch you have to stop by this famous traditional hole in the wall restaurant. There's no actual sit in dining, just order to go, and it's one hundred percent worth the wait if you see long lines. This is the best traditional Hawaiian food on the island.  All I can say is the portions are huge and a great price. We ordered both the combo plates and the regular plates and me and Jayden could share the smaller plates thats how much food there was. We recommend the Laulau, the Kalua Pig & Squid Lu'au, and all the ice cream flavors they have. They do the ice cream different and it is so good! I'm drooling thinking about it. Everything is so good! It kind of reminded me of the Phillipines!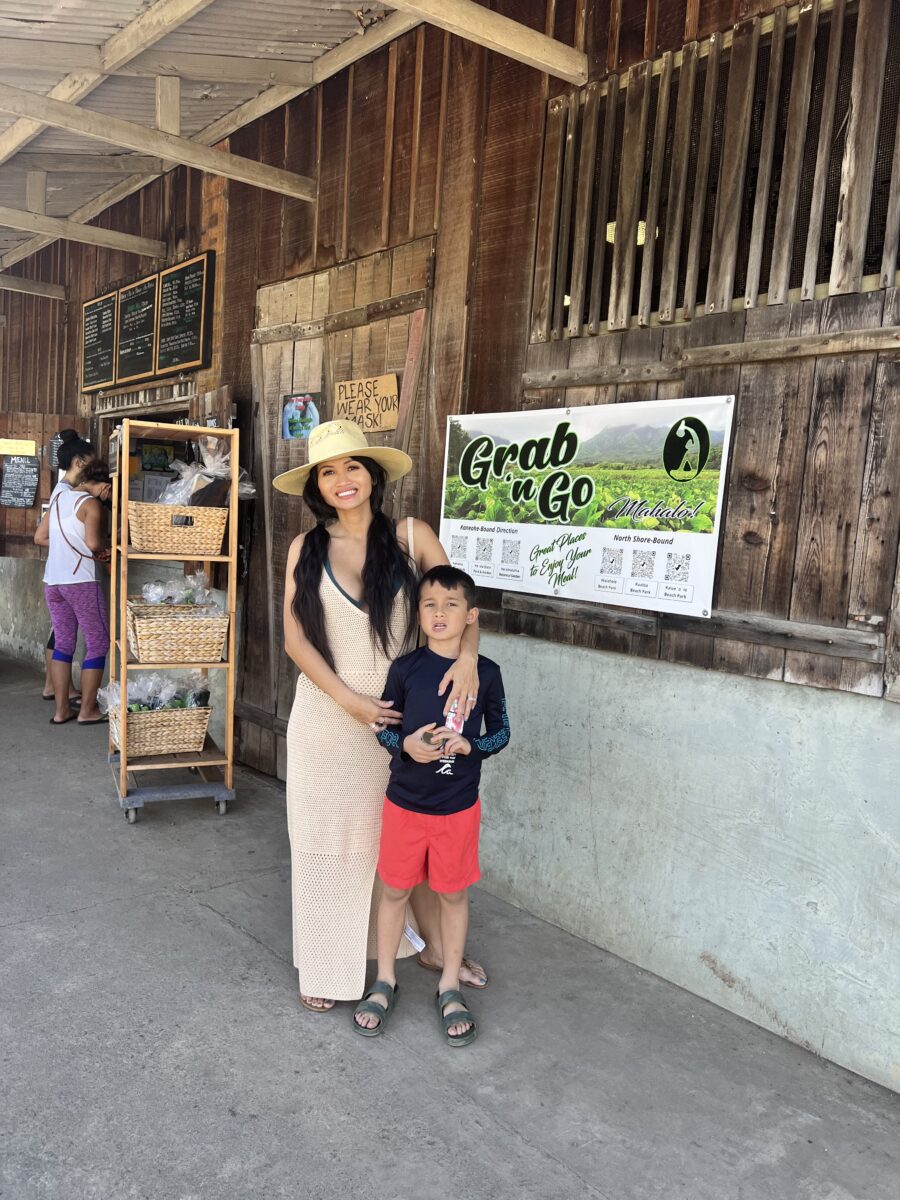 WHAT TO DO:
There's so much to do and visit in Oahu with family. Some places unexpectedly better than others. I am sharing our favorite activities including my least favorite below.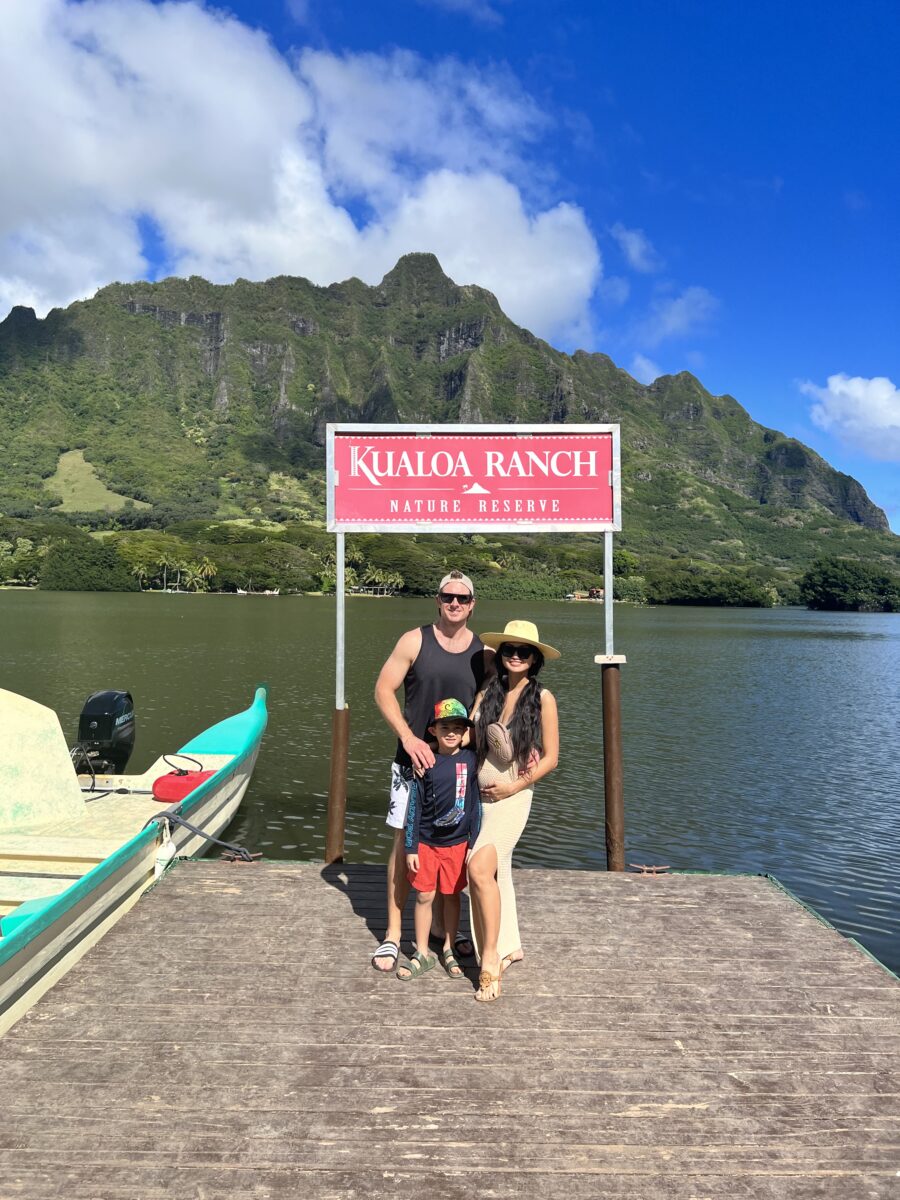 One of our favorite activities was visiting Kualoa Ranch and doing the catamaran boat ride. Located on the northern part of Oahu, Kualoa Ranch offers so many different activities including horse back riding, ATV rides, and tours of famous movie spots like Jurassic Park, and my personal favorite 50 First Dates. The park is also located right next to a beautiful public beach that rents kayaks and paddle boards, where you can venture to a remote island to hike.
We loved our catamaran ride and tour of the Kualoa Ranch farm and different movie sites. We got to see huge sea turtles and learn about the history and legends of Hawaii. Our tour guide was amazing! I felt like it was one area that wasn't so heavily governed by all the mask mandates. Next time if we go and I am not pregnant I would have loved to do the horse back ride through the mountains. It looked like a beautiful ride!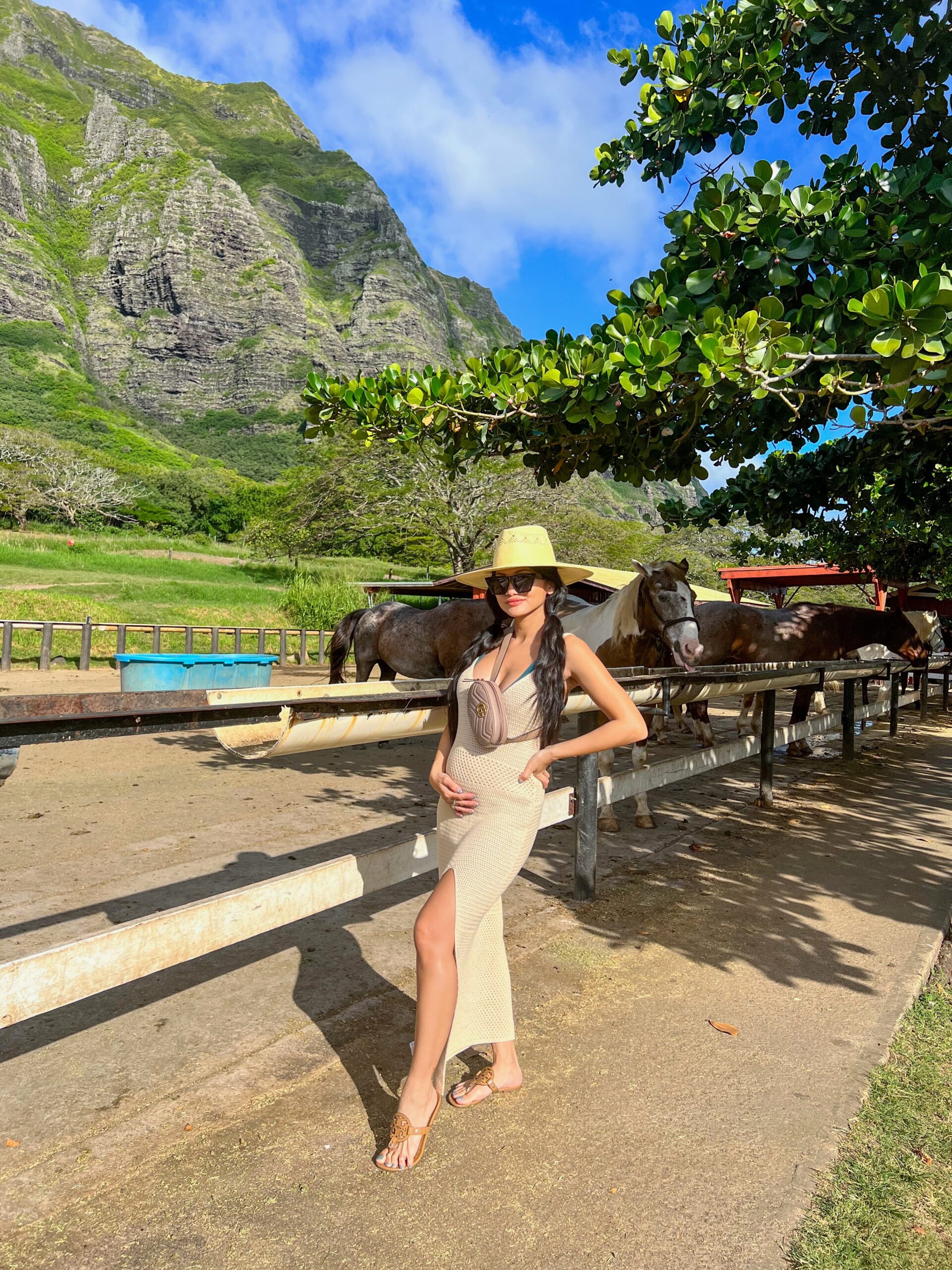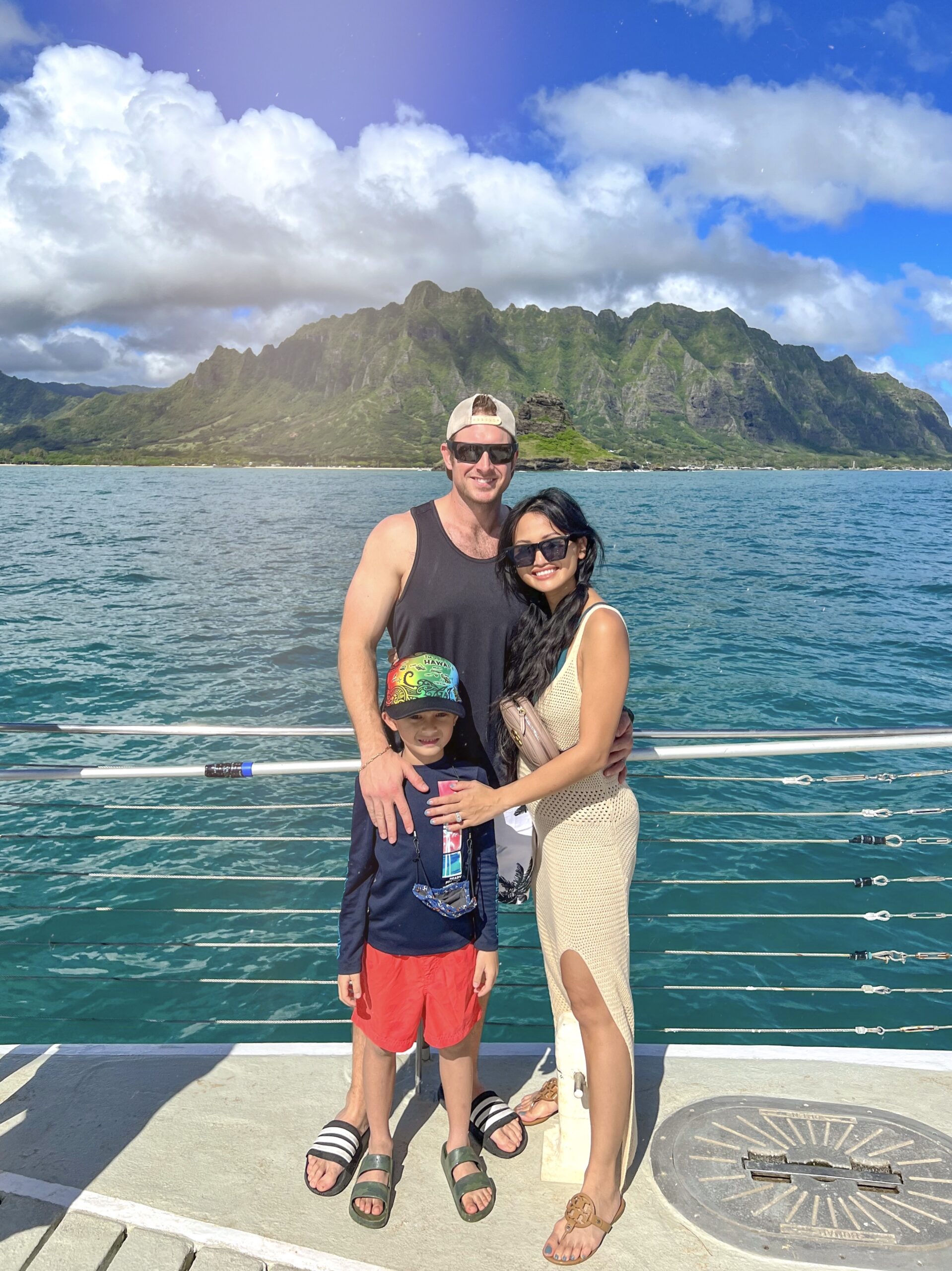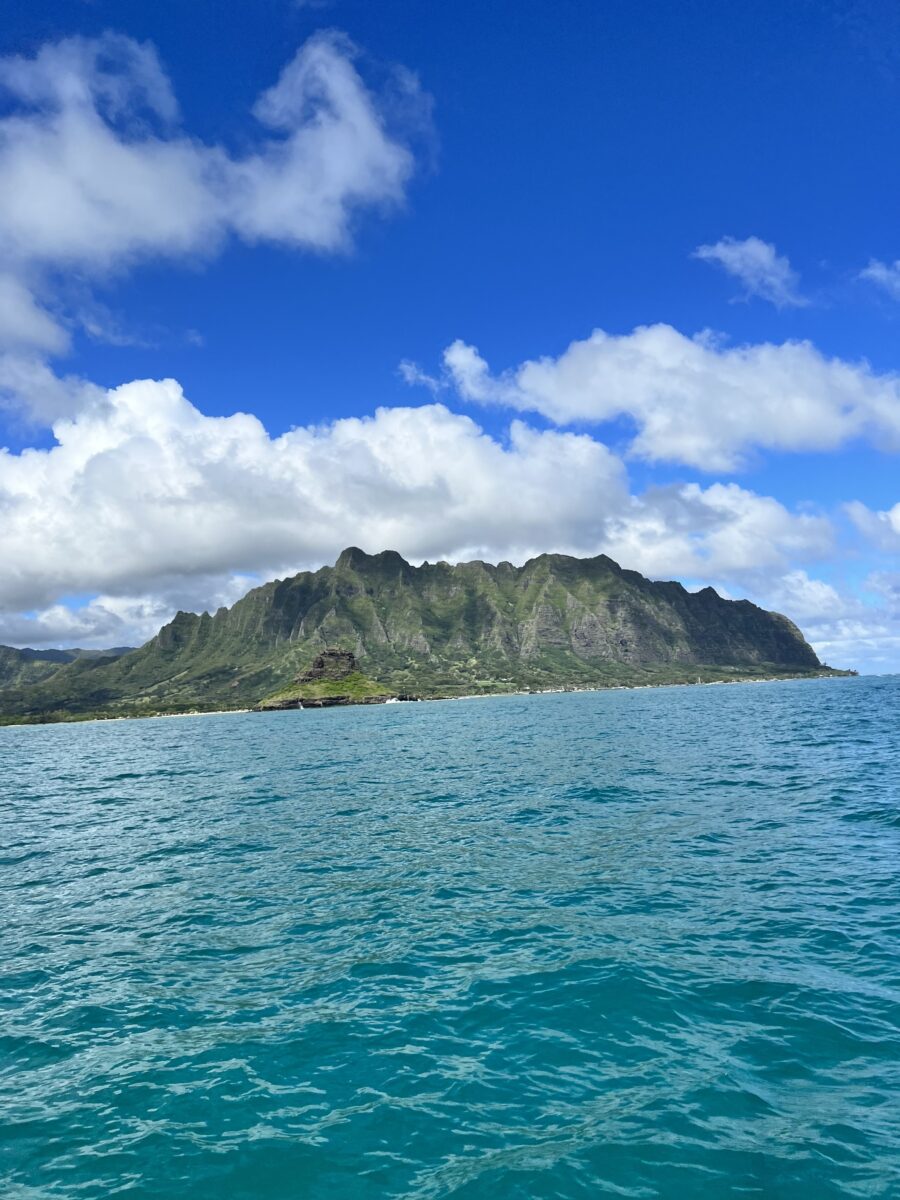 Another beautiful place we visited was Hanauma Bay State Park to do some snorkeling. This place is great if you want to learn about the reef ecosystem and be up close without being in deep water. It's great for kids and families. However, after having to pay $25 a person, wait in line, wear mask, and make reservations I don't think its worth going to again. There are so many free beaches in Hawaii for travelers and some that are less crowded that would probably be more enjoyable. It's beautiful but not worth the money and all the "rules and regulations" in my opinion.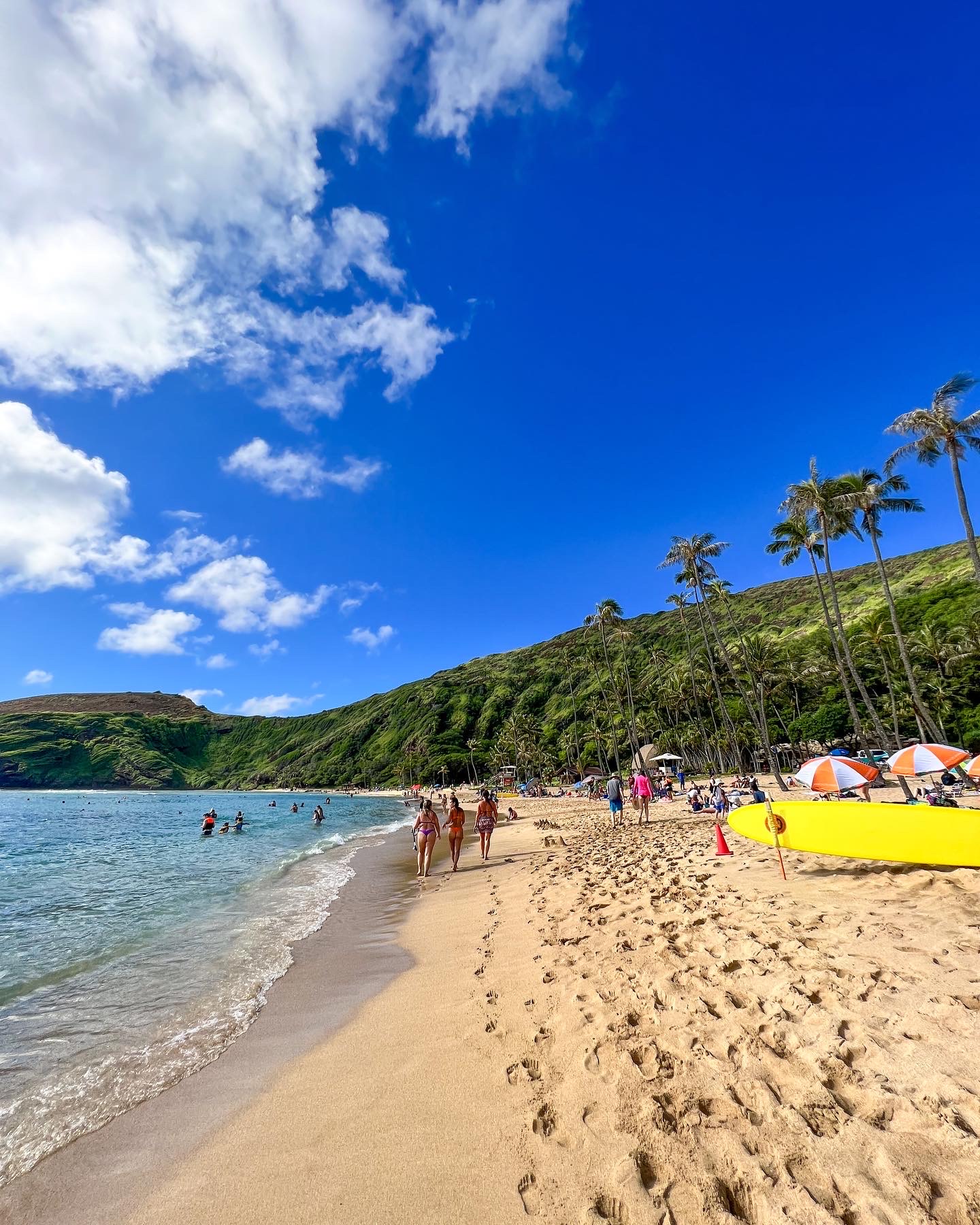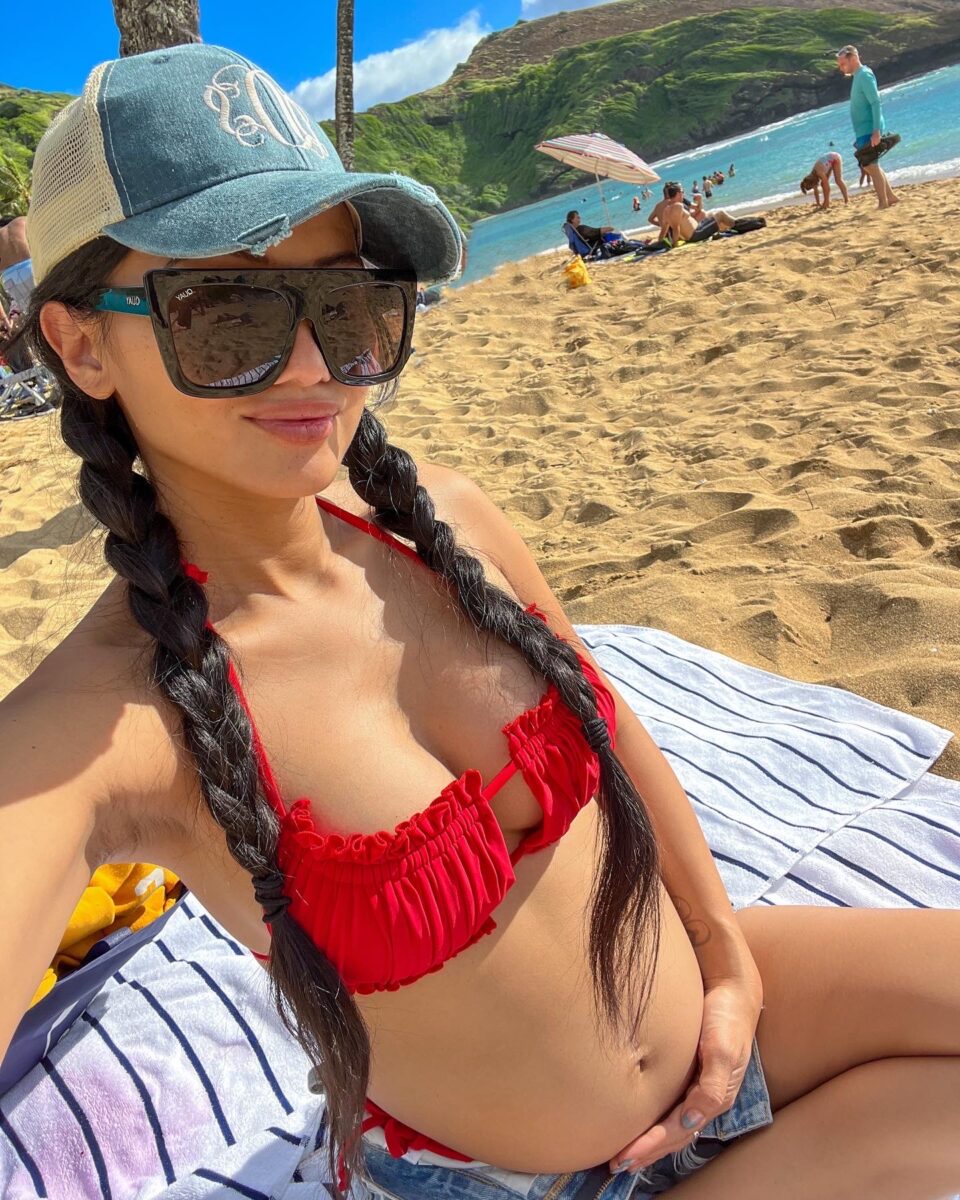 Shopping On Kalakaua Avenue
If you are staying in Waikiki it will be hard to pass up Kalakaua Avenue and all of the shopping malls, boutiques, and luxury shops, especially when the taxes are so low compared to the mainland. There is literally every luxury brand shop right next to each other calling your name to spend all your money, because when you think about it you technically will save hundreds if not thousands shopping in Hawaii instead of Texas. If you are looking to get a deal on a luxury bag in the U.S.A., Hawaii is the state to do it.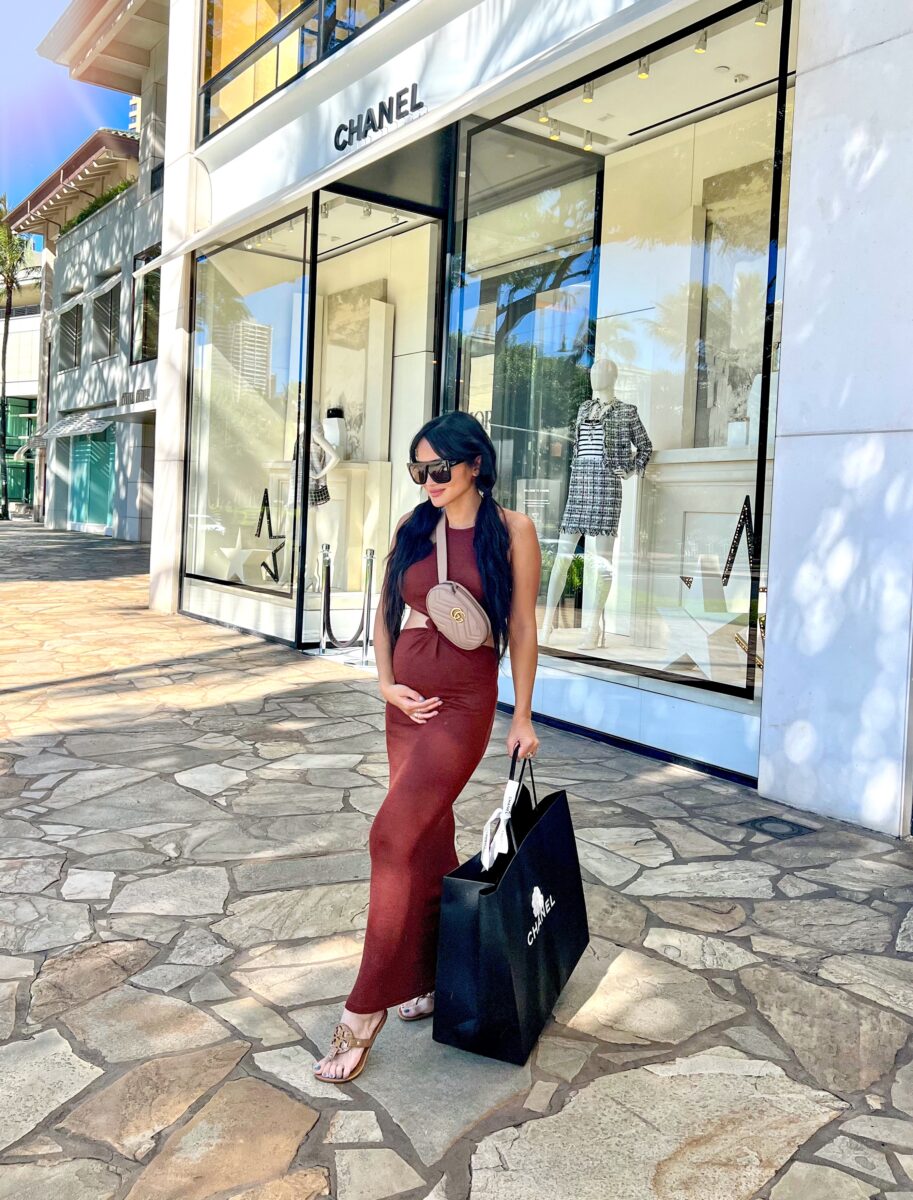 So we did this hike for two things, the view and it was technically a short hike. However being 20 weeks pregnant I didn't realize how difficult it would be. Now don't get me wrong I did it, and it can be done, however there are some place where it is steep and a bigger belly may get in the way. Also this hike is tucked away behind a neighborhood with no real official sign or parking. You have to make sure you park on the side of the road where you won't get ticketed or towed.
I've seen people hike this barefoot, and we hiked it with sandals, but it would probably be best to have hiking shoes for best footing. When we went the trail was dry so we didn't have to worry about slipping. I would not suggest hiking this if the trail is wet. It is a dangerous slippery steep slide down. Overall the view is stunning and we enjoyed our hike, but we are definitely a hiking adventurous family so that is kind of our thing on every trip. If you love adventure and  "off the beaten path" trails then this trail is for you.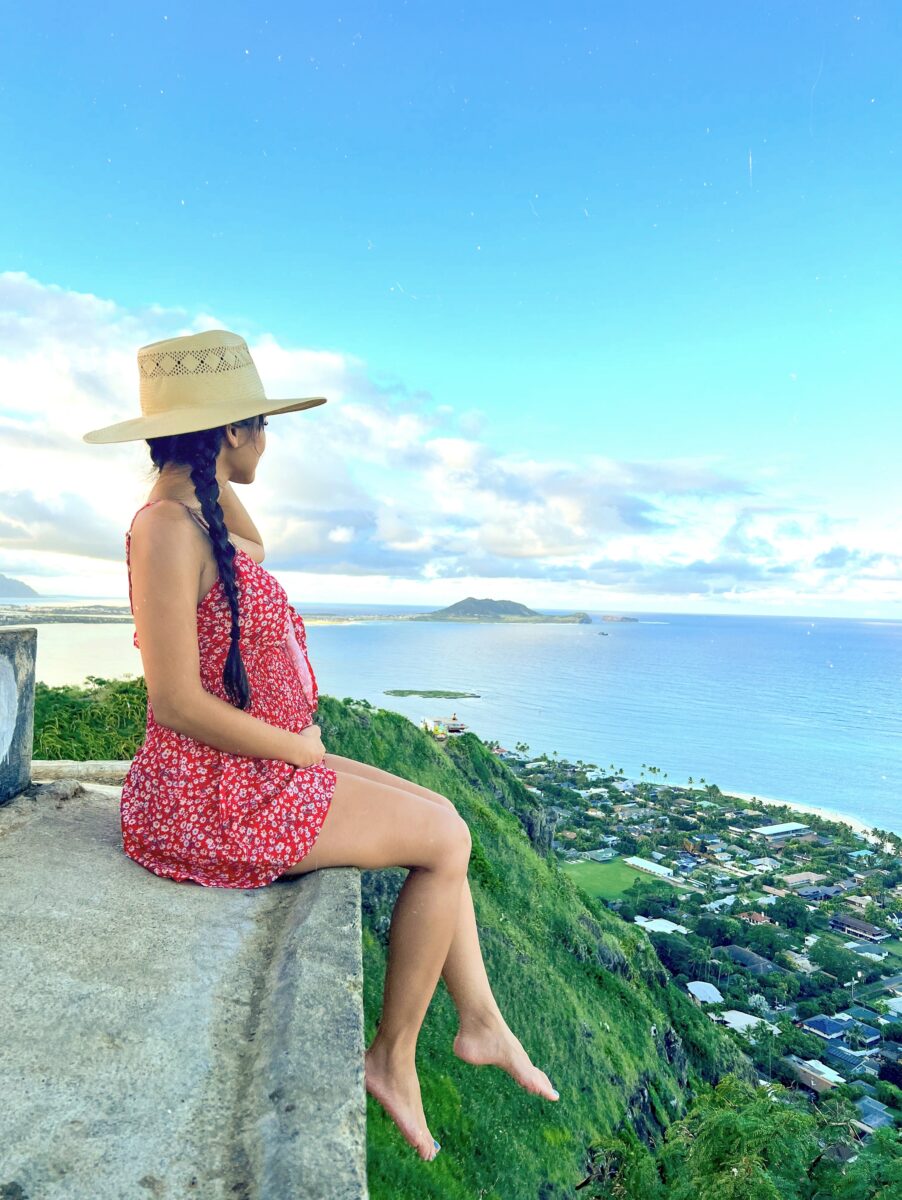 If you are in Hawaii I feel like it's obligatory to visit Pearl Harbor as there is so much history. My son is a huge World War II fanatic so this was top of his list. However for me this was probably the least favorite thing I did. Heres why: One so many mandates, mask, vaccine cards, you name it, they had it. Takes away from the fun of actually seeing everything when you have to wear a mask everywhere. It's not fun when you are pregnant, it's hot, and you have to walk everywhere.
It can get expensive if you want to tour the ship, the submarine, the museums, and the Arizona memorial. Those things are extra and cost about $100 a person! Honestly I would have been fine with the free part and not spending more than an hour there. But if you want to get the whole experience plan to stay a whole day! We got there at 9am and did not leave till almost 4pm and we didn't even do everything! I was so tired half way through that I left Josh and Jayden to tour everything while I took a nap in the car. If Jayden wasn't so into World War II history I would have been fine not going. Crowds, mask, and being on your feet for long hours was not a fun combo for this pregnant mama.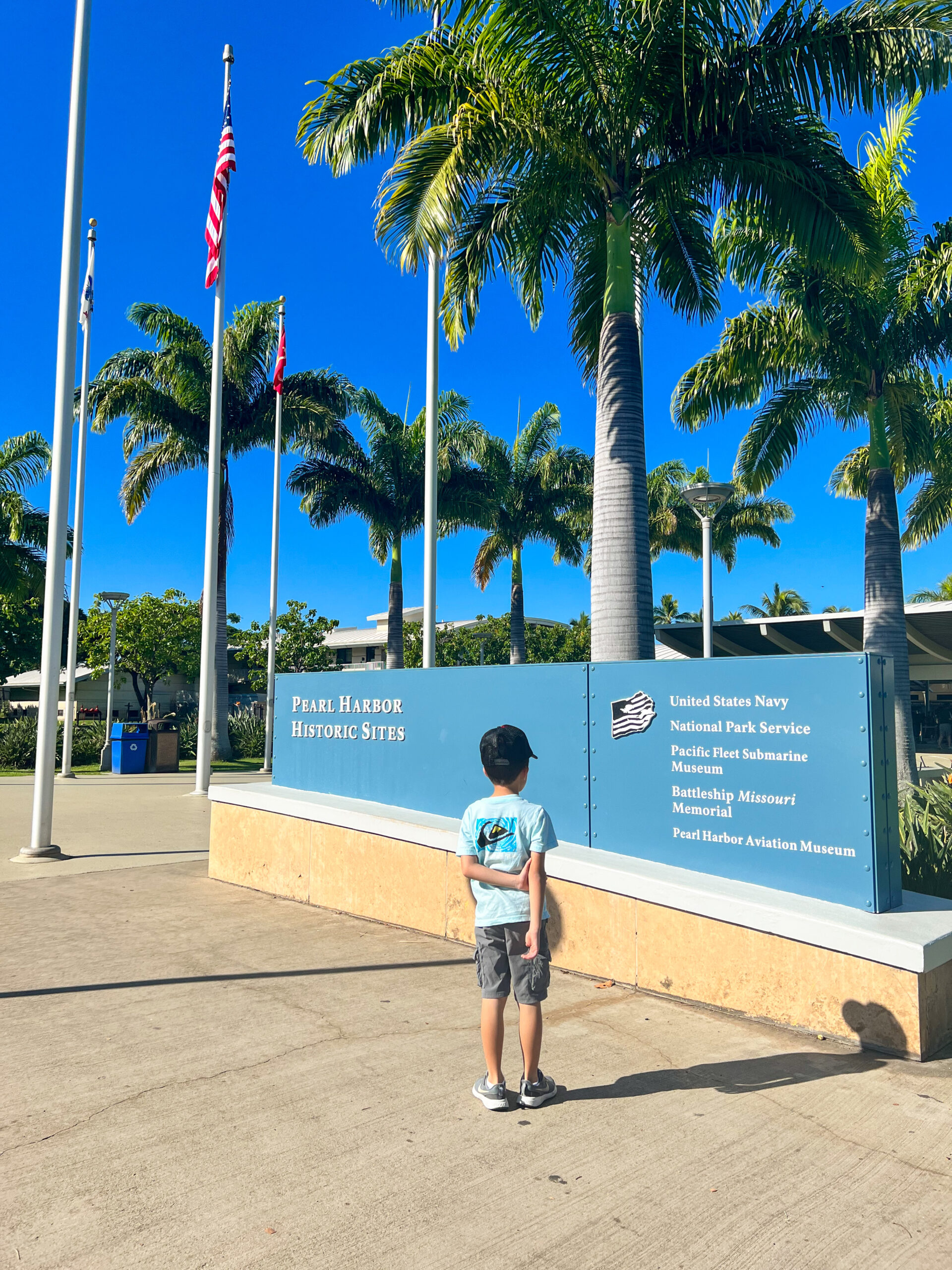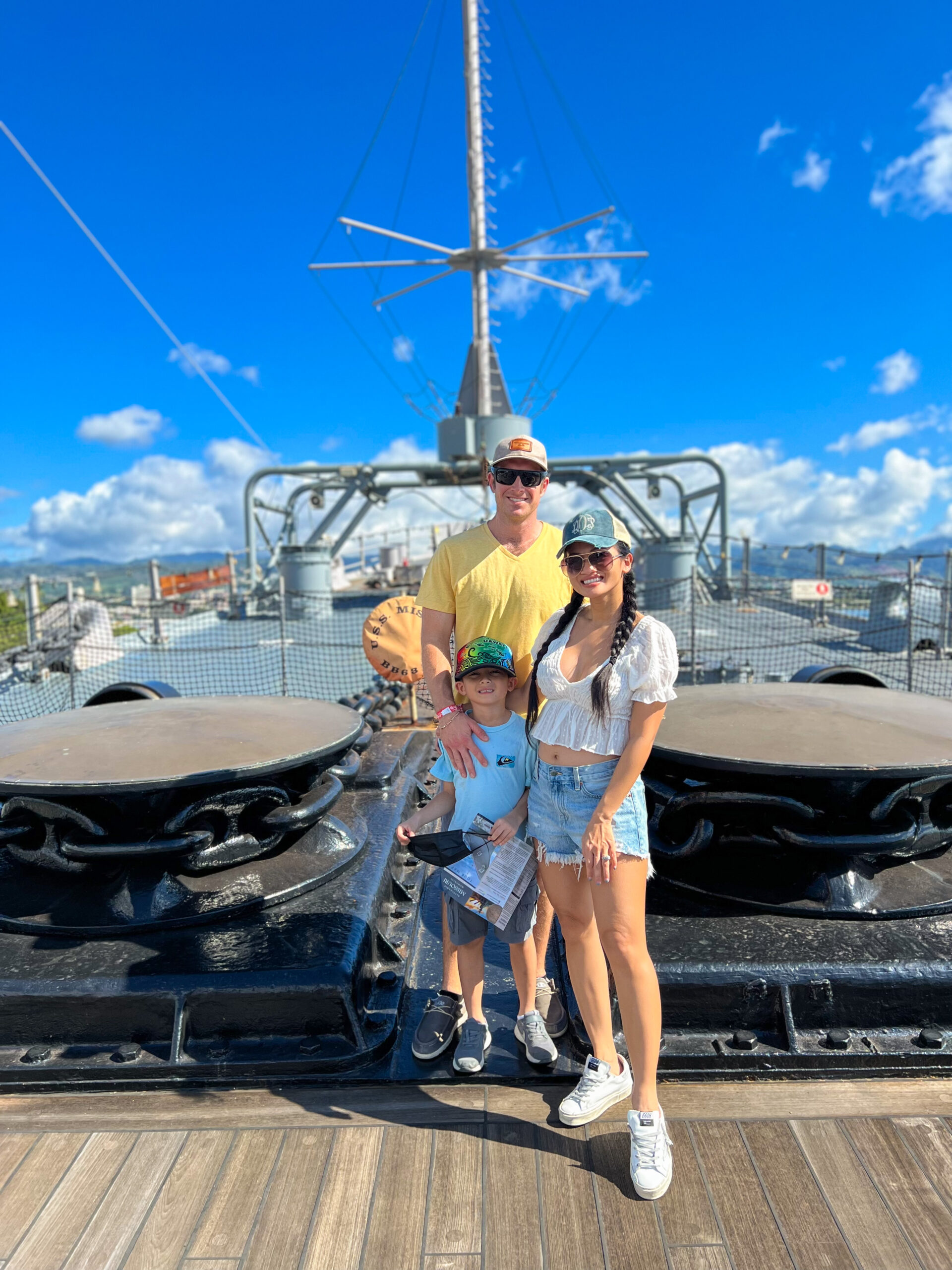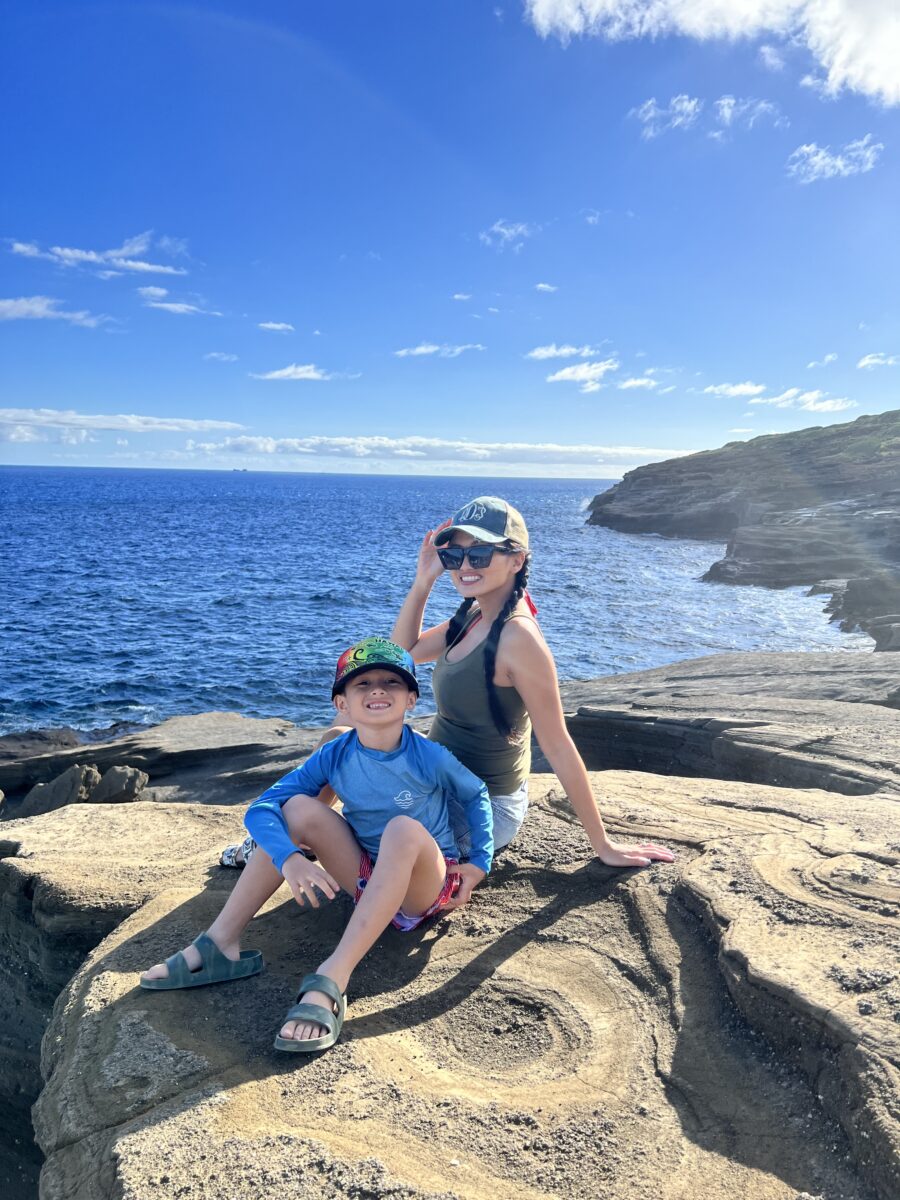 If you are looking to go to a luau and also learn the history and culture of the different Pacific island then you have to go here. We loved that they offered more than just the luau with your ticket but the opportunity to immerse yourself in the different Polynesian cultures. The Breath of Life show was beautiful and very well done. The food was also great!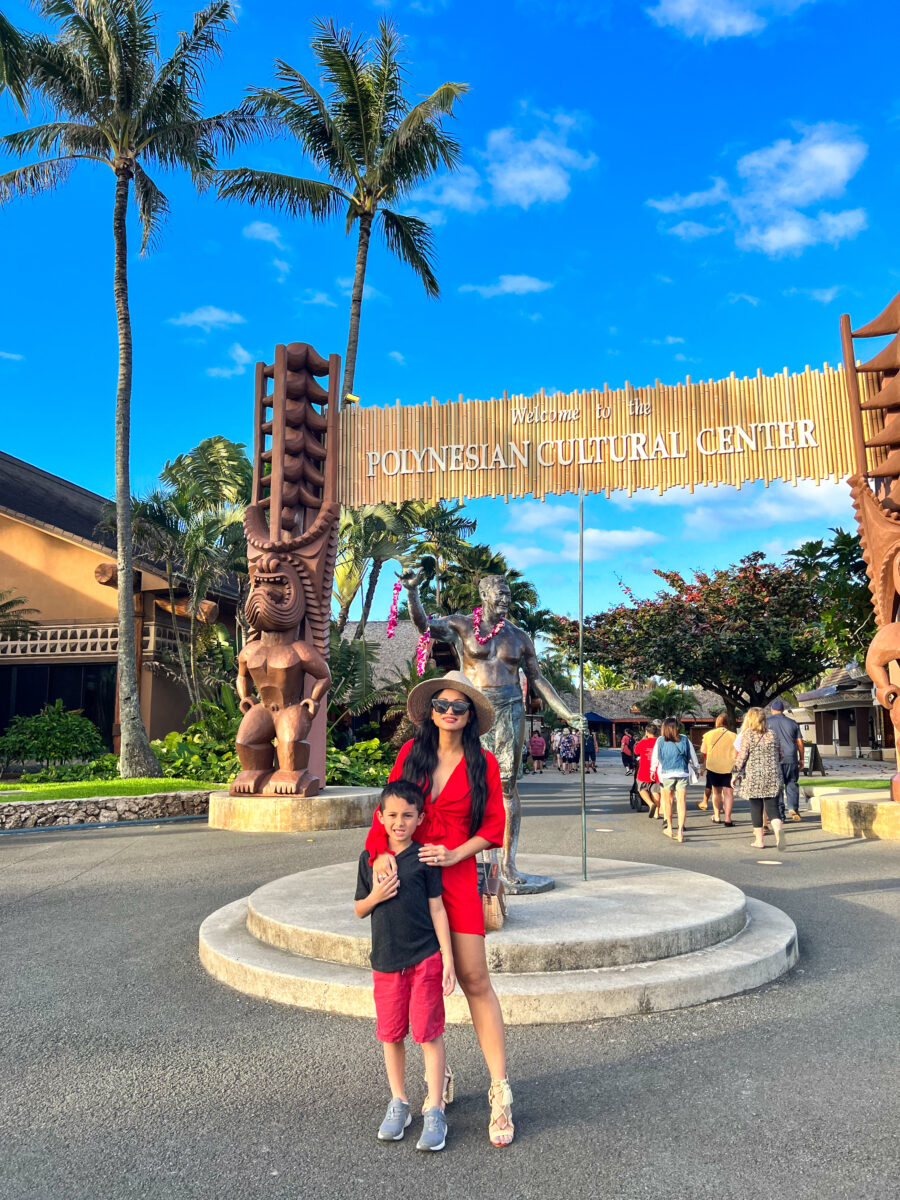 Explore The Different Beaches
One of my favorite things to do while we were in Hawaii  was just relax on the beach. There are so many beautiful free beaches in Hawaii it's hard to choose which ones to visit. But my personal favorite is Kahana Bay Beach Park. I loved its local feel, and how hidden away it was. There is a fun beach swing with the views of the mountains. I can't wait to share the beautiful maternity photos we got there! Plus it isn't crowded at all. It did not feel "touristy". We were probably the only tourist there. Everyone else looked like locals. It was also located within minutes from our airbnb and fifteen minutes from Kualoa Ranch which was a plus!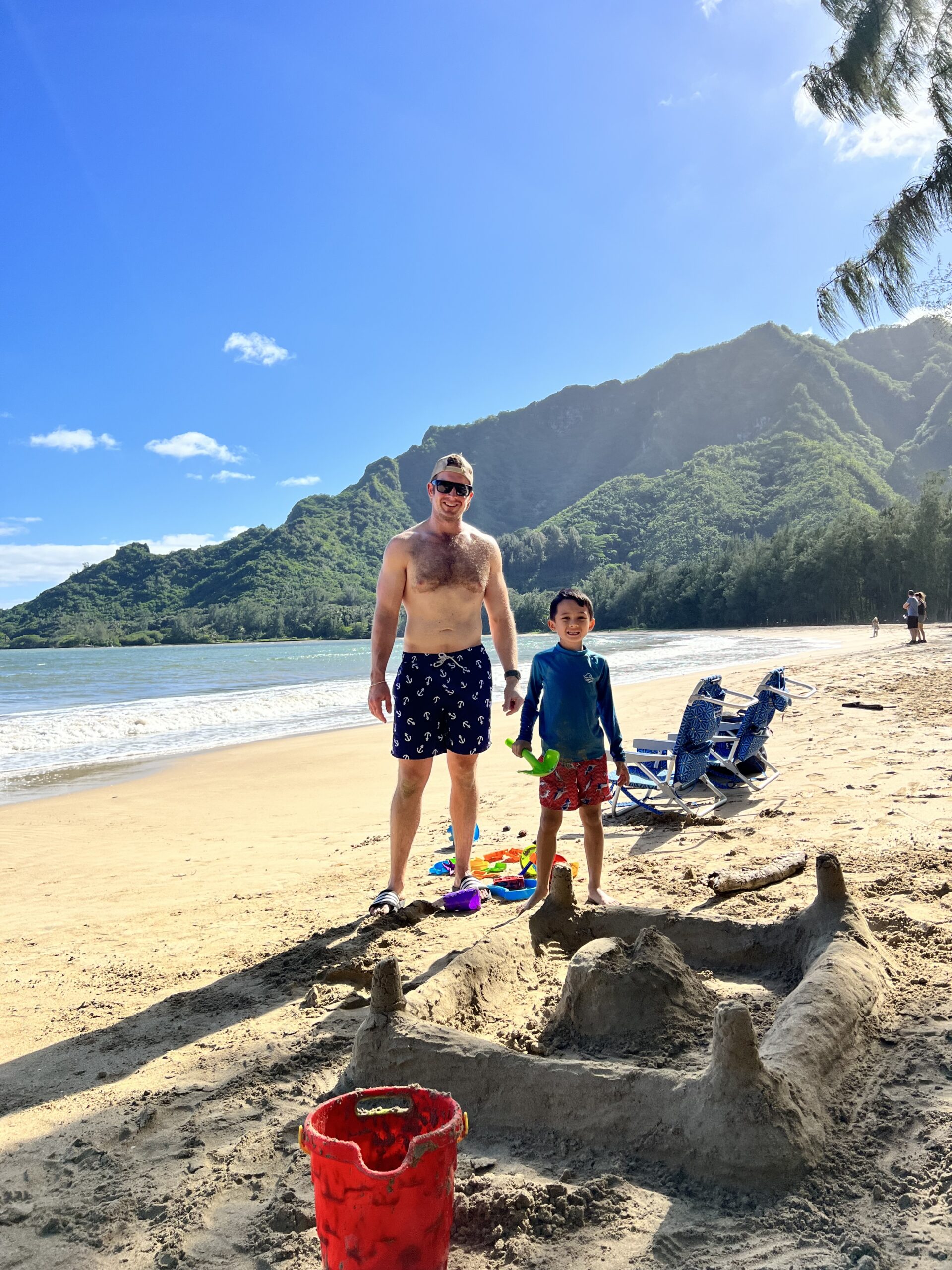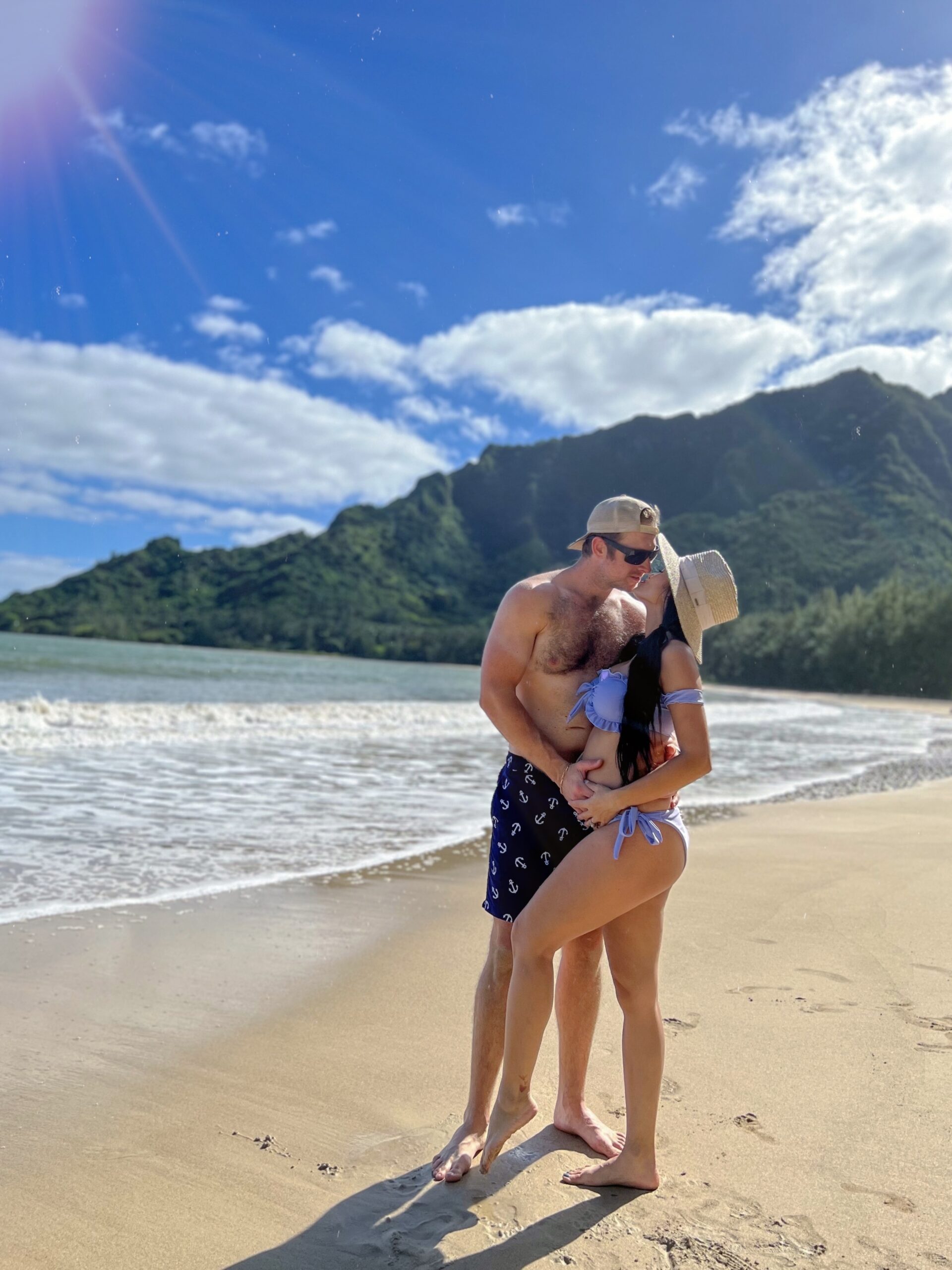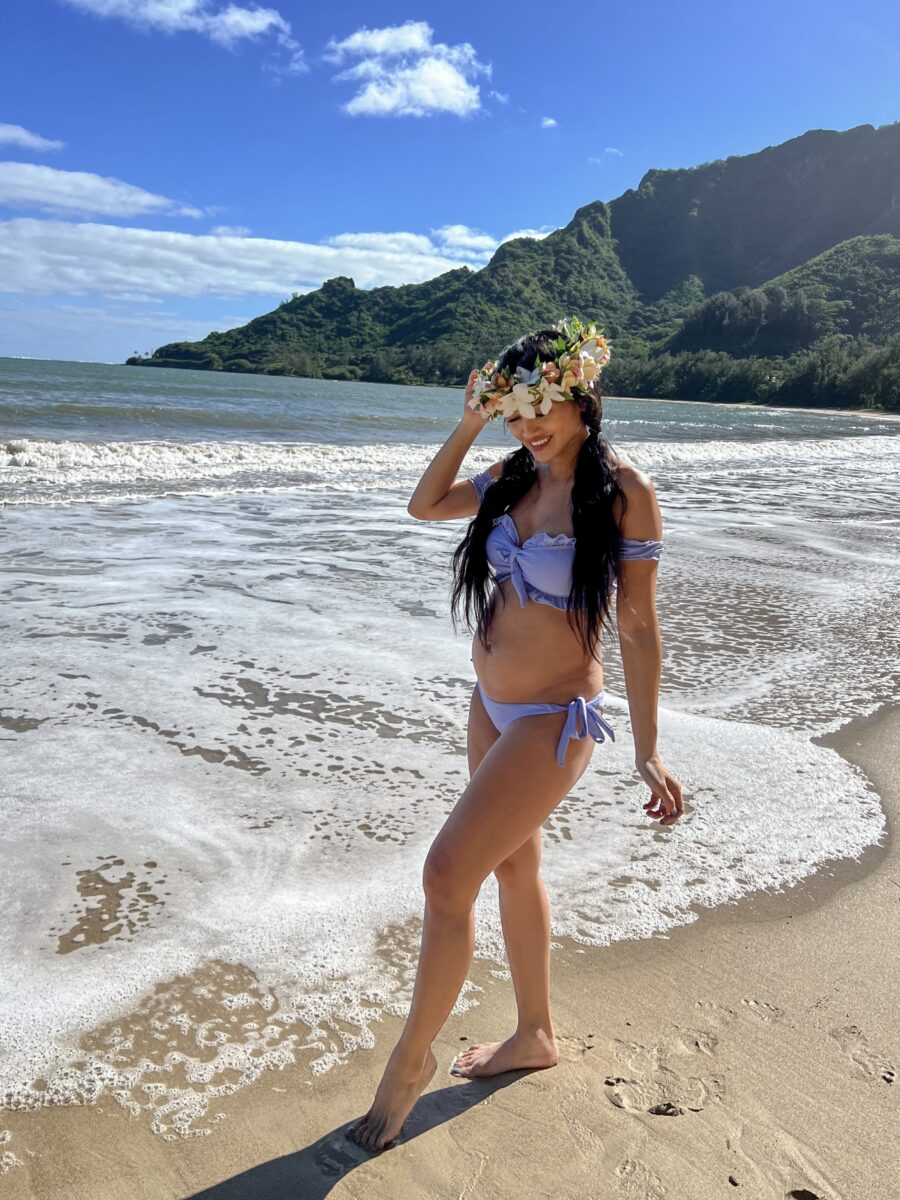 SHOP OUR LOOKS:

Hawaii is a beautiful place. There is so much culture and history that you don't want to miss. But with the current Covid mandates and restrictions it's hard to say if it's worth the money or the time to go during this time. I really hope it does change. But if not and you do decide to go, just make sure to be prepared. The laws are always constantly changing. Overall we love Hawaii and enjoyed our family trip. We hope to visit one day when it has less restrictions and open to all.
Check out our Hawaii Family Beach Photoshoot here!
P.S. Subscribe for weekly newsletters so you never miss a single post!