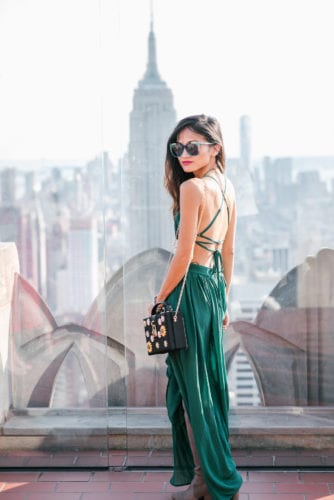 Happy Wednesday,
Hey guys, today I am sharing one of my favorite photoshoots at New York Fashion week with this beautiful cut out chiffon dress on top of the Rock. I am picking up from my last post to share one of my favorite days in New York City. The day where I got to be a tourist and check off so many things off of my NYC traveler bucket list including being on top of the Rock and getting this gorgeous view of the Empire State building! Read more below!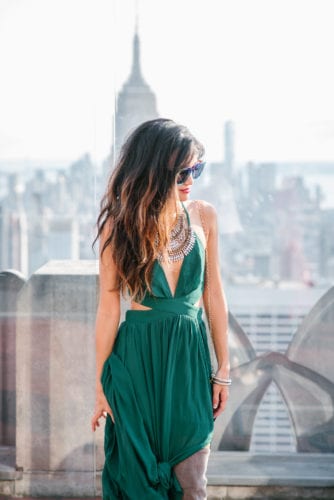 I was channeling my inner Leanna Marshall for the show that day with this gorgeous green dress for under $50. After the Vogue Brunch, Lan and I headed back to our hotel to change and do some quick photoshoots outside our hotel. We didn't shoot for too long as we wanted to be at our next early to avoid the lines at the Leeanne Marshall show. We were both so excited to see her collection as she also is known for her gorgeous feminine silhouettes. We took at taxi there and I think it ended up being one too many taxi rides for me. I felt nauseous. When we got to the venue the lines were outrageous even for priority standing. As soon as I got in the line I knew I couldn't make it through the show, I was feeling too nauseous and being in such a crowded space made it even worse. I ended up having to leave Lan and to head back to the hotel. Luckily Lexus saved the day again and gave me another complimentary ride back to my hotel. I was sad to miss the show as she had a stunning collection. I also informed by Lan that it was another show that had over invited and had to turn away so many people who came to see it. So many of those who were waiting were unable to see the show. Below are my two favorites looks from her collection. I am loving all the bold colors for spring. Yellow, my favorite color, is coming brighter and bolder than ever next year!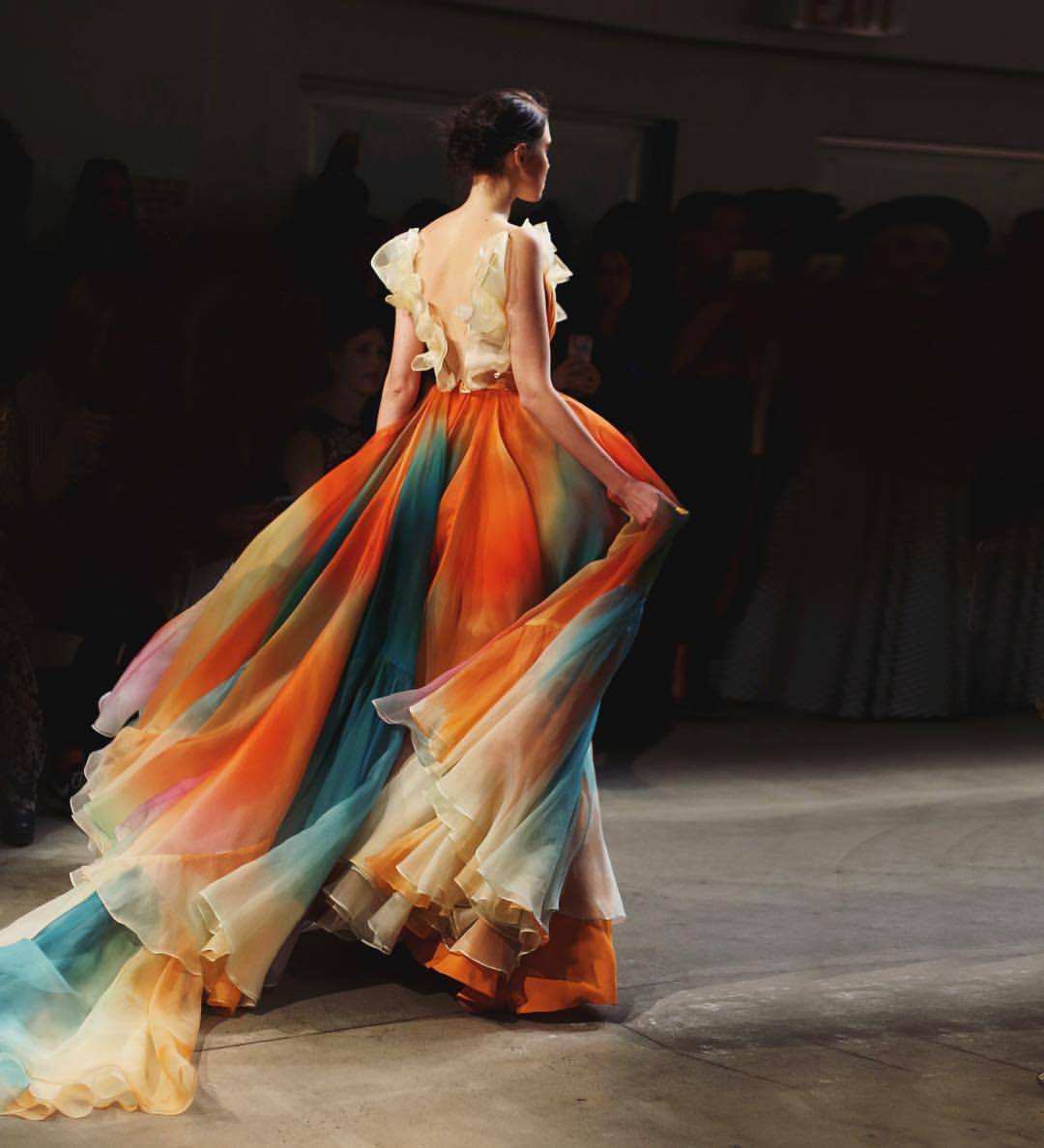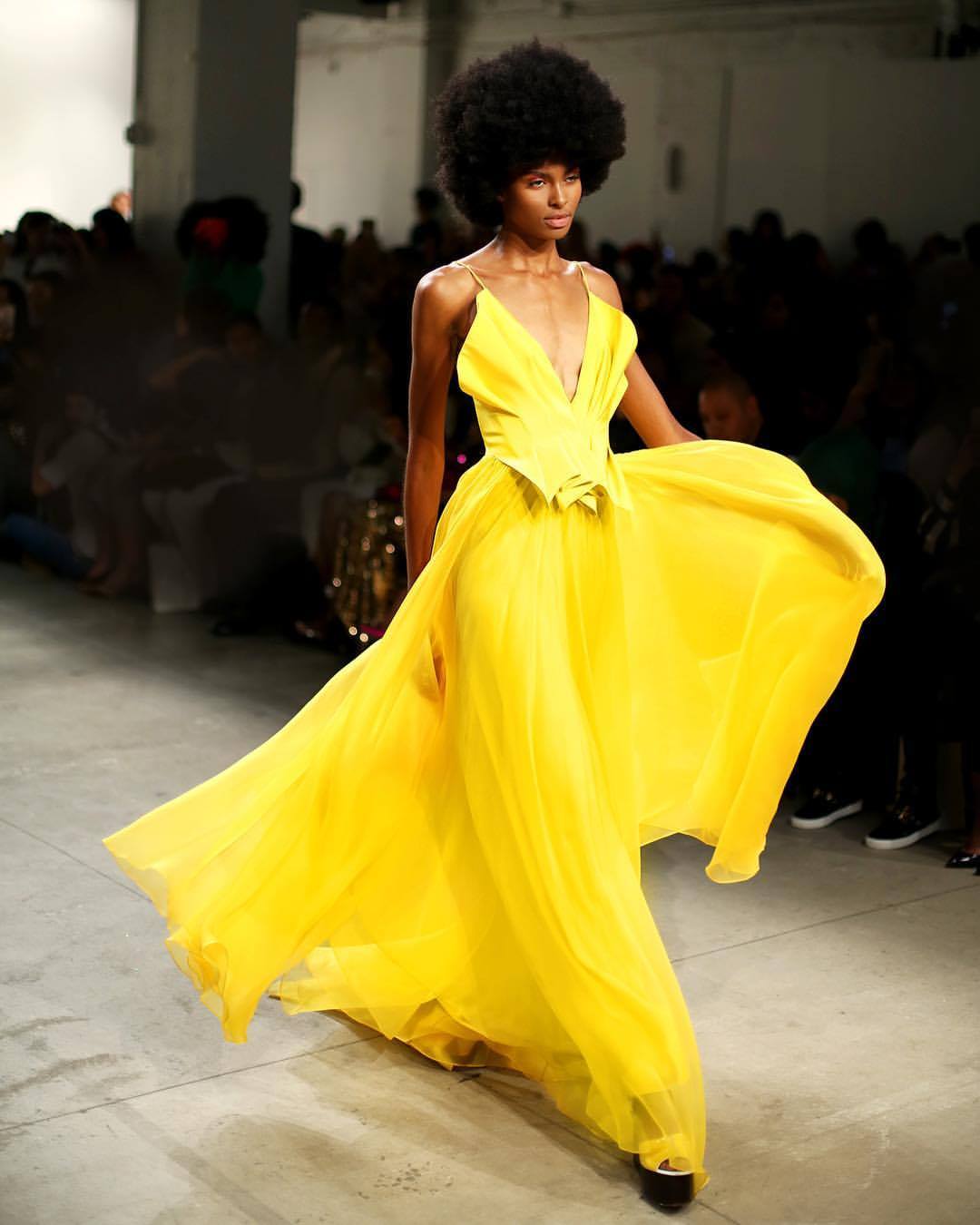 When I got to my hotel I took a little twenty minute break just to get my bearings straight before I headed to the subway for my next photoshoot with Yash. Since I had more time I thought it would be good for me to walk and get some fresh air. I was saying no to any type of taxi ride from this point on in this trip. When I got to the Rockefeller center it slipped my mind that this was where Saturnight Live and several NBC late night shows were filmed. I wish I had more time so I could have been more of a tourist and visited the studio. But I only had time to visit the top of the Rockefeller to take photo shoot with Yash. Just fyi it is $35 to go to the top and it is a maze getting there, so give yourself some time to get there if you have a photoshoot appointment. Luckily I was not late, and there were several of my favorite blogger babes already there taking pictures.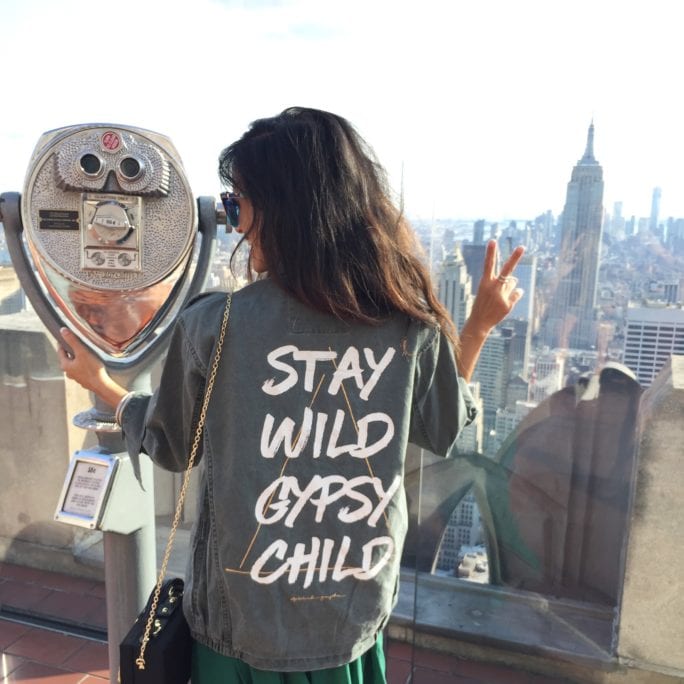 It seriously is an amazing view of NYC from the top, you can see the Empire State Building on one side and all of Central Park on the other side. We were there at 5pm on a Sunday and it wasn't too crowded, and the lighting was still great to take photos. I heard though if you come later for sunset is when it gets really crowded. So probably not advisable if you want to do a photoshoot. This jacket is one of the jackets I got at the Bollare showroom and is seriously my new favorite jacket. I am pretty sure the slogan describes me to a tee lol.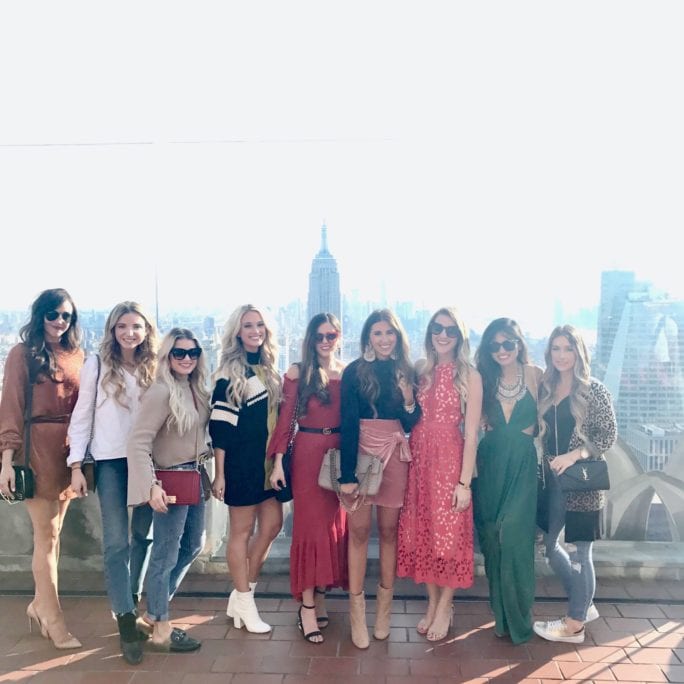 Blogger babes take over NYC!
After the photoshoot I went down to meet my cousin Liana a couple blocks away. She lives in NYC and works as an editor for a publishing company. I was suppose to go back to Vogue for a Free People presentation but I think I was just worn out from all the taxi rides that I just wanted to take my time walking the streets with NYC with my cousin. Plus we had tickets to see Wicked later that night!
As I was walking down the street to meet my cousin I stopped by a hot dog stand to enjoy a New York dog just like a true New Yorker, and it was the best $3 hot dog I spent. I was still so hungry I ended up going to another stand down the block and spending a dollar more, but was not as impressed. Moral of the story, not all hot dog stands are created equally. After I met up my cousin and we walked a couple blocks to Central Park. Last time I went I really didn't get to see all the touristy parts so I was so excited to explore a bit with my cousin. I could have spent a whole day there but unfortunately we couldn't because we had a play to watch!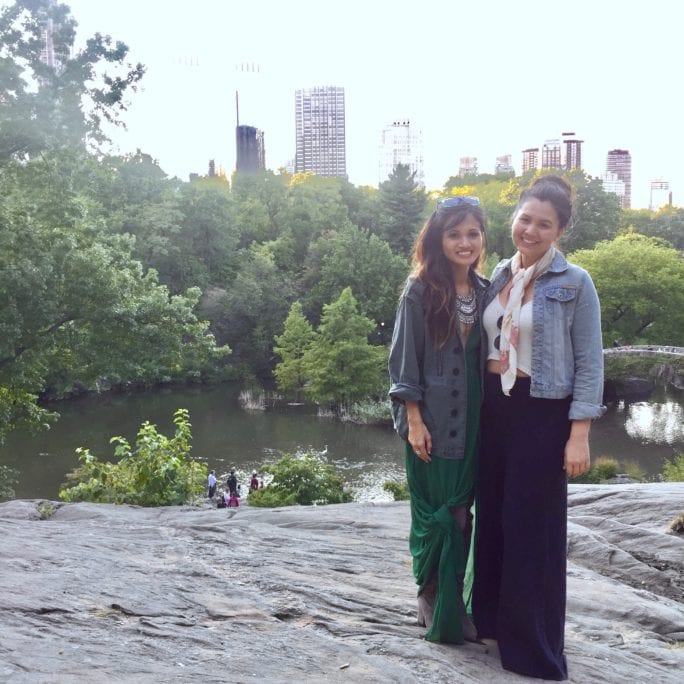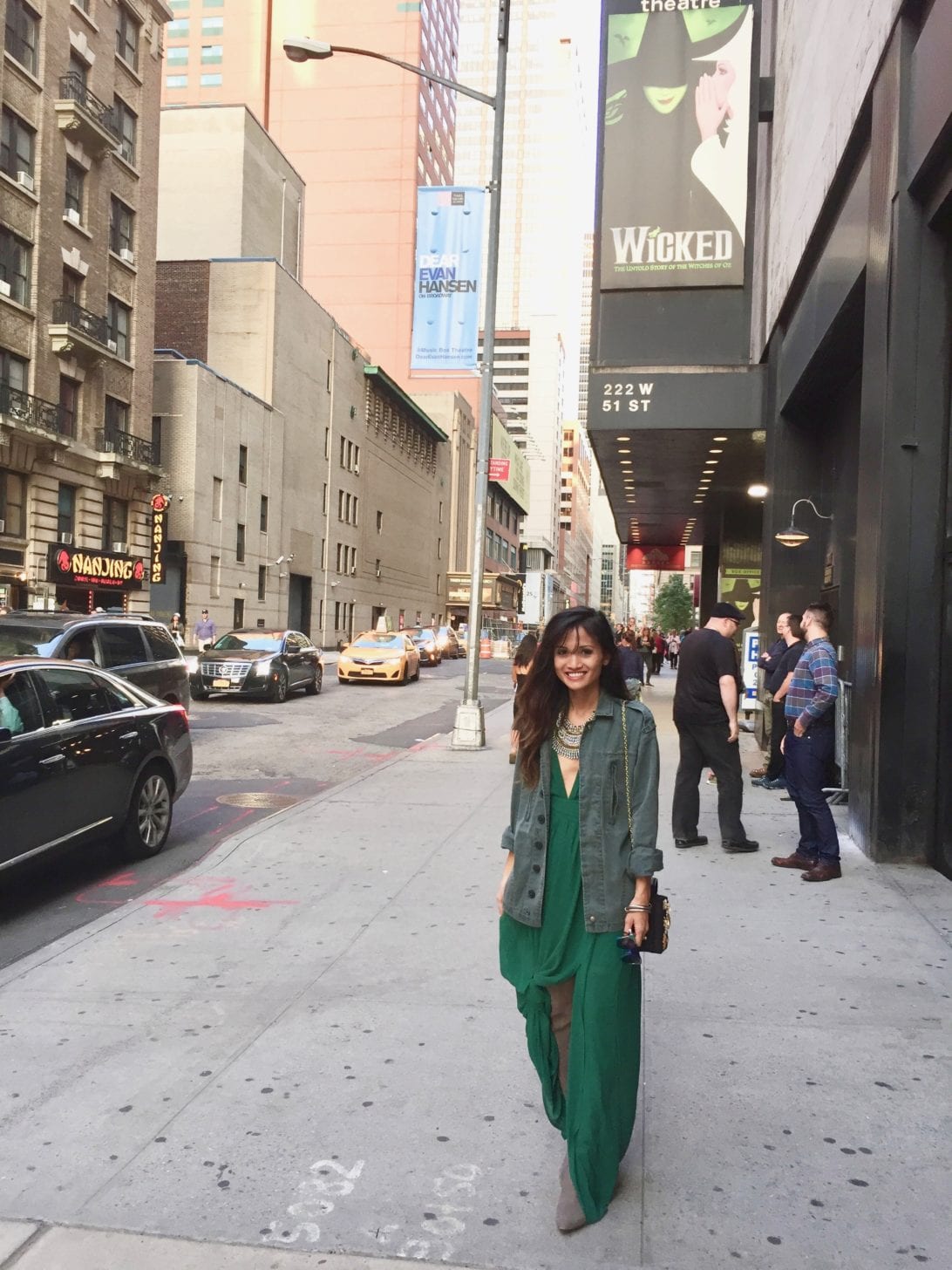 We were lucky we got Orchestra seating at Wicked. It was an amazing experience. I cried it was so good. If you are ever in NYC I highly recommend experiencing a broadway show. It is magical. After the play we went across the street to Nippori to enjoy some dumplings. I ordered dumplings only to find out I had ordered wasabi dumplings. Even though my mouth was on fire it was so good I finished it! When we finished up with our dinner, we decided to walk down to Time Square which was so pretty to see all lit up at night. It was busy and there were tons of tourist and entertainers everywhere. I was on a hunt for some sugar coated nuts and my cousin said Time Square would be the place to find it. Sure enough there were tons of food carts everywhere! I honestly wonder if this part of NYC ever sleeps. It was so much fun to see and just to walk every where and see the NYC night life. Midnight came around so we headed to the subway which we took our way separate ways back home. Even though it was the middle of the night I wasn't scared walking to my hotel alone from the subway. But I was on the phone with my husband the whole time so didn't feel so alone.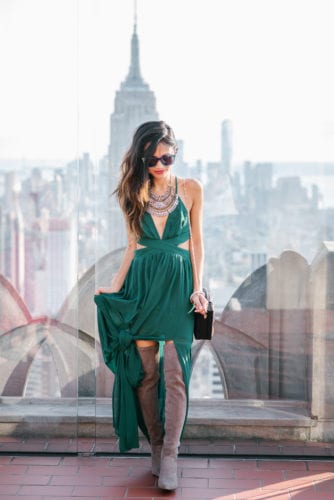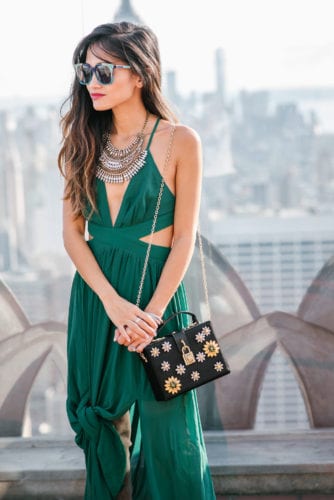 I loved this dress for this day because it was a perfect dress not only for the show, and for this shoot, but for a little greenification for Wicked. This is a great dress you can wear in the summer, but also can easily transition into fall with a light jacket and my favorite over the knee boots. I love these glasses from Pared, but unfortunately I ended up leaving them at the theatre. I was so bummed because I just got it at Bollare. Oh well at least I have pictures to remember them by right? This bag was love at first sight when I saw it at Charming Charlie, unfortunately it is not linkable. I found out it was a Dior 2015 dupe!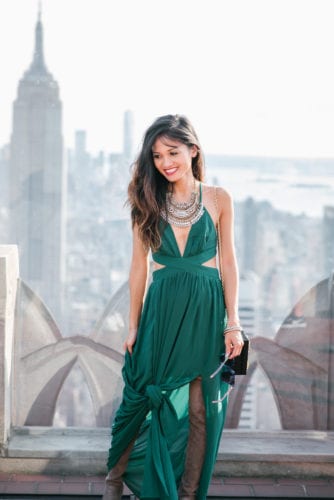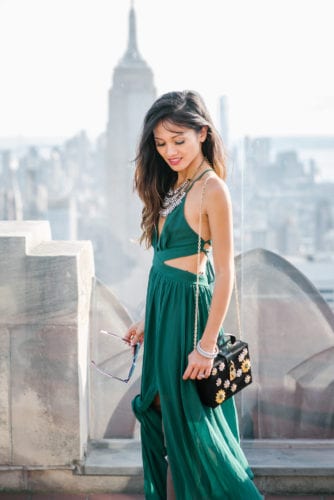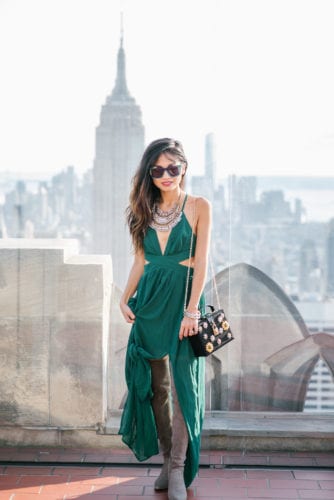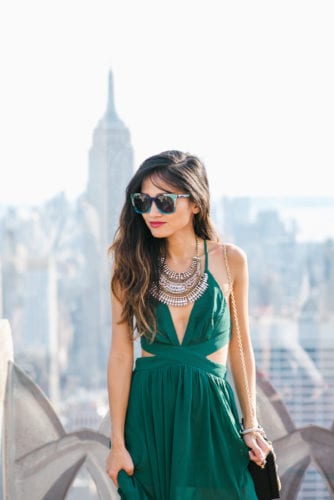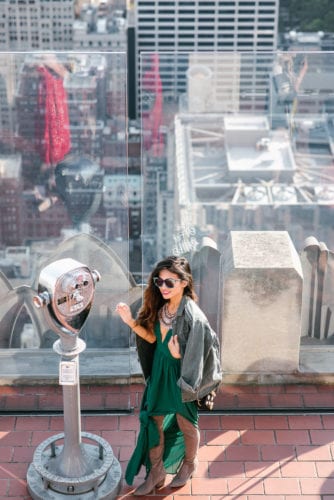 SHOP THIS LOOK:

Photos by: Ban Avenue
I hope you enjoyed this pretty green dress on top of the Rock, and my recap of one of my favorite days at NYFW, where I got to be a tourist in the city. I will be sharing a NYFW visiter guide next week! Stay tuned next week for my last day and recap of my trip. Thanks for following along!
P.S. Subscribe for weekly newsletters so you never miss a single post!