Happy Friday everyone! After my vacation from Tulum, I was inspired to share with you my easy vacation make up tutorial. Let's face it, when your on vacation having a full face of make up is not your priority especially since its added extra time to get ready. And we all know we would rather be out enjoying our day. Also with the heat and summer we don't want to wear make up that will cake or melt off. So today I am sharing my easy vacation makeup tutorial that will stay put through the summer heat. Watch my full video tutorial and read more about what products I use and why below! Plus scroll down to enter in the first $500 Nordstrom Gift card giveaway so you can shop the Anniversary sale with me!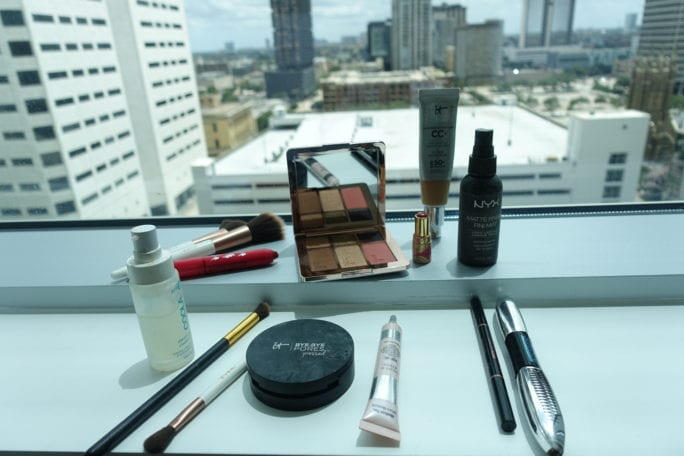 Easy Vacation Makeup Tutorial
1. I always prime my face with this primer. It's my absolute favorite because its farm to face with no GMO's, and it has SPF 30+!
2. I use this foundation because it is a light full coverage foundation that doesn't make you feel heavy or cakey. It also have SPF 50+ which is great if you are going to be out in the sun all day.
3. This is the concealer I use in the summer. I like this one because it gives an illuminating look plus it's also waterproof!
4. I use this setting powder for my under eye and t-zone because it is light, keeps my makeup put, and isn't cakey.
5. For contouring and eyeshadow, this palette is an all in one cheek and eye palette that is convenient and easy to use. Plus the colors are so pigmented you don't need to apply a lot of product to achieve the look. Did I mention there is no fall out. Love this palette!
6. When I am on vacation I like using a waterproof mascara that won't run when I get wet. This mascara is my favorite drugstore mascara for under $10!
7. For my eyebrows I love this brow definer. It is a thicker pencil but easy to use, and great for filling the brows in a hurry! You can visit this post to see how I do my eyebrows and my holy grail products for the perfect brow!
8. This setting spray is my favorite drug store brand, though I absolutely love and recommend this one too!
9. For lips, a combination of this lip tint crayon and lip balm is my go to for luscious, moisturized lips for summer.
SHOP BEAUTY PRODUCTS:

I hope this Easy Vacation Makeup Tutorial helps you get that beautiful effortless summer look while you are on vacation. What are some of your favorite beauty products that you like to bring on vacation? Also don't forget to enter in the $500 Nordstrom Giveaway below! Thanks again for watching and have a great weekend!
Nordstrom $500 Gift Card Giveaway
The Hosts
The Blue Hydrangeas | Sylvie in the Sky | To Thine Own Style Be True | It Starts with Coffee | Christina B TV | Pout and Powder Blog | The Lush List | Tanya Foster |
The Middle Page Blog | Bag O Pediatricks | Cashmere and Jeans | Living With Claire | Moda MD | A Byers Guide | Camellia and Pearls | Whats for Dinner Esq. |
Glam Optometrist | We Love Eyes | House of Marz | Dawn P Darnell | StyleElixir
The Giveaway
I've teamed up with my favorite bloggers to offer you a $500 Nordstrom gift card just in time for the sale! Use the widget below to enter the giveaway. The more "tasks" you complete, the more entries you will receive. Make sure to do the actions in the Rafflecopter before marking that they are done! The giveaway is open to US residents only. Contest runs between 7/13/2018 and 7/27/2018. Good luck! The winner will be announced (on the widget only) one week after the giveaway has ended.  If you have any questions about the giveaway process, feel free to e-mail April at hello@thebluehydrangeas.com