This is a sponsored conversation written by me on behalf of Dr Pepper®. The opinions and text are all mine. 
Hey everyone, can you believe the 4th of July is just around the corner? I'm excited to celebrate our Independence Day with friends and family. This year, I wanted to share an easy and fun DIY Dr Pepper float station for your next 4th of July party. It will sure be a hit with your guests! Nothing says summer like a Dr Pepper float, and if you are in Texas, where it is hot as hades, then this makes the perfect party drink to keep you cool and refreshed. Check out how you can recreate this 4th of July inspired Dr Pepper float station below!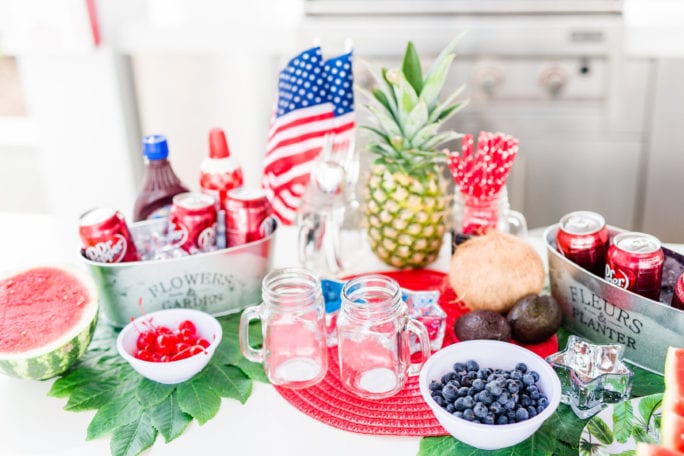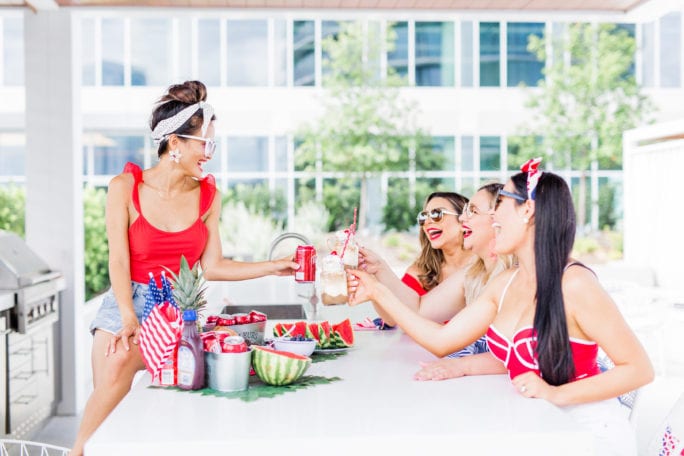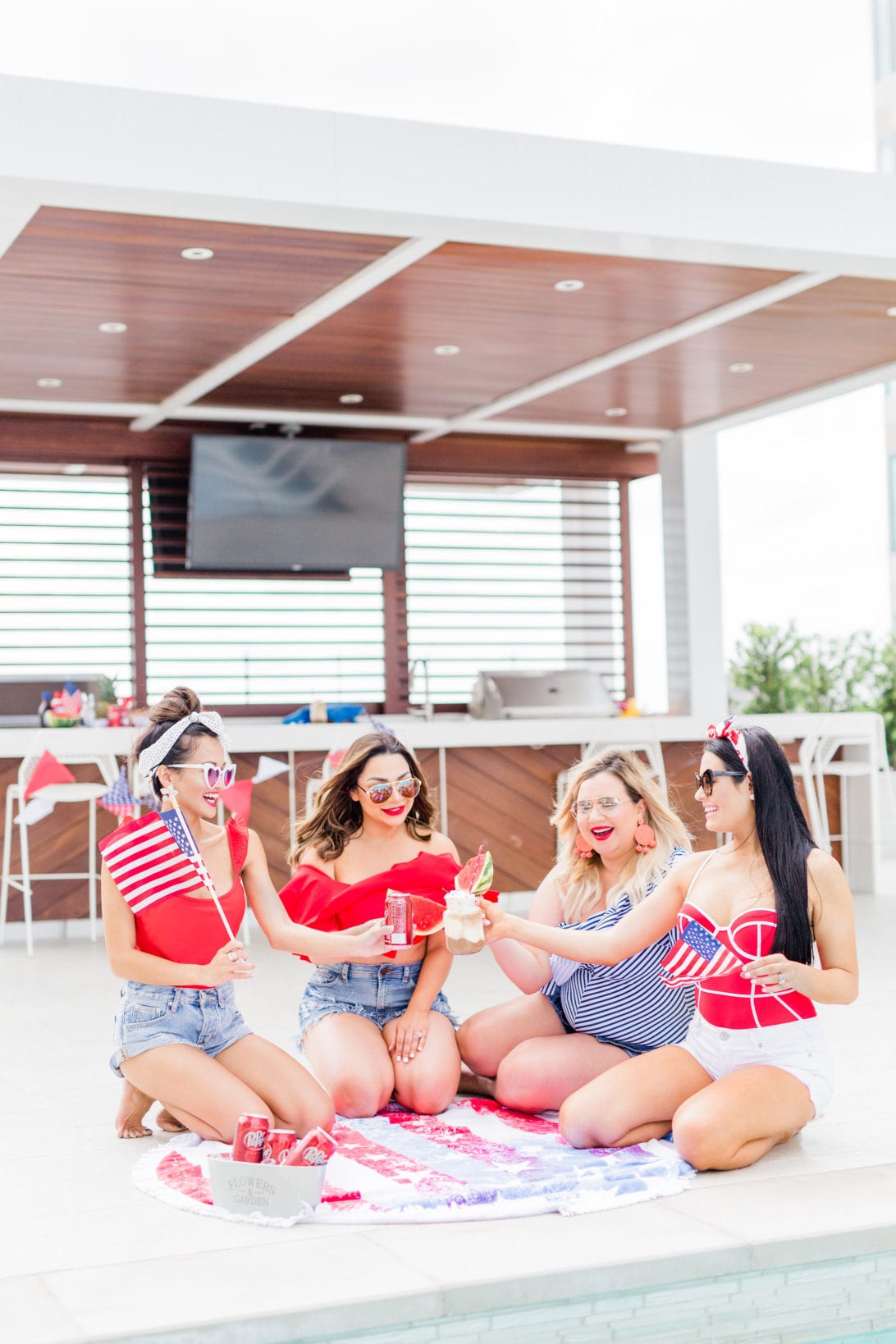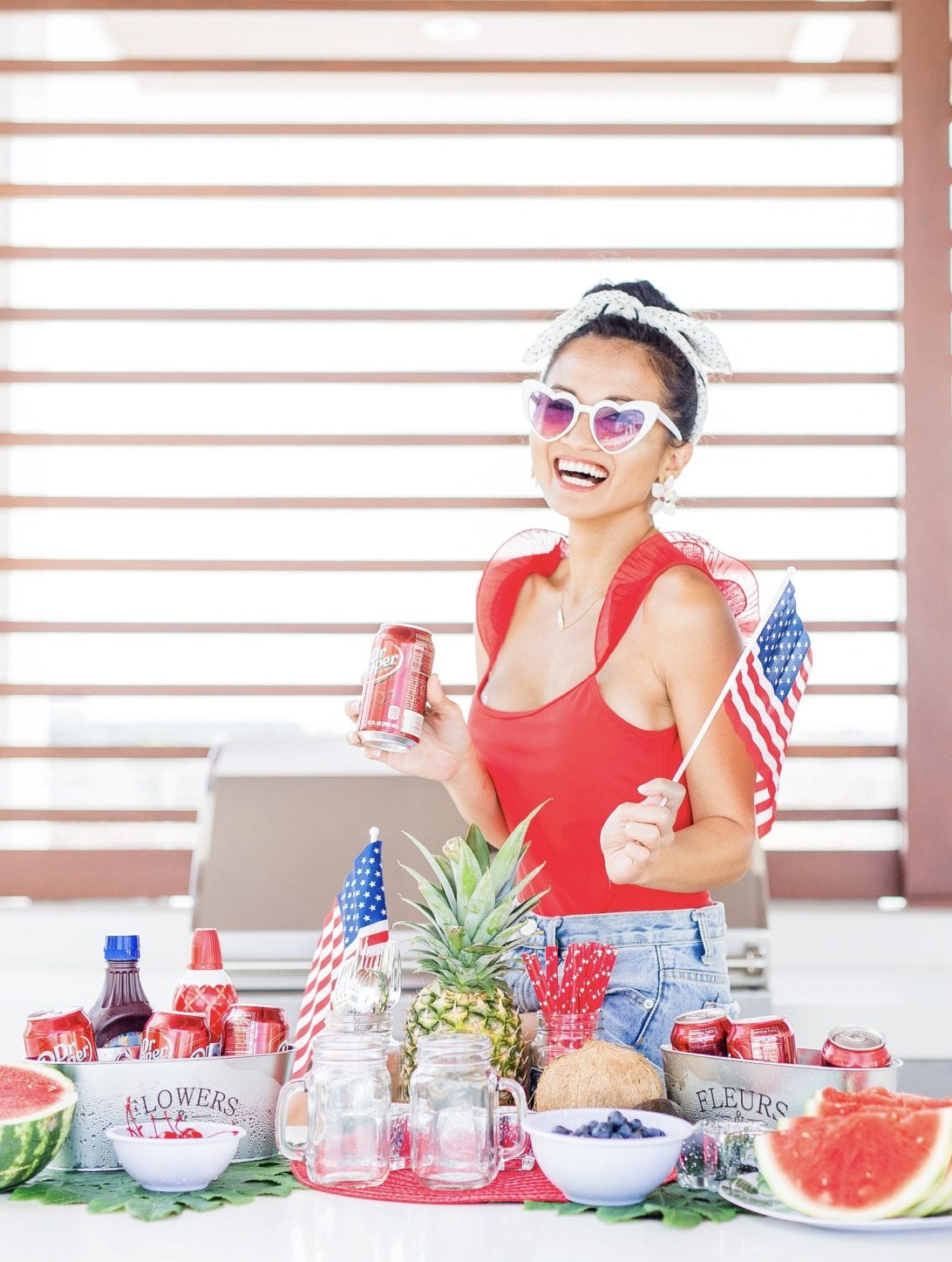 A Dr Pepper float station is an easy, affordable dessert beverage station that you can recreate by heading to your nearest Walmart store for all of your supply needs. Below I've listed the supplies you need to recreate my Dr Pepper float station. 
What you need:
1. 4th of July inspired decor– Mix it up with a little red white and blue. I bought little American flags, star straws, and banners to decorate my station. Also, I used star-shaped candle holders as my toppings holder to put my red, white, and blue sprinkles in. 
2. Beverage tubs– I love these planter style beverage tubs to hold my iced Dr Pepper in, and there are many options to choose from at Walmart. Plus, having beverage tubs instead of coolers make for an easy access station without the bulk. 
3. Mason jar mugs– Opt in for reusable glass cups, like mason jar mugs, instead of plastic cups for a more environmentally conscious and not to mention cute beverage holder. Nothing says summer like Dr Pepper floats in glass mason jars.  
4. Assorted toppings– Allow your guest to get creative with their Dr Pepper floats by having cherries, sprinkles, blueberries, whipped cream, and chocolate syrup to add to their topping.
5. Ice cream– Opt in for individual ice-cream cups to choose from instead of a big bucket of ice-cream so guests can create their own Dr Pepper float. 
6. Fresh fruit– Fresh fruit can also be a colorful way to decorate your Dr Pepper float station. Plus, nothing beats watermelon with your Dr Pepper float on a hot summer day. 
7. Colorful placemats– Placemats are a great way to keep your bar clean and also decorate your station. And I love having colorful summer inspired placemats to keep my Dr Pepper float station looking fresh and bright.  
8. Dr Pepper– You can't have a Dr Pepper float bar without the Dr Pepper!  Dr Pepper has always been my number one choice when it comes to carbonated drinks. Plus, I love the sweet cherry flavor that is refreshing with every sip. And it is even better with ice-cream! Look for the new Pick Your Pepper packaging hitting stores 6/15/18 with special packaging designed for millennials, by millennials.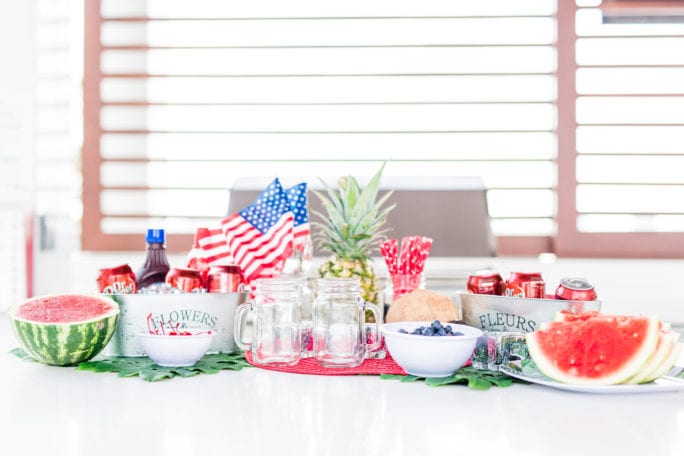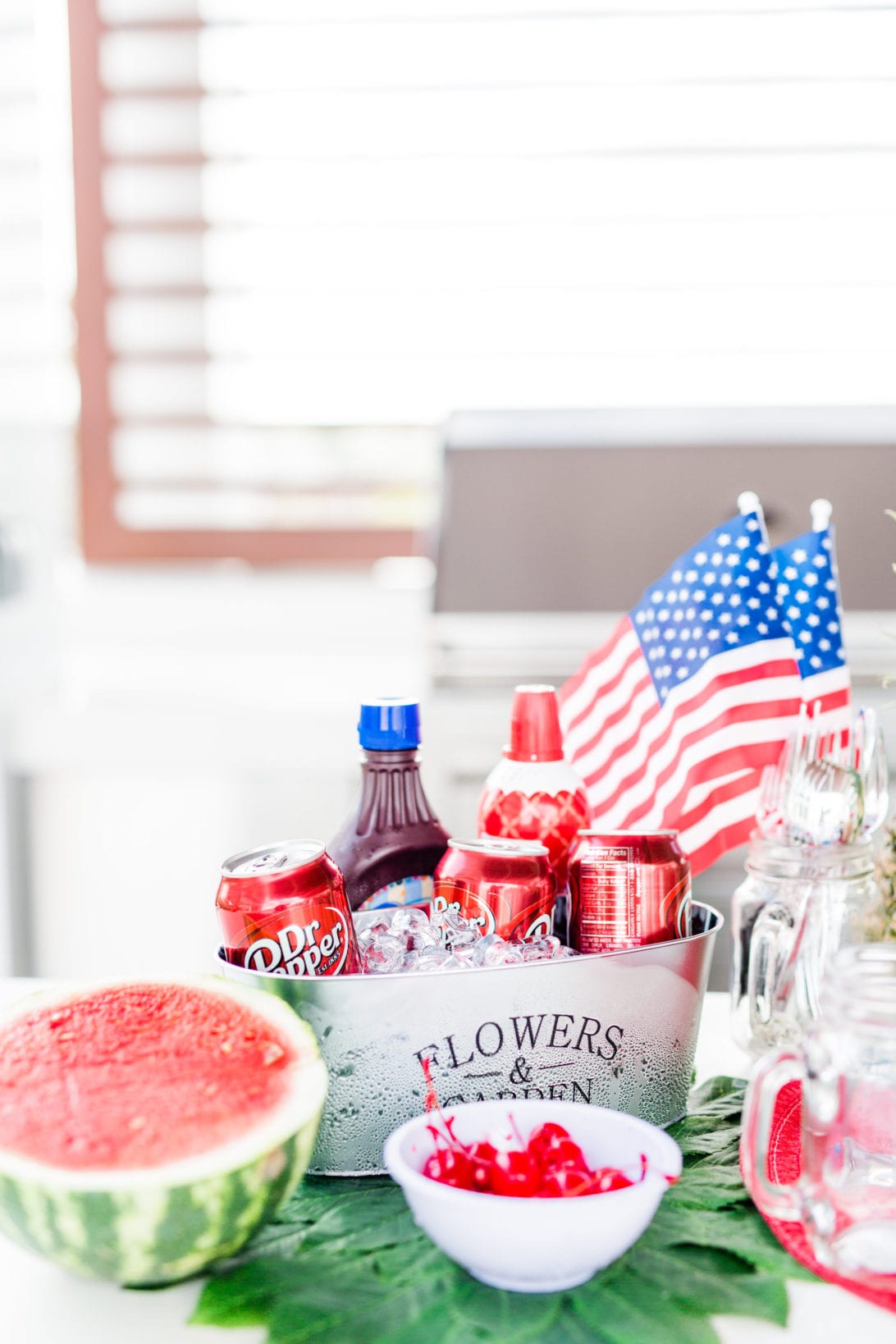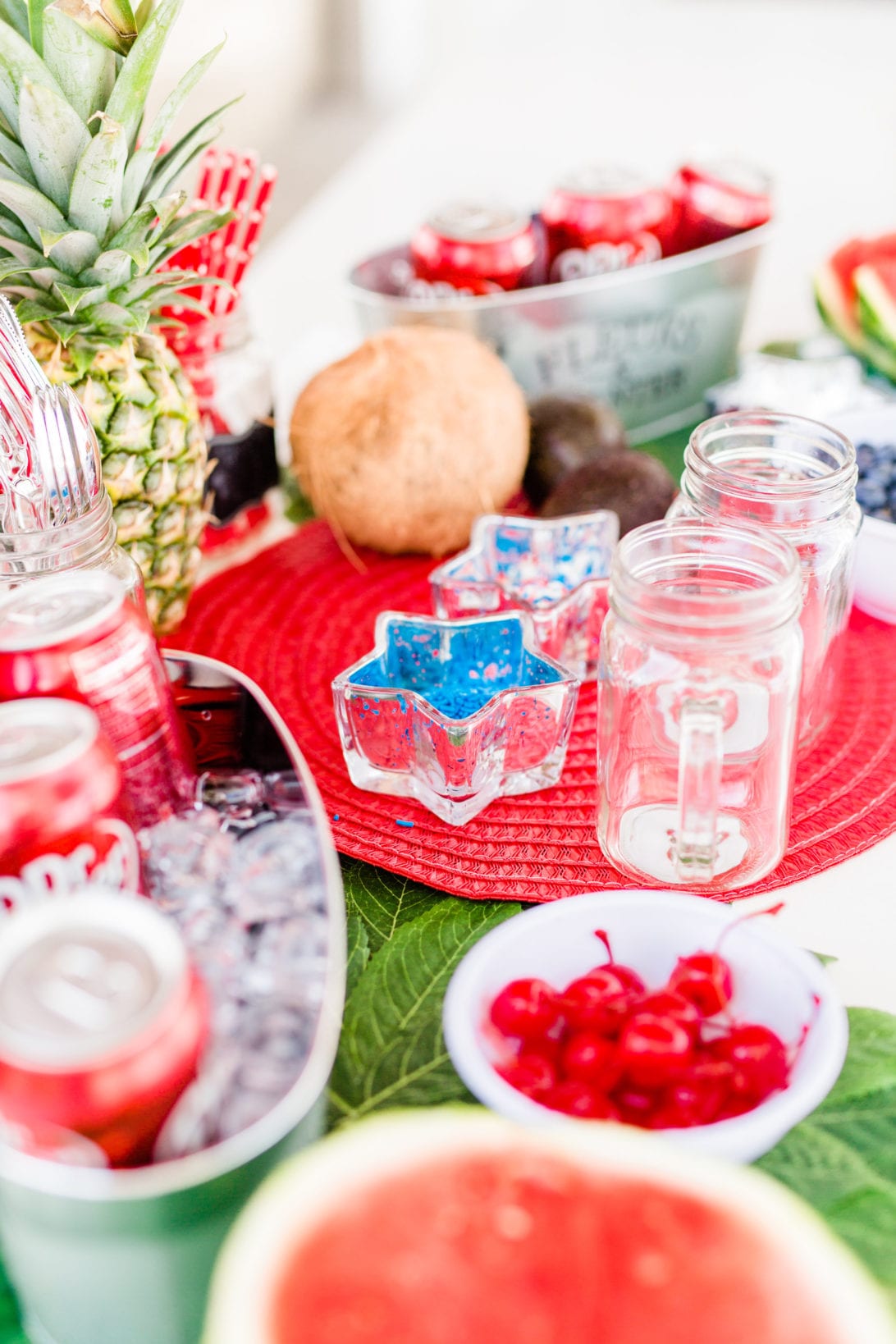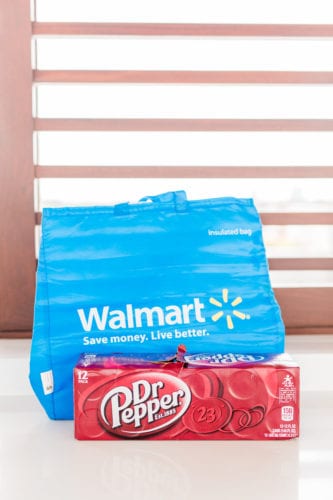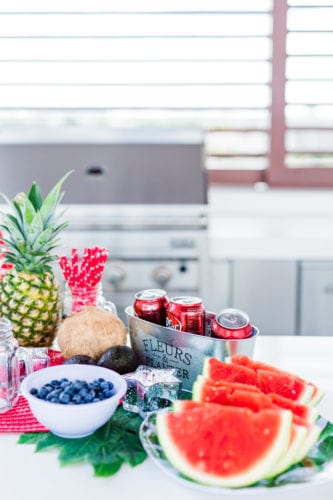 Did you know when you buy Dr Pepper between 6/15-8/15 this summer, you can upload your receipt at www.drpepper.com/walmart to get prizes like:
1. Spend $5 get 5 bottles = Dr Pepper Retro Specs
2. Spend $10 get 10 bottles = Dr Pepper Copper Lined Mug
3. Spend $20 get 20 bottles = Dr Pepper Bluetooth Speakers
4. Spend $30 get 30 bottles = Dr Pepper Pool Float
These prizes make a great addition to your 4th of July party!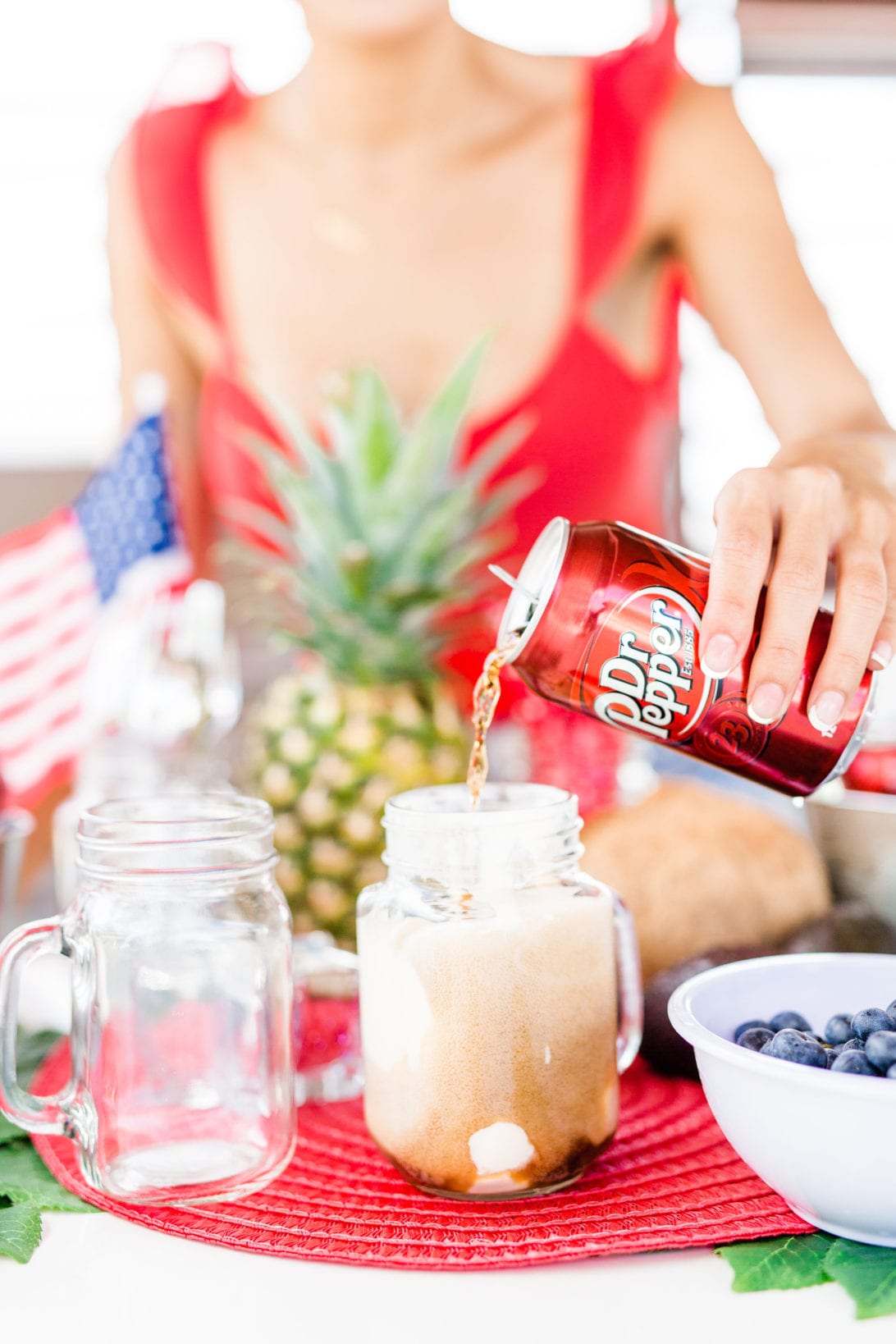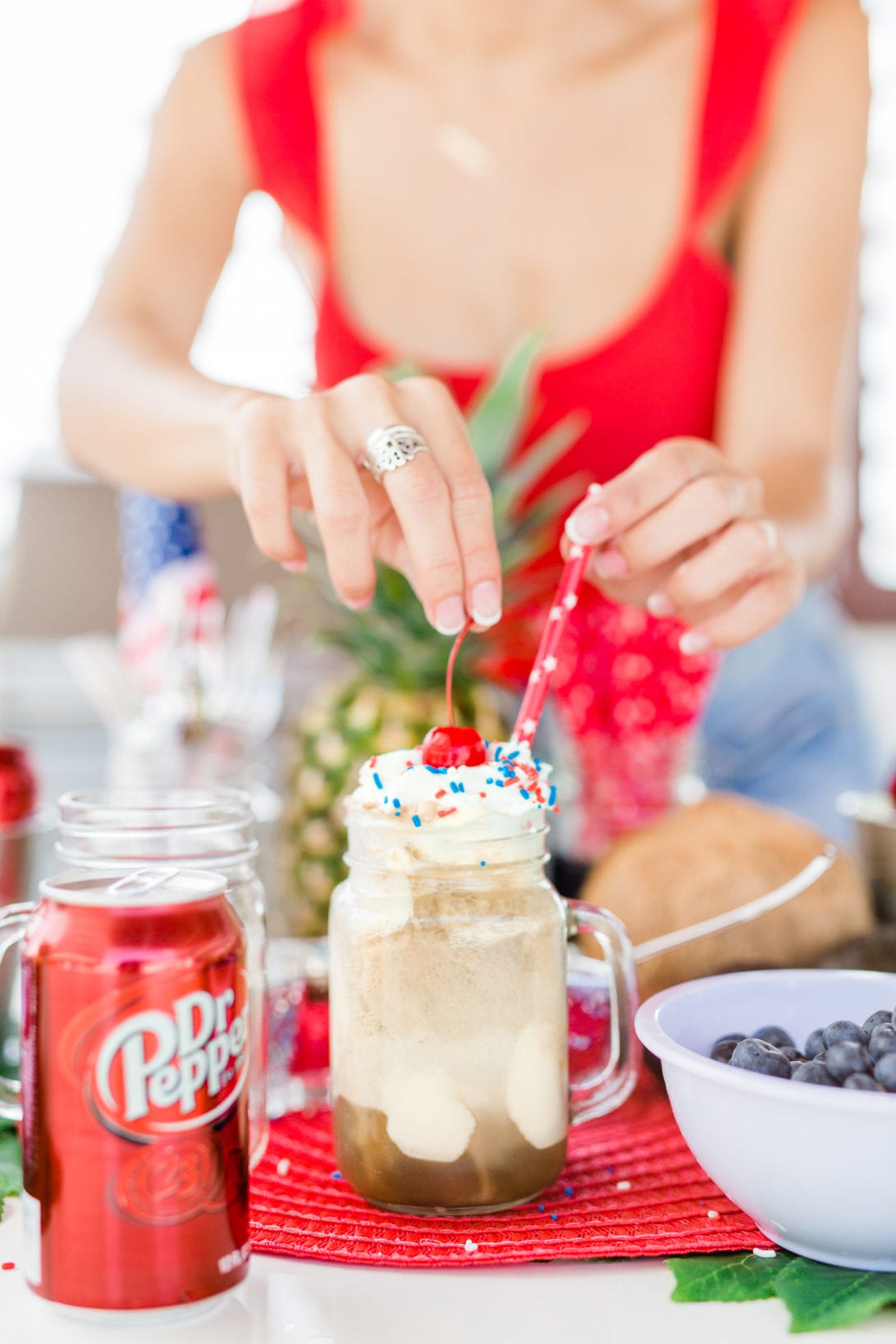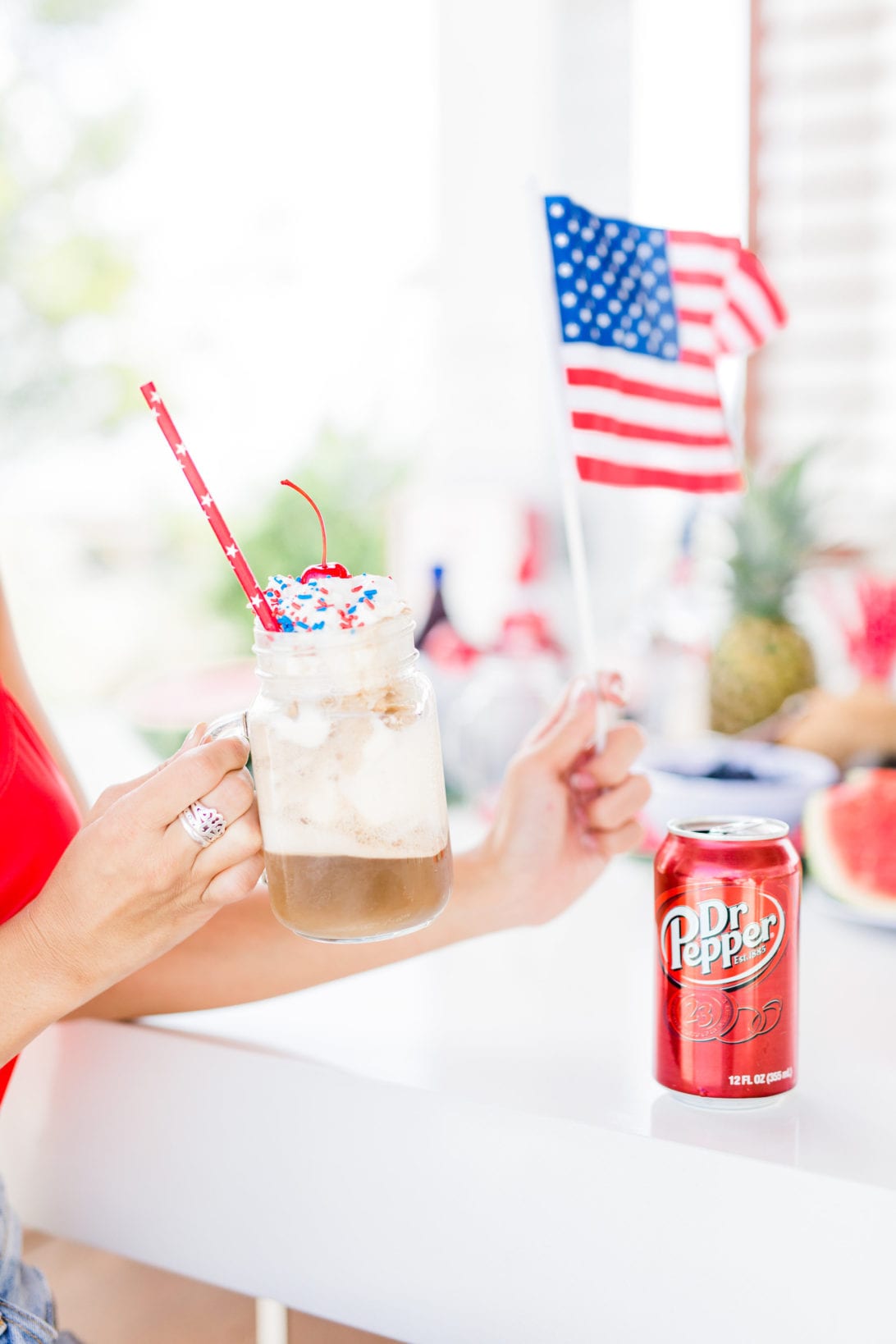 Cheers to good girlfriend, great food, and delicious drinks! We had so much fun celebrating at the beautiful Kirby Collection pool. Plus, these Dr. Pepper floats were sure a hit with my girl friends at our pool party!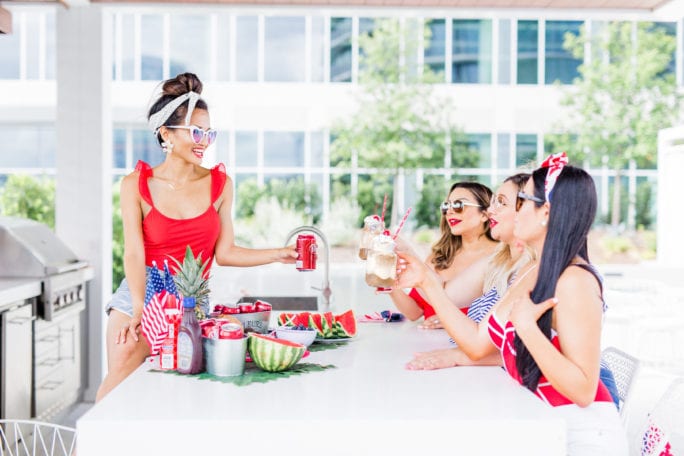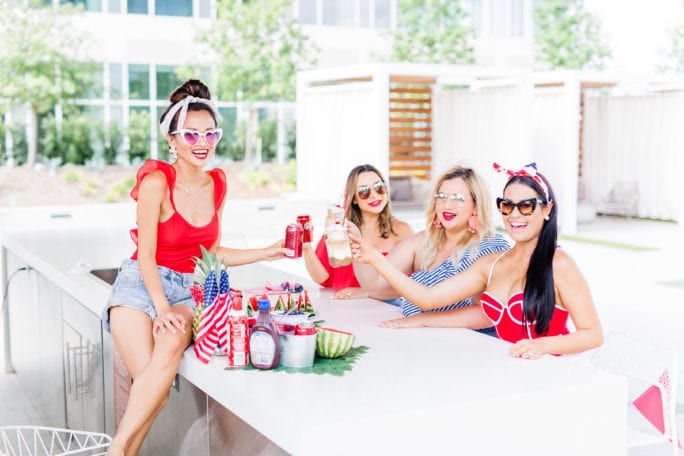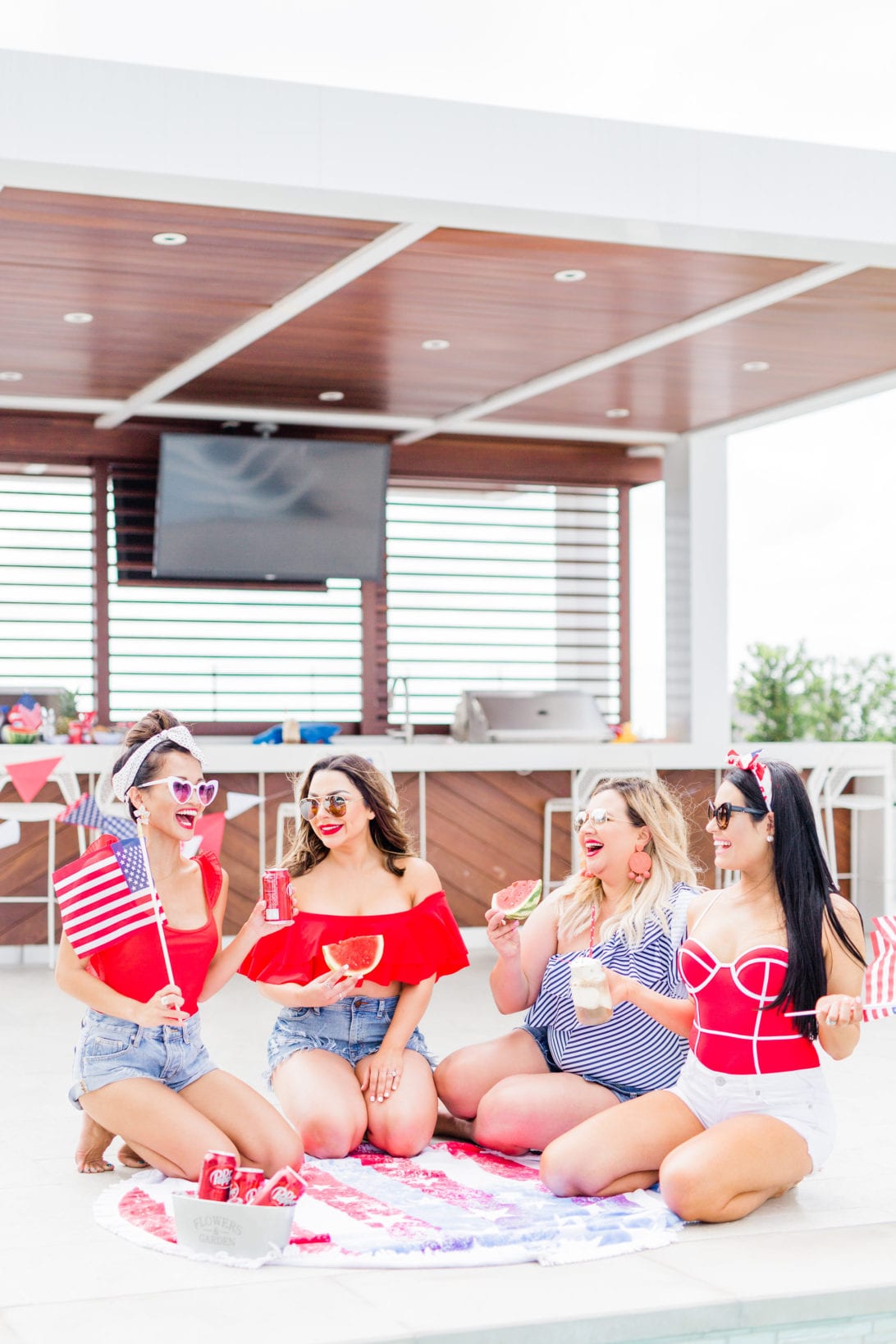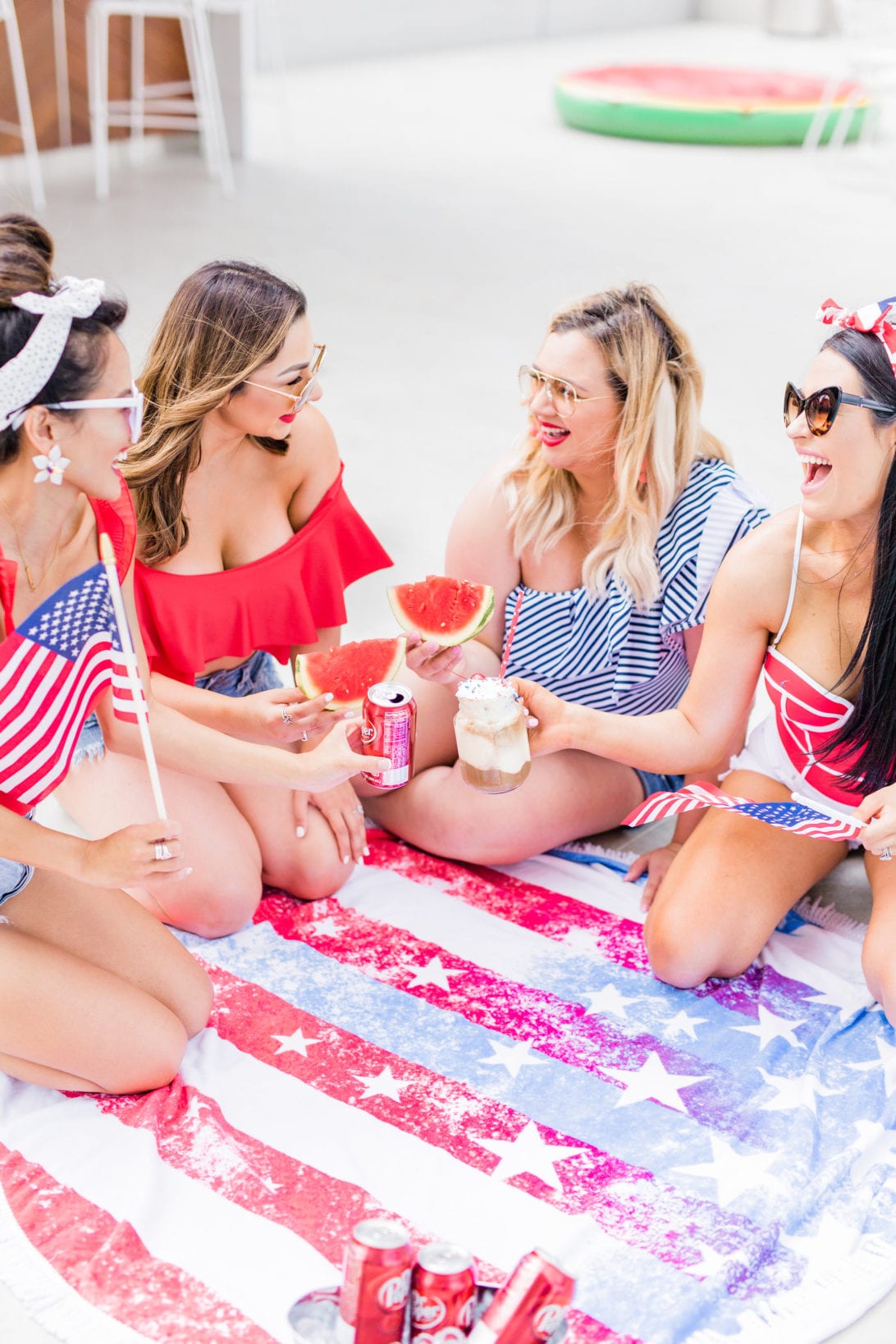 Now who is ready to have some 4th of July party fun? I hope you enjoyed this easy DIY Dr Pepper Float station for your next party. Don't forget to head to Walmart for all your party shopping needs and look out for the new #PickYourPepper packaging at #Walmart! Also, don't forget to enter to win some amazing Dr Pepper prizes too! 
P.S. Subscribe for weekly newsletters so you never miss out on a single post!