Last weekend my husband and I enjoyed a wonderful date night together thanks to my wonderful mother in law for watching Jayden for the night. Since my husband works two weeks straight and at night, I hardly get one on one time with him. One thing I value is our date nights we have together, and since we co-sleep it is one night we have to ourselves and when Jayden has a sleep over with his grandparents. Today I am sharing why date nights are important to me and this slip dress I wore to our date night. Plus some of my favorite slip dresses under $50.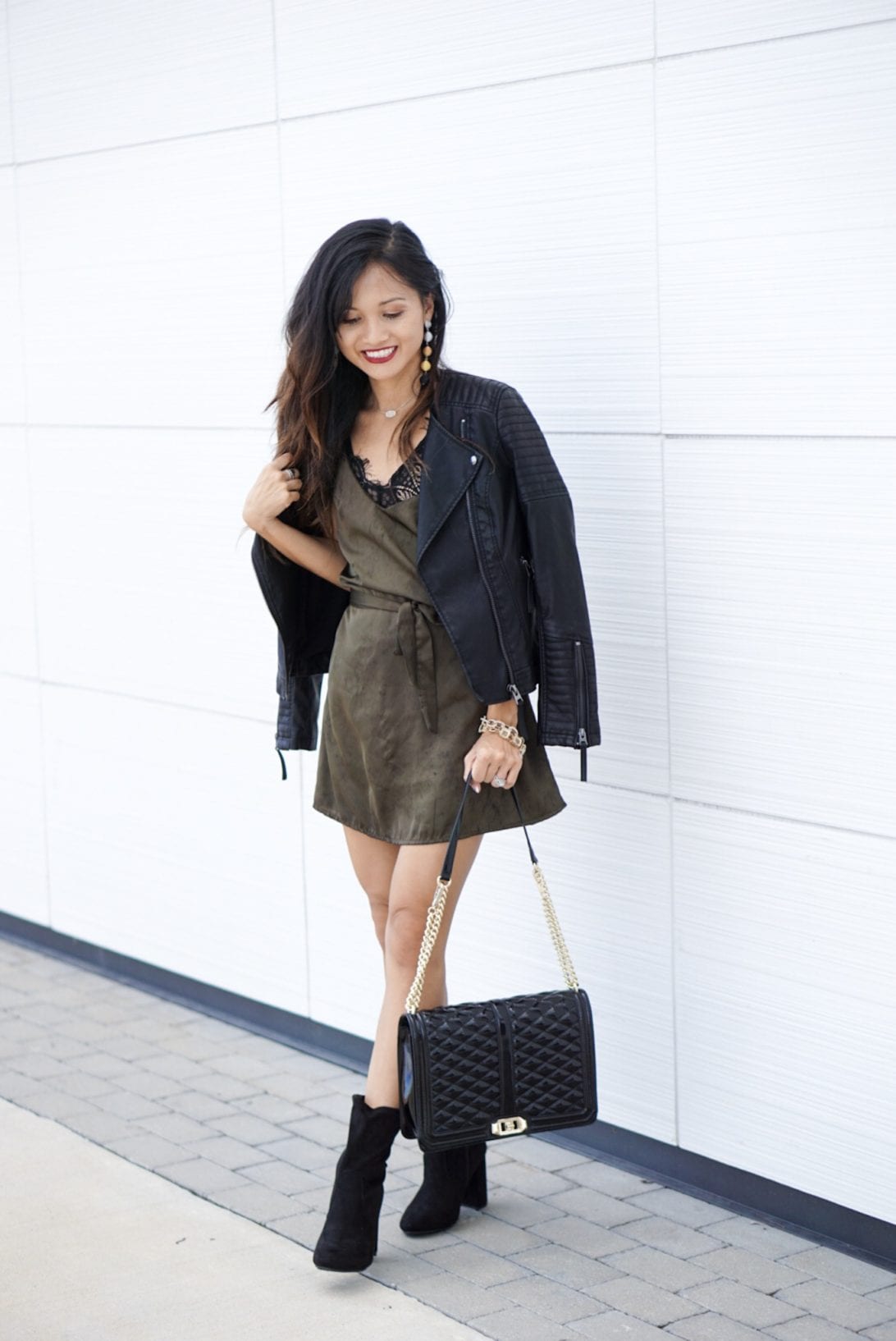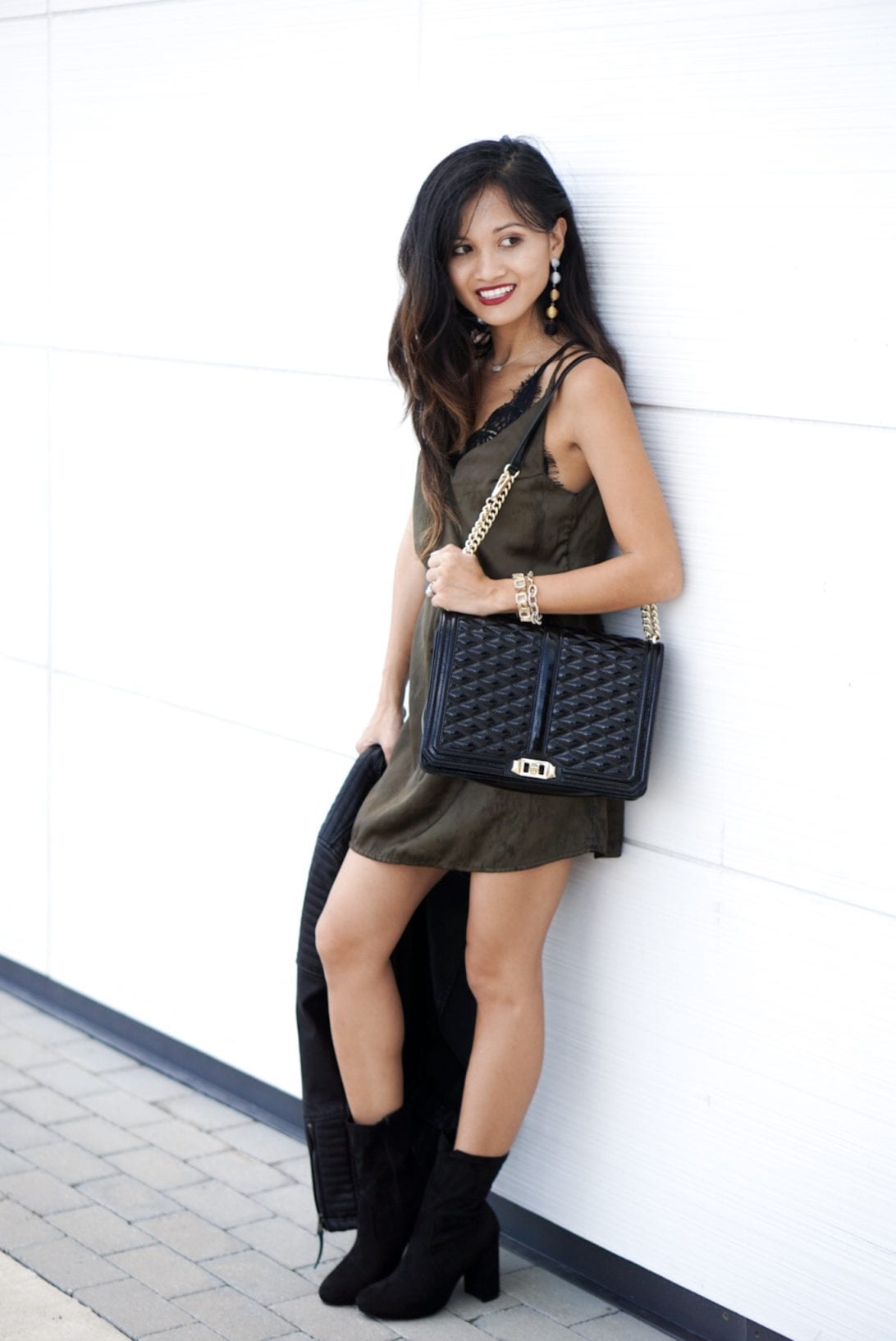 With the recent events that happened in Las Vegas, I was ready to just have my husband home so I can just feel safe lying next to him. I honestly don't know what I would do without my husband. He really keeps me sane and from my mom anxiety from going out of control. Every time he is home I feel 100% better because I know the house is clean, we will eat decent home cooked meals, and I can relax and feel safe. But on top of that he always has a way of boosting my ego and making me feel like a Queen. Even on my worse of days he can just give me this look and I just melt. Date nights are important to me because it is one night we don't have to stress out about being parents, and where we can be free to enjoy each other's company without the interruption of our little man. We try to have date nights once a month at our house. We usually start dinner early and then go see a movie. We don't stay out late because we want to make sure we have plenty of cuddle time when we get home wink* wink*.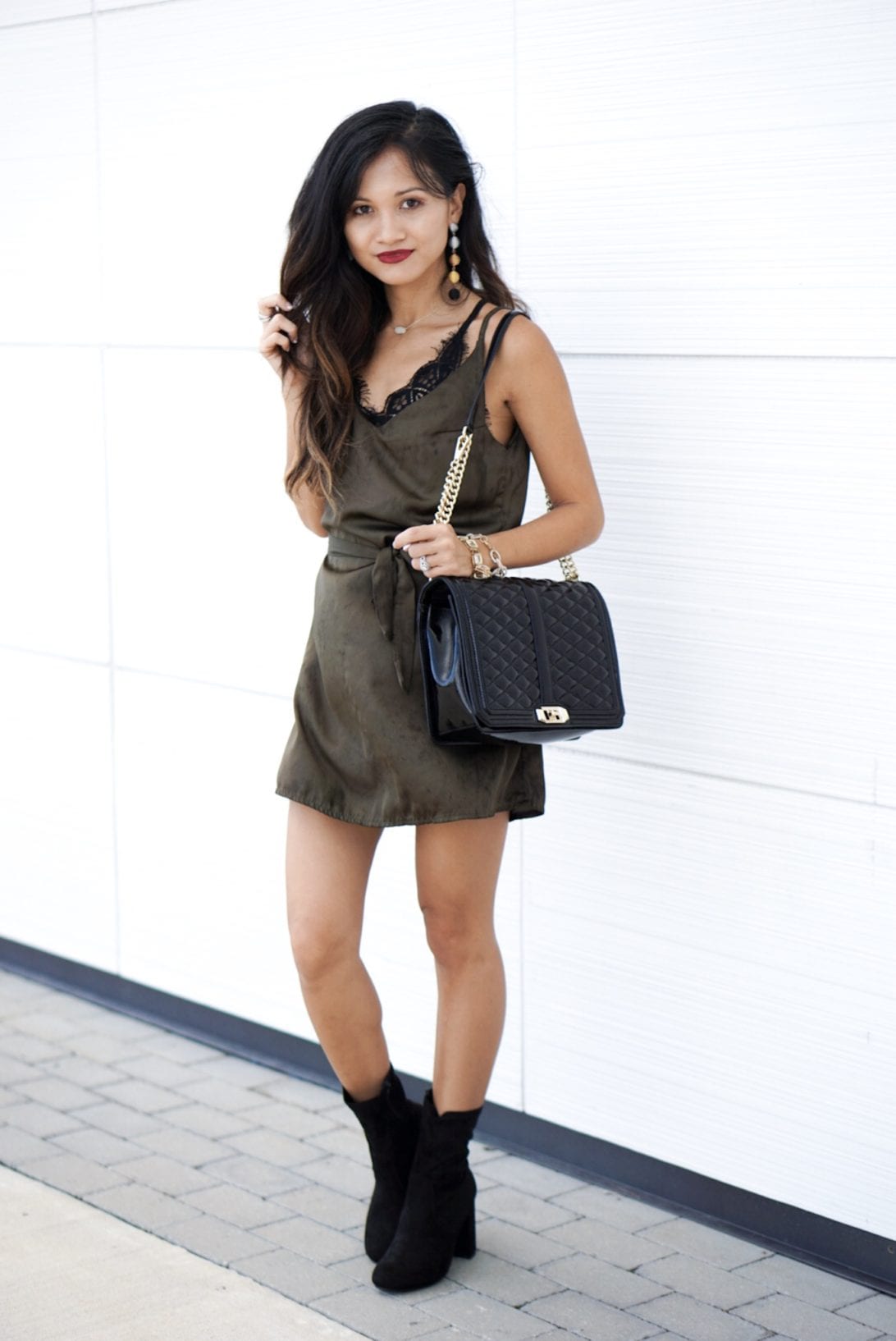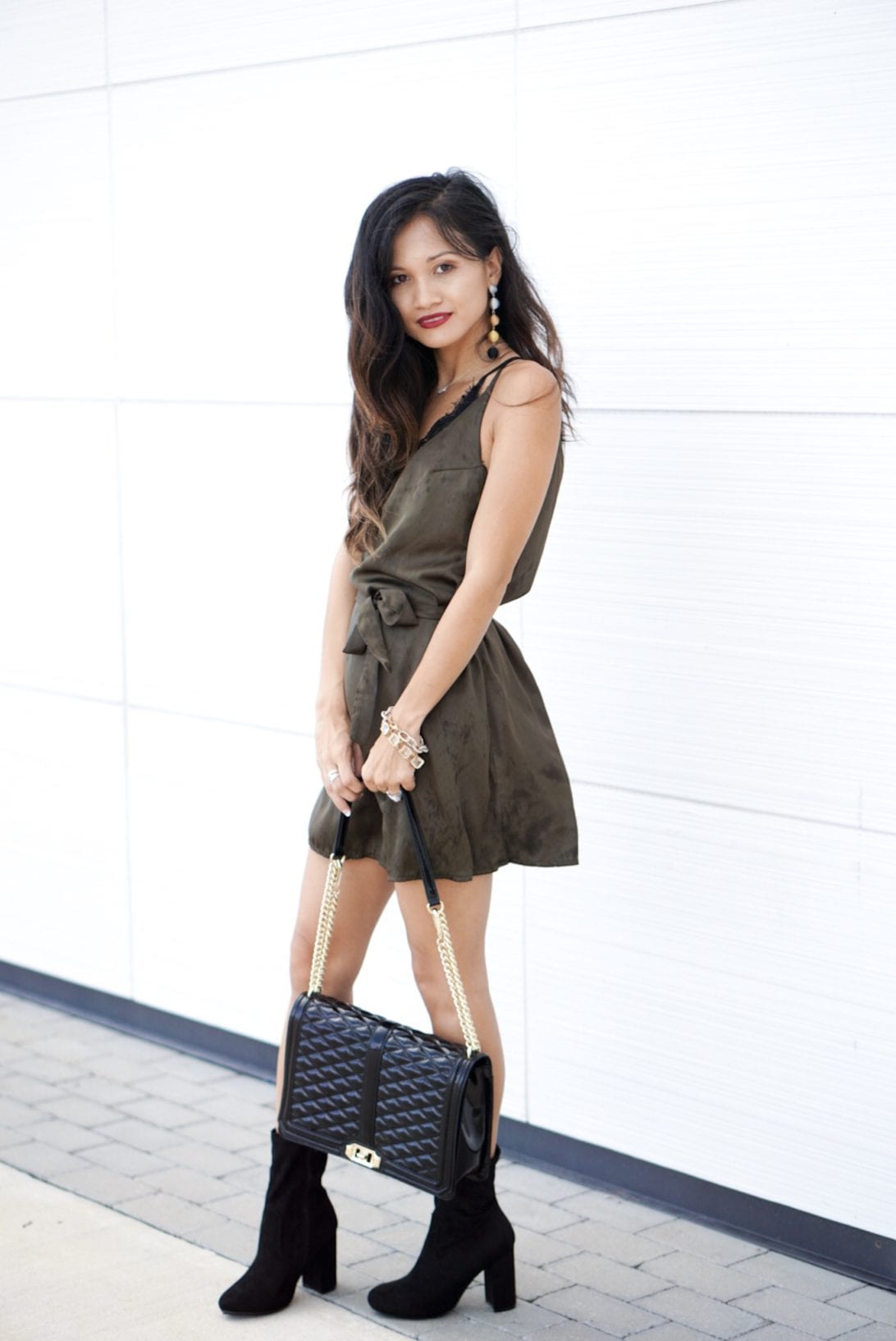 SHOP THIS LOOK:

I loved getting dressed up for my husband, and on date nights I make it a little sexier than normal. I love the compliments I get from my husband, and plus he can't keep his hands off of me which makes me feel like a a giddy school girl. I wore this lace bodysuit under this slip dress because it adds a little something extra to your normal every day undergarment. And there is just something about bodysuits that makes my husband go crazy. Ladies if you haven't tried it and want to make your husband go wild you should definitely give it a try. A slip dress is the perfect dress for date nights. It is sexy, silky, and easy to slip on and off if you know what I mean wink* wink*. I wore this jacket because I always get cold in movie theaters plus it is the perfect layering piece for fall night outs. These sock booties I got from this boutique here for under $50! It is such a steal considering most booties are over $100! You can use my code DAWN15 to get an extra 15% off!
Check out my favorite slip dresses under $50 below!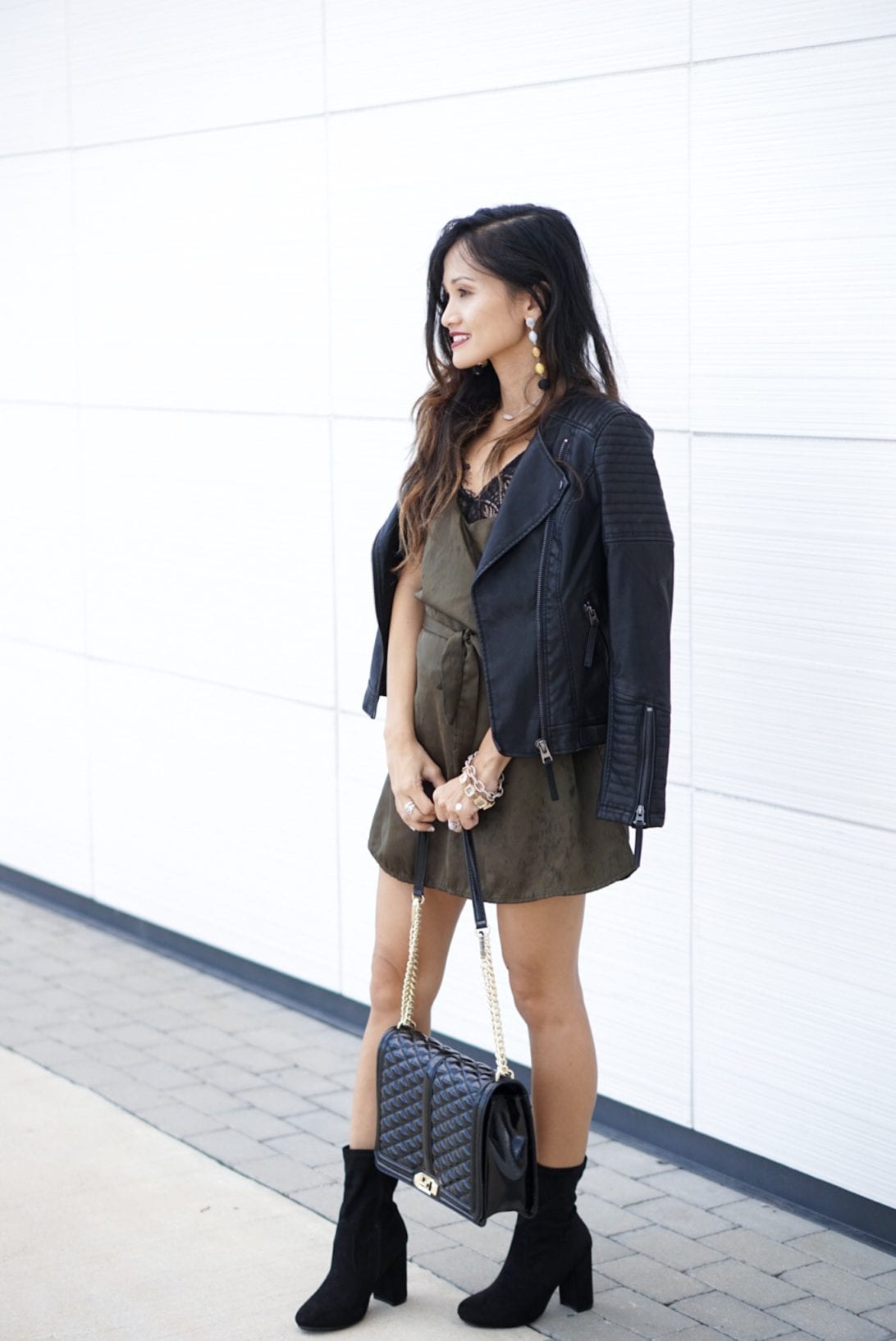 It's important in our marriage to invest time for each other and to continue to date each other even after kids. Plus it's an excuse to get dressed and to get out of the house. I hope you enjoyed this look and my favorite slip dresses under $50. What are some date nights you and your significant other like to do?
P.S. Subscribe for weekly newsletters so you never miss a single post!