Happy Friday,
Today I wanted take a break from my NYFW recap to spread awareness to something important happening this month. I am not only sharing with you this adorable pink top but why I am more than just pink. This month is Breast Cancer Awareness month, and as a mom and as a women this is one disease we have to make sure we check ourself regularly for. Every year over 240,000 people are diagnosed with breast cancer. 99% diagnosed are women, and it is said 12% of women in this world will be diagnosed with breast cancer. If you are in the Houston area and would like to be part of raising money and awareness below I have listed 6 Things You can Do for Breast Cancer Awareness Month.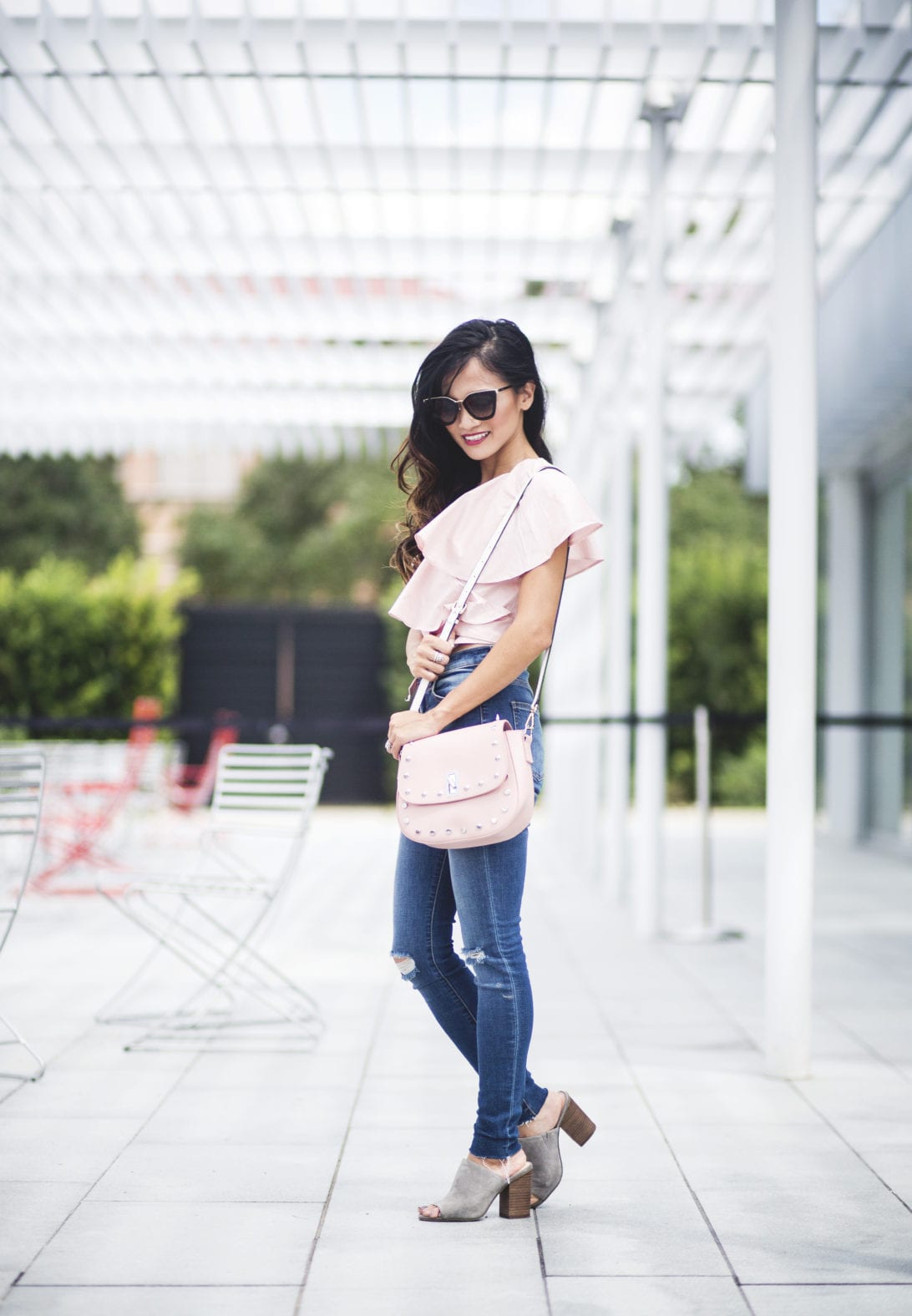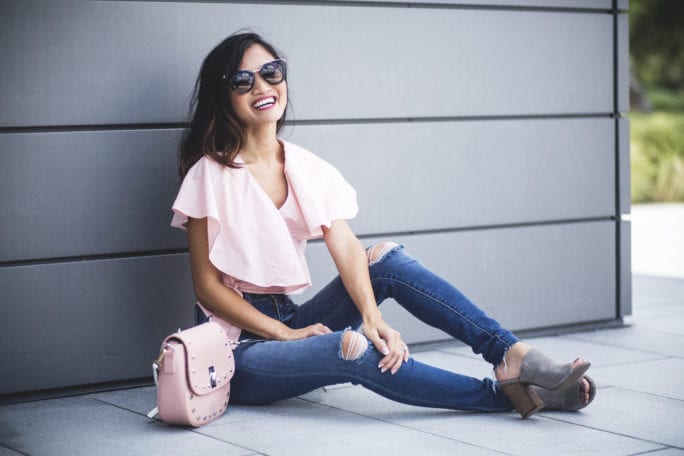 October is Breast Cancer Awareness Month, an annual campaign to raise awareness of breast cancer risks, the value of screening and early detection, and treatment options available to women and men who are diagnosed with one of the many forms of breast cancer. More than 249,000 people in the United States are diagnosed with invasive breast cancer every year, and nearly 41,000 die from the disease.

Here are some things you can do to raise awareness this month and to help in the fight against breast cancer:

Wear Pink – Whether it's a small breast cancer pin, or a full pink ensemble, make a statement by wearing pink this month.
Get checked – Know your risk and make sure to schedule yearly mammograms.
Become an advocate – Be a voice for the 3 million breast cancer survivors and ensure that the fight against breast cancer remains a priority among our state and national policymakers.
Volunteer – The Susan G. Women foundation is looking for volunteers year round to help with short term office projects or for their upcoming race in Houston in January.
Race for the Cure – Sign up today so you can Race for the Cure January 27th, 2018 in Houston.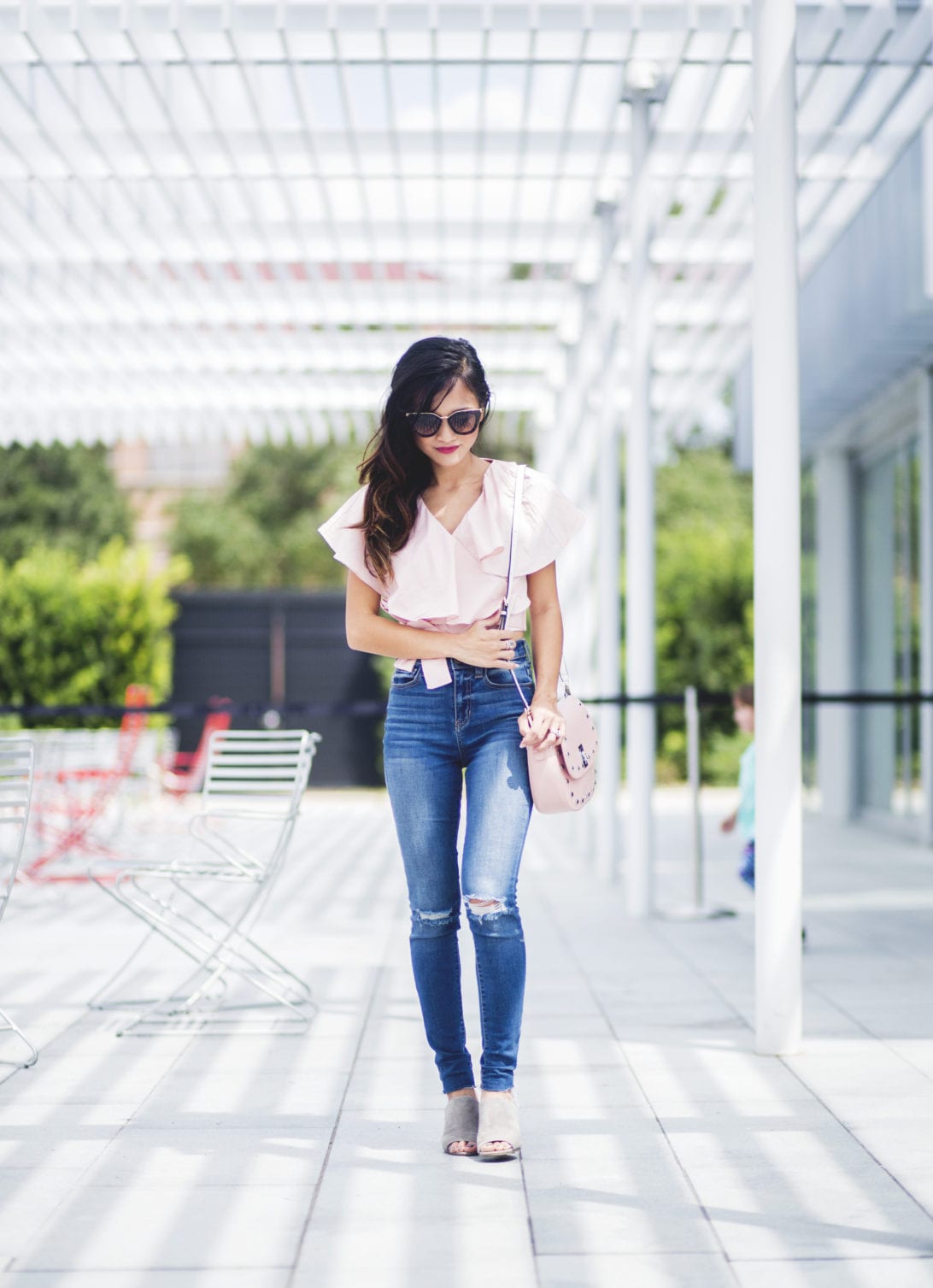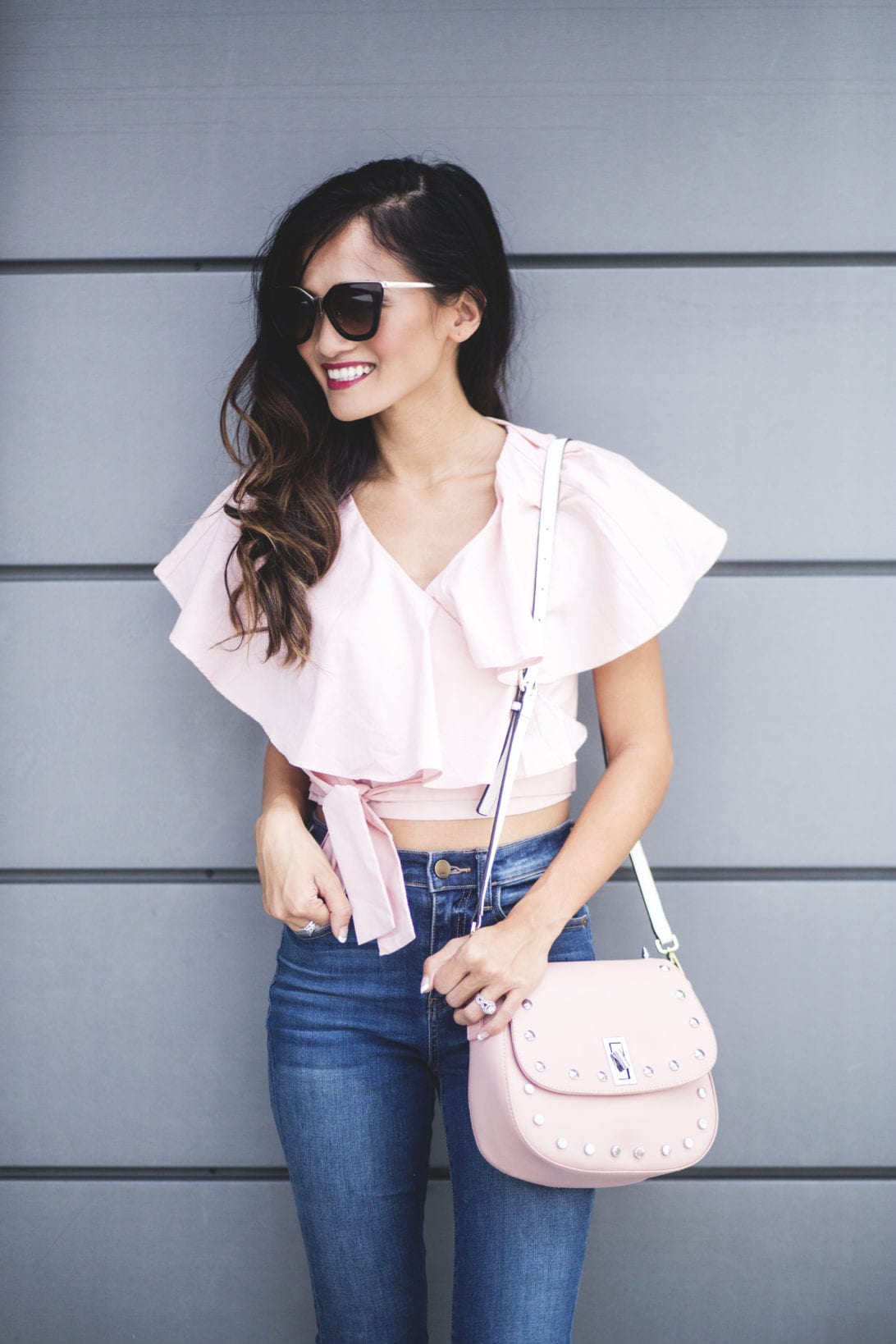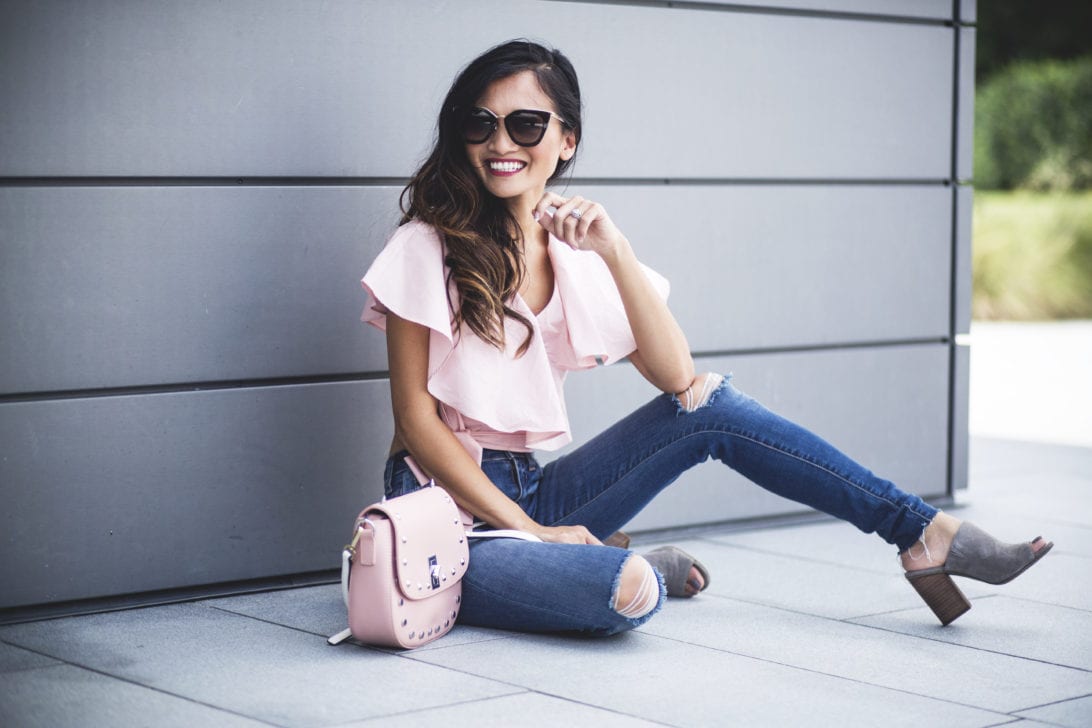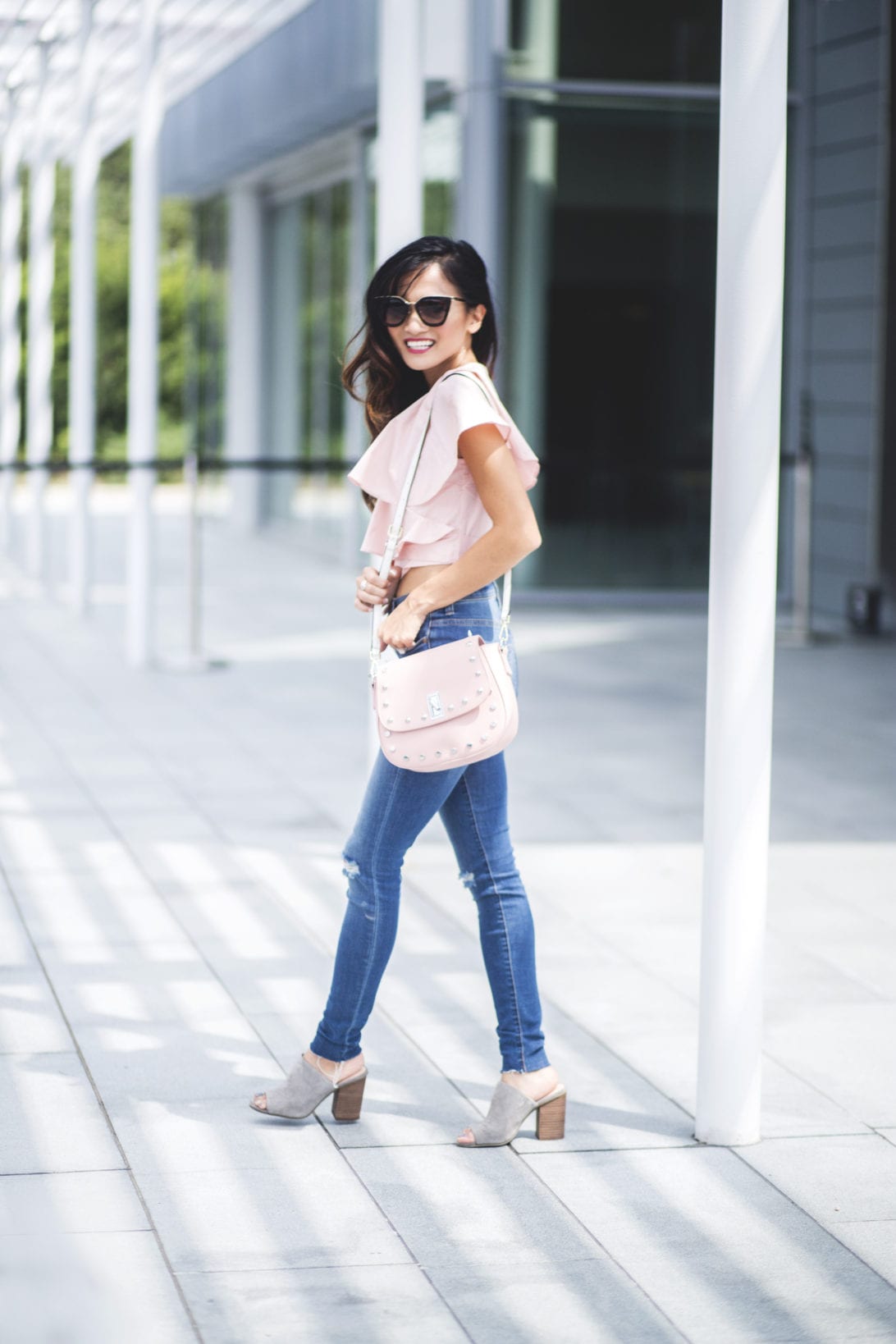 SHOP THIS LOOK:

Looking for some pink outfit inspiration? This adorable pink frill top and studded cross body bag is perfect to make a PINK statement in your wardrobe this month. I loved pairing it with my favorite high waisted skinny jeans (similar style) and slides for under $100 for the perfect Sunday brunch look. I love these mules because they go with everything and are so comfy. I am short and petite so it's always nice to have a little block heel for height, and it make your legs look longer. Plus did I tell you these mules come in three different colors! If you want a brighter bolder pink statement check out the skirt here. I hope you enjoyed this look and  6 Things You can Do for Breast Cancer Awareness Month. What are somethings you will be doing to raise awareness?
P.S. Subscribe for weekly newsletters so you never miss a single post!