Last week we hosted our first Thanksgiving for our family at our home. We were able to decorate our home for Christmas, and we finally got to use our fancy dishes and silverware we received as wedding gifts that we had stored away for special occasions. With a little bit of help from Pinterest I was able to throw together this holiday inspired rustic tablescape for Thanksgiving. Today I am showing you all the details of our table and tree decor. Plus I am sharing our favorite tradition for the holidays and my gift guide for the home.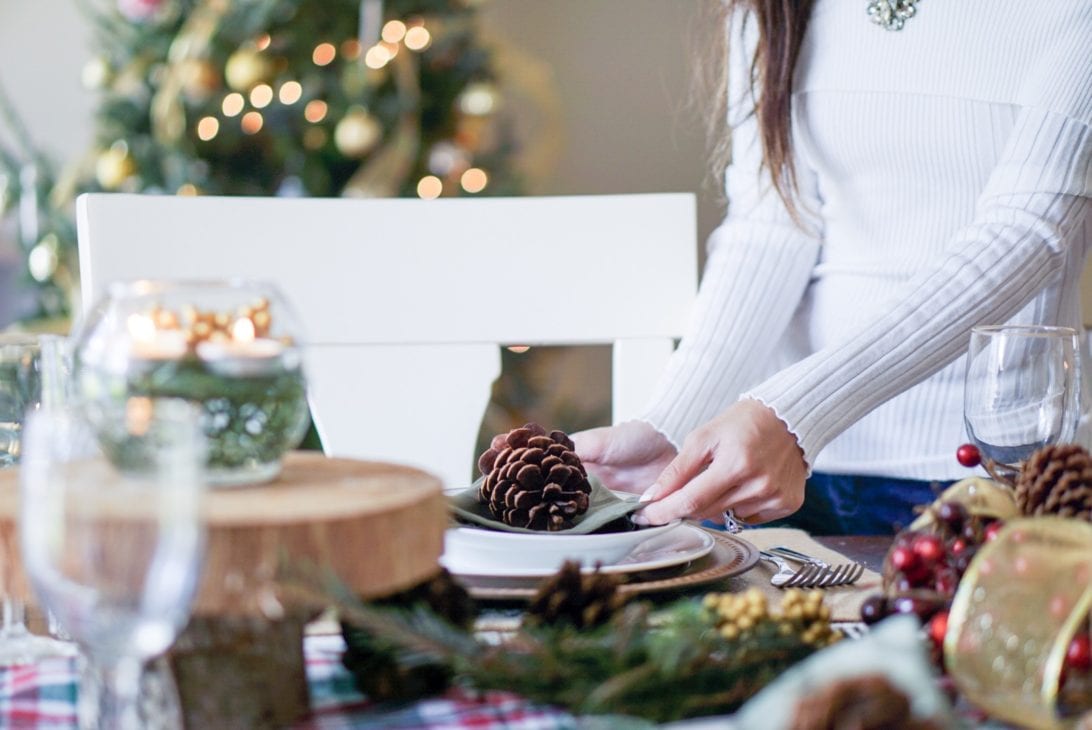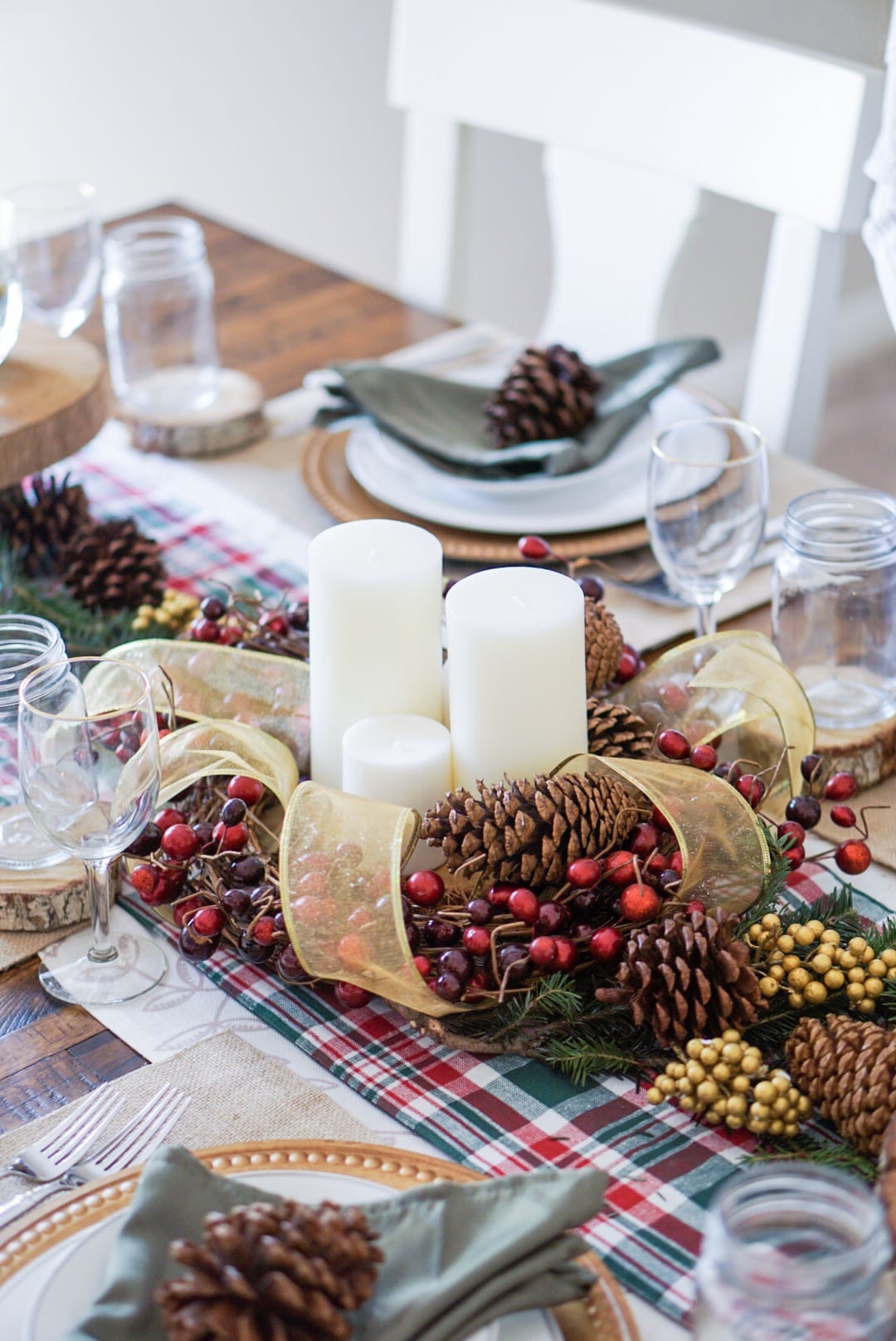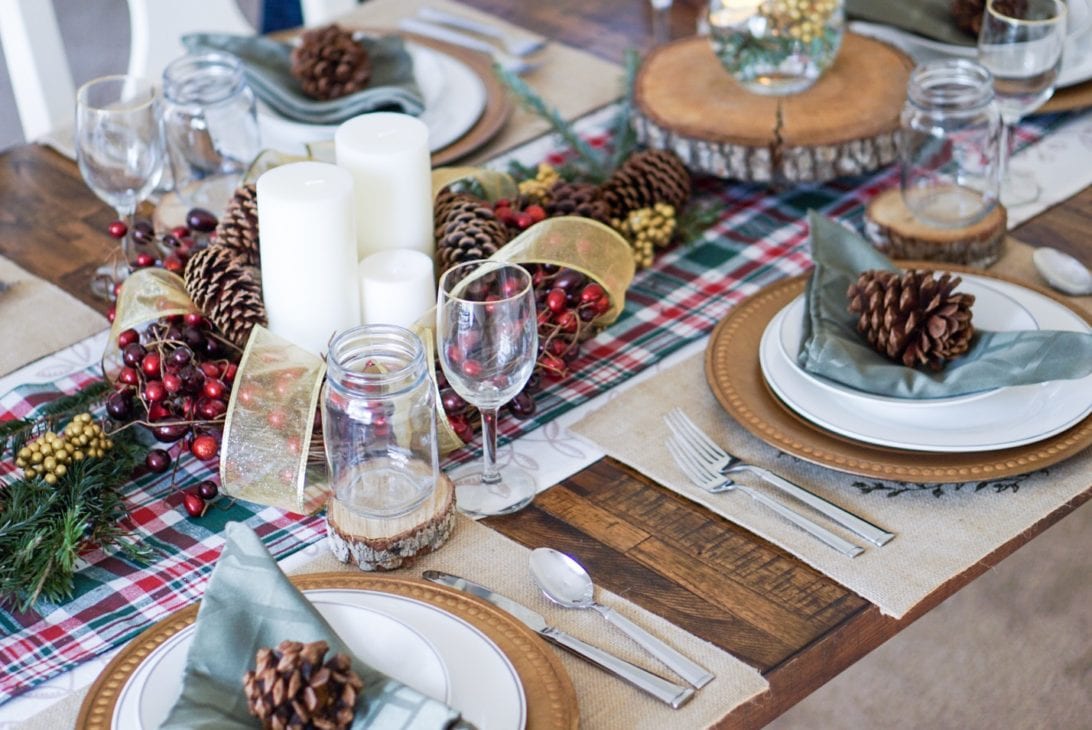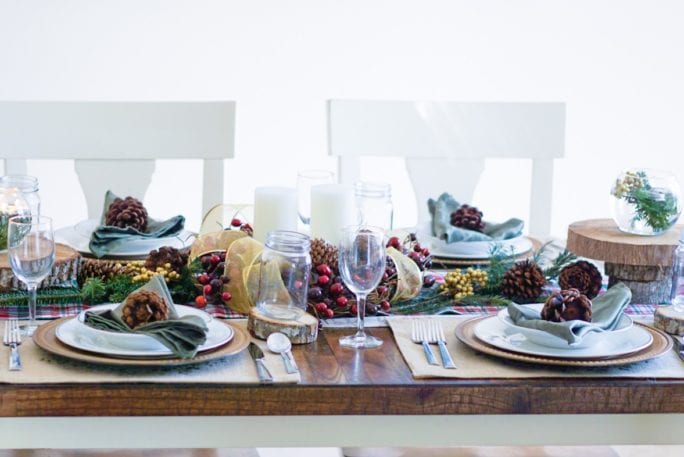 For our table setting I used burlap place mats for a rustic and country Christmas feel, and scented pinecones to add-on the table. The cranberry wreath was passed down to me by my mom. I added the gold ribbon left over from my Christmas tree to the wreath to tie the looks together. The tree coaster and stands my husband and dad made for me for Jayden's second birthday party. For the DIY candle holder, I cut a little piece of our Christmas tree and added pieces of it in the glass bowl with fake golden cranberries, and water. I also added some Christmas tree limbs on the table for the center piece. I added the three-tiered candles in the center of the wreath centerpiece for an added touch plus it smelled heavenly with the scented pine cones.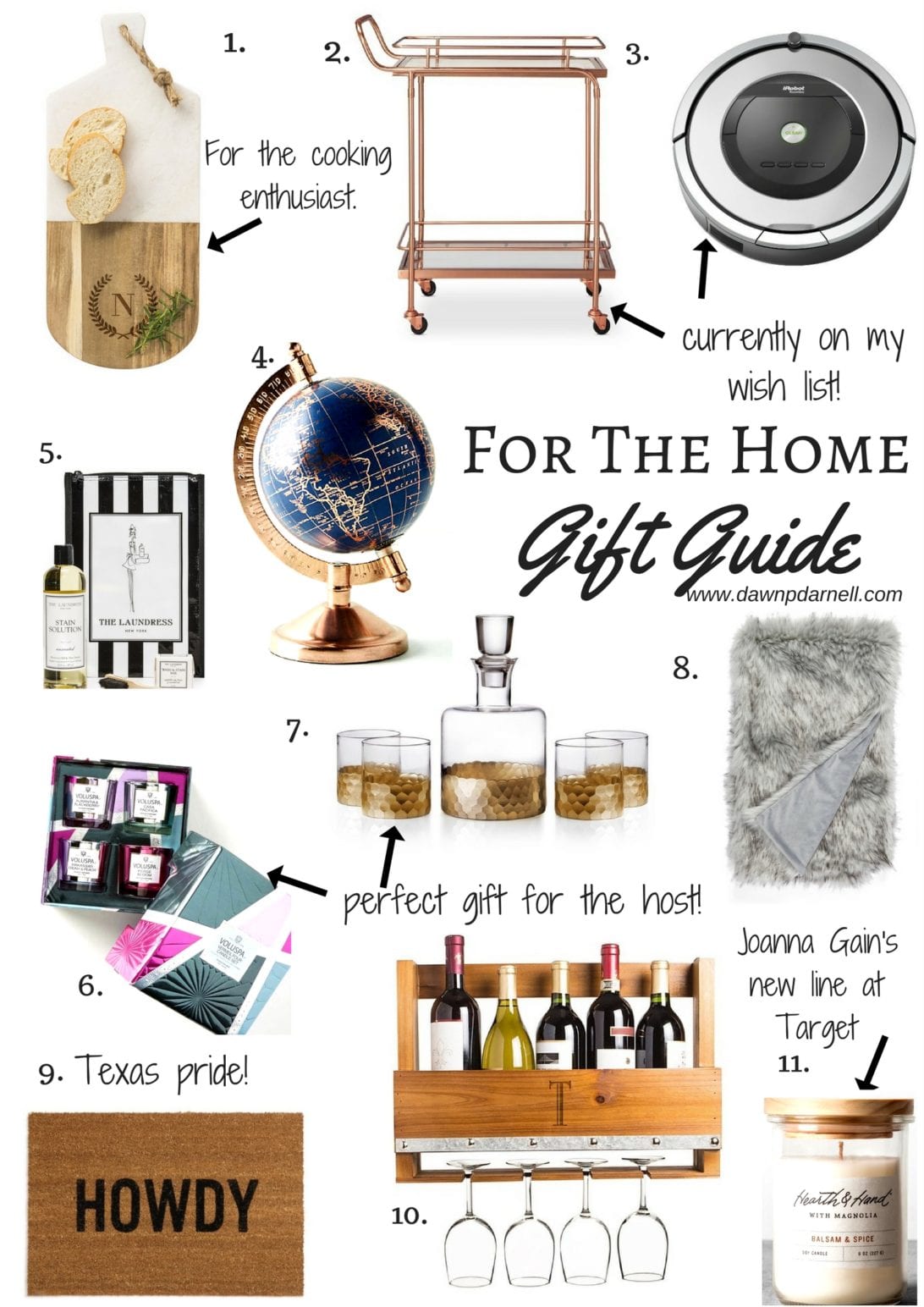 Whether you are getting a gift for the host, or a cooking enthusiast, these home gifts will make a perfect gift for someone on your list!
1. Monogram Marble & Wood Serving Board
2. Metal, Glass, and Leather Bar Cart
6. Voluspa Maison Mini Candle Gift Set
7. 'Daphne' Decanter & Whiskey Glasses
10. Personalized Rustic Wall Wine Rack & Glass Holder
11. Hearth & Hand with Magnolia Lidded Candle
Click here for the downloadable PDF gift guide For the Home. For additional gift guides visit here.
Christmas Essentials| For Her| For Him| For Toddlers| For the Home| For the Beauty Lover| For the Pet Lover| Under $50
For the Fitness Gear for the New Year, and Gift Guide for Travelers visit here for the complete PDF shopping holiday gift guide.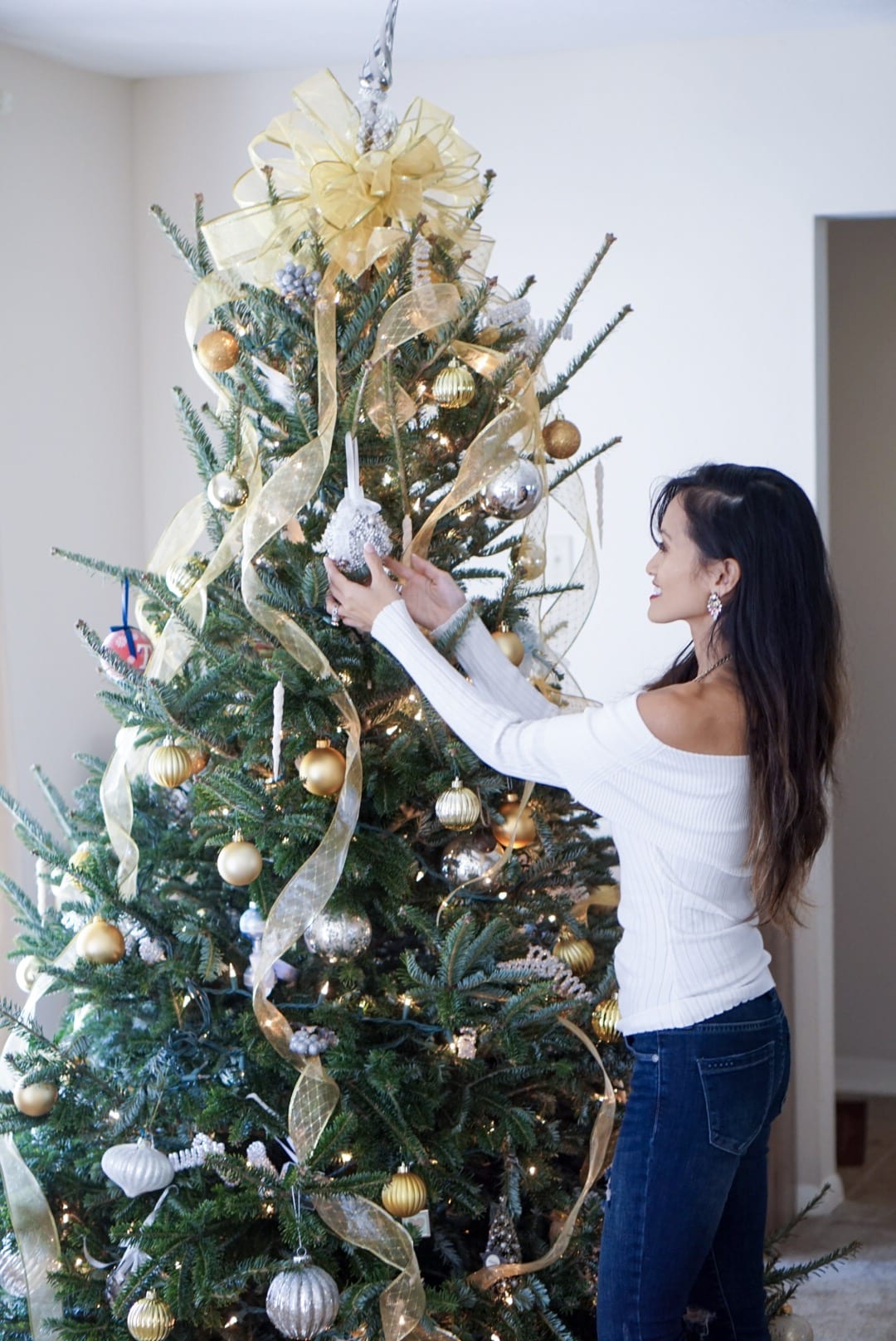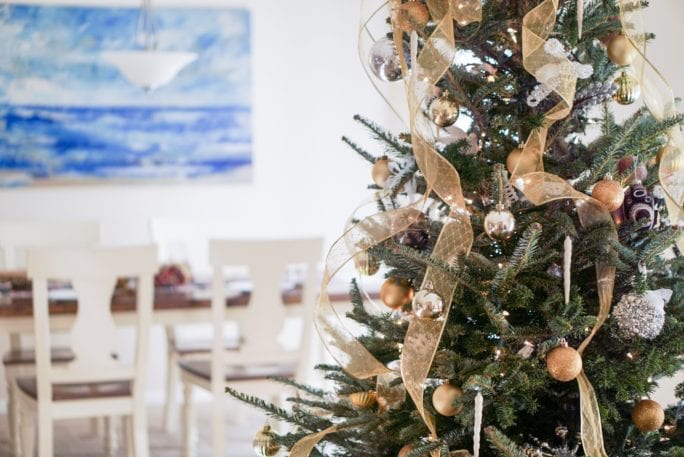 Our favorite tradition since Jayden's first Christmas is getting a real tree. I never had a real tree growing up, because my parents thought it was too messy and a fire hazard. So when Josh and I got married when we moved into our house we decided we were going to get a real tree so that Jayden could have that experience of picking out a real tree, and decorating it. I always look forward to picking out our tree. Last year we went to a Christmas tree farm to cut down our tree, but this year Josh and I were set on a Frasier Fir tree instead of a pine tree. For the decor I decided to do gold and silver theme and add a gold ribbon topper. I love the cascading ribbon around our tree. Most of our ornaments were handed down from our parents and grandparents so it has so much meaning and history when we decorate our tree. We are also one of those people who keep our tree lights on 24/7 until we take it down. Plus it brings so much joy for me to wake up everyday and see our tree shining bright.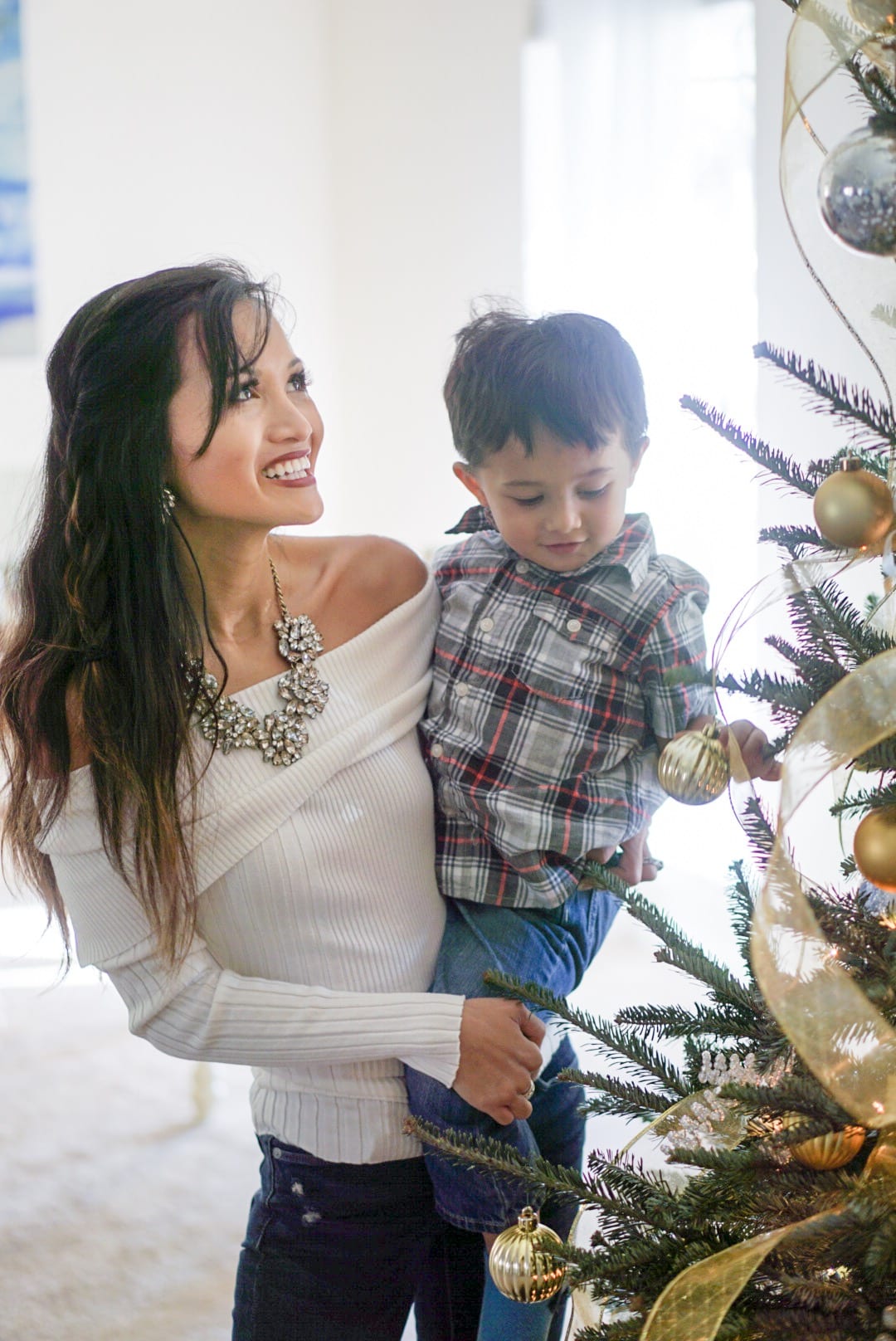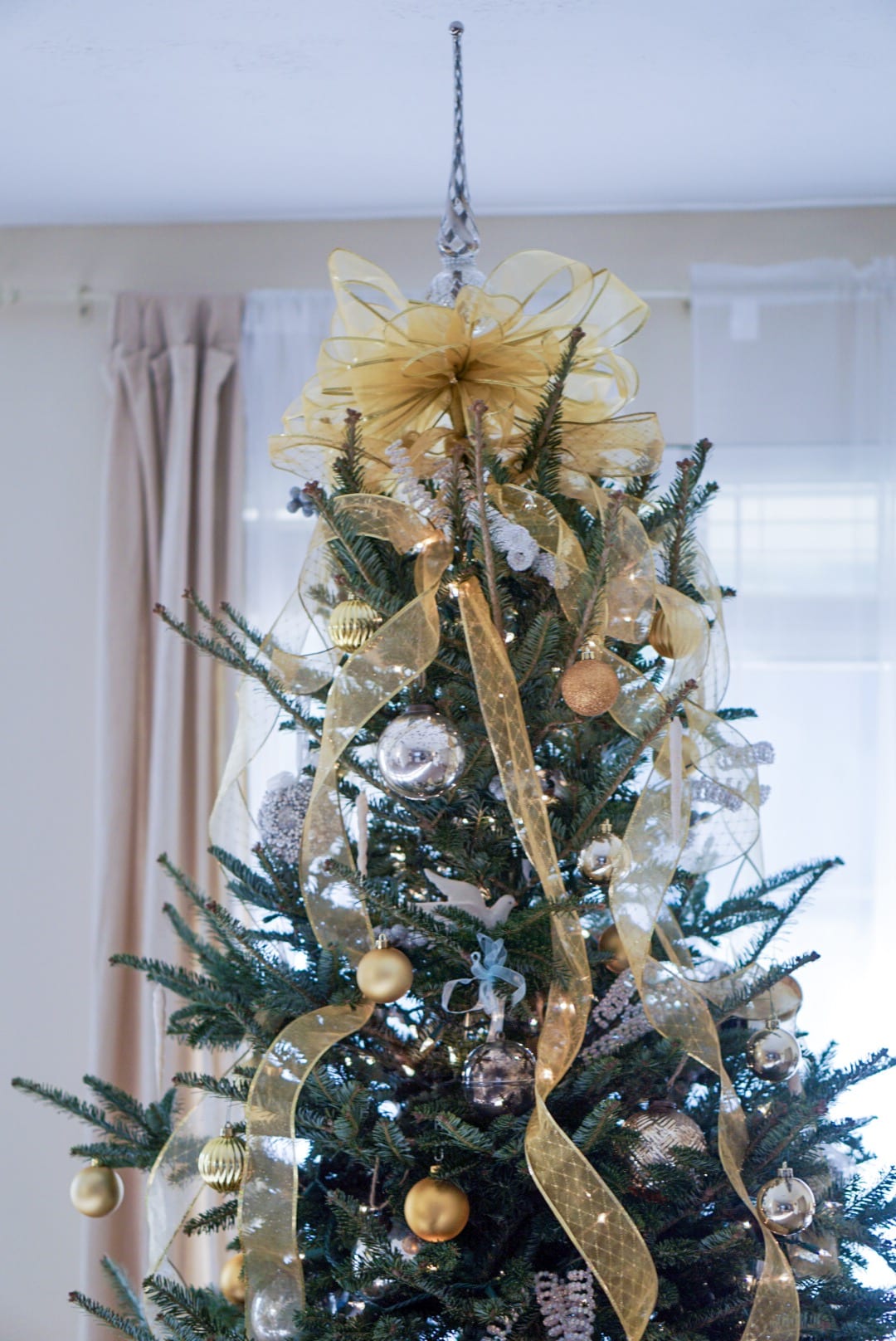 I hope you enjoyed our Christmas decor and gift guide for the home. What are some of your favorite traditions for Christmas? And do you like fake our real trees?
P.S. Subscribe for weekly newsletters so you never miss a single post!