Happy Monday,
Eek I am so excited for Thanksgiving this week! Today I am sharing on the blog a round-up of all my favorite things I am loving this month, whether it comes to music, beauty, fashion trends, movies or shows I am watching, or just random things I thought I would share with you. Plus I am teaming up with one of my favorite Beauty Blogger for a giveaway! Check out my November favorites plus this outfit and these Burgundy accessories I am loving for fall!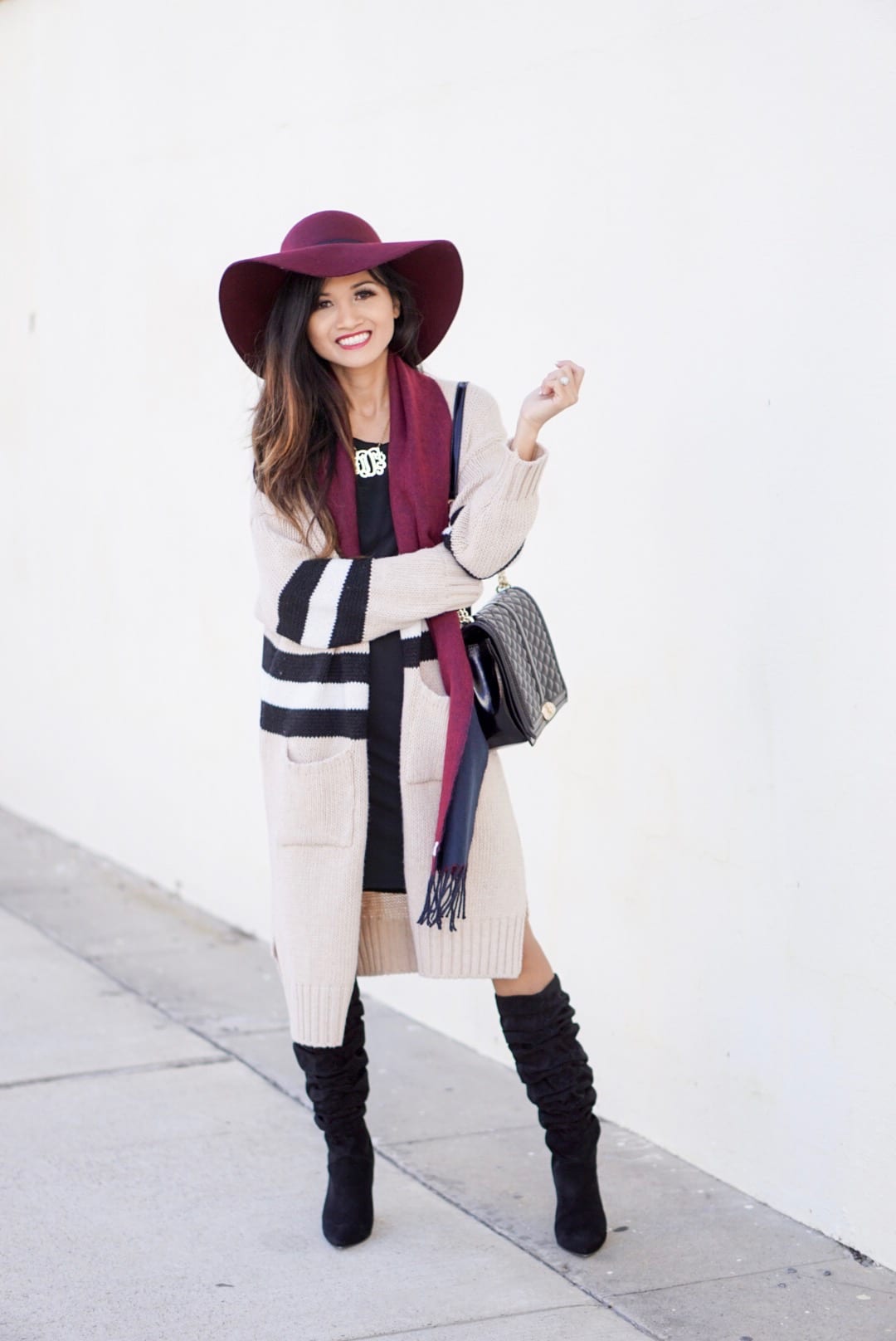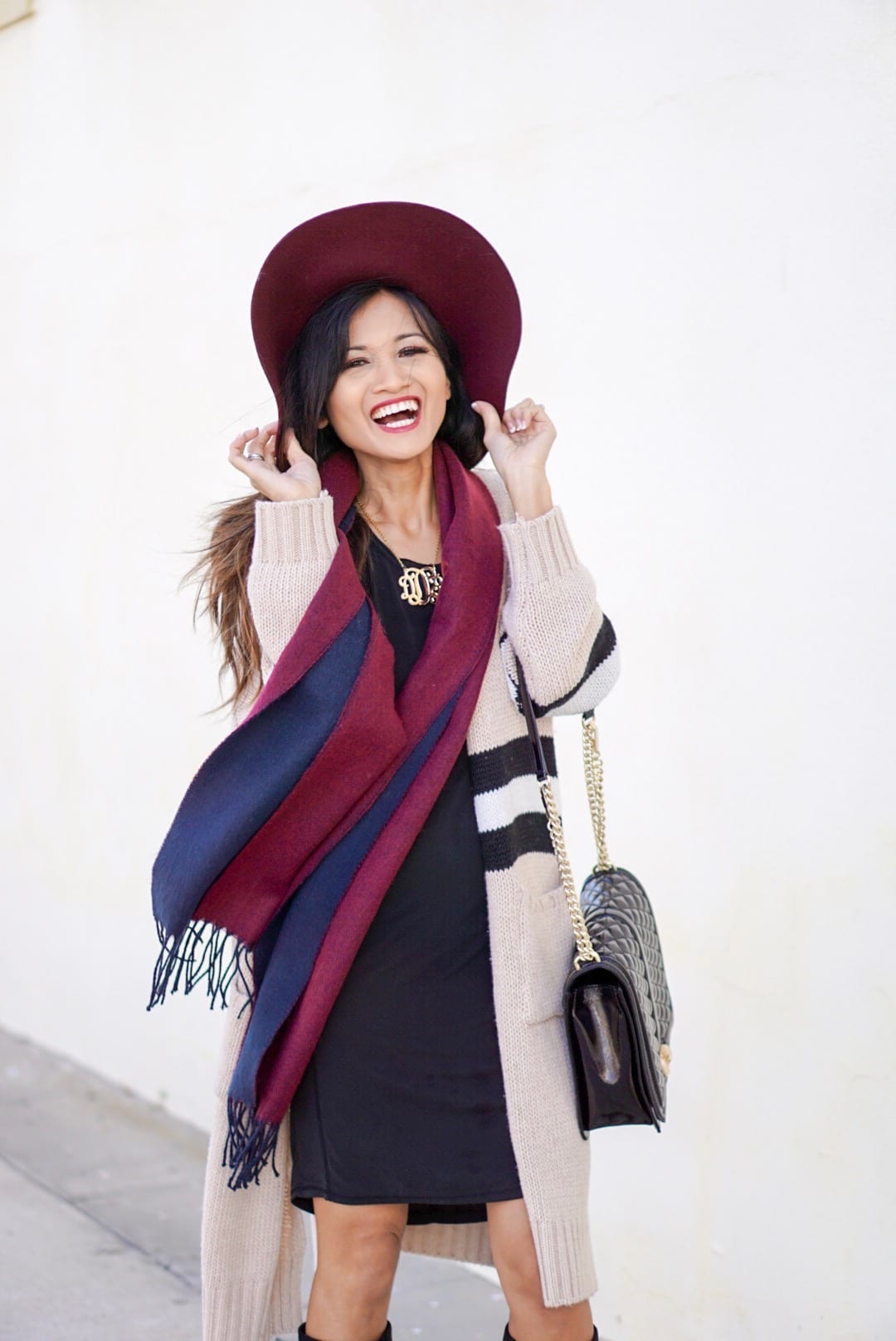 Alright so first lets talk about this outfit. November has been a month for burgundy for me. I love the rich color and how it makes your outfit pop. This hat is the newest addition to my floppy hat collection, I have them in grey and black too! I got this at Old Navy along with this scarf for 40% off. This week they started their sales early so you can get up to 50% off the whole store! I paired it up with one of my favorite cardigans you have seen on repeat and my favorite Rebecca Minkoff bag. These boots are one of my new favorite trends for fall. I love the slouchy boot trend!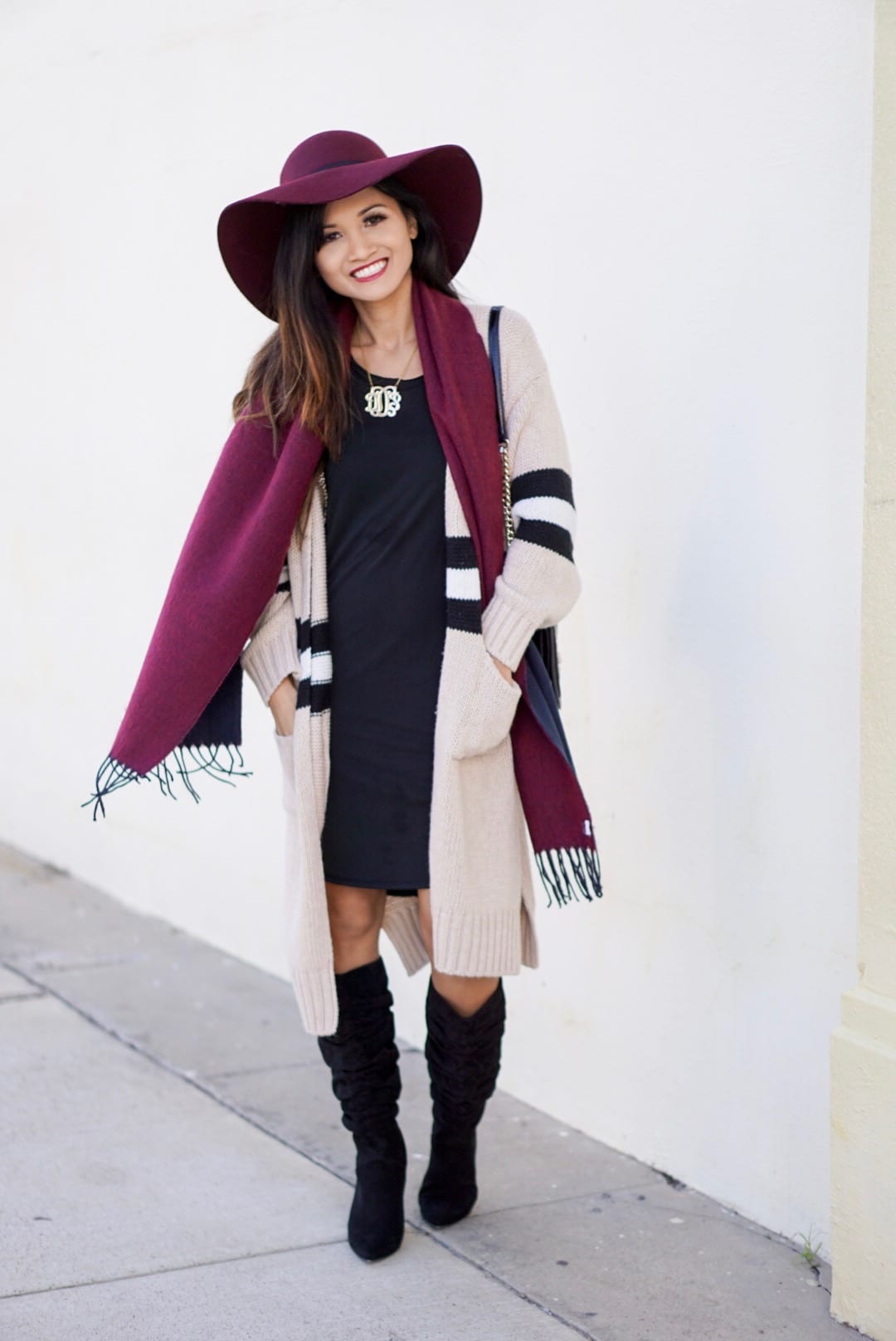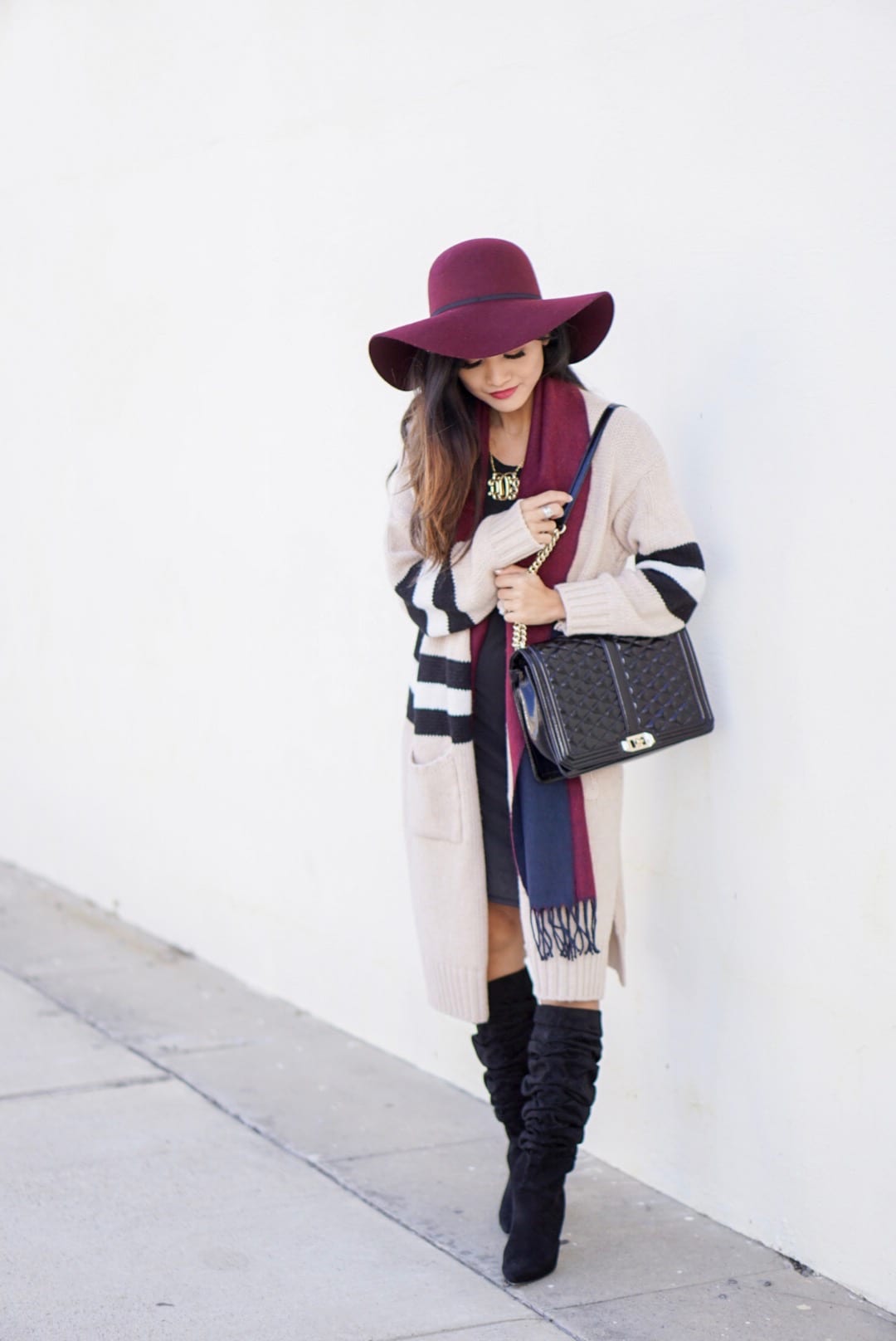 NOVEMBER FAVORITES!
Favorite Bags:
These two bags have been on repeat. I love this Chloe dupe for under $40, and my go to Rebecca Minkoff cross body that I am currently wearing. They just go with everything!
Favorite Jeans:
 I love the destruction and wash on this one, plus the length is perfect for my petite self. This is the best fitting black denim I own. It is a skinny jean that won't bag out and high-rise that it sucks you all in. These two jeans are on repeat. You might have seen me on  Instagram  wear them multiple times.
Favorite Accessories:
These earrings I wore on this post  is my favorite earrings from Bauble Bar. I love the unique design, and they go with everything!
Favorite Beauty Products/Trends:
 Ya'll I've never tried any of these brand before, in fact I've never even heard of any of the three I've listed. They sent these products to me for review, and I am hooked! And no this is not a sponsored review either.
Coola Classic Primer – I love how it has an SPF and is a moisturizer too! Plus it uses eco-conscious ingredients and cruelty free.
Kevyn Auction Natural Concealer – This is the holy grail of concealers. As a mom who doesn't get enough sleep. This works in covering those dark circles under my eyes!
Erborian Glow Creme – I love this primer for a little extra glow, and it's great as an eyeshadow primer too. You don't really need a lot and I just use it on my cheeks, nose, chin, and eyelids.
SHOP FAVORITES:

Favorite Music:
Sam Smith – I preordered his new album a couple of weeks ago when I saw him live on Saturday Night Live. I am so in love with his emotion he puts in his music. I cry just listening to him and it's like I can feel his emotions through his music. Guys it's that good. My favorites songs from his album is Pray, Too Good at Goodbyes, Burning, and No Peace. His album is on repeat in my car, and we listen to it when we go to bed. It's Jayden's new lullaby music lol.
Keith Urban + Female – I saw him perform this on CMT. With everything that is going on this song really pulls at your heart-strings. If you haven't listened to it you should.
Currently watching:
Unbreakable Kimmy Shmidt   – Ya'll I've already seen all three episodes, but it is so good I am watching it again! Titus ya'll. If you don't fall in love with this man I don't know what is wrong with you lol.
Criminal Minds – I love this show on Netflix. I am currently on the twelfth season. But I can only watch it when my husband is off to watch it with me because I get paranoid when I watch it by myself.
Will & Grace – I'm so glad they are back! Love this show and their chemistry!
The Good Place – Probably one of my favorite comedies! I love their original plot line and I am obsessed with Jameela Jamil. She is absolutely gorgeous and her accent!
This is Us – Ya'll you know this show gives me all the feels. I think 75% off the time I am crying when I watch this show.
Schitt's Creek – I love this show! It's one of those shows you watch that will make you feel good watching it. This is another show I binge watch when a new season comes out.
Favorite Foods:
Literally eat this everyday!
Siopao is a Filipino food that is so good. It is a rice bun with meat inside. It's perfect to just heat up for a minute and eat. I love it, because I am not a cook, so when I get hungry and I'm working on my blog it's an easy meal for me to make.
Cheese Danish & iced coffee from Starbucks. Guys I am an addict! After I drop Jayden off for school I go to Starbucks to get my usual breakfast of coffee and Danish.
Miscellaneous Favorites:
Altuve won MVP for the American League! Watch his interview. He is the hardest most humble guy in the league, and by far my favorite baseball player. He gives hope to us little guys!
My little man saying his bed time prayer is the cutest thing. I caught it on video and seriously can watch it on repeat!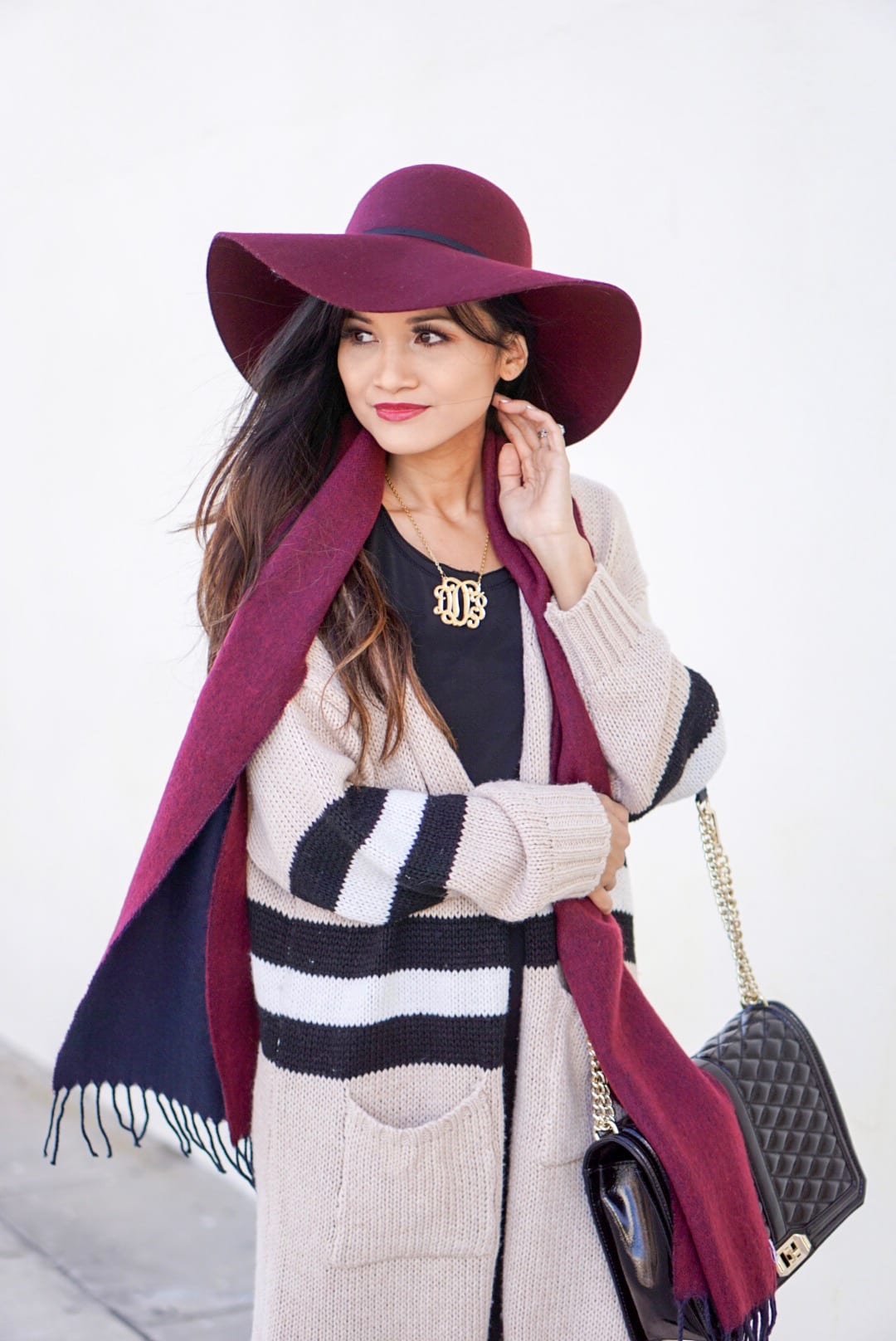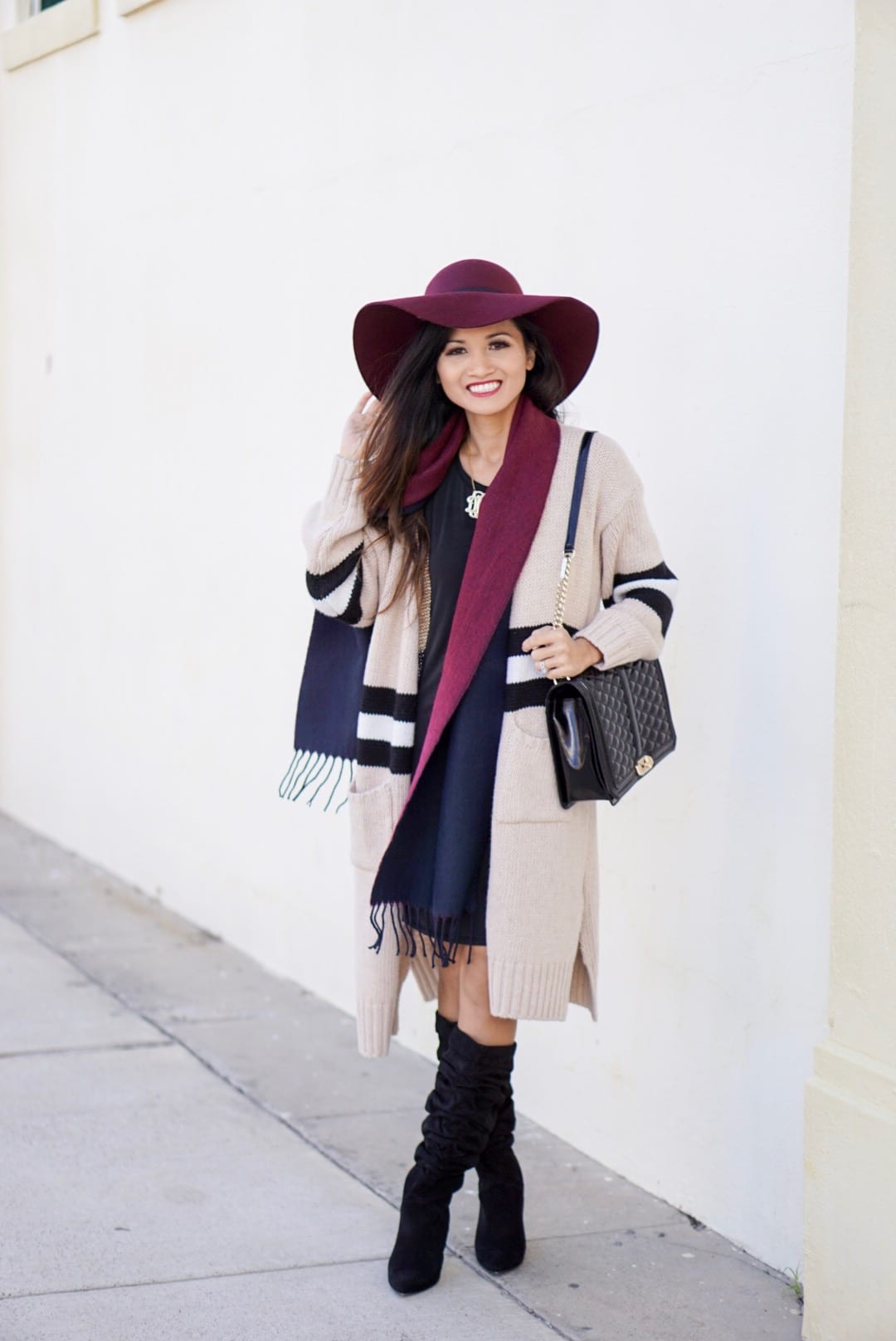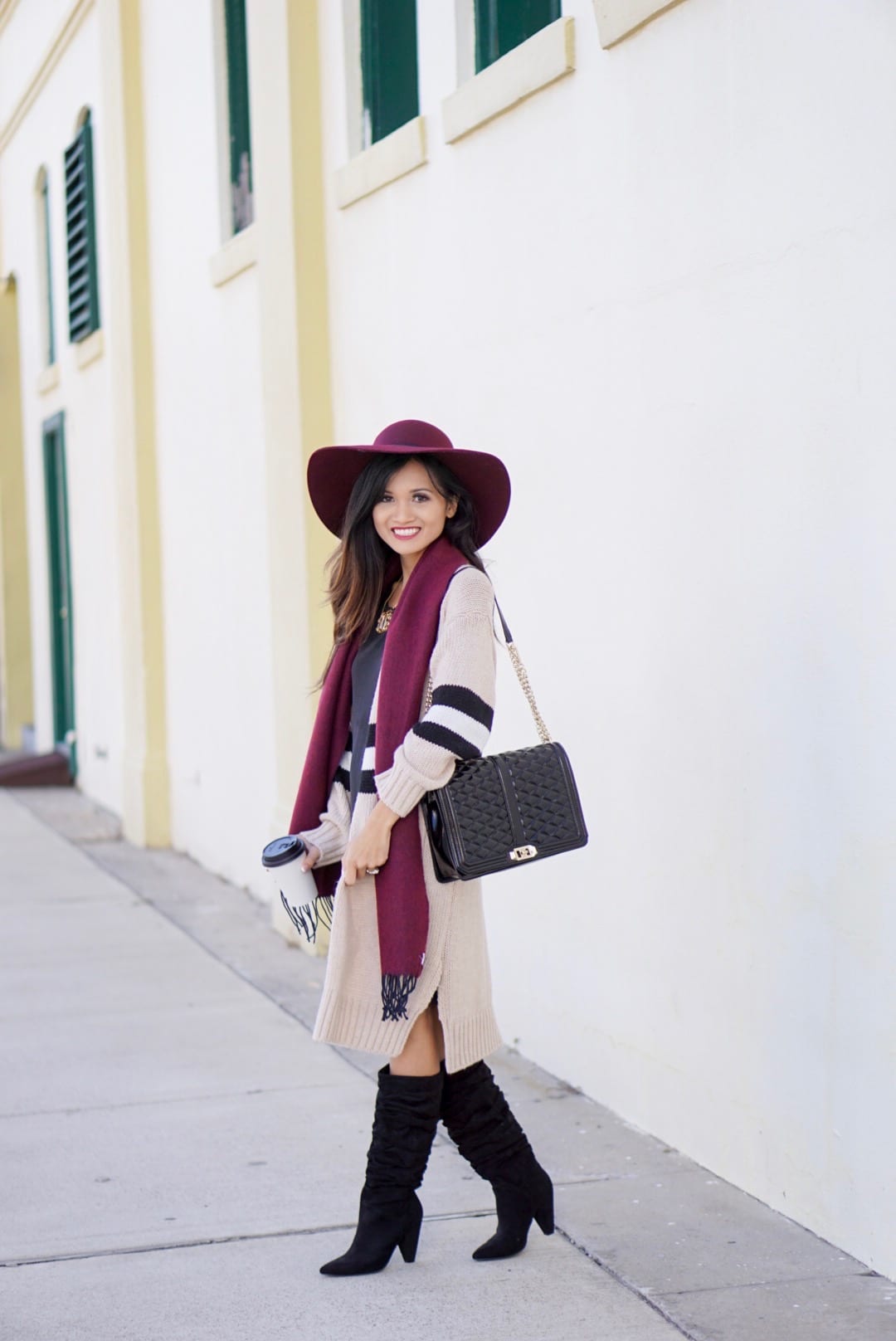 SHOP THIS LOOK:

I hope you enjoy this post, and I hope to continue doing my monthly favorites for you on the blog. What are some things that you currently love this month? Also stay tuned tonight I am doing a giveaway on Instagram with one of my favorite bloggers of a few of our favorite things!! Make sure you are following my Instagram and Youtube channel to enter. Thanks for following along!
P.S. Subscribe for weekly newsletters so you never miss a single post!