Thank you Minted  for partnering up with me on this post.  As always all thoughts and opinions are mine alone. Thank you for supporting those who support this blog.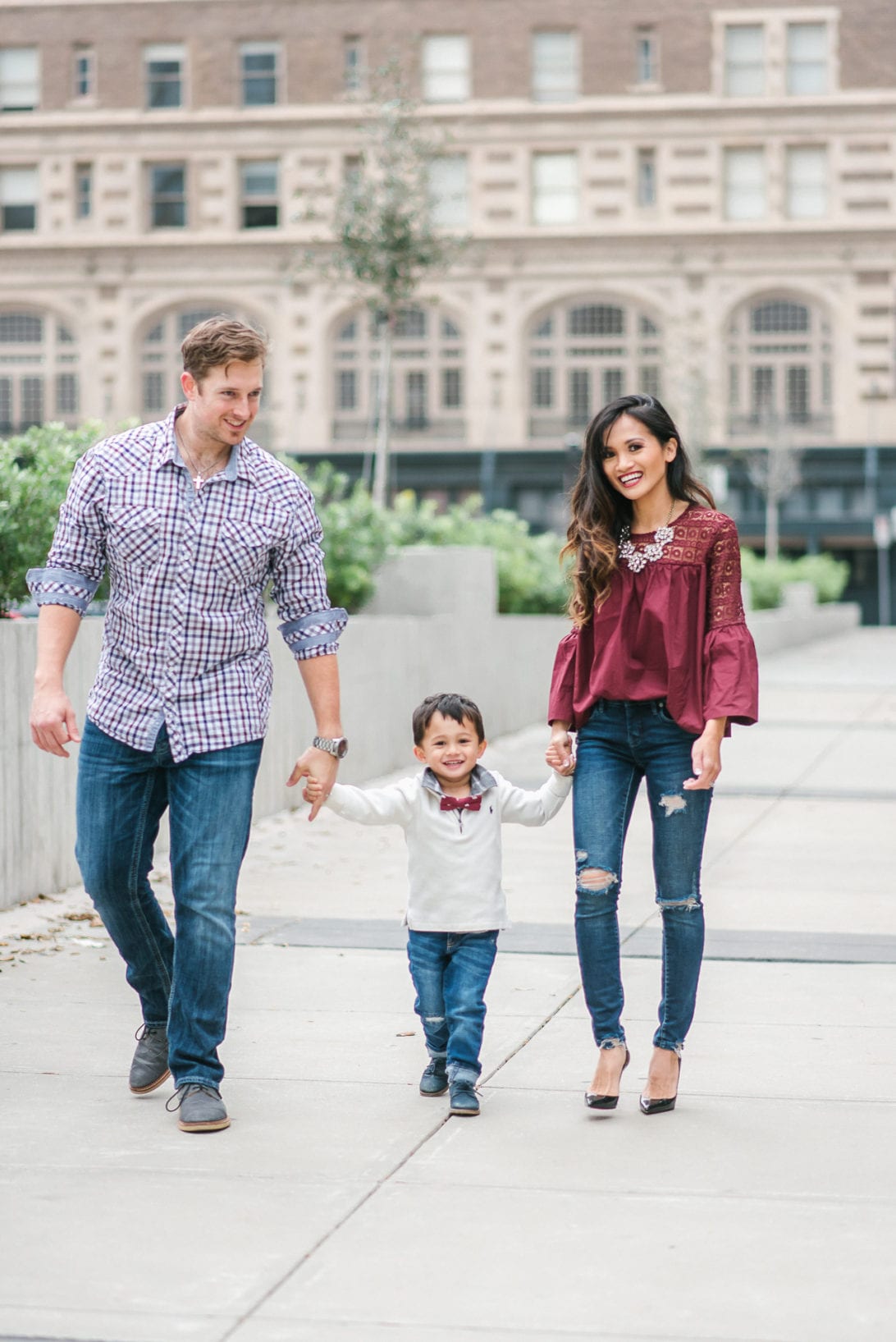 I am so excited to share with your our Christmas card photos with Minted. I've been working all day to send them out to all of our family and friends. This year for our shoot we decided to go downtown to change-up the scenery. We always do our cards in a more country setting, but this year we wanted to do something a little different. We wanted to go with a more urban lifestyle scene. Today on the blog with Minted I am sharing 5 Tips for Fun Family Pictures with Toddlers and my gift guide for him (there's a giveaway for him too!). See our looks and cards below!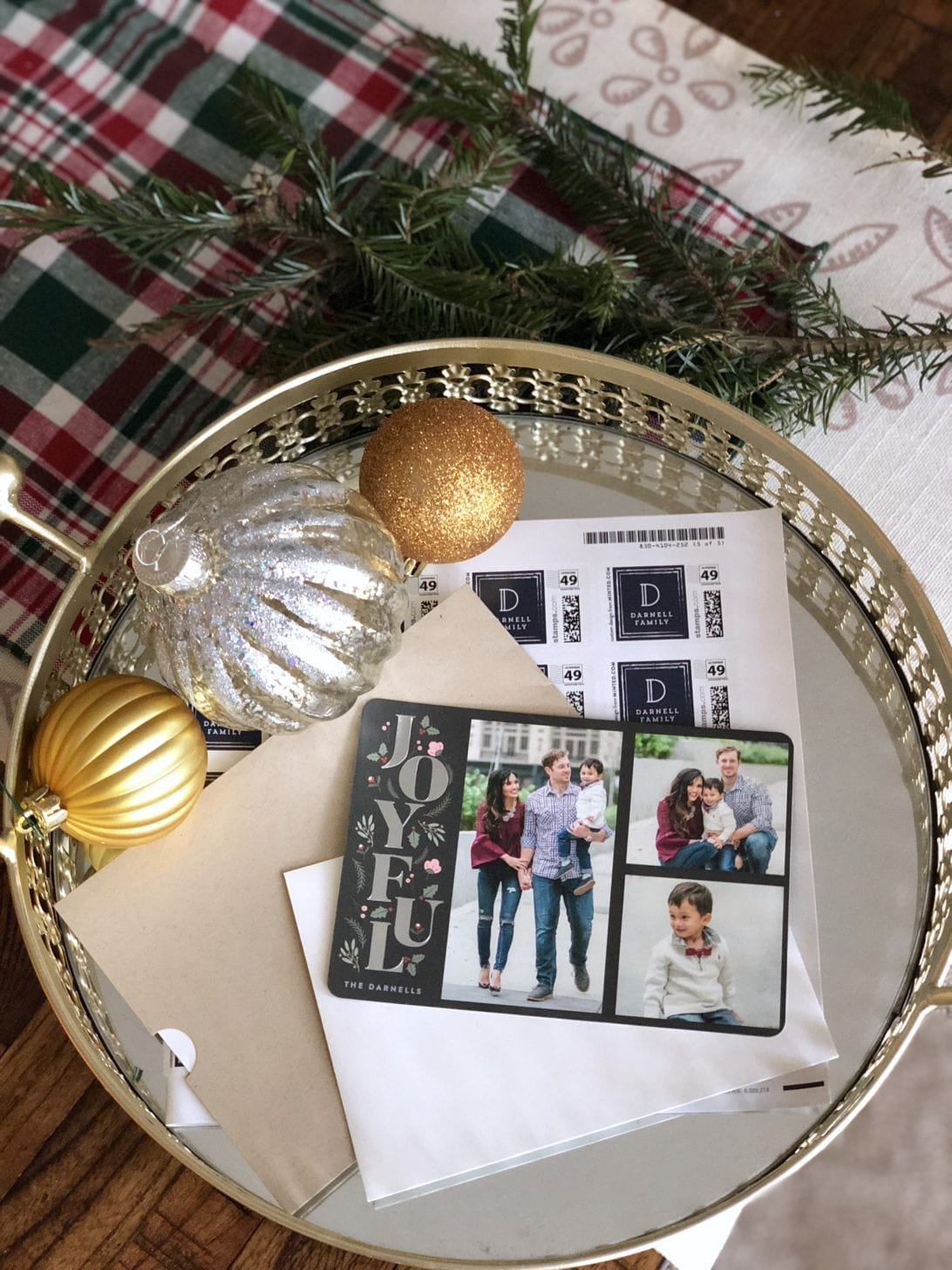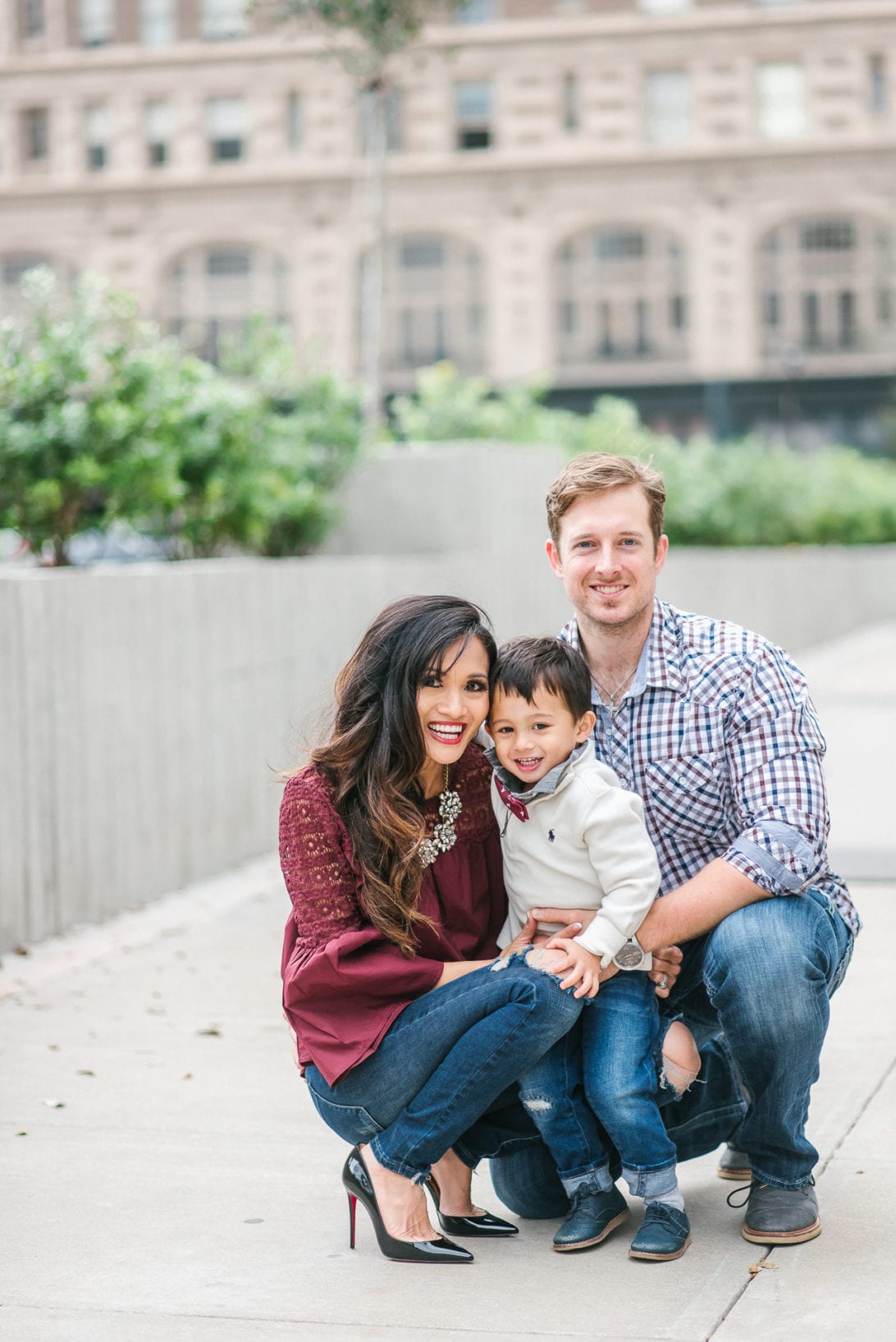 5 Tips for Fun Family Pictures with Toddlers
1. No sugar – toddlers have enough energy without the extra sugar. Try to stay away from extra sugar like donuts, candy, ect. before the shoot. You can always bribe them with candy after the shoot.
2. Do it early – the earlier the better. Toddlers are in their best mood when they wake up refreshed and ready to go in the morning. Usually in the afternoon you are battling with nap time and cracky toddlers.
3. Dress to coordinate not matching – Pick a color tone, whether you want a warm color palette or a cool color palette, and then pick one or two accent colors that you can incorporate in your outfits. Ours was grey and maroon with blue jeans. Stay away from all white shirts, or all chambray shirts. If you love chambray have one person wear chambray and the others have accent pieces in their outfit.
4. Shoot your couple pictures first – If you plan to do couple pictures do it first before you take your little guy out of the stroller. This also helps them ease into the photo shoot when they are watching their parents shoot first.
5. Keep it natural – Try to not sit still in one place or do poses that are not natural to you and your child. Work with your active toddler and have fun with the shoot. We walked around in our shoot since Jayden felt more natural moving around. We found the best pictures, and the biggest smiles when we did. Hence the picture below.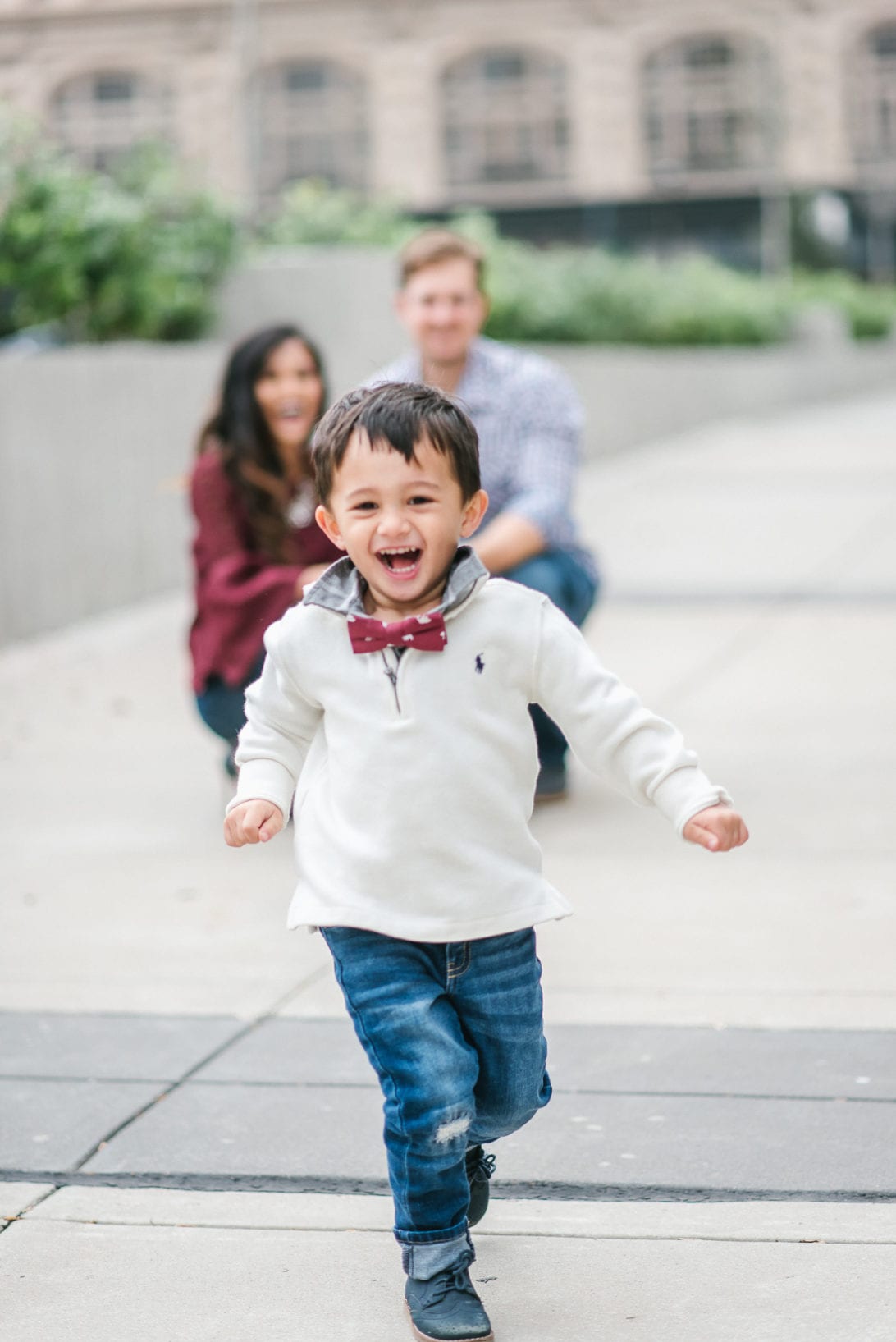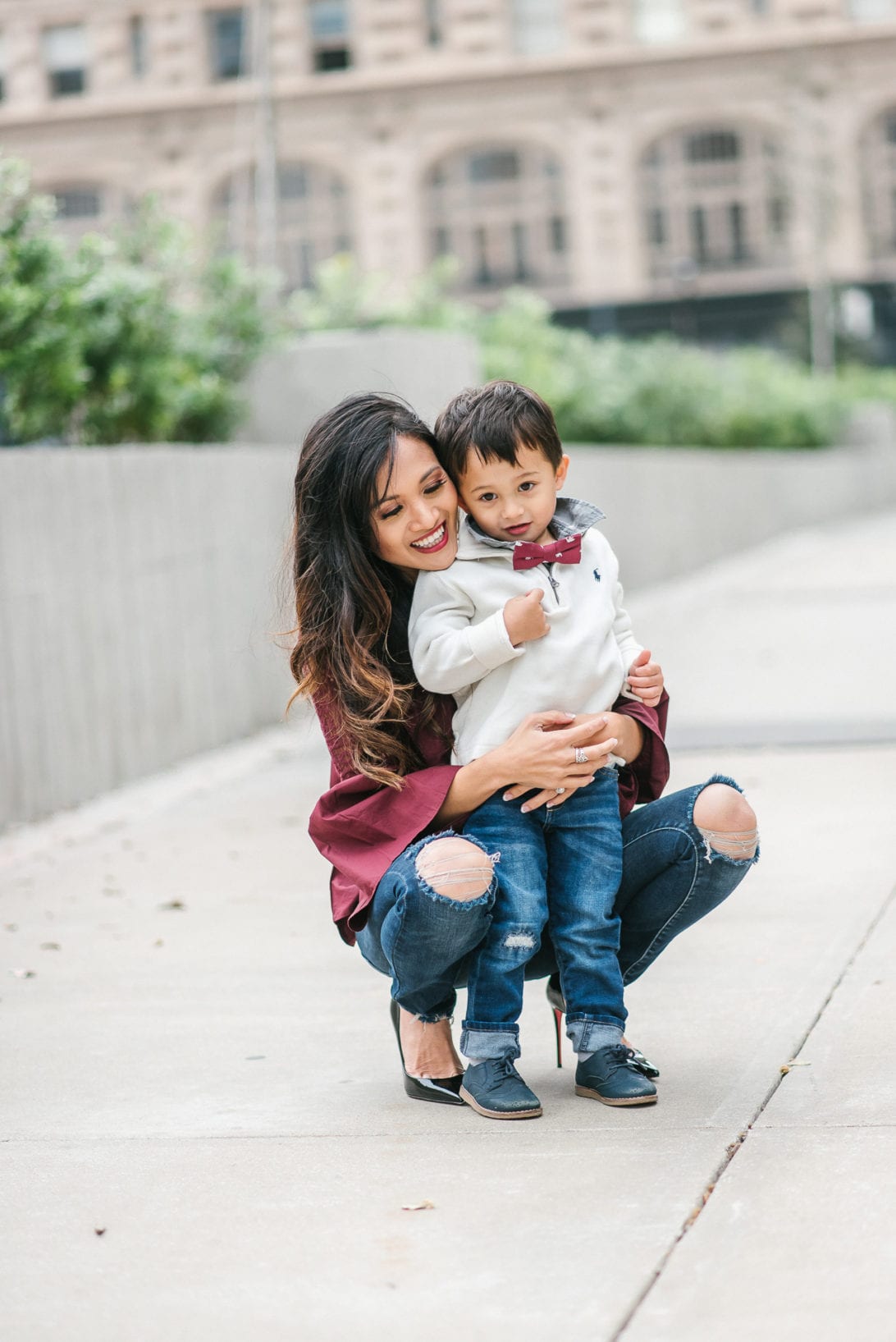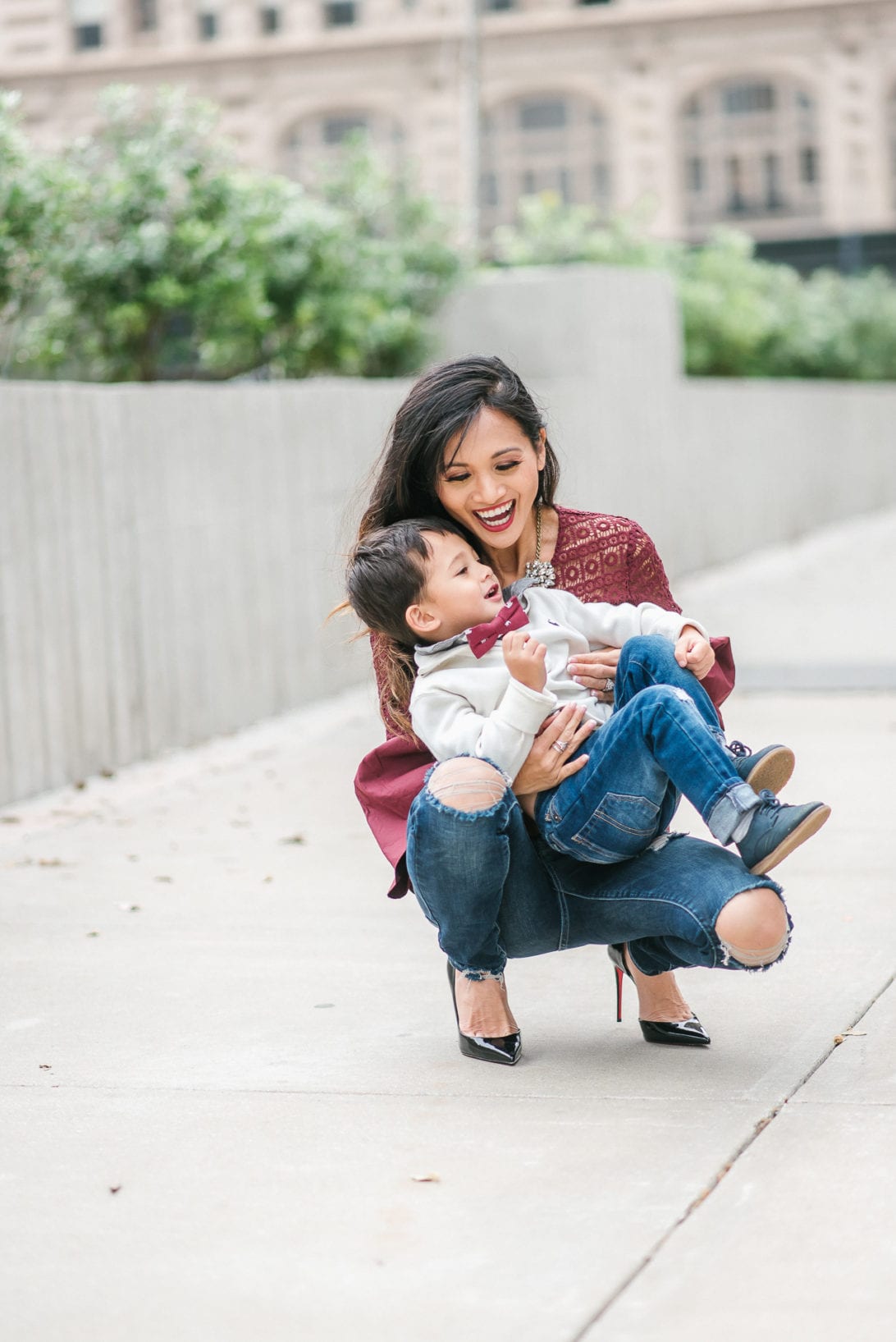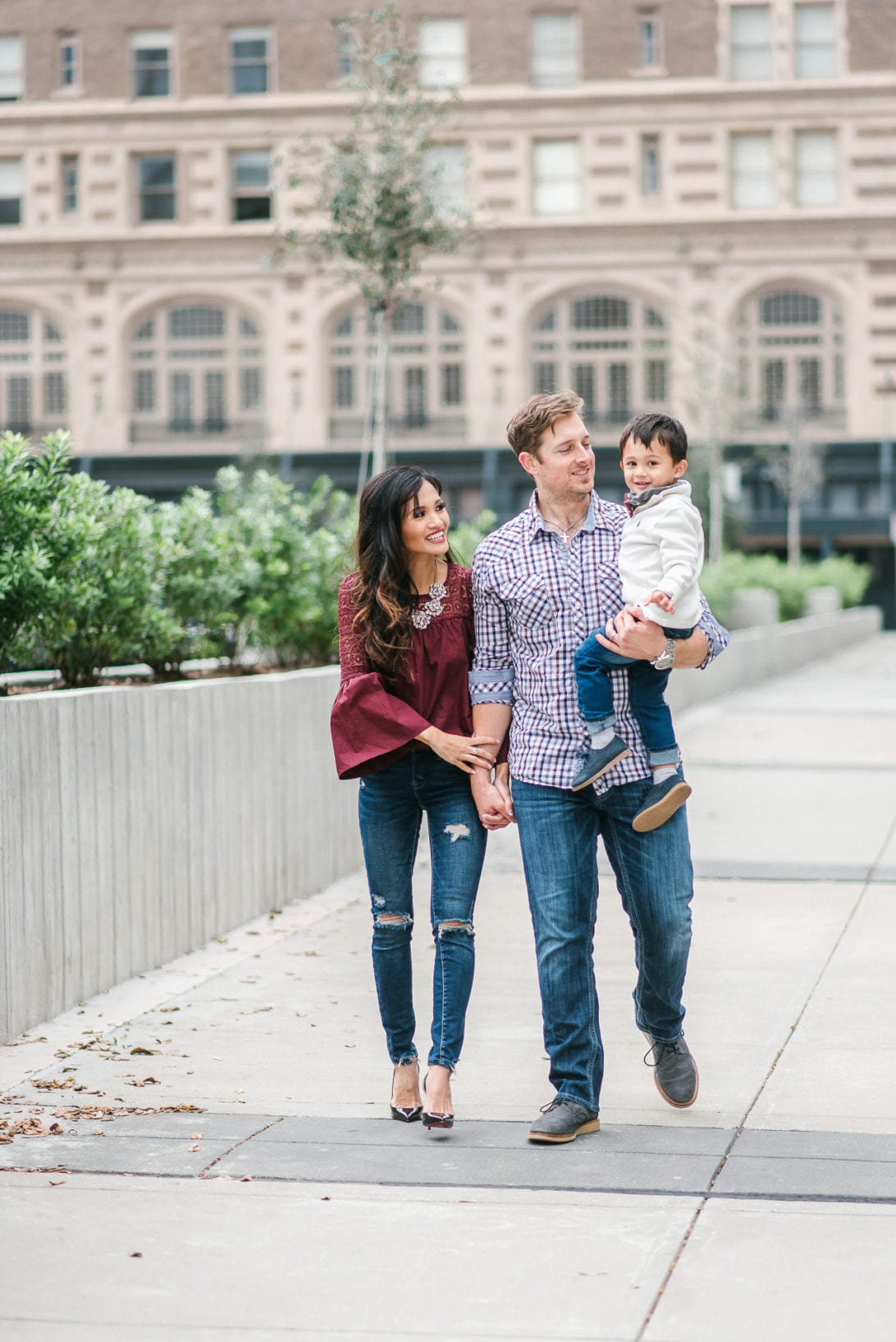 For our outfits we decided to go with a cooler color scheme and had maroon, navy, and grey as our accent colors. The top I am wearing is one of my favorites and comes in black and white too! I'm obsessed with bell sleeves. My jeans are a personal favorite and you can see how I styled them here and here too! Check out the rest of our looks below!
SHOP OUR LOOKS:
Dawn's outfit:

Josh's outfit:

Jayden's outfit: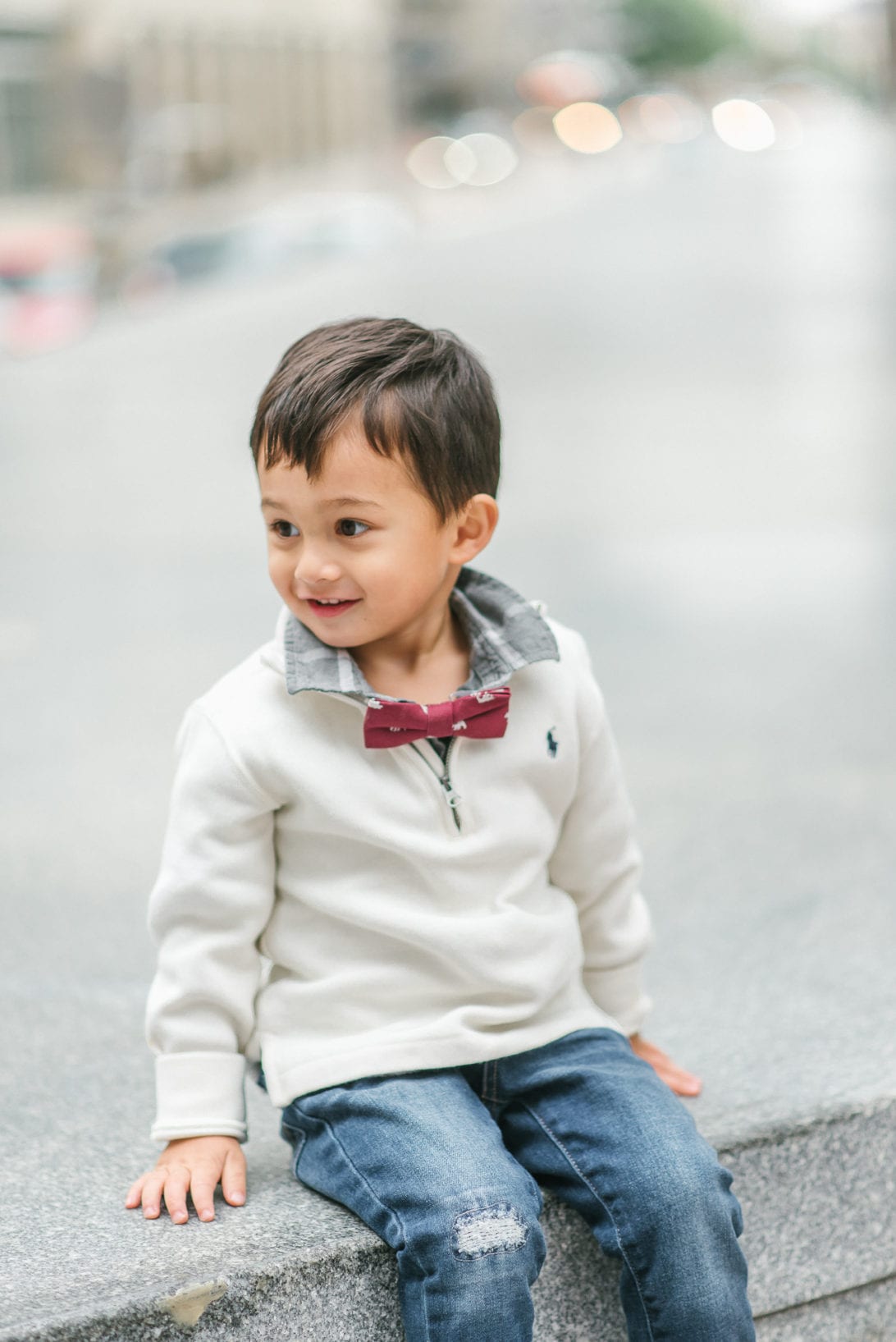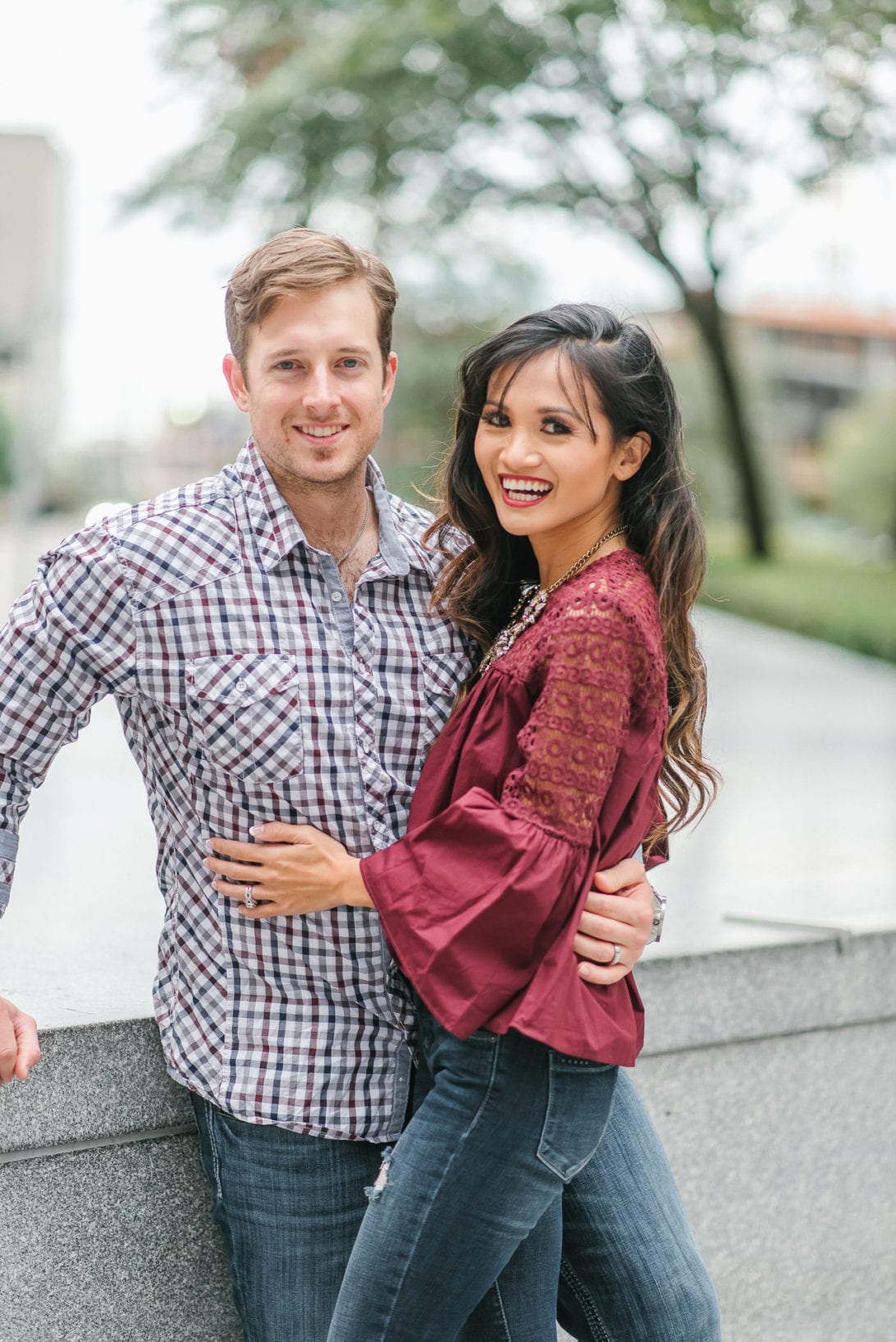 Need gift ideas for that special guy in your life? Check out my holiday gift guide for him below!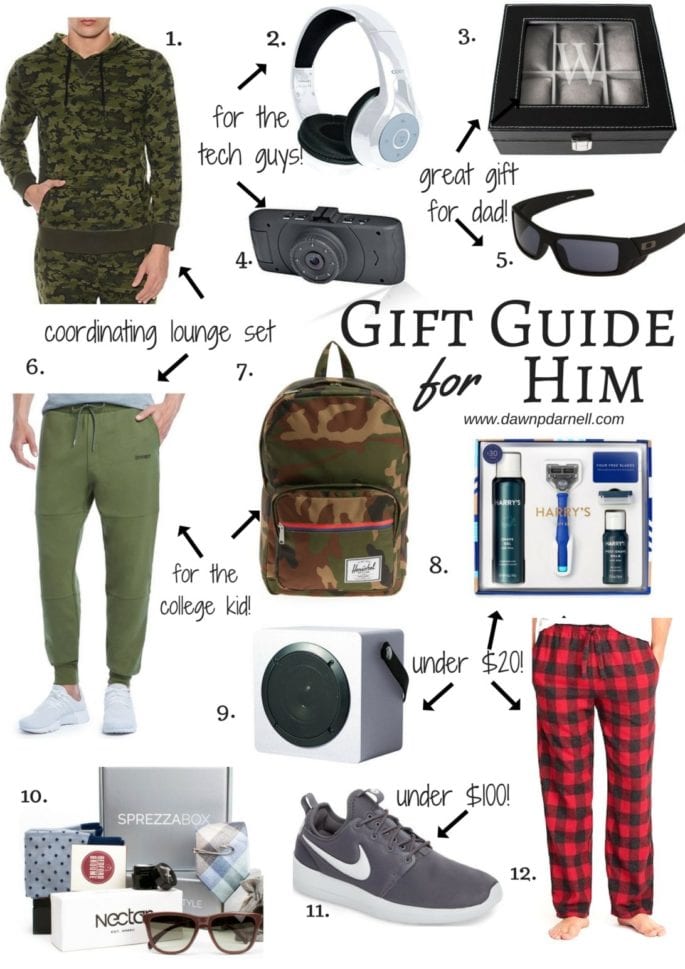 Gift Guide for Him:
1. 2(X)Ist Camouflage Terry Pullover Hoodie (check out these hoodies here)
2. Wireless Stereo Bluetooth Headphones
4.Dual Camera Dash Cam (check out some other cool tech gifts here)
5. Oakley GasCan (check out more Oakley sunglasses for men here)
6. Military Sport Lounge Pants
9. Portable Bluetooth Speaker (check out more gifts under $50 here)
10. Sprezza Box – Enter in the Giveaway for your own Sprezzabox here!
12. Plaid Flannel sleep pants (for more pj sets visit here)
Click here for the downloadable PDF gift guide For Him.
 For additional gift guides visit here.
Christmas Essentials| For Her| For Him| For Toddlers| For the Home| For the Beauty Lover| For the Pet Lover| Under $50
For the Fitness Gear for the New Year, and Gift Guide for Travelers visit here for the complete PDF shopping holiday gift guide.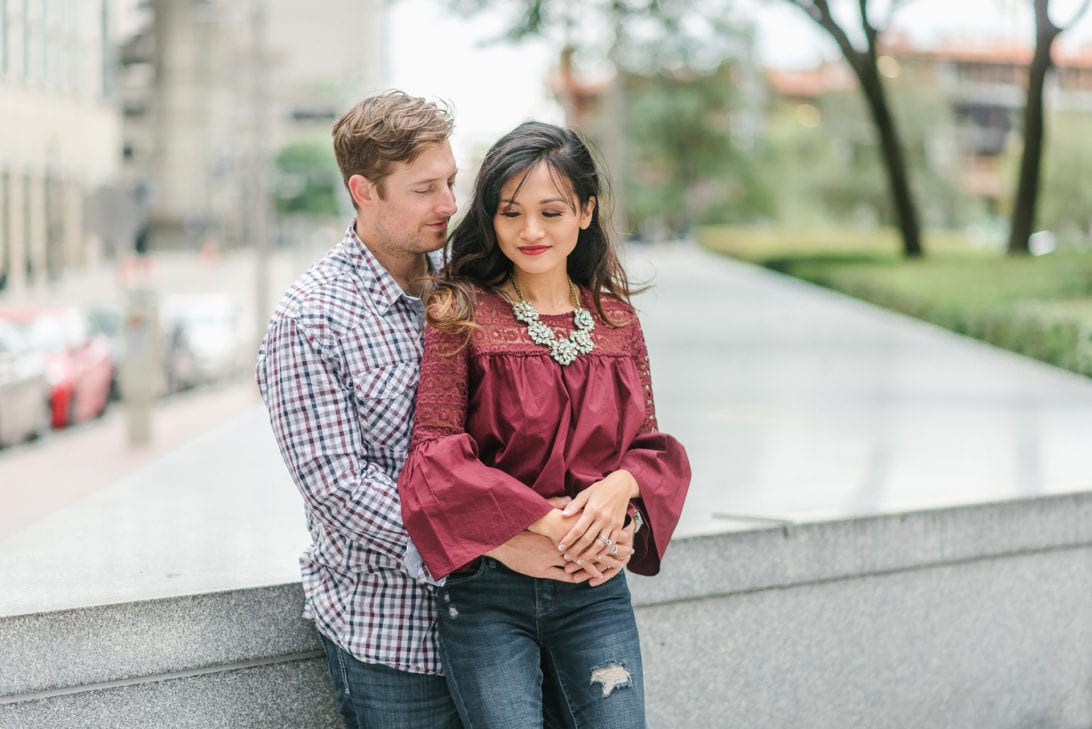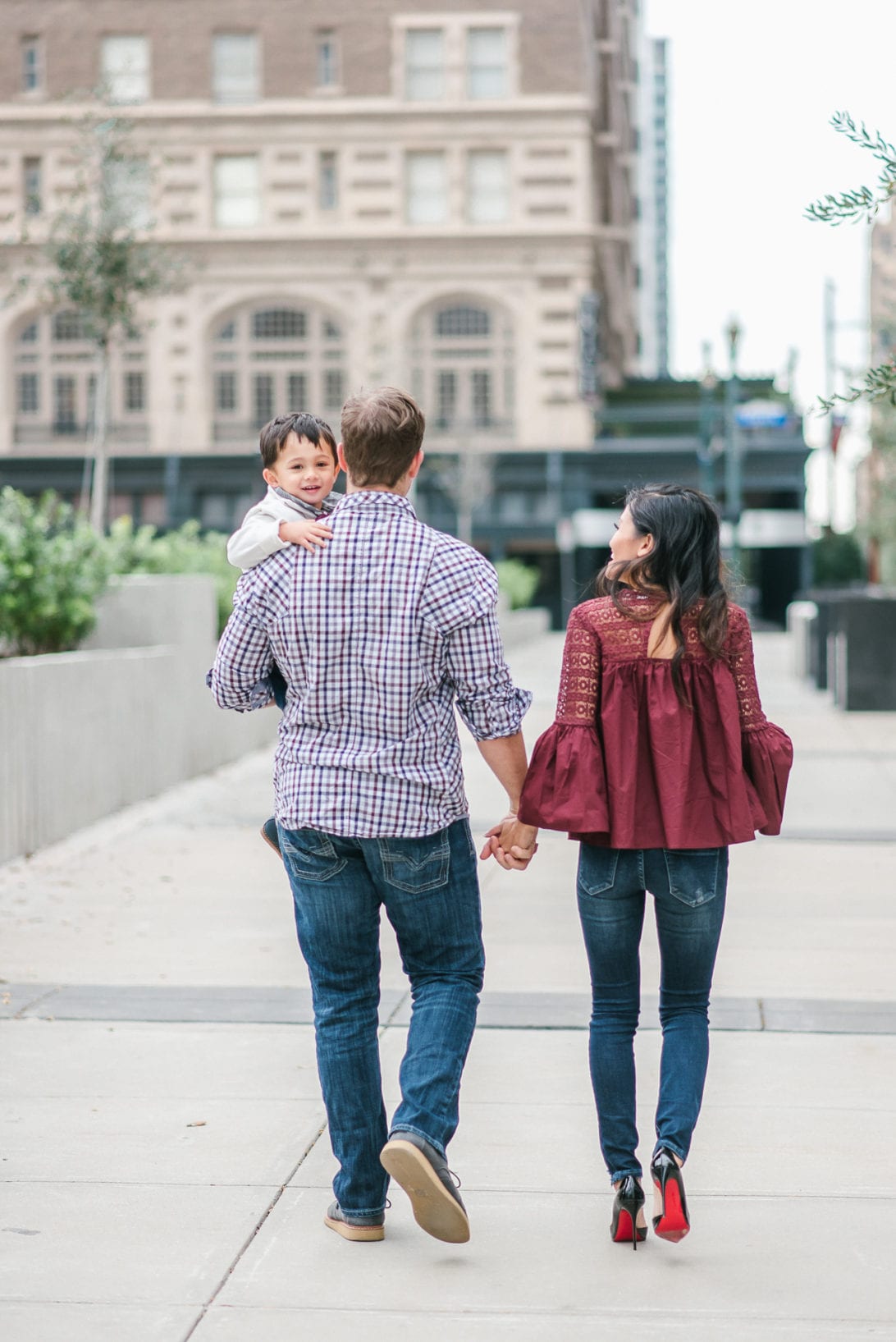 Photos by Banavenue Photography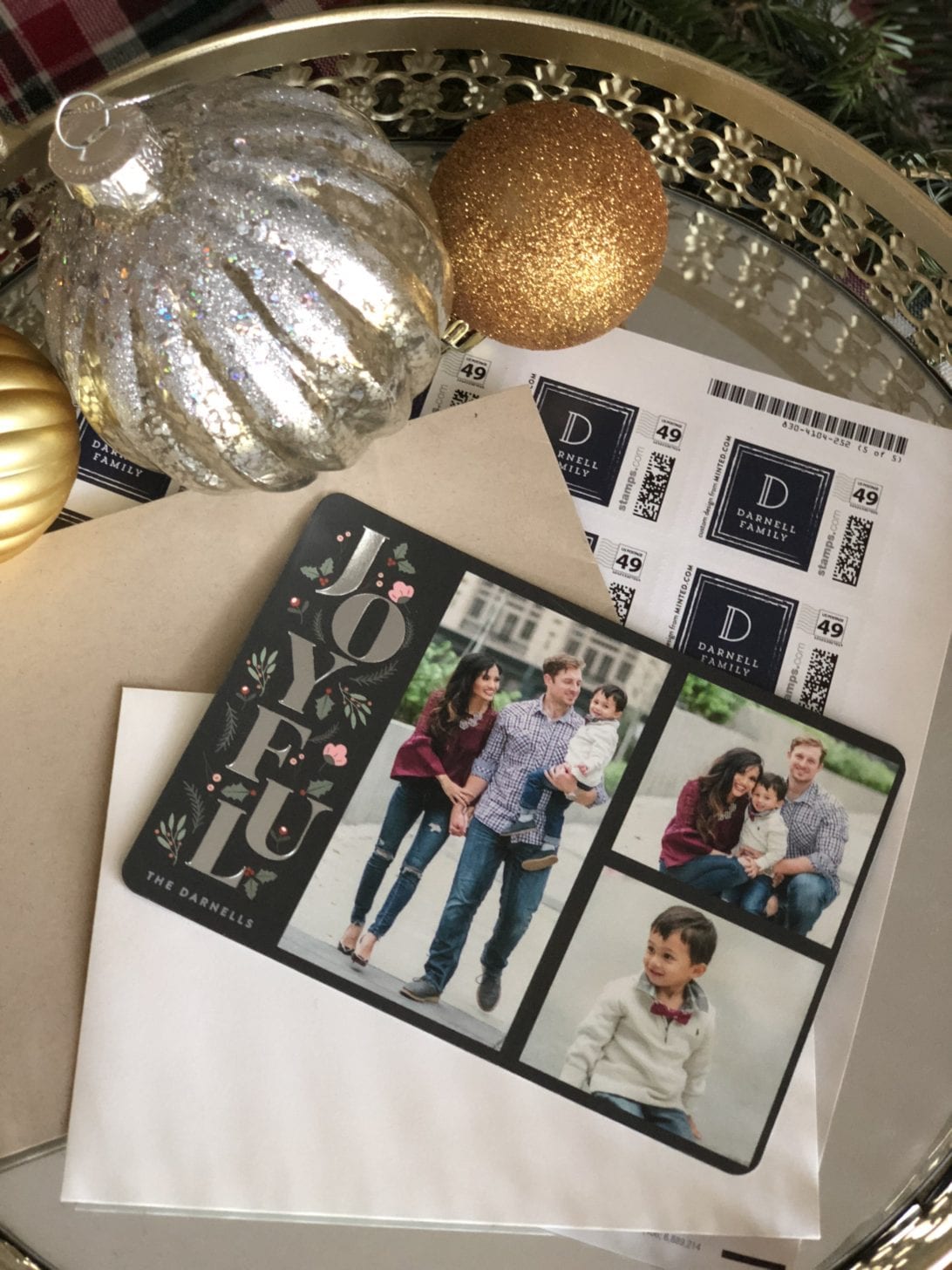 We love Minted for our Christmas cards because there were so many design choices to choose from. This year we went with a darker background and foil letters to contrast with our photos. We ended up getting the petite size cards which were an inch smaller than the original size. For our envelopes we got our address pre printed so we didn't have to handwrite them. I'm left-handed and I have horrible handwriting. We also got customized stamps for our cards to add a special touch.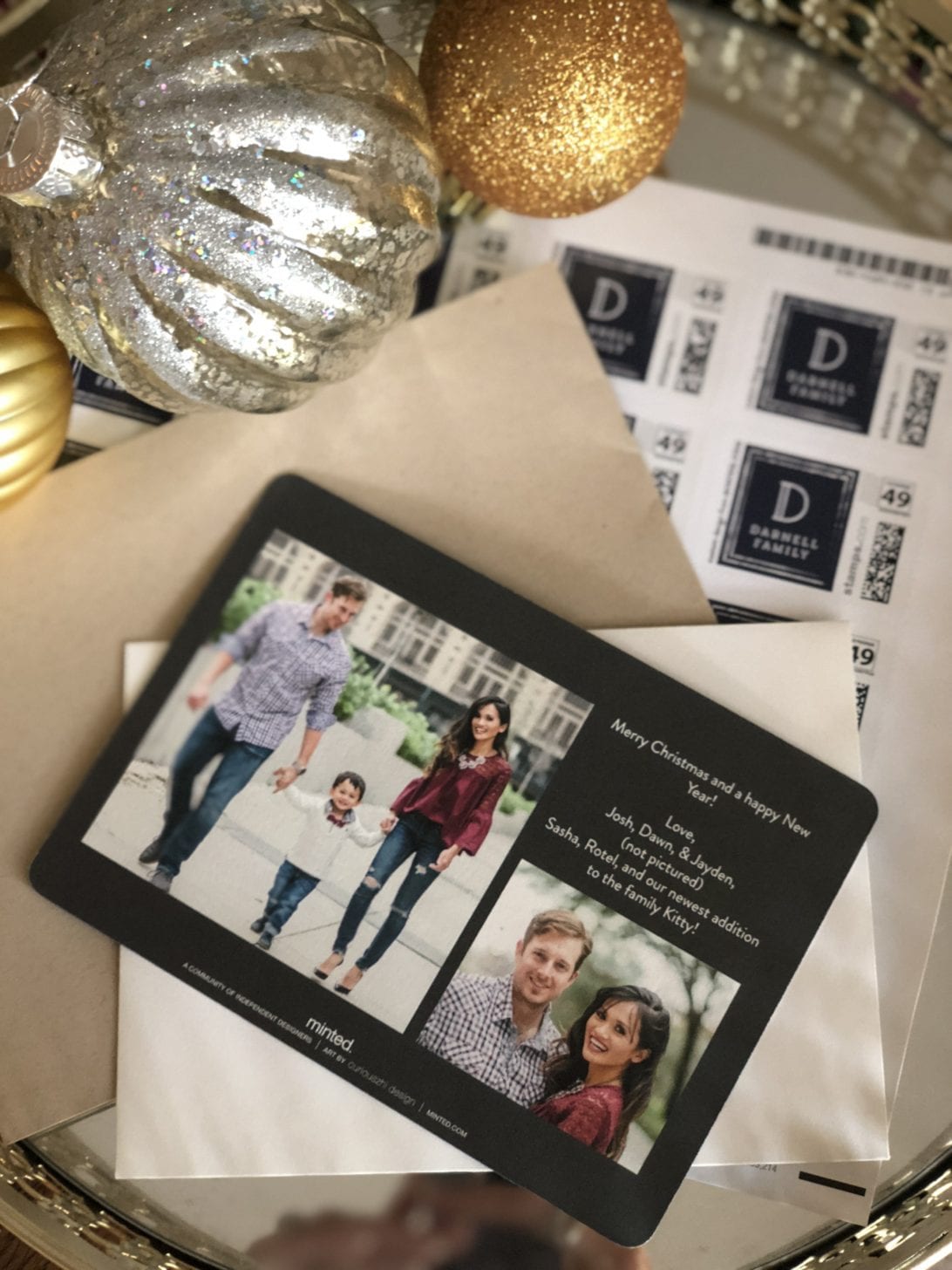 If you are still looking to send your Christmas cards, Minted offers rush shipping. You can also get 15% off with the code WINTER17. Hope you enjoyed our 5 Tips for Fun Family Pictures with Toddlers and Christmas cards with Minted!
P.S. Subscribe for weekly newsletters so you never miss a single post!