This post is in partnership with SkinCeuticals. All thoughts and opinions are all mine.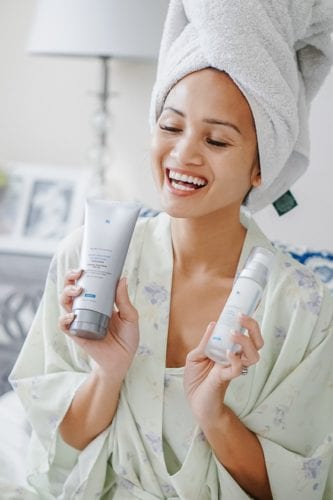 Hey everyone,
Hope you are having a great week! Today I wanted to share my tips to reducing premature skin aging with SkinCeuticals. Since turning 30 and being a mom, I've had to change-up my skin care to keep up with my active lifestyle, aka team no sleep! Let's face it having kids ages you, especially around the eyes where the dark circles and little wrinkles start to set in. And as we get older, our skin doesn't have the natural bounce back rate like we did in our twenties. But luckily with the right products and treatments, we can still preserve our skin long-term to reduce premature skin aging. Check out my Tips to Reduce Premature Skin Aging with SkinCeuticals below!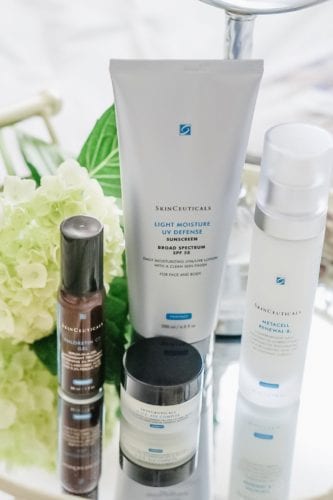 5 Tips to Reduce Premature Skin Aging with SkinCeuticals
1. Leave it to a professional
A good daily skin care routine is essential for maintaining healthy looking, fresh skin, but every once in a while we need to leave it to the professionals and get a facial treatment. Monthly facials continually help to revitalize and cleanse your skin beyond what you do in your home. Plus the professionals will be able to consult you on the right treatment as well as after care product that is best for your skin type.
A month ago I visited Advanced Dermatology in Sugarland with Dr. Sherry Ingraham for a SkinCeuticals Triple Lipid Restorative Protocol Facial. This treatment helped restore moisture back into my skin, as well as improved the appearance of skin evenness and overall radiance. It was very relaxing as well as informative. My aesthetician was able to recommend me the right products for my own at home skin care routine.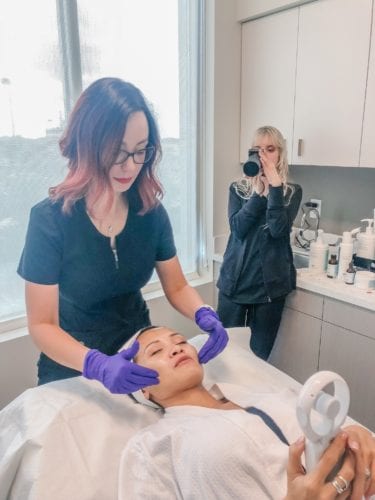 Here's somethings you need to know about the Triple Lipid Restore:
Triple Lipid Restore 2:4:2 is an anti aging cream formulated with a maximized concentration of lipids: 2% pure ceramides, 4% natural cholesterol, and 2% fatty acids. This unique lipid correction cream contains the first 2:4:2 cholesterol-dominant ratio to help restore skin's external barrier and support natural self-repair, while potently nourishing aging skin for improvement in the visible appearance of skin smoothness, laxity, pores, and overall radiance.

Restores essential skin lipids: ceramides, natural cholesterol, and fatty acids
Improves the look of skin fullness, texture, and pore appearance
Improves the appearance of skin evenness and overall radiance
Unique lipid stabilization system in a lightweight and fast-absorbing texture
Shortens the adjustment period to retinoids up to 1 week while reducing dryness (see Science & Proof below)
Paraben-, and dye-free
Ideal for aging, normal, and dry skin types

2. Use an Antioxidant
As we get older our body takes longer to recuperate and same goes for our skin. We need more to protect and revitalize our skin. Using an antioxidant like Phloretin CF Gel once a day as the first layer of protection helps protect against environmental damage and premature signs of aging caused by free radicals from UVA/UVB radiation. This daily topical vitamin C antioxidant also helps diminish the appearance of discoloration, refine skin texture, and improve skin tone.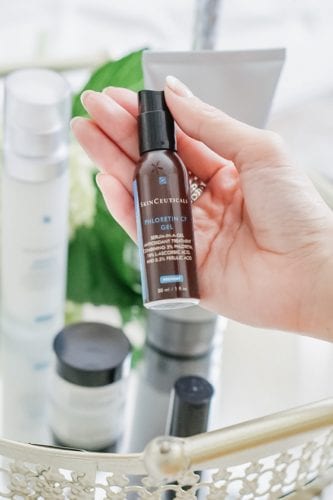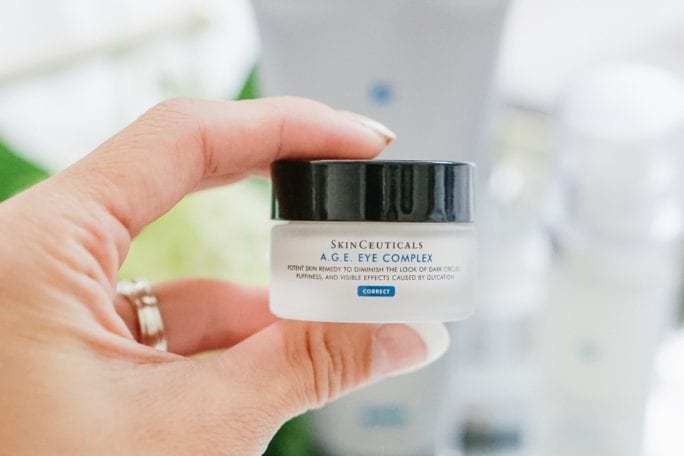 3. Invest in an Eye Cream
The first signs of age appears around the eyes. I started to see little wrinkles and dark circles form around my eyes as I got older and even more so after becoming a mom and not getting enough sleep.  With an eye cream like A.G.E. Eye Complex you can help reduce the look of premature signs of eye aging, like fine lines, wrinkles and crow's-feet by using it daily to hydrate, correct, and  restore the skin around your eyes. I use this twice daily when I wake up and before I go to bed.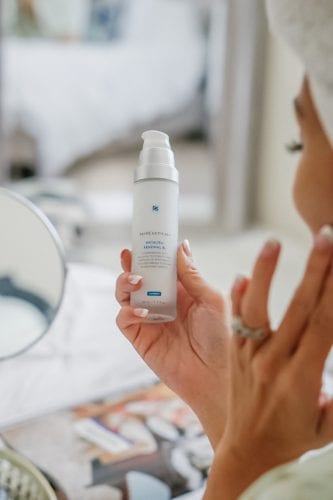 4. Moisturize your face twice a day
You would be surprised how dehydrated your skin gets and as we get older we need to invest in a moisturizer that does more than hydrate. With Metacell Renewal B3 it visibly improves early signs of photoaging by increasing cell turnover to resurface skin, it helps clarify and even skin tone, and improve the appearance of wrinkles and surface elasticity. I use this twice daily after applying my Phloretin CF Gel  antioxidant for all day hydration for my skin.

5. Protect your skin from the sun with a  DAILY Sunscreen
As much as I love the sun and being outdoors, not having sunscreen to protect your skin can advance the signs of aging. I wish I could have told my younger self to invest in a good daily sunscreen like Light Moisture UV Defense SPF 50. What I love about this sunscreen is it's a weightless, non comedogenic, oil free sunscreen that provides protection against damaging UV rays, while thoroughly moisturizing as it protects, leaving skin feeling comfortable and soothed. Don't forget to reapply at least every two hours for maximum protection!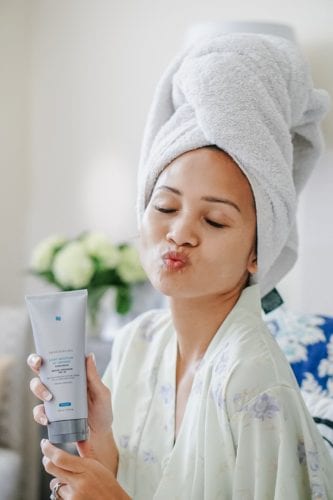 Getting older doesn't mean your skin has to look older. We can still preserve our skin long-term by preventing, correcting, and protecting our skin with these with these five Tips to Reduce Premature Skin Aging with SkinCeuticals. I hope these tips help, and if you have any questions I highly suggest booking your next SkinCeuticals Triple Lipid Restorative Protocol Facial at your nearest Advanced Dermatology. For more beauty tips check out this section here! Thanks for stopping by!
P.S. Subscribe for weekly newsletters so you never miss a single post!