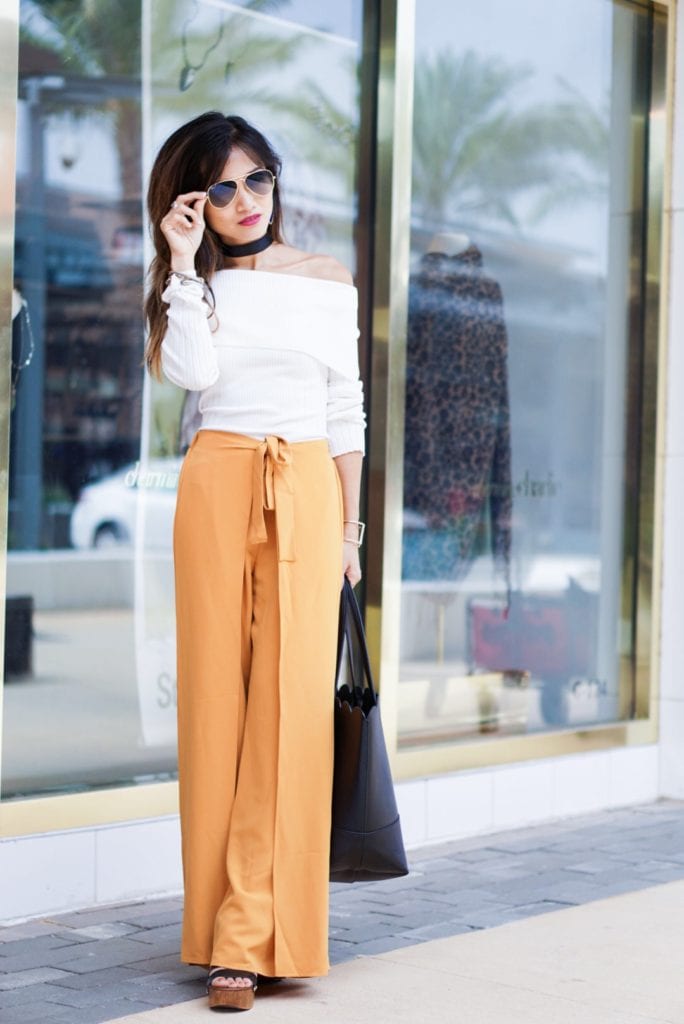 top c/o|pants c/o| shoes| earrings| cuff| bag c/o| choker c/o
Happy Friday! What a busy day it was yesterday. If you are following me on Snapchat then you might have seen me running around Houston in these fun mustard yellow, wide leg, wrap pants . It was an eventful girls night out with my wonderful sorority sisters and blogger babes, filled with champagne, sweets, and beauty galore. You can watch more of my fun GNO on Snapchat.  A special thanks to my wonderful friend and beauty guru Lila for helping me get all glammed up. For those following me on snapchat, she is the magic behind my make overs. She does wonders with makeup and does a great job giving fun tutorials on her Snapchat @lila0313 and on Instagram. You should definitely follow her if you aren't already. She is pretty awesome!
Now back to the most talked about pants last night. Yup this little number right here has got to be my favorite new bottoms outside of jeans for fall. I love how flowy texture and the added wrap detail. It makes you want to dance around in them! They also come in a mauve pink and maroon, which I am contemplating on buying both because I love them so much. And for less than $30 these wide leg, wrap pants are a steal! I love the mustard yellow because the color is perfect for fall. Check out the full look below!
Yes this sweater is on repeat! It is so versatile and a nice every day sweater to go with just about anything. Check out how I also styled it here and here. I love showing my readers how you can get the most wear out of clothing by styling core pieces in different outfits.
A simple choker is a great way to accessorize anything this fall.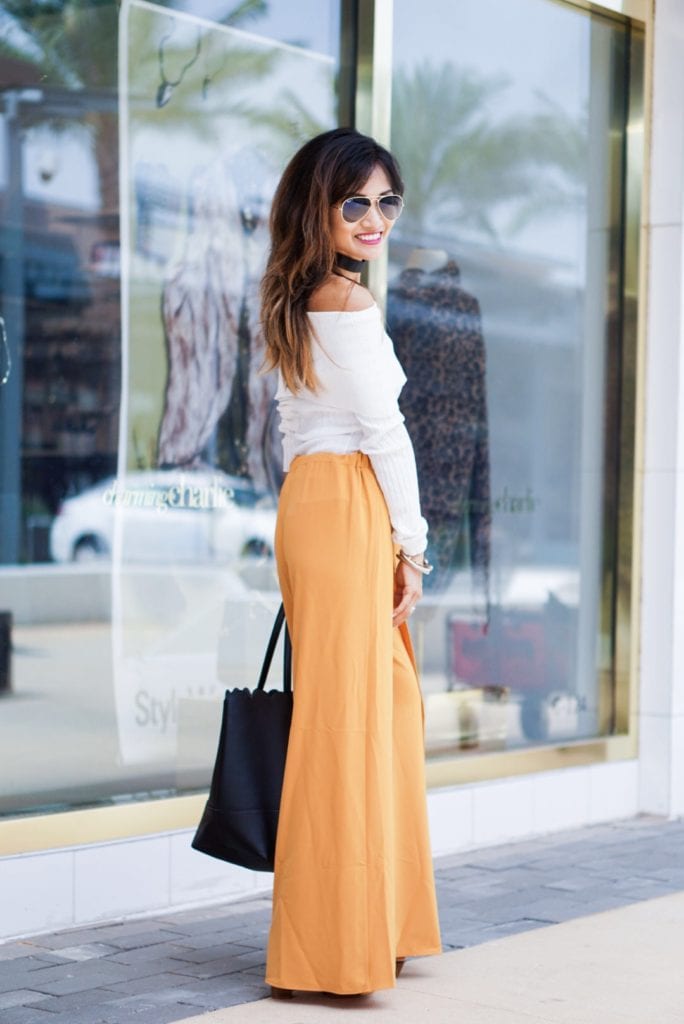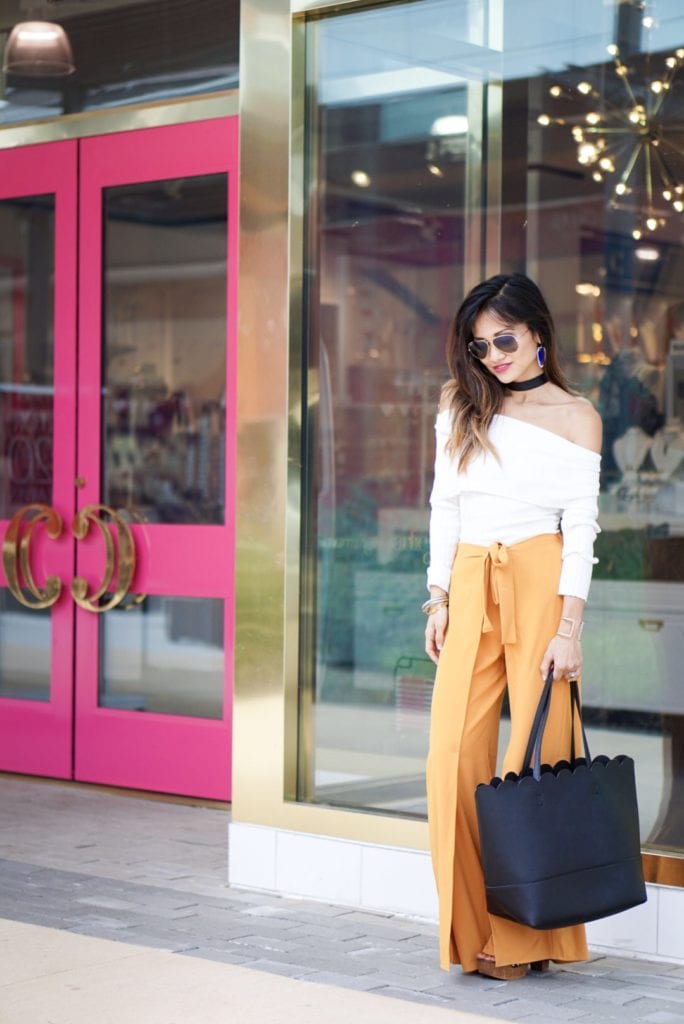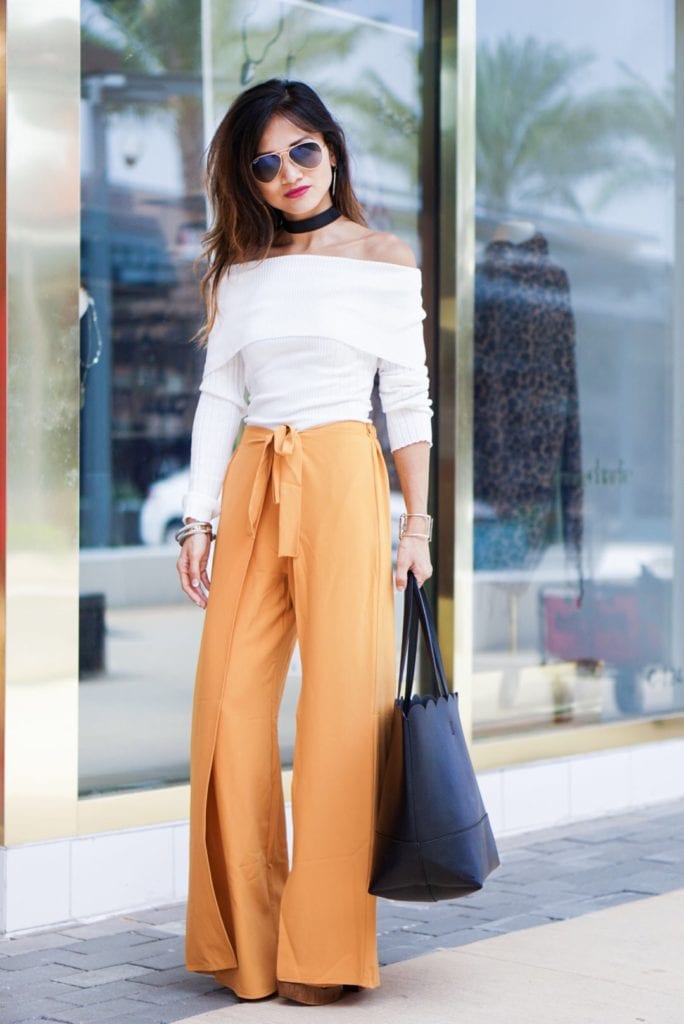 This every day monogrammed tote will also be a repeat this season. For the fashionable momma on the go, this tote is for you. Check this post here for another look on how I styled this tote.
I am also slightly obsessed with these platform heels! I can't get enough of them since I wore it in this previous post here. They are so comfy and a great transitional shoe from summer to fall. I love how they elongate my legs when I wear it with these wide leg pants. These platform heels are also on sale for under $30, and you can't go wrong with those prices.
SIGN UP FOR LIKETOKNOW.IT TO SHOP THIS LOOK:

So if you have never invested in a pair of wide leg pants, I highly recommend snagging these for fall.  They are a great alternative to denim and are making a fashion statement this season. For more fashion related post,  subscribe and follow me on Instagram.
I am so excited for this weekend and all the fall activities planned including VIP tickets to Oktoberfest! Make sure you are following along on  Snapchat for an exclusive look in the life of a mommy blogger, plus I just did a huge 24Hr closet sale! If you missed out you can follow me on Poshmark for any additional sales. What are your plans this weekend? Comment below. I would love to know!