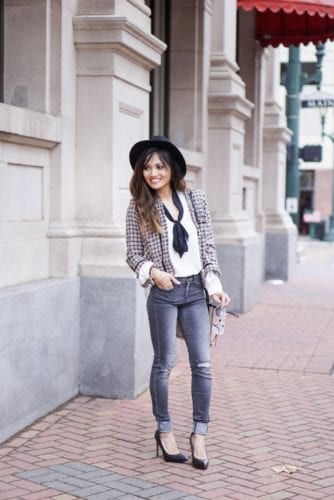 jacket (similar)| jeans| top (similar)| hat| heels (similar)| bag
Happy Tuesday everyone!
Yesterday I just got back from my vacation, and I can't wait to share all the details. If you followed along on snapchat then you got the first look on how amazing the resort was. But now I am home with my family, and I wanted to share with you an effortless way to wear a tweed jacket. Since Chanel made it a classic, it is one thing that will never go out of style. This tweed jacket is one of my favorite finds from a very unexpected place (read more here), and I wore it to my intern meeting last week. Check out my tips on how to wear a tweed jacket below.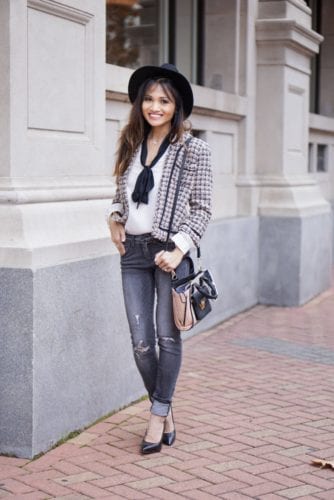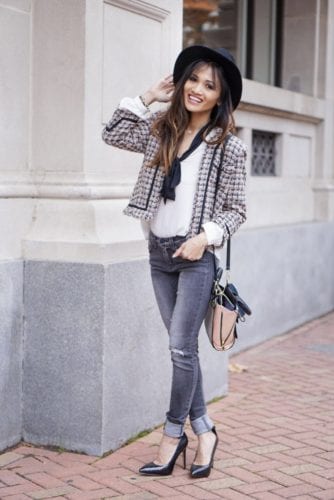 I love a good tweed jacket to dress up any outfit. Here are some tips on how to wear a tweed jacket.
1. Pair it with some denim – jeans are a great way to make it from business formal to every day business casual.
2. Layer over a pussy bow blouse – If you saw my previous post on this trend then you might see why they are perfect for layering under a tweed jacket.
3. Mix textures – I love to mix textures to add a little style and flare to the outfit. It keeps it from looking boring.
4. Dress it up with heels – Patent heels are a great way to dress up a tweed jacket.
5. Top it off with a fedora – I love a good fedora to pull the outfit together.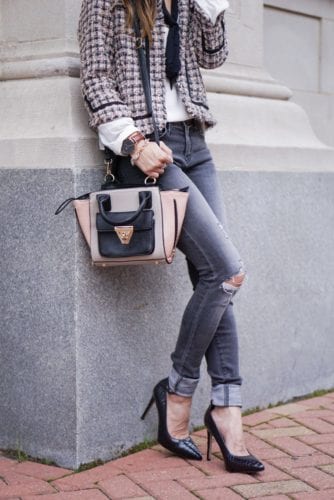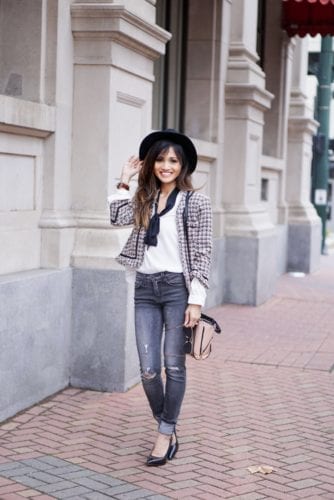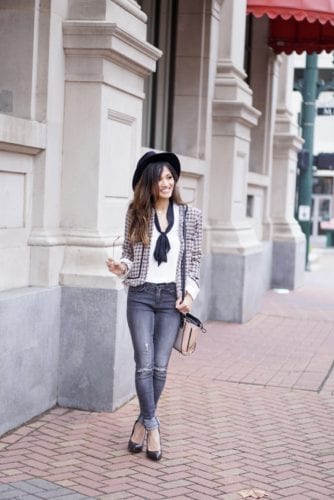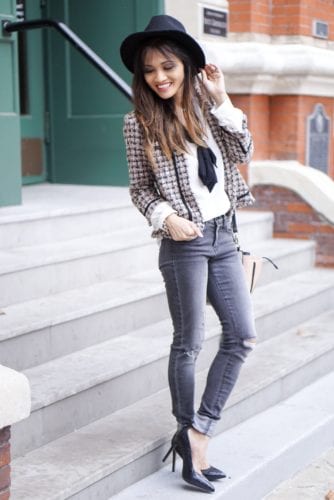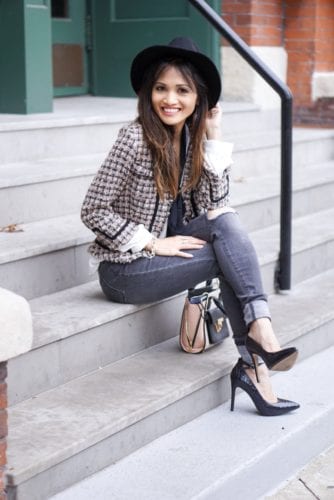 SHOP THIS LOOK:

SHOP MY FAVORITE TWEED JACKETS:

I hope these tips inspire you to try wearing a tweed jacket. It is a iconic fashion piece that will never go out of style. Little man and I are enjoying our time home together as we plan for his birthday party this weekend. I hope ya'll have a great rest of your week! Thanks for stopping by!
P.S. Subscribe for weekly newsletters so you never miss a single post!