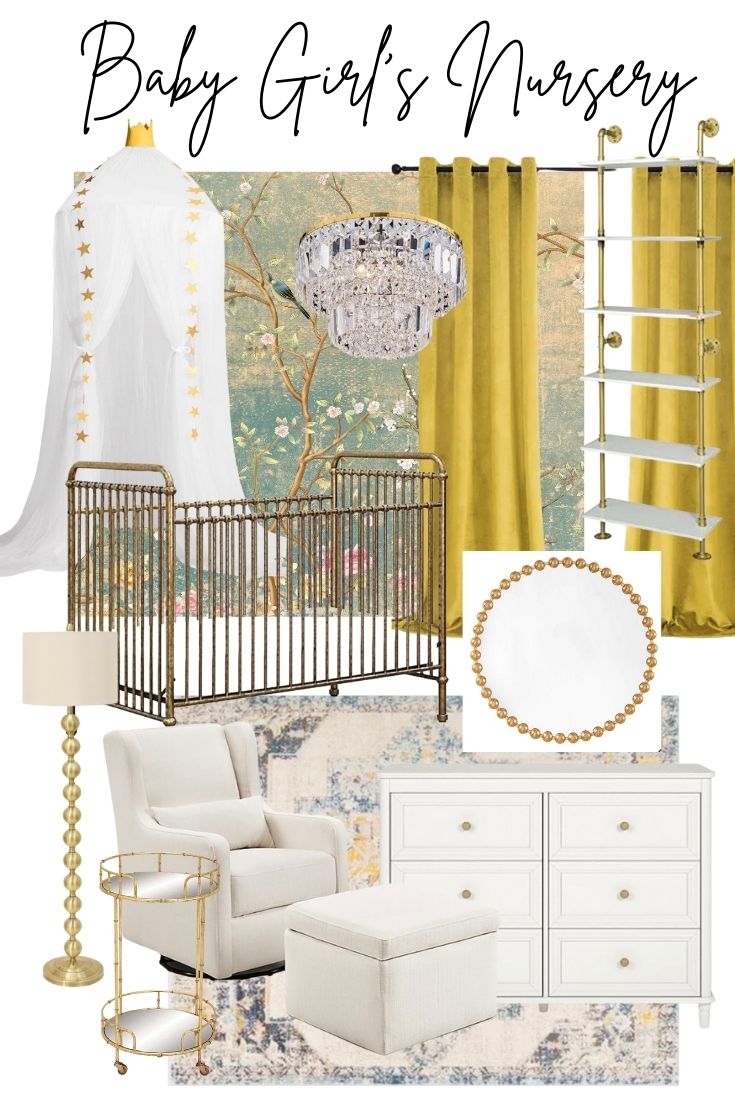 FEATURED ON THIS POST:

Hi friends,
Hope you are doing well! It's been quite a week adjusting to the New Year after having a two week holiday. To be honest I haven't really left the house much or my bed for the matter. But all that down time has given me time to get inspiration for our baby girl's nursery now that we know what we are having. I've always knew I wanted to have a girl and have dreamed of what her nursery would be like. And just like my gender reveal it will not be pink. Now don't get me wrong I am sure there will be pink accessories and toys but for the most part the primary colors will be yellow and gold which happens to be my favorite colors.  Check out my baby girl's nursery inspiration below!
Baby Girl's Nursery Inspiration
For the nursery I wanted to go with a french inspired glam theme. Since baby girl will be born in the summer it would be fitting that her nursery be bright and colorful. I love florals, chinoiserie wall paper, and gold accents. Since we are currently in a rent home, while we build our dream home, I have this fun idea to do a chinoiserie wall paper panel DIY that won't ruin the walls. Something I can easily remove and transfer into our new home. I can't wait to share when we've completed it. What do you think of this beautiful chinoiserie wall paper mural I found?
WALL PAPER:

I love a traditional gold metal crib and found this one from Pottery Barn. I feel like this crib could be used for a boy's nursery as well in the future. Check out one of my favorite blogger's nursery reveal for her son and daughter using a metal yellow crib. I also found this gender neutral glider with storage ottoman for under $500 at Walmart that would work for any nursery. We definitely wanted to get some gender neutral pieces that we could reuse again for our next baby.
FURNITURE:

For the lighting I couldn't choose between these two so I put both inspirations up. I am leaning towards the gold and shorter profile chandelier since our ceilings are shorter in our rent house. I also love this coordinating lamp from Target for under $70.
LIGHTS:

As far as accessories I found this beautiful yellow velvet curtains that I think would really make the room pop. Best part is they are black out curtains and very functional for nap times. I also found this huge 36″ round gold mirror from Target, and pretty tulle crib canopy from Amazon. For the bedding I found this gorgeous set on Etsy. It's feminine and goes with my french glam inspired theme.
ACCESSORIES:

I am so excited now that we have a plan in place for our nursery. Josh is open to whatever I want which makes this mama happy. We probably won't get started on the nursery until next month after our family trip to Hawaii. But I thought it would be fun to share with ya'll my ideas, especially if you are like me and looking for other options than pink for a girl's nursery. I hope you  enjoyed my french glam baby girl's nursery inspiration. Thanks for stopping by!
P.S. Subscribe for weekly newsletters so you never miss a single post!