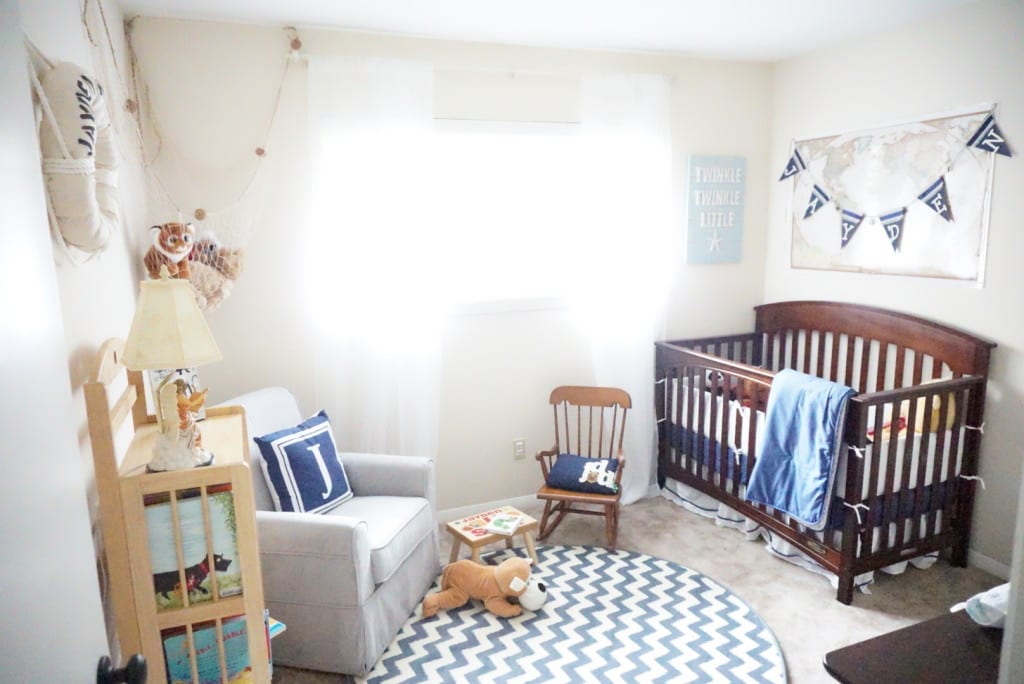 On the blog, all the way from London, I have Domestic Clean London sharing with us the 5 Golden Rules When Designing a Child's Bedroom. Here are 5 great tips I used when designing Jayden's nursery. We wanted his room to be kid friendly, bright and airy, and something he can grow in. We chose a nautical adventure theme for two main reasons: one my husband works in the maritime industry and is training to be a Captain, and secondly we wanted my son to have a sense of imagination and adventure every time he escaped in his room. Most of his room was either a gift, a heirloom piece, or an affordable piece found online on Wayfair. We were able to save so much money by comparing prices and buying online at Wayfair that we wanted to give you a chance to win this classic white and grey chevron rug featured here from Wayfair. Below is a complete tour of Jayden's nursery and a chance to enter to win.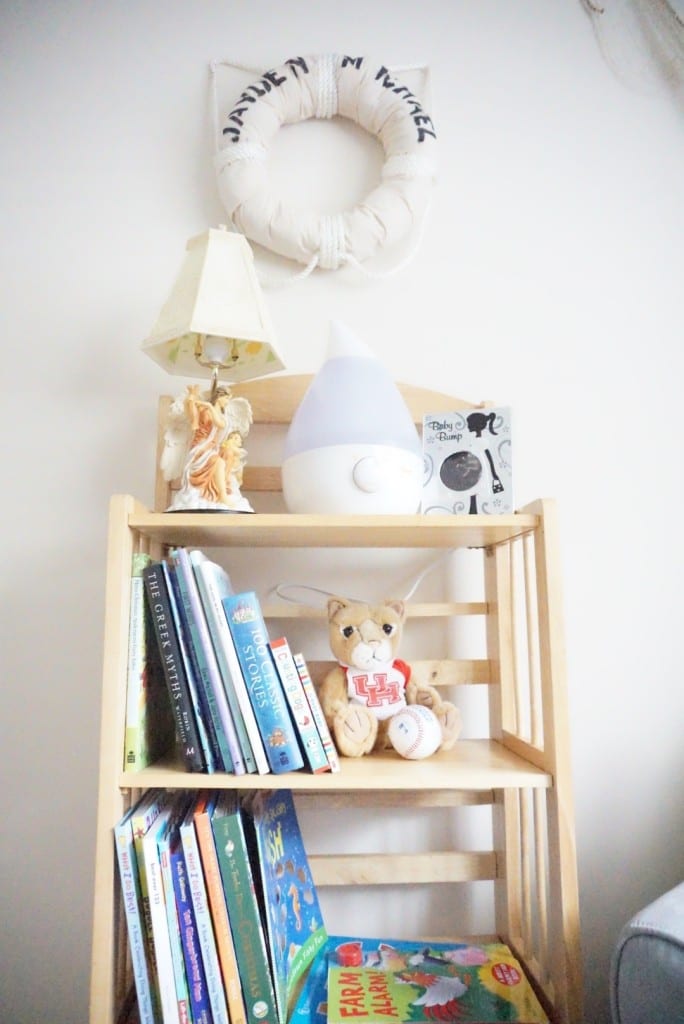 The bookcase and the angel lamp is from my old childhood room. I love having decorative pieces that have history and meaning. I want him to know those were the same bookcase that held my books, and the same lamp that gave me light when I was a child reading and imagining all the adventures I would go on.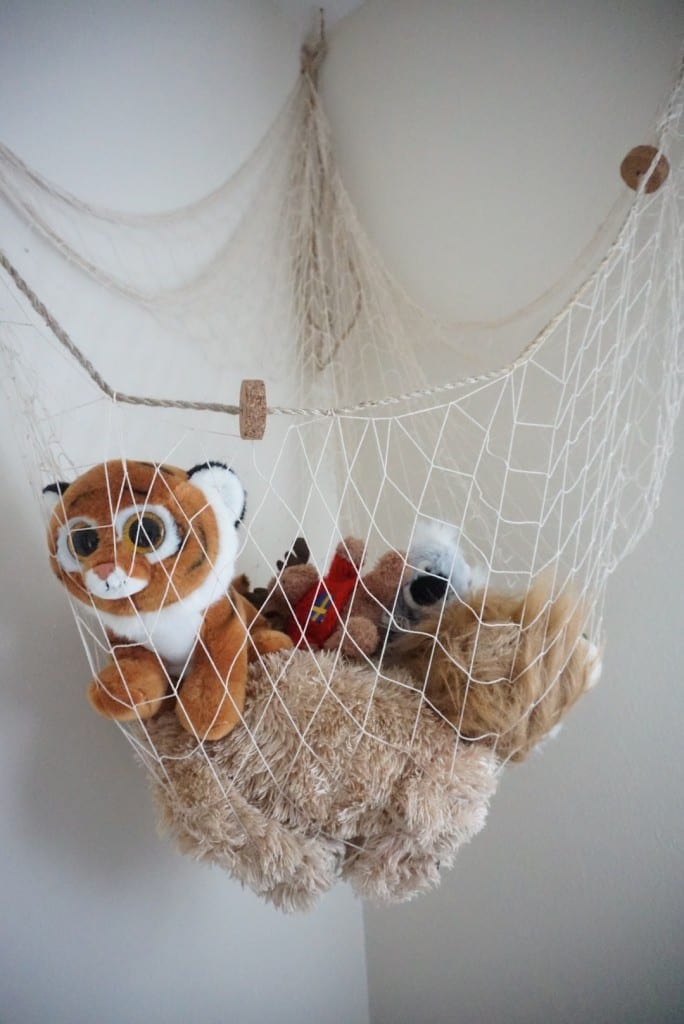 This net was actually used for Jayden's baby shower as decoration. I didn't know what to do with it until I stubbled upon a similar idea on Pinterest. I love it because its a fun way to store all of his stuffed animals.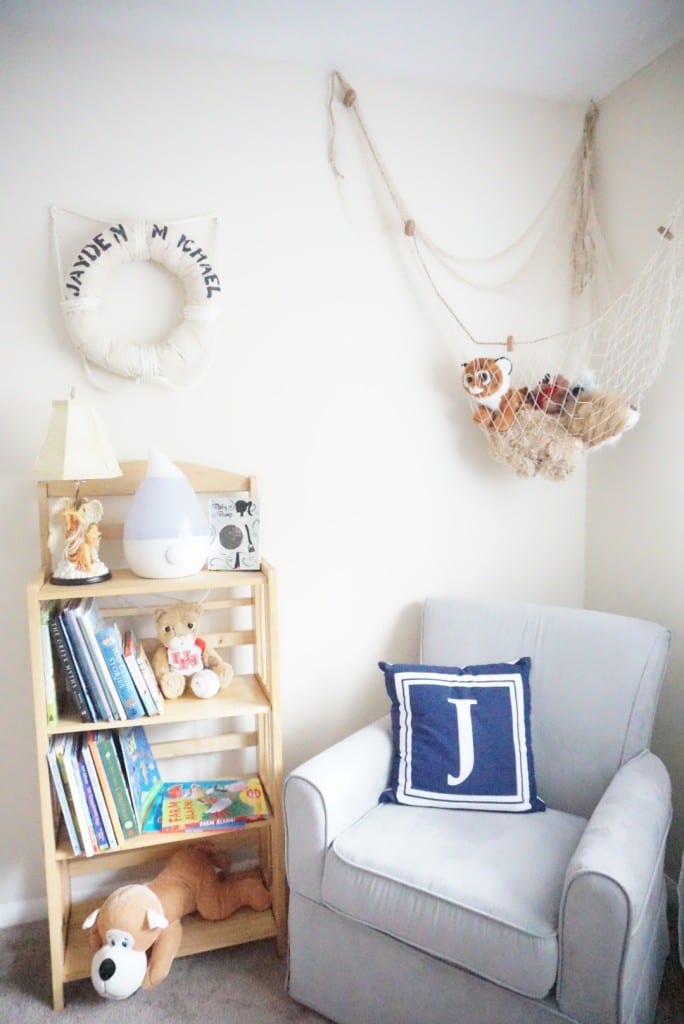 The glider we bought on Wayfair along with several other items in his room. I love it because for the quality you can't beat the price. Instead of paying $500 at a department store, we only payed $250 online. The nautical ring I personally made myself. You can find the DIY here.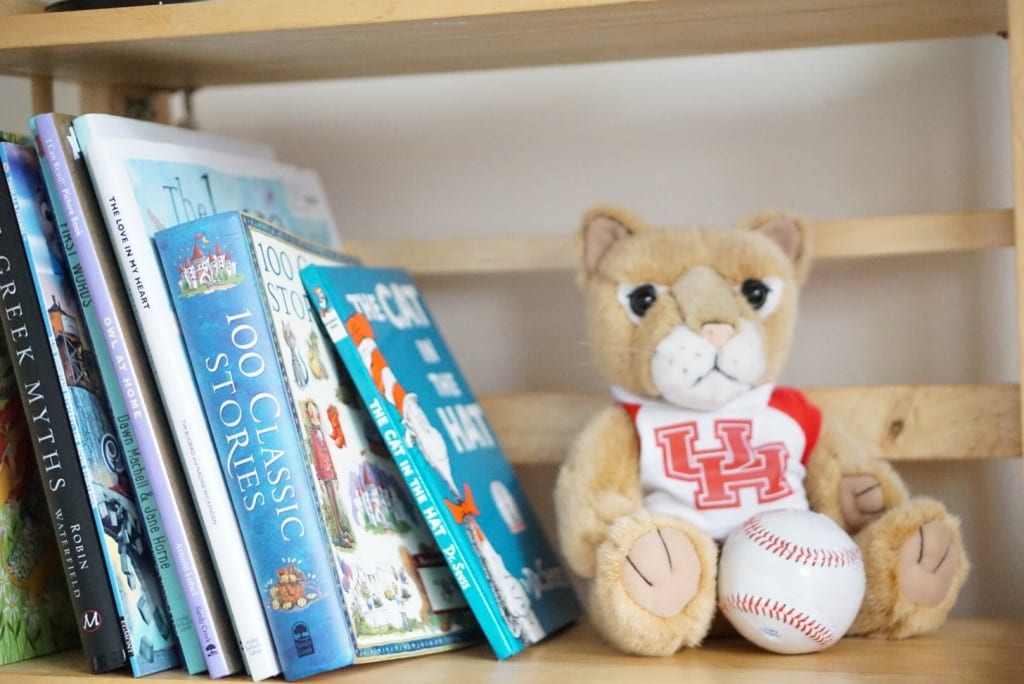 My husband I both went to the University of Houston so of course Shasta made his way in the room.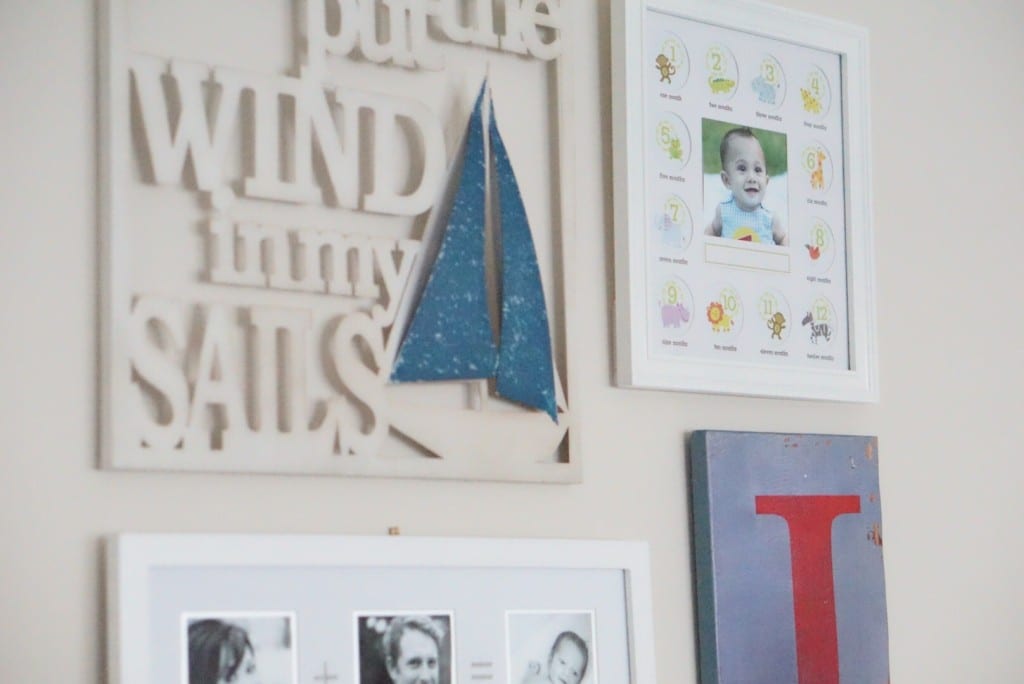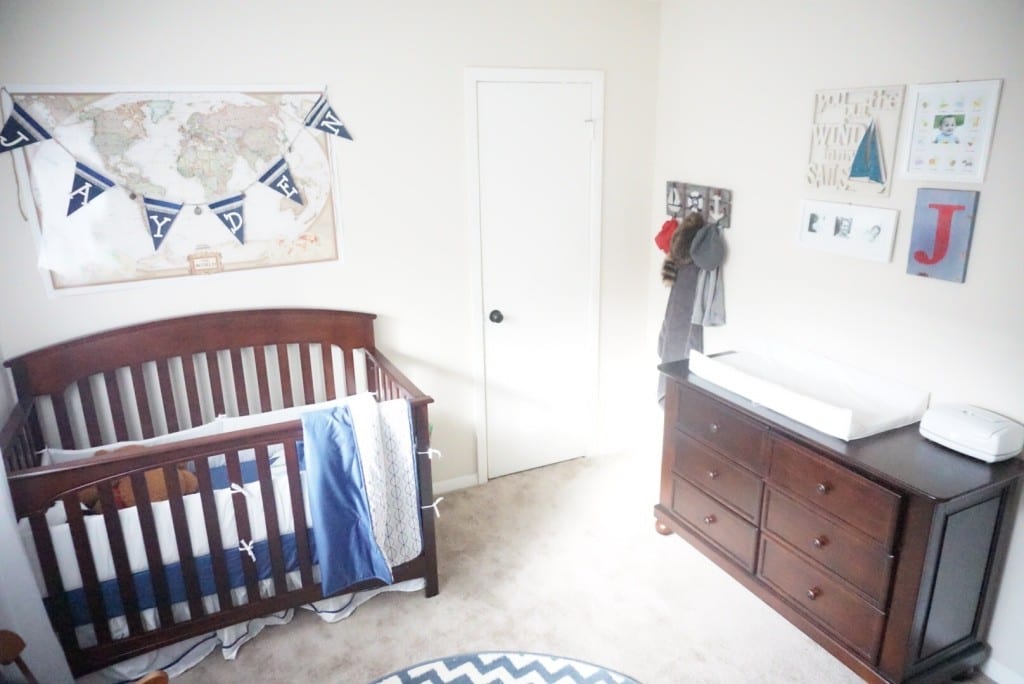 The crib along with the dresser were gifts from my in laws. I love the crib because it converts to a bed when Jayden get's bigger.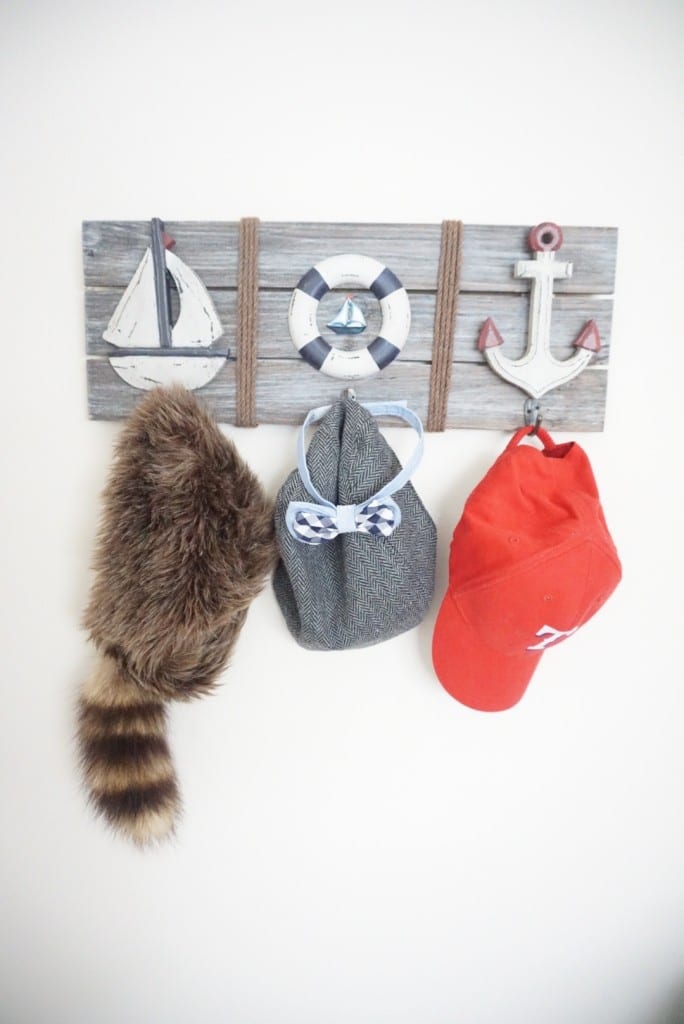 Jayden's hat collection, one for his adventures, the other for his school days, and of course his baseball cap to support his Uncle and the Texas Rangers.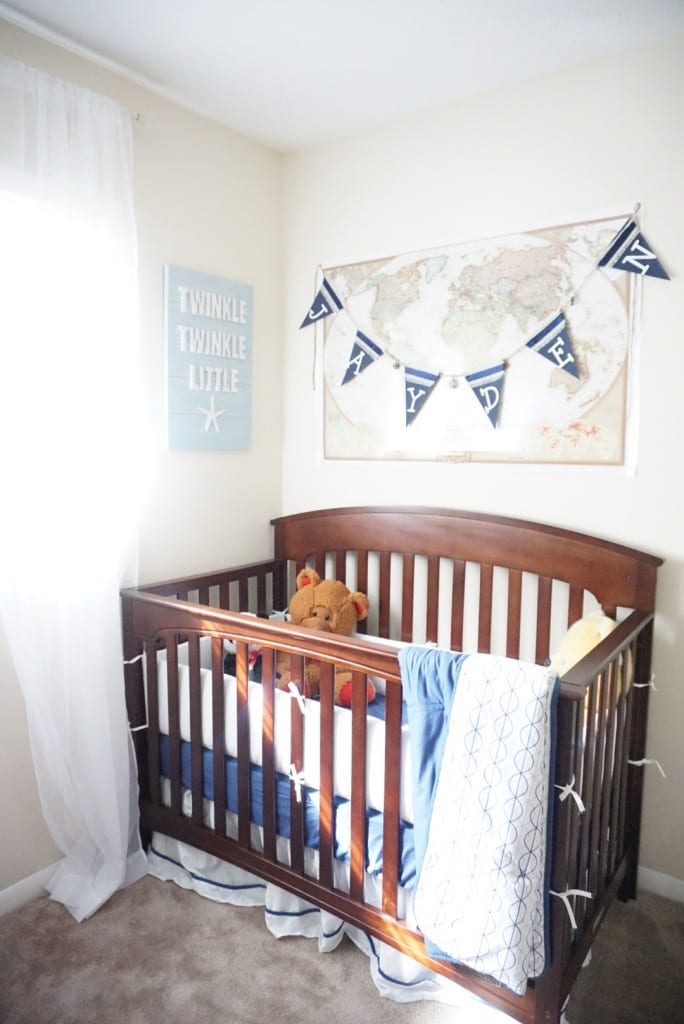 The name banner was also a gift from a friend for his shower. I love how it went perfectly in his room. I bought the map from Wayfair. I love it because it gives his room a timeless feel.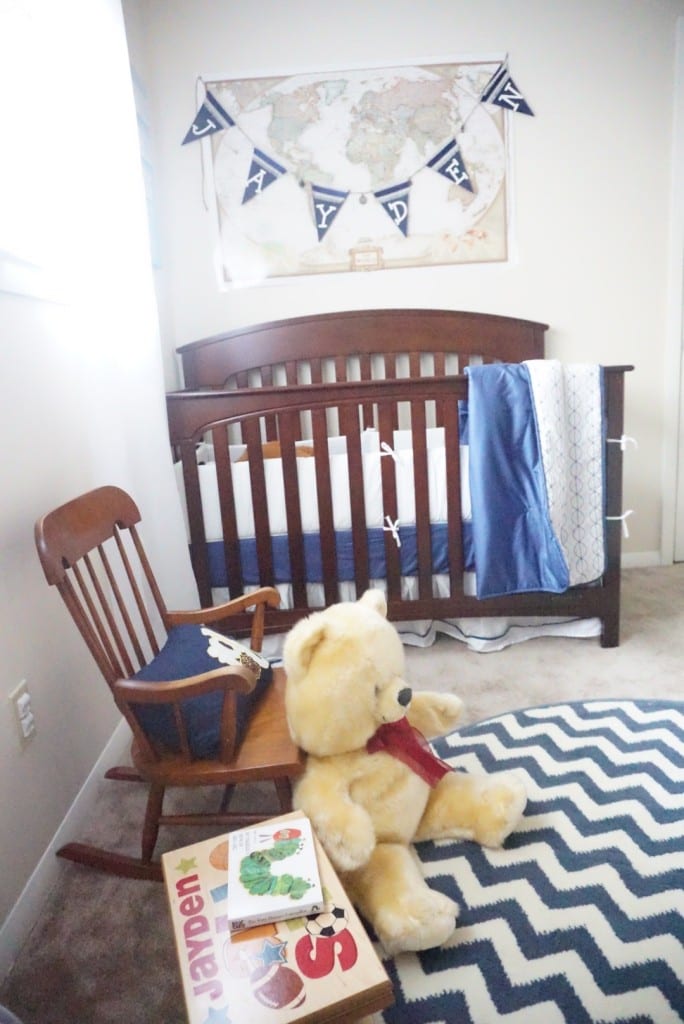 This child rocking chair is probably my favorite piece in this room. It was past down three generations from my husband's side of the family. It works perfectly with his personalized stool, and great for when he gets older and he can read in it. And can you believe that bear was mine when I was a little girl. I can't believe how great of a condition it still is after twenty plus years! It's Jayden's favorite bear too. I call him Mr. Grumpy because he always looks like he has a frown. He just needs a hug to cheer up his day. The round rug is another piece from Wayfair. I love how it gives his room a reading space and really ties in all the navy accents.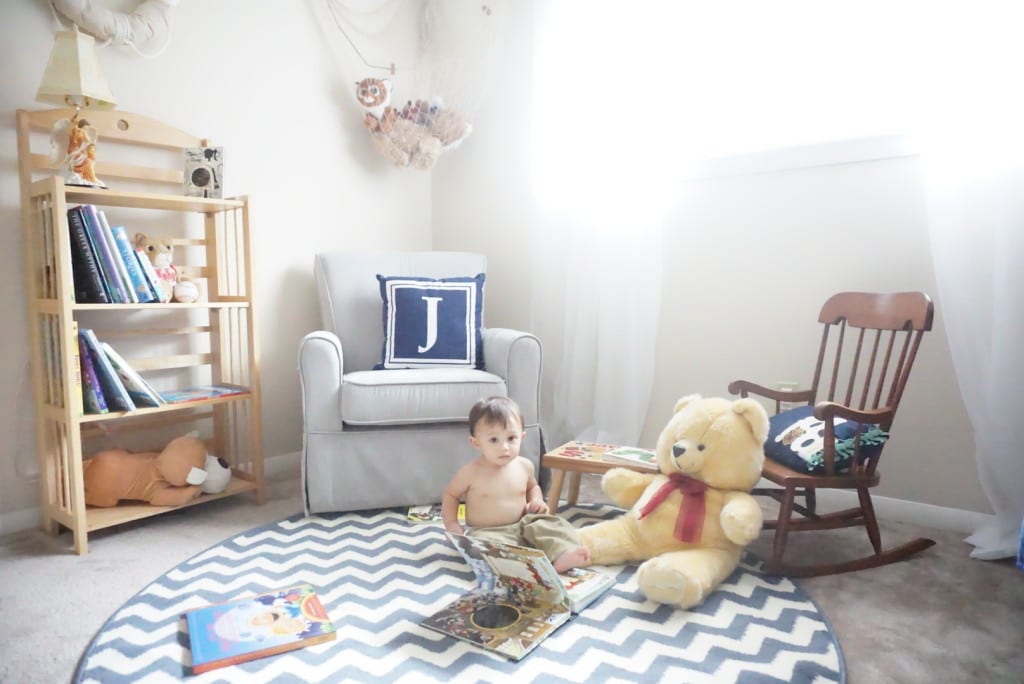 Below is the guest article from Domestic Clean London. What were some of your key elements to creating your child's room?
5 Golden Rules When Designing A Child's Bedroom
If you plan to design your child's bedroom and want to do this without making any crucial mistakes, here are 5 golden rules that you should follow. They will help you create a universal and neutral interior and leave the rest in the hands of your child. After he/she grows up will be able to make the changes he/she wants without having to replace the furniture. Use these 5 golden rules to design a child's bedroom which will give your kid the freedom to add personality to it.
1. Plan your kid's bedroom for at least 3 years ahead
When decorating your child's room do it with a mind that he/she will grow up. Don't use certain theme that he/she likes which sooner or later your child will outgrow. Buy beds, wardrobes, cupboards and pieces of furniture large enough so that they can be used after a few years. Choose neutral colours for the furniture and interior which match easily with different styles and are universal. This will ensure the longevity of your child's bedroom. 
2. Use neutral colors in the decoration
 Use neutral colours and universal design of the furniture. You can always add some accessories in the bedroom to make the changes you have planned.
3. Provide enough storage space
Storage space is never too much whether it is used for clothes, books, toys or anything else. You can use open shelves which are high enough for your kids to reach and store books and frequently used games. Provide space under the lowest shelf to store boxes that can be pulled out to keep their games and toys. You should buy boxes with lids and position them under the bed, tables which have shelf space, bins for toys or other multi-functional pieces of furniture. This will ensure you a tidier and better organised bedroom which will be easier for cleaning. The storage pieces of furniture you use should be easily accessible.
4. Think about safety when designing
When they are young, children are curious by nature. They can try to climb on any horizontal surface, touch exposed power outlets and sharp objects. You should buy furniture with rounded corners and avoid using items with sharp edges. Put cabinets and drawers with slow-closing hinges which are safer the then the ordinary ones. Don't place furniture near windows that open, otherwise your child may try to climb and get out through the window.
5. Provide proper lighting of the bedroom
These days, many children suffer from bad eyesight and illnesses like myopia and astigmatism. Proper lighting is important as your kid will have to read for school and use the computer. Make sure the room has enough amount of natural sunlight during the day. Mount lighting fixtures and bulbs which create warm white light to be used after the sun sets. Buy and place night lamps to be used at need.
If you design a bedroom which has enough storage space, your child's room will be simple, functional and easy for cleaning. Make the innovations you want after planning them and cleaning the whole bedroom. A tidy, clean and well organised bedroom will serve your kid and last long time without having to make any significant changes. Use these golden rules to create a children's bedroom that will be easily transformed into a teenager's room later without any problems.
The article is presented by Domestic Putney Cleaners
I hope you enjoyed the tips on 5 golden rules to design a child's bedroom, and the tour of Jayden's room. Don't forget to enter to win below! Thanks for stopping by!
🙂 Dawn