Happy Monday Friends!
Hope everyone had a great weekend! We had so much fun celebrating my sister's birthday and my good friend Brittany's baby showers. It was truly an eventful weekend with all of our family and friends. Today I wanted to share with you one of my favorite Valentine sweaters that I think is so stinking adorable. I mean look at those heart patches. They say don't wear your heart on your sleeve, well in this case go for it girl! Plus, I am also sharing my results from my love language test and my husbands too! If you've never heard about the 5 Love Languages I highly recommend reading it! It's great for figuring out what you value most as far as how you love being shown love. You can also take this test with your kiddo as well. Jayden is a little young for it now, but I am sure when he becomes a teenager and more difficult to communicate with it will be great to know. But today it is all about me and the hubby and our love language and this adorable heart patch sweater!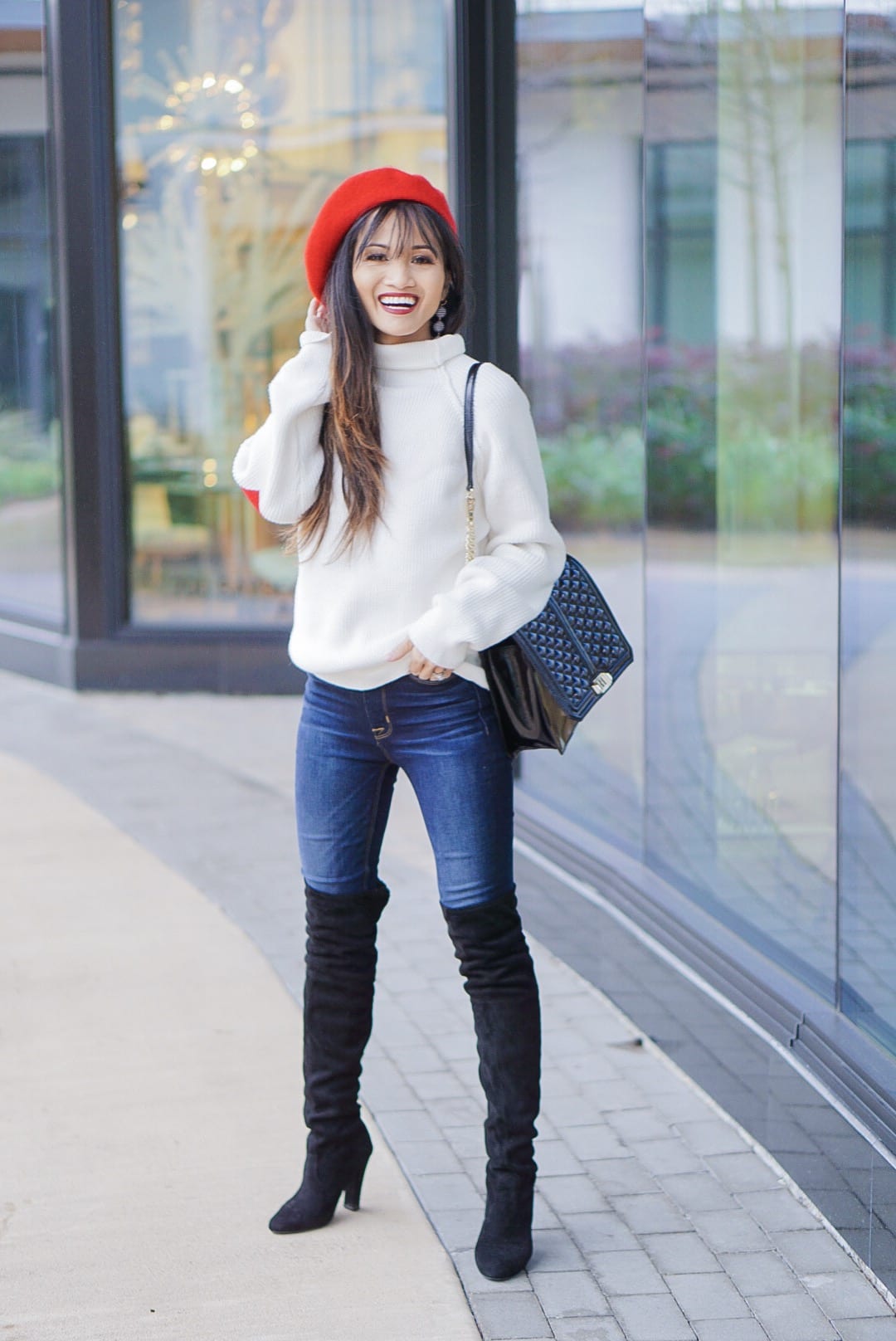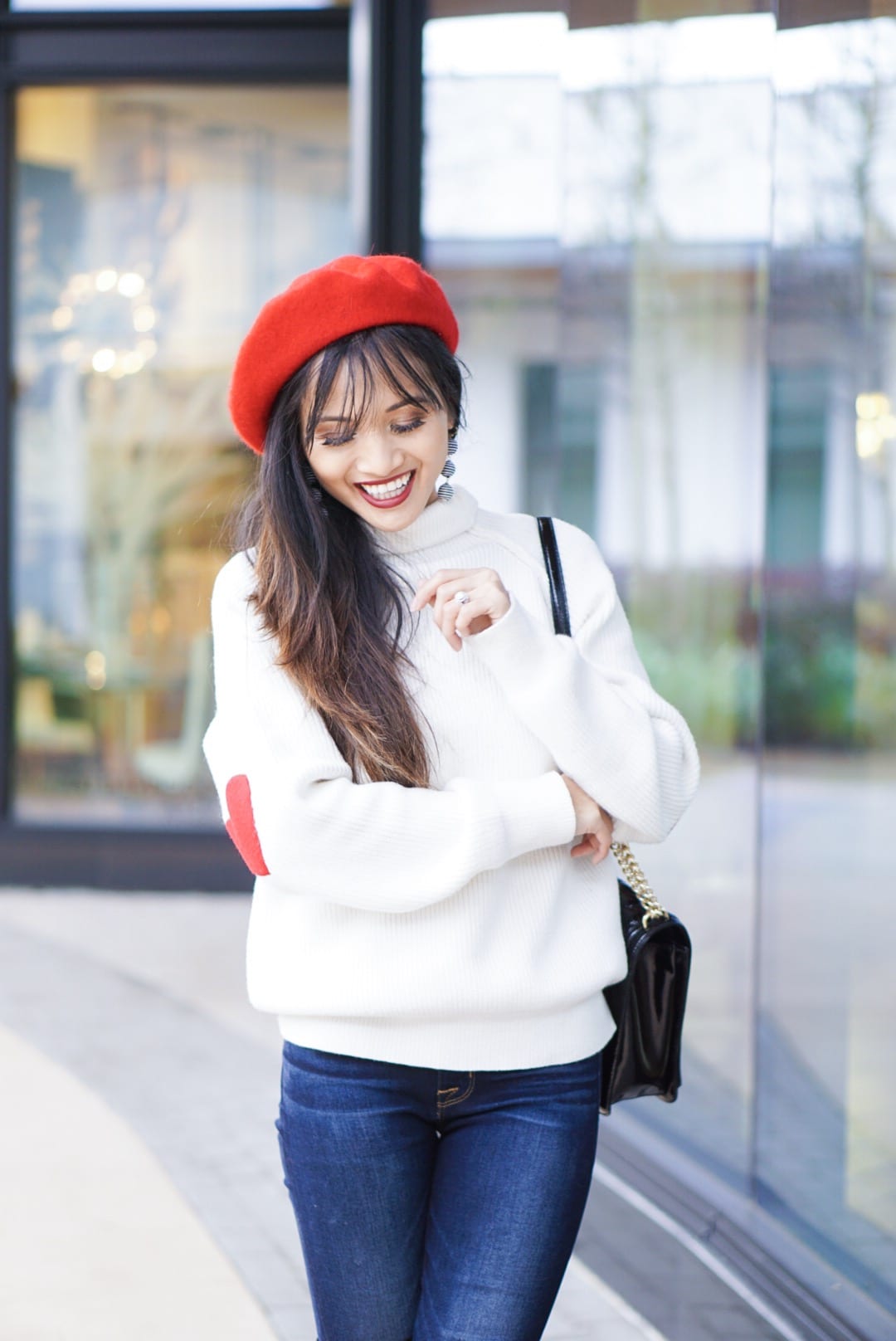 What exactly are these LOVE languages you speaks of? According to Dr. Chapman author of The Five Love Languages, there are five universal ways that all people express and interpret love.
Dr. Chapman firmly believes that each person has one primary and one secondary love language (you can take a quiz on his website to determine what your personal love languages are), and he theorizes people tend to give love in the way they prefer to receive love. Since we don't all have the same preferences as our partners when it comes to giving and receiving love, this is how relationships can start to get sticky. But by understanding our partners' inherent love language, we can start to tear down walls in our romantic lives. Below are the 5 love languages:

1. Words of affirmation

2. Quality Time

3. Receiving Gifts

4. Acts of Service

5. Physical Touch
Can you guess how me and my hubby scored? You might be surprised that my top love language is something I love to be shown, but not how I show love. Below is how we scored on our test.
DAWN:
8 Receiving Gifts
7 Words of Affirmation
6 Acts of Service
6 Quality Time
3 Physical Touch
JOSH:
10 Acts of Service
8 Words of Affirmation
7 Quality Time
5 Physical Touch
0 Receiving Gifts
Haha let just say in this relationship I am definitely the spoiled one, and the one that need the most attention. My husband is pretty spot on when it comes to reading my love language. He is always so thoughtful when it comes to gifts big and little. He is the type to get me something just because. However in our first year of marriage he learned how much words of affirmation meant to me. When it comes to showing love, I show love through my words, and Josh was never much of a talker. But I always required his approval when it came to anything, even if it was doing laundry, but especially my blog. I would always ask him if he read my post, what he thought about it, and if he liked it. It meant so much to me when he did. When it comes to getting ready, I always ask my husband what he thinks of my outfit, and even though I know it really doesn't matter to him, it still makes me feel good when he tells me he likes it. I also ask him every day if he loves me, even though he tells me everyday multiple times a day, I still ask lol. I literally need constant 24/7 affirmation.
For Josh, acts of service was his number one love language, and that was something I had to learn the hard way. Josh is not someone who likes to ask for help, or ask anyone to do anything for him. He is always the one who is helping everyone else. It is the Capricorn in him, he is just really thoughtful and always thinking of others. I on the other hand, have no problem asking for help, and I think for my husband it can be pretty overwhelming because he always feels obligated. So this past year I have been more intentional in asking him if he is overwhelmed, or if there is anyway I can help him, and when I ask for his help I always ask, can you do it, and can it be done by this time? That way if I give him a deadline or time limit, he is more realistic in what he can or cannot help me out with. Also I have been better at doing my share of the house work and not complaining. I was so bad at letting it overwhelm me, my husband would do most of it so he didn't have to hear me complain. But I know it stressed him out and that's why this year one of our family goals (view post here) was to have intentional scheduling so we can plan "cleaning days" to keep from getting overwhelmed.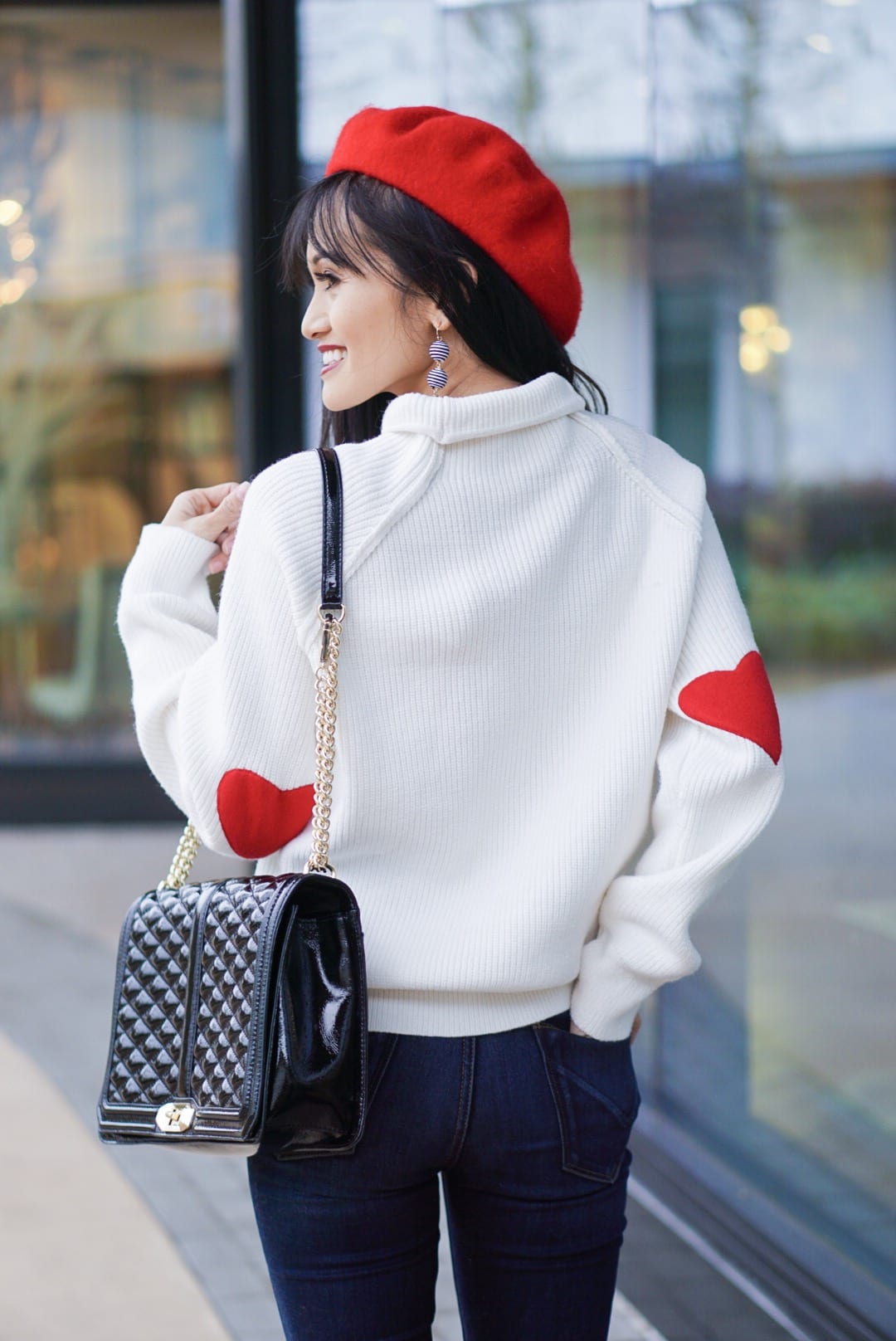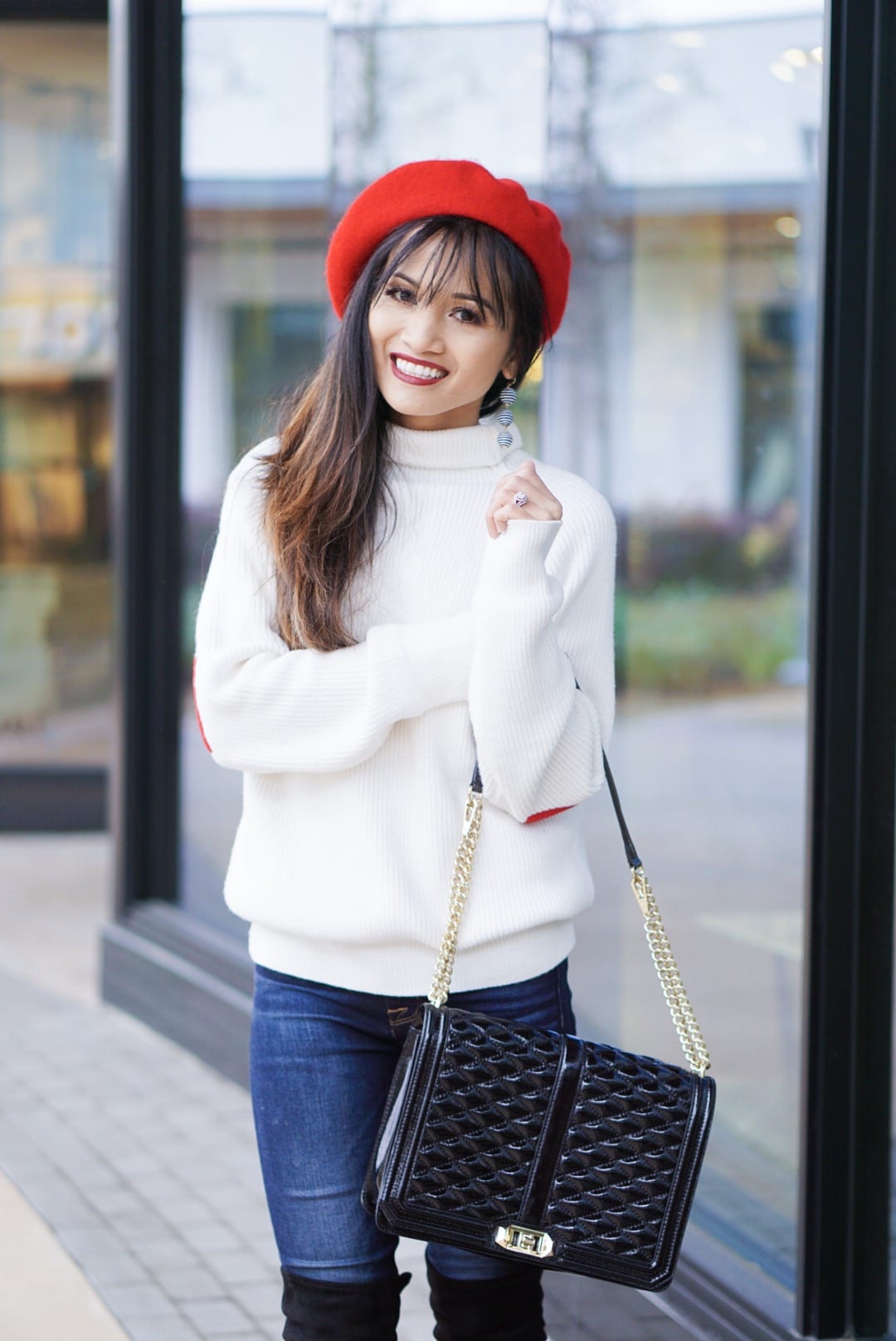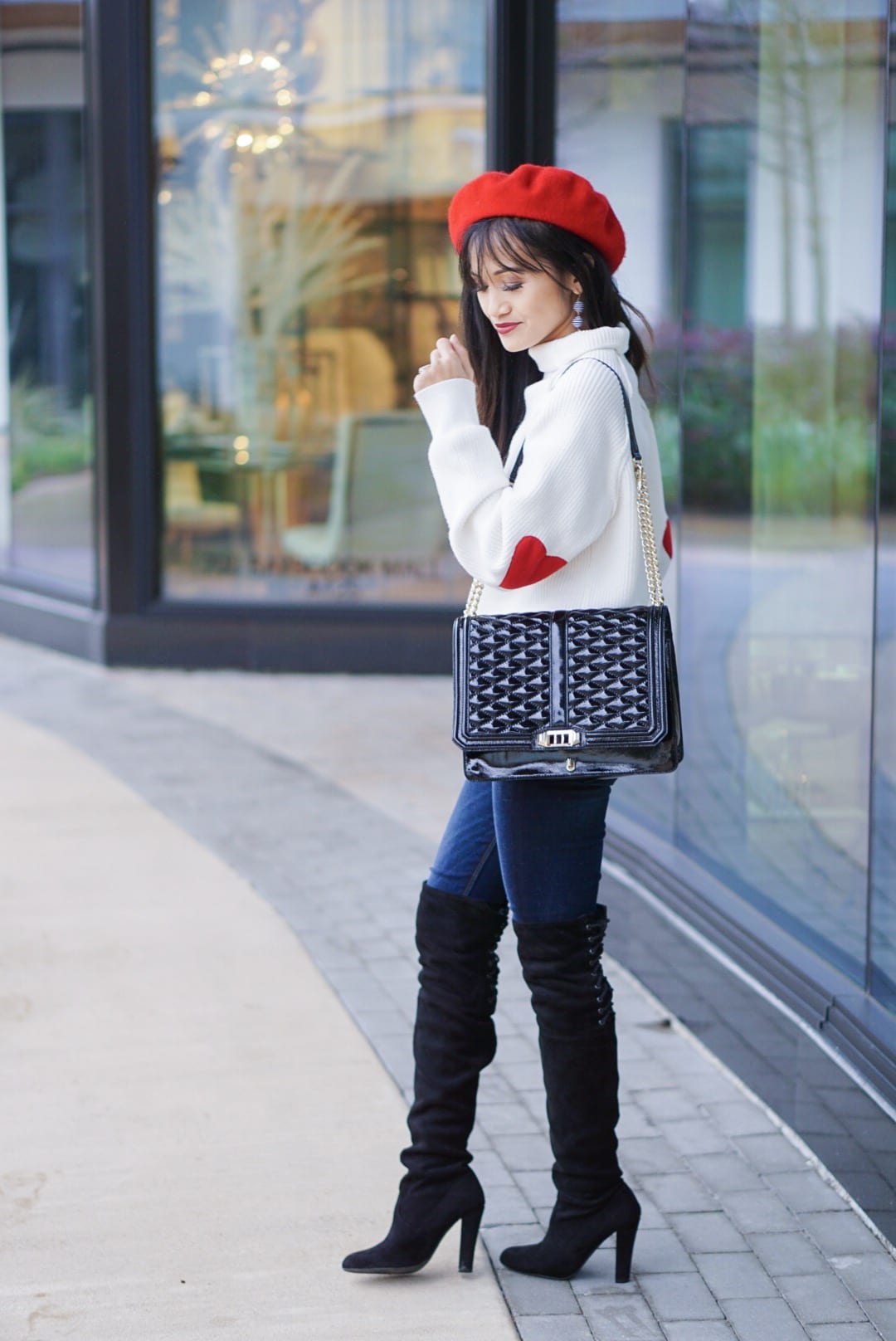 SHOP THIS LOOK:

Alright how adorable is this sweater? I had to pull out my red beret to complete this look. This is a cozy and cute Valentine look for a date night to the movies, a fun Galentine's brunch out with your girls, or change out the OTK boots for some flats and its perfect for running around for Valentines with your kiddo. This Valentine's Day wear your heart on your sleeve with this adorable heart patch sweater.
I hope you enjoyed this look and our Five Love Languages. Learning our love language really helped strengthen our marriage as well as lessen our quarrels. I highly recommend it to everyone single, in a relationship, or married person to take the quiz. It definitely makes sense to why all my past relationships didn't workout and why our marriage is thriving. You might find out more about yourself and your love one than you already know. If you haven't taken the test, take it and let me know what your love language is.
P.S. Subscribe for weekly newsletters so you never miss a single post!