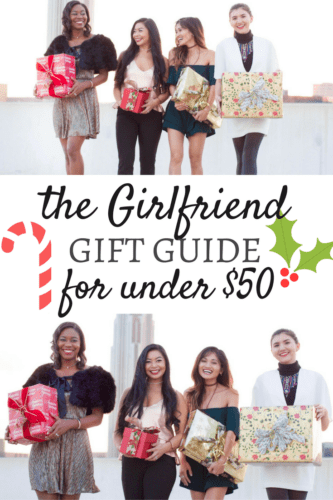 With Christmas around the corner, it is a busy time with family and friends. One of my favorite parts is hanging out with my favorite girl friends and blogger babes for some holiday fun. So today I wanted to share with you a fun girlfriend gift guide for under $50, whether she is single and ready to mingle, or merry and married, there's the perfect gift for that special friend in your life. Check out my picks below!
Love these blogger babes! We had so much fun doing this holiday shoot. If you haven't checked them out I highly recommend you do, and make sure to follow them on Instagram for details of their outfit.
SUPER GIRL DIARIES – my little cousin is starting her blog! I am so proud of her!
The Girlfriend Gift Guide for under $50
Single and Ready to Mingle

Girl Boss Babe

Merry and Married

Living the Mom Life

I wore this outfit to my high school reunion last Friday. It is the cutest holiday party outfit for under $100
SHOP MY LOOK:

I hope you enjoyed this The Girlfriend Gift Guide for under $50! Don't wait too long to shop, these gifts sell out fast. If you have any questions don't hesitate to ask, and also don't forget to shop the rest of my gift guide on my HOLIDAY SHOP tab.
Happy Shopping!