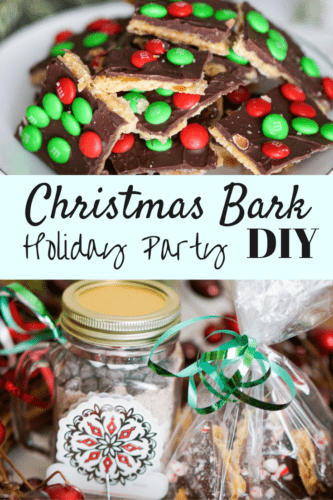 Can you believe we are less than four days away from Christmas! My Christmas shopping is done, and now I am doing some last-minute DIY for all of our Christmas celebrations we are attending this week. If you saw my Snapchat yesterday, then you might have gotten a little sneak peek at today's post. One thing I love about Christmas is all the goodies! So today I wanted to share one of my favorite Christmas treat recipe and a fun simple way to package it for the perfect party favor or hostess gift for all of your holiday celebration. This easy to make Christmas Saltine Bark will be a hit with all your friends, family, and party guest this year! And the best part is it is super easy to make!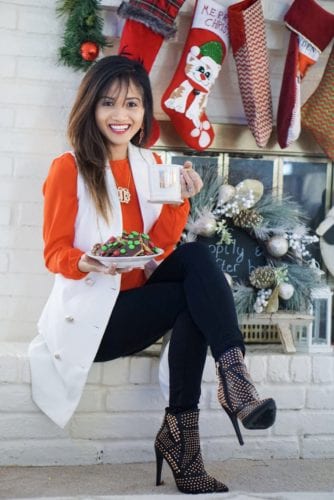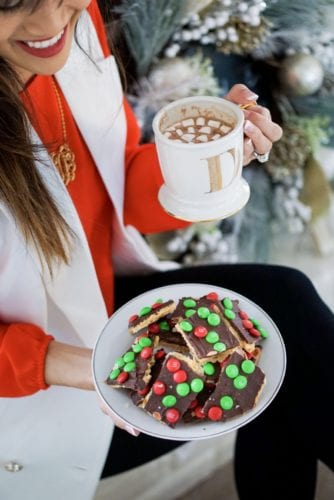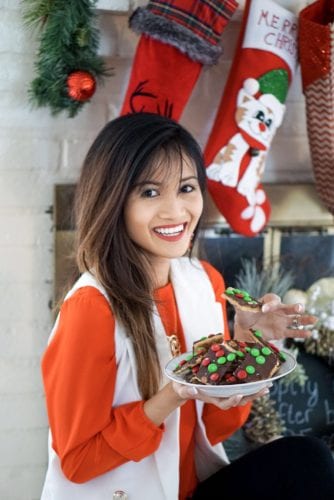 This delicious Christmas bark was a recipe passed down by one of my best friends Rachel. She brought this amazing recipe all the way from up north Pennsylvania to the great state of Texas a couple of years back when she was living down here. I remember the first time she brought this to work and I was hooked! So when I asked her for the recipe I was surprised how easy it was to make. I knew I wanted to make it this year for my family for Christmas. With it being so busy around this year this would be the easiest, and not to mention most addictive treat ever, hence why we also call it "cracker crack." Trust me when you make it, you will see why. Below is the recipe:
Easy to Make Christmas Saltine Bark aka "Cracker Crack"
Ingredients
1 sheet of aluminum foil
1-1 1/2 sleeves of saltines (depending on cookie sheet size)
1-2 sticks of butter (depending on cookie sheet size)
2 cups of sugar
1- 1 1/2 bags of semi sweet chocolate chips.
1 package of Peppermints and/or M&M's
Directions
1. Lay down aluminum foil.
2. Lay out saltines salt side up to cover the entire sheet (may have to cut some in half to fit all in tray)
3. Melt butter and sugar together on medium heat until it isn't lumpy and it's pretty smooth. (Don't do this for too long of it will burn and you'll have to start over!)
4. Pour butter/sugar mixture over crackers slowly covering the entire tray carefully without moving the crackers.
5. Bake for 5-6 mins.
6. When finished baking, pour the chocolate chips over top of butter/sugar/crackers put back in over for about 10- 15 second for soften chips. (Don't leave in too long!!)
7. Once soft spread chocolate chips out carefully trying not to pull crackers apart.
8. Sprinkle peppermint pieces or M&M's over the chocolate
9. freeze the tray for 1-2 hours.
10. Cut…& ENJOY!!!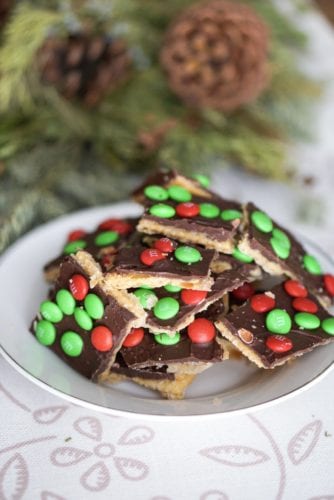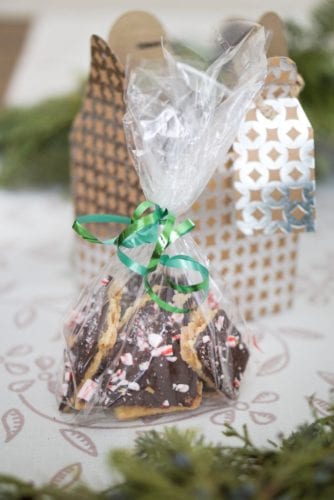 One think I love about this recipe is it makes the perfect holiday favor for guest to take home, or as a nice gift for teachers, coworkers, or family. I found all of this packaging from the Dollar Store.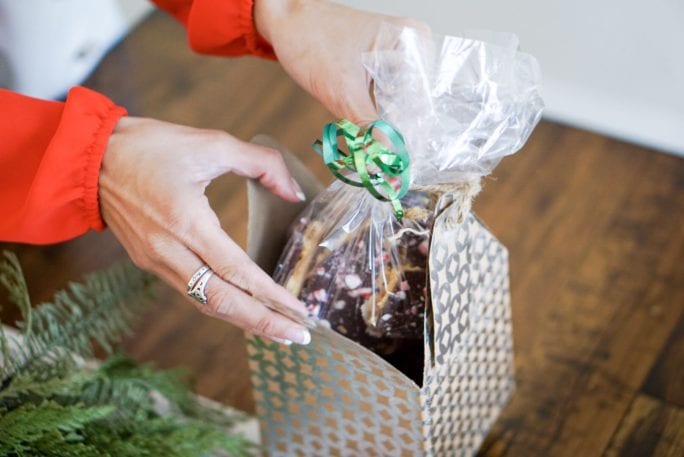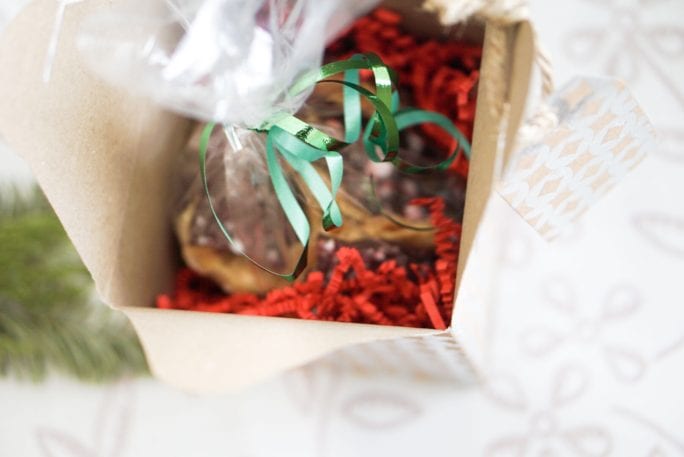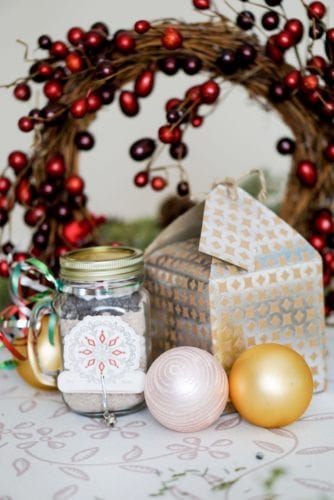 There's no better party favor combination than pairing these sweet treats with this amazing homemade hot cocoa recipe. I found this recipe from my dear friend Shelbi's blog It's All Chic To Me. This hot cocoa mix is perfect for packaging in these adorable mason jars. You can personalize these mason jars with your own label and engraving here.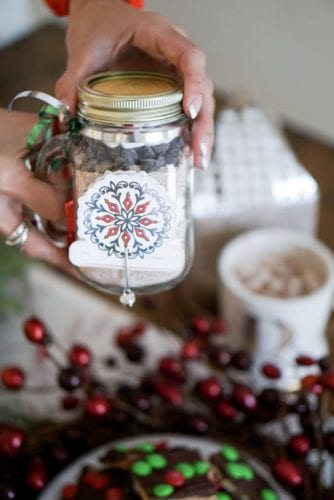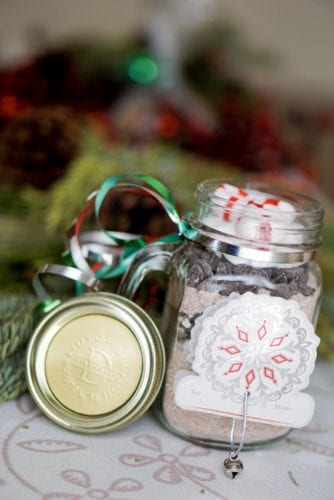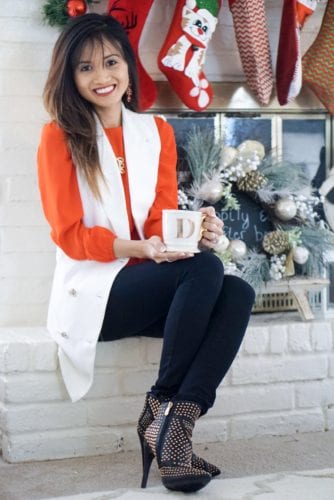 SHOP MY LOOK:

I hope you enjoyed this Easy to Make Christmas Saltine Bark recipe and holiday party DIY tutorial. Make sure to check out my Pinterest round-up of 6 Pinterest Worthy Healthy Holiday Treats. For more make sure your following my Pinterest and subscribe to my blog for weekly newsletters. What are some of your favorite treats for Christmas? Comment below I would love to know!