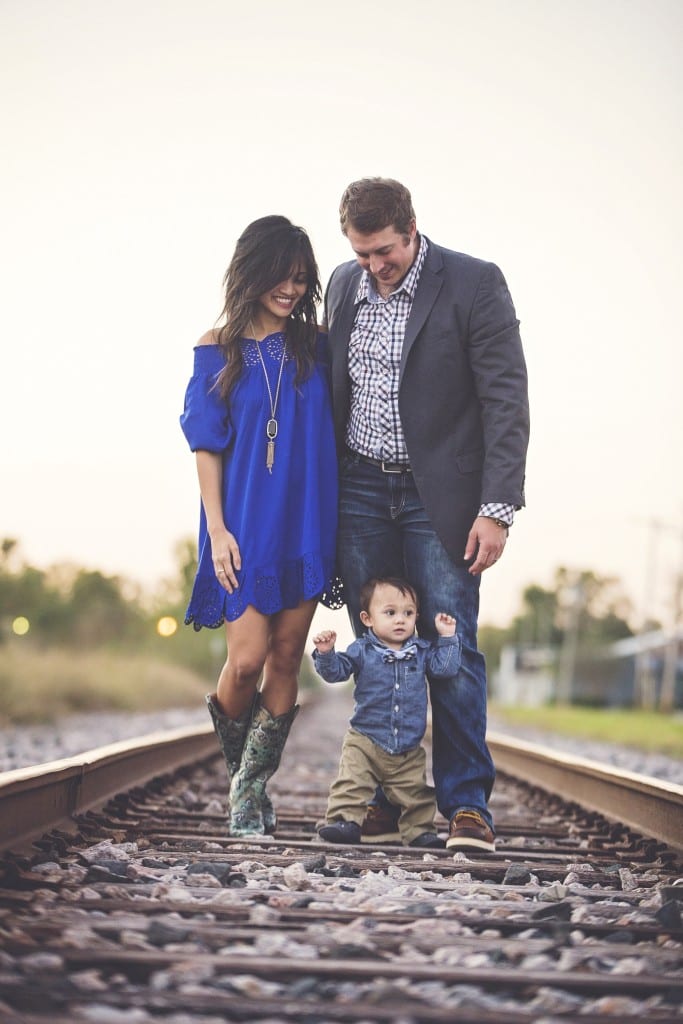 Last year today, I remember being 8 months pregnant, swollen from head to toe, and missing Thanksgiving dinner after almost having a terrifying experience of getting my wedding ring stuck on my swollen finger. It was a crazy time for me and my husband, we were house hunting, last minute trying to get everything ready for our new bundle of joy. I didn't really have time to count my blessings at that time, but I also didn't realize how much my life would change since then.
Fast forward to today and as I sit in our new home with our 10 month old baby boy I can look back and say I am thankful for a lot of things this year as a new mom. There's a lot of things I've taken for granted in my life, but now as a mom I have full appreciation for. Here are my top 10 things I am thankful for this year!
.
1. Home cooked Family dinners – With the spirit of Thanksgiving, I couldn't be more appreciative of being able to sit at home and enjoy a nice hot dinner together with family. Usually dinner time consist of me feeding Jayden, then waiting for my husband to take over so I can enjoy my meal in peace. It's rare we cook these days or eat together with our busy lives with the baby. There's nothing like the whole family at the table, with good food and conversation.
2. My little guy – there's nothing like waking up in the morning to your baby laughing and giving you kisses. It makes all the stressful days and sleepless nights worth it. Every inch he grows my heart grows with him. There is nothing like the love between a mother and child.
3. A good camera – My husband bought me my Sony A6000 for Christmas last year so I would never miss capturing a moment of my little one as he grows. It has been the best investment in my life, and now my passion for capturing my family has grown to being able to share that with other families. A memory may fade and go but a picture last forever.
4. Date nights – We don't have these often, but when we do it really helps get us remember we are more than just parents but husband and wife too.
5. Understanding friends – Thankful for my friends for not judging me for being a mom,  not always being on time, or having to bring my kiddo everywhere I go. Thank you for supporting me through this new phase in my life and being there when I need to vent.
6. Blogging – Blogging gave me an outlet to express myself and to share my experiences with others. I'm thankful for my blogging family and being able to connect to other mom's like myself who share the same passion. I'm also thankful for the blogging of other moms who had gone through their pregnancy journey and decided to share their experiences. I've been relying on sites like HMHB for resources; just today I read their guide on what the top choices for baby formula are. Truth be told, as a new mother, there's a lot that I don't know, and this advice is priceless.
7. My cat Sasha – every morning she waits outside of our room for me and Jayden to wake up, and when I open the door she always greets us with a meow. Jayden loves his kitty friend, and every morning gives her a great big hug and kiss. I'm thankful for my kitty who has transitioned so well to having our baby in our lives. She is so patient and so loving, and always helps me entertain Jayden during the day when I need to get stuff done around the house. And at the end of the day with the boys are all sleeping, and I am up finishing a photo session or blogging, she is right there with me to show her love and support.
8. Supportive family – I have to say we have the best family in the world. It is true when they say it takes a village to raise a child. I am so thankful for our family for stepping in every day to help us with Jayden. Jayden has so much love, and is always so happy because he has the best family to love him.
9. My husband – He has been through the highs and lows of me as mom, and has been there every step of the way to support me through it all. I love him more everyday he comes home and is an amazing dad to Jayden. He is my partner when it comes to taking care of the house and taking care of our son.
10. God – I am most thankful for God for giving me all of these blessings and for giving me the strength, patience, and love to be a good mother. Thank you for watching over my family and giving me the faith and courage to overcome all the obstacles and challenges that has come with motherhood.
Thank you for letting me share my top 10 things I am thankful for. I am thankful for all of you who have supported me on this journey. I appreciate all of your love and support. I hope you enjoy this day and have a wonderful Thanksgiving!
love,
Dawn